Who wouldn't be excited by the idea of working from home or a distant location? Truly, there are numerous benefits of working from home, regardless of whether it is an online or offline job. Here's a few of them you'll find interesting.
Don't like the 9-5 job you have?
Don't like working under a boss? Like, really?
Would you like to do something entirely different?
Then, I'm pretty sure that the idea of quitting your current job and starting with something that allows you a little more flexibility has crossed your mind. However, your anxieties and misconceptions can stop you from following this goal.
And, they should.
I understand that it's going to be a critical decision whether you begin your Work from Home (WFH) career part-time or full-time. To determine whether this career is suitable for you, you must do some research and planning.
That being said, I'm not here to dissuade you from working from home. In fact, there are numerous advantages of working from home.
And, you know what?
I'm a blogger who runs a home-based blogging business. It allows me more freedom and provides me with far better financial rewards.
The best part?
It's very easy to start a blog, and it shouldn't take you more than 30 minutes to get it up and running. Check out my step-by-step blogging guide to get started with blogging if you want to establish a blogging business online and work from home.
Blogging is one of the most profitable internet businesses I've come across, as it allows you to enjoy the perks of working from home while also making money.
And, that's why I'm so fascinated with the idea of a WFH career (and blogging).
Let's see why working from home might be a great idea:
1. More Control Over Your Schedule
The most significant benefit of working from home is the independence to work on your own schedule. You can arrange your working hours as you wish. Also, you can devote time to your family and friends without jeopardizing your business goals.
Many people believe that working from home can make you less productive. Distractions that lead to procrastination could be the biggest reason.
However, I don't believe this is entirely accurate.
If you are passionate about your work, a flexible schedule will allow you to work for as long as you want. It simply means that you can work whenever you want to, for as long as you want, and still end up earning more money.
Must Read: 17 Best Ways to Make Your First Dollar Online as a Beginner.
2. More Family Time
Our family is our most valuable asset.
It makes no difference if you work for a six-figure salary and have all the money in the world but no time for the people you care about (your family members).
That's a complete waste of time and effort.
People who work their as*** off frequently lose sight of why they are doing it: to improve the lives of your loved ones and give them the best possible lifestyle.
The result?
All of your efforts will be useless.
If you are unable to pay attention to your children, teach them fundamental manners, and groom them into moral citizens, it doesn't make sense to be a busy working idiot. But, if you are working from home and have a flexible schedule, things will be easier.
Also, you can spend more time with the people you care about.
Read: How to Make Money Online by Sharing Links (100% Practical Guide)?
3. Make Money Doing What You Enjoy
Working from home has so many advantages, one of which is the ability to transform your hobby into a source of income.
I'm sure you know a lot of folks that work a 9-5 job and aren't satisfied with it. The reason I can find for this is that they are not interested in their jobs.
But, hey! don't get me wrong. I know there are plenty of examples of satisfied employees doing jobs they enjoy. You probably already know someone.
If you're unhappy, however, why not choose a job that makes you happy? It doesn't matter if it's writing, blogging, animation, art, photography, or anything else.
Read: 9 Best Ways to Make Your First $100 Online As a Beginner.
4. Avoid Travelling
Statista estimates that the average American spends almost $1000 per month only to fill up their automobile tanks. So, if you reduce your daily travel by working from home, you can save a significant amount of money each year.
However, reducing your commute time does not only save you money; it also saves you time during rush hours and traffic jams.
And, here's what really shocked me:
I came across an interesting video of a German man swimming to work because he was tired of the overcrowded roads and traffic.
This was quite strange, but I completely understood his feelings.
And, to be honest, if there was a river on my way to work, I would have just jumped in. I'm turned off by the thought of spending more time on the road, and I fear it will reduce my productivity. As a result, working from home saves time and money.
Useful: How to Turn $1000 into $10000+ Online Starting from ZERO.
5. A Higher Level of Fulfilment
Both happiness and satisfaction are directly proportional.
You would be delighted if you are doing something you enjoy and are passionate about. This sense of accomplishment and success will influence every aspect of your life, transforming you into a more nice, patient, and lovable human being.
Keep in mind that money cannot buy happiness, instead, if you truly want to be happy, you should satisfy your hunger for self-actualization and improvement.
Read: 5 Reasons Why Most People Will Never Be Successful at Making Money.
6. Location Freedom
You have the freedom to work from anywhere!!!
Listen, the reason you want to work from home is so that you can do things you couldn't do before. Working from any location in the world would be a part of this. You don't have to be based in one place if you work remotely. You may work while relaxing on the beach or traveling around Europe on the wonderful Euro rail.
Well, I'm only trying to encourage you to live life to the fullest while staying out of debt. To be honest, there is so much to enjoy in life. But unfortunately, we miss out on experiencing it to the fullest due to our responsibilities and financial circumstances.
I was just watching the movie The Secret Life of Walter Mitty the other day.
Oh, my goodness!
The lessons you learn from that film are profound. I feel the most essential lesson is to not be afraid of the unknown. You may feel safe in your shell, but if you stay there all the time, you will merely survive rather than live a fulfilling life.
Useful: How to Start a Travel Blog And Make Money Online Step by Step?
7. Take Charge of Your Life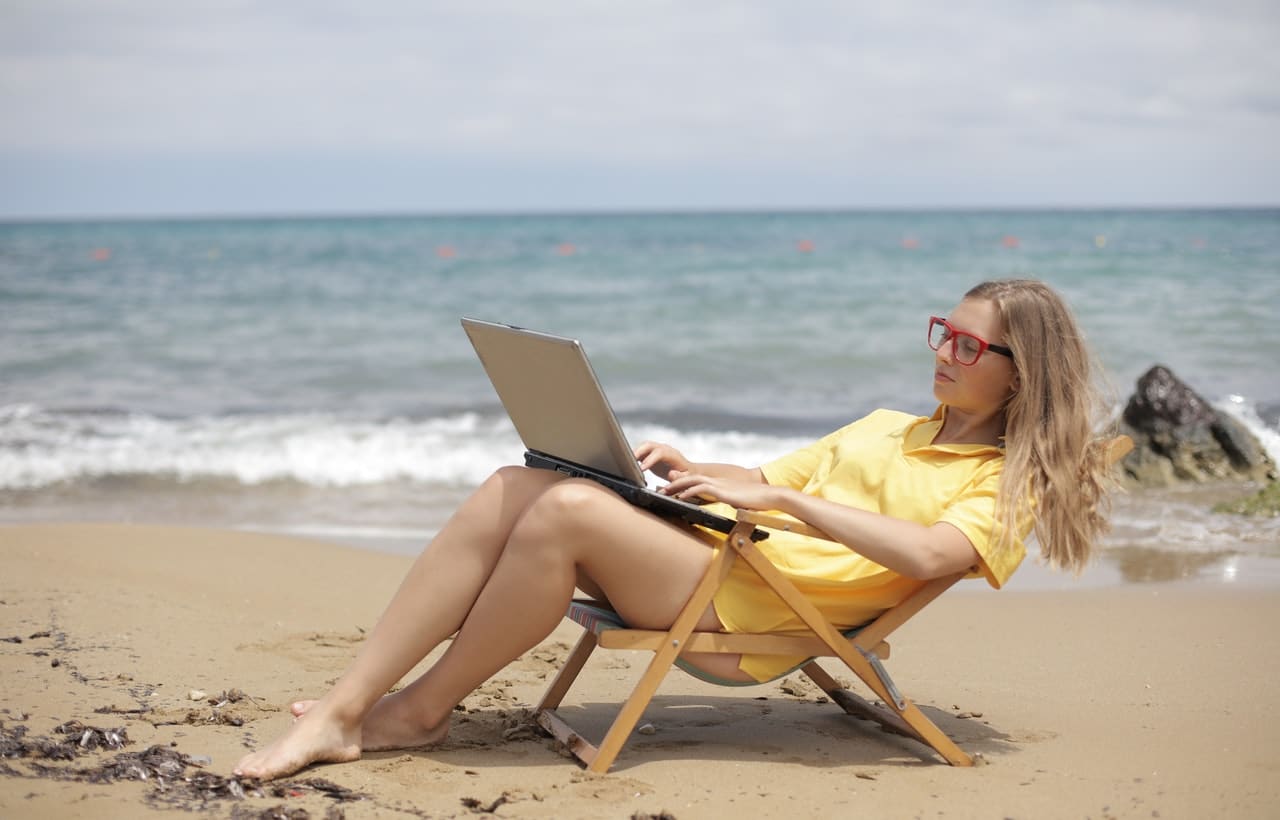 Well, the title pretty much says it all.
When you work from home, you'll only be accountable to yourself and your clients. You can work at your own schedule, take vacations whenever you wish, and make decisions based on your own preferences without worrying about the consequences.
8. Improve Your Skills
Working from home allows you to new skills while improving existing skills. You'll be fully accountable for everything relevant to your job when working remotely. You will not have access to a technical support team to assist you with any technical problems. That's when you'd be on Google to look for solutions to your problems.
This will help you become more self-sufficient while also teaching you special skills that you previously lacked. Quite amazing, right?
And, this isn't only about the technical side of things.
Let me give you an example from my own experience in blogging.
When I first launched my blog, I had no idea how to start a blog, how to use WordPress, how to change or customize a theme, what to offer, how to write a blog post, or anything else relevant to my online publishing business.
Those skills were gained over time, through study and actual practice.
Read: 7 Reasons Why You Should Start Your Blog And Get It Online.
9. Expand Your Network
Working from home is often associated with the risk of losing contact with friends and family. But, that is definitely not the truth.
The reason?
Since we live in the age of the internet, a variety of new communication tools have emerged. With the power of the internet, you can communicate efficiently with anyone from anywhere on the globe.
Frankly speaking, I believe that the younger generation is making better use of these communication technologies. They communicate with one another on a regular basis through social media platforms.
And, that's how, instead of becoming lonely at home, you can actually gain more support and build meaningful connections, even if you work from home.
So these are the key benefits of working from home that I want to emphasize.
If you have any other thoughts, please leave them in the comments. And, please share this article if you find it informative and helpful.
FREE 14-Day's Blogging Course Reveals How to Create a Money-Making Blog
This beginner-friendly course consists of practical lessons, delivered to you by email, for the next 14 days, for starting, building, and growing a blog-based online business from scratch, starting right from the beginning.