If you are looking for the best WordPress security plugins, you are in the right place. In this article, you'll find the top 7 best security plugins for WordPress. You'll also learn about the features and benefits of each plugin. So, you can now make an informed decision about which one is right for your site.
Whether you are looking for a plugin to protect your site from malware or to simply add an extra layer of security, these plugins will do the trick.
But, do you really need a security plugin?
The answer is yes!
---
WordPress security plugins can help you secure your website against malicious attacks. They also add extra features that make it harder for hackers to break into your site. Apart from taking backups and keeping your WordPress site up to date, using a security plugin is the best way to keep your site safe.
---
Whether you are a small business or a fortune 500 company, you NEED to be taking your website security seriously.
There are many security plugins available for WordPress.
But, not all of them are created equal.
In this article, I will compare the 7 best WordPress security plugins and help you choose the right one for your website. Once you finish the article, you will know exactly which security plugin is right for your WordPres site.
---
Don't have time to read the whole article? The best WordPress security plugin for most people is iThemes Security Pro. Try it Today!
---
Here's a quick overview of the best WordPress security plugins:
iThemes Security, developed by the security experts at iThemes, is the best WordPress security plugin on the market. It's available as a free plugin. The premium version is highly recommend. Overall, it's a comprehensive plugin that covers all aspects of WordPress security.
With 30+ options to deter unauthorised access and hacking, iThemes Security makes it simple to secure and safeguard your WordPress site. No matter what level of security you need, the plugin has you covered.
From checking outdated software to weak passwords, malware scanning and vulnerabilities in plugins, iThemes Security does it all.
One of the best features of this plugin is that it notifies you via email when someone tries to log into your site with the wrong password. This way, you can take immediate action to secure your site. Other top features include two-factor authentication, malware scanning, and file integrity monitoring.
Key Features of iThemes Security
Stops automated attacks
Monitors for suspicious activity
Strengthens user credentials
Scans for vulnerable plugins and themes to apply updates
Blocks bad bots and reduces spam
Automatically takes actions on your behalf to secure your site
Block specific IP addresses and user agents from accessing the site
Backup your database regularly
Local & Network Brute Force Protection
Strong Password Enforcement
File Permission Check
Two-factor Authentication
WordPress Core Online File Comparison
User Activity Logging
Temporary Privilege Escalation
Banned users & Lockouts
Password Expiration
WordPress User Security Check
Real-time WordPress Security Dashboard
Magic Links & Password-less Login
Refuse Compromised Passwords
WordPress Security Grade Report
Private, Ticketed Support
One of the best things about iThemes Security is that it is constantly updated with new security features. This means that your site will always be protected against the latest threats. The plugin also comes with a user-friendly interface and extensive documentation.
Overall, iThemes Security is one of the best plugins available out there, when it comes to securing your WordPress website.
iThemes Security Pricing
iThemes Security is available as a free and paid version. The premium version starts at $80 per year only and it comes with some advanced features, such as real-time WordPress security dashboard, automatic vulnarability patching, password expiration, passwordless login, and a lot more.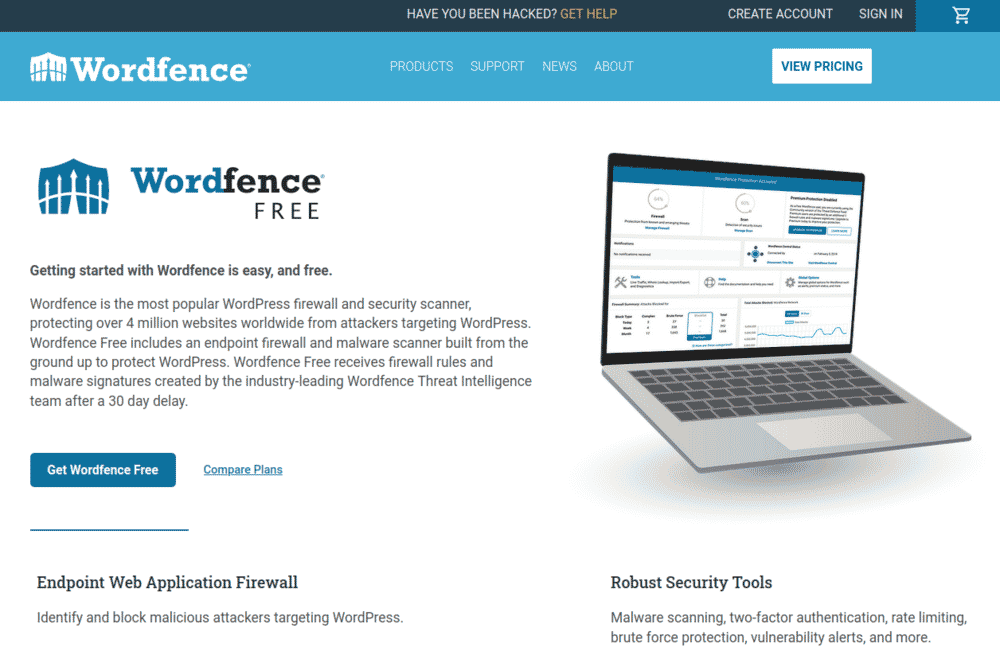 WordFence Security is one of the most popular WordPress security plugins available. According to statistics, over 4 million WordPress sites are protected by Wordfence. Starting from malware scanning to endpoint firewall, this plugin has got everything that you need to keep your WordPress site secure.
WordFence is more than just a security plugin.
They are a security service provider who guards millions of WordPress websites from hacking and also assists them in fixing hacked sites.
The Threat Defense Feed of Wordfence keeps your website secure and protected with the latest firewall rules, malware signatures, and IP addresses. If security is something you care about, check out Wordfence today!
The main features of Wordfence Security
Endpoint firewall and malware scanner
Threat Defense Feed with the latest firewall rules
The Wordfence Firewall
The Wordfence Malware Scanner
Real-Time IP Blocklist
Country Blocking
Plugin/Theme Vulnerability Monitoring
Scheduled Security Scans
File Change Detection
Intrusion Alerts
Brute Force Protection
Login Security – 2FA & RECAPTCHA
Investigation and Malware Removal
24/7/365 Incident Response
Overall, Wordfence Security is an excellent plugin that offers comprehensive protection against all sorts of threats. If you are looking for a reliable security plugin, then Wordfence should be your go-to choice.
However, WordFence is found to have significant load on your server. If you use a shared hosting environment, this can have an impact on the performance of your website. Also, the plugin is heavy on resources and can have a significant impact on your website's loading speed.
---
A better alternative is iThemes Security, which I personally use. It's not as heavy as Wordfence and it doesn't compromise with performance.
---
Pricing: Free and premium versions available. The free version offers basic protection while the premium version starts at $99 per year.
Sucurity Security is one of the most popular WordPress security plugins. The plugin provides a comprehensive security solution for your WordPress website, including malware scanning, firewall protection, and website hardening. Sucuri also offers a paid service that will clean up your website if it's hacked.
Sucuri Inc. is a well-respected authority on all issues pertaining to website security. The plugin provides you with significant control over your site and a thorough overview of its security-related elements.
One of the best features of Sucuri is the site integrity checker. It scans your site for changes and alerts you if any malicious code is detected.
The DNS-level firewall is another great feature of Sucuri.
It blocks malicious traffic before it even reaches your website. This rarely found feature is a valuable addition to any security plugin.
Key Features of Sucuri Sucurity
Security Activity Auditing
File Integrity Monitoring
Remote Malware Scanning
Blocklist Monitoring
Effective Security Hardening
Post-Hack Security Actions
Security Notifications
Website Firewall (premium)
Overall, Sucuri is a great security plugin that offers a wide range of features. It's one of the most comprehensive security plugins available and is a great choice for those who are serious about website security.
Sucuri Pricing
The Sucuri plugin is available for free. But, there is also a premium version (starting from $199 per year to $499 per year) that offers additional features such as malware removal and website monitoring.
If you have the money for the premium edition, Sucuri is a fantastic choice for protecting your WordPress website from all types of threats. Also, it provides a paid website-cleaning service in case your website gets hacked.
So, if you are looking for a comprehensive security solution for your WordPress website, the Sucuri securtity plugin won't disappoint you.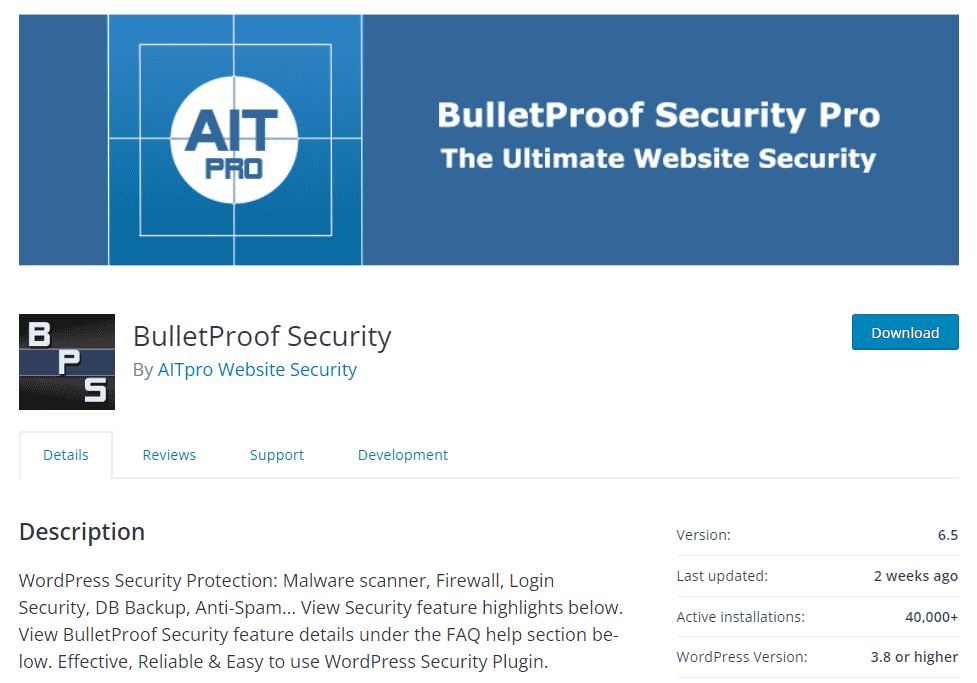 BulletProof Security is a comprehensive security plugin that covers all the bases. It has features like auto-restore, email alerting, anti-spam, and quarantines. Given that it also handles database backups and login security, it does a great job as an all-in-one WordPress security plugin.
It's regularly updated and maintained. The plugin has over 40,000 active installations with maximum 5-star ratings.
BulletProof Security is a great choice if you're looking for an all-in-one security solution for your WordPress site.
Key Features of BulletProof Security
One-Click Setup Wizard
Setup Wizard AutoFix (AutoWhitelist|AutoSetup|AutoCleanup)
MScan Malware Scanner
Htaccess Website Security Protection (Firewalls)
Hidden Plugin Folders|Files Cron (HPF)
Login Security & Monitoring
JTC-Lite (Limited version of BPS Pro JTC Anti-Spam|Anti-Hacker)
Idle Session Logout (ISL)
Auth Cookie Expiration (ACE)
DB Backup: Full|Partial DB Backups
DB Table Prefix Changer
Security Logging
HTTP Error Logging
FrontEnd|BackEnd Maintenance Mode
Extensive System Info (System Info page)
WordPress Automatic Update Options
Force Strong Passwords (FSP)
Send email alerts when updates are available
For experienced developers who want to use special options and features like the anti-exploit guard and the FTP file locking, BulletProof Security is a great choice. It's feature-rich and covers everything, making it a great option for those who want a comprehensive security solution.
All in One WP Security & Firewall is a popular security plugin for WordPress that has over a million active installations and a 4.9-star rating on the WordPress plugin repository. It is proven to be a reliable and user-friendly security plugin that is constantly updated with the latest security practices.
The plugin offers a range of features , from the most basic to more advanced ones, all of which are easy to set up for users of any experience level. The plugin is absolutely free to download and use.
The plugin doesn't also make your site load slow.
One of the best things I like about this plugin is that it shows a security strength meter on the plugin's dashboard which is a great way to track your website's security improvements over time.
Key Features of All in One Security
Detects user account security
Password strength tool
Stop user enumeration.
Protect against "Brute Force Login Attack"
View a list of all locked out users
Force logout of all users after a configurable time period
Monitor/View failed login attempts
Ability to automatically lockout IP address ranges
Add Google reCaptcha
Ability to add Honeypot
Identify files or folders with insecure permission settings
Protect your PHP code by disabling file editing
Easily view and monitor all host system logs
Prevent people from accessing the readme.html
Easily backup your original .htaccess and wp-config.php files
Ban users by specifying user agents
Firewall protection to your site via htaccess file
Enable the famous "6G Blacklist" Firewall rules
Forbid proxy comment posting
Ability to hide admin login page
The file change detection scanner
Ability to disable the right click on your site
Overall, All in One WP Security & Firewall is a great choice if you're looking for a comprehensive and user-friendly security plugin. WordPress is already very secure, but this plugin will help you make it even more secure by following the latest security practices, as listed above.
Malcare Security is one of the best WordPress security plugins. It is a complete security solution that continuously monitors for website hacks and notifies you right away. Developed by BlogVault, Malcare is one of the few GDPR compliant WordPress security plugins available out there.
It is a wonderful solution for users who value their data. Because it is GDPR compliant, it offers complete protection to your website data.
The Malcare plugin uses over 100 signals to precisely identify even the most sophisticated malware. It is also equipped with a login protection system, a real-time firewall and a one-click malware removal feature that makes it very easy to clean your website if it ever gets infected.
Key Features of Malcare Security
Automatic Malware Scans
Instant Malware Removal
Real-time Firewall
Bot Protection
Vulnerability Scans
Uptime Monitoring
Daily Automatic Backups
Integrated Staging Site
Activity Logs
Visual Regression Testing
Personalized Support
Overall, Malcare Security plugin is a great security solution for WordPress sites. It is very easy to use and offers a wide range of features to keep your website safe from hackers. The firewall blocks malicious IP addresses and requests before they even reach your website.
Pricing: Malcare Security plugin offers a free version with limited features and a premium version that starts at $99 per year for 1 website. The premium version includes all the features of the free version plus advanced features like instant malware removal, automatic backups, personalized support, etc.
Jetpack Security is a free security plugin for WordPress sites (with many different functionalities) from the same team that brought us WordPress.com. As such, it comes with the same level of support and features that you would expect from a plugin developed by Automattic.
The plugin has a number of features that make it a great choice for WordPress security. Firstly, it includes a security scanner that will scan your site for potential threats and vulnerabilities. If any are found, Jetpack Security will provide you with a report so that you can take action to fix them.
Secondly, the plugin includes a malware scanner. This will scan your site for any malicious code that could be used to compromise your site.
Thirdly, Jetpack Security includes a brute force protection feature. This will block any attempts to login to your site using a brute force attack. This will help to prevent your site from being hacked.
The plugin also includes real-time backup feature. This will create a backup of your site every time a change is made. This means that if your site is hacked, you will have a backup to restore it from.
Jetpack is not only a security plugin. In fact, it offers a number of features that make it the ultimate toolkit for WordPress sites. Frankly speaking, it has almost everything you will ever need for a professional website.
Top Features of JetPack Plugin
Brute force attack protection
Full-screen photo browsing experience
Replace your default comment form
Customize the appearance with custom CSS
Extra Sidebar Widgets for your blog
Track your WordPress site statistics
Infinite Scrolling Feature
Lazy loading Images
Allows you to add a map
Alerts you via email if your site goes down
Update plugins automatically
Publish posts using any email client
Related Posts Block
Anti-virus, malware, and threat detection
SEO Tools and sharing buttons
Automatically backup your entire site
Automatically filter out spam
Earn income by displaying Wordads
Overall, Jetpack is an extremely feature-rich plugin that should be on every WordPress site. It's a plugin developed by Automattic, which is the company behind WordPress.com, so you can trust its security and reliability.
Pricing: The plugin is free. But, the paid versions offer more features. But the free version is already packed with enough features to make it a great toolkit for any site. However, if you want to take the full advantage of it, you should opt for one of the paid versions, starting from $3.5/mo.
You won't get most of the advanced features with the free version. But, the features you get are still worth your time.
Final Words
These days, WordPress security is a must. With so many hacks and attacks happening, you can't afford to take any chances with your website. It's more important to make sure your site is as secure as possible.
Luckily, there are a number of great security plugins available.
In this article, I've already compared and ranked the 7 best WordPress security plugins of 2022. These plugins can make your WordPress site more secure and help you to avoid any potential attacks.
While no plugin can guarantee 100% security, using a plugin is still the best way to secure your WordPress site.
So, don't wait any longer and start using a security plugin today!
I hope this article helped you find the best WordPress security plugin for your website. If you are still confused which plugin to choose, I strongly recommend iThemes Security plugin. It's a great plugin with all the features you need to secure your WordPress site.
If you liked this article, then please share it. It motivates me to create more useful content like the one you've just read.