Are you a music enthusiast with a passion for writing?
Do you want to share your thoughts and opinions on the latest music trends?
Well, starting a music blog is a fantastic way to do just that. Not only can you express your love for music, but you can also make some serious money online.
But, to be honest, starting a blog can be a daunting task, especially if you're new to the online world. The thought of putting your ideas out there for the whole world to see can be terrifying, but don't worry, I've got your back.
Starting a music blog is not just about making money, it's about sharing your passion and so much more. It's about connecting with like-minded individuals who share the same love for music as you do. It's about creating a community online.
And, of the best part of a music blog – it's about building an online platform where people can come together to discuss, debate, and appreciate music.
But let's be honest, making money online is a pretty sweet deal too.
And with the right strategies and tools, you can turn your music blog into a profitable venture. Imagine being able to make money doing something you love.
That's pretty cool, right?
In this blog post, I'll guide you through every step of the way. From choosing a niche to creating content, you'll find everything you need to get started.
So, let's get started…
---
---
Choose a Music Niche for Your Blog
The very first step of setting up a blogging site is to pick a niche.
A niche is a specific topic or area of focus that your music blog will cover. It's important to choose a niche that you're passionate about and that has a target audience.
You may ask – why should I pick a niche?
Well, it's simple.
You need to have a clear focus with your blog.
Otherwise, it will be difficult to attract and engage an audience.
When you write about a specific niche, you are more likely to attract readers who are interested in that particular topic.
To give you an example, if you write about fitness blogging, your readers will likely be interested in fitness-related topics, and if you write about music reviews, your readers will likely be interested in music-related topics.
But, how do you choose the right niche for your music blog?
Well, there are a few things you need to consider:
Your Passion: First, it's a smart choice to choose a niche that you are passionate about. Blogging requires dedication and hard work. So if you choose a niche that you enjoy, you will be able to sustain your interest in the long run.
Market Demand: While it's important to choose a niche that you're passionate about, you also need to consider the market demand. Niches that make the most money are those that have a high demand, so pick a popular niche.
Your Expertise: It's always best to choose a niche that you have some expertise or knowledge in. If you're a musician, for example, you could choose a niche that focuses on music production, sheet music, or original music. This will allow you to create more high-quality content that your readers will find valuable.
These are some of the fundamentals of choosing a niche for blogging.
Once you have decided on a niche, it's important to stick with it and consistently create content around that particular topic.
Be open to evolving and adapting your niche as your blog grows and your interests change. As you gain more knowledge and experience, you may find that your niche evolves or expands to include new topics or subtopics.
Now that you know what to consider when choosing a niche, let's talk about some specific niches you could choose for your music blog.
Music Reviews: If you love discovering and sharing new music, then a music review blog could be a great niche for you. You could review new music releases, live shows, and even band merch.
Music Marketing: If you're interested in the business side of the music industry, then a music marketing blog could be a great niche for you. You could write about music promotion, provide affiliate marketing tips, and content marketing strategies for musicians and music industry professionals.
Music Industry News: If you're interested in keeping up with the latest music industry news, then a music industry news blog could be a great niche. You could cover topics like record labels, streaming services, and the latest music technology.
Music Production: If you're a musician or have a background in music production, a music production blog could be a great niche for you. You could write about music production techniques, software reviews, and even offer tutorials.
I am pretty sure that you've got an idea of what niche you could choose.
Remember, choosing a niche is just the first step in setting up your blog. So, go ahead and choose your niche, and start your music blogging journey today!
In the next section, we'll see how to create a blogging site.
Create a Self-hosted WordPress Blog
You're probably wondering how to create a blogging website?
Well, in order to create a blog, you need a blogging platform. There are many options available online. But, one of the best options is WordPress.
Let me tell you that WordPress is the best blogging platform. It powers over 40% of the websites on the internet. Cool, right? It's easy to use and has a wide variety of themes and plugins that can help you create a music blog website that stands out.
But, why only WordPress, you ask?
As a music blogger, you need to ensure that your blog stands out in the crowded music industry. To achieve this, you need to employ the best blogging practices.
These practices include:
Using WordPress – the self hosted version
Use your own domain and hosting
Own your blogging website creating it on your own domain
Doing SEO for your WordPress site
Understanding the difference between different blogging platforms – WordPress vs Blogger, WordPress vs Squarespace, and more.
Let's not forget about creating quality content!
As a music blogger, your content is the heart of your blog. You need to ensure that your posts are engaging, informative, and shareable. To do this, you should research your topics thoroughly and include multimedia such as images, videos, and audio tracks to make your blog visually appealing and interactive.
Learn: How to Write the Perfect Blog Post for Your Blog?
So, you've understood that you need WordPress, right? If you need more information on WordPress, you can check out their official site here.
To create a WordPress blog, you'll need:
A domain name
A web hosting account
A domain name is the address of your blog on the internet. It's what people will use to access your blog. You'll also need to choose a web hosting provider. A hosting provider is a company that stores your blog files and makes them accessible online.
I recommend Bluehost for Beginners – it costs only $2.95/month.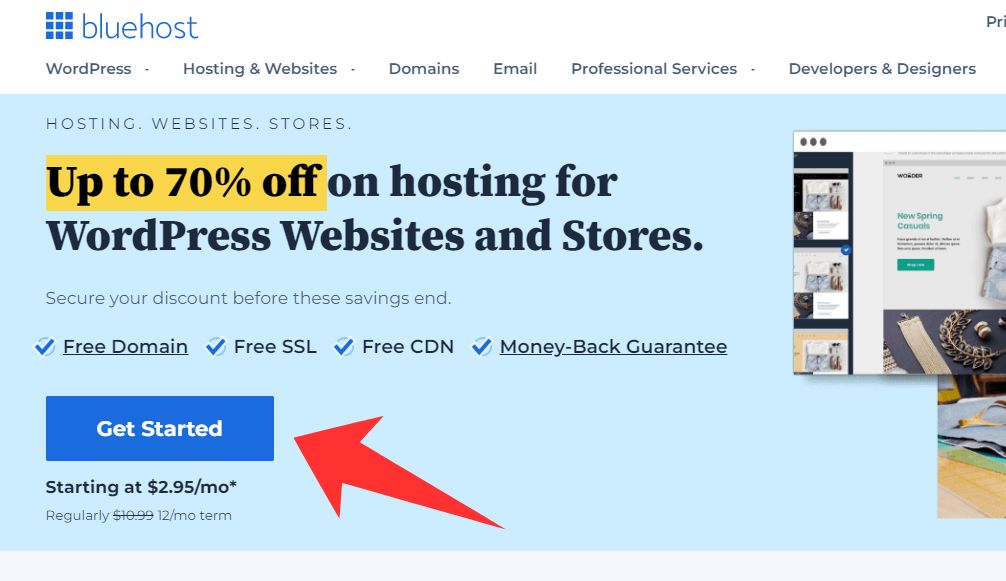 Bluehost is a great option for beginners as it offers affordable and easy-to-use WordPress hosting plans. Some of the features that you can expect from Bluehost include:
Free domain name for the first year
One-click WordPress installation
24/7 customer support
Automatic WordPress updates
Free SSL certificate
Unmetered bandwidth and storage
Easy-to-use control panel and so much more
Once you have set up your domain name and hosting account with Bluehost, you can install WordPress and start creating your music blog.
Read: How to Start a Blog on Bluehost Step by Step?
Here's a quick overview of the whole process:
Visit Bluehost's website and click on the "Get Started" button.
Choose a hosting plan that fits your needs. Bluehost offers various hosting plans, including Basic, Plus, Choice Plus, and Pro. The Basic plan is suitable for most of the beginners and costs $2.95 per month.
Register your domain name. You can either register a new domain name or use an existing one – The domain will be free for one year.
Fill in your account and billing information.
Choose any additional add-ons you may want to purchase with your hosting plan, such as domain privacy, CodeGuard, or SiteLock.
Enter your payment information and submit your order.
Once you have signed up for Bluehost, log in to your account.
You'll be able to log into your WordPress right away as Bluehost automatically installs WordPress in the background – no need to do it manually.
Log into WordPress admin area and customize your website.
Choose a WordPress theme that fits your music blog's style and aesthetic. There are thousands of free and premium WordPress themes you'll easily find on websites like ThemeForest and WordPress.org.
Customize your blog's layout and design by adding your own logo, selecting your preferred color scheme, and creating pages like About and Contact.
Get your blog ready and write your first blog post.
But, don't get overwhelmed.
Things will be easier with: Comprehensive guide to start a WordPress blog.
Remember, creating a successful music blog takes time and effort. Just like any business, blogging is no different. Creating your blog is the first step.
There's more.
As you've successfully created your blog, it's time to create content.
Create Content for Your Music Blog
Creating content as a blogger basically means writing blog posts.
Without content, a blog is just a dead space on the internet.
Therefore, it's important to create high-quality content that engages your readers and keeps them coming back for more. It will slowly build your authority.
Here are some tips for creating content for your music blog:
Create a content plan: Plan out your blog posts in advance. This will help you to stay organized and ensure that you are consistently publishing new content. You can use a content calendar to schedule your posts and keep track of your ideas.
Write engaging headlines: Your headlines should be attention-grabbing and give readers a reason to click through to your post. Use action words and make sure your headline accurately reflects the content of your post.
Use multimedia: Incorporate images, videos, and audio into your blog posts to make them more engaging. Also break up the text and use short paragraphs.
Be authentic: Write in your own voice and be honest with your readers. Authenticity is key when it comes to building a loyal following online.
Edit and proofread: Edit and proofread your posts thoroughly. Check for spelling and grammar errors, and make sure your post flows well and is easy to read.
Oh, and one more thing before I go – if you're struggling with grammar or spelling, be sure to check out grammar apps like Grammarly.
Creating content for a music blog can be a lot of fun and there are many different types of content you can create to keep your readers engaged.
Here are some content ideas:
Write album reviews: Album reviews are a staple of music blogging and are a great way to provide your readers with an in-depth analysis of a particular album. You can review new releases or classic albums and share your thoughts on the music, the lyrics, and the production. Be sure to give your honest opinion.
Conduct artist interviews: Interviews with musicians can be a great way to add some variety to your content and provide your readers with an insider's perspective on the music industry. Reach out to artists you admire or who are relevant to your niche and ask if they would be willing to participate in an interview. You can ask them about their music, their creative process, and their experiences in the industry.
Create playlists for different moods and occasions: Creating playlists is a great way to share your love of music and provide your readers with a curated selection of songs for different moods and occasions. You can create playlists for working out, studying, relaxing, or even for a particular season or holiday.
Share news and updates about the music industry: Keeping your readers up to date on the latest news and developments in the music industry is a great way to establish yourself as an authority in your niche. You can share news about new album releases, tour announcements, industry trends, or anything else that is relevant.
As you create content for your blog, remember that the key is to provide value to your readers. Give them something they can't find anywhere else, whether it's your unique perspective on an album or an exclusive interview with a musician.
With time, effort, and dedication, your music blog can become a go-to destination for music lovers around the world. And, that's when can make money blogging.
Overall, your blog content is the basic need to build your audience.
Without content you are not going to go anywhere.
But, creating content is not enough to build an audience. There are other important factors to consider as well, such as promoting your content on social media, engaging with your blog audience, and building relationships with influencers in your niche.
So, let's see how to build an audience.
Build an Online Audience for Your Blog
Starting a blog is easy, but building an engaged audience is not.
You'll need some dedication and hard work. Let's explore some of the best practices to build an audience for your music blog so that you can make it big.
Promote your blog on social sites
If you want to build an audience for your music blog, you need to be active on social media. Platforms like Twitter, Instagram, and Facebook are great places.
Share your blog posts on these platforms and interact with your followers.
You can also join music groups on social media platforms and share your content there. This will help you reach a wider audience and increase your blog's visibility.
Engage with your readers
Engaging with your readers is one of the best ways to build an audience.
Respond to comments on your blog and social media posts.
You can also ask your readers for feedback and suggestions on your blog posts. This will help you improve your content and build a loyal following.
Collaborate with other bloggers or influencers
Collaborating with other bloggers or influencers in your niche is a great way.
You can build huge audience for your music blog in this way.
You can reach out to other bloggers or influencers and propose a collaboration.
The collaboration can include guest blogging on each other's blogs, cross-promoting content, or creating a joint project. Collaborating with others will help you reach a new audience and build your credibility in the music industry.
Optimize your blog for SEO
If you want to build an audience for your music blog, SEO is a must.
You need to make sure it's optimized for search engines like Google or Bing.
This is where search engine optimization (SEO) comes in.
SEO basically involves optimizing your blog's content and website structure so that it ranks higher in search engine results pages (SERPs).
This will help you attract more organic search traffic to your blog.
Understand that building an audience for your music blog can takes time and effort.
But it's definitely worth it, in the long run.
Keep in mind that consistency is key, and don't forget to have fun along the way. With hard work and dedication, you can make your first dollar soon.
Now, let's see how to make money from your music blog.
Ways to Monetize Your Music Blog
Making money is the motivation we all need to keep blogging, right?
But, how does making money from blogging works?
Here are most effective ways to monetize your music blog:
1. Display ads on your blog
The most common way to monetize a blog is to display ads on your website.
You can use services like Ezoic, Google AdSense or Media.net to display ads and earn money whenever from clicks or impressions on ads.
Well, make sure you avoid cluttering your site with too many ads.
In order to make money from ads, you need to have a decent amount of traffic on your blog. One of the best ad networks for bloggers that I recommend is Ezoic.
Now, you can join Ezoic with only 1000 visitors per month, which is great for bloggers who are just getting started and need some money to stay motivated.
The next big money making strategy is affiliate marketing.
2. Use affiliate marketing
It's the process of earning commissions from selling other people's products. There is no limit to how much money you can make from affiliate marketing.
Affiliate marketing is a profitable way to make money from a blog.
You can earn a commission by promoting music-related products on your blog.
For example, you can promote music streaming services like Spotify or Apple Music, musical instruments, or even concert tickets.
You can sign up for affiliate programs like Amazon Associates or ShareASale to find affiliate products related to music that you can promote on your blog. Only promote products that you truly believe in and that are relevant to your audience.
3. Offer sponsored posts or product reviews
Many companies in the music industry are looking for bloggers to write sponsored posts or product reviews. You can charge a fee to write and publish sponsored content on your blog, or receive free products in exchange for a review.
Be sure to disclose sponsored content to your readers.
4.Sell digital products – eBooks or courses
Creating digital products is a great way to monetize your music blog.
You could write an eBook about music production, offer a course on music marketing, or create sheet music for original songs. Use platforms like Gumroad, Payhip, or other platforms to sell your digital products and generate passive income.
5. Create a membership program
Creating a membership program is another way to monetize your blog.
You could offer exclusive content, early access to new music releases, or other perks to members. Use platforms like Patreon or Ko-fi to manage your membership program and generate recurring income because of your music blog.
But, before you could make money online from your blog, it's important to also focus on building an engaged audience. Use social media to promote your blog posts, engage with fans, and promote your content. Attend live shows and network with other music industry professionals to build your brand and expand your reach.
Remember, the key is to provide value to your readers.
Final Thoughts about Music Blogging
So, you've finally reached the end of this blog post. By reading this article, you've already taken the first step towards starting a music blog and making money online. It's not easy, but with the right mindset and tools, it's definitely achievable.
Starting a music blog can be an incredibly rewarding experience.
However, it's important to keep in mind that blogging is not a get-rich-quick scheme. Just like any business, it takes time, effort, and dedication to build a successful blog. But the good news is that with hard work and persistence, it's really possible.
Always stay true to yourself.
Your blog should reflect your personality and your unique perspective on music. Don't try to copy other bloggers or mimic their style.
Be authentic and true to your voice.
This is what will make your music blog stand out from the rest.
Another key factor in creating a successful blog is consistency. You need to consistently create high-quality content that engages your readers.
This means having a regular posting schedule and sticking to it.
It also means putting in the time and effort to research and write well-thought-out posts that provide value to your readers.
Now, I hope you feel inspired and motivated to start your own music blog.
Remember, it's not going to be easy, but it's definitely worth it. And who knows? Your blog may even inspire others to pursue their own passions and dreams.
So, what are you waiting for?
Go ahead and start your music blog today!
And if you found this article helpful, please share it. You never know who you might be inspiring. Thank you for reading, and best of luck!
Looking to start a music blog but not sure where to begin?
Look no further than Bluehost.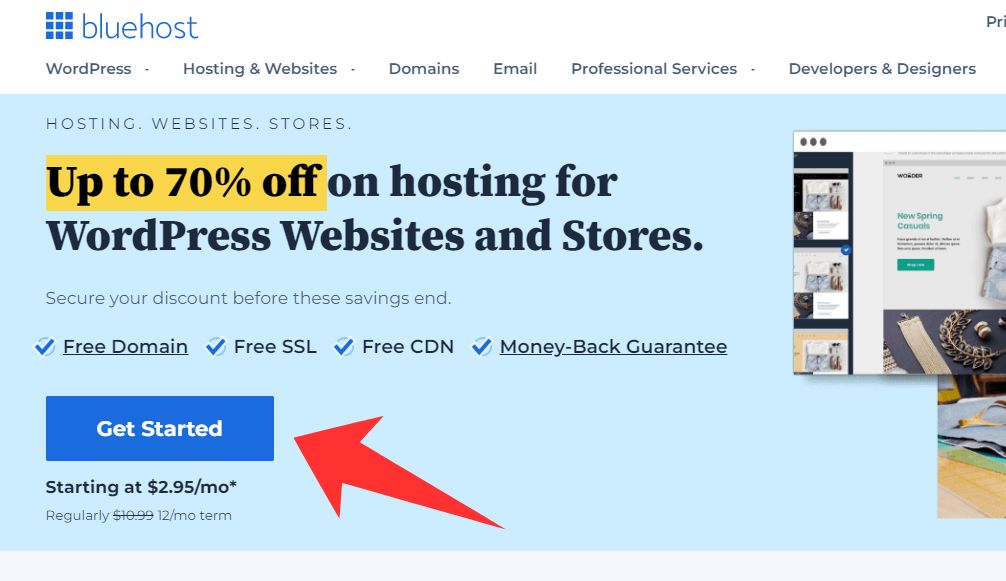 It's the perfect hosting solution for all your blogging needs.
With fast speeds, reliable uptime, and user-friendly features, Bluehost makes it easy for you to create a stunning blog that's sure to grab your readers' attention.
Whether you're an aspiring musician, a music lover, or just someone with a passion for writing, Bluehost has everything to take your blog to the next level.
So why wait? Sign up today and start your blog.
And, of course, start sharing your love of music with the world!