Are you someone who's passionate about technology and loves to write? Have you been thinking about starting your own tech blog but don't know where to begin? Or maybe you've already started your blog, but you're not sure how to make money from your blog or take it to the next level? Well, you've come to the right place!
In this blog post, I'm going to show you how to start a technical blog and make money in 5 easy steps. Yes, you read that right, 5 EASY steps!
I'm pretty sure that by the end of this post, you'll be equipped with all the knowledge you need to start your own blog and make some serious cash.
Now, I know what you're thinking…
"But starting a blog is hard work, and making money from it is even harder!"
I hear you loud and clear.
That's why I'm going to break it down for you step-by-step.
So, if you're ready to turn your passion for technology into a profitable venture, keep reading. By the end of this post, you'll be on your way to becoming a successful technical blogger, making money doing what you love.
So, without further delay, let's dive in!
---
---
Choose Your Tech Niche
In this digital era where everything is just a click away, people are always looking for content that caters to their interests. They don't have time to scroll through an entire blog to find what they're looking for.
That's why choosing a specific niche for your tech blog is crucial.
What is a Niche and Why Choose a Niche?
A niche is a specialized segment of the market that caters to a specific audience.
For a tech blog, your niche could be anything from hardware reviews to software hacks or anything tech. The point is to choose a particular area and stick to it.
Why is this important, you ask?
Having a niche will help you establish yourself as an expert in that area.
People will come to your blog because they know you provide quality content on a particular topic. Your blog will become their go-to resource.
Choosing a niche also helps you create a community around your blog.
When people know that you cater to a specific audience, they're more likely to engage with your content and share it with others who share their interests.
Plus, choosing a niche can also help with your search engine rankings. When your blog is focused on a particular topic or niche, it's easier for search engines to understand what your blog is about. This makes it more likely that your content will appear in search results when people are looking for information on that topic.
In short, you need to be an expert in your niche, not a jack of all trades.
So, how do you choose a tech niche for your blog?
How to Choose a Niche for Blogging?
Well, start by asking yourself some questions.
What are you interested in? What are your strengths and weaknesses? What topics do you have a lot of knowledge about? What do you want to learn more about?
Once you've answered these questions, you'll have a better idea.
Wondering what makes a perfect blog niche?
Minimal competition
High-profit potential
Solves a practical need
Strong market demand
Professionally and personally satisfying
---
Read – How to Choose a Profitable Niche for Your Blog? [Complete Guide]
---
Now, let's talk about the different niches you can choose from.
There are many, but I'll focus on a few popular and profitable ones.
Cybersecurity: With the rise of cyber attacks, there's a huge demand for information on how to protect yourself and your devices. If you have a background in computer science or IT, this could be a great niche for you.
AI and machine learning: This is a rapidly growing field, and there's always something new to write about. If you're interested in the future of technology and its impact on society, this could be the niche for you.
Gadgets and tech accessories: If you're more into hardware, you could write about gadgets and tech accessories. From smartphones to headphones to gaming gear, there's always something new coming out. This is a great niche for tech enthusiasts who love to try out new products and share their thoughts with others.
Finally, you could write about software and apps.
Whether it's productivity tools, social media platforms, or video editing software, there's always something new and exciting to write about. If you're a software developer or have a background in programming, this could be a great niche for you.
You can use Topic research tools from SEMrush to speed up the process and find new and exciting niches that could make your blog explode with visitors.
Now that you have an idea of what niche you may choose, it's time to set up your blog and start writing blog posts. So, let's see how to do that.
Set Up Your WordPress Blog
Let's talk about creating a WordPress blog step by step.
First, what is WordPress?
WordPress is a free CMS (content management system) that allows you to create and manage your own website or blog. It's free, open-source software that is incredibly user-friendly and customizable. And it's used by millions of people worldwide.
But why choose WordPress?
Why Choose WordPress?
Because it's awesome, that's why! Seriously though, WordPress is the go-to platform for anyone who wants to create a website or blog.
It's flexible, versatile, and easy to use. Whether you're a beginner or a seasoned pro, you can create a beautiful and functional website with WordPress.
And, the best part? It should not take more than 30 minutes.
If that's not enough, read this post to find out more about WordPress.
So, how to create a WordPress blog?
---
Read – A Comphehensive, Detailed Guide to Create a WordPress Blog
---
Here's a quick overview of the whole process:
How to Create a WordPress Blog?
First, you need to choose a domain name and web hosting provider for your website. Your domain name is your website's address, and your hosting provider is where your website will be stored. There are plenty of options out there, but I recommend going with a reliable and affordable provider like Bluehost hosting services.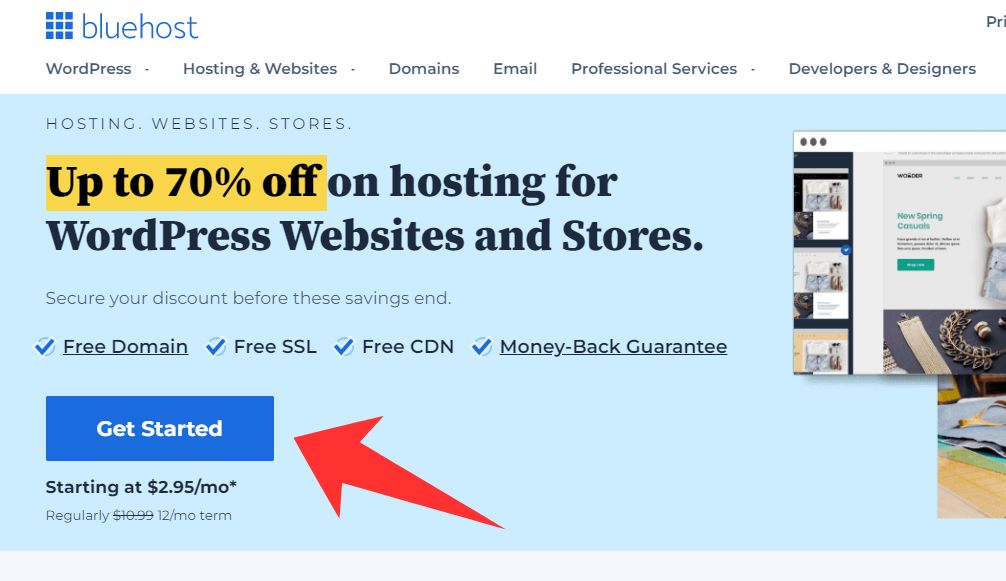 As someone who has been in the website game for a while now, I can tell you that not all web hosting services are created equal.
But Bluehost has a lot going for it.
They're incredibly user-friendly for beginners. Their interface is intuitive and easy to navigate, which is a godsend for those of us who are not tech-savvy.
Plus, their customer service is top-notch. Whenever you'll have an issue with your hosting account, they are quick to respond and incredibly helpful.
And, the best part of Bluehost?
You can get started with only $2.95/month and it includes a free domain.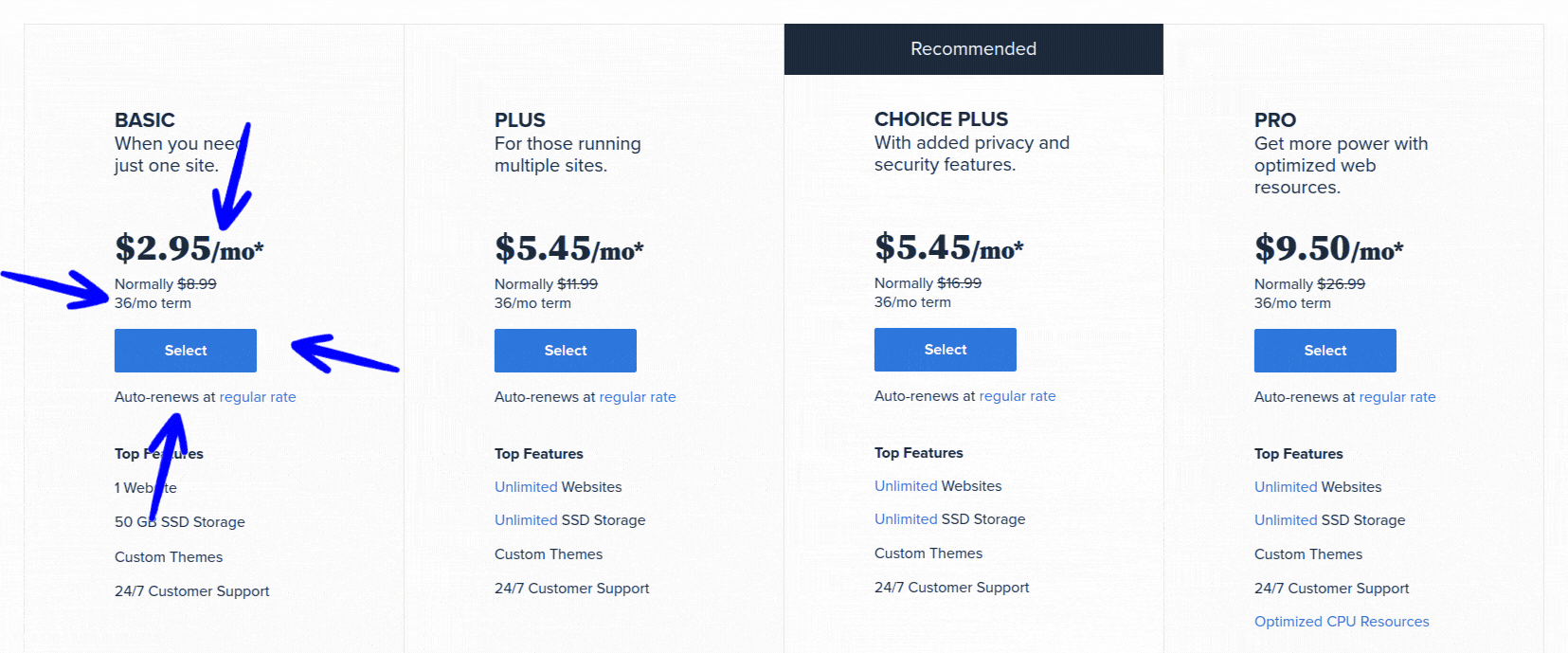 The first step is to head over to Bluehost's website and click on the "Get Started" button. From there, you'll be prompted to choose a hosting plan.
I recommend going with the "Basic" plan if you're just starting out. It's affordable and will give you everything you need to get your blog up and running.
Once you've selected your plan, you'll be asked to choose a domain name. This is the URL that people will type in to find your blog. It's important to choose a domain name that's memorable and easy to spell. You can also choose to register a new domain or transfer an existing one. If you're registering a new one, you'll need to check to see if it's available. If it's not, Bluehost will suggest some alternatives.
After you've chosen your domain name, you'll need to enter your personal and payment information. This is a standard process and shouldn't take too long. Once you've paid, you'll be prompted to create a password and log in to your Bluehost account.
Now, let's move on to setting up your WordPress blog.
Luckily, Bluehost makes this incredibly easy. Bluehost automatically installs WordPress in the background when you were signing up. Once you're logged in, you'll see an option to login into your newly created WordPress blog admin.
In case, you need to install WordPress again for a new site, it's easy too!
Simply create the "Create Site" button on the top.
Bluehost will walk you through the installation process step by step. If you get stuck, don't hesitate to reach out to their customer service team for help.
Once WordPress is installed, you'll want to choose a theme for your blog. This is what will determine the overall look and feel of your site. There are tons of free and paid themes to choose from, so take your time and find one that suits your needs.
At this point, your blog is up and running!
But there are a few things you'll want to do before you start publishing content.
First, make sure your site is secure by installing a security plugin. I recommend Wordfence or Sucuri. These plugins will protect your site from hackers and malware.
You'll also want to install some essential WordPress plugins that will make your blogging life a lot easier. Some of the popular plugins include an SEO plugin (like Yoast), a caching plugin (like WP Rocket), and a backup plugin (like UpdraftPlus).
And there you have it!
That's how to buy hosting from Bluehost and set up your WordPress blog.
It may seem overwhelming at first, but trust me, it's a breeze. Just remember to take your time, ask for help when you need it, and have fun with it.
Or, contact me if you have any question.
Understand that WordPress is the bomb. It's really the best blogging platform for creating a blog or website, hands down. And with the steps I've outlined above, you'll be able to create a beautiful and functional website in no time.
So go ahead and set up your WordPress blog! Your website awaits…
For a more detailed guide, check this blog post.
Create Quality Content
So, are you ready to create content that rocks your tech blog?
Are you ready to stand out from the crowd and provide your readers with the valuable insights and unique perspectives they crave?
If so, then it's time to let your emotions run wild and write blog posts.
First things first, research is key.
You need to know what your readers want to read about and what's currently trending in the industry. You can use keyword research tools and stay up-to-date with the latest developments in the tech world. Don't just regurgitate what's already out there, but instead provide a fresh take on the topic that showcases your expertise and knowledge.
But it's not just about the research, it's about how you present that information to your audience. Be creative, be engaging, and most importantly, be authentic.
Don't try to be something you're not.
But instead, embrace your unique voice and let it shine through in your writing.
Use personal anecdotes and emotional instances to connect with your readers and make them feel like they're part of the conversation.
Structure is also key.
Your blog post should be well-organized and easy to read. Use headings and subheadings to break up the text and make it more digestible. Use bullet points and numbered lists to highlight important information and keep the reader engaged.
And don't forget about search engine optimization.
Use relevant keywords throughout your post to improve your rankings in search results. But be careful not to overdo it, as this can actually hurt your rankings.
Use keyword variations and natural language to make your content more readable.
In the end, it's all about creating content that provides value to your readers.
Show them that you're an expert in your field and that you have something unique and valuable to offer. Use your emotions and your unique voice to connect with your audience and leave them feeling inspired and motivated.
So go ahead, let your emotions run wild, and create the perfect content. If you need a comprehensive guide, read: How to Write The Best Blog Post?
Remember, it's not just about following the rules.
But, it's about breaking them and creating something truly exceptional.
But, of course, creating content is not enough to become a successful blogger. You'll also need traffic, a lot of it, to your blog to make money.
So, let's see how to get traffic to your tech blog.
Get Traffic to Your Blog
I'm about to give you some hard-hitting insights that are going to blow your mind.
This isn't going to be your run-of-the-mill, cookie-cutter advice. No, this is going to be the real deal, straight from the heart, with no holds barred.
Create Content People Want to Read
Understand that if you want to get traffic to your tech blog, you need to create content that people actually want to read.
I know that seems obvious.
But it's shocking how many people overlook this crucial step.
Don't just write about the latest tech trends or news, write about things that are going to be useful. Write about things that people search.
Give them tips and tricks that they can actually use in their daily lives.
Share your personal experiences and insights, and be sure to inject your own personality and voice into your content.
But it's not just about the content itself.
You need to optimize it for organic search rankings.
Optimize Your Post for Search Engines
You also need to make sure that it's optimized for search engine rankings.
Because you want traffic from search engines.
This simply means doing your keyword research and using relevant keywords throughout your blog post. And, at the same time, you have to make it valuable.
But don't overdo it with keyword optimization.
Because keyword stuffing is a big no-no and can actually hurt your rankings. Instead, use keywords naturally and organically throughout your post.
I hope you got my point, right?
Next up, social media.
Use Social Media Platforms
If you're not using social media to promote your tech blog, you're missing out on a huge audience. Make sure you have a strong presence on platforms like Twitter, LinkedIn, and Facebook, and be sure to engage with your followers.
Share your latest blog posts, but also share other relevant content from around the web. This will help establish you as a thought leader in your industry.
This will also keep your followers engaged and coming back for more.
And speaking of engagement, make sure you're engaging with your readers on your blog itself. Encourage comments and respond to them in a timely manner.
This will help build a sense of community around your blog.
Finally, don't forget about the power of guest posting.
Guest Post on Other Relevant Blogs
Reach out to other tech bloggers and see if they'd be interested in featuring a guest post from you. This will help you reach a new audience.
When it comes to guest posting, it's important to remember that quality is key.
Don't just reach out to any blogger; make sure you're targeting bloggers who have a similar audience to your own and who will appreciate the value you bring.
Be sure to provide a unique, well-written post that provides value to their readers and helps establish you as an authority in your chosen niche.
Getting traffic to your tech blog isn't rocket science.
But it does take some time, hard work, and dedication. Create great content, optimize it for search engine rankings, use social media to promote it, engage with your readers, and consider guest posting to expand your reach.
Do everything that sets you apart from the competition.
Monetize Your Tech Blog
Now, onto the actual money-making part.
Show Ads on Your Blog
The most common way to make money from a tech blog or any type of blog is through advertising. This can be in the form of display ads. Display ads are the most common form of advertising, and they're pretty straightforward.
You sign up with an advertising network such as Google AdSense or Media.net, and they will place ads on your website. And, you'll get paid for that.
You get paid every time a view is generated on one of those ads.
I recommend getting started with Ezoic ad platform.
It uses artificial intelligence and machine learning algorithms to automatically optimize your website's layout, ad placement, and content to improve your ad revenue.
---
Read – Ezoic Review – Does AI Help to Increase Ad Revenue?
---
Sponsored Posts
Sponsored posts are when a company pays you to write a post about their product or service. This can be a great way to make money, but you need to be careful not to compromise the integrity of your blog. Make sure you only promote products that you genuinely believe in and that align with your blog's values.
Promote Affiliate Products
Affiliate marketing is when you promote a product or service and get a commission for every sale that is made through your unique affiliate link.
This can be a great way to make money, but it requires a lot of effort and time.
You need to find products that are relevant to your blog's niche, promote them, and convince your readers to make a purchase.
Find a complete guide here: How to Make Money with Affiliate Marketing?
Another way to make money from a tech blog is by offering services such as consulting, writing, or web design. This requires a different skill set than just writing blog posts, but it can be a lucrative business if you have the skills and expertise.
Final Words and Thoughts
So, there you have it – a step by step guide to start a profitable tech blog.
Starting a technical blog and making money can seem like a daunting task, but with step-by-step approach, it's more achievable than you may have thought.
Remember to identify a specific tech niche, create engaging high-quality content, SEO optimize your blog, promote your blog through social media and other channels, monetize your blog, and track your progress along the way.
But most importantly, don't forget to enjoy the journey.
Blogging is not only a way to make money online.
It's an opportunity to learn and grow, both personally and professionally. So, have fun with it and don't be afraid to take risks and try new things.
And as a final request, I encourage you to share this blog post with others who may be interested in starting a technical blog. By doing so, you'll be helping others discover their passions and potentially change their lives.
Plus, who knows, maybe you'll inspire someone to start a blog.
I wish you all the best in your blogging journey.