Want to learn how to transfer a WordPress website to another domain easily? If so, you have come to the right place. This easy-to-follow step-by-step tutorial will show you exactly how to do it successfully without losing on SEO or content.
I've transferred websites to new domains many times in my career, and I understand it can be a difficult job if you're doing it for the first time.
The first day's experience is still fresh in my mind.
I remember scouring the internet for a comprehensive step-by-step guide. Yes, there were tutorials available. However, they were not what I had expected.
In short, it seemed complicated.
End result?
I had to put off the thought of transferring my website to another domain several times because I was afraid of losing content or SEO rating.
But hold on…
If you're in the same boat, there's no need to be worried.
Since I'm going to show you how to transfer a WordPress website to a new domain in this tutorial. And, the best part is that it is completely free.
Isn't it incredible?
To be honest, there are many ways to do it. But, I'll show you the simplest method that I've found to be useful for both beginners and experts.
Let's get started.
In this tutorial…
The old website is the one that you are transferring.
The new website is the one where you want to move your files and databases.
Step 1: Backup Your Website
Even though you can be pretty sure that the transfer will be easy and everything will go smooth, it is a smart choice to backup your website.
It doesn't matter how careful you are, you can always make a mistake.
Backing up the website gives me peace of mind in case I make a mistake or something goes wrong. Honestly, we can never be sure when disasters strike.
And, I recommend it to everyone before taking any action on your site.
The good news?
Backing up your WordPress website is incredibly easy.
Because there are plenty of free WordPress backup plugins available. In this post, I've also mentioned some of the best backup plugins.
Just install any one of these backup plugins.
Activate it and save a copy of your site to a remote storage location before moving to the first step of transferring your website to a new domain.
Step 2: Install WPvivid on the Old Site
Although there are multiple backup plugins out there, I have found that WPvivid is one of the best and easiest solutions out there.
The plugin is completely free to download and use on your site.
The best thing?
It makes the process of transferring your website to a new domain a whole lot easier than ever before. Obviously, the first step is to install the plugin.
You can download the plugin from the official website or from WordPress repository.
The installation process is simple. Click Plugins > Add New.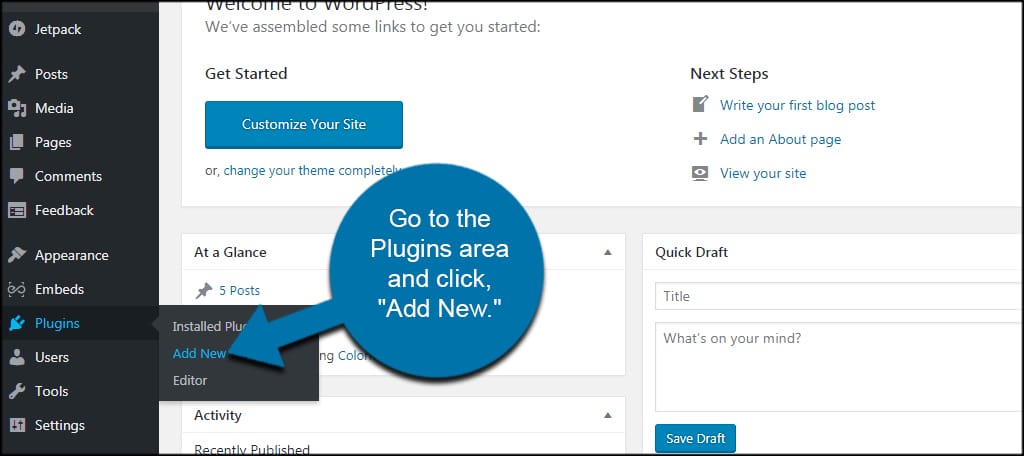 On the next page, search with the keyword WPvivid.
Then, install the first plugin that comes in the search result.
Hit Install now button and activate it.
Step 3: Backup Remotely (Optional)
Now, from the left sidebar, click WPvivid backup > Backup & Restore.
Now you are on the dashboard of WPvivid backup.
Click on the remote storage tab.
There are multiple remote backup locations you can choose when using WPvivid plugin. Below are some of the remote storage options you'll find.
Google drive
Dropbox
Microsoft OneDrive
Amazon S3
One of the most common storage options is Google drive.
If you have a google account, you have a Google drive account too. So just select the storage and authenticate it with Google drive.
Once done, get back to WPvivid plugin dashboard.
Choose Send Backup to Remove Storage.
And, hit the Backup now button.
Once you hit the backup now button a backup progress bar will appear, showing you the progress of your website backup.
Depending on how large your website is, backup can take anywhere from a few minutes to a few hours. So, please be patient until it's completed.
Step 4: Generate a Transfer Key
Please note that the transfer key should be generated from the new website or your destination website or the new URL to which you want the website to be transferred. Don't forget it or things can get really messed up.
So, you'll have to install WordPress on your new domain name.
I believe you already know how to install WordPress on your domain name. Because you already have a site that you want to transfer to a new domain.
If you still need help, you can check out this article where I have described how to install WordPress on your HostGator hosting account. Different hosting providers may have different ways to do it. But the basics are always the same.
As an alternative, you can also use FTP to manually install WordPress.
After successful WordPress installation on your new domain, log into your WordPress dashboard. And, install and activate WPvivid backup plugin.
Visit WPvivid Backup dashboard and click on the Key tab.
Here, click on the Generate button.
Almost immediately, you'll have your transfer key generated in the lower box.
Now, copy the key that is generated and get back to your old site.
In the next step, you'll clone and transfer your backup to your new domain or site.
Step 5: Clone The Transfer
In this step, all the tasks need to completed on your old website or old domain.
Log in to the WordPress dashboard of your old site and move to the WPvivid dashboard. From here, you'll need to click on the Auto-migration tab.
Now, copy the key generated from the old domain or site and paste it here.
Then, click the button that says Clone then Transfer.
Depending on how large your website is, it can take anywhere from a few minutes to a few hours to transfer your whole site to the new domain.
Interestingly, there is a progress bar that will show you the transfer progress.
Once the process is completed, you'll get a success message.
Please note that your new website on the new domain will not reflect the changes until you restore the backup from your new site.
And, that's what we are going to do in the next step.
Step 6: Restore Your Website
Now, log into your the WordPress dashboard of your destination domain.
Visit WPvivid dashboard.
Scroll down to find the backup received from your old domain's website. The backup will be tagged as Received backup and the type will be Migration.
All you need to do now is to click Restore.
You'll be asked to confirm again. Hit restore again to start restoring your site from the backup. Once the restoration is completed, you'll see that your old site has been transferred from your old domain to your new domain.
You should now be logged out as the WordPress password will now change. Obviously, it will be the same password that you used on your old domain's site.
Congratulations!
You have transferred your WordPress website to a new domain name.
Step 7: Check Everything
This is the final step.
As you may already guess, your job is to check if everything has been transferred properly. Check your internal links, external links, redirections and so on.
Hopefully, nothing wrong would happen if you followed my instructions properly.
Final Thoughts
And, that's how you transfer a WordPress website to a new domain.
I hope I was able to make this tutorial as simple as possible. And my purpose to help you learn how to transfer your website to new domain was successful.
Now, you know how to do it successfully. 🙂
It truly makes me happy.
Finally, if you found this tutorial useful and feel that others may be benefited from this article, please share it. It really motivates me to create more content like this.