Are you looking for a better and cheaper way to transfer money internationally? Then, you've come to the right place. In this article, I will discuss and review Wise money transfer services and try to answer whether it is a good platform to send and receive money internationally. So, let's get started.
In this review, I will base my conclusions on several factors, the price being one of them. The other factors include transfer speed, service fees as well as customer service, and reliability so that you can be confident while using it.
If you don't already know, Wise.com or Wise, formerly known as TransferWise, helps you send money to over 60 countries, for a small fee.
Pretty cool, right?
Now, if you've ever tried to transfer money through a bank or other financial institution, chances are it's going to cost you a lot.
That's right!
Sending or receiving money internationally can be expensive in most cases. But, the good news is that you can now use Wise to transfer money abroad for much cheaper than you would otherwise.
And, you can send money to over 60 countries. Here's the full list.
Before I get into how Wise money transfers works, let's talk about why it is important to find a better and cheaper way of transferring money abroad.
The reason?
There's a high cost for international money transfers.
If you are familiar with sending money abroad, then you probably know that there are plenty of options out there. Some other sites similar to Wise include Xoom, PayPal, and Skrill. But, you want to choose the best, but cheap one, right?
So, let's get to it.
One way Wise.com is different from other money transfer services is that it charges a small fee no matter which currency you are sending or receiving, provided that it happens inside the same currency.
Still, wondering why use Wise.com?
Simple. You can send or receive money from abroad quickly and affordably. But probably, this isn't enough to start using Wise right away. You want to know more about it, right? So, without further ado, let's dive in.
What is Wise (Formerly TransferWise)?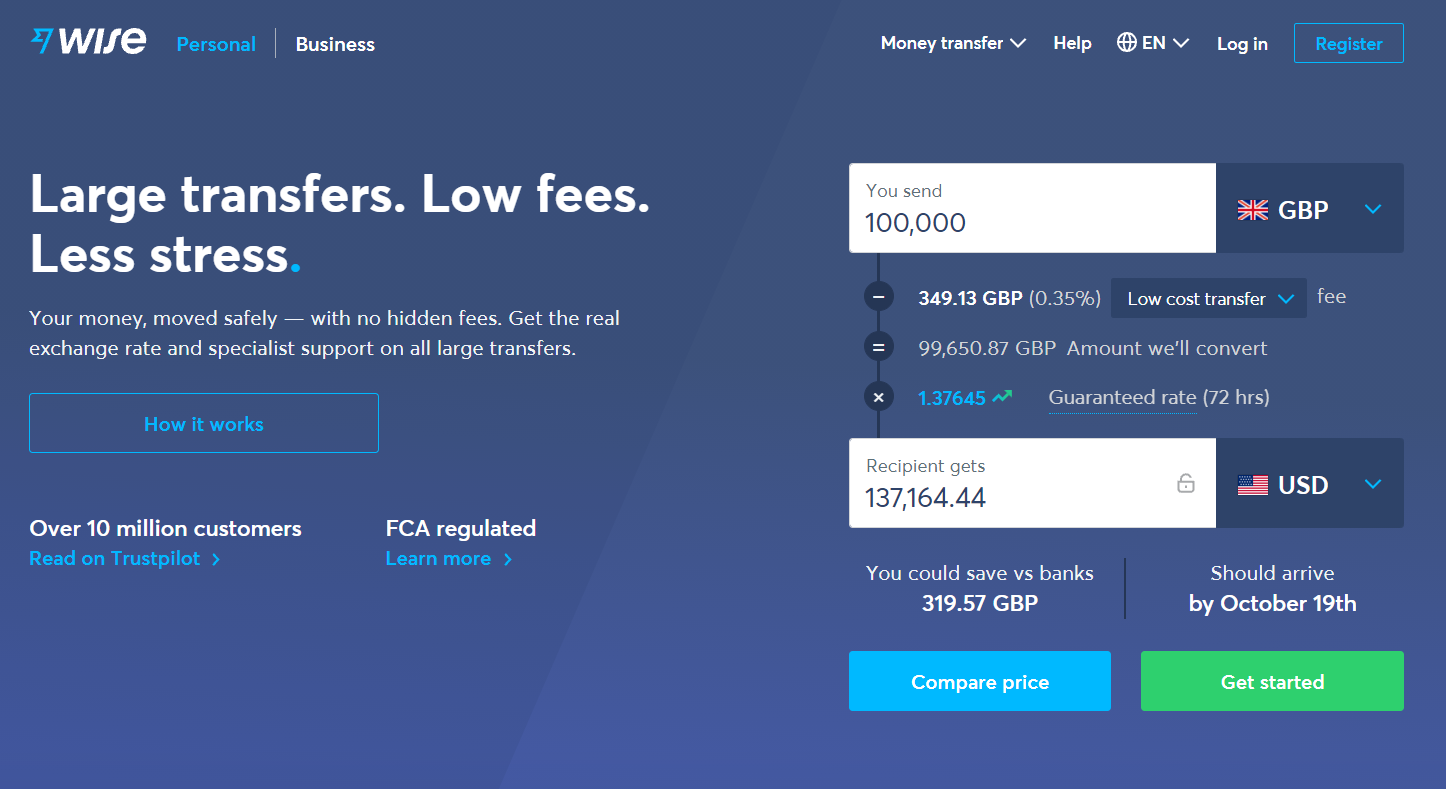 Wise.com or Wise (formerly known as TransferWise) is a money transfer website founded in 2011 by Kristo Käärmann and Taavet Hinrikus, based on the idea that banks make more money from your transfers than you do.
They saw an opportunity to help people save more money in hidden bank fees and created Wise as a solution to this problem.
The company is headquartered in London, UK, and has over 2800 employees globally, including offices in the US, Australia, Europe, India & Singapore.
Using the platform is easy and you can get started right away.
You just have to create a free account with your email address, phone number, and bank details. Then you can transfer money online in 60+ currencies.
Related: Here's a full list of currencies supported by Wise.
How Does Wise Money Transfer Work?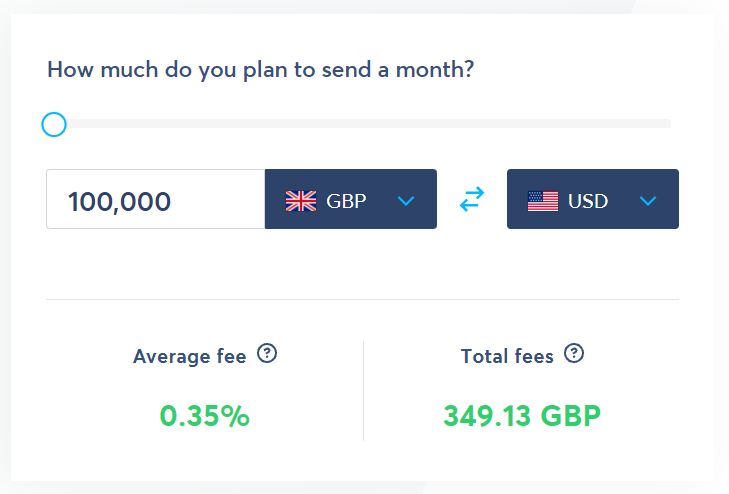 To transfer money using wise.com, you will have to go through a series of steps that are very easy to follow, even for beginners.
And, here's the step-by-step process:
Step 1: On the Wise homepage, choose "Transfer" >>> Select your currency >>> Then, enter that amount you want to transfer.
Step 2: Choose if you want it sent in USD or EURO (both currencies will be converted to your local currency at even better rates)
Step 3: Enter the country where your recipient is and also the currency they will receive the money in. And, enter your recipient's details.
You can add a name, email address, or phone number to send them an email notification once you have made the transfer.
Or, you can also enter their bank account details directly and Wise will automatically integrate with their bank account when you make the payment.
Step 5: Double-check how much money you are sending and which country you want to send it to. You can also click "See rates" to see a better view of how much you will be charged for each transaction.
Step 6: Click on "Send money" and you will be taken to the next page where you will see your order and total cost.
Check out the video below for a better understanding.
As you can see, the process is very user-friendly and it's clear that they want their customers to understand what is going on every step of the way.
What are The Top Benefits of Wise Money Transfer Services?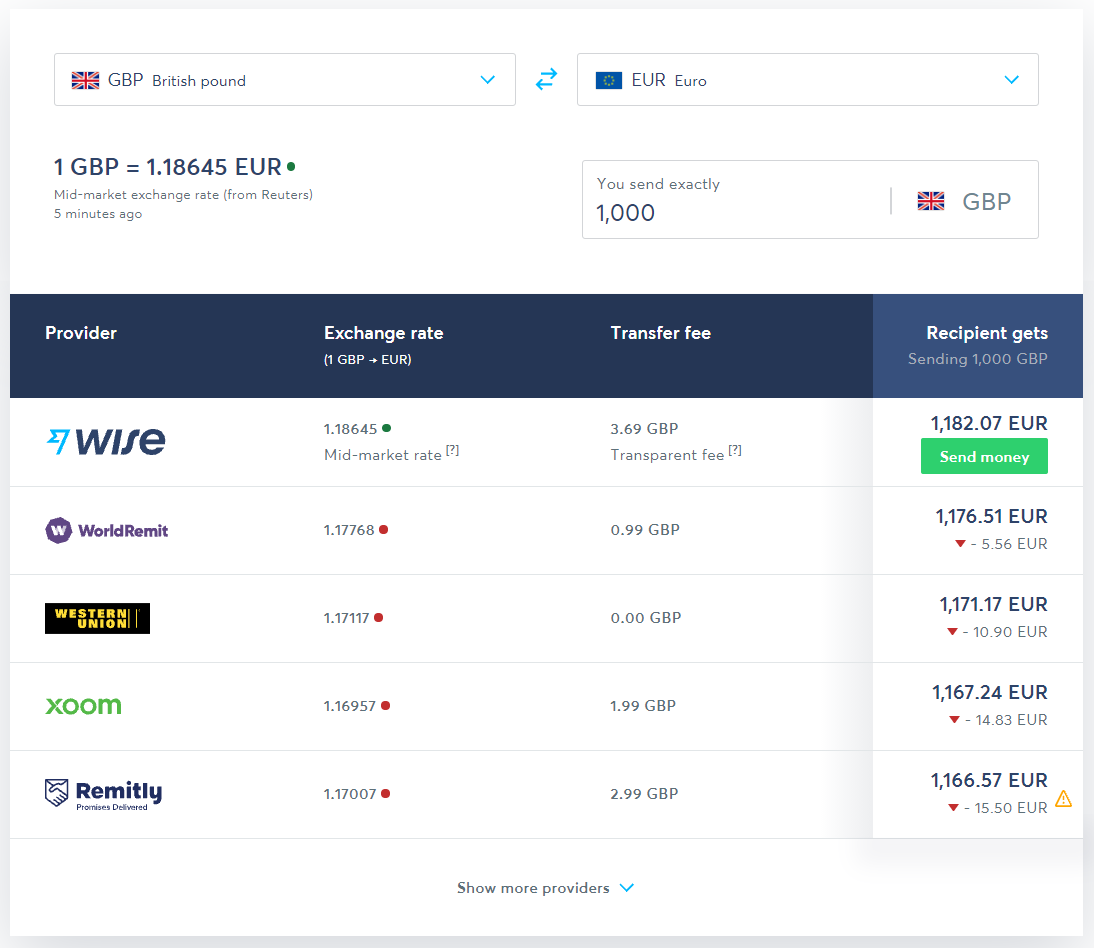 There are numerous benefits of using Wise multi-currency account and its money transfer service, mainly focusing on lower transfer fees, outstanding exchange rates, and impressive customer service.
The money transfer service was formerly known as TransferWise, but they changed their name to Wise in 2018.
Apart from changing the name to Wise, nothing else has changed.
The most significant benefit is the low fees charged by the company for transfers which are significantly lower than other similar companies.
Here's a list of 7 top benefits associated with using Wise.
Low Transfer Rates: Wise doesn't actually charge a fee for sending money, it only exchanges the currency and charges a small markup/spread for this service (the markup is usually 1%-2%). While other remittance services like Western Union might charge as much as 7% for an international money transfer.
Excellent Conversion Rates: The company use mid-market currency rates rather than less favourable wholesale rates to calculate its exchange rate, so customers can be sure they are receiving an honest exchange rates.
Easy to Use Online Platform: There are lots of similar platforms, but most operate through your bank account, while Wise.com operates through your debit/credit card which is much easier to use.
Send Money Internationally: As soon as the transfer has been approved by the receiver, they receive the money in their bank account, either in cash or through their mobile wallet depending on the country.
Send Money via Email: Wise money transfer service lets you send money to anyone with a valid email address. Find more details here.
Amazing Customer Service: Wise money transfer service really does go that extra mile in order to ensure their customers are satisfied! With its excellent customer service and lightning fast transfers, you will be sure to make Wise your go-to service for transfering money abroad.
Transfer Money in Over 50 Currencies: Wise provides money transfer services in over 50 currencies worldwide.
You can find more details about supported currencies here.
Well, those are the top 7 benefits of using the Wise money transfer service. In short, with great customer support and an impressive user-friendly platform, you will be able to send (or receive) money abroad quickly and easily with Wise.
Which Currencies Can You Send And Receive Through Wise?
Wise.com or Wise (formerly known as TransferWise) supports over 50 different currencies, including EUR (Euro), GBP (British Pound), USD (US Dollar), CAD (Canadian Dollar), and AUD (Australian Dollar).
Want more?
| | |
| --- | --- |
| Australian Dollars | Brazilian Reals |
| Canadian Dollars | Chinese Yuan (CNY) |
| Euro, British Pounds | Hong Kong Dollar |
| Hungarian Forint | Indian Rupee |
| Indonesian Rupiahs | Israeli Shekels |
| Japanese Yen | Malaysian Ringgit (MYR) |
| Mexican Pesos | New Taiwan Dollars (TWD) |
| Nigerian Naira | Norwegian Krone |
| Philippine Pesos | Polish Zlotych |
| Russian Rubles | Saudi Arabian Riyals |
| Singapore Dollars | Swedish Krones |
| Swiss Francs | Turkish Lira |
This is a very impressive list indeed!
And, there's many more! Visit their official website for a complete list.
How Much Does It Cost to Transfer Money Through Wise Account?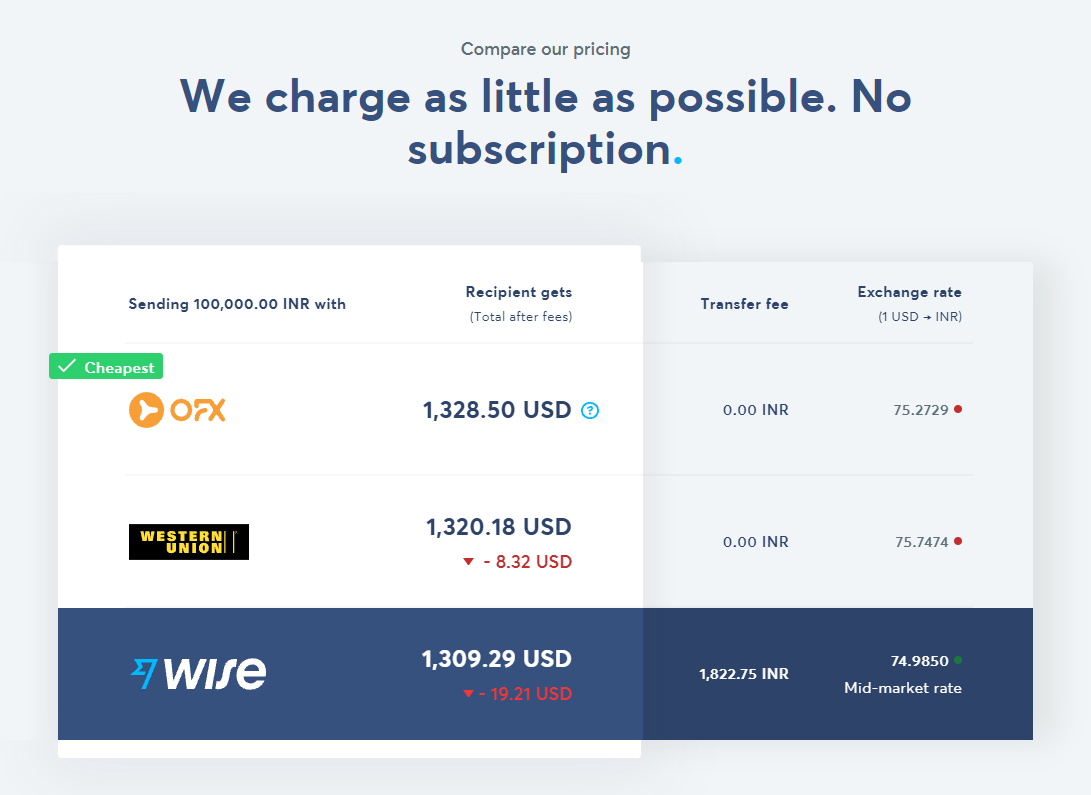 It's very easy to know exactly how much Wise charges to transfer money. When you create an account, it's the first thing you'll see.
The prices for transfers are shown in US Dollars and Euros [currency not important]. When you transfer Euro to euros, no fees will be charged. When you transfer US dollars to other countries [or other USD], a small fee applies, usually around 2% of the total amount you are sending.
If you transfer money from your credit card to your Wise account, the fees are a bit higher: 3% for cash advances and 4-10% for purchases.
When you do the exchange yourself at the bank, they will charge a fee as well. This depends on your current currency but is usually between 2-5%.
However, this is the price you pay to exchange your currency with one of the countries to where your money will be transferred to. When you do a transfer through Wise.com, they are doing it for you automatically.
So, by using Wise.com, you can send more money at a lower fee.
But, if you do the exchange yourself, it's higher.
Note: the prices of Wise.com may change anytime and without warning. Please check out their site for up-to-date pricing information.
To find out how much wise.com charges to transfer money, you need to go to their site and create an account. Then login, click on "Send Money" at the top of your screen and choose one of the methods for transferring money.
You will see 2 tabs at the top of your screen: "To Transfer" and "From Transfer". The amount you want to send will be on the left, and on the right, there is a drop-down menu that shows what currency they use.
Then you'll see the options for sending your money.
The third tab says "Fee". Click on that tab, or just scroll down to find out how much Wise.com charges to transfer money abroad.
Is Wise Money Transfer Safe? Should You Use Wise to Send/Receive Money?
Yes, Wise uses the same security as the big institutions like PayPal and Western Union. They will first check your identity and ask for a copy of your credit card, driver's license, and passport. Then they may also personally call you to verify the transfer before actually making it.
So if you need to make an international money transfer, Wise is definitely one of the best options out there. They also have great customer service and will answer your questions within 24 hours.
So, please stop worrying about safety issues when sending or receiving money through Wise. With over 1 million customers in more than 100 countries worldwide, you should feel safe while using their service.
Wise.com has received over 94,600 five-star ratings on Trustpilot from its happy customers who move over 7 billion dollars of their money every month.
It's also from the people who built Skype.
The company is regulated by FCA (UK), has an A+ rating.
To sum up, you can definitely trust Wise to transfer your money safely! So, go ahead and create your free account and give Wise money transfer a try!
How to Set Up Your Wise Multi-currency Account And Transfer Money?
It's easy to get started with Wise. com money transfer service. All you have to do is go through a two-minute signup process and verify your bank account. Once it's done, all the basic features will be unlocked for you to use!
Step 2: Fill in the required details. If you are already registered, all you need to do is input your Login Details (which will be either E-mail Address or Phone Number). If not, you can simply register with an email address and password. And, then click "Continue".
Step 3: Verify Your E-mail Address or Phone Number. You will be asked to verify your E-mail address or phone number in the next step.
Step 4: Choose Your Wise Account Type. The default account type is "Personal account" because you only need one account when you transfer money for personal use. However, if you need to set up a business account, you can choose Wise for Business account too.
Step 5: Add Your Bank Details. For security reasons, your bank details will not be shared automatically on the next screen; instead it will be sent via e-mail (which is why you need to verify).
Step 6: Verify Your Bank Details. You will receive an email from Wise containing a link that you need to click to verify your bank account. Do not forget to check your spam or junk folder if you can't find it.
Once the verification process is completed, you're good to go!
You can now send money through Wise.
Things you'll need to send money through Wise:
Wise account.
Internet access to open your wise.com account.
Valid credit card or bank account.
Amount of money you want to transfer.
Valid email address or mobile phone number of your friend/relative who is receiving the money from you.
Got everything ready?
You can make your first transfer in just 3 minutes!
Final Thoughts
So finally, it's time to cut the crap and get down to business!
If you're still not sure whether or not you should sign up with Wise, here are some of the top benefits you can keep in mind:
You can send money to over 60 countries.
Wise is much cheaper than other similar money transfer services.
Your money can be transferred to your receiver's bank account internationally in as little as one working day at cheaper rates.
Wise is quick, reliable, cheap and easy-to use money transfer service that anyone can use to transfer money in 50+ currencies.
There are thousands of people using the Wise money transfer service, but very few are talking about it online. So I wanted to be the first to include it in my list.
So, if you are looking for a cheaper and reliable way to transfer money abroad, then Wise might be the best option. So if you are yet to create an account with them, please go ahead and sign up using this link.
The best part?
It's absolutely free to create your account. In less than two minutes, you'll be able to transfer your money almost anywhere in the world!
In the end, if you've found this article useful and helpful, please share it online.
I'm sure it will be appreciated by the community. Thanks!
Note: The official Wise website is considered to be very reliable and can be used with confidence. It's frequently checked for safety and fraud by their system, so you don't have to worry about your sensitive information on this site. Rest assured that this post is based only on my personal experience, so it's 100% unbiased.
However, if you find any outdated or incorrect information in this article, please feel free to contact me. Thank you very much for your cooperation!
So, what are you waiting for?
Go ahead and send your first free money transfer now!
I want to help you find a faster, cheaper, and most reliable way to send money internationally. And I found Wise.com to be the best option for me because they support 50+ currencies at this moment.
Let me know how it goes for you.