SEO is a complicated process.
But, if done right it can be an incredible asset for any business.
The key to SEO success is in the tools you use and how you implement them. In this post, I will provide a list of the 17 best SEO tools that are currently available on the market which every beginner needs to know.
The reason?
You should get started with the right information the right way.
Whether you're new to SEO or an old hand, this list of the best tools will help you stay on top of your game. New tools are constantly being released and some disappear as quickly as they come out. This is a comprehensive list for beginners and experts alike, with tips and tricks too!
SEO sometimes becomes very difficult, confusing, and overwhelming, especially if you are trying to do it all yourself. The good news is that there is a wide range of tools available, as well as professionals out there who can help.
The tools presented below will not only make your life easier and faster, but they will also give you more time and money in order to focus on improving the quality of your products and services.
There are so many things to look at when you do SEO of your website such as building quality backlinks, keyword integration, auditing your content, finding broken links, writing a better title, description, improving loading speed, etc.
It is easy to get confused and sometimes even give up. When you use the right tools, however, you can monitor your website's progress easily.
The tools that I am going to tell you are easy to use even if you are a complete beginner with no experience. Well, the tools are not only meant for beginners, but they are useful for experts as well. So, before wasting your time let us dive into the list of the best SEO tools for beginners, which you can use right now.
1. SEMrush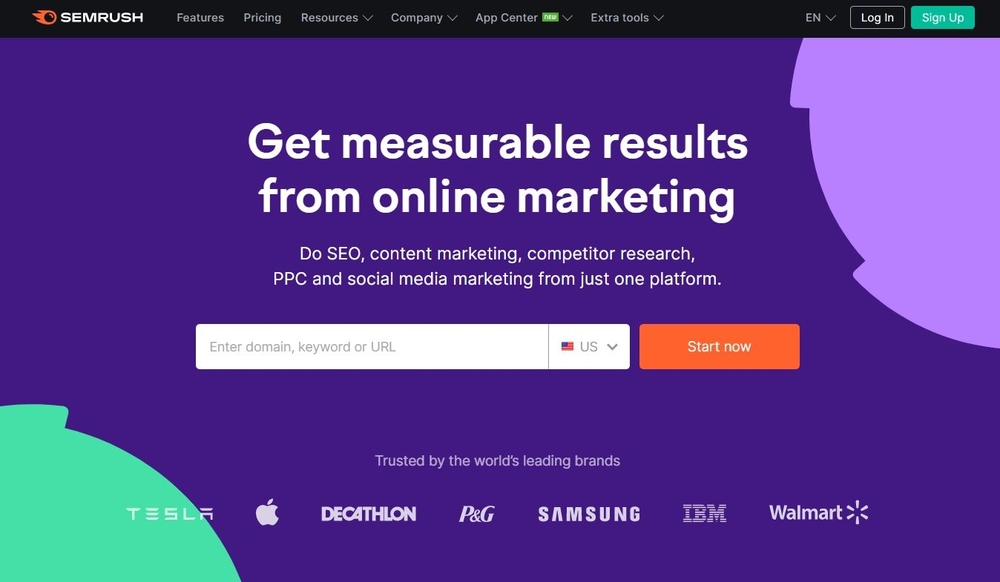 I am going to start with my favorite tool of them all. SEMrush is an absolute must for every online business owner who wants to grow. I have been using this tool for more than 5 years and I believe that it is heaven for SEM and SEO.
SEMrush has two versions available: free and paid.
The free SEMrush version is an excellent choice for beginners to get their feet wet, while also having access to many features.
This combination allows you to track keywords, do keyword research, and keep an eye on your competition's SEO activity.
Some of the key features of SEMrush include:
Keyword Research
One-page SEO
Competitor Analysis
Content Marketing
Local SEO
Rank Tracking
Social Media Management
Link Building
Content Creation and Distribution
Content Optimization
Content Marketing Analytics
Market Analysis
Paid Advertising Tools
Competitor PR Monitoring
PPC Keyword Research
Website Monetization
When you take a closer look at all the amazing features, you soon realize that SEMrush is the best SEO tool on this list, and also one of the most expensive ones. However, let us not forget that you get what you pay for!
But, don't be discouraged!
You'll be able to get a free trial of SEMrush and see how it works yourself. So make sure to take advantage of their free trial offer!
It has millions of active users worldwide. Their database is constantly growing, making it an excellent choice for any type of SEO work.
SEMrush is a must-have tool for every website owner out there who wants to achieve the best results for their online business.
SEMrush Pricing
SEMrush currently has 3 pricing options for you to choose from:
Pro – $119.95
Guru – $229.95
Business – $449.95
Please note that all of the plans are subscription-based.
And, you can choose a monthly or yearly payment method. If you decide to go for annual plans, it will save you quite a bit of money.
The good news?
All plans come with a 7-day free trial.
And, you can cancel your membership anytime if you don't like it.
2. SpyFu
SpyFu is another excellent tool for monitoring your competition's SEO activity. Find out how they are getting the best rankings, which keywords they are ranking for, and even discover what kind of content they are using to achieve those results.
You also have the option to spy on your competitor's Adwords campaigns as well as track new competitors that just popped up on the market.
The SpyFu tool has a very user-friendly interface which makes it extremely easy to use. It's one of the best-known names in the SEO industry.
Some of the Best Features include:
SEO Competitor Analysis
Keyword Spy
Competitor Ad Tracking
Competitor Backlinks
Rank Tracker
Domain Comparison
PPC Keyword Suggestions
Google Ads Templates
Keyword Research Tool
Backlink Checker
SEO Reports
Keyword Rank Checker
And, many more.
If you want to be where your competitors are, you can use the SpyFu tool with your SEO campaigns. It's an excellent choice to find new opportunities and achieve great results for your online business.
What I like most about SpyFu is that it has a free trial which you can use to see for yourself how powerful and easy-to-use this SEO tool is.
SpyFu Pricing
The pricing model is simple with SpyFu, as there are no complicated plans or subscriptions to choose from.
You can choose between 3 options:
Basic – $39/month or $33/year
Professional – $69/month or $48/year
Unlimited – 129/month or $68/year
The Basic account is an excellent choice for beginners or people on a tight budget. However, the Professional account is perfect for intermediate to advanced users who are looking to enhance their SEO campaigns.
Additionally, you get a 30-money back guarantee with SpyFu.
3. Ahrefs
Ahrefs is another fantastic SEO tool that you should definitely try if your budget allows it. Perhaps the best feature is that it checks your backlinks, but also shows you which of them are performing well.
The Ahrefs tool delivers you actionable insights, helping you to improve your site's performance. Additionally, Ahrefs has an incredible content explorer which can help you find the most popular content in your niche.
The Ahrefs tool is excellent for catching link-building opportunities, and their users' area enables you to quickly check any domain for sites linking to them.
It's a must-have tool for every SEO enthusiast and online business owner.
Some of the Best Features of Ahrefs include:
Site SEO Audit
Backlink Monitoring
Content Explorer
Competitive Research
Check My Links
Keyword Research Tool
Domain Analysis
Keyword Tracking
Link Analytics
Performance Metrics
Referral Tracking
Reporting and Statistics
Website Analytics
Rank Tracking
And, many more
If you have the money to invest in a good SEO tool, Ahrefs is an excellent choice. It has everything you need to get the most out of your SEO campaigns.
Ahrefs Pricing
The pricing model is quite simple with Ahrefs, as you can choose between 4 subscription plans:
Lite – $99/month
Standard – $179/month
Advanced – $399/month
Agency – $999/month
The best part?
You can get a free trial for 7 days, so you can try the Lite plan and see for yourself whether this is the right SEO tool for you or not.
The Lite plan is perfect for beginners who are just getting started with SEO, while the Standard plan is what you want if your budget allows it.
4. Moz Pro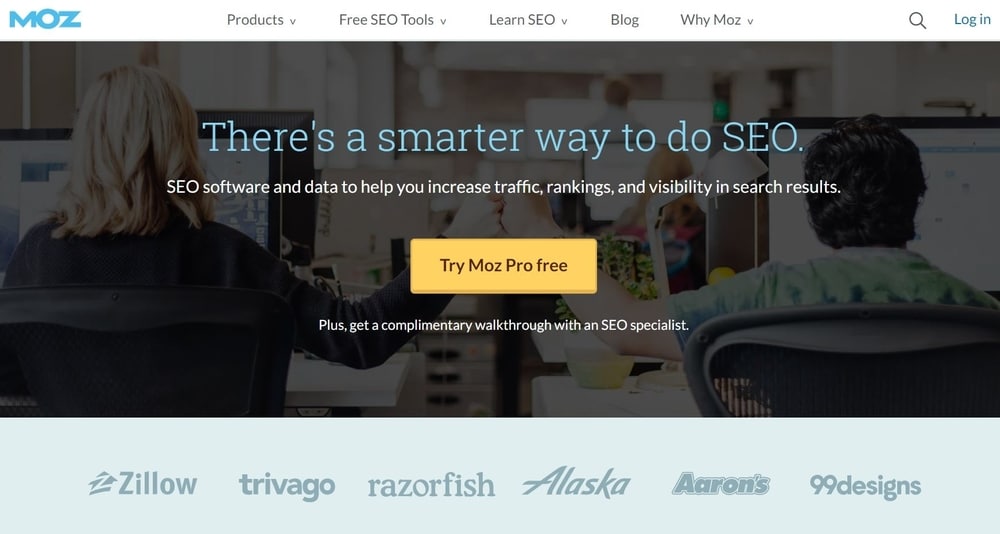 The Moz Pro tool is one of the most popular SEO tools on the market with over 400,000 customers. One of my favorite features that come with Moz Pro is its SERP feature that allows you to check out which search engine result page your website is ranking for specific keywords in Google.
The Moz tool is perfect for in-depth keyword research, which enables you to find the best keywords that are both relevant to your website and have a high number of searches. Well, Moz provides you with many other great features.
Key Features of Moz SEO Tool:
Website Analysis
On-page SEO Analysis
Backlinks Analysis and Management
Link Explorer
Fresh Web Explorer
Keyword Explorer
Site Crawl
Rank Tracker
Page Optimization
Mozbar
On-Demand Crawl
And, many more
All in all, Moz Pro is a well-known SEO tool that comes with everything you need to take your website to the next level.
One of the things that make Moz Pro stand out from other SEO tools is its functionality. It's not just about keyword research; it really packs a punch.
You can check out your competitors' SEO, pull reports on their backlinks, track traffic and SERP positions, and much more.
Moz Pro Pricing
Here's the pricing breakdown for Moz Pro:
Standard – $99/month
Medium – $179/month
Large – $249/month
Premium – $999/month
The four plans have identical core features.
The most significant difference is in the number of keyword reports, page analysis, and keyword searches that may be used every month.
Good news?
There's a free trial of 30 days which allows you to test their tools and see if they're a good match for you.
5. Long Tail Pro
The Long Tail Pro tool is for those who are doing business online and need to find low competition keywords with high search volume. One of the best ways to succeed in SEO is to find the right keywords for your websites since that's the only way to get an unlimited stream of traffic from organic searches. No matter how well optimized your website is, if you don't target keywords, it will be hard to rank.
Long Tail Pro comes in handy in this situation with its database of billions of keywords with search volume information.
It's a great tool for building a list of relevant long-tail keywords that will help you improve your on-page SEO and attract visitors from search engines.
Some of the best features of Long Tail Pro include:
Profound Keyword Research
Rank Tracker
Site Audit
SERP Analysis
Backlink Analysis
Long Tail Pro is a great tool for beginners who want to focus on keywords that will bring them traffic in the shortest amount of time.
Its database is updated on an ongoing basis, meaning you'll always get relevant data that you can use to boost your rankings and increase your number of organic customers. Although this is a paid tool, Long Tail Pro comes with a 10-day free trial, which makes it easy to test the waters without any financial restrictions.
Long Tail Pro Pricing
Long Tail Pro might feel expensive, but it's actually a great value since the price is quite low compared to other similar tools on this market.
And here's the pricing breakdown:
Monthly Starter – $37/month
Monthly Pro – $67/month
Monthly Agency – $147/month
If you decide to pay annually, you can get 4 months for free. Overall, the tool comes with a number of features, including keyword research, competitive analysis, rank tracking, and much more, at a fair price, which makes it well worth your money.
6. Mangools
Mangools is a comprehensive suite of all-in-one SEO tools that will improve your site's rankings. You'll get 5 essential apps needed for a comprehensive SEO audit, from backlink analysis to site auditing and rank tracking.
Mangools is quickly gaining popularity among online marketers and individual bloggers. It's a cheaper alternative to a number of other SEO tools, but it has almost the same functionality.
One of the best and most popular Mangools apps that I personally like is KWFinder, which gives you an opportunity to perform keyword research and find the best keywords for your SEO efforts.
Here are all the features included in Mangools:
Keyword Lookups
Keyword Suggestions per Search
Competitor Keywords per Search
SERP Lookups per 24 hours
Track Keywords Daily
Overall, this is a very powerful suite of tools that are great for anyone who wants to keep track of their SEO performance.
It also offers a free browser extension so you can check your rankings in SERPs and find the best keywords in a matter of seconds. The extension is available in Chrome and Firefox browsers.
Mangools Pricing
Mangools has a simple pricing scheme that includes 3 plans, depending on the number of features you want to have:
Mangools Basic – $29.9/month
Mangools Premium – $39.9/month
Mangools Agency – $79.9/month
It also comes with a 10-day free trial, which is more than enough to see whether or not this tool fits your needs. And the pricing is well worth it since Mangools comes with a number of great features and tools for optimizing your website for SEO and improving your search rankings.
7. Majestic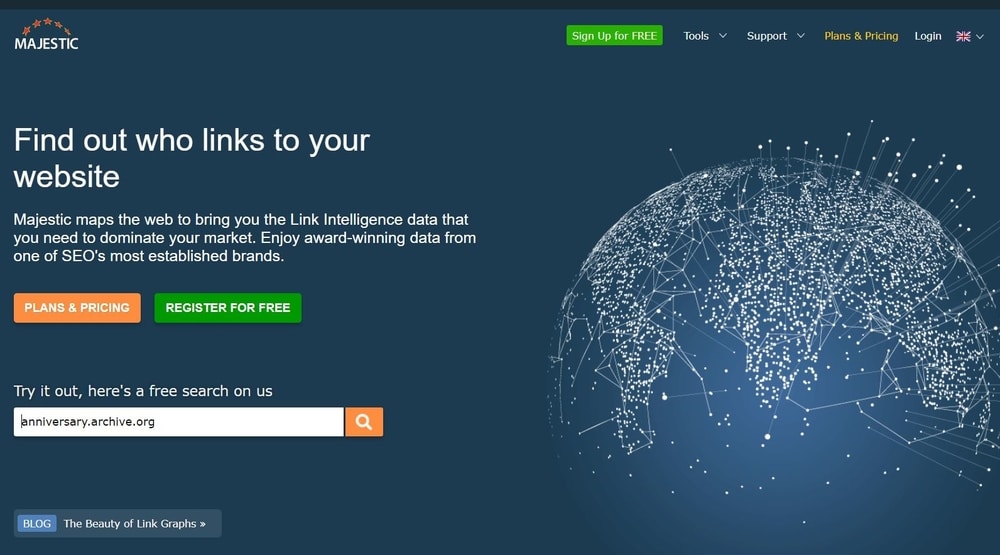 I love this tool because of its simplicity and amazing features.
Majestic is one of my favorite tools on the market, mainly due to the fact that it is very good at uncovering link profiles for any given website. This means that you can check backlinks, domain-level authority, referring domains, top pages with most links, and a total number of backlinks quickly.
The company behind Majestic continuously scans the internet for links to ensure that they know who links to you and how much. This is an amazing way to discover new link-building opportunities.
Apart from helping with finding backlinks, Majestic is also a brilliant tool for competitor analysis. You can easily compare your website link profile with that of competitors and uncover their backlink strategy.
Some of the top Majestic features include:
Fresh Index
Site Explorer
Keyword Generator
Link Graph
Link Context
Related Sites
Campaigns
Trust Flow
Topical Trust Flow
Referring Domains
Referring IPs
Referring Subnets
Campaigns
Bulk Backlink Checker
Keyword Checker
Use OpenApps
Verified Domains
Mainly, the Majestic tool is focused on helping you find and analyze your backlink profile, but it can help you to do a lot more.
A fantastic feature is the ability to run bulk reports across multiple domains and even do comparisons. If you want to compare your backlinks with those of other top competitors, you should definitely check out Majestic.
Majestic Pricing
Majestic offers 3 plans with different features. If you would like to pay on a monthly basis, the pricing starts at $49.99. You can also pay annually, which brings the price down to $41.67 monthly and a whole year for just $499.99.
You basically have two options: Lite and Pro.
The main difference between the two options is how many resources you'll actually need. I personally believe that the Lite plan is more than enough for most beginners. As already mentioned, it starts at $49/month.
8. SE Ranking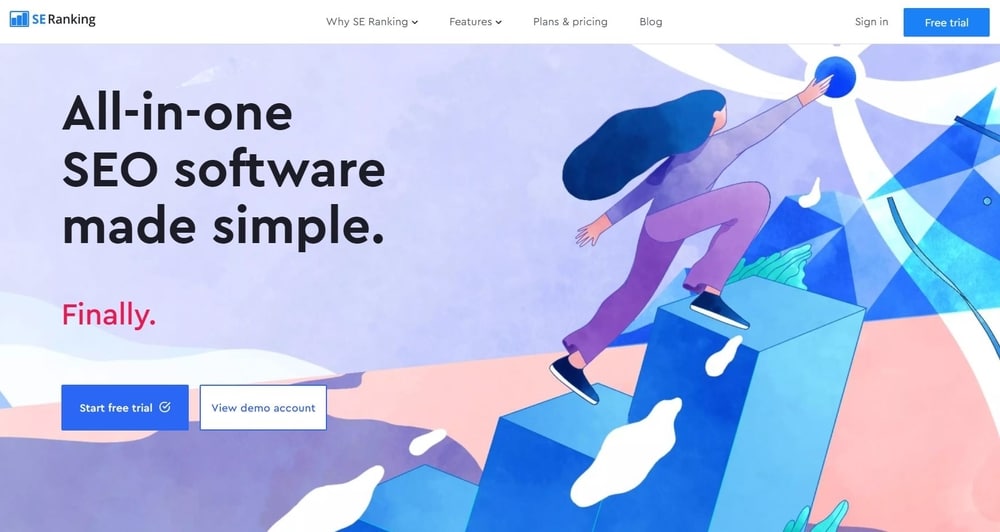 SE Ranking is another well-known SEO tool that can help you with your rankings. It is a fairly straightforward tool and it has some interesting features, such as the ability to check backlinks and monitor anchor text composition.
Many SEO s and digital marketers swear by the SE Ranking tool. It is not as powerful as a SEMrush or Majestic, but it has some useful features.
One of the main features of this tool is the backlink checker. Even though it is not as well-known or popular as Majestic, SEMrush, or Moz metrics, you can still use this tool for this purpose, as a beginner.
Some of the top SE Ranking features include:
Keyword Rank Tracker
Website Audit
On-page Checker
Backlink Checker
Backlink Monitor
Page Changes Monitoring
Keyword Research Tool
Keyword Grouper
SE Ranking is incredibly easy to use and understand.
You can also check your competitors' backlinks, which will help you identify new link-building opportunities. You can check for backlinks of any domain or subdomain.
SE Ranking Pricing
There are three pricing plans available with SE Ranking.
If you would like to check rankings on a weekly basis, the price starts at $18.6 per month with the 'Essential Plan'. You can track 250 keywords for up to 10 websites. And, if you wish to track 750 keywords, it will cost you $33/month.
In the case of 1000 keywords, you'll need to go with the 'Pro Plan', which will cost you $42.5/month and $71.4/month for 1750 keywords.
There is also a 'Business Plan' that allows you to from 2500 keywords ($90/month) to up to 20000 keywords for $431/month.
While the 'Essential Plan' allows you to track only 10 websites, the 'Pro Plan' and the 'Business Plan' allow you to track unlimited websites.
Overall, the pricing is rather affordable for beginners and you will be able to test it out with the 14-days free trial option.
9. Serpstat
Serpstat is another brilliant tool on the market, especially if you are looking for an all-in-one SEO platform that provides tools and services to easily analyze competitors, perform keyword research for SEO, and more.
Serpstat is fairly easy to use and it has some amazing features. One of the main ones is the keyword research tool. You can use it to discover new opportunities and keywords with good search volume and low competition.
Another useful feature is the website analyzer, which will allow you to see all of your competitor's backlinks, keywords, and social media metrics.
Here are some of the top features of Serpstat:
Keyword Research Tool
Website Analysis
Rank Tracker – check your rankings in Google
PPC Research
Website Audit
Backlink Analysis
Keyword Clustering
Website SEO Checker
Serpstat Pricing
There is a free version of Serpstat.
'Lite Plan' is the cheapest plan, which starts at $69/month. The price can go up to $499/month depending on the plan you select. You can also get a free account for basic access and try it out.
10. Ubersuggest
Ubersuggest is a keyword research tool that is free to use and provides you with good insights about keywords.
It works by searching the Google Suggest database for related phrases. It has a database of billions of keywords, so it is one of the most comprehensive free keyword databases out there.
I personally like it for its ability to find long-tail keyword phrase ideas. These are keywords you can put in your blog post to rank higher in Google.
Other useful features include the ability to check average, it is a good way to get some initial ideas and expand your keyword list.
Some of the top features of Ubersuggest include:
Keyword Research Tool
Keyword Suggestion Generator for Related Keywords
Content Ideas Generator
Rank Tracker
Competitive Analysis
Website Audit
Backlink Checker
Backlink Opportunity Finder
Overall, Ubersuggest is great for beginners and can be a great choice for you if you are looking for a free keyword research tool. It is not only a keyword research tool but also an analytics and SEO platform.
Ubersuggest Pricing
There is a free version of Ubersuggest as well as some paid options, depending on the package you choose.
The best value you get with Ubersuggest is if you decide to go for the lifetime plan. There are no monthly charges and you can use it continuously for life.
However, if you would like to go for the monthly plan, the cheapest option is $12/month with the 'Individual Plan' and you'll get access to Ubersuggest data with unlimited history and keyword rankings as well.
The 'Individual Plan' lets you manage 1-3 websites. If you need to manage more websites, you can go with the 'Business Plan' ($20/month) for 4-7 websites and the 'Enterprise/Agency Plan' ($40/month) for 8+ websites.
Note that you can always get a free trial for 7 days.
11. Google Search Console
Google Search Console is Google's very own tool for website owners. It can be used for free, to discover errors and issues on your website.
You can use it to check for indexing status, crawl errors, and sitemap status as well as to get insights about your website and its traffic.
The indexing status tab will show you if your page is indexed in Google while the crawl errors section will help you to find any issues with your code.
Finally, the 'Search Analytics' feature can be used to get data about your website's traffic. It is very useful for getting insights about your website's performance in the Google Search results pages.
You can also check for backlinks pointing to your website.
Some of the top features of Google Search Console include:
Indexing Status
Crawl Error Report
Search Analytics
Backlinks
SEO Performance Report
I personally like this tool because it is easy to use and you can get insights about your website's traffic within minutes.
I don't think there is any webmaster who doesn't use this free tool.
In fact, you should use it to get the most out of your SEO efforts. In fact, Google directly communicates with you about your website issues when you use this tool, which makes it even more useful.
Google Search Console Pricing
The tool is completely free to use.
However, there are some limitations about the number of keywords you can track and the number of websites you can add.
12. Answer The Public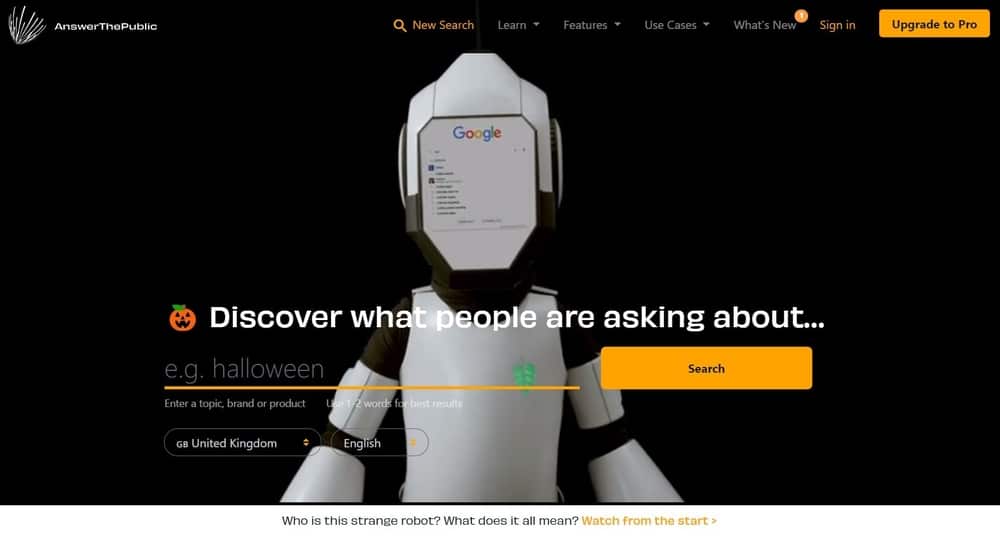 Answer The Public is a free SEO keyword research tool. It crawls through Google to find questions and provides you with related keywords directly.
In fact, I've been using this tool for a couple of years now and I am really happy with the results. It does take a while to get used to, but once you get the hang of it, it will become an easy-to-use tool.
Some of the top features of Answer The Public include:
Related Questions Generator
Related Questions Curator
Auto-Refresh
Word Cloud Generator
Keyword Suggestions Tool
Overall, if you are looking for a free tool to get keyword ideas, mostly question-based keywords, this is a great option. I personally prefer it over the Google Keyword Planner as you don't need an AdWords account to use it.
Answer The Public Pricing
There is a free version of Answer The Public which you can try out before deciding if you want to go for the paid version or not.
The paid version of Answer The Public will cost you $99 per month and you can perform unlimited searches and get more search data, a host of Pro-only features, and build a winning content strategy.
However, you can save 20% if you decide to go for the yearly plan, and then your monthly cost will be only $79/month.
Most of the features in the monthly and annual plans are the same, except how many users you can add to your subscription. While the monthly plan lets you add 3 users, the annual plan will let you add up to 5 users.
13. Authority Labs
Authority Labs is a powerful SEO tool for keyword ranking tracking.
In fact, if you are looking to track your website's keywords, Authority Labs is a perfect option. It shows you the top 10 results for your queries right away and then it allows you to track more keywords from Google, Yahoo or Bing.
Some of the top features include:
Keywords Tracking
Local Tracking
Mobile Tracking
Daily Updates
Reports
Unlimited Users
Overall, this is a great tool for tracking keywords and you can add unlimited users to your account. Also, this tool allows you to keep track of rankings across three different search engines.
Authority Labs Pricing
There are four different plans available on AuthorityLabs that you can choose from depending on your budget and SEO requirements.
However, the starting package is $49/month (Plus Plan) which comes with 250 keywords. The 'Pro Plan' costs $99/month for 1000 keywords and the 'Pro Plus Plan' costs $225/month for 2500 keywords. In case you need 5000 keywords or more, go for 'Enterprise Plan' at $450/month.
You can also get a free trial to use Authority Labs for 14 days and then decide if you want to go for the paid version or not.
14. Google Analytics
Google Analytics is one of the most popular web-based analytics software packages on the market, especially among beginners. In fact, it provides you with a lot of great and useful information for any website.
It mainly helps you keep a track of your visitors and where they are coming from. You can also find out which keywords they used to find your site and then you can check how many visitors that particular keyword has brought to your site.
One of the most important things that Google Analytics does is that it helps you keep a track of your site's health. In fact, Google Analytics has this feature called Site Speed and the tool shows you the load speed of your site and how it is affecting the overall site performance.
Some of the top features of Google Analytics include:
Visitors Tracking
Real-Time Traffic Checker
AdSense Tracking
Conversion Tracking
E-Commerce Reporting
Analytics Dashboard
If you want to discover how your website is performing, or if you just need a refresher on how your site is performing in terms of traffic, Google Analytics is an essential tool and the best part is that you can use it free.
Despite the fact that there are so many similar analytics platforms, Google Analytics is definitely one of the best tools for beginners.
Google Analytics Pricing
There are two different subscription plans for Google Analytics.
The first one is the free plan which is the most popular and the second one is Premium Plan, which you'll need if you want more advanced features or want to do more with the service, there's a recurring fee.
If you haven't yet set up an account, you can do so today by visiting Google Analytics for Free and then clicking on the 'Start Now' button.
15. Keywords Everywhere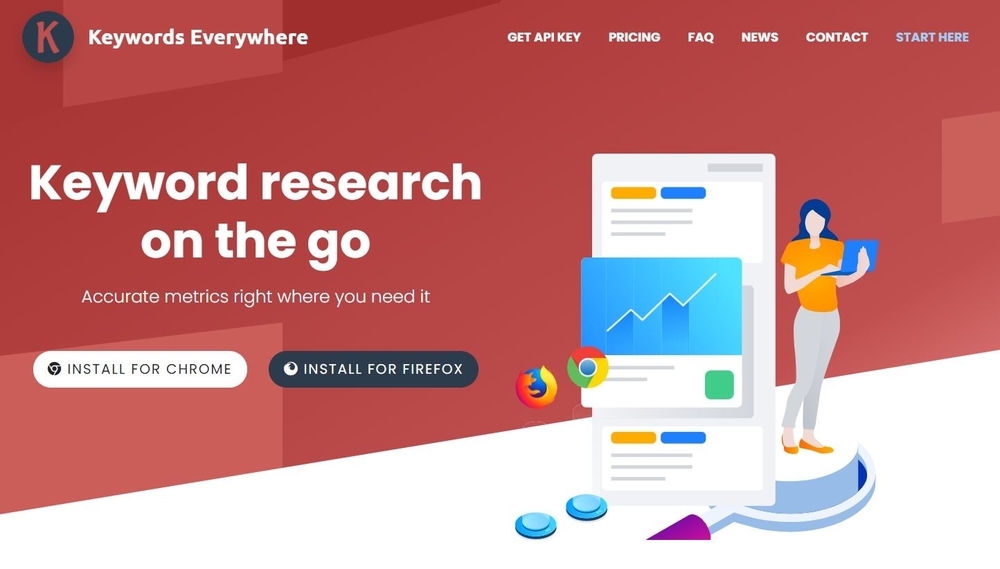 Keywords Everywhere is one of the most popular SEO tools for tracking keywords. One important thing you should keep in mind when it comes to free SEO tools is that you should keep an eye on the features. For example, Keywords Everywhere doesn't have a lot of advanced features but there are still some key features that you might want to check out.
One of the best things about Keywords Everywhere is that it gives you a quick overview of the keyword that you're currently looking at. In other words, it displays all the important information from Google right in front of your eyes.
It does that by implementing a small pop-up window on the side of your screen that keeps showing important information about the keyword you're looking at.
Key Features of Keywords Everywhere:
Keyword Discovery
Keyword Volume Checker
CPC Checker
Trending Keywords
Competition Tracker
One of the most important things that Keywords Everywhere does is that it gives you quite an accurate search volume data. The search volume data is quite close to the official numbers, which makes it one of the best options for SEO beginners.
Keywords Everywhere Pricing
Keywords Everywhere tool is completely free.
However, if you need additional data about each keyword like volume, CPC, competition & 12-month trend data, you'll need to pay.
It works on a credit-based system where you'll need to buy credits that will expire after 365 days or a year. You'll get 100000 credits for only $10 and then you can buy more if required. One credit equals one keyword search.
There is no monthly subscription plan, so the only way to get Keywords Everywhere after you sign up for it is to buy credits.
16. Screaming Frog
Screaming frog is an awesome crawler tool for website audits. It is one of the best SEO tools to use if you want to take a deep dive into your website.
One of the best things about Screaming Frog is that it crawls your site and helps you improve onsite SEO, by extracting data & auditing for common SEO issues. In short, it gives you feedback about the website's onsite SEO.
Some of the best features of Screaming Frog are:
Find Broken Links
Audit Redirects
Analyse Page Titles and Meta Data
Discover Duplicate Content
Extract Data with XPath
Review Robots & Directives
Generate XML Sitemaps
Integrate with GA, GSC and PSI
Crawl JavaScript Websites
Visualise Site Architecture
Schedule Audits
Compare Crawls and Staging
Even if you don't want to use Screaming Frog for SEO, it's a good crawler tool and has many other features which you can use for other purposes.
If you're an advanced marketer, you can use it to compare your new website with your old website. It's one of the best ways to perform a side-by-side comparison of a new and a previous version of your website.
Screaming Frog Pricing
The good news is that Screaming Frog is available for free, but there are some limitations. You can only crawl up to 500 URLs.
But, if you want to crawl more URLs and want the full set of features, you'll need to upgrade your account and spend £149.00 per year. You can test out the free version to see if it fits your needs before you decide to spend money on it.
17. Pagespeed Insights
If you're trying to improve your SEO, chances are that you'll come across a tool called PageSpeed Insights at some point.
It's a tool that Google uses to test how fast your website loads. If you're loading very slowly, it can have a negative impact on your rankings.
The PageSpeed Insights tool is a free SEO tool that helps you find out how fast your website loads. In other words, it gives you feedback on how well you've designed and developed your website in terms of speed and performance.
Key Features of Pagespeed Insights:
PageSpeed Score
Learn more about performance
Page Optimization Recommendations
Mobile Site Speed
Desktop Site Speed
One of the best things about PageSpeed Insights is that you can use it even if you're not using Google. It's one of the best free SEO tools that give you actionable insights on how well your website is doing in terms of speed and performance.
Google PageSpeed Pricing
Pagespeed insights is currently available for free.
So, there's nothing you'll need to pay to use this tool.
Final Thoughts
Finally, it's been a long post, but I hope you've enjoyed reading it.
Now it should not be hard for you to select the best SEO tool that you can use to improve your search rankings.
There are many more SEO tools that have not been discussed in this article. But honestly, you don't need 17 different tools to perform SEO. You only need a few good ones and if you're new, these are the best ones to start with.
Choose the one you feel is the best SEO tool for you.
Need my suggestion?
I suggest that you sign up for SEMrush.
It's the best all-in-one SEO tool. You can start using it for free.
But, there are some features that you'll need to upgrade. And the good news is that you can try it for free to see if it is worth your money.
SEO is a long process that takes time. So don't expect to rank in the first few weeks of using these popular SEO tools. Just use them, analyze the feedback you're getting and improve your website.
In the end, it would be awesome if you could share this post on social media using sharing buttons on this page. It helps me grow my blog and it will also help more readers who might find the content useful.
I hope you've found this article useful. I'm not an SEO expert, but I know how to research the best SEO tools and find out what works.
Also, if you see any errors or anything that could be improved, feel free to contact me and let me know. I'll do my best to reply ASAP.
Thanks for reading my article!