If you are looking for a professional and versatile WordPress theme that can do it all, Divi is definitely worth considering. In this Divi review, we will take a closer look at Divi and see what makes it so popular.
Finding the best WordPress theme for your blog among the thousands of options available might be difficult. If you're considering starting a blog or already have one, you understand how important it is to pick a theme. Right?
Well, it's no longer an issue.
I know how hard it is to choose a WordPress blog theme that fits your blog's needs. That is why I have decided to create this Divi review so that you can have a better understanding of what it offers and how well it performs.
Your website's theme is equally as important as web hosting. This is what creates the foundation for what your blog is going to look like.
It will impact the bounce rate of your website (which is the last thing you want when you're just starting started). The right theme might help you get a jumpstart when it comes to starting and launching your WordPress website.
In this article, we will also do a full review of Divi to help you make an informed decision on whether or not it's right for your blog.
Please keep in mind that this is a paid theme, not a free one.
But, that shouldn't be a problem.
By the time you finish reading this Divi review, you will see that all of its powerful features are worth every penny.
So let's see what makes Divi one of the best WordPress themes.
What is Divi?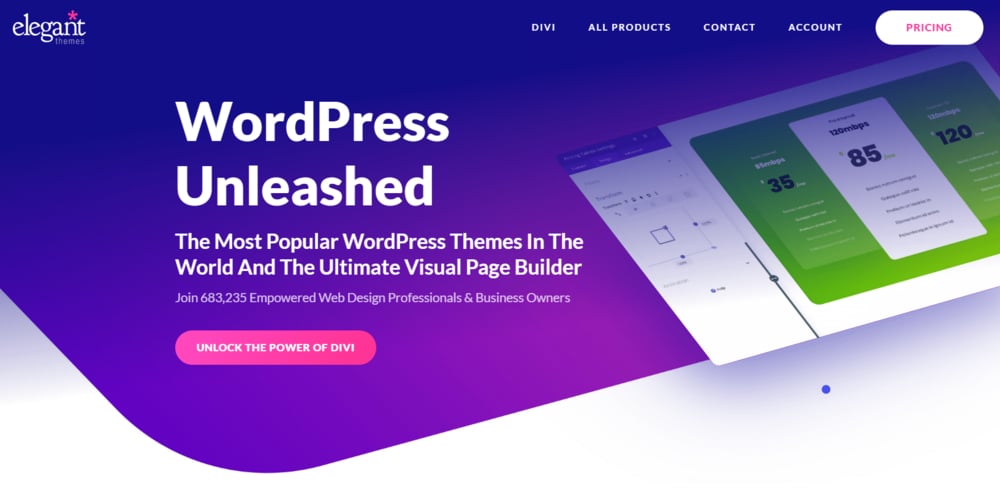 Divi is a premium WordPress theme from Elegant Themes. It is basically a WordPress theme with a built-in Page Builder.
The Divi theme takes a different approach to creating a good theme for your blog. It doesn't just focus on giving you a set of design features. It also allows you to choose how your website looks by giving you the ability to add or remove different sections and design elements.
Divi is definitely not your average WordPress theme. The main reason for this is that it comes with a powerful Divi Builder plugin on your website.
Divi Builder is a drag and drops page builder that makes it easy for you to create a website without knowing any coding.
It gives you more control over how your website looks and lets you edit anything, from the home page to the blog posts.
This also means that you can create an unlimited number of different layouts for your website which is something you won't find with most themes.
The Divi theme is a favorite among many WordPress bloggers because of the way it looks and how simple it is to use. It's also versatile, meaning that it can be used for a variety of purposes including business websites, portfolios, photography websites, and even ecommerce websites.
It includes the necessary tools to build your online presence from scratch. While it's not free, the price isn't going to break the bank, either.
Because of its high customizability and user-friendliness, the Divi theme is one of the most recommended WordPress themes out there.
The best thing?
You can use the theme for practically any type of WordPress website.
Let's take a closer look at the features of Divi to see what makes this theme so powerful and popular no matter what your blog is about.
Key Features of Divi
Divi is a powerful WordPress theme that includes everything you need to design a beautiful theme for your site. The following are some of the key features that make Divi one of the most sought after WordPress themes:
1, Divi Builder
The Divi theme includes a powerful drag and drop page builder plugin. One of the reasons why I recommend the Divi theme to beginners over the hundreds of other themes available is because of the Divi builder.
You can customize everything from the colors to the icons to the page and post formats without writing a single line of code.
I know it's difficult to code and not every blogger is able to code.
Almost every theme comes with a builder, but the problem with them is that they lack customization and are difficult to use, in most cases.
The Divi builder is extremely easy to use, with a drag-and-drop interface (even your kids can use it). To learn more about Divi, click here. Even if you find it challenging, Divi offers 18 pre-set layouts and 800+ pre-made designs that don't require much editing and will allow you to set up your blog in under an hour.
2, Highly Customizable
Another advantage of using the Divi theme is that it's highly customizable. The designers have made sure to keep this in mind when they created the theme, selling it as a tool for both novices and power users.
It is the most customizable WordPress theme I have ever seen.
You can modify it to suit your needs, even if you are not familiar with editing images or CSS. For example, the header is fully editable and allows you to upload your own background image. It's responsive, which means that it works on any device such as smartphones, tablets, or desktops.
3, Unlimited Layout Possibilities
Divi comes with 20 pre-made layouts but it also allows you to design your own layout. You can save time by customizing existing layouts or creating new ones from scratch, saving them for future use.
The best part?
You can create and save as many layouts as you like, giving you almost unlimited possibilities to make your website look however you want.
4, Powerful Features
The Divi theme has a lot of incredible features.
It comes with some unique plugins and settings that are there for you.
You'll get access to the whole Elegant Themes Market when you buy this theme, which includes over 70 additional themes and many more.
If you don't like Divi, there are more than 70 alternative options to pick from. Extra, Gleam, Vertex, Origin, and many additional themes are included.
5, User-friendliness
The theme is extremely user-friendly.
When I first bought this theme, I played around with a few things and looked at all of the features for a few hours, then I got used to it and developed my entire website in three days without knowing HTML.
Imagine getting a completely functional website in three days from someone who knows nothing about coding.
6, Amazing Support
They provide excellent customer service, which, believe me, is essential when deciding which theme to purchase. I've tried a few free themes in the past, and they're a headache to use, and they don't truly help you with anything unless you upgrade to their premium plan.
However, this is not the case with Divi.
They have fantastic support staff that will help you with everything.
But I believe, in most cases, you won't need any assistance because they have a wealth of articles on every issue you may encounter while using Divi.
The Elegant Themes' blog has enough Divi-related articles to find any solution and get you excited about creating your website using Divi.
I'm not claiming they're the quickest, but they're definitely helpful.
7, Zero Risk
Consider purchasing gold from a goldsmith who offers a full refund if you lose it. That would be fantastic. Right?
However, that's not possible.
But with Divi, there is zero risk if you buy Divi. They provide a 30-day money-back guarantee with no questions asked.
Despite the fact that Divi has a number of wonderful features, it does have one disadvantage that may be a decisive factor for many beginners.
This is quite expensive. And, that's a disadvantage for beginners.
However, don't forget that you get all of the Elegant Themes' premium tools when you buy the Divi theme. So, you're getting the best of the best.
Also, you can use Divi on unlimited sites with one purchase. This means that if you develop 100 sites, it will only cost $89 for the theme.
Divi Pricing
The Divi Theme costs roughly $89 and is not a one-time purchase. It costs $89 every year. The best thing? There is a lifetime license.
For a one-time payment of 249$, you can get Divi with lifelong access.
I highly recommend you purchase a lifetime license. If you enjoy it, you can keep using it, or if you don't (which I don't think you should), request a refund.
With the lifetime license, you'll end up saving more money.
The license entitles you to everything else from Elegant Themes. You'll have unlimited access to all of their themes and plugins for unlimited sites. There's no reason not to purchase a lifetime license if you want to use it long-term.
Is Divi Right for You?
Yes, of course!
If you're looking for something that offers flexibility and user-friendliness, then Divi is definitely the right WordPress theme for you.
If you want a customizable and beautiful WordPress theme that is truly unique, if you want to stand out from the crowd, Divi is right for you. If you want to create stunning designs that are user-friendly and easy to navigate, try Divi.
I recommend Divi for beginners and WordPress experts alike. It's a great investment, and I can promise you won't regret it.
The bottom line: Divi is a powerful theme that really does so much more than most WordPress themes out there, and the best part is that it all works very intuitively. It's highly recommended for anyone who wants to design their own customized theme and stand out from the crowd. Try it for yourself today!