As a website builder and online marketer, I've had my fair share of experience with hosting services. I've used a lot of them, from the affordable to the high-end.
And let me tell you, it's been a wild ride.
Some of them were fantastic, others were a complete nightmare. But one service that I've used a lot and always recommended to others is HostGator.
It's reliable, affordable, and packed with features.
However, like any service, HostGator not perfect. And there are definitely some times when you might need a HostGator alternative.
So, what are the best HostGator alternatives out there?
Well, I've done some research and tried a few of them out for myself.
And I'm here to share my findings with you.
Honestly, finding a hosting service that ticks all these boxes can be a real challenge.
After trying out a few different services, I finally found the best options. And now, I want to help you find your perfect HostGator alternative.
1. Bluehost
Bluehost is one of the best web hosting companies out there for beginners.
The company was started in 2003 and is now hosting millions of websites and blogs. It's often considered as one of the best HostGator alternatives.
Bluehost is also recommended by WordPress itself.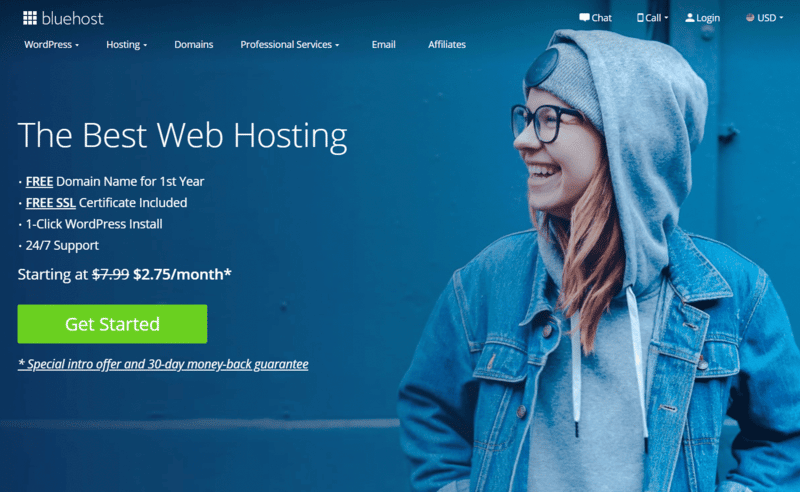 Who is Bluehost Good for?
Bluehost is a good option for a variety of users, including:
Beginners: Bluehost has a user-friendly platform that is easy for beginners to navigate and set up their first website. You can start at only $2.95/month.
Small businesses: Bluehost offers affordable plans with features such as unlimited storage, bandwidth, and email accounts, making it a great option for small businesses looking for a reliable and cost-effective hosting solution.
WordPress users: Bluehost is officially recommended by WordPress.org and offers easy integration with the platform, making it a popular choice for WordPress users. Bluehost also offers Managed WordPress hosting services best for WordPress sites.
High-traffic websites: Bluehost provides fast and reliable hosting services, making it a good option for websites that receive a large amount of traffic.
E-commerce sites: Bluehost offers e-commerce specific plans with features such as SSL certificates and shopping cart integration, making it a good choice for online stores.
Key Features of Bluehost
Here are some key features of Bluehost:
User-friendly platform
Affordable pricing plans
Unlimited storage, bandwidth, and email accounts
Reliable and fast hosting services
24/7 customer support
Officially recommended by WordPress.org
Easy integration with WordPress platform
E-commerce specific plans
A wide range of hosting plans to choose from
Easy website builder and
Website migration tools
Cons of Bluehost
Limited server locations
Higher renewal prices
Upsells and add-ons during the checkout process
Bluehost Pricing
Bluehost offers a range of hosting plans with different prices, depending on the features and resources you need.
Their basic shared hosting plan starts at $2.95 per month, but this price is only available with a 36-month contract and the renewal price is higher.
Their most popular choice Plus plan starts at $5.45 per month and includes unlimited storage, bandwidth, and email accounts, as well as a free SSL certificate and domain name for the first year.
Their Business Pro plan starts at $13.95 per month and offers dedicated IP, a premium SSL certificate, and advanced website backup options.
Overall, Bluehost is one of the best HostGator alternatives and a popular web host that offers affordable hosting plans for new website owners on a budget. They provide a range of hosting options, including shared hosting, WordPress hosting, VPS hosting, and dedicated hosting, which can meet the needs of various types of websites.
Well, the entry-level plans can be limited in terms of storage and bandwidth, which may not be sufficient for websites that experience high traffic or require large amounts of data storage. Plus, some users have reported issues with uptime and customer support.
However, if you are on a budget, Bluehost can be a great option starting at only $2.95/per month. But, of course, for websites with more demanding needs, it may be worth considering costlier plans with more robust offerings.
---
2. Cloudways
Cloudways is a managed cloud hosting platform to easily deploy and manage web applications and websites on popular cloud infrastructure providers such as Amazon Web Services (AWS), Google Cloud Platform (GCP), DigitalOcean, Vultr, and Linode.
They provide a simplified interface for managing web servers and applications, including features such as automated backups, server scaling, and server monitoring.
With Cloudways, you can easily launch and manage applications on the cloud without needing to have in-depth technical knowledge or expertise in server administration.
You get a user-friendly interface for configuring and managing servers, and it also offers 24/7 customer support and assistance to ensure that users have a smooth experience using the platform. Overall, Cloudways is a popular choice for businesses and individuals looking for a simple and reliable managed cloud hosting solution.
Who is Cloudways Good for?
Cloudways can be used by a variety of individuals and businesses, including:
Web developers and designers: Cloudways is an ideal platform for developers and designers who want to deploy and manage web applications on the cloud. It provides a simple and intuitive interface for configuring and managing servers.
Small and medium-sized businesses: It is also suitable for small and medium-sized businesses that want to host their websites or web applications on the cloud. It provides cost-effective and scalable cloud hosting solutions, with features such as server scaling and load balancing.
E-commerce businesses: Cloudways is a great option for e-commerce businesses that require reliable and secure hosting solutions for their online stores. It supports popular e-commerce platforms such as Magento and WooCommerce.
Digital agencies: Digital agencies that manage multiple websites and applications for their clients can benefit from using Cloudways. It allows them to easily manage multiple servers and applications from a single interface.
Overall, Cloudways can be used by anyone who wants to deploy and manage web applications on the cloud without needing to have extensive technical knowledge.
Key Features of Cloudways
Some of the key features of Cloudways include:
Multiple Cloud Infrastructure: Cloudways provides its users with the option to choose from multiple cloud infrastructure providers, including Amazon web services (AWS), Google Cloud, DigitalOcean, Linode, and Vultr.
User-friendly Interface: Cloudways has a user-friendly interface that makes it easy for users to manage their applications, servers, and other resources.
Managed Security: They offer tons of security features to keep your applications and data safe, including SSL certificates, firewalls, and regular security patches.
Performance Optimization: They use various caching technologies, such as Varnish, Memcached, and Redis, to optimize the performance of your applications.
One-Click Application Install: Cloudways provides one-click application installs for popular CMSs like WordPress, Magento, and Drupal.
Vertical Scaling: Cloudways allows users to scale up or down their server resources with ease, enabling them to handle increased traffic and workload.
24/7 Support: 24/7 support is available via live chat, email, and phone.
Overall, Cloudways provides an easy-to-use, flexible, and scalable platform for hosting web applications on the cloud. It's a great HostGator alternative, but you'll need to shell out a little more than Bluehost. The minimum cost is $10/month for Digital Ocean hosting.
Cloudways Free Trial
Yes, Cloudways offers a free 3-day trial to its users. During the trial period, you can test out the platform and its features before committing to a subscription.
The best part is that you don't need a credit card to sign up.
During the trial, users can test out the platform's features and see if it meets their needs. They can also use this time to evaluate the performance of their applications on the Cloudways platform. If the user decides to continue using Cloudways after the trial period ends, they can choose a suitable pricing plan based on their needs and upgrade their account.
Frankly, the free 3-day trial is a great way to get a feel for the platform and see if it is the right choice. It's a pretty long time to make a decision.
Cloudways Pricing
Cloudways pricing depends on the selected cloud infrastructure provider that you choose for your business needs. Here are the pricing plans:
DigitalOcean: Plans start at $10/month and can go up to $1,035/month.
Vultr: Plans start at $11/month and can go up to $1,103/month.
AWS: Plans start at $36.51/month and can go up to $5,000/month.
Google Cloud: Plans start at $33.18/month and can go up to $2,783/month.
Please note that these are base prices and may change depending on the server resources and add-ons chosen by the user. Cloudways offers a pay-as-you-go option, so you only pay for the resources you need. Overall, Cloudways pricing is flexible and it can be customized according to your requirements and budget.
---
3. GreenGeeks
GreenGeeks hosting provides environment-friendly web hosting services. Founded in 2008, they use renewable energy to power their servers and offset the carbon footprint of their operations by purchasing wind energy credits.
The company also offers a range of hosting plans, including shared hosting, reseller hosting, VPS hosting, and dedicated hosting, as well as domain registration services. Their focus on sustainability has made them a popular choice for businesses and individuals who are looking for environmentally responsible web hosting options.
Who is GreenGeeks Good for?
GreenGeeks is suitable for small to medium-sized websites and businesses, bloggers, and entrepreneurs who require fast, reliable hosting with excellent customer support. Their hosting plans come with many features, including unlimited disk space, bandwidth, email accounts, free nightly backup, CDN, domain name, and a lot more, making it an excellent option for those who are new to website creation and hosting.
Key Features of GreenGeeks
Here are some of the key features of GreenGeeks hosting:
Eco-friendly: GreenGeeks is a 300% green hosting company, meaning they purchase three times the amount of renewable energy credits to offset the carbon emissions produced by their operations.
Unlimited resources: GreenGeeks offers unlimited storage, unmetered bandwidth, unlimited email accounts, and unlimited databases.
Free domain name: Customers who sign up for a hosting plan with GreenGeeks are eligible for a free domain name registration for the first year.
Multiple data center locations: GreenGeeks has data centers located in the United States, Canada, Netherlands, and Singapore, allowing customers to choose the location that is closest to their target audience.
24/7 customer support: GreenGeeks offers customer support via live chat, phone, and email, 24 hours a day, 7 days a week.
Security features: GreenGeeks includes free SSL certificates, nightly backups, and spam protection to help keep customer websites secure.
Performance features: GreenGeeks uses solid-state drives (SSDs) and the latest server technologies to ensure fast website load times and reliable performance.
Affordable pricing: They offer competitive pricing on their hosting plans, starting at $2.95/mo, with discounts for customers who sign up for longer terms.
Overall, GreenGeeks offers an attractive hosting solution with a focus on environmental sustainability, unlimited resources, multiple data center locations, 24/7 customer support, and reliable security and performance features.
GreenGeeks Pricing
The cost of GreenGeeks hosting varies based on the type of hosting plan you choose and the length of the contract. Here are the current prices for their shared hosting plans:
Lite plan: $2.49/month for a 36-month contract, $4.95/month for a 24-month contract, or $7.95/month for a 12-month contract.
Pro plan: $4.95/month for a 36-month contract, $6.95/month for a 24-month contract, or $9.95/month for a 12-month contract.
Premium plan: $8.95/month for a 36-month contract, $10.95/month for a 24-month contract, or $13.95/month for a 12-month contract.
GreenGeeks offers a 30-day money-back guarantee on their hosting plans.
So, if you're not satisfied with their service within the first 30 days of signing up, you can request a full refund of your hosting fees.
Overall, it's a great HostGator alternative. If you're looking for a web hosting provider that prioritizes environmentally sustainable practices, then GreenGeeks is a great choice. HostGator does not make any specific claims about environmental sustainability.
---
Final Words and Thoughts
I hope you have enjoyed reading this as much as I have enjoyed writing it. In this post, we have explored 3 fantastic web hosting companies that are perfect for those who want to switch from HostGator or are just starting their website journey.
Now, let's do a quick recap, shall we?
In the first section, we talked about Bluehost, a web hosting provider that is reliable, easy to use, and has fantastic customer support.
Then, we moved on to Cloudways, a managed web hosting platform that's popular for exceptional site speed and performance, along with an easy-to-use interface. Lastly, we explored GreenGeeks, a web hosting provider that offers lightning-fast speeds, great customer service, and an affordable price tag.
Yes, there are many other web hosting options out there.
But, I didn't want to confuse your with so many HostGator alternatives.
Finally, I must say that choosing a web hosting service is an essential decision to make, and it's not just about the price. You need to consider factors like reliability, uptime, speed, and customer support. All of these factors can impact your website's performance and of course, your success. Don't take it lightly, and always do your due diligence.
Now, I want to ask you for a small favor.
If you found this post informative and helpful, please consider sharing it.
You never know who might benefit from this information, and by sharing it, you could be helping someone out there who is struggling to find the right web hosting provider. Let's spread the word and help each other out.
I hope this post has been helpful in your search for HostGator alternatives.