If you're looking for the best free WordPress themes to build a beautiful and stunning WordPress website, you've come to the right place.
I can understand how difficult and frustrating it can be to filter through thousands of free themes available in the WordPress repository and on third-party websites to find the best one that fulfills all of your requirements.
And, here's the good news, you'll be excited to know:
I went through the pain of conducting the research and identifying best of the best free WordPress themes that you would be proud to use on your website.
I have you covered whether you have a blog, real estate, or eCommerce website.
In reality, this list contains themes for almost every niche, including personal blogs, eCommerce, news websites, portfolio sites, real estate businesses, and much more. You will most certainly find something that best suits your needs.
You'll often hear that free themes are not always the best option. They're underdeveloped and don't always work as they should.
And, when it comes to building an online business, the quality and performance of your website theme, should be your top priority, more than the price.
In short, building your website on a free theme can be risky.
Honestly, even though this is true in most situations, there are still some free WordPress themes worth your time, love, and attention.
I've spent quite some time putting the most popular and best free WordPress themes on the market to the test in search of discovering the best.
As you can expect, the final outcome is incredible.
I know what are the best options.
I have a long list of free themes that don't cost a penny but still work just as great as the most popular premium themes on the market right now.
Let's begin with the most recommended free theme called Blocksy.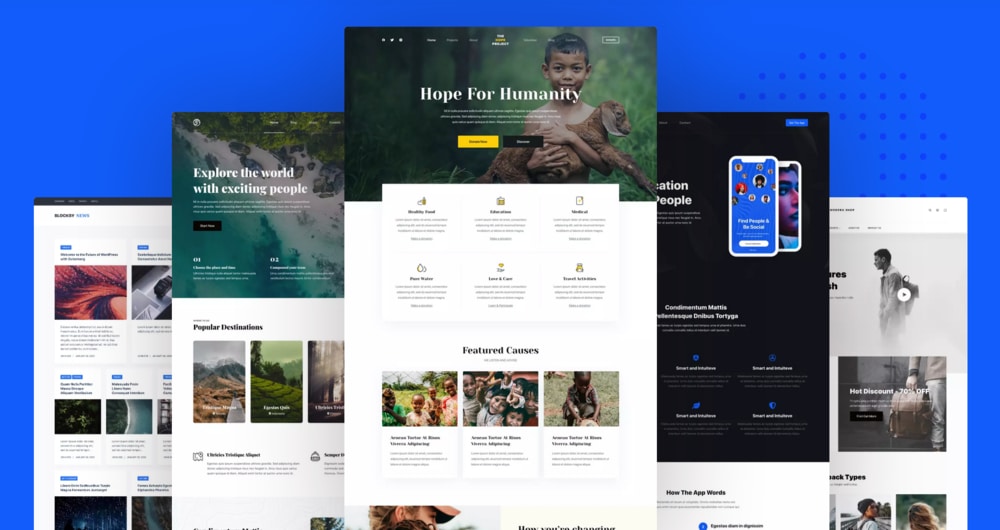 If you're searching for an extremely powerful Gutenberg-ready WordPress theme with a lot of customization options to help you create and design a stunning website, you should give Blocksy a chance to impress you.
Blocksy has you covered whether you want to use the latest Gutenberg editor or any of the other third-party page builders like Elementor or Brizy.
This is ideal for beginners who want a simple user interface but want to design a theme that looks modern as well as professional.
The installation is as easy as installing any other WordPress theme.
Even though you can make your website look like anything you wish, the default theme that comes with the installation should be sufficient for most websites.
You may watch this video for a complete overview:
And, you know what?
There's no need to be technical or touch any code. But still, you will be surprised at how simple it is to customize your theme to look exactly how you want it to.
The best part?
You can download the Blocksy theme without paying for it. It's free.
There is, of course, a premium version with more advanced features. However, the free version, in my opinion, has too many features to overwhelm you.
Concerned about SEO?
The theme is SEO-friendly, so you won't have to worry about any theme-related SEO issues preventing you from ranking higher in search engines.
When it comes to speed, the blocksy theme is lightening-fast.
Overall, the Blocksy theme is perfect for anyone looking for a fast, SEO-friendly WordPress theme with tons of customization options to design a website for any niche.
Go ahead and test it yourself.
After Blocksy, I think the Kadence theme is one of the best WordPress themes available for free, and it has the potential to give Blocksy a tough competition.
In fact, it's the best alternative if you don't want to use Blocksy for some reason.
This lightweight theme helps your website load quickly and provides more customization options than most other free WordPress themes.
The Kadence theme is available in two versions: free and paid.
However, I believe the free version provides just too much for a beginner to manage.
Starting from uploading your logo to designing your site based on device types, everything is possible with the free version. Pretty amazing, right?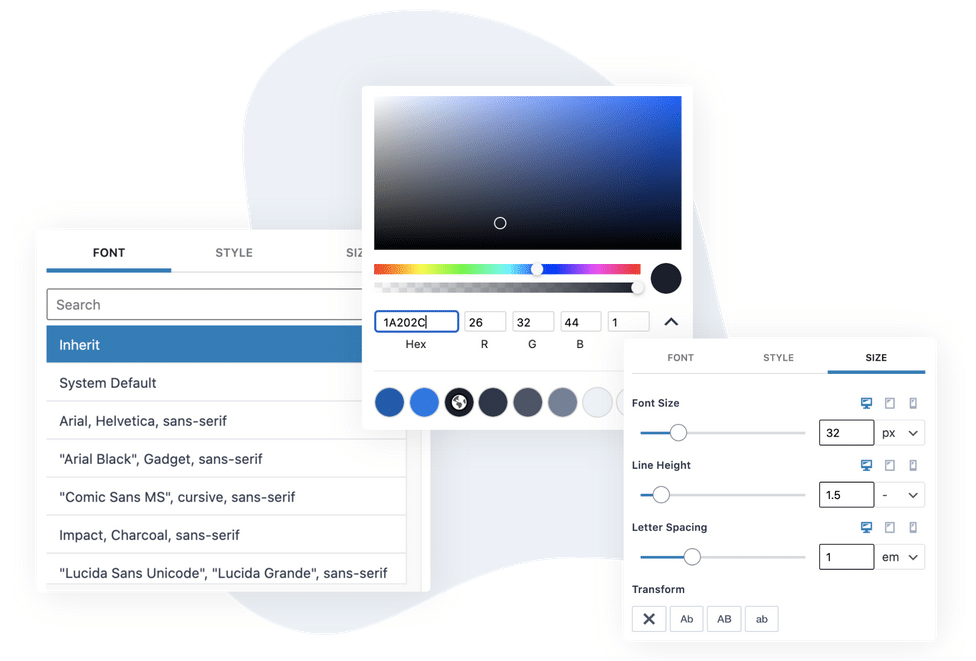 The reason I ranked it second is that I dislike the fact that the lifetime Premium version costs significantly more than Blocksy. While Blocksy costs only $149 for a lifetime license, the Kadence theme will cost you $599.
The problem?
If anyone wants to take full advantage of the theme, they'll have to spend a lot of money ($599). At the same time, Blocksy's lifetime license is less expensive than Kadence's and should be sufficient for most users.
Kadence Pro offers some additional features that Blocksy does not.
To be frank, there are tons of free alternatives that you can use with Blocksy. That's why I've put it in second place.
You can, however, try out both themes and pick the one that best fits your needs.
For beginners, I would personally suggest Blocksy. If the extra features are essential to you, the Kadence pro is the way to go.
But honestly, free version should be more than enough for most users.
You'll be blown away by how powerful it is and how easy it is to customize your website. In short, it will be hard to believe that it's available for free.
The only way to judge is to give it a shot.
If you need a theme that is primarily focused on speed and performance, Astra is one of the best free WordPress themes worth your time and consideration.
This free theme includes a variety of starter templates that make building and designing a website a breeze. All you have to do is choose a starter template that appears to be appropriate for your business website, then download and activate it.
There are starter templates for almost every niche you can think of.
Additionally, you can also use page builders. It's also compatible with the most popular page builders, such as Elementor, Beaver Builder, and Brizy.
I think it doesn't look that nice until you activate a starter template on top of the free Astra version. But, with 150+ starter templates, I don't think it'll be a problem.
The best part is that you can check out the starter templates right on their website without installing the theme. So you can see how a template would look once it's installed and enabled on your website.
And, when it comes to speed and performance, the free version is really efficient.
It also handles the SEO part quite well.
As a result, there's no need to be concerned about SEO issues.
However, I believe that the free version lacks in terms of customization options. You have limited control over the appearance of your website. It mostly depends on the starter template you decide to use on top of the free Astra theme.
Here's the thing:
You may still like it if you want to simplify the process of designing and customizing your site. But, if you are looking for a lot of customization options that allow you to change almost every aspect of your site, the free version can disappoint you.
In short, if you want more controls, you'll need the Pro version.
Also, there's something I would like to mention that the Astra theme is not just any random theme. This theme has over 1 million active installations.
This means that over 1+ million websites have decided to use Astra.
That alone can make it pretty clear how popular it is.
What you like or hate is, however, entirely a personal preference. So, without commenting on that, I recommend that you give it a shot.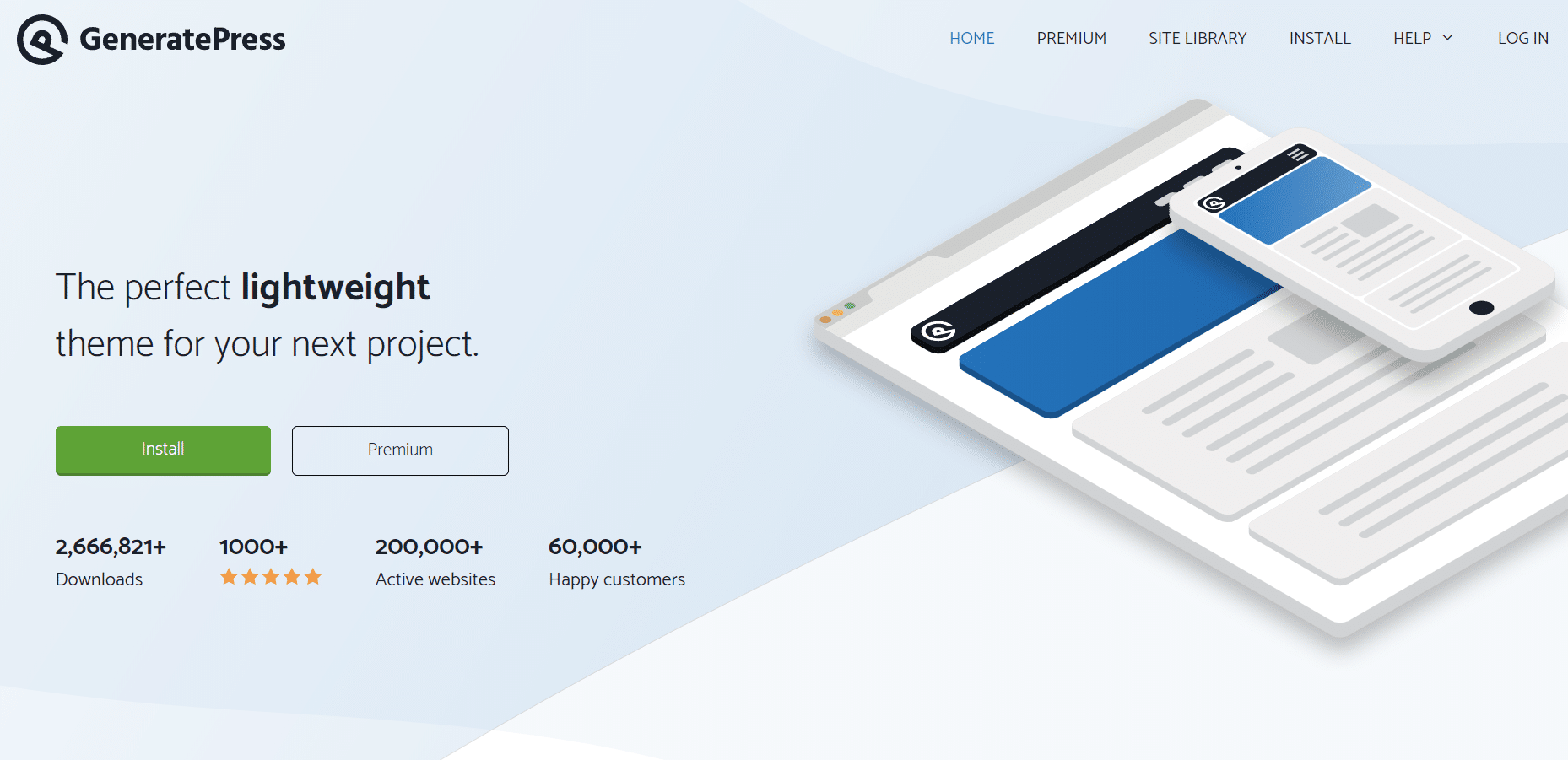 GeneratePress will not let you down if you're looking for a multipurpose WordPress theme that is mainly focused on speed and performance.
As I am writing this, GeneratePress has been installed on more than 300,000 websites. With less than 10kb in size, this is one of the tiniest themes out there, resulting in a faster loading time of your website's pages.
This makes it one of the fastest WordPress themes available.
This theme should be at the top of your list if you are obsessed with speed and performance. The default version takes less than a second to load.
Also, it's compatible with the majority of popular theme builders.
The theme itself uses the native WordPress customizer and user interface. Thankfully, it removes the need of learning a new UI.
As a result, if you know how to use WordPress UI, you'll be fine.
The default-free edition, like most other free themes, is a clean theme. Luckily, you have control over the majority of the aspects and can customize it to your liking.
For people who are more familiar with drag and drop page builders, it can be a little hard to design it from scratch, in my experience. However, once you've finished everything, the end result will always be awesome.
You'll get a lightweight theme that loads quickly and looks gorgeous.
Although the free theme is very feature-rich, it doesn't let you get full access to its site library that makes it easy and fast to design a new site.
If you want full access, you'll have to pay $59 a year.
In case you value the additional features and customizations available with the pro version, you can definitely upgrade.
But, first, I'll suggest you try the free version.
Hestia theme is another addition to my list of the best free WordPress themes available, with over 100,000 active installations.
Hestia is a powerful multipurpose theme, developed by ThemeIsle with a lot of customization options, primarily for the homepage. With the help of this free theme, you can quickly build an elegant front page that attracts your eyes.
The theme is available for free download and testing.
It's extremely user-friendly and can be used on almost any kind of website, including businesses, startups, online agencies and companies, portfolios, e-commerce, and freelancers. And of course, you can use it on your personal blog.
It also integrate seamlessly with Gutenberg and all prominent page builders:
Elementor
Brizy
Beaver Builder
Visual Composer
SiteOrigin
Divi Builder
And, here's what you should know:
While most of the noteworthy features are reserved for the premium version, the free version is undoubtedly more powerful and good-looking than most other free themes that are available in the WordPress repository.
The best thing?
The free theme doesn't look like free theme. In fact, it looks very premium.
Hestia, on the other hand, can disappoint you in terms of speed and performance. I believe it was not built with speed and performance in mind.
And also I found it's not very SEO-friendly.
However, in most situations, it may not be a problem. Since you can easily find a free but efficient SEO plugin, such as Rankmath or Yoast SEO.
As far the design capabilities are concerned, you should be happy.
Final Words
To be honest, there are thousands of WordPress themes available nowadays. But, the majority of the cool features are only available in premium themes.
So, picking only the best ones that are free was a tough challenge.
But I did it, and I only chose the ones I listed above.
All the themes I mentioned above may be free. But frankly, you wouldn't feel as if you got something for free. In fact, you'll feel like you paid a premium price.
If you are looking for a free, yet powerful WordPress theme that meets most of your expectations, you won't regret choosing any of the above themes.
Do you only need 1 suggestion to make your decision easier?
I recommend Blocksy.
But, here's what I want you to know:
Since all of these themes are available for free, it doesn't hurt to test them all. All you need is a little bit of free time. I think it will be worth it.
Finally, if you want to launch your blogging business and need someone to guide you, you can read my ultimate guide on how to start a blog. And, start your blog with HostGator for just $2.75/month. It's the best web hosting option for beginner bloggers.
Full Disclosure: Please note that if you decide to buy hosting using any link on this page, at NO additional cost to you (none whatsoever!), I may get compensated, by the hosting company. Will this be a problem? In fact, if you click and buy, thank you. It really motivates me to create more quality content, free of charge.
In the end, I would request you to please share this article.
It doesn't only help more people get the information, it helps me reach more people and also motivates me to create more useful content just like this.