Are you looking for Grammarly alternatives?
I know how time-consuming it can be to conduct research and find the right grammar checker for your needs.
But, don't worry!
I went through the trouble of conducting the research and have discovered the best Grammarly alternatives available right now.
Why do I need a grammar checker tool, you ask?
Here's why:
There are some grammatical errors that you would not notice no matter how many times you read and re-read your article. It's the same for everyone.
It isn't always your fault.
The person who writes the article may or may not be an expert writer. There may still be some punctuation, pronunciation, or grammatical mistakes.
However, writing tools such as Grammarly can help by highlighting problems and providing better recommendations. You can correct errors on the fly, structure better sentences, eliminate the passive voice, and access even more amazing features in the premium edition.
But, if you're like me and think the premium version of Grammarly is too costly, I've got some really good alternatives for you.
Don't worry!
All of these tools have features similar to Grammarly and are also inexpensive.
Some of the tools, I'm going to reveal, are more feature-rich than Grammarly and can be used for a variety of different purposes. These tools are used by writers and experts all over the world to double-check their writing.
And, You can do it, too!
So, let's dive in.
Best Grammarly Alternatives
The best Grammarly alternative for most people is ProWritingAid, Writer app and Trinka. These apps perform really well when it comes to checking your Grammar as you write and making sure you don't make mistakes.
Let's take a look at the names of these alternatives, their benefits, pricing, and how they can assist you in polishing your content.
We'll start with ProWritingAid, the best Grammarly alternative I believe.
When it comes to the best Grammarly alternatives, ProWritingAid comes out on top due to its extensive feature set and competitive pricing.
You can not only fix grammatical, punctuation, and writing style errors with this tool, but you can also learn from your mistakes while editing it.
It also provides a graphical readability report, which you can use to assess the quality of your content. If this is your first time using the app, you can download the free version, which allows you to edit 500 words at a time and receive at least 19 writing reports.
The premium edition has no word limitation and gives you access to all of its incredible features, including integration for different sites.
Top ProWritingAid Features
Make grammatical and spelling corrections.
Improves writing style and sentence structure.
Eliminate passive voice and repetition.
Suggestions for better words.
In-depth writing report to help you develop your content.
In-app tips to help you learn from your mistakes.
ProWritingAid Pricing
ProWritingAid's monthly subscription costs only $20, which is less than Grammarly's monthly subscription. A yearly subscription for ProWritingAid costs $79, while a lifetime subscription costs $399 and includes all the updates.
Did you notice that compared to Grammarly, this tool is less expensive?
Pros
Microsoft Word, Google Docs, Gmail, Facebook, WordPress, and Scrivener are all among the applications that can be integrated.
Both Mac and Windows versions are available.
By using data visualization, it is possible to gain a more in-depth understanding.
Enable you to edit the text using your style guide and dictionaries.
Cons
A plagiarism checker is available for an extra fee.
Just 500 words are included in the free version.
Writer's grammar check tool is packed full of features that can help organizations ensure quality and standardize their content.
In addition to checking for spelling and grammatical mistakes, the tool offers a variety of other features that will help with content strategy.
With Writer, agencies can make it easier for their writers to follow the same style, providing consistency and maintaining brand voice. Reporting and analytics tools are also included that help organizations track the overall quality of their content.
Writer's top features include:
Spelling, grammar, and punctuation corrections.
Suggestions to improve metrics like clarity, inclusivity, and delivery.
Assistance with terminology management.
Writing style configuration tools for consistency in content.
Access to reports and analytics.
Team management tools.
Writer offers a free plan.
The free plan comes with only the basic features such as grammar and punctuation checking. It should be enough for most users. The paid plans start from $11/month and offer tools like delivery, clarity checking, and more.
The most inclusive plan is $18/month and offers tools including style guide documentation and terminology management.
Other packages are available for larger organizations.
Pros:
Useful features help organizations manage the quality of their content.
Businesses can create consistent content with custom style guides.
User-friendly interface.
Cons:
The learning curve for more advanced features.
Only basic features are offered in the free plan.
Based on AI technology, Trinka is an efficient grammar checker tool that is designed for academic and technical writing. 
It includes the functionality that Grammarly is missing the most.
Grammarly, for example, does not have academic style guides, subject-based corrections, or technical phrasing, while Trinka does.
It checks for grammatical errors, improves writing style and tone, and offers advanced writing tips to help you strengthen your content using AI-based technology.
If you haven't heard of Trinka yet, you can sign up for a free account to try out its grammar checker features. I'm confident it won't let you down.
The best feature is the technical writing guide, which is absent from most grammar apps available online. It produces outstanding results for academic students, educational businesses, and even personal use.
Top Trinka Features
Powerful Grammar and Spelling checker 
Tailor text according to the required style guides
Allows you to upload the file and auto-edit document in minutes
Create a personal dictionary by letting you add your own words
Correct mistakes in one go
Trinka Pricing
Trinka is free for personal use and individual users. However, if you're interested in Trinka for business or enterprise use, you'll need to contact them for pricing.
Pros
It has all of the features that academic writing requires.
For technical writing or documentation, this is the best choice.
Keep track of any changes.
Cons
There is no feature to search for plagiarism.
WhiteSmoke is a modern English writing and proofreading tool for beginners, English learners, authors, students, executives, and government workers.
If you want to start writing but are worried about your English, it's a good place to start. It utilizes Natural Language Processing (NLP) technology to learn how the human brain functions when writing and corrects errors as required.
You may use WhiteSmoke to find mistakes in grammar, punctuation, and spelling. You can also improve your writing by making your sentences clearer and more concise, as well as enhancing your writing style as you write.
The tool highlights the errors, offers an explanation, and an example of how to deal with the word to give you more information about the mistakes.
It also suggests a large number of synonyms to help you refine your writing and provide the best alternative for the word.
Top WhiteSmoke Features
More than 50 languages can be translated word-to-word.
Capitalization, tenses, improper punctuation, missing words, and sentence fragments are all examples of grammatical errors that can be corrected.
Recognize and correct spelling mistakes in a matter of seconds.
Identify writing style weaknesses and provide suggestions for how to fix them.
WhiteSmoke Pricing
WhiteSmoke offers three different pricing options:
Web
Premium
Company
The web solution costs just $5/month. Thanks to ongoing 50% discounts. The premium plan costs $6.66 per month, and the business plan costs $11.50 per month.
Pros
For 50+ languages, it provides near-perfect translation.
Video tutorials to help you improve your English skills.
Available for desktop, web, and mobile devices.
Almost all operating systems are supported.
Cons
Only a 4-day free trial is available.
It does not allow you to rewrite sentences.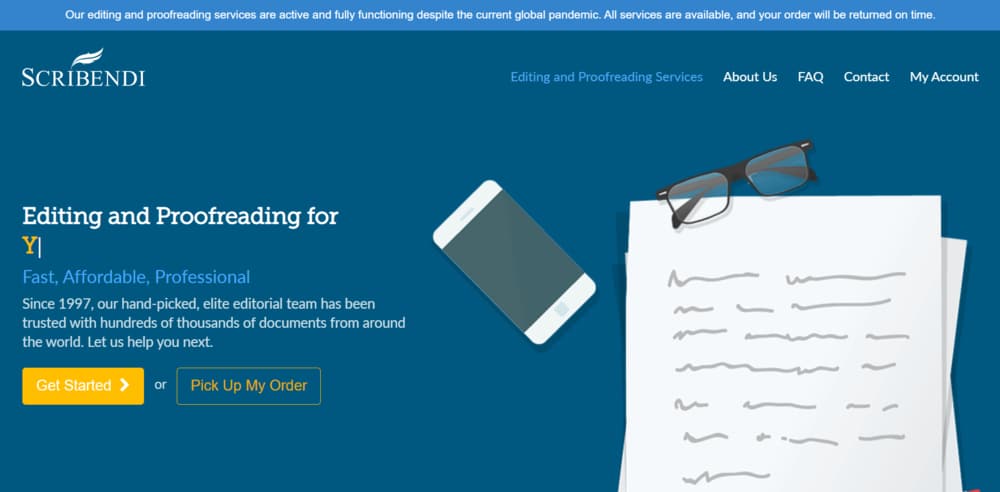 If English isn't your first language and you somehow want to sound like a native speaker without using Grammarly, I have a solution for you.
Take a look at Scribendi.
This is a service-based platform, not a tool, where you can get editing and proofreading services for your books, essays, journals, dissertations, and other documents.
While a grammar app might make a few mistakes, this service of having a real person work on your papers leaves no room for errors.
Scribendi is a team of 400+ native English specialists who work together to provide high-quality editing in under 10 hours. Academics, writers, students, businesses, companies, and, in particular, non-native speakers will benefit from Scribendi's editing services.
The team goes through the documents, points out any errors, and shares the reports with you so you can learn from them.
They also provide translation and proofreading services to ensure that the writings are flawless. You can hire them to make your writing error-free and quality-driven, whether it's math, philosophy, computer science, literature, or a biology paper.
The best part is Scribendi academy, where they teach English through articles, videos, infographics, and podcasts.
Top Scribendi Features
Academic, personal, and business editing services are available.
Expert proofreading to improve text readability.
Allows you to translate your documents for publication.
Scribendi Pricing
There aren't any standard pricing plans. Instead, their rates are determined by the number of words in your document and the deadline you set.
Scribendi quotes $74 for 1000 words in a 4-hour deadline for personal document editing. The best thing I like is that they have an instant quote calculator that will give you a price based on your specific requirements.
You might find their services a bit expensive, but having a real person work on your document improves its accuracy and reduces the likelihood of errors.
Pros
Experts and professionals proofread and edit your work.
The best choice for academic use.
Fast Turnaround.
You should expect flawless outcomes.
In a single day, you can process up to 10,000 sentences.
Cons
To edit your documents, you must go through the process that includes hiring a service and waiting for it to be completed.
Expensive.
Quillbot is one of the best options available if you want more than just a grammar checker and want to rephrase a sentence or a text.
It is powered by artificial intelligence (AI) and provides excellent results for teachers, students, writers, and professionals.
Quillbot can be used in seven different modes: Standard, innovative, formal, short-structured, creative+, fluent, and extended. You may change these modes and rewrite the sentences or paragraphs to suit your specific requirements.
What's more, guess what?
It also includes a summarizer and grammar checker.
It can be accessed through its web editor. After you've uploaded or copied the content, you can rewrite, summarise, or edit it for immediate results.
If you want to use it as a summarizer, Quillbot has a character limit of 5000 characters, and as a paraphraser, it has a character limit of 700 characters, while the paid version allows you to rephrase up to 10000 characters.
It corrects punctuation, spelling, and grammar mistakes, just like Grammarly, to ensure that your text is accurate and error-free.
Best QuillBot Features
Content rephrasing
Content summary
Grammar checker
QuillBot Pricing
Quillbot's premium edition, which costs $4.95 a month, offers you access to all of its services. The monthly fee for the semi-annual plan is $4.15, while the annual package is the most cost-effective, costing just $3.33 a month.
Pros
It provides a range of options for summarising and paraphrasing content.
You can use it directly on the web.
Quillbot has a paraphraser API that can be used in applications.
It has a feature that allows you to freeze words that you don't want to rephrase.
Cons
There is a limitation of how many characters you can rephrase in the free version.
Extensions are available in the premium plan only.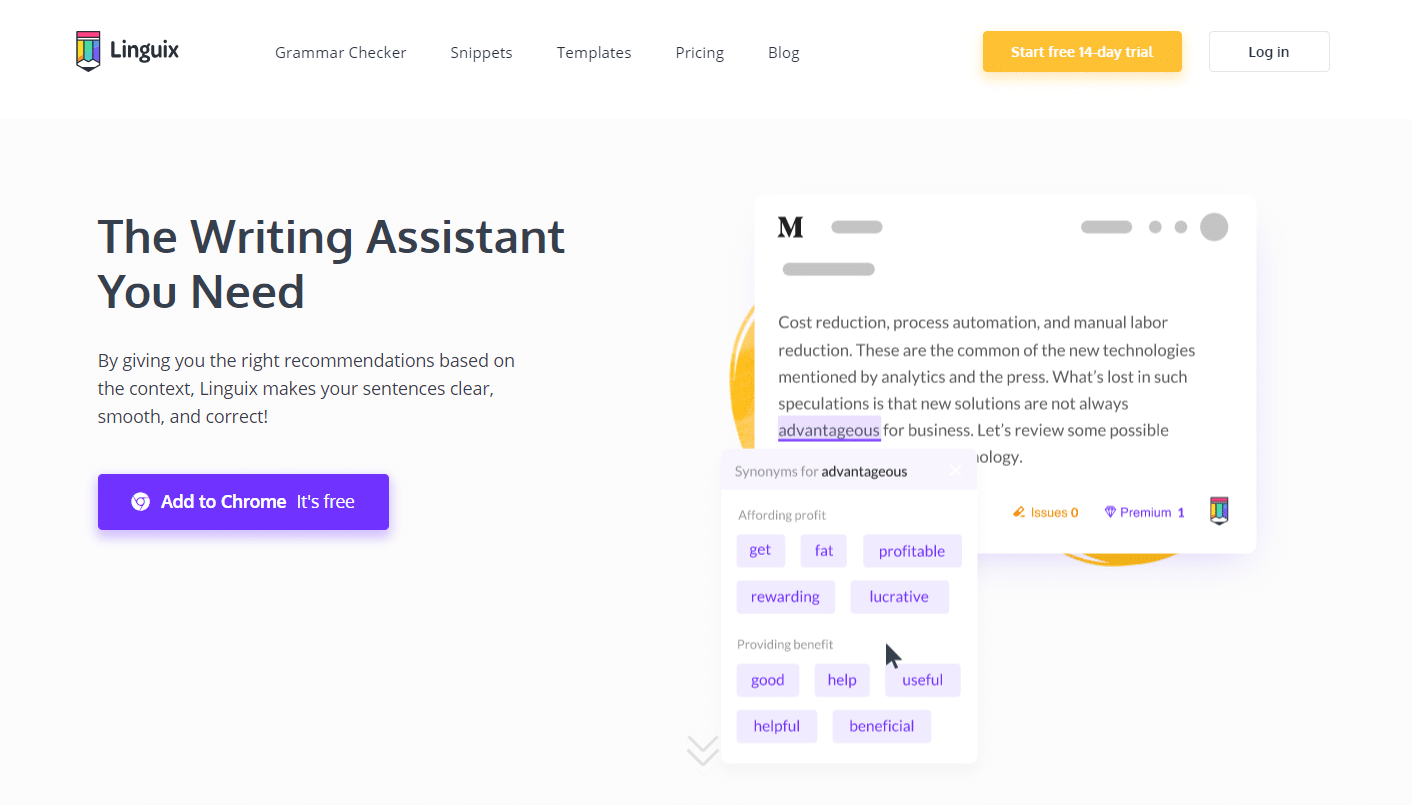 Linguix is one of the best Grammar checker apps for making your writing simple, smooth, and error-free. It's ideal for marketers, journalists, writers, SEO experts, and non-native speakers who want to avoid making mistakes in their writing.
To help you write better, this grammar checker tool has over 3000 AI-based corrections and 700+ advanced checks in its database.
In addition to Grammar checking, it also has business templates that you can use for communication, emails, essay writing, CVs, and social media marketing. Its free Chrome extension works well for personalized learning and vocabulary enhancement.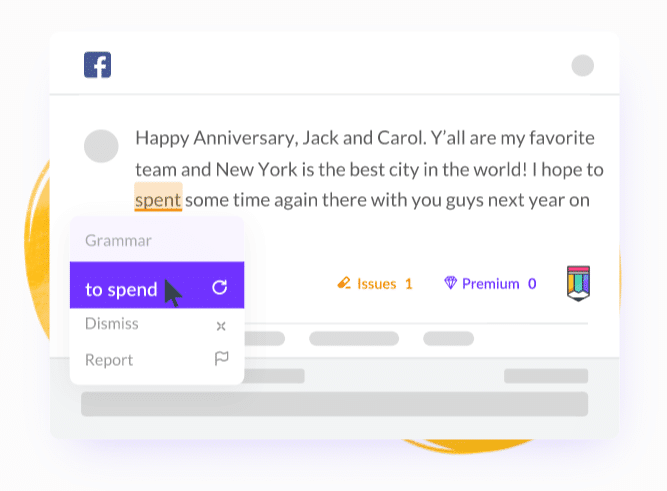 Really, you can use it as your AI-powered writing assistant who will check your spelling, grammar, punctuation, and style.
You can rely on this tool to provide fast and accurate results every time.
One of the strongest features Linguix has is its content templates, which save time and boost your productivity. You just need to produce a snippet once, which you can reuse as many times as you want on many different websites.
Best Linguix Features
Free Grammar checker Chrome extension.
Create snippets.
Business Templates.
Reports on performance to help you learn from your mistakes.
Linguix Pricing
Linguix would cost $18.95 a month if you want to use it for personal purposes. A free trial is available to get you started. It costs only $20 a month per member for business use, while for an enterprise fee, you need to contact them for a specific price.
Right now, there's an ongoing 50% discount offer on annual plans. You can start your trial for free anytime to test the tool.
Pros
Produces accurate results.
To save time and boost productivity, you can create snippets.
You can exchange documents with your team on the go.
Linguix has a smartphone keyboard app that helps you write better on mobile.
Cons
No Add-in for MS Word
No desktop app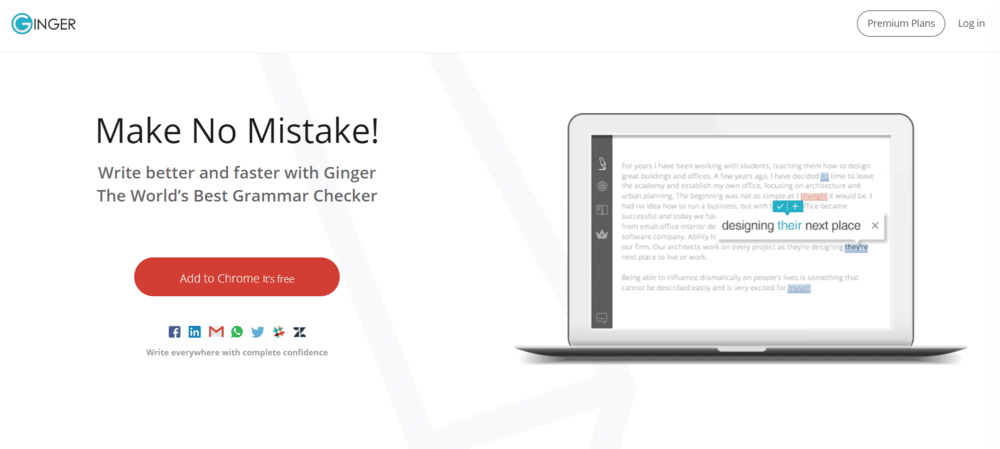 Ginger, like Grammarly, is a powerful grammar checker for students, businesses, authors, and bloggers. Its AI-powered writing assistant allows you to write flawlessly.
With the tool, you can correct spelling and grammatical errors on the go. The rephrasing feature is useful when you want to change the tone of your text.
Ginger is available as a Microsoft Word add-in, a desktop app, and even a smartphone app. The app can be used in conjunction with other applications on your phone to assist you in improving your writing, proofreading, and editing skills.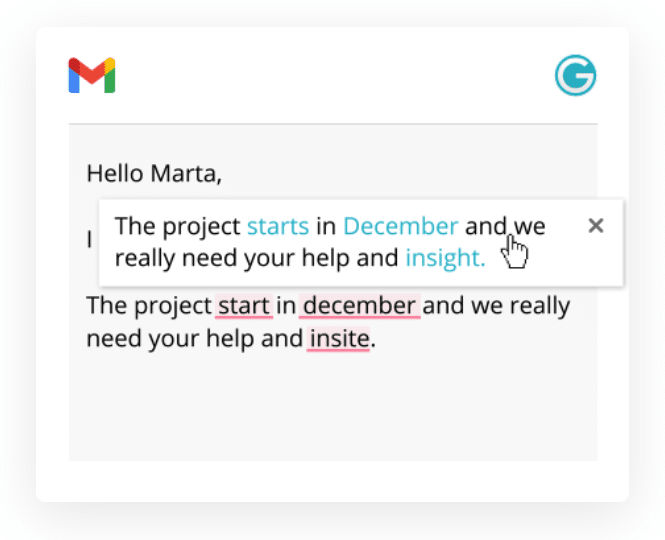 The translation feature is noteworthy, as it allows you to translate your text into 35+ different languages, including Arabic, German, Spanish, Italian, and others.
You can search its thesaurus for a wide variety of replacement words. It utilizes artificial intelligence (AI) to suggest a suitable replacement word.
If that's not enough for you, Ginger's English personal trainer helps you learn from your mistakes by reviewing your writing and suggesting customized exercises to help you improve your writing skills.
Best Ginger Features
Correct spelling errors, grammar errors, and misused words all at once.
Allows you to rewrite sentences using synonyms, antonyms, idioms, and phrases.
Detect and correct punctuation errors with precision.
To make your content stand out, provide a robust thesaurus.
Ginger Pricing
Ginger is your go-to tool if you're searching for a Grammarly alternative with features similar to Grammarly. You will get access to all of its functionality for $7.99 a month. The annual plan is less expensive, at $4.99 a month.
If you want access to the Ginger premium plan for two years, it will cost you $3.99 a month only. Isn't this a fantastic deal?
Pros
Compatible for Windows, Mac, iOS, Android, and the Web.
Your text can be translated into 40 different languages.
It acts as a personal trainer to improve English, with tutorials and exercises.
Chrome add-on is available for free
Cons
Lacks a plagiarism checker, which may be problematic for business use.
Chrome, Safari, and Edge are the only browsers that it supports.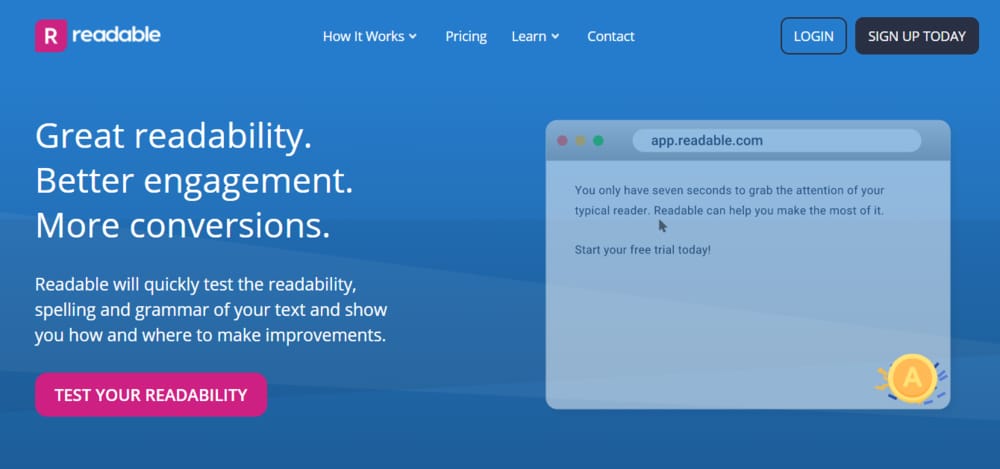 Readable, as its name suggests, works to improve the readability of your content. It uses a variety of readability algorithms to make the content more engaging and reader-friendly.
It's ideal for content marketers, authors, bloggers, and everyone who works online.
Readable highlights lengthy sentences, complicated phrases, cliches, adverbs, passive speech, and derogatory writing style in addition to checking for grammar and spelling. It's one of the most efficient tools for improving the readability of your content.

To use it, simply paste the text into the text box and check the score. It will show you where you need to change as well as give you a readability score.
It also analyses the text's keyword density, URL, email tone, and conversational style.
Best Readable Features
Score the readability of your document
Highlight grammatical and spelling errors
Quality analysis
Generate reports
Analyze URL and keyword density
Gives an in-depth analysis of your content
Readable Pricing
Readable has three pricing options from which you can choose a plan based on your needs. The following are the different names of the plans:
ContentPro
CommercePro
AgencyPro
At $8 per month, the ContentPro plan is designed for advertisers, educators, and writers. The CommercePro plan, which costs $48 a month, is designed for small businesses. The AgencyPro plan, which costs $138 a month, is for businesses or teams of more than 5 members. If you prefer Readable's annual pricing plan, you can save 50%.
Pros
It has an easy-to-use interface
It's compatible with all devices
It allows you to export HTML, Word, and PDF documents
Cons
There are no writing templates available.
There isn't a plagiarism checker.
It's difficult to share files from the app.
How frustrating is it when you try your hardest to write the best content possible but it always falls short? I know, it's discouraging, right?
With the help of Atomic Reach, you won't have to worry about the quality of your content because the AI-powered content intelligence machine can help you achieve incredible results each and every single time.
One of the best things about Atomic Reach I like is its awesome dashboard that monitors your performance and analyses how well your content is producing results.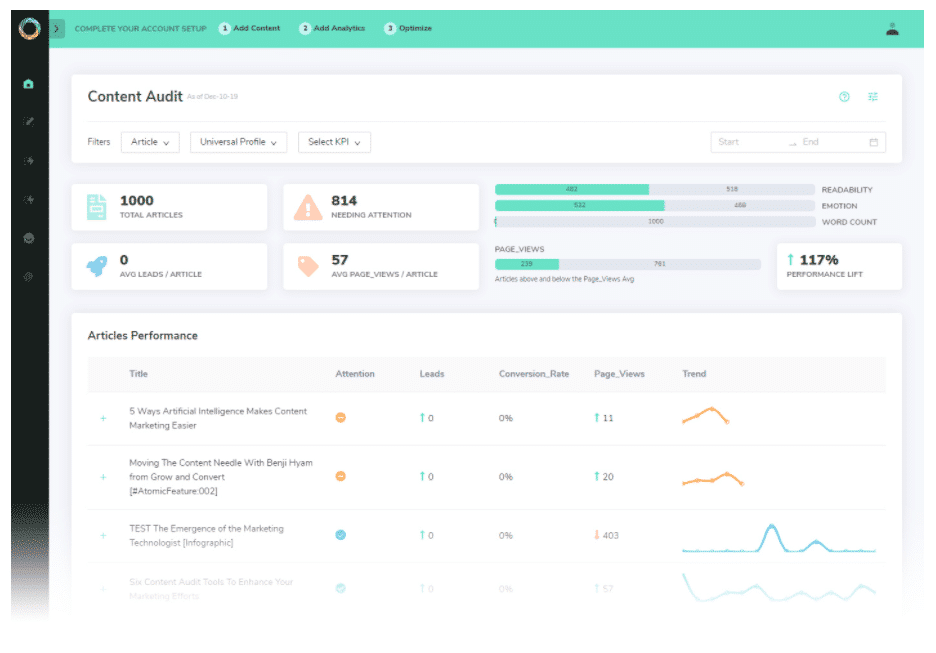 It helps you create personalized messages by enhancing your vocabulary, eliminating jargon, and creating engaging content for your target audience.
This content audit tool is best for digital agencies, advertisers, or teams who work with a variety of content formats, such as blogs, landing pages, emails, and advertisements.
Atomic Reach is the best fit for you if you write online but are concerned with your sentence structure, grammar, titles, and content optimization. Integration with Mailchimp, WordPress, Hubspot, and Google Analytics is also possible.
It's not specifically a Grammar checker tool, but a complete package for marketers and online businesses to reshape their content and make it worth the results.
Top Atomic Reach Features
Content Optimization
Content Management
Content Insights
Content Audit Dashboard
AI Editor
Targeted Profile for marketing campaigns
Performance reports and analytics
Atomic Reach Pricing
It offers five different pricing options.
The free version allows you to improve and optimize your content by improving titles, using a grammar checker, and creating a description.

The $79/month starter plan gives you access to your topic performance reports, trending topics, and recommendations for what you should write in the future.
The pro plan costs $129 a month and offers you access to Atomic Insights, which enables you to dig deeper into your content. The premium plan costs $499 a month and includes all of the features of the Starter plan as well as access to Atomic Profiles.
The Managed plan gives you full control of the tool and is best for agencies and teams. It starts at $1500 per month. You may, however, cancel all of these plans at any time.
Pros
The best way to maximize your content ROI and boost your sales.
Improve the content's quality by making it more personalized to the target audience.
Help with making an educated decision.
To boost content marketing, you'll need in-depth content insights.
Effortless Integration.
Cons
Learning and adapting to its advanced features can be challenging.
For small businesses, this is ridiculously expensive.
It doesn't save content automatically.
Final Thoughts
Grammarly is without a doubt the best tool for authors, students, and professionals, but it lacks some of the functionalities that some of its best alternatives do offer.
Secondly, Grammarly is a relatively expensive editing tool, when compared to some of its competitors. So, those who cannot afford it would need to find the best Grammarly alternative in order to continue writing without mistakes.
Finally, each of the tools mentioned above has its own set of requirements, features, and benefits, so choose the one that best matches your needs and budget.
I hope I have been able to help you find a good alternative for yourself.
So which of these tools are you going to use?
If you haven't tried anything yet or aren't sure which one to choose, let me recommend the best alternative I think you should try.
ProWritingAid is a safe bet.
ProWritingAid is by far the best tool I have found that performs as great as Grammarly while still being considerably less expensive.
We have finally reached the end of this article.
I hope I was able to help you in choosing the best Grammarly alternative.
If you find this article useful, I request that you share it with others. It doesn't only help more people, but it also gives meaning to the countless hours I spent on it.
Also, it motivates me to create more useful content, just like this one.