Want to buy website traffic? But, not sure where to buy traffic? Then, don't worry! You are not alone. In this blog post, we will explore some of the most reliable sources to buy website traffic that works for your business.
Buying traffic is one of the fastest ways to get your website noticed on the internet.
But, let's not focus on the most popular ad networks or platforms.
You know it already, right?
When it comes to online advertising, Google, Bing, YouTube, Facebook, and LinkedIn Ads are all well-known. But, these traffic sources are relatively expensive.
So, I don't want to discuss them.
Of course, these websites are some of the best traffic sources that you can use to get visitors to your website in less than 24 hours. But unfortunately, these traffic sources may cost you significantly more money than the ones listed below. My purpose is to help you get cheap traffic, but quality and targeted.
No, I'm not talking about those spammy bulk-traffic sources that use shady techniques to generate worthless traffic. In fact, you'll get quality traffic and real human beings visiting your website.
And, you will be able to track them to see what they're doing.
In this article:
And, a lot more.
So, let's dive into the world of online traffic & explore some of the best quality and cheap traffic sources that you can use to get quality visitors to your website or your affiliate links. The top places to buy traffic online are:
Best Places to Buy Website Traffic
While there are numerous places to buy website traffic, the following are some of the best options that I recommend, with Udimi being my number one choice:
Udimi
Fiverr
Revcontent
BidVertiser
PropellerAds
MGID
BuySellAds
Adsterra
Smaato
Simple Traffic
1. Udimi – Buy Solo Ads
Udimi is a bulk traffic source for affiliate marketers and anyone else who needs targeted website traffic. It's a solo ad network where you can purchase email-based ads, known as solo ads, from other professional email list owners.
Since your emails are sent as dedicated emails, the quality of the traffic is exceptionally high. Udimi has hundreds of verified solo ad suppliers and its traffic is cheaper than regular traffic vendors in most cases. Plus, Udimi employs advanced filters to make sure you get only genuine visitors to your offers.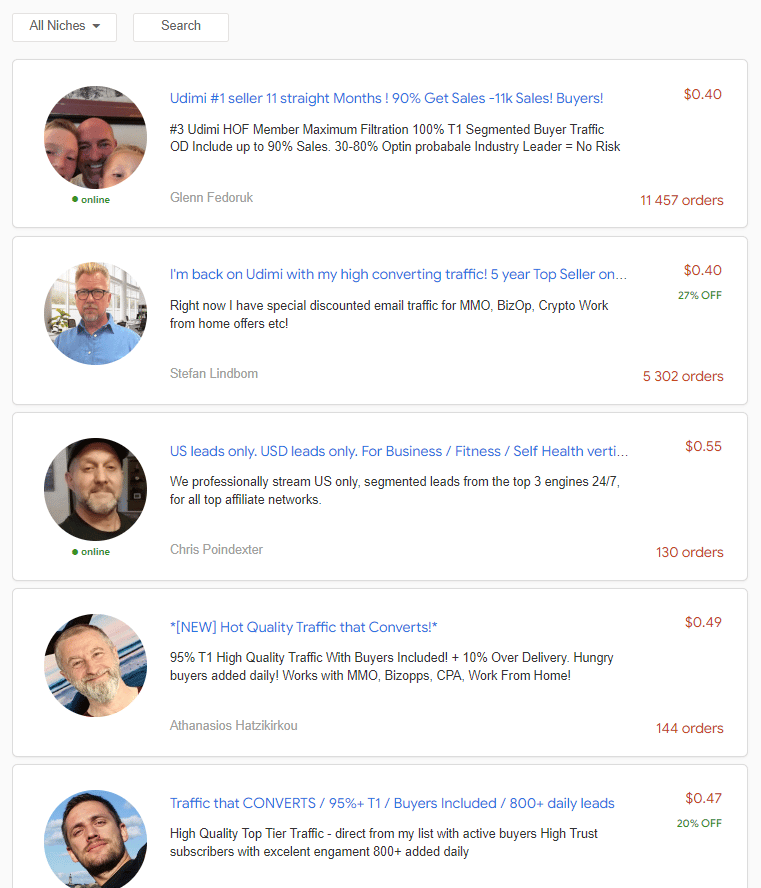 If you're looking for high-quality and cheap website traffic, Udimi should be your go-to option.
With Udimi, you'll get real human visitors from all over the world.
Key Features of Udimi
$5 discount on your first purchase.
Easy to use user interface.
Access to hundreds of professional solo ad suppliers.
Hundreds of solo traffic deals.
Typically costs only $0.35-$0.95 per targeted click.
Easy filtering options to find the perfect vendor you need.
High-quality website traffic at a cheap cost.
Real human web visitors to your website.
Ability to track the performance of your campaigns.
Instant delivery of traffic to your website through solo ads.
Great customer support in case you have any queries.
Overall, Udimi is the best website to buy traffic if you want quality visitors at an affordable price. So, if you're looking to get more visitors without spending a fortune, give Udimi a try. I'm sure you won't be disappointed.
How Does Udimi Work?
Udimi is an online platform that connects buyers and sellers of solo ads.
In case you don't know, solo ads are email advertisements that are sent by the seller to their list of subscribers, promoting the buyer's offer.
Here's how Udimi works:
Buyers create an account and deposit funds into their Udimi account.
Buyers search for sellers based on their niche, location, ratings, and other criteria.
Buyers select a seller and place an order for a certain number of clicks. A click is when someone clicks on the buyer's link in the solo ad.
The seller then sends the solo ad to their list of subscribers, and the clicks are tracked by Udimi. Once the clicks are delivered, Udimi releases the payment to the seller, minus a commission fee.
Buyers can rate the seller based on their experience.
Overall, Udimi simplifies the process of buying and selling solo ads by providing a platform where both parties can connect and complete transactions securely.
Honest Udimi Review: Udimi is a legit and reliable way to purchase website traffic from solo ad suppliers. It's simple, affordable, and effective. While anyone can buy traffic from Udimi, it's particularly ideal for affiliate marketers and content marketers who need quality website traffic at a low cost. It is one of the best places to buy website traffic. Try it yourself and you will be amazed at the results. Highly recommended!
So, that's all I want to say about Udimi and why it's one of the best places to buy website traffic. If you use this special link to sign up, you'll get a $5 discount on your first purchase. So, what are you waiting for?
2. Fiverr – Freelance Services Marketplace
Fiverr is a great marketplace where you can find freelancers to do almost any type of job, from digital marketing or SEO to graphic design or logo design.
Although it's not necessarily a place to buy traffic, you will find plenty of freelancers offering services related to website traffic. They implement various digital marketing strategies to drive real human traffic to your website or link on your behalf.
The price for their services starts from $5 and can go up to hundreds of dollars depending on the freelancer you decide to hire. Fiverr is free to join.
However, you need to be careful with freelancers who promise to send bulk traffic for a few dollars. Generally, this type of traffic is generated by using software, bots, or shady techniques, which can harm your website's overall reputation and the purpose of why you are buying traffic in the first place. Instead, you should look for freelancers who use ethical and genuine techniques to drive real visitors to your website.
Key Features of Fiverr
Easy to use interface.
Huge variety of freelancers offering all types of services.
Cost-effective – prices start from $5.
Support when needed – Fiverr offers great customer support.
Verified freelancers – Hand-vetted talent for all your professional needs.
Secure payments – Your money is secure with Fiverr.
Overall, Fiverr is a great marketplace to hire freelancers to help you get quality website traffic. Before hiring anyone, make sure to read the reviews and do your own research to make sure that you're getting a good deal.
3. Revcontent – Just Ads That Work
Revcontent is one of the most cost-effective traffic sources that impressed me. It helps you to get targeted website traffic at the cheapest price possible.
It's basically a native ad network.
The idea of native advertising is to create advertisements that are so incorporated into the page content and design that the visitors believe the advertisement belongs there. Native ads can be used as the best alternative for expensive Google or Facebook ads.
The best thing?
Native ads are less disruptive than other ad types. Browsers don't block these ads. As a result, you can reach visitors with ad-blocking extensions installed.
So even if visitors don't want to see ads, they can see and click your ads.
Pretty cool, right?
Revcontent is such a native advertising network requiring a comparatively small deposit amount and the lowest bid to get started.
The minimum bid is $0.001 per click, but if you intend to promote in Tier 1 and Tier 2 countries, you may want to increase your bid. The minimum amount of funding is $50, but each campaign must have a regular budget of $100.
The campaign budget might sound quite expensive for some people. However, if you use it wisely for a few months, you'll find that it's less costly than many other sites.
It was established in 2013, making it one of the industry's newest members.
Concerned about traffic quality?
You should be aware that they are very selective when it comes to adding new publishers to their network. To be accepted into the network, a website must receive at least 50000 monthly pageviews. They also do a detailed analysis of the website.
Nearly 98% of the applications are turned down. On the site, they state it clearly.
As an advertiser, it simply means that you should expect to receive extremely high-quality traffic to your website, landing pages, online store, or any other URL.
4. BidVertiser – Direct Advertising Network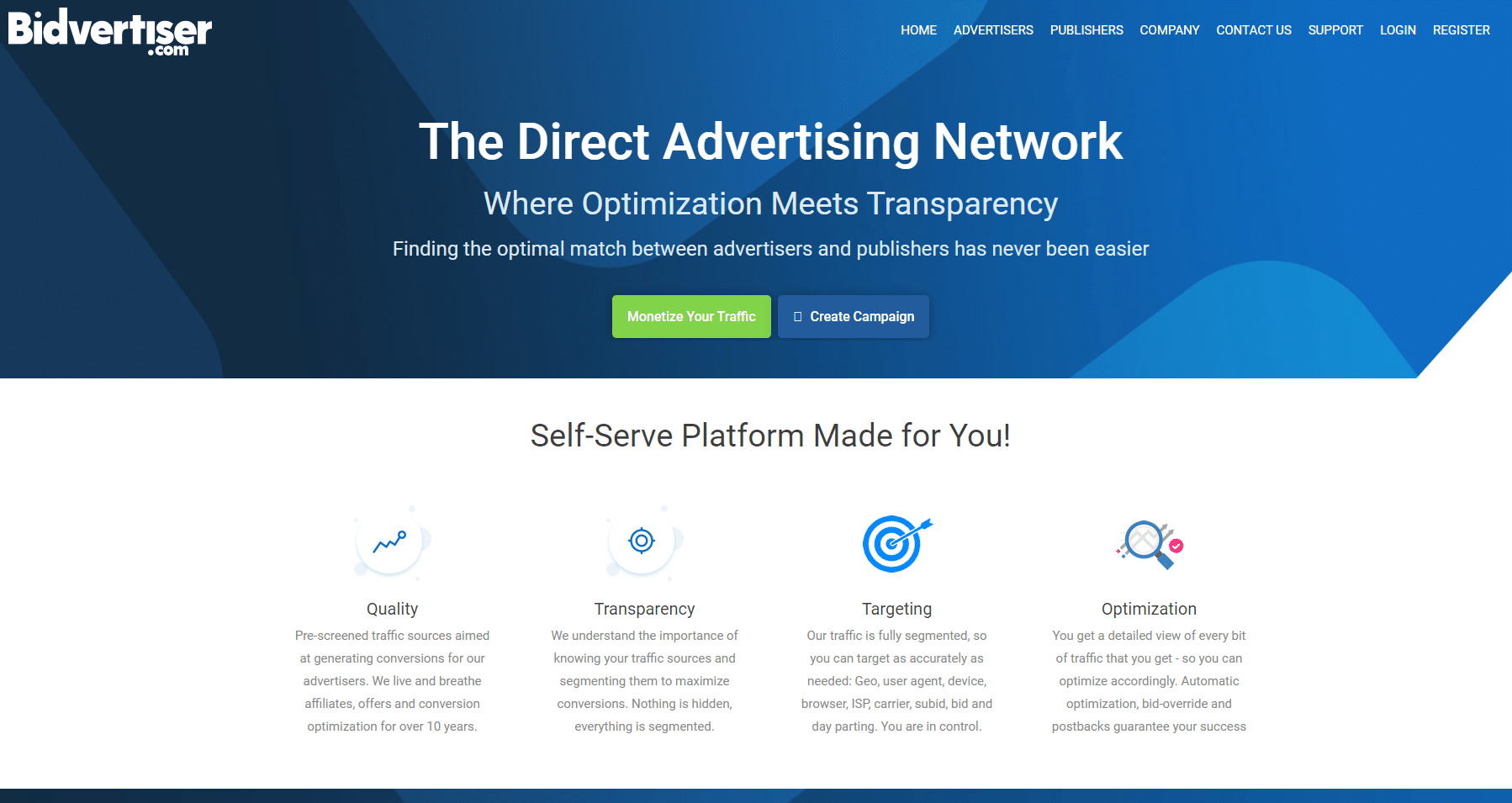 Founded in 2008, Bidvertiser is an established ad network with over 10 years of existence in the industry. You can get started with a budget of only $100.
There are over 3000 advertisers actively using the platform to generate traffic and reach millions of potential customers worldwide.
Getting an account is easy and quick.
Both the advertisers and Publishers use the same dashboard.
So you'll need to select the Advertisers tab. However, when you joined, if you have registered as an advertiser, it'll be done automatically.
Later, you'll have to activate your account putting at least a $100 advertising budget. After that, you can start your first campaign.
There are multiple payment methods to fund your account including Paypal.
You can start with as low as a $5 daily budget.
There are multiple ways to target the exact type of visitors you need that matches your campaigns. Starting from GEO targeting to ISP targeting or Time-Of-Day Targeting, there are tons of targetting options you'll find.
There are advertisers with thousands of daily budget advertising on the platform.
You can start with only $100 and try the ad network.
Overall, Bidvertiser has generally positive reviews for traffic quality. However, as with any advertising network, it's important to monitor your ad campaigns closely and take steps to minimize the risk of fraudulent activity. Bidvertiser's traffic quality can vary depending on factors such as traffic sources, targeting, fraud detection, and ad format.
5. PropellerAds: Display & Mobile Ad Network
PropellerAds is a well-known and widely used advertisement network. Founded in 2011, the company has made it its goal to provide businesses with a global traffic source that makes it easy to reach their target audience. With a reach of over 12 billion impressions per day, PropellerAds is well-positioned to help you find the right customers.
The optimization tools provided by PropellerAds are designed to save you time and effort while still allowing you to target the right people. With a minimal budget, you can get started and reach good volumes of customers quickly.
The best part about PropellerAds is the traffic that converts well. You can create advertising campaigns quickly and efficiently thanks to their easy-to-use tools. This makes it easy to get the results you want, without spending a lot of time.
So, if you are looking for a reliable and cost-effective ad network that offers great results, PropellerAds is worth considering. It has everything you need to drive conversions and get the kind of traffic you desire. In addition, PropellerAds has numerous checks to filter out bot traffic and make sure you get the best quality.
6. MGID – Native Ad Platform
MGID is a robust native advertising platform that allows advertisers to reach a global audience of up to one billion monthly impressions.
The user interface is straightforward and easy to navigate, allowing advertisers of all levels to create effective campaigns. With a minimum deposit of $100 for new accounts or $1000 for dedicated account managers, MGID is a great platform for advertisers.
Advertisers can also take advantage of MGID's wide network reach, as the platform works with most major ad networks. Additionally, MGID boasts some of the best publishers in the business, allowing access to high-caliber content and audiences.
For those looking to break into the native advertising arena, MGID is a great place to start thanks to its low entry point and intuitive platform. With its global reach, a broad range of publishers, and ease of use, MGID is the perfect way to launch your native advertising campaign and get the kind of traffic that your business needs.
7. BuySellAds: Ad Solutions for Marketers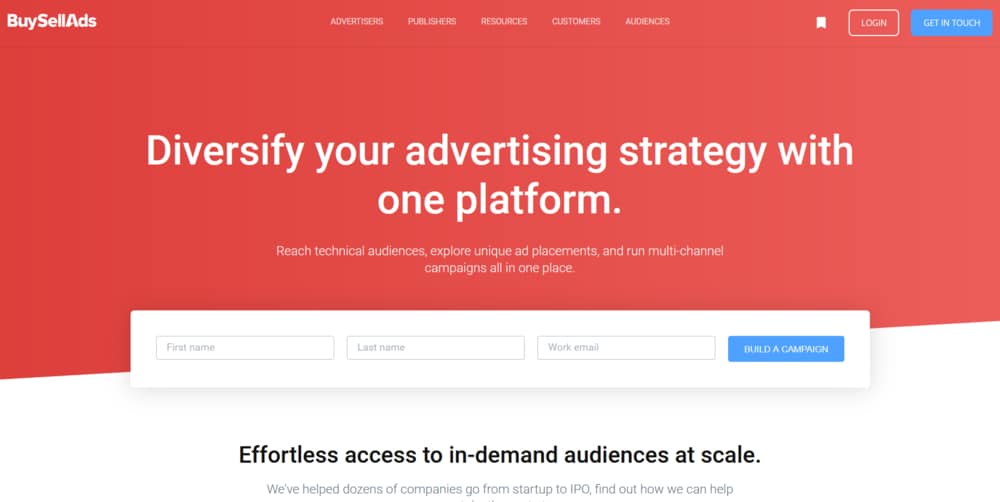 BuySellAds is a marketplace that connects advertisers looking for targeted visitors with publishers looking to monetize their traffic.
The platform is pretty straightforward.
There is no complicated techniques or fancy algorithm to deliver visitors.
As an advertiser, your job is to choose a market or category that you want to target. The platform will then display lots of publisher sites available to buy traffic from.
You will be able to analyze their website statistics as well as the price the publisher is charging for different ad placements. You just choose the site on which you want to advertise, follow the instructions, and get your ad placed on the site.
Pretty simple, right?
8. Adsterra Advertising Network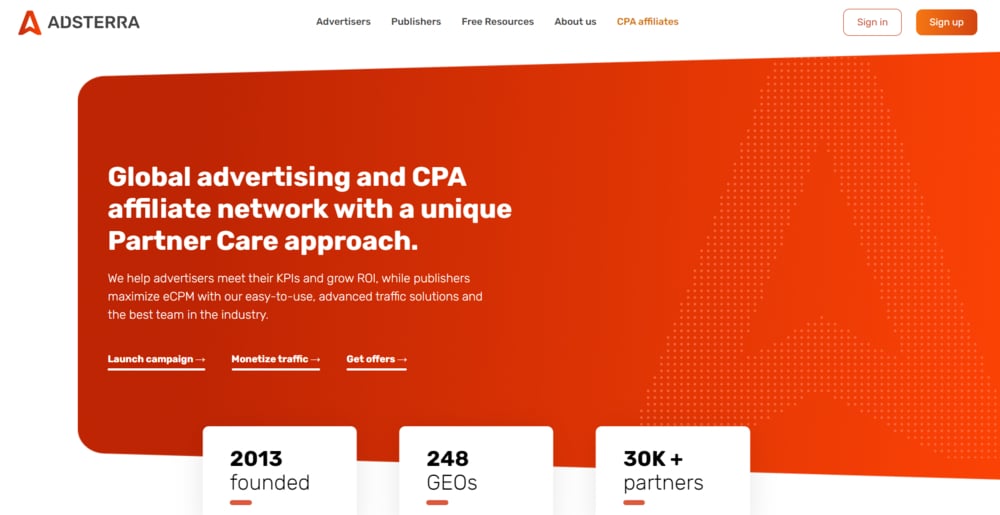 Adsterra is a powerful advertising platform and ad network that allows advertisers to reach a larger audience, at a lower cost than most other networks.
Founded in 2013, Adsterra has grown to become one of the best Google Ads alternatives for marketers, website owners, and media agencies. Its emphasis on cost-per-action (CPA) marketing campaigns is one of the reasons why it has become so popular.
With over 18,000 direct publishers and 12,000 brands, affiliates, and ad networks, Adsterra offers a range of advertising services including pop-unders, social bars, native banners, video ads, direct links, and VAST videos. Adsterra provides high-quality, targeted traffic from multiple sources, making it an ideal choice for advertisers.
If you are looking to buy traffic at a low cost, Adsterra is a great choice. It offers access to a vast pool of publishers and brands that can quickly deliver quality traffic.
Adsterra arbitrage is also a popular strategy used by many to make money from ads. It simply involves buying traffic from Adsterra at a low cost and send them to websites with ads from other high paying ad networks, thus making a profit.
9. Smaato: Digital Ad Tech Platform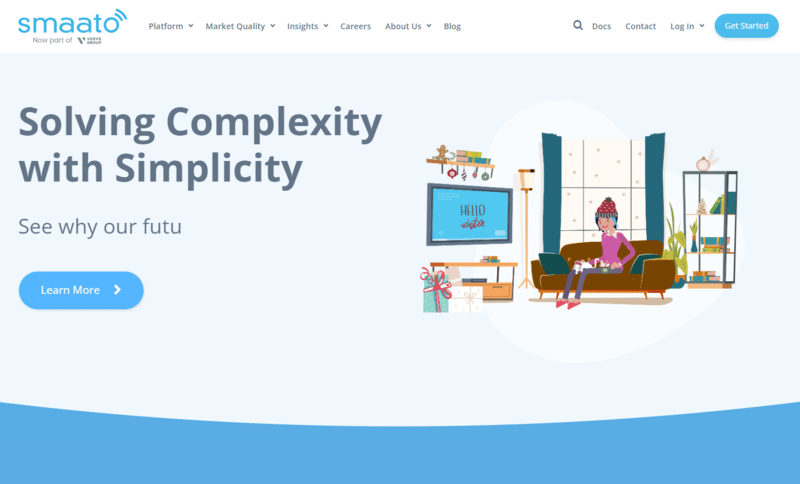 Smaato is the top real-time mobile advertising platform in the world. It links over 90,000 app developers and mobile web publishers with 10,000+ advertisers, including 91 of the Top 100 Ad Age companies. Through Smaato, over 1 billion unique mobile consumers are reached monthly and it manages up to 10 billion mobile ad impressions daily.
Smaato is an ideal platform for app developers, mobile web publishers, and advertisers who need to reach large audiences quickly and efficiently.
Smaato's mobile ad exchange is the only global platform in the industry that offers traffic quality assurance and guaranteed fraud protection. Through Smaato, advertisers are able to create highly targeted campaigns and optimize them for maximum reach.
Overall, Smaato is a great solution for app developers and mobile web publishers who need to reach large audiences quickly and efficiently. If you would like to buy cheap, but quality visitors for your website, Smaato might be the perfect platform for you. Try it yourself today and see how effective Smaato could be in driving real traffic.
10. Simple Traffic – Get Real Visitors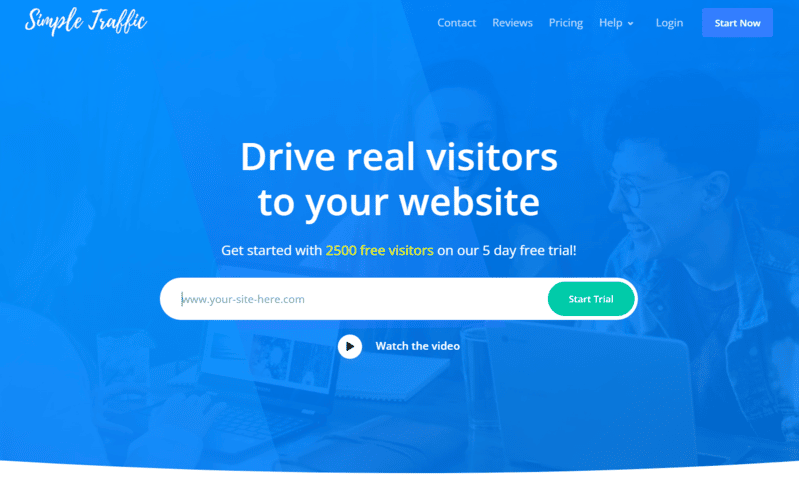 Simple Traffic is the cheapest and the most affordable choice. For just $20, you can get up to 5000 visitors to your website. It's hard to believe, isn't it? It is, indeed. For just $20, you'll be able to get 5000 visitors.
That was the good news.
However, I've discovered that if your offer isn't appealing to the majority of visitors, you won't do well on the network.
Since there are no choices for targeting, you can't pick and choose the type of visitors you want. It may not be suitable if you want to target a specific niche. Here, you simply select the number of visitors you need, include targeted keywords, and place your order. Orders are usually processed within 24 hours.
Traffic is worldwide. You cannot choose a country to get traffic from.
If you wish to promote in Tier 1 and Tier 2 countries, you may contact them and get your traffic processed only for those countries. But you can't choose a country while placing an order.
They redirect traffic from other websites in their network without the visitors' concern. As a result, the conversion rates are likely to be poor. However, since it is inexpensive, I suggest you give it a shot.
Bonus: Spark Traffic
Spark Traffic is a popular online platform to buy fake website traffic.
If you're looking to generate millions of visitors fast, Spark Traffic bot is the perfect tool. With Spark Traffic platform, you can generate fake traffic that looks like real human traffic, which means you can improve your Google Analytics data with natural-looking traffic from 200+ countries.
The company offers a range of features that make it stand out from its competitors. For example, you can choose the number of visitors you want to receive, the duration of the visit, and the geographical location of the visitors.
One of the best things about Spark Traffic is that it is incredibly easy to use. The platform is designed to be user-friendly and intuitive, so even if you're not tech-savvy, you can still use it without any issues. All you have to do is sign up for an account, enter your website's URL, select your preferences, and you're good to go.
Another advantage of using Spark Traffic is that it offers competitive pricing starting with a free trial. The company understands that not everyone has a big budget, which is why it offers affordable packages that suit all kinds of businesses. You can choose from different plans and get the traffic you need at a reasonable price.
Furthermore, the platform offers excellent customer support. If you have any issues or questions, you can contact the support team, and they will be happy to assist you. The team is friendly, and they will help you resolve any issues you may have.
Finally, Spark Traffic is a reliable and safe platform. The company uses the latest technology to ensure that the traffic generated looks like real human traffic. This means that you don't have to worry about your website being penalized by search engines. The platform also uses secure payment methods to ensure that your transactions are safe and secure. So, if you are looking for a reliable website traffic generator, Spark Traffic is worth considering.
The Best Place to Buy Website Traffic
Udimi is the best place, I recommend, for purchasing quality website traffic. It is a solo ad marketplace that connects advertisers with vendors that use email lists to send targeted traffic to your website or any link you provide. All the clicks are genuine and you can monitor your traffic sources and optimize campaigns to get better results.
Udimi has a large network of vendors with whom you can buy traffic. All the vendors are highly experienced and skilled in their respective areas of expertise. The traffic quality is usually excellent.
The best thing I like about Udimi is that you can contact the seller directly before you purchase to discuss the details of your campaign. I strongly recommend that you take advantage of this feature to get the best out of your campaign.
Does Buying Website Traffic Work?
Yes, buying website traffic can have positive effects on your website.
By purchasing website traffic, you can potentially increase the number of visitors to your site within a short period of time. This influx of traffic may lead to higher visibility, increased brand exposure, and potentially higher conversion rates, depending on the quality of the traffic you acquire.
By driving more visitors to your website, you can create a perception of popularity and attract organic traffic as well. It can be especially beneficial if you're running an e-commerce site and want to boost sales or if you're promoting a new product or service and need initial exposure. The increased traffic can also provide you with more data to analyze and optimize your website's performance.
Moreover, if you have monetization methods such as display ads or affiliate marketing, higher traffic numbers could potentially generate more ad impressions and clicks, resulting in increased revenue.
Some advertising networks and affiliate programs pay based on the number of impressions or clicks. So, buying traffic can be a strategy to increase your earnings. You can also buy social followers, likes, and views to improve your reach.
However, it's important to note that the success of buying website traffic depends on various factors. The quality of the traffic source is crucial since low-quality or bot-generated traffic can be detrimental to your website's reputation and overall user experience. Additionally, if the acquired traffic does not align with your target audience or is not genuinely interested in your content or offerings, the conversion rates and engagement may remain low.
It's essential to buy website traffic as a supplementary strategy and not rely solely on purchased traffic for sustained growth. Combining it with other marketing efforts, such as search engine optimization (SEO), content marketing, and social media marketing can help create a more holistic and effective approach to driving traffic.
Factors to Consider When Buying Website Traffic
While there are hundreds of places online where you can buy traffic, it is important to carefully consider which platform best suits your needs. Some of the factors that should be taken into consideration include cost, reach, optimization tools, and quality of traffic. These factors, taken together, should help you decide the best option.
There are many other options to buy website traffic, but the ones mentioned above are the best options in terms of quality and affordability.
PropellerAds, MGID, and Adsterra are all great platforms for buying traffic, each with its own unique advantages. Before you make a decision, it is important to do your research and make sure that you track your traffic so you know where your money is going. After all, you don't want to invest your hard-earned money and not see results.
So, no matter which platform you choose, make sure that you track your campaigns and optimize them accordingly. This will help you to ensure that you are getting the most out of your ad spend and quickly identify any issues or opportunities for improvement.
Additionally, it's important to experiment with different platforms and find the one that works best for your business. No platform is perfect, so try out different ones to find one that meets your business needs and budget. With a bit of experimentation and research, you can quickly find the best way to get the kind of traffic that your business needs.
Is Buying Website Traffic a Good Idea?
Buying web traffic can be an excellent way to get targeted visitors to your website quickly. You will still need to ensure that your ads are effective, that you have compelling offers, and that you are monitoring and optimizing your campaigns on an ongoing basis.
As long as you are careful to track and optimize your campaigns, you can see a real return on investment from buying traffic to your website.
So, don't be afraid to give it a try and see how it can help your business.
Even popular websites and brands like Google, Facebook, Amazon, or ExamLabs are often seen investing in advertising in order to reach a new audience. With the right tracking tools, buying website traffic can be an effective way to grow your business.
By researching the different options, carefully tracking results, and optimizing campaigns, you can get the kind of website traffic that will help your business succeed. Following are some of the advantages and disadvantages of buying website traffic.
Pros of Buying Traffic
Increased website visibility and brand awareness
Potential for high ROI
A more targeted audience with greater potential for conversions
An effective way to test new products and services
Potential for higher search engine rankings
Quicker results than organic traffic generation
Faster sales and higher profits
A cost-effective way to reach new customers
The ability to scale campaigns quickly and efficiently.
Cons of Buying Traffic
Can be expensive if not properly managed
Limited control over the type of visitor you get
Can be difficult to track the effectiveness
Click fraud can be an issue if not properly monitored
In conclusion, buying traffic is a great way to increase website visibility, and brand awareness, and increase conversions. However, it is important to be mindful of the potential risks associated with buying traffic. Research your options carefully and track your campaigns to ensure you are getting the best return on investment.
Buy Website Traffic: FAQs
Here are some of the best most common traffic-related questions and answers.
Is It Safe to Buy Website Traffic?
Yes, buying website traffic is generally safe if you take the necessary precautions. Be sure to research vendors thoroughly and track your campaigns closely. This will help you ensure that you are getting quality traffic that will bring value to your business.
How Much Does It Cost to Buy Website Traffic?
The cost of buying website traffic varies depending on the vendor, the quality of the traffic, and other factors. Generally speaking, you can expect to pay anywhere from a few cents per click to several dollars per thousand visitors.
What are The Best Places to Buy Website Traffic?
Udimi, PropellerAds, MGID, and Adsterra are some of the best platforms for buying website traffic. Each platform has its own unique advantages, so it is important to do your research and determine which platform works best for you. I personally recommend Udimi. It's a popular platform for buying quality traffic at an affordable price. The platform has hundreds of verified solo ad suppliers, and the traffic delivered via email is of exceptionally high quality. Plus, the platform employs smart filters to make sure you get only genuine visitors to your offers.
How Can I Track The Effectiveness of My Campaigns?
You should always track your campaigns to ensure you are getting the most out of your ad spend. Most platforms have built-in tracking tools, but you can also use external analytics tools like Clickmeter to monitor your campaigns and optimize them accordingly. No matter what type of traffic you decide to buy, it is important to take the necessary precautions and track your campaigns closely to ensure that you get the best possible return on investment. With a bit of research and planning, you can quickly find the best way to get quality traffic and increase your website visibility.
Does Buying Traffic Affect SEO?
Buying website traffic can have a positive or negative effect on your overall SEO. While it doesn't directly influence the SEO rankings of your site, it can potentially bring in more visitors and conversions which may positively affect your business. It is important to monitor your campaigns closely to ensure you are getting quality traffic that brings value.
Ultimately, the decision whether or not to buy website traffic is up to you and depends on what type of goals you have for your business.
If you use quality sources of web traffic that comes from genuine websites and follow all the necessary steps, then it can actually help improve your website's visibility. With more users coming to your website, search engines have more opportunities to analyze how users interact with your site, which could result in a better ranking.
However, it is important to note that buying website traffic is not a guaranteed way to improve SEO rankings; it is just one of the many tools at your disposal. It should be used as part of a well-rounded digital marketing strategy and monitored closely.
Also, if you buy low-quality traffic from questionable sources, then it can have a negative impact on your website and the money you are investing.
Can I Make Money with Traffic?
Yes, you can make money with website traffic. Generating revenue from website traffic can be done by either selling products or services, creating content that earns revenue through affiliate links, and more. So, it's a good idea to set up tracking and analytics tools so you can measure the effectiveness of your ad campaigns.
Make sure you optimize your campaigns continuously to ensure you get the most out of ads and maximize your revenue. Additionally, make sure that you keep a close eye on how much money you are spending on web traffic and compare it to the revenue you are generating. This will help you decide if buying website traffic is worth it for your business.
If you are already running ads on your site, you can also increase your income by using traffic arbitrage. This is a method where you buy traffic from one source, direct it to your site, and then get paid more for the ads on your site than you spent on the traffic. This way, you are able to make a profit from the difference in costs.
The important thing to remember is that it is important to buy quality traffic from reputable sources. Low-quality web traffic can cause problems for your website and make it difficult to measure the effectiveness of your campaigns.
---
Related Reading:
---
Final Words and Thoughts
Every website needs traffic. It's one of the most important factors that determine your success online. Without traffic, your website will never reach its full potential. Without traffic, you won't be able to reach new customers and make money.
Creating traffic isn't easy, but there are strategies you can use to increase the number of visitors to your website. SEO, social media marketing, and content marketing are just a few of the various methods you can use to drive more traffic.
No matter what approach you use, it takes time and effort to get more people to visit your website organically. Buying traffic is a quick way to get more visitors.
Buying traffic can help you reach your business goals faster. You can easily analyze if your new products or services are performing well and make necessary changes quickly. It's also a great way to increase your visibility in the online space.
Overall, buying traffic can be a great idea if you need traffic quickly.
The problem is that there are hundreds of traffic networks out there and it can be overwhelming to choose which one is the best.
Also, popular ad platforms like Google Ads, Facebook Ads, or YouTube Ads can be expensive and may not always be suitable for your traffic needs.
But, these are not the only options you have.
Fortunately, there are many other options. I've discussed some of them already in this blog post. While I cannot guarantee that you'll get the best return on investment from these ad platforms, I can promise that these are some of the best ones out there.
Once again, I highly recommend buying traffic from Udimi. It is an excellent platform for buying targeted, quality traffic that has a higher chance of converting into sales and leads. You'll get what you pay for and I'm sure that you won't regret it.
Finally, it's very important to remember that buying traffic isn't a quick fix to all your traffic problems. You still need to continuously optimize your website, create quality content, and use other marketing techniques to get the most out of your traffic.
I hope this guide was useful in helping you understand the various traffic buying options available and how you can use them to grow your business.