Do you want to skip the read and get right to the best choice? The best webinar software platform for most people is Easy Webinar or Webinar Ninja.
If you are looking for the best webinar software platforms in 2021, you are at the right place. We'll be taking a look at everything from their features, cost, integrations, to customer reviews. If you are looking for an easy way to find the best platform for your requirements, then this article is perfect for you!
In simple words, webinars are digital presentations that can be viewed by a large number of people at once, allowing them to actively engage with the speaker. It helps businesses, both big and small, increase their online presence by reaching out to an audience that is not based in any specific geographical location.
Webinars are gaining enormous popularity because they provide a number of benefits for all types of businesses regardless of size. Webinars help you engage with your customers better than ever before, offer them immense marketing opportunities, increase online sales, and much more.
The top webinar software systems are an essential component of any business. They allow companies to host live presentations, run internet events, and much more. Also, hosting virtual conferences and webinars is the best way to interact with your audience, especially if you are an online creator. It's also useful if you are an online coach, or you have a huge team in your office.
Hosting webinars is one of the most effective methods to make your customers happy, boost sales, and provide them with the most value they deserve.
If you can impact your audience during the 1-2 hour webinar session, you have a higher chance of converting them into loyal customers.
Each of the software platforms I'm reviewing is tried and tested by professionals in their respective fields. All of these webinar platforms are leaders that offer great features, excellent customer support, and the most value out there.
Full Disclosure: Please note that some of the links on this page are affiliate links. If you click on a link and decide to make a purchase, at no additional cost to you (none whatsoever!), I may get compensated. Will this be a problem? In fact, if you click and buy, thank you. I really appreciate it. (click for more info)
Each platform has made it to this list for various reasons.
The criteria used for determining the listing include Features, cost, integrations, ease of use, customer reviews, and much more. You can read on and pick the most suitable tool for your needs! So, without further ado, let's get started.
Undoubtedly, my first recommendation is Easy Webinar.
Want to learn why? Keep reading…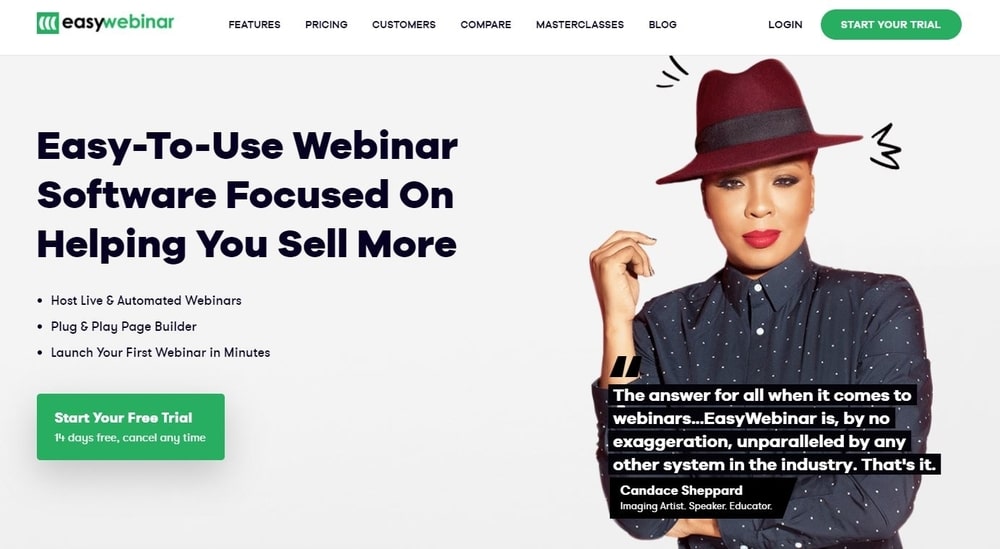 Easy Webinar is an online platform that makes it easy for anyone to host webinars. They offer all of the features you would expect from a top webinar software platform, and this is why they're one of the best live streaming platforms.
Easy Webinar has a simple interface and very useful tools. The platform has the right mix of features for beginners, and experts alike.
It is recommended to use Easy Webinar for your webinars if you want to host average-sized seminars, presentations, or client training sessions.
Easy Webinar is the top choice for beginners because of the simple interface and the very ease to use. They have a mobile app for Android and iOS users. So, you can easily attend webinars on the go without issues.
The best thing about this platform is its comprehensive training videos that you can use to get started. They also offer a free trial for 14 days.
Best Features Of Easy Webinar
No Delay Streaming – Live Streaming with No Delay
Live Video Recording – Save Your Live Event to Watch it Over and Over Again
High-Quality Picture – High-quality streaming so everyone can see clearly. Experience no delays, no buffering, and no frustration!
Real-time Chat – Connect and collaborate with your attendees in real time
Make any attendee a presenter – Give your attendees the opportunity to share their screen and show everyone what they know.
Stream Webinar on Local Time – No matter where you are, everyone can view your webinar at their local time.
Advanced Analytics and Reporting – Get the most out of your webinar with detailed analytics and reports.
Pop up offers, Surveys & Polls – Give your attendees the ability to invite others, ask questions and make offers during your presentation.
Integrations with All Popular Email Software – Easily create an email list of your attendees, sync with MailChimp, AWeber and more.
Host Up to 2000 Live Attendees – You can host up to 2000 attendees per webinar with Easy Webinar.
Web, Mobile App & White Label – Host on any device, on any platform. Download the app for iOS and Android, or use their web interface to host your live event anywhere.
Best Webinar Software for Beginners – Easy Webinar is one of the most user-friendly software on the market. If you're just starting out with webinars, this is definitely the platform to use.
Security You Can Rely on – DOLBY technologies are the foundation of EasyWebinar Live's live engine. DOLBY service is protected with industry-accepted encryption methods
EasyCast – The ability to stream live on multiple social media platforms at once, thanks to the built-in Cloud DVR and MegaViewer.
Customer Support – Dedicated Customer Support Team Always Available 24/7
Free Trial Period – You can try Easy Webinar for 14 days before making a decision to purchase, which is great for new users.
Indeed, Easy Webinar is designed for beginners, but don't let that fool you. It's a powerful tool that you can use to host professional webinars and presentations. You can host live webinars and also record them to watch later.
Another useful feature is the ability to automatically send reminders for upcoming webinars, and also allow attendees to register easily.
The best part about Easy Webinar is the free trial and the simple pricing plan that only costs $59/month if you wish to pay annually.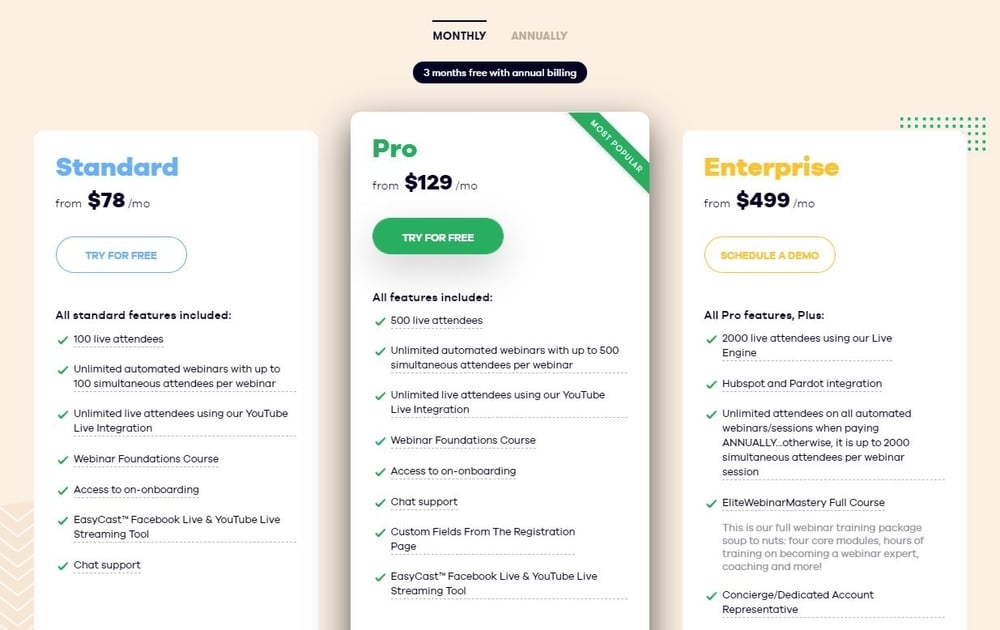 Easy Webinar pricing starts at $78/month. If you decide to pay annually, pricing will be free for 3 months and you'll need to pay only $59 per month.
There are 3 different pricing plans:
Standard – $59/mo (annual billing) and $78/mo (monthly billing)
Pro – $90/mo (annual billing) and $129/mo (monthly billing)
Enterprise – $349/mo (annual billing) and $499/mo (monthly billing)
Most of the features with all these 3 plans are almost the same except for the number of live attendees. The standard plan lets you host a webinar with up to 100 attendees. The Pro plan lets you host webinars with up to 500 attendees. And with the Enterprise plan, you can host 2000 live attendees.
I would definitely recommend Easy Webinar for companies and individuals who want to host live events and share their latest content with the world.
The best part is that they offer a free trial for 14 days, and you can cancel anytime without any commitments.
Webinar Ninja is another webinar software platform designed for beginners that you can host free webinars on. This is a popular, all-in-one solution that has been used by top companies like AppSumo, Podia, Printful, and more.
With its stellar features and flexible pricing plan, Webinar Ninja is the best webinar software for coaches, teachers, trainers, and creators.
You don't have to stress out about setup or compatibility. It works on all devices (desktop, laptop, tablet, and mobile). With Webinar Ninja, you can create interactive online webinars with better branding, engagement, and more.
The best part is that they offer a free 14-days trial on all plans.
Top Features of Webinar Ninja
Webinar Ninja offers plenty of features that make it one of the best webinar software for beginners as well as experts.
Top Quality Software – This is one of the best webinar software for coaches, teachers, trainers, and creators
Easy to use – You can set up your webinar in just a few minutes without any special knowledge or skills
Live Broadcast in realtime – You can broadcast your webinar live so your attendees can watch it as you present
Live Q&A – Let's audience ask questions and receive instant answers
Pre-recorded – You'll be able to make your webinar available even when you are not there, by recording it for future use
Automatic email notifications – Webinar Ninja makes it easy for users to share a link to watch the webinar via email
Built-in Email – This tool will help you send automatic notifications, reminders, thank-yous, and follow-ups with ease
Integrations – WebinarNinja integrates with all your favorite CRM and email software, so you don't have to mess around
Built-in Landing Pages – You'll be able to quickly create your unique, branded, high-converting landing page.
Smart Analytics – You'll be able to see who registered, who attended the webinar, who clicked, and so on. With your own pixel, you can keep track of the performance of your Facebook advertising.
Audience Presenters – You'll be able to bring attendees "on stage" during the webinar for maximum participation.
Handouts – Give attendees useful downloadables during the webinar.
Multi-function chat – Group chat, private chat, questions, polls, and more in one easy interface.
… And much more!
One of the best things I like about Webinar Ninja is that it is extremely affordable as compared to other webinar software platforms.
The best part?
You don't have to host it on your website.
Webinar Ninja is a fully hosted service. So, you don't have to worry about servers, bandwidth, compatibility, integrations, security, updates, etc. Everything starting from webinar pages to related media will be hosted by Webinar Ninja.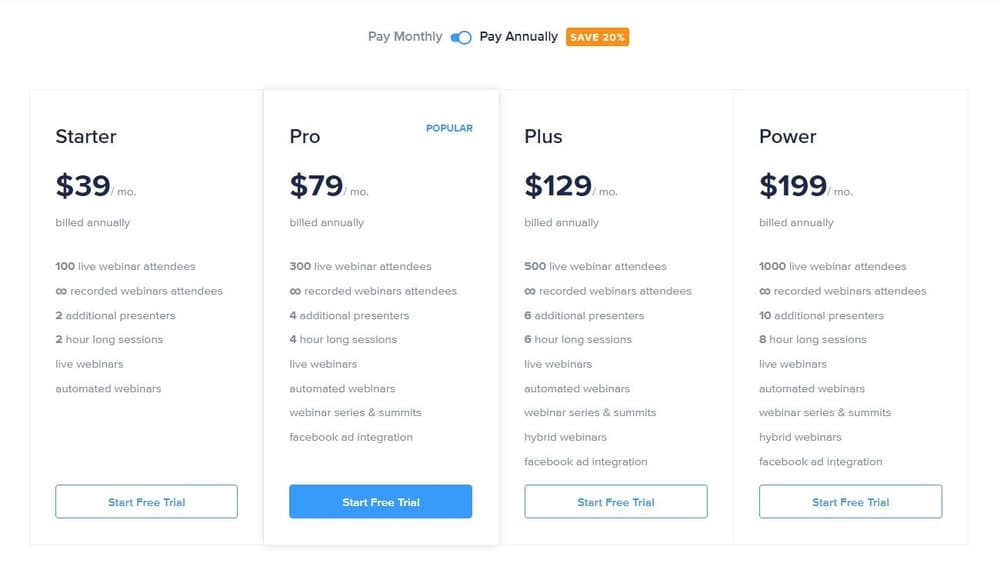 Their prices are really affordable with 4 different plans. It starts from $39/mo for 100 live attendees and goes up to $199/mo for 1000 live attendees.
Starter – 100 live attendees – $39/mo
Pro – 300 live attendees – $79/mo
Plus – 500 live attendees – $129/mo
Power – 1000 live attendees – $199/mo
All of their plans start with a free 14-day trial which you can cancel whenever you want if you don't want to continue.
WebinarNinja is ideal if…
You are looking for an affordable, simple solution with all the necessary features
You want an easy webinar software platform to use and manage
You won't be needing any more than 1000 live attendees for your webinars
You want to be able to pay month-to-month and cancel anytime
In short, it is a simple and robust webinar platform that can be used to create webinars in just minutes.
I would definitely recommend that you try their free trial so that you can check it out first-hand. So, go ahead and give it a shot. You can start with their free trial and only upgrade if you find the platform suitable for your needs.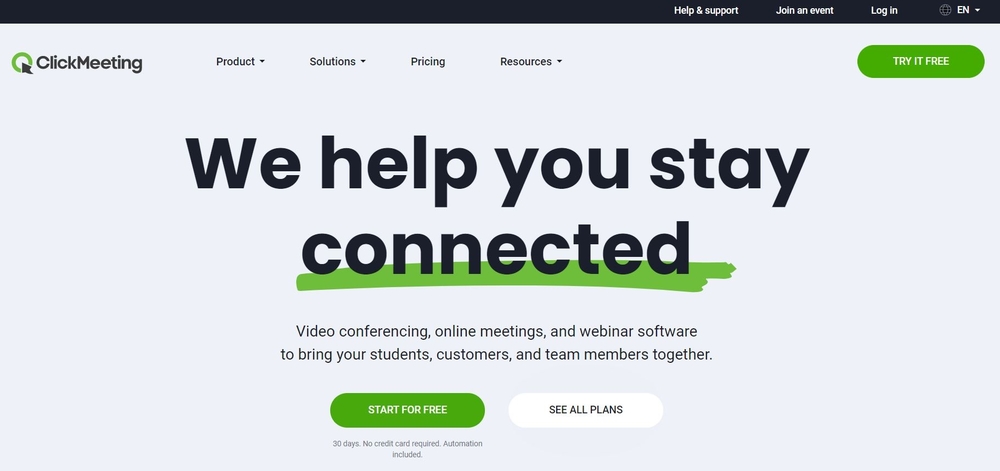 ClickMeeting is one of the most affordable webinar tools on the market. It is also another great option if you are looking for online webinar software that can be used by anyone, from a beginner to a seasoned professional.
With Clickmeeting, you'll be able to share your computer screen with other webinar participants as well as share files and folders.
If you are looking for a simple and affordable solution with all the necessary features for your webinar, Clickmeeting is a great choice.
Starting from online meetings and live webinars to training, presentations, and consultations, you'll be able to do it all with this tool.
With the help of webcasting technology, you can organize your large-scale events entirely online with up to 10000 viewers.
Top ClickMeeting Features
Online business meetings – You'll be able to host online business meetings and live webinars on your own.
Live webinars – With Clickmeeting, you'll be able to invite participants on your webinar by simply sharing a link. They won't need any software to attend the webinars; all they will need is a browser.
Screen sharing – You can easily share your screen during the webinar with all participants.
File sharing – You'll be able to share documents, presentations, etc. as well as annotate them during the webinar with everyone on the video conference.
Q&A – Participants will be able to ask questions and post comments while the webinar is live.
Automated webinars – Record and reuse your webinar content
Affordable Pricing – Only $69/month for 100 attendees
User-friendly Interface – With Clickmeeting, you can easily schedule and host webinars in just minutes even if you've never done it before.
… And much more!
ClickMeeting is best for you if…
You are looking for affordable webinar software with all the necessary features You want to be able to easily share your screen and files during the webinar You want to host large-scale events online
In other words, Click meeting is a great fit for anyone who wants to organize online meetings and webinars quickly and easily without any hassle.
Give it a shot!
You can start with their free 30-day trial to check out all of their features and functionality. If you decide to upgrade, there are several different plans.

Their pricing starts at just $30/mo which is really affordable especially when compared to other webinar software solutions.
Free trial for 30 days
Live plan at $30/month
Automated plan at $45/month
Enterprise plan with custom pricing
The best thing?
If you decide to pay annually, you'll get a 20% discount.
The Live plan comes with all the features that you need to run a successful webinar. So, it will be enough if you are hosting small meetings- or webinars.
Of course, it comes with some limitations, such as:
You can't record HD quality videos
You get a storage space of only 1 GB
You can't get extra seats to let more attendees join
Webinars are not scalable for a larger audience
If you need even more features and functionality, you'll need to upgrade for a better and more expensive plan. They offer a custom Enterprise plan with different sets of features for different sets of pricing.
Of course, you'll need to contact them for a custom quote.
In the end, ClickMeeting is an affordable webinar software with all the necessary features that can be used by anyone from beginners to professionals.
This tool offers online business meetings and webinars for your audience as well as large-scale events entirely online.
… And there you go!
GetResponse is a Complete Email Marketing platform with all the necessary features. It also has an Inbuilt Webinar Platform and can let you host webinars for up to 1000 attendees. It's best for product demos and live training.
You can maintain an email list and send webinar reminders and newsletters to attendees with just one click. Their 24*7 live chat support is always there to help you and help you understand every feature of the software.
Getting started with GetResponse is really simple. You can also build an email list and create landing pages for your website in less than 15 minutes.
As soon as you've sent your first email, you'll be able to see your campaign results and monitor how many people click, open, and reply.
The inbuilt webinar builder comes with a variety of features.
Top GetResponse Webinar Features
The best feature about this is you can create an automated webinar funnel with a landing page for registration and then send customized emails to your audiences. It helps you nurture leads and increase conversions.
You can add your own domain to the landing pages
Fully Customised Signup forms to get the registration and send them autoresponders.
Directly integrate Facebook ads with the software to bring traffic to your landing pages
Analyze the webinar's data on the dashboard.
Host webinar for up to 1000 attendees and 3 presenters at a time.
Record sessions with one click and share them with your audiences
Build different lists for the different webinars and create a fully automated email series to keep your audience engaging
Affordable Option for Webinars platforms
Live chat option and Q & A mode in the session
Also, you can turn the webinar into a discussion mode for 25 people. Everyone able to listen and speak at the same time
Live chat option and Q & A mode in the session
Also, you can turn the webinar into a discussion mode for 25 people. Everyone is able to listen and speak at the same time.
You can set up your webinars in less than 5 minutes and share the link with your audience ahead of time. You can host unlimited webinars and get room for up to 1000 live attendees and share the stage with 2 other presenters.
With Getresponse, you can also let your audience ask questions during the webinar- which is a great way to engage with others.
GetResponse Pricing
You may test and understand Getresponse for free for 30 days. In the free trial, up to 10 attendees can attend the webinar with 3 presenters.
The price is so reasonable with these advanced features and you can pay as low as $15 per month with the basic plan.
Basic Plan start from $15/mo and along with Webinar builder, it also comes with all email marketing features, autoresponders, sign up forms, landing pages, sales funnel and many more awesome features.
Plus Plan start with just 49$ and up to 100 attendees, You can choose a list size according to your needs.
The professional plan is for 99$/month and 300 attendees and Paid webinar feature. You can try it out with a free 30 day trial.
If you want the best Webinar Software with an automated email marketing system and sales funnels, then GetResponse is the best option for you.
Overall, GetResponse is not just a webinar builder, but it is an all-in-one email marketing solution that can meet all your needs. Their team is always there to answer any questions you might have via Live Chat.
So, what you're waiting for?
Sign up with Getresponse today and boost your conversions.
Getresponse is hands down one of the best email marketing software available, which integrates with virtually everything from WordPress to Shopify and even Zapier. And, you can get started at only $15/month.
Customer service is top-notch, I've always had a quick response time and have never had a problem finding the information I need. It has been a valuable tool in my business and I highly recommend it.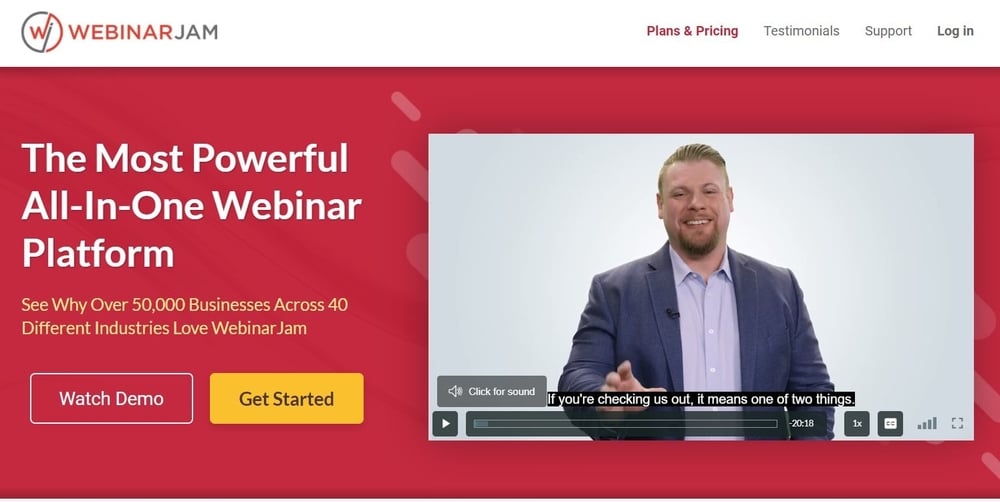 WebinarJam is one of the best webinar tools out there – but it's not just a simple webinar platform that will let you host webinars in minutes.
But, it's so much more than that.
What is WebinarJam?
Webinarjam is an online webinar platform that allows you to create, host, promote and analyze your webinars using one single tool. You can also get detailed reports on how well your events are performing once the webinar has ended.
WebinarJam was founded in 2013 and has developed over the years to become one of the most trusted webinar tools on the market today.
It is used by more than 50000 customers around the world who create, host, and promote their events with this tool.
Even if you are a beginner and don't know anything about hosting live webinars, it comes with the training videos lectures to help you with everything.
Top WebinarJam Features
User-friendly Interface – With WebinarJam, you can easily schedule and host webinars in just minutes even if you've never done it before.
Create, schedule, and manage your webinars easily and quickly within minutes with WebinarJam. You can easily integrate your event into any website, blog or social media account that you choose and start promoting it in no time.
You can build a customized and mobile-friendly landing page to get all the registration from attendees.
Promote and Manage Your Webinars – You can promote your webinars to boost registrations. If you chose to, WebinarJam will automatically send out invitations and reminders by email.
Automated Email Marketing system, send webinar reminders to attendees via text and email both and build more effective webinars.
No need to download any software or application to attend the session. Attendees can directly join the webinar session with any browser.
Live Offer Popup – One of the best features is it helps you to convert your audience into your customers by showing a live offer popup during the webinar.
Upload a prerecorded video on your webinar and you will be able to run it on autopilot mode without any hassle.
Have a website? You will be able to embed the webinar registration button on your website to increase registration.
Recording – It automatically records every webinar session and you can share it with your audiences with just one click.
Inline Q&A – WebinarJam allows you to add a real-time chat in your webinars that attendees can use to ask questions in the middle of the presentation.
Attendee Management – You'll be able to easily manage the number of attendees who will attend your webinars, set up a waiting room where they can chat with each other and more.
Analytics – You'll be able to track your webinar's performance, stats and results once it has ended. The tool also tracks your attendance rate.
In other words – WebinarJam is a comprehensive webinar platform that you can use to host webinars with ease. It offers features for both beginners and professionals, which means anyone can benefit from this tool.
Webinarjam Pricing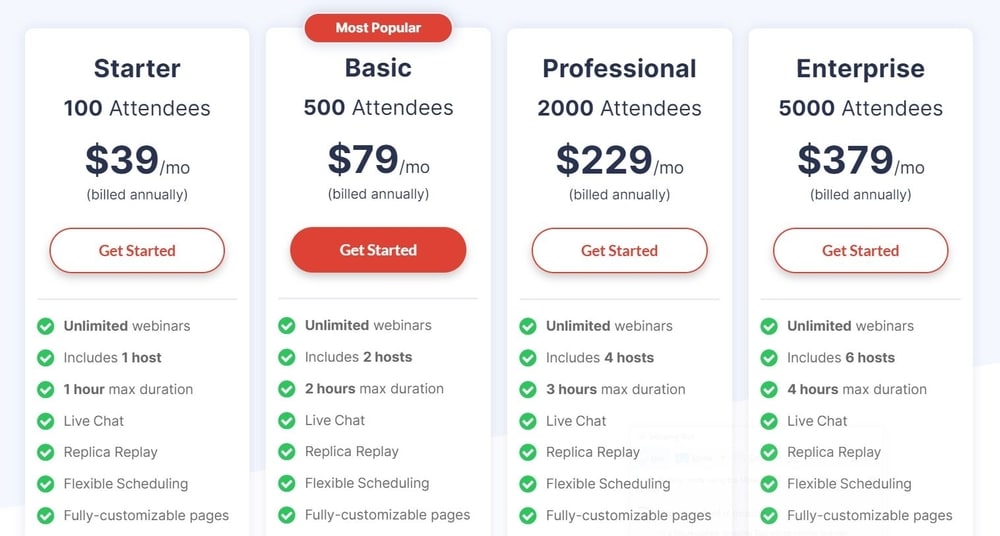 The starter plan is priced at $39/month with a yearly cost of $468, which lets you host unlimited webinars that include 1 host. It includes 100 attendees.
There are 3 more pricing plans available:
Basic – $499/year – 500 attendees
Professional – $699/year – 2000 attendees
Enterprise – $999/year – 5000 attendees
The Basic plan is suitable for beginners or those who want to host unlimited webinars online. The plan also includes 2 hosts.
The Professional plan is a great option for more serious users, and it offers up to 2000 attendees. It also comes with an unlimited number of webinars and 4 hosts, which makes it a great choice for anyone hosting bigger events.
The enterprise plan is suitable for professionals and large-scale events that need up to 5000 attendees and 6 hosts.
It also includes a number of additional features that can be very beneficial for big-scale events like online seminars and conferences.
The good news?
There is a money-back guarantee that lasts for 30 days if you're not happy with the results. So there's no risk in trying it out.
The bad news?
There is no free trial available like Easy Webinar or Webinar Ninja. But, you can try it out by paying only $1 and getting full access to the tool.
Overall WebinarJam is the best software for webinars with cloud-based webinar events and recordings. You can start with taking its free trial for 14-day at just 1$ and try out all the premium features.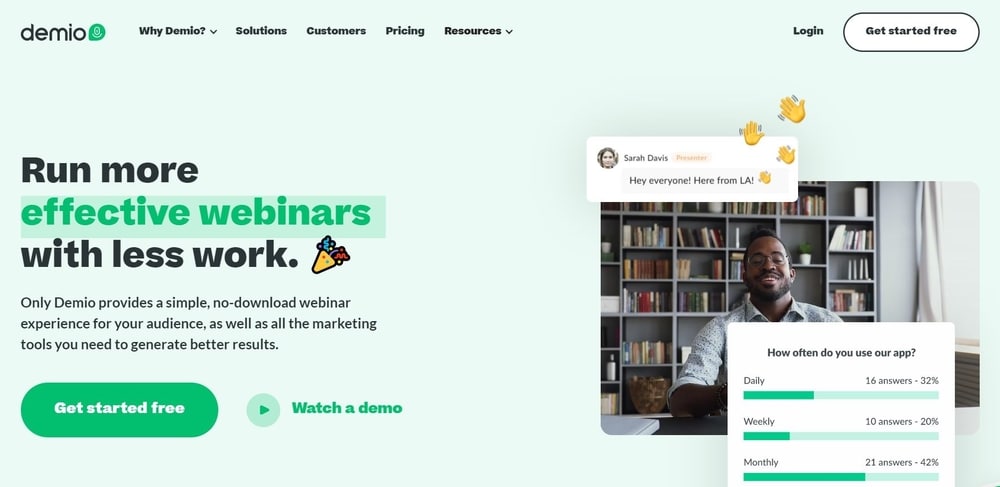 Demio is one of the best webinar platform tools for marketers. It comes with an intuitive interface that makes it extremely easy to use.
You will get all the advanced features like Automatic webinar recording, 24/7 Live Chat support, an automated email marketing system, excellent design, and pre-recorded webinar presentations.
You can host unlimited webinar sessions for up to 500 attendees and 4 hosts at a time. No need to download any app or software to attend the webinar.
Demio is one of the webinar platforms for nonprofits, which provides discounts offers for nonprofit organizations.
Top Demio Features
Real-time live video streaming with no delay and HD Recording
You can use pre-recorded webinar session and present it in front of your live audience
Your Audience can attend the webinar with just one click with any browser
Create an amazing registration experience for your audience with ts preinstalled landing pages and thank-you pages.
Send Email Notification to attendees before and after the event.
Launch offers, surveys, polls, and sign up page for your next event during the webinars
Integrate your webinar with any other marketing tool.
Analyze and track your webinar success with its analytics tools
Easily share a recording of the webinar with your audience and also you can set a time for which it will be available
Detailed guide and videos to help you understand the software so that you don't need to face any problem
Overall, Demio is excellent for anyone who wants to host a webinar.
Demio Pricing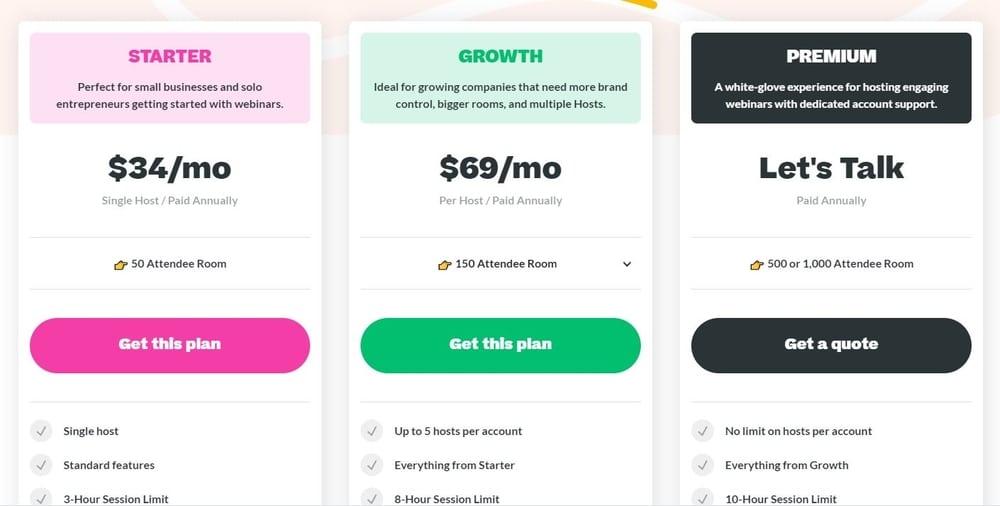 Demio comes with a 14 day free trial of its Growth Plan feature. You can sign up for that and try and test all the features and then go for a paid one.
Starter Plan: It comes with the 34$ per month with 50 attendees room size and has 3 hour Session limit with 1 host
Growth Plan: Most popular plan with 150 Attendees and 69/month and has a 8-hour session limit and 1 host.
Premium Plan: It has all the features from Growth Plan and attendees' limits are 1000 and you can have no limit on hosts. This plan will cost you 163$ per month. All plans come with a 14-day free trial to try out.
The starter plan is best suitable for individuals, freelancers, and also small companies that need up to 50 attendees. The growth plan is perfect for marketers and small businesses, requiring up to 1000 attendees. Finally, the premium plan is there if you need to remove the limit on hosts.
However, all three plans come with a free trial of 14-day. If you decide to go for an annual plan then it will give you a 30% discount.
The monthly plans are costlier than annual plans, as usual. So, it's good to go for an annual plan if you are the one who hosts webinars frequently.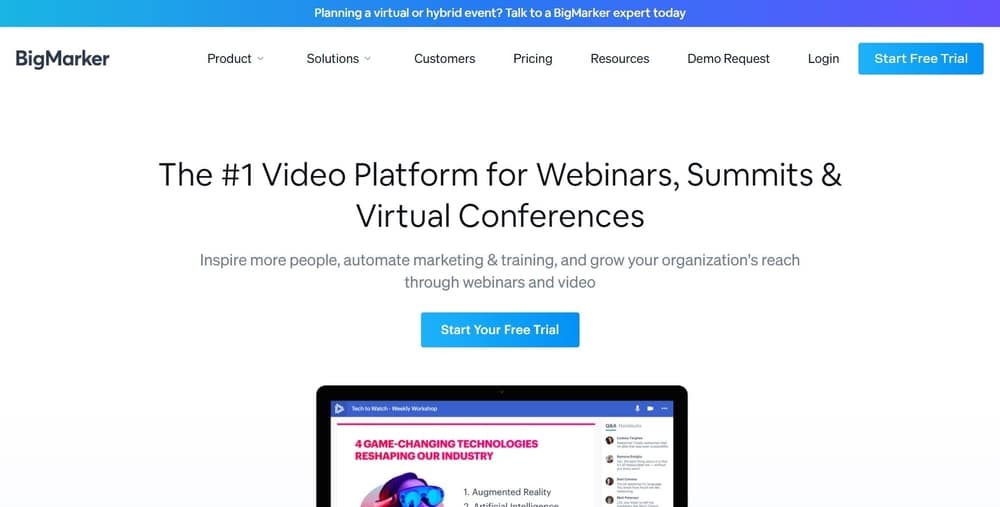 BigMarker is one of the popular webinar software platforms for Summits and Virtual Conferences. You can host webinars for up to 10,000 attendees at a time.
Polls, Q&A, and engaging offers pop-ups may be used right in live webinars to interact with your audience. This can improve your chances of converting them into paying customers.
Connecting your CRM software to BIGMarker allows you to capture all of your leads into CRM right immediately. Create unique video experiences for online events as well. Collect all the leads for the webinar with customized landing pages and forms and send them confirmation and useful reminders with email marketing.
BigMarker is a cloud-based app that does not require any downloads or installations. Attendees can simply connect with their browsers.
Top Features of BigMarker
No tool is required for Steaming on Facebook and Youtube. Even you can share your screen as well.
It gives you everything you need to promote, create, and deliver a perfect video series or course to your audiences
Run webinars on autopilot and even you can preschedule webinars for specific intervals.
Integration with the platform of your daily use
Automate email marketing with dozens of email templates
Embed live webinar on your website without any coding
Sell tickets for your paid webinars
Connect your personal domain with landing pages and webinars to provide a personal touch to the attendees
Screen Sharing and HD video recording
There is no limit on the number of webinars you can host in a month. You can also enjoy unlimited live streaming per month as well with no bandwidth limits.
There are four plans on BigMarker that come with different features and pricing. You can view the details of all the plans below or click this link.
BigMarker Pricing
BigMarker provides a Free 7 days trial for its customers. Its paid plans consist of 4 packages which are Starter, Elite, Premier, and White label.
Starter Plan costs, 79$ per month with 100 attendees and 1 host license
Elite Plan comes with 500 Attendees and 2 host licenses for the price of 159$ per month.
Premier Plan has a limit of 1000 attendees and can have 4 hosts at a time for a price of $299 per month
If you need more attendees of up to 10,000 people, you will need to contact support for a customized package.
BigMarker is the perfect solution for you if you need a webinar platform to host live events, workshops, and video conferences for audiences of up to 10,000 people. To begin, you can take the 7 day trial for free.
This is another excellent webinar tool to host webinars for huge Audiences. There is no need to worry about any registration or branding for the event. Just select the date for the event and rest leave on Go to Webinar services.
You can completely focus on creating an engaging experience with your audience to provide them more value. It is designed in a way to improve your webinar experience and most importantly save time. You can just directly use settings from past events while creating a new one.
You can customize your webinar to fit your audience and keep their attention. The user-friendly interface allows for quick adjustments and flexible scheduling. The Inbuild registration page has a fully customizable registration form and automated email reminders, as well as in-built verification.
Also, one of the best features of Go To Webinar is that you can view recordings of your webinars through the interface. This feature allows you to replay past events so you can learn from your mistakes and keep improving yourself.
Top Go to Webinar Features
Engagement dashboard to keep an eye on your audience
Slide-in Polls & Surveys
Webinar Recording & one-click share
Play Pre Recorded Video for live sessions
Promote your page with the GoTostage platform
Integration with CRM to manage all things in one place
Event Analytics and source Tracking to improve your signups
Integration with GoToMeeting
No downloading of any software required
Display your custom logo on the webinar
Create Certificates for Attendees
Inbuild video editor to edit your videos before sharing
If you are looking for a tool to host webinars fast and don't want to spend time on building landing pages, email registration forms, etc., then you should definitely try Go To Webinar service.
You can try out the free 7-day trial before going for paid plans.
Pricing Plans
The starter Plan is for 89$ per month and 100 attendees limit.
Their most popular PRO plan will cost you 199$ and have a huge attendees size of 500 and their Plus plan comes at 429$ per month for a 1000 attendees limit.
You can always start with a 7-day free trial to check out all the features and no credit card is required for the free trial.
Frequently Asked Questions
Webinars are an essential part of marketing strategy for most businesses, small or large. It is becoming more popular than ever with the emergence of new technologies and readily available content mediums.
Here are 10 of the most frequently asked questions about webinars:
1. What is a webinar?
A webinar is usually an online presentation, seminar, or training session presented via any online content medium, such as video conferencing or an online learning management system. Participants are usually able to ask questions in real-time with the presenter. It helps businesses to grow their brand and enhance customer engagement and also provides a platform to learn through new ideas.
2. When should I hold a webinar?
A webinar is usually an online presentation, seminar, or training session presented via any online content medium, such as video conferencing or an online learning management system.
Participants are usually able to ask questions in real-time with the presenter. It helps businesses to grow their brand and enhance customer engagement and also provides a platform to learn through new ideas.
3. How Often Should I Hold Webinars?
Web seminars work best when they are not held too frequently or infrequently. They should be held enough times to provide customers and prospects with a variety of options in terms of when they want to attend a webinar, while not being held too much that customers and prospects become saturated with options.
4. How Do I Promote My Webinar?
Promoting your web seminars is important for growing your business. It is important to develop a well-rounded marketing strategy that will provide you with a variety of mediums for promoting your webinars.
The key to getting the best results is to develop consistent promotion through multiple channels such as social media, email marketing, and networking opportunities.
5. Who Should Attend My Webinar?
The audience for your web seminars should be primarily targeted at current customers and prospects in order to increase sales or promote awareness of your products or services. You can also present web seminars to the media, industry peers, investors, and other stakeholders in order to spread awareness of your business.
7. How Can I Make My Webinars Interactive?
There are a few different ways you can make your webinars interactive. You can ask questions at certain intervals during the presentation and allow users to answer the question through a live chat. You can also allow users to submit questions in advance which you can then present and answer, or allow users to vote on one of several different topics provided at the beginning of your presentation.
8) How Much Should I Charge for My Webinars?
There are many factors that affect how much you should charge for your webinars. It is important to always consider how much it costs you to host and promote a webinar, while also ensuring you still maintain the profit margins required for sustaining your business.
9) Why Should I Offer My Webinars for Free?
Offering your web seminars for free allows more people to access them. This will increase the number of website visitors you receive, which may eventually turn into sales. The key to getting the best return on investment for free webinars is to ensure they are promoted through multiple channels so there's a greater chance of them being found by potential customers.
10. What is The Best Webinar Software Platform?
There are many webinar software platforms available and they all provide different features. Each platform has its pros and cons.
The best option for you will depend on your business needs and how frequently you plan to hold web seminars. There is no "best" option; it depends on what works well for your specific goals as a business owner.
However, after reviewing a list of plenty of webinar platforms, I found that Easy Webinar is the best choice for most people. It offers a variety of unique features and benefits that make it stand out from other webinar software platforms.
Final Words – Best Webinar Platforms
Well, it's been a long ride. I hope this article was helpful and you found the perfect solution for your webinar-related needs.
All of the above-mentioned webinar platforms are excellent in their own way and they provide free trial periods so you need not worry about losing any money. Just take the free trial and check out all their features.
The choice is totally yours!!
With these options, anyone can host a webinar or online conference. All you have to do is to pick one of these options and start using it.
However, if you want my recommendation, I will strongly suggest going for Easy Webinar or Webinar Ninja. Both of these platforms are amazing in their own way. You can take a free trial for both these platforms to compare them.
Both are highly powerful webinar platforms and can be used to host any type of event, from online conferences to webinars with huge audiences.
Frankly speaking, all of the services I discussed above are very easy to use and can be accessed through a web browser without any additional downloads.
So, which one will you be using to host your next live webinar?
Still, confused?
Choose Easy Webinar or Webinar Ninja.
In the end, if you liked this article and found it useful, don't forget to share it. It really helps me out. It also helps people who are looking for good webinar software for their business. Thanks for your time! 🙂