Email marketing is a powerful and effective way to promote your business, products, or services on the internet. It helps you build relationships with customers and target new ones for lead generation and sales. An email list is like gold – the more subscribers you have, the better it is for your business.
If you are looking for an outstanding email marketing software that is flexible, powerful, and has a range of useful features, then you should check out Moosend.
Moosend provides cloud-based software as a service (SaaS) that allows you to send emails to your contact lists with high deliverability rates and take advantage of all the benefits email marketing offers without the hassle typically associated with setting up and managing an email marketing campaign.
Moosend is a leading provider of simple and cost-effective email marketing tools that help businesses connect with their customers.
It was created to solve problems that many marketers face when trying to build and maintain effective email marketing campaigns.
In this Moosend review, I will take you through the most important features and functionalities of Moosend. I'll also tell you what you need to know about pricing, and whether or not it is a good fit for your business.
I'll also help you determine if Moosend will be able to provide the features that best suit your email marketing requirements.
Let's get started…
Moosend Review – Overview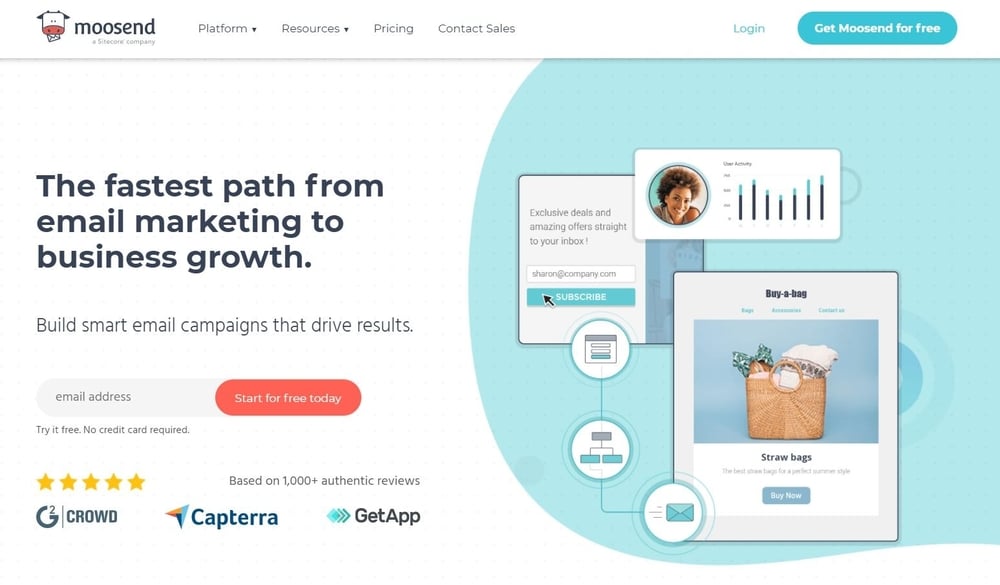 Email marketing can be beneficial for your business.
But, it is not an easy process.
Here's the good news you would love to hear:
Moosend simplifies the necessary steps that you need to take to successfully send out email campaigns; It provides all the tools and features needed to make every step simple and easy. You can get started with a free 30-day trial.
Moosend helps you address three important issues faced by marketers when they start out with email marketing:
Compliance
Deliverability
Open rate
Moosend helps ensure that your messages are delivered to the inbox of your subscribers, not their spam folders or promotions tab.
It enables you to track various events like opens, clicks, and unsubscribed, enabling you to refine future campaigns.
In short, Moosend is an all-in-one email marketing solution. It lets you perform all the necessary functions to run an email marketing campaign successfully. It also helps you design your templates easily with the Moosend editor. Yes, you can easily create beautiful templates that are responsive on all devices.
The platform's wide variety of feature-rich templates, drip campaigns & automation capabilities boosts email marketing results.
Let's take a closer look at what you can do with Moosend.
Top Moosend Features
Moosend has many features that allow you to send, track and analyze your campaigns without having to resort to external software or tools. Most of the Moosend features are self-explanatory, but I will briefly list some of the most important ones.
Here are some of the features of Moosend:
Customizable Templates: The best way to attract a customer's attention is through a well-designed email template. Well, it is simple with Moosend. It lets you create beautiful email templates without any coding knowledge.
Drag-and-drop Editor: You can create your emails easily with the drag-and-drop editor. You can add your logo, images, and videos to your templates seamlessly in a few clicks.
Cheap and Affordable: The free plan of Moosend is packed with all the necessary email marketing features and it allows you to create up to 1,000 subscribers. This is great for beginners who want to test it before making any commitment.
Campaign Scheduling: Moosend makes it easier for you to schedule your campaigns. You can schedule a campaign and have it go live at the most appropriate time when subscribers are more likely to be checking their emails. You can also reschedule campaigns when you are ready to send them again for a later time.
Subscription form: Adding a subscription form to your website helps you collect email addresses from interested customers. Moosend offers an easy-to-use subscription form builder that you can use. There are plenty of designs to choose from, and you can also add your branding to the form.
Segmentation: Moosend allows you to segment your contacts and send them personalized messages based on their actions, interests, location, and other information.
A/B Testing Tools: Moosend has an A/B testing tool that allows you to test two different campaigns; the control group receives the original email while the other group receives the variation of the email. The tool allows you to determine which version is more successful based on various metrics.
Marketing Automation: Marketing automation is one of the best features of Moosend, which is available even for free members. The automation tool allows you to create rules that trigger actions. For example, if a subscriber clicks on or opens an email, you can have the system send them an email that is relevant to their interests.
Subscriber Management: You can easily manage your subscribers with Moosend. It lets you clean up your list by managing duplicates and unsubscribed contacts.
Data and Analytics: With the comprehensive, precise, and easy-to-manage reports that Moosend provides, you can easily track and analyze your campaigns.
Live Chat Support: If you have any problems or questions about using the platform, you can always connect to Moosend's expert live chat support team, which is available 24/7. You can also contact Moosend via email.
Landing Pages: Moosend allows you to build professional landing pages that are responsive, fast, and mobile-ready. Each landing page can be customized to match your brand. Also, these landing pages are easy to set up and manage.
E-commerce Integration: Another great feature of Moosend is the e-commerce integration that allows you to manage carts and sales pages. This is perfect for those who want to set up a web store with their email marketing campaign. Also, you can recover your lost sales with a powerful cart abandonment email automation tool.
So, why use Moosend?
In short, the reason to use Moosend as your email marketing software is that it is a complete and comprehensive email marketing tool that allows you to easily create, send, and track your campaigns, at an affordable price.
So if you are looking for an email campaign solution, I must say that Moosend is one of the best email campaign solutions out there.
With Moosend, you can design beautiful email templates, automate your campaigns, identify the best times to send messages to your subscribers, and test different versions of your emails. It offers a free plan that allows you to create 1,000 contacts and send unlimited emails every month.
Moosend Pricing
The cost of using Moosend depends on how many subscribers you have in your contact list and which features you want to use. It will only cost you $48 a month if you have 5,000 contacts. It will only cost you $315 a month if you have 50,000 contacts. The more subscribers you have, the more you will save.
The free 30-day trial of Moosend is packed with all the essential email marketing features and it allows you to add unlimited subscribers.
In short, with the free trial, you get all the main features at no cost.
The best thing is that you can send unlimited emails to your subscribers. The free trial also lets you schedule your campaigns, create automation series, and schedule your campaigns at the most appropriate time.
You can also use its sign-up and subscription forms along with reporting and data analytics at no extra cost. The free 30-day trial doesn't require a credit card or any kind of payment. You can click here to try Moosend free for 30 days!
Here's what you get with a free Moosend trial?
30 days FREE
No credit card required
Unlimited emails
Unlimited contacts
1 landing page/1 form
Automation workflows
Sign-up & Subscription Forms
Peace of mind
When your first 30 days are over and you feel you need Moosend, you can upgrade to the monthly plan which starts at only $8/month for 1000 contacts.
Here are all the Moosend plans:
The free trial – unlimited contacts – no cost – unlimited emails
The Pro plan – 500 contacts – $9/mo -price varies based on the number of subscribers you have on your contact list
The Enterprise plan – It's a custom plan that comes with an account manager and is designed to suit your business needs.
With Moosend, as the number of contacts increases, the price per contact decreases. For instance, if you have 5,000 contacts, it will cost you $48/month only. In the case of 50,000 contacts, it will cost you $315/month only.
Please note that you can get additional discounts with annual plans.
There is another option for people who don't send too many emails. You can buy credits from Moosend and spend them whenever you want.
So, you can see that Moosend pricing is very affordable, and it can be scaled to suit any business size. And, the free trial offers all the essential features so you can try it before you buy it. There's no commitment, no credit card required, and you can cancel at any time. Click here to try it now!
Free Email Marketing Service
Update: Moosend doesn't offer a forever-free plan anymore. But, you can get a free trial for 30 days. No credit card is required.
Believe it or not, Moosend is the only email marketing tool that provides you with all their premium email marketing features for free.
Yes, you heard it right!
This is probably the best Moosend offer that you will find because it allows you to send unlimited emails to your subscribers without any restrictions.
You don't have to pay anything for your first 1000 email subscribers. This is great for small and medium-sized businesses. And you can even send unlimited emails to your subscribers every month for free!
Since 2016, I've been studying the field of digital marketing and have used almost every free email marketing service available. Some of them provide you with free features, but they all have limits.
For example, in some services, you cannot remove their branding and in some, you don't get email automation features. In other services, you don't get reporting tools and in some, you can only send a limited number of emails.
All these restrictions make the free plans useless. But, with Moosend, you get everything for free, including email automation tools.
That's what makes it different from the rest.
To put it another way, the other companies push you to purchase their premium plan. Moosend, on the other hand, wants to grow with you. So, if you are a beginner with a limited budget, you should try Moosend.
As an email marketing platform, Moosend is very easy to use.
You can create beautiful newsletters, autoresponders, and email campaigns in minutes using their drag-and-drop builder. You also get a suite of powerful reporting tools to help you track your performance.
The free is quite useful.
But, if you need more features, you can upgrade to a pro plan.
Delivery Rate and Open Rate Stats
When you send an email campaign, Moosend tracks its performance and sends you the reports that you can check from your dashboard. It has reliable email delivery rates with accurate open rate stats.
Most email marketing services provide you with stats and analytics.
Similarly, with Moosend, you don't have to worry about this. It shows you detailed stats and analytics on your dashboard as soon as you send the first email. You can also see how many people clicked on your links and many other things.
It is very easy to analyze what's going on in your email marketing campaign with Moosend. If you want to, you can use Google Analytics as well.
Marketing Automation Tools
As an experienced digital marketer, I love it when I can use a blog to create a clever autopilot passive revenue-generating strategy.
But, can you put your faith in this autopilot system?
With Moosend, I no longer have to worry about responding to every email, ensuring that the recipient has received the freebie, and determining whether or not my email marketing campaign is worthy of converting subscribers into customers.
Moosend gives you a thorough breakdown of your email campaigns and how your subscribers are reacting. And everything is running on autopilot.
With its smart automation system you can create:
Welcome Emails
Email Campaigns based on various Targets
Sales Funnel for your Products
Monthly Business Newsletters
And much more… the sky is the limit!
They also have a large library of tutorials and how-to videos that you can use to get started and grow as an internet tycoon.
Why Do I Love Moosend?
I can set up email campaigns that can be launched to thousands of subscribers without much trouble. I don't have to worry about spamming my subscribers or getting a sandbox penalty. I can send the emails directly from the Moosend dashboard.
I can set up email campaigns with a variety of tools to help me get the most out of my email marketing campaigns, including email automation tools, email drip campaigns, lead scoring, and many more.
The days of cold emailing are long gone. With Moosend, I can let the smart automation tools do all the work.
I've worked with different email marketing services before, and Moosend has one of the best email marketing interfaces I've come across so far.
You can create an unlimited number of lists with Moosend to ensure that you can personalize your messages to best suit your customers' needs.
You can also use conditional content so you don't have to send the same email to every subscriber. This way, you can launch different campaigns for your subscribers based on their interests.
The best part?
You can use it for free and add up to 1000 subscribers, which is great for beginners with a limited budget.
Think about it!
You can create unlimited lists with Moosend, use its marketing automation tool, and more. You can do that by just investing $0. I don't remember the last time I've seen a service provide so many awesome features for free.
Excellent Chat Support
I have personally experienced this and I can confirm that Moosend has excellent customer service. I've had to chat with the Moosend team a few times, and I received almost instant responses from them.
Well, sometimes it took 10-15 minutes to get a response.
I was nervous about testing out their chat support at first, but they were quite friendly and very responsive.
They solved the problems I had with my Moosend account with ease.
The chat support team is accessible on chat 24 hours a day, 7 days a week to assist you with any questions you may have. People are willing to help you, no matter how ridiculous your questions are.
You'll normally receive a response within 2-3 minutes of submitting your query. And, on rare occasions, you can get a response in 15 minutes.
Overall, it's a pretty good service compared to other similar ones out there.
You can also contact their customer service team via email if chat isn't your thing. Their average response time is within 24 hours, so you don't have to wait long to find out whether or not they know the answer.
Cons – What's Wrong with Moosend?
Now let's talk about the cons.
I don't have too many bad things to say about Moosend, but there are definitely some small issues. For instance, their user interface needs some work because it's not as straightforward as it could be.
I personally don't like the color scheme. Also, some of their templates aren't attractive enough. But honestly, who cares about all these things when you have smart marketing automation tools?
To be frank, most of these issues are small and don't really matter if you want to use Moosend for its email marketing features.
As far as I'm concerned, this is one of the best and the cheapest tools for email marketing on the market at the moment.
Final Words – Moosend Review
I have said enough and now it's your turn to make your own decision.
I found Moosend, which is a reliable email marketing tool, to be an excellent solution for many online marketers. Moosend is a tool that every newbie should have if they are looking for email marketing software at an affordable price.
If you're still not convinced, check out the pricing plans and give Moosend a go by creating your free account today.
A free account is the best way to test out the features before you decide whether or not Moosend is right for you. It will not take much time and you can start using it right away without sharing your credit card details.
So, what are you waiting for?
Click here to register a free account
Moosend is a smart email marketing tool that anyone can use, even if they have no experience. Now you have all the information you need to select an email marketing tool that best suits your needs.
If you found this Moosend review useful, give me a share. It would really help me grow and I can continue to provide quality reviews like this.
Finally, thanks for taking the time to read my Moosend review! I have been using the tool for over 2 years now. It's been a great experience for me and hopefully, you'll have a similar experience when you use Moosend.