Are you feeling a bit confused, trying to make a decision between two popular affiliate marketing platforms, namely Digistore24 vs ClickBank? Well, rest assured that you're not alone in this dilemma.
When it comes to choosing the right affiliate marketing network to find the best affiliate products and promote your affiliate links, many entrepreneurs and digital marketers find themselves facing a similar dilemma.
Yes, it's natural to want to make an informed choice to ensure the best results for your marketing efforts.
As someone who has personally faced this, I completely understand the uncertainty and the desire for clarity. That's why I've taken the time to conduct extensive research, delving into the intricate details and features of both Digistore24 and ClickBank. My goal is to provide you with a comprehensive and insightful comparison of these two platforms.
By the end of this blog post, you'll have a clear understanding of the unique strengths of each platform, helping you to make an informed choice that aligns perfectly with your affiliate marketing goals.
So, buckle up and get ready for a deep dive into the fascinating world of Digistore24 vs ClickBank.
Digistore24 vs Clickbank: Key Takeaways
Both Digistore24 and ClickBank are popular affiliate marketing platforms, each with its own set of features and functionalities. Both of these platforms are used by thousands of affiliate marketers.
Digistore24 offers a variety of payment options for users, while ClickBank has a wider range of products to choose from.
Both platforms prioritize user-friendliness and are free to use.
Comparison Table of Digistore24 vs Clickbank
Both platforms have their unique strengths and weaknesses, making them suitable for different types of digital products and affiliates. The following table will shed light on the key differences.
| Features | Digistore24 | Clickbank |
| --- | --- | --- |
| History and Background | Digistore24, a German-based platform, has been operational since 2014 and is growing progressively in the US market too. | Established in 1998, Clickbank is a US-based and globally recognized affiliate marketing network. |
| Product Selection | Although Digistore24 offers a moderate selection of products, it can sometimes be limiting for users. You'll get access to around 8000+ products. | 1% up to 75%, a few products offer a 90% commission |
| User Friendliness | Digistore24 has an easy-to-navigate interface making it user-friendly. | Clickbank also offers a user-friendly interface that is easy for users to navigate. |
| Pricing & Fees | One of the major advantages of Digistore24 is that it is free to use for affiliates. But, sellers need to pay. | Similar to Digistore24, Clickbank charges no fees for its services for affiliate marketers. But, vendors need to pay to use it. |
| Cookies period | 180 days | 60 days |
| Commission | 15% minimum and 90% maximum | 1% up to 75%, a few products offer 90% commission |
| Mobile app | Smartphone app available | No smartphone app |
Comparison Table of Digistore24 vs Clickbank
Digistore24 vs Clickbank: Quick Overview
Digistore24 and ClickBank are two popular online sales platforms for digital entrepreneurs and affiliate marketers.
Digistore24 focuses on providing a user-friendly platform for businesses and entrepreneurs to sell their products, while ClickBank offers a wider variety of products in 25+ categories.
History and Background
In the late 90s, ClickBank made its debut as a pioneer in affiliate marketing platforms.
It created waves by providing digital product creators and entrepreneurs a space to showcase their products, while also offering marketers opportunities to earn commission-based income.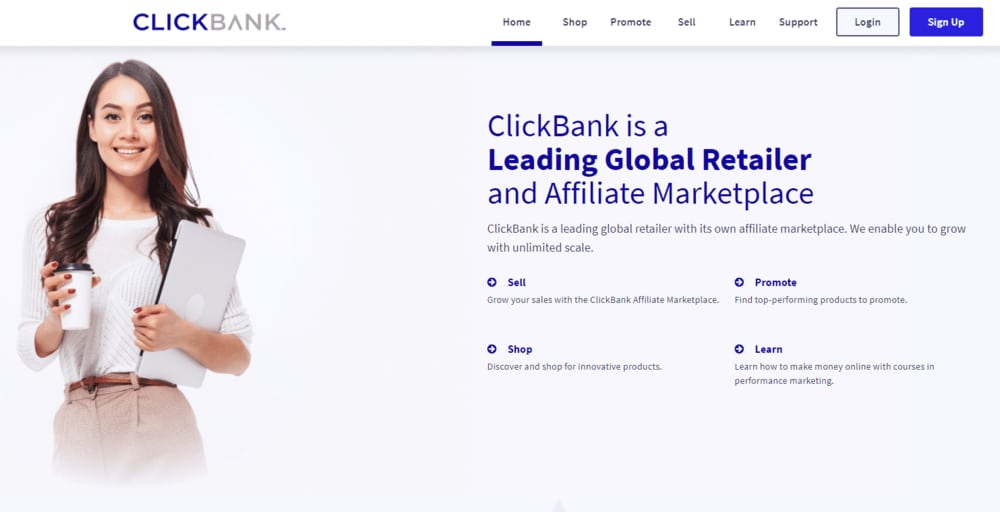 On the other hand, Digistore24 started its operation in Germany before globally expanding. They enhanced their platform with impressive features such as automated billing, advanced analytics, and various payment methods.
These two giants have carved out distinct niches for themselves within the world of online sales and continue to be top choices for both affiliates and product creators alike.
Core Features and Functionalities
Digistore24 presents a more advanced tracking feature and a modern-looking report system. This makes it easy for entrepreneurs and businesses to keep tabs on their sales and overall performance.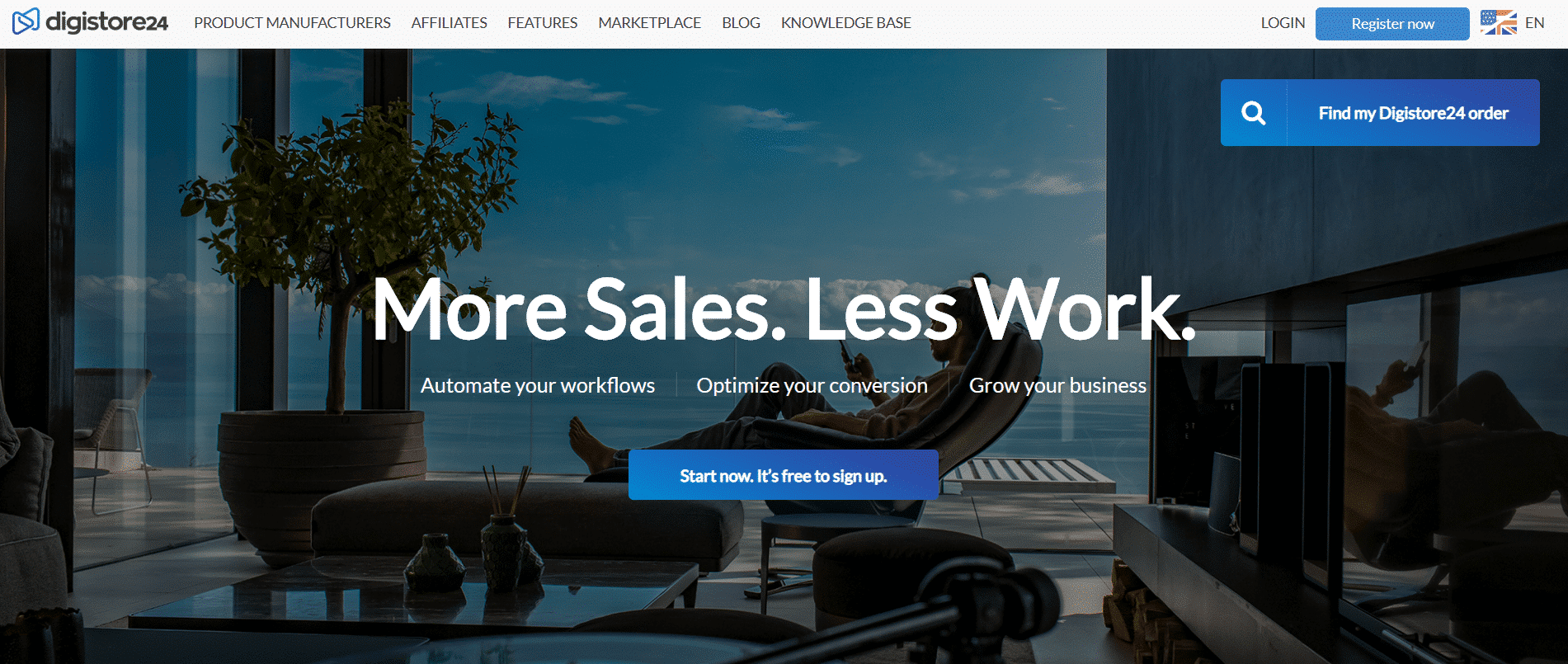 ClickBank, on the other hand, stands out with dozens of tech integrations such as Voluum. These integrations enhance its functionality making it adaptable to different business needs.
Overall, the ClickBank platform is favored for its wide range of products that affiliates can choose from.
Digistore24 vs Clickbank: Payout Threshold
It's important to note that ClickBank has a lower payout threshold compared to Digistore24. ClickBank allows affiliates to request payouts when they reach $10, while Digistore has a higher threshold of $50.
This means that with ClickBank, affiliates can access their earnings sooner than with ClickBank.
Digistore24 vs Clickbank: Commissions and Payouts
ClickBank offers commission rates as high as 75%, while Digistore24 provides a wider range of commission rates, ranging from 15% to 90%. However, both platforms offer reliable and regular payouts.
ClickBank primarily uses check and direct bank payment options for payouts, while Digistore24 accepts a broader range of options. With the flexibility in commission rates and various payout methods offered by both platforms, you can choose the one that best suits your needs as an affiliate marketer.
Digistore24 vs Clickbank: Marketplace Size
ClickBank boasts a vast marketplace with a wide range of products, offering customers thousands of products. Whether you're interested in health and wellness, digital marketing, or personal development, ClickBank has a product.
This variety also benefits affiliate marketers who are looking to promote products that align with their target audience. Digistore24 has a bigger number of product selections compared to ClickBank. So, it offers plenty of options for affiliate marketers to explore and earn commissions from. Overall, both platforms provide ample opportunities for finding the right products to promote and generate income online.
---
You may also like: 71 Best Ways to Make Money Online for Beginners
---
Digistore24 Vs Clickbank: User-Friendliness
Both Digistore24 and Clickbank pride themselves on being user-friendly and easy-to-navigate platforms.
When it comes to ease of use and interface, both platforms have intuitive designs that make it simple for sellers to set up their products and for affiliates to find and promote affiliate links.
Additionally, Clickbank offers a larger marketplace with a vast network of affiliates, making it easier for sellers to reach a wider audience. On the other hand, Digistore24 may be preferred by those looking for a broader range of products as it offers an extensive selection of over 8000 digital products.
Overall, both platforms have their strengths and can cater to different types of sellers and affiliates.
Main Advantages of Digistore24
Easy Affiliate Marketing
Free to Use
Proper Monitoring
Digistore24 simplifies affiliate marketing by providing a user-friendly platform for promoting affiliate links and earning commissions effortlessly. The best part is, it's completely free to use, with no upfront fees or subscriptions.
Track your sales and conversions effectively with Digistore24's advanced monitoring tools. Gain real-time insights into your progress and optimize your strategies for success in the competitive world of online marketing. Choose Digistore24 and start earning commissions without any additional expenses.
Main Advantages of Clickbank
The main advantages of ClickBank are as follows:
Wide Range of Digital Products
High Commission Rates
Payment Security
No Need for Approval
ClickBank offers a wide range of 4000+ digital products, including e-books, software, courses, and memberships, catering to 25+ different niches. Affiliates are enticed by the platform's high commission rates, global reach, and user-friendly interface. With secure payment processing and detailed performance tracking, affiliates can optimize their marketing strategies for better results. ClickBank also provides ample support and resources for affiliates.
And, the best part is, no approval is needed to start promoting products right away. Unlike some other affiliate networks, ClickBank does not typically require affiliates to get approval before promoting products. This feature allows new affiliates to start promoting products immediately. Simply choose a product and promote your affiliate links.
Final Words and Recommendation
In conclusion, both Digistore24 and Clickbank have their strengths and weaknesses when it comes to affiliate marketing. It is recommended to use both platforms to improve your product research and reach a wider audience.
With Digistore24's easy affiliate marketing solutions and free usability, paired with Clickbank's wide range of products suitable for all business sizes, you can effectively promote your affiliate links and increase your earnings.
So why limit yourself? Embrace the best of both worlds by utilizing Digistore24 and Clickbank.
I highly recommend considering both platforms. This way, you can maximize your earning potential.
If you liked this article, please share this article with anyone who is interested in affiliate marketing and wants to compare Digistore24 vs ClickBank. It doesn't only help me reach a new audience but also helps others.
Overall, both Digistore24 and ClickBank are popular affiliate marketplaces.
Whether you choose Digistore24 or ClickBank, you can browse through a wide range of products in various niches and find ones that suit your target audience. Both of the platforms offer user-friendly interfaces and navigation, making it easy for affiliates to search, select, and promote the right products.
So, basically, you can choose both and no one is going to stop you from doing that.
In fact, using both Digistore24 and ClickBank for your affiliate needs can be a strategic approach to diversify your affiliate marketing efforts and increase your chances of success.