Looking for the best ways to make money online as a beginner?
Well, that's what you are going to discover in this guide.
Let's dive right in.
While a search online for money-making ideas will produce thousands of results, not all will be suitable for your individual capacity and experience.
It's true, right?
So it's your job to cut through the noise.
Why?
Because you need to choose only the best methods that suit you. Obviously, you can't perform the same way while working on all these methods.
But don't worry!
It wouldn't be hard. Because I've gone through the pain to do the research and find out the best ways to make money online.
That's how much I love you. 🙂
In this 16000+ words beginner-friendly guide, you will find the most effective strategies to build an income online even if you've never done it before.
Pretty cool. Isn't it?
Clearly, when people think about how to make money, the first thing that comes to mind is going to school, get a degree and work in a big company.
For others who don't want to work for someone but rather work for themselves, they'll start up a business and become an entrepreneur.
Then devote all their energy to ensure that the business is successful.
But in this digital age where the internet is a huge part of our lives, wouldn't it be nice if we could make money online?
Think about it for a minute:
You wouldn't have to sit in an office or a cubicle for 8 hours. You would be home spending time with your family working when it's convenient for you.
Top benefits of making money online:
Endless earning opportunities
Limitless possibilities
No more schedules
Become your own boss
Control your life
And, depending on how you are making money online, you won't even have to be actively involved in your work all the time. Some of these methods I'll be talking about will churn out money for you while you sleep.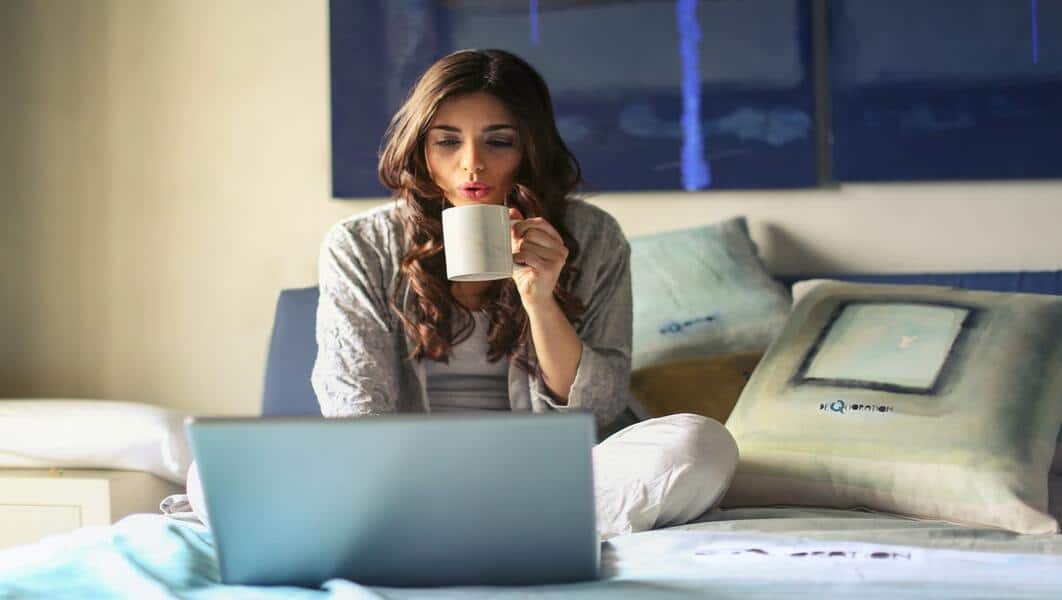 You probably know some people who make a living from working online. And you know there are several ways to make money online.
But which ones are the most profitable?
And more importantly, which ones are right for you?
Keep reading because I'm going to share the best ways to make money online and also help you figure out why certain methods are more profitable.
Here's what you are going to learn today:
That's not all. But it's enough for a beginner.
Feeling interested?
Great.
This article contains over 16,000 words. So, I know, it may be a little difficult for you to read everything in one go.
A smart choice will be bookmarking it for future use.
While there are many different techniques to produce an income online, most methods fall under any one of the following categories.
So if you learn about the methods discussed here, you'll be all set.
Ready?
Let's dive right in.
1. Affiliate Marketing
You probably know someone who became an affiliate marketer as a side hustle. Or, someone who quit their 9-5 job to become a full-time affiliate marketer.
But why would anyone do that?
Leave their certain source of income for a route that can't guarantee a better life ahead. You probably would too if you understood the concept.
Here's what you are going to learn today:
What is affiliate marketing?
Why should you do affiliate marketing?
How to get statred as a complete beginner?
How much money can you make with affiliate marketing?
Best affiliate marketing training programs
Top benefits of affiliate marketing
Disadvantages of affiliate marketing
So, what is really affiliate marketing really is?
Let's start from the beginning…
What is Affiliate Marketing?
First, answer this question:
Wouldn't it be great if you could make money from reviewing your favorite products and getting people to buy them?
I know… I know… the answer is a big YES!
You know what?
That's all what affiliate marketing really is.
So,
Affiliate marketing means earning a commission for promoting products or services and getting people to buy these items through your marketing.
Sounds like a dream. Doesn't it?
But hang on.
Why should you become an affiliate marketer?
Why Should You Do Affiliate Marketing?
In addition to making money by promoting items you love, there are other reasons why you should get started with affiliate marketing.
I'll share the most important ones with you.
Here they are:
Low startup cost
No hassle simple process
You can choose what you love to do
Let's understand them with more clarity.
The costs associated with becoming an affiliate marketer are surprisingly low.
All you need to get started and become successful is a burning desire to succeed, access to the internet, and a positive mindset.
Besides the low startup cost, another reason to get into affiliate marketing is how easy it is to get started. Just sign up for an affiliate network, find a suitable product that you would love to promote online, and start marketing.
There are plenty of affiliate networks out there.
Just some of the best affiliate networks and look for products you are confident in promoting. Below are some of the most popular networks:
The Best Affiliate Networks
There are tons of affiliate marketing networks out there. The best ones are:
ClickBank
ShareASale
Pepperjam
JVZoo
Amazon Associates
Rakuten Marketing
eBay Partners Network
CJ – Commission Junction
The good news with affiliate marketing is that you don't have to keep stock of inventory or ship items because you're a middle man.
And it's easy to get your money.
You can get paid through your PayPal account, a direct deposit, or a cheque you can cash in, depending on which program you are on.
And of course, you can choose what you would love to do.
Anything you can think of can be traded online. This makes it easy for you to choose products you have a genuine interest in promoting.
Are you warming up to the idea of becoming an affiliate marketer?
Let me show you what it takes to get started.
How to Start Affiliate Marketing as a Beginner?
So far, the concept of affiliate marketing has been smooth sailing. And getting started as an affiliate marketer is no exception.
Here are 4 things you need to do to break into the affiliate marketing scene:
Choose a niche
Pick a platform to start with
Set up an affiliate account
Promotions and marketing
1. Choose a Niche
Here's the fact:
People love working with experts in their fields. So choosing a niche will increase your effectiveness in marketing affiliate products.
To find the best affiliate niche for yourself, ask yourself what you are the most passionate about. Even though this is not a necessity, it certainly helps.
It's similarly essential to analyze how competitive your chosen niche really is or if there are platforms that support your niche.
2. Pick a Platform to Start With
Just as freelancers have platforms like Upwork that act as middlemen between them and clients, affiliate marketers also have platforms.
These platforms may also be called affiliate networks.
One of the best networks I would suggest for beginners is ClickBank.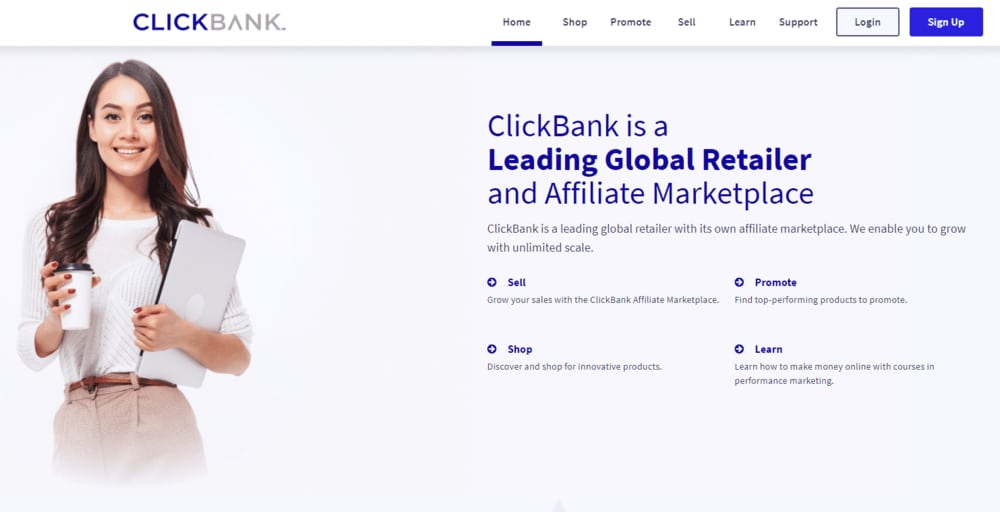 You may already know about a few platforms to work with.
Some valid questions to ask yourself when picking your platform include:
Which merchants use that platform
How much commission you'll get using them
What kind of support they offer
For your convenience, below I've listed some of the most popular affiliate networks or platforms you can get started with:
3. Set Up an Affiliate Account
Another no-brainer.
After selecting a platform to work with, the next step is creating a profile as an affiliate marketer at any of these platforms.
In most cases, you'll require a website to apply for an affiliate account.
Signing up is almost always free.
Once you have an affiliate profile on these platforms, you'll be able to get your special affiliate link that you can promote online.
4. Promotions & Marketing
I prefer mainly 2 ways to promote affiliate links online:
Create a blog or website
Running ads
1. Create a Blog or a Website
Do you need a website to become an affiliate marketer?
No, you don't.
There are many other ways to become an affiliate marketer. Some of these include email marketing, PPC advertising, and creating a YouTube channel.
Is it a good idea to start an affiliate marketing career without a website?
No, it's a terrible idea.
The reason is using a platform you have no control over puts you at risk of losing everything you've worked for if the platform shuts you down.
I'd recommend creating a blog as soon as possible.
Because it's safer for your brand. And it's easier than you think. WordPress has now made building and owning a website as easy as ABC.
If you decided to build an affiliate blog, you'll have to decide on what form of content you want to share with your audience.
There are mainly 3 forms of content you can share:
Blog posts
Product reviews
How-to guides
As you set up your blog and slowly build your audience, it will be easier to promote affiliate products through your website content or blog posts.
For example, what you are reading right now is also a blog post.
And, this blog post contains affiliate links too.
2. Run Online Ads
If you choose to promote your affiliate products using ads then you don't need a website. What you need is money that you can invest in.
And here's the good news:
This is the fastest way to get affiliate sales online. All you need to target is to get the right people to the right affiliate offers.
If you can do it, it will be worth it.
To get started, you'll need to create an account with websites that let you run ads such as Google ads, Facebook ads, Pinterest ads, and Twitter ads.
That's not all. There's more.
Websites like these allow you to specify what action you want to be taken on your ads. Visit my website, call my business, book an appointment, and "register now" can be some examples of such actions.
Before your ads go live you'll need to define your target audience, your services and attach images with persuasive ad copy.
With practice, you'll learn the techniques of doing it successfully.
And boom, you know how to make money on demand.
How Much Money Can You Make?
It's time for me to answer the most important question that's probably been burning in your mind since you started reading this article.
How much can I make from affiliate marketing?
There's no limit.
If you're worried about whether the market will remain profitable enough for you to make a reasonable income, you should relax.
Why?
Statista reported that the spending on affiliate marketing in the U.S is projected to reach $8.2bn by 2022. Quite amazing, right?
Yes, that's $8.2 billion dollars with a B.
Image source: affise.com
Using the chart above I've grouped affiliates' earning potential into 4 different categories to help you gain some insights on how much money you can earn depending on your experience and skill level.
| | |
| --- | --- |
| 1. Beginner affiliate marketers | Up to $300/day |
| 2. Intermediate marketers | From $300-$3000/day |
| 3. Expert affiliate marketers | $3000-$9000 per day |
| 4. Super affiliate marketers | Above $10,000/day |
Feeling excited?
Yes! it's possible to make a life-changing income with affiliate marketing.
You'll just need to get started and learn the right techniques to do it successfully. Below are some of the best affiliate marketing training programs.
Best Affiliate Marketing Training Programs
Here are some of the best affiliate training programs for beginners.
These beginner-friendly programs are opening up their doors to the masses and revealing all through step-by-step training.
Affiliate marketing is one of the most common ways to make money online. Let's talk about the top benefits of affiliate marketing.
Let's get started.
Top Benefits of Affiliate Marketing
Here are the top benefits:
Flexible work schedule
Passive income source
Low investment
Because of the way affiliate marketing works, it's possible for you to work wherever it's convenient for you. All you need is an internet connection.
Pretty cool, right?
With affiliate marketing, it can be possible to make money while you sleep.
All you need is a strong fan base with active members. Or, if you are using ads for promotions, just set up your ad copy and targeted audience.
Anything more?
Yes!
The amount of money required to get started with an affiliate marketing business is minimal and affordable for most people.
And, that's exactly why anyone can do it.
But don't be too excited. There are a few disadvantages too.
Affiliate Marketing Disadvantages
While so many things are good about affiliate marketing, it's not only about its benefits. So below are factors you should be aware of:
No guarantee of success
High level of competition
Difficult to grow customer base
Just as any business, your success is not guaranteed.
You can't be certain about how much you'll earn since your income is mostly dependent on how many clicks you get on your affiliate links.
And, there's quite a bit of competition too.
Because of its low initial investment and high return on investment, everyone wants to try their luck. As a result, it increases competition.
Sometimes it can be difficult to grow a customer base.
Why?
When you get someone to click on your affiliate link they might never come back to your site again. That's why it's necessary to capture leads. It increases costs.
Feeling disappointed?
Don't!
$50,000 a month… $100,000 a month…
A MILLION DOLLARS not in a year–but in a month!
Yes, that's the exact amount of money you should expect to make if you proactively take action to learn the arts and techniques of affiliate marketing.
2. Blogging for Money
I think we all know what blogs are. We follow a few of them on different topics: food, fashion, music, anything under the sun. New blogs pop up every day, despite over 500 million blogs in existence already and growing.
Ever wondered why?
You probably do. It's okay if you don't.
In this section, you will learn:
What is Blogging?
Don't know about blogs?
Wondering what blogging really is and how does it work?
If we're going to get technical, a blog is a website that's regularly updated. It's run by one person or a group of people and the tone is conversational.
Originally when blogs started in 1994 they were online journals.
People came online to update us on their lives.
Why did it blow up?
Because some people have interesting lives. It birthed a platform for people to connect with an audience and share their experiences with them.
Today, blogging isn't much different from the original model.
It still serves the same purpose: updating us on a topic. But, it's just not focused on people anymore. Nowadays, blogs can cover many different topics such as cuisine, pets, and music. There are hundreds of blogging niches.
Now their functions have gone beyond a medium to vent out.
They serve as a marketing aid.
Why Should You Start a Blog?
Your main objective for creating a blog might be to build an income online, either as a part-time gig or as a full-time job.
Some of the most common reasons you'd think of may include things like creating an online community and connecting with your audience.
Still confused?
Well, there are tons of benefits of blogging for money. Below are 3 not-so-common reasons to start a blog that directly focus on you:
Having a blog of your own will bring to life new skills such as SEO best practices, content management, and email marketing.
What's better?
The more you write, the better you get at it.
And being able to write well is a high paying skill these days.
Apart from this, blogging can help you develop work values and develop a platform that could make your dream job a reality.
Let's see how to start a new blog step by step.
How to Start a New Blog from Scratch?
I understand that creating a blog can be a daunting process if you have no idea what to do. But trust me it's easier than you think.
Feeling better? cool.
Now check this: Step-by-Step Blog Building Guide
Nobody is born an expert at anything. The best bloggers today started just like you. All they had was the desire to succeed, and they did.
Let me show you 7 easy steps to get your blog up and running in no time.
Here's a summary of what you'll need to get started:
1. Choose a Topic or Niche
The first step to start a blog is knowing what you're going to blog about.
Usually, the highest-earning blogs focus on one niche and establish themselves as the authority figure, making them credible sources of information.
That's exactly how most successful blogs build their authority.
So, it's a smart idea to choose a blogging niche that is reasonably profitable as well as something you know well. Even though it's not necessary to know everything right from the beginning, it truly helps, in most cases.
If people consider you someone who knows your stuff, they won't hesitate to refer your site to anyone who needs information on your niche.
Here are some tips to help you select a niche:
Think of the things you'd love to write about
Try to come up with areas you want to specialize in
Some good examples of profitable blogging niches:
Personal finance
Dating
Relationships
Social skills
Marriage
Friendship
Lifestyle
Weight loss
Photography, and so on.
2. Pick a Blogging Platform
After you've figured out what you want to blog about, you need to think about where to build it. There are plenty of useful blogging platforms that can help you set up your blog and write your first blog post within an hour.
But here's the problem:
If you really want to build a real business online with a blog, there is only 1 choice you have. And, of course, you guessed it right, it is WordPress.
I know… I know…
Why should I choose WordPress, you ask, right?
WordPress is the number 1 blogging platform for plenty of reasons.
Want more?
I guess, you don't.
Other blogging platforms like Wix, Blogger, and Medium are good if you want to do it as a hobby. They are good if you aren't blogging for money.
But it's not recommended when you are building a business.
3. Select a Domain Name
Your website's domain name is its internet address.
It's what people type in the address bar to find your site. Having a blogging site without a domain name is impossible.
Here's the domain of this blog:
Remember these 3 tips when choosing a domain name for your blog:
If you can remember these points, it's enough.
4. Host Your Blog
For our non-tech-savvy readers, I will save you the stress of pulling out Google and tell you what web hosting is all about.
The easiest way to explain web hosting is to describe it as a house because that's what it is. This is where your website really lives.
And, living there makes your site available to viewers on the internet. So the essence of hosting your website is to make it available online.
Web hosting can cost anything from $0 – $2000 or more, depending on the type of website you are running and how much traffic it receives.
And, here's the good news:
There are plenty of affordable web hosting services out there. Sites like Hostgator have made it easy for anyone to host websites affordably ($2.75/month).
So be sure to work with a service that offers perks you can afford.
Wondering where this site is hosted?
It's HostGator hosting.
5. Design Your Blog
WordPress has made it easy to design your blog.
There are thousands of free themes to choose from. And, these themes can be customized up to font style, making designing your blog a breeze.
A theme is what determines how your site would look and feel. You can also invest in premium WordPress themes to give your blog a more professional look.
Premium themes are usually a better choice than free themes.
Top benefits of premium themes:
Most premium themes cost anywhere from $30-$200.
6. Write Quality Blog Posts & Share it
In my opinion, this is the hardest part of blogging. There are two things involved in this section and that are:
Deciding on what quality content is
Sharing that quality content
Ask yourself what you consider quality content.
Is it content that engages?
Is it informative, or accurate? Maybe it's all 3 and more.
Once you can benchmark what you consider excellent content it makes the next step easier, writing the blog post.
And, you know what?
There's no shame in admitting you don't think people will read your blog posts. The reason being you don't think it's good enough.
Well, we've all been there.
That's why you need to ask yourself what you consider good enough. And, model your content to look like that.
The best way to define a high-quality blog post is to search Google for your main topic and do quick research on the first few results.
See how the articles are crated. It's easy to understand, right?
What you are reading right now is also a blog post.
After reading a blog post if you can say to yourself "Wow! that is super useful and informative", great, you just got it.
That's how your blog posts should feel like.
7. Promote Your Blog & Make Money
You could write the most informative blog post that would change so many lives IF PEOPLE READ IT. Your reason for working tirelessly to produce excellent content is because you want people to read it.
And the only way they will is if you promote your blog and let people know about it. There are many ways to get people to visit your blog:
Tell your friends and family
Post it on social media
Guest blogging on other sites
Focus on SEO when you write
Monetizing your blog becomes easy once you've grown a steady amount of loyal readers. Some ways you can make money off your blog include:
Affiliate marketing
Display ads
Selling eBooks/courses
Sponsored posts
Consultancy
Premium contents
There are certain types of blogs that earn more money than others. Learning the arts and techniques of starting and building a successful blog is a learnable skill.
You'll just need to invest your time to learn the techniques.
The good news is that it's possible.
How Much Money Can You Make?
Your earning potential in blogging is mainly dependent on two things:
Your level of expertise
And, your website traffic
If you are an expert in your field, companies would pay a lot of money for you to write for them. You can expect $200-$1000 per blog post.
Yes! you heard that right.
Another driving factor of your income is the volume of traffic your site receives. Blogs thrive off traffic. And they offer multiple sources of income.
In the case of ads, you may receive a percentage for the number of times the ad is viewed or the number of times it is clicked.
This can generate anything from $10-$10,000+ per month.
Advantages of Blogging
Blogging is one of the most common ways people use to try making money online. It's easy to start and how much it costs to start a blog is ignorable.
But, it still has its own set of pros and cons:
It's Easy to Set Up a Blog: Blogging sites like WordPress, Wix, and Medium have made it easy for anyone to set up a blog without any experience.
Flexible Working Hours: You don't have to restrict yourself to riding 9-5s with an online job like blogging. You can easily tweak your schedule to suit your morning life or nighttime routine.
Creates a Sense of Community: Hundreds to thousands of people could come together to discuss topics on your blog. It creates a sense of community.
Outreach Potential is Unlimited: There's no limit to who can visit your blog and from what part of the world.
Drives Traffic to Your Websites: You can use your blog to direct traffic to your business website that produces most of your revenue.
Disadvantages of Blogging
It is Time Consuming: The amount of time required to research a topic and write a properly edited blog post is time-consuming.
It Requires Consistency: Remember in the definition of blogs we mentioned they are updated regularly. Running a blog needs you to consistently post new content, at least in the beginning phase of your blogging journey.
Technical Issues Can Come Up at Any Time: Websites crash and fixing them can be frustrating if you don't know what caused it.
Blogging Success Requires Patience: The first 2 points are nearly impossible to achieve if you're not patient. Don't pressure yourself into having a successful blog immediately. Blogging growth takes time.
3. E-commerce
Even without knowing the textbook definition of what an eCommerce store is, we all have an idea of what they are and how they work.
Popular examples of eCommerce stores are Amazon and eBay. Any store that handles its transactions online is an eCommerce store.
There are many reasons why people prefer to start eCommerce businesses over physical stores. I'll discuss some of them here.
Other things you can expect to learn include:
How to build an eCommerce website
Potential earnings from eCommerce stores
And, the pros and cons of running an online store
Reasons to Get into eCommerce
There is an endless number of reasons to start your own eCommerce business, but let me share 3 most common reasons I think top the list:
Follow Your Passion: There's no limit to what you can sell in your store. Whether your passion is yoga, hunting, or horseback riding you can create an eCommerce store that focuses on something you're passionate about.
You Gain Financial Stability: It provides an additional source of income or it can be a full-time business, generating huge income.
Job Security: Never worry about losing your job in case of an emergency because you're the boss when your own online store.
How to Build Your eCommerce Website?
There are 9 steps to building an eCommerce business. Sit tight and grab a notepad, because you've got a checklist to get to.
1. Define Your Business Model
This is the very first step to starting any type of business. In this stage you'll decide on what you want to sell and whether you're selling wholesale or retail.
Then you'll ask yourself how you want to fulfill your orders and finally if you'll be shipping locally or internationally.
Here's an example of what your model could look like.
I want to sell physical goods
On retail
I'll hold my stock and ship them when orders are made
I only want to sell to local consumers in my state or country
This model will help you figure out how to make important business decisions in the future. Instead of selling physical goods, you can also sell digital products.
2. Understand Your Niche
In this sense, your niche is your target audience. And there's no way you can start a business without understanding who you want to buy your goods. Take out time to understand your niche, what they want, and what they expect from it.
For example, if you're starting an eCommerce store that sells running shoes, your target audience would be runners who want to buy your running shoes.
And what they expect from those shoes is maximum comfort when running.
And, voila you have your niche.
3. Discover What Sells Best
You won't be the first to sell products in your niche. If you choose a profitable one, then be ready to face competitors.
Going over your competitors' best selling products gives you an idea of what your customers are clamoring for. And this is what will help you make your decisions on what products or services to offer on your site.
4. To Incorporate or Not to Incorporate
Deciding on whether you should register your business or not can be a daunting task. The best way to decide on whether you should do it or not is to ask yourself what you plan to do with your business.
If you're just looking for a small gig to keep money coming then you can opt for a sole proprietorship structure. A self-owned business in your name that you manage. The only disadvantage to running this type of business is the issue of double taxation. It's completely your choice.
However, if you're looking to expand your business, get loans, sell company shares, then incorporating your business is the way to go.
5. Choose a Name for Your Business
There are several ways to come up with your business name.
No matter how you choose to do it my only advice is your business name should tell your customers what you do. Even if it's vague, it's better than nothing.
If you're opening a bakery store then your name would probably have the word sweets or pastries in it. This tells your customers what type of services you offer.
Try to include relevant keywords in your business name if possible.
6. Sign Up for an eCommerce Platform
While the option of building your website from scratch is available, it's time-consuming and can be expensive.
Ecommerce platforms like Shopify, Woocommerce, and Wix make creating your online store as easy as pie. Simply sign up, fill out the necessary forms, and follow the prompts to get your online store all set up.
Shopify is my number 1 recommendation. You can get a free 30-day trial.
7. Design Your Online Store
This is a fun part of the building process.
It's the part where you watch your store come to life. You have to select themes, design your product pages, and show people what your business is really about.
8. Don't Just List, Showcase
Listing your products on your online store is an easy thing to do. Just upload a picture, write a brief description of it, and you're good to go.
Unfortunately, this isn't what gets your customers clicking the "buy now" button.
For your customers to take an interest in your products and buy them, you have to do more than listing your items; you have to showcase them. Take high-quality images that best depict what your products look like. I cannot overemphasize how accurately your pictures should represent your products.
20% of purchase returns are due to customers receiving items that looked nothing like their pictures. As a result, customers ask for a refund.
That's why high quality product pictures are essential. The best way to showcase your product photos is to take them from 3 different angles:
A general angle
An up-close picture
Your product in use
If you're dropshipping then your supplier can provide you with the pictures you need. If you're selling your goods then you have to take your pictures yourself.
9. Promote Your Business
This is the last step on our journey to building your website.
You can't sell anything if nobody knows about you and your business. So adopt one or more of the following methods to get the word out:
Search Engine Optimization
Blogging
Email marketing
Social media marketing
Paid advertising
A YouTube channel
How Much Money Can New eCommerce Sites Make?
According to RJ metrics, new eCommerce stores make an average of $63000 within their first year of selling. By the end of the first year monthly revenue should've increased to about $127000 and by their third year $352000.
The average new company will scrape around $6.5 million within its first 3 years of existence. You can read more on these numbers here.
E-commerce Pros & Cons
Just like any business, the eCommerce business has its own set of pros and cons. Let me share them one by one so that you can get a clear picture.
Pros:
Low Initial Investment: Compared to the costs incurred in setting up a physical shop, eCommerce stores require a low initial investment.
International Reach: Your physical store can only attract customers in your area. An online store attracts customers from all over the world.
Make Money While You Sleep: Brick and mortar retail stores operate from 8/9 a.m to at most 10 p.m. Online stores are open 24/7 for night owls and early birds. That's how your online store can generate money all day long.
Cons:
Site Crashes Stop Sales: Constant uptime is critical in the eCommerce business. A little more money will usually solve the problem. Nobody can buy from your store if your website is down.
No Test Drives: Customers can't test the products in-person to see whether it fits their needs before buying it.
Shipping Costs: Depending on the arrangement you have with your courier service provider and where you're shipping to, shipping costs can sometimes be a nightmare, especially for the buyers.
Preference for Physical Stores: Although eCommerce stores are gaining popularity their physical counterparts still have a larger share of the market.
4. YouTube
If you're looking for any form of video content the first place you would think to check is YouTube. After all, it's the most popular and successful video sharing platform with over 2 billion logged-in users each month.
The platform has even birthed a career path which many people are successful in; YouTube content marketing. Thanks to Youtube's paid partner program.
Now people can make a decent living off being a Youtuber.
YouTube has the same functionalities as a social media platform. It allows you to like, share, and subscribe to other people's content.
Why are hundreds of YouTube channels still popping up each day? Sit tight as I'll be sharing the top reasons to start a YouTube channel right here.
You'll also be able to learn:
How to start a successful YouTube channel
How much Youtubers make from different areas
And, the pros and cons of starting a YouTube channel
Why Do You Need a YouTube Channel?
Form of creative outlet: if you're a creative who hasn't found a way to share their creativity with the rest of the world, starting a channel could be the way to let that creative side shine.
Source of income: whether it's through paid ads or Youtube's paid partner program, starting a channel is a great way to make some extra money.
Boosts your traffic: by creating a channel you boost your chances of being found. People can now discover your website or your channel.
Showcase your products: the best way to convince anyone about something is to show them, not tell them. Creating a channel allows you to show your audience what your product can do.
Build authority: regularly sharing videos that are helpful to viewers in your niche, will make viewers consider you an expert. Making them more likely to trust your services.
Starting a Successful YouTube Channel
Starting a YouTube channel is easy. Get started in 3 easy steps:
Sign in to YouTube with your email
Click on the setting icon and select the create a new channel tab
Fill in the forms and you're about section
And there you have it, a YouTube channel, easy as pie.
Unfortunately, it takes more than these 3 steps to make your channel successful. Many people have started their channels and abandoned the project halfway.
While they knew what it took to create a YouTube channel, they didn't know what it would take to make that channel successful. So here are 8 things you can do to make sure your channel doesn't die along the way:
1. Collaborate with creators in your niche:
Whether it's Boyzll Men ft Mariah Carey or Lil Nas X with Billy Ray one thing for sure is that collaborations are a powerful way to grow in your industry.
Don't forget that Youtube is a social network too. Collaborate with fast-growing creators in your niche to tap into their growth.
2. Mix up your content plan
Ideally, there are three types of posts you should share in your channel.
Posts that create a bond between you and your audience. Make these monthly.
Posts that show your expertise on subjects relating to your niche. Make these quarterly.
Posts that provide useful content to your readers e.g. DIY videos. Make these weekly.
3. Aim for Longer Videos
This might seem like unusual advice, our attention span online is looking for quickly digestible content. But the truth is on any platform, long-form content to perform better. Why? Because they are more in-depth.
We're not asking you to make your video long for the sake of it. We're asking you to make sure you cover everything you need to on a topic, in one video. This will increase watch time and improve your algorithm.
4. Design Clickable Thumbnails
Before viewers open your video the first thing they see is your thumbnail. That tiny image is what will make them click on your video or scroll past it.
Use thumbnails that are relevant to the video content. A thumbnail that doesn't relate to your content will leave you viewers feeling tricked, and they won't come back.
Also, get your thumbnails to tease your audience. Make the viewer wonder what's next. Curiosity is the best way to get them clicking on your video.
5. Eliminate Distractions
Editing a YouTube video is a lot like transcribing an audio file. If you want to promote understandability, you need to take out all forms of distractions. This could be long pauses or filler words like ugh and uhm.
6. Spend less time on opening credits
Viewers have short attention spans. To get them to watch your video to the end, you need to keep the opening credits short and dive right into the main video. Else they'll get bored knowing they have to sit through your long opening for all your videos.
7. Start with an interesting hook
This is another tip to ensure your viewers watch your video to the end. The most suitable way to pull this off is to show the end product first and walk them through the process. This is great for makeup and hair tutorials.
Or start with an interesting story that relates to the topic you're about to discuss.
8. Commit to posting regularly
This is the hardest part of owning any online platform. Remaining consistent is how often you put out content.
When you're just starting you should look at putting out content 2-3 times a week. As your audience grows you can down to once a week.
How Much Do YouTubers Make?
There are several ways YouTubers make money off their channel:
Per post view: with Adsense, you can make anywhere between $0.01-$0.03 per view. The rate YouTube pays you depends on factors like video length, ad quality, etc
Affiliate marketing: ever noticed how YouTubers review products and then suggest you purchase them through a link in the description box? They get commissions for each purchase you make.
Affiliate marketing through your channel can earn you anything between 5-10% on each sale made with your affiliate link.
Sponsorship: If your channel has a strong fan base don't be surprised when companies offer you payment to talk about their service or product.
Companies are willing to pay as much as $50,000 for a million views on your videos. Smaller and medium scale companies can pay anything between $10 – $50 per 1000 views.
Pros and Cons
Pros:
No qualification needed to start: you don't need any kind of training or degree to start a channel
Little to no equipment needed: some of the most successful YouTubers started with their iPhone 6 and a tripod
No restriction on the type of content you can share: you can talk about anything under the sun
Cons:
Producing good content is expensive: if you want to produce high-quality content you need to ditch your phone for some gear. And the equipment is expensive.
Content plagiarism is unavoidable: we've seen too many cases of smaller Youtubers accusing big brands of stealing their ideas. You can't stop it.
No control over the platform: You have to follow all of Youtube's rules, you don't control anything
5. Sell eBooks/Online Courses
Have you ever dreamed of writing a book, publishing it, and making money from it? Well, why haven't you?
My guess is you thought of how difficult it is to get publishing houses to accept your manuscript and publish your book. Well, I've got good news for you. You don't need a publishing house to get your book published and make money off it.
Several platforms on the internet like Kindle have made it easy for people with dreams of writing a book to get it published and enjoy all the royalties they could ever ask for.
And what about selling an online course? Think you've got knowledge that's worth paying for? Take a shot at it. There are tons of e-learning platforms to help you sell your course like Udemy.
Not sure if you should give it a try? Read on for 3 reasons why selling online courses/ebooks could be your ticket to financial stability.
Why You Should Sell ebooks/Online Courses?
The reasons why you should start selling your knowledge online are innumerable. We honestly can't go through all of them. But here are 3 reasons that should be convincing enough.
Ease of Distribution: there are many platforms dedicated to helping you market your online courses and deliver them to your customers. The same goes for ebooks.
Availability of tools: a myriad of tools for creating, formatting, and editing your videos and ebooks exist.
Opportunity to build authority for your brand: being able to create valuable content for people will make them regard you as an expert in your field. And this has a positive impact on your brand image.
How to Sell ebooks/Online Courses
To get started selling online courses or ebooks, you need to follow these 7 simple steps.
1. Come up with valuable content
This is the most important step in creating your online course or ebook. If you're not providing something valuable to people they will not buy from you. And those who do will feel cheated out of their money. They might even leave bad reviews.
2. Stand out from your competitors
There are thousands of ebooks and online courses scattered on the internet. If you're going to be successful in this, you have to stand out from the crowd.
Yes, most courses are generic and some can't be changed because of the nature of the course e.g. accounting courses.
But ask yourself what you can offer that others can't. A different presentation? A shorter time to understand the course? Find out what makes you stand out and use it to your advantage.
3. Master the art of compelling
People will only buy your courses or e-books if they see a reason to. And for this reason, you need to master the art of compelling.
Show them why they need your course or why reading your book will change their thinking for the better. Ensure you only keep content in your course or e-book that is necessary to achieve this goal.
4. Format your work
This is essential to make sure your readers get value from your work. If it's in a format that doesn't aid easy understanding, they'll write off your great content as too hard or a waste of their money.
PDF is a great way to format your ebooks. And everyday tools like PowerPoint are great for formatting your online courses. If you don't think you can handle the task then hire someone to format your content for you. It's worth the money.
5. Pitch on the right platforms
This one is a no brainer. Who's ever heard of an author who sold tons of ebooks at Sephora? I haven't and bet you haven't either.
There are platforms specifically made for different types of content that exist. YouTube and Vimeo for videos, Medium for all forms of writers and authors, and VSCO for photographers.
Well, platforms for marketing your online course and ebook exist too. Moodle, Udemy, and Coursera are great examples of platforms where you can share your online courses.
And Kindle is one of the most popular options for publishing and selling your ebook. Whatever you choose to use, make sure it's the recommended platform for your content.
6. Market your products
While these platforms handle some of the marketing for you, your success is still largely dependent on how much marketing you do yourself.
Some ways to boost your products reach and get more people to buy your online course or ebook is to:
Create a website
Blog about your field
Market on social media
Use paid ads
These are only a few suggestions of the different ways you could market your online course or ebook to boost sales.
7. Sell! Sell!! Sell!!!
Finally, the long-awaited section we've been waiting for, making sales. To sell your products you need to collect payment.
Think of how you want to accept payments for your online courses/ebooks. Credit or debit card, PayPal, Payoneer, the options are limitless. And the more you can provide for your customers to choose from the better.
How much you can earn doing it
You can earn anything from $0-$50k+ selling online courses. On average you'll make at least $1k-$5k but this is dependent on a lot of factors. Like the price of your course and how well you market it.
For ebooks, you can also expect to make that same amount or more. But this is dependent on how great your content is and how well your market it. As well as other factors.
Pros & Cons
Pros:
Source of passive income: after you've done the marketing for your course/ebook you don't have to do any more work. You can sleep and let your business make money for you.
You can teach anything: if what you're teaching is valuable people want to know it. If you've got a story worth telling people to want to hear it. There's no limit to what you can speak on.
Charge and get paid when you like: here's another benefit to selling online. Except you're offering a discount or promo on sales, people have to pay what your content is worth. $5, $50, $200 you decide.
And the best part is if you're making these sales directly through your website. You get your money once payment is made. No delay and no sneaky charges.
Build an email list: we all know that building an email list is the most effective way to market your goods. However, selling on platforms won't let you collect people's information. If you decide to sell directly through your website you can collect this data and build an email list.
Cons:
You need an audience: one of the reasons why selling online courses and ebooks are so easy is because there's already an existing market for it.
Without an audience to consume your products/services, venturing into anything is useless. And selling courses or ebooks is no different.
Your audience needs coaxing: not a lot of people wake up in the morning and say "today I'm going to buy an online course on data analysis"
Because of this, you need to constantly persuade your audience into purchasing your courses.
You'll face marketing woes: because you're self-publishing your ebook, a great deal of marketing will be handled by you. The same goes for your online courses too.
Customer service: after customers have downloaded your ebook there's a possibility they'll need guidance in how to transfer it to their ebook reader. This will require you to have a functional customer service unit.
An easy way to skip this is to make your ebook available in a format that's easy to import into an ebook reader.
6. Ghostwriting/ Copywriting
If you're thinking of breaking into the writing scene as a way of making money, you're not far off. Writing is one of the most sought for skill today.
And I'm not talking about being able to string words in a sentence. I mean writing something that people want to read.
However, you should know that there are different types of writing. Such as content writing, ghostwriting, copywriting, and more.
We're going to focus on ghostwriting and copywriting.
From reading this article, you'll learn:
The difference between each type
Reasons you should consider them as a method of making money online
How to get started in each field
How much you can make in each field
And, their pros and cons
So, what is the difference between ghostwriting and copywriting? Copywriting is the beautiful act of using your words to make people take the desired action. These actions can be anything: downloading an ebook, signing up for a newsletter subscription, or purchasing an item. There's no limit to it.
The only difference between ghostwriting and any other kind of writing is who gets the credit at the end of the day. Anything ghostwritten by you will be credited to someone else. However, the amount of money you can make from each project is enough to compensate for that.
Reasons to take up ghostwriting /copywriting
The reasons to take up either one of these forms of writings are similar to the ones that would make you want to work online.
You have flexibility in your work, you work with people on your terms, and you make money from doing something you're passionate about.
How to start Ghostwriting?
Become a writer first
Remember that ghostwriting is first writing. To become a ghostwriter you must first become a writer. Start developing your writing style by trying your hands on different types of writing and find the one you have a knack for.
Publish a book or two
You can't take credit for anything you wrote for someone else. So you need to write your own book(s). Many ghostwriters are authors. Show the world how competent you are at writing long-form content on different topics. And possibly with different writing styles.
Build a network
Get a website or create a simple portfolio where people can find your work. Build your credentials by writing guest posts for blogs and magazines. And then go for events where you'll likely meet people who are interested in your services.
Cold pitch as a ghostwriter
Here's the last stage in becoming a ghostwriter, marketing yourself as one. After creating a portfolio and building a network, tell people about your services. Pitch to people, agencies, and even companies. All it takes is one lucky break and then the opportunities never stop coming.
How to start Copywriting?
Understand what copywriting is
Copywriting has a goal to achieve: getting your readers to take the desired action. The action could be anything, if you want them to do it after reading your copy, it's a valid action.
Understand why people need your services
Agencies, companies, entrepreneurs, and many more people are looking for the services of a copywriter. Why? Because they want their audience to take action they desire. To make a sale, visit their website or download their free course.
They understand that these results are possible with some great copy, and that's why they need copywriters.
Get Clients
The easiest way to start working as a copywriter is to freelance. Platforms like Upwork, PeoplePerHour,and Toptal act as a link between clients who need work done and people who can get that work done.
While it is possible to make a decent living off these platforms, you'll notice that people only use them as an avenue to gain experience in their field. After that, they build their websites and look for clients directly.
Build your portfolio
Now that you've worked with some clients you have everything it takes to build an amazing portfolio to direct your potential clients before they hire you.
Earning potential
As a ghostwriter
According to Career Trend, the average experienced ghostwriter earns $20,000 per project and up to $50,000 for celebrity clients.
While beginners can make $5000 per project.
As a copywriter
The average copywriter makes $55,000 annually.
It can go as low as $37,000 and as high as $147,000.
Junior or intern agency and corporate copywriters make an average of $60/hour. But senior copywriters make over $100,000 yearly. You can read more on these statistics from the kopywriting course's website.
Pros & Cons
Pros:
Minimum responsibility: your only task is writing your client's book or finishing their perfect piece of copy.
Flexible work hours: just like every other online job, you get to decide when you work and where too.
Creative license: both forms of writing allow you to write different types of content in different styles. Allowing you to express your creativity in every way possible.
No marketing needed: after writing your client's book all you have to do is hand it to them. There's nothing else after that other than your paycheck.
Cons:
Living in the shadows: you could write some of the most successful books ever and no one will know it was you. Someone else will get all the credit. Except you're fully satisfied with the money you'll make off it, I wouldn't recommend you take up ghostwriting.
Deadlines! Deadlines!! Deadlines!!!: you might get to set your work pace but your client sets your deadlines. And some of them can suck the life out of you.
No income stability: except you'll be working with clients long term, the end of a project leads to looking for work all over again.
7. Flipping Websites/Domains
Flipping domains is the act of buying domain names at low prices and reselling them at a higher price. The concept is similar to house flipping. Except you're flipping domain names and not houses.
These domain names can be sold for hundreds to thousands of dollars. In rare cases, they sell for millions. Many sites like Hostgator and Domain.com offer services like domain registration for as low as $2.99. Of course, domain names that end with .com will sell at a higher price but you'll find them at affordable rates on these sites.
To better understand what domain flipping is about, you should understand what a domain is. Domain names are unique addresses on the internet. Flipping remains is not the same as flipping websites and website content.
A website is not a domain, and selling a domain name does not involve transferring a website along with its content to the buyer. It only involves transferring ownership of the domain name.
Why it's a Great Way to Make Money Online
Domain flipping is as simple as it sounds. You buy domain names at reasonably low prices and resell them at higher prices. The better you are at selling them at higher prices, the more money you'll make.
However, it's simplicity shouldn't trick you into thinking it's easy. The journey of learning how to successfully flip domains is filled with a lot of hard work. A lot of research goes into knowing what domain names are profitable and finding buyers willing to pay a good price for it.
Essentially, you have to be a great researcher with excellent marketing skills. So you don't end up with domain inventory that piles up and never sells for months to years.
4 Easy Steps to Flip Site Domains
You can flip domain sites and start making money using these 4 easy steps:
Get Domain Names
You can't give what you don't have. To sell a domain you need to get a domain. The best way to maximize your business is to buy domains that are cheap to purchase and lucrative to sell. A great way to find domain names is to go to domain auction sites and buy the ones that seem profitable.
Another option is to create new domains and register them yourself. And finally, you can buy them from people who sell domain names at cheap prices.
2. Evaluate Them
After you've found a domain name you need to evaluate its worth. Several factors have an impact on how valuable your domain name is. Some key examples are brand-ability, relevance, search friendliness. It will take your discretion to decide whether or not the domain name is worth buying.
3. Find a Buyer
This is unarguably the hardest part of flipping your domain. And it is also the most versatile step since there are a lot of strategies for finding buyers.
4. Sell your Domains
After you've found a buyer for your domain, and agreed on a price, sell it to them. You'll transfer ownership to them upon registry. The process is simple and doesn't take time.
How Much Can You Make Flipping Site Domains
People make thousands to millions of dollars selling domain names. A great example would be how Microstrategy purchased Voice.com for $30m. The original person who created that domain name probably registered it for less than $20. And whoever bought it from them would've also gotten it for a fair amount.
But the reality of domain flipping is that not all your domains will be worth a million dollars not to talk of 30. How much you make from domain flipping is dependent on how many domains you sell and what price.
The average part-time domain flipper makes $1000-$8000 per year. While full-time flippers can make $30,000-$100,000 per year. Some make even more than that.
Website Flipping Pros & Cons
Pros:
Easy Way to Make Money: anyone can make money by flipping domains. All it takes is knowing how to buy domain names at cheap prices and reselling them at a higher price.
Profitable: domain flipping is a very profitable business. The chances of you making a loss are slim because you'll always sell your domain for a higher price than when you bought it.
Easy to sell: if your domain names are in demand then you can expect potential buyers to come to meet you for your domains. You can also register your domains on third party sites that connect you directly to your target market.
Cons:
It is Risky: there isn't a money-making venture without the risk that exists. Especially the ones carried out online. In the case of domain flipping, a major risk is buying domain names that may never get sold.
It's important to research the domain name you're purchasing and ensuring that it will be in demand soon. A good example of such domains is the possible name of movies, books, and businesses.
It is Time Consuming: while domain flipping provides huge profits by the time you sell your domains, these domains take months or even years to become ripe for sale. This is especially true if you're waiting for potential customers to approach you.
8. Sell on eBay
We're all familiar with one of the biggest names in the eCommerce space. You've probably bought a few items off eBay and you're wondering how to get in on the action.
When done right, selling on eBay can be very lucrative. It's a quick way to make money online with little to no investments. However, it's not as easy as it sounds. If you're thinking of starting an eBay business then you need to treat it as one.
By making a business plan, evaluating it, and putting it to the test. If you're not sure how to do that it's okay. I'm going to teach you:
Why you should sell on eBay
How to get started
Your potential income
And the pros and cons of selling on eBay
Why Sell on eBay
Here are 3 reasons why you should sell on eBay:
It's fast: You can make your first sale and get paid within your first week on the website.
It's cheap: setting up an eBay account and selling items is free. After you've listed more than 50 items, you'll be charged for listing more items.
The customer base is huge: there are over 162 million active buyers on eBay each month. Which gives you a lot of potential clients to increase your sales.
How to sell on eBay
Selling on eBay is a simple process that can be achieved by doing mainly 2 things: understanding how to use the platform and growing your business.
Understanding the Platform
Register an account: to understand how eBay works you first need to a part of it. To register an account with then and get used to the site's interface
Buy something: after opening an account try buying a few items to let you get a feel of how your customers will buy your goods online.
Sell some items: before you set up a full business on eBay, sell some items on the site first, and see if you're comfortable with the process. Also, try to get feedback from your customers after they've purchased an item and leave some feedback for them too.
Growing your Business
Pick a niche: at this point, you've grown comfortable with using the platform and you're sure of using it for an online business. Now pick what kind of products you want to offer on your site.
Treat your business like one: just because it's an online business doesn't make it less of a business. Dedicate the time and effort needed to make your store a success.
Open an eBay store: if you're enjoying the platform you can opt for opening an eBay store. This option comes with a lot of benefits such as marketing tools, lower value fees and more
Earning potential for Selling on eBay
The amount of money you can make off the site is limitless. Some people make as much as $1000 a day working full time. While some part-time sellers make as much $1500 in 3 months or less.
It all depends on how much time you invest in your store. A good way to increase your chances of making more sales is to market your products on different platforms. Facebook groups.
Pros & Cons
Pros:
Seller protection: it's not new to hear of buyers abandoning a purchase halfway. To protect sellers in this situation, if a buyer does not make payment for an item they purchased within 48 hours, the seller can file a complaint.
If buyers do not pay by the time the complaint file has been closed, you will be credited with the final value fee for that item.
No limitations on what you can sell: as long as what you're selling aren't illegal, you can make a listing for it. eBay has a comprehensive list of prohibited items that cannot be sold using their site.
Cons:
Bargain hunters: eBay is known as a site gor3 scoring good deals. Because of this reputation, you will be dealing with a lot of bargain hunters who are more concerned in a cheap transaction than paying what your item is worth.
Ridiculous shipping time estimate: to be successful on eBay you must be capable of shipping items in 24 business hours or less. Sellers of customized items are exempted from this ridiculous rule.
If you cannot guarantee shipping in less than 24 hours then eBay will restrict the visibility on your listings.
9. Take Online Surveys
A great way to make the most of your spare time by earning some money with it is by taking online surveys. Crazy as it sounds, this is a real thing that people do.
They sign up with companies that give paid surveys and earn rewards for taking them. These rewards could be cash or otherwise.
"Why would companies pay for my opinion" you might ask. It's because they need your feedback to get better at what they do. Their ads, products, services are all aimed at satisfying customer needs.
And if your opinion will help them do that, then they're willing to pay you some money for it. Or compensate you in any other way.
Why Take Online Surveys
Asides making money by the side and winning some great rewards, the most convincing reason to take online surveys is the satisfaction that comes with voicing your opinion.
Companies are ready to pay you money to hear what you have to say about their product and services. That's how much your opinion matters to them. And it's a satisfying feeling.
Some other reasons to start taking paid surveys online is that it offers you maximum comfort of working from home. As well as spending time with your loved ones.
4 steps to make money taking online surveys
Taking online surveys to make money online is as easy as it sounds. And here's 4 steps how:
Sign up with a company: different platforms exist to support you doing anything you can think of. And taking surveys online is no exception.
Companies like Swagbucks, mypoint, and lightspeed research are great examples of legitimate companies where you can take paid online surveys.
Create a detailed profile: some surveys are meant for people that fall into a certain demographic or geographic group. Be sure to fill your profile with important details asked for so you don't miss out on surveys you're eligible to take.
Get surveys and fill them: some companies will directly notify you of when they have a survey available. Other times you'll have to scavenge for available surveys you qualify for yourself.
Earn rewards/money: once you've completed your survey, you'll either be rewarded in cash or prizes.
How much can you make taking online surveys
I'll be honest with you from the start, you can't make a decent living off taking online surveys. You can make some extra money, but it'll hardly cover your bills.
Most companies will pay $1-$5 per survey. A good number of them won't offer cash rewards. Instead, they'll send you their products for free or at very discounted prices.
Pros and cons
Pros:
Comfort: you have the option to take these surveys from the comfort of your house.
Spend time with loved ones: being cooped up for hours on end away from home keeps us away from our friends and family. Taking online surveys from home eliminates that.
Cons:
No fixed pay: a common disadvantage with all online work is that your income is not fixed at a certain amount. Whether you'll get a steady flow of work is uncertain.
Easily distracted from work: working from home is filled with distractions. Doorbells, loud kids, pesky pets, you name it.
No social interaction: since your surveys are taken online, there is no need to go to a center and physically interact with people to fill the survey.
10. Become a freelancer
Traditional brick and mortar jobs are becoming less and less appealing. Every day new people realize the endless limits of confining yourself to a 9-5 job.
The lack of flexibility, the same boring clients in the same boring industry, and the worst one; a feeling of dissatisfaction overshadowing your life. I think we've all been there at least once in our lives.
So what's the solution? To quit your day job and start freelancing full time? All you need is your laptop, your trusty coffee mug, and your best pair of sweatpants. Viola! You're ready to start your career as a freelancer.
I hate to be the bearer of bad news but if this is what you think freelancing is about; working from the comfort of your home on a laptop all day, then you'll be needing your day job back pretty soon.
Here's what you'll learn from this post:
What freelancing is about
Reasons to start freelancing
6 steps to become a successful freelancer
Possible earning from freelancing
Pros and cons of freelancing
Freelancing: What it's About
Freelancing includes as much work as an office job, the only difference is your work for yourself, not a company.
It entails being a self-employed contractor who offers their services to agencies and individuals without an obligation to work for them permanently. Freelancers are not company staff/employees but independent contractors.
This is one of the most difficult yet exciting things about freelancing. Because you're not working as an employee to any client, you have to search for new job opportunities once your contract ends.
This can be an exciting factor as well because it allows you to work with as many people as you'd like across your industry.
Don't think freelancing is for you? Read on the reasons why you should become a freelancer in the next section.
Reasons to Start Freelancing
For whatever reason you decide to start freelancing, I think we can all agree that the most important one is dissatisfaction. Many people quit their day jobs and take on freelancing because they're not satisfied with their 9-5 jobs.
Freelancing allows you to be your boss, work at your pace, and choose who you work with. You also get to charge your rates. What's more satisfying than that?
Another reason to start freelancing is that it's very affordable to start up. All you need is the skills you already have. If you want to learn a new set of skills then you might have to pay for it. But you'll easily recover all the money spent if the skill is popularly sought for.
If you're convinced that freelancing is what you want to do, read on our 6 step guide to becoming a successful freelancer.
How to Become a Successful Freelancer in 6 Steps
The road-map to becoming a successful freelancer lies in these 6 steps.
Define Your Goals
Your success in freelancing is determined by the goals you set for yourself. Ask yourself whether you want to take it up as a part-time gig or a full-time business. And also if you're just trying to make some extra money or get your bills paid.
Choose Your Niche
It might seem like a good idea to prevent yourself as a jack of all trades, but the harsh reality is people want to work with experts.
Pick an industry, then a sector in that industry, and then a particular product you want to focus on delivering.
E.g Digital marketing > content marketing > blog posts
When people view you as an expert they're more willing to hire you, and even better accept your charges.
Define your Target Audience
Don't hurt yourself trying to impress everyone. Ask yourself who your ideal customer is. An agency? A corporate body maybe. Or all clients within a certain industry. Channel your efforts into your target audience and watch your business grow.
Set Your Price
This is a tricky subject for new freelancers. You'll be tempted to set low prices that do not match your services to get clients. Never do that. Your price isn't high if you can offer value to back it up.
Build Your Portfolio
If you already have experience in the field you want to freelance in, great. Use your experience and knowledge to build a portfolio that accurately sells your services to clients you refer to.
Learn to Pitch Yourself
A lot of people out there can offer the services you do, for lower prices than you. The only way to get clients to choose you and not them is to sell yourself. Show them why you're better.
Notice how all these points focus on you. Your price, your goals, your this, and your that. Because freelancing is all about you. What you can offer and how valuable it is. Never get swayed by competitor prices and what cheap clients want, focus on you.
Is Being a Freelancer Worth your Time?
How much can you earn being a freelancer? Is it enough to pay your bills? Get you through college? Sponsor your honeymoon to Hawaii?
In 2017, Payoneer conducted a study that showed the average freelancers in the U.S earn $31/hour. The rates across different industries vary greatly and you can read more about them on thebalancesmb.
Freelancing Pros and Cons
Pros:
Work Flexibility: not only do you get to choose when and where to work, but you also choose who to work with. You can reject clients who don't fit with your target audience.
Independence: not everyone loves working in a team. Being a freelancer gives you the ability to work on your own without relying on anyone.
Exposure: staying cooped up in an office doesn't give you a lot of exposure. Except you're working for a company like KPMG. Freelancing allows you to broaden your horizons by working with clients across industries.
Cons:
Steady Work is Uncertain: you can never be sure when work will come again once your contract with a client has been fulfilled. The freelance world is a cycle of finding new work every time an old one ends.
You're a One-Man Business: many people don't realize that freelancing is a business. You become a brand with an image to maintain. You need to sort out your promotional tools, taxes, and cash flow, just like a business would.
Isolation: Isolation is another side of the independence coin. For people who work best in a team becoming an individual freelancer is not the best route to go.
11. Become a Consultant
It's never been a better time to become an online consultant. Think about it, the internet had made it easy for you to connect with millions of people and share your services with them.
And you hardly do any work outside of giving your advice. Which is what a consultant does, give professional advice in their area of expertise. The benefits are endless and the money you can make from taking your services online can be jaw-dropping.
That's why we've taken the time to walk you through everything you need to know about becoming an online consultant. Once you're done reading this, you'll learn:
3 reasons to become an online consultant
7 steps to become an online consultant
How much you can make
And the pros and cons of consulting online
Reasons to Become an Online Consultant
You might be wondering how consulting online is better than face-to-face sessions in person. Well here's 3 reasons why:
It's Affordable
You'll find that online coaching services are very cost-effective for you and your clients. You save up on the money you would've spent in setting up an office and they save up on transportation costs.
It's Flexible
If you had opted for a physical office where clients had to meet with you face-to-face, then anytime either of you traveled your business gets put on hold. When you offer your services online, you can offer your services to anyone, anywhere, at any time.
Communication is Easy
Communication channels are always open between you and your clients. They can phone you, send an email, or even talk to you via Skype.
7 Proven Steps to Become a Consultant
Define your Target Market
This is the first step to starting any kind of business. Whether online or offline. Identifying who your clients are. The more specific you are the better. So take out time to ask yourself who is going to benefit from your services the most.
If you can't think of who your ideal client is immediate there's no worry. Once you start offering your services to a few clients you'll be able to decipher who you enjoy working with the most.
Know What Problem you Want to Help them Solve
Anybody who sets out on a business venture does so with the idea of solving a problem. Again, you want to very specific about what problem you're helping your clients solve. The reason for being specific is to help you become an expert in your field. Which in turn will make people more likely to patronize you.
Evaluate your Business Idea
We all come up with great business ideas, but not all of them will succeed. Why? Because not everyone will pay for your "great" business idea. To ensure you're not about to embark on a wild goose chase, evaluate your business idea.
Ask yourself why people would pay for your services. What kind of value you'll offer them. In summary, run a feasibility study for your business idea.
Run a Pilot Test
Now that you've evaluated your business idea and confirmed it is indeed feasible, run a pilot test to further prove it. Give free consultations to people and follow up weeks later yo get feedback from them.
Try to find out if your advice was helpful or not.
Find your Clients
At this point, your services have been tested and trusted. Time to take off your training wheels and find real clients. To find them, ask yourself questions like:
What social media platform do they use the most?
Where do they spend time offline?
What groups do they belong to?
You could be the greatest consultant to ever live but nobody knows about your services then you'll never make it.
Turn your Idea into a Real Business
Business cards, a website, a newsletter campaign, this is where it all happens. You're taking your idea from an idea in your head to a visible business venture. Before you get to this stage you must test your idea and confirm it is viable.
Imagine spending thousands of dollars on a website, business cards, and marketing campaigns on nothing more than an expensive hobby.
Grow your Business
You're a real business now. Offering services to clients and changing their lives. Two things can happen at this stage:
You can continue to offer 1-on-1 consultation services
Or you reach more people and make more money with group sessions
You can even turn it up a notch and write an ebook or create an online course that'll fetch you money by the side. The choice is yours.
How Much Can You Make Consulting
The average salary for consultants in the U.S is $110,412. With popular consultants earning as much $190,000. However, it's important to remember that these figures can vary from what you'll get due to factors like education, level of experience, etc.
Pros and Cons
Pros:
Low startup cost: the only expenses you'll incur if you already have the knowledge and skills needed are getting an online presence to let your audience know about you.
You do minimal physical work: you can consider yourself the queen bee or ant in this situation. You give orders on what to do and people get it done for you.
Don't have to be an expert: being an expert in your field is important but it's not a deal-breaker if you don't. As long as you can present yourself as one, you'll get tons of jobs.
Cons:
Interpersonal and Marketing Skills: to be a successful contestant you need to have great people and marketing skills. The reason for these skills is you're going to be in constant contact with people and you're going to rely on your sweet tongue to make them hire you.
Project management experience: depending on how much you charge per client you'll be managing several projects at a time. The only way to successfully pull it off is to be a pro project manager.
Inevitable risk of disappointing outsources: as a consultant you don't do the actual work needed to accomplish to a project all you need is your brainpower. Most of the actual work done is outsourced to individuals and agencies. But there are times when your outsources will fail you and leave you hanging.
12. Amazon Kindle Publishing
A common method of making money online is writing an ebook and having it published. Thanks to the internet's help, publishing a book has never been easier. Writers, authors, and anyone who can put words on paper can easily produce their work and share it without worry.
This is something you won't get from traditional publishing houses.
There are several ways to publish your book and make money from it. One of the ways I'd strongly recommend is Amazon Kindle. You might have heard of the popular ebook reader before, and maybe used it.
But how do people get their books on Kindle and make money from it?
I'll walk you through:
What Kindle is
Why you should publish with them
How to publish your ebook with Kindle
Making money with Kindle publishing
And lastly the pros and cons of kindle publishing
What is Kindle?
I bet you know a couple of ebook readers that let you access and read ebooks in different formats. But how many e-book readers do you know come as portable android devices?
Well, that's the best way to describe Kindle. A portable e-book reader that allows you to shop for, download, and read all forms of online content. The Android-powered device is owned by Amazon.
Why You Should Publish with Kindle
You already know why you should choose self-publishing over traditional publishing houses. That's why you're reading this. What you don't know is why you should self-publish with Kindle. Well here's 3 reasons why:
It's easy
It's clear
It's free
Publishing your book whether paperback or digital has never been easier. Kindle Direct Publishing (KDP) has a simple sign up process that allows you to upload and publish your book within minutes.
This is because the instructions are clear, anyone can follow them. And the best part? It's all free.
5 Easy Steps to Publish your Book on Kindle
Create a Kindle Direct Publishing Account
You can sign up on KDP using either your existing Amazon account or your email address. Create your profile once you're done signing up and voila. Ready to get to work on your book.
Write your book's title, subtitle, and description
Don't forget Kindle acts as an online marketplace for ebooks, magazines, and other forms of content. To get potential readers to click on your book and buy it, you need:
● A clear descriptive title
● A subtitle (optional)
● A detailed book description
All we're saying is tell people why they should read your book by telling them what it's about and what they can expect from it.
Use a title that gives readers an idea of what your book is about. Don't use anything vague or a title that's clickbait. One of the best ways to write a book description is to tell readers what they can gain from reading your book.
Correctly following this step has a positive impact on sales.
Choose your categories and keywords
No matter what you do on the internet never forget that you rely on search engines. I mean video content, running a blog, owning an eCommerce website, whatever you do that needs the internet to survive. Always remember that you are at the mercy of search engines.
Don't know what that means? If you want to get found on the internet, you need to make sure your content is SEO friendly. People who don't use Kindle can read your book too.
So make sure you use keywords that people use to search for content related to your ebook. And put it in the category where your potential readers can find it.
Upload manuscript and book cover
Done writing, editing, and formatting your book? Good. Got a killer book cover for that work of art? Great. All that's left is to upload both of them on the Kindle platform.
To successfully upload your book on Kindle it has to be in one of their supported formats. You can read a step by step guide on how to upload your ebook here.
Price your book
Knowing how to price your book as a beginner is arguably one of the hardest parts of writing a book. If it's too low you won't make any profit and if it's too high no one will buy it.
The best price range for ebooks on Amazon is $2.99-$9.99. If you need some more help on setting a price for your book here's 4 strategies you can set your price based on:
Competitors prices
Your reviews
Number of pages in your book
Size of your followers
How Much Can You Earn from Kindle Publishing
Now that you know how to get your book on Kindle, let's talk about how much you can make from Kindle publishing.
Kindle behemoths like Steve Scott make about an average of $40,000 a month selling his books on the platform. So it's possible to make a comfortable living off Kindle publishing.
But let's talk about the average, new guys like you. On average you can make as much $1000 annually from selling your books on Kindle. This is dependent on factors like your pricing and marketing strategies.
Pros and Cons
Pros:
It's free, easy and fast: sign up on KDP, upload your book and have it published within minutes, all for free.
Supports ebooks and paperback: the platform isn't just for ebooks, you can sell paperback as well on Kindle.
You're in control: set when to publish your book and for how much. You're in control.
Passive income: Kindle handles most of your marketing for you. And since you can never run out of stock on ebooks, customers will always buy your books and you get money for it even in your sleep.
Cons:
Content limitations: once you've published your book with Kindle you are prohibited from sharing more than 10% of your book anywhere else. Even on your blog.
Publishing limitations: during the first 90 days of publishing with Kindle, you're prohibited from publishing your book anywhere else. This could be a huge fall back to your book launch if you intend to publish on several platforms at once.
13. Online Stock Trading
Once upon a time, the stock market was a realm for the rich and wealthy folks. The possibility of the "common folk" owing stock was so slim it was laughable. That's why when Joseph Kennedy got a stock tip from a shoeshine boy, he sold all his stock the day before the entire stock market crashed.
What made him sell? According to the story, he thought if a shoeshine boy could own stock then something was wrong. Remember at this time only 1% could afford stocks. Today things have changed.
The internet had made the stock market more accessible. Anyone who has a device that can access the internet and has enough money to open a trading account can own stock. Plus market analysts have proven that non-rich people owning stock doesn't spell disaster for the stock market.
After reading this section you'll learn:
Why should start trading online
How to trade online
How much you can make from trading online
Pros and cons of trading online
Why you Should Start Trading Online
There are countless reasons why so many people are jumping into online stock trading, but we'll give you the top 3 reasons why you should do it too.
Easy Access to Educational Materials: if you're worried about not being an expert or having little knowledge on the subject if trading doesn't be. The internet has made it remarkably easy for you to learn everything you need to know through videos, ebooks, and articles just like this one.
2. Can be Done Remotely: tired of being confined to office space? Worried you'll have to travel to some trading center to handle your trades? There's no need to worry. Online stock trading can be done remotely from any device that has an internet connection.
3. Additional Source of Income: why would we be talking about online trading if it wasn't another way for you to make some extra income. Whether you choose to do it as a side hustle or get into it fulltime one thing's for sure, it's a great choice for additional income.
Beginner's Guide on How to Trade Online
Here are 4 steps that every beginner can follow to start trading online
Open a Trading Account
It sounds like an obvious place to start but you never know. Trading begins with finding a good online broker and opening a brokerage account with them. Then taking advantage of any tools they provide to you as their client.
Don't know what broker to sign up with? You can take a look at Investopedia's list of the best online brokers in 2020.
Read More
We're talking about financial articles, books on the stock market, and everything market-related. Trading is a game full of diverse levels and you must have the background knowledge to get past each one.
For new investors, sites like YahooFinance and CBS MoneyWatch are great resources to keep you updated on the stock market. For more experienced investors Bloomberg and Investopedia are more suitable.
Learn to Analyze Charts
Technical analysis will help you go a long way in your online trading journey. Because you'll mainly be dealing with charts, all manner of them across different periods. It is not only important for you to know how to read these charts but to analyze them as well.
This skill will guide you into another realm of the stock market we call price prediction. In theory, stock prices can only go up or down i.e they rise or fall. But the reality they can do far more than that.
And to make sure you don't fall victim to their rogue ways, you need to know how to analyze charts and predict prices.
Practice Trading
Now is the time to put all that knowledge to use without losing your life's savings in the process. Platforms like Forex offer a demo account where you can practice your trading skills on a simulator that feels like the real deal.
How Much Can I Make Trading Online
The truth is there is no estimate for how much you can make from online trading. The reason for this is because of its nature. It is largely based on probability and your risk appetite, so trying to think of how much you can make each month is a waste of time.
Pros and Cons
Pros:
The market is always open: the stock market is open 24/7 making it easy for you to work at any convenient time.
Secured trading platform: many brokerage companies will provide you with a secure platform to trade online with.
Real-time supervision: the best part about trading online is you can watch how the market fluctuates in real-time.
Cons:
Filled with Scammers: it's no surprise that a market this big is filled with tons of scammers. People have fallen into the traps of fake brokerage companies who gain your trust by trading honestly with you and then disappearing with your money. Be sure to only register with well-known companies.
Addictive: studies have likened online trading to gambling and warned that it is as addictive. Many people continuously pump money into their trading accounts with hopes of making a mammoth profit when in reality they are making losses. Which takes us to the next point.
Loss of Funds: it's not hard to believe that people have lost thousands of dollars in an attempt to make money off online trading.
Frequently Asked Questions
How Can I Earn $100/day?
The best way to earn up to $100 a day is through passive income i.esomething that doesn't require your attention 24/7. A good example of this would be affiliate marketing, blogging, YouTube, and E-commerce.
The reason for this is how these methods make money. Blogging for example, once you've completely optimized your blog site you can monetize it by posting ads on it. The same tactic also works for YouTube videos.
You get paid depending on the number of views or clicks each ad gets. If your blog or YouTube channel has high traffic you don't have to do anything else. Your viewers will handle it
For an eCommerce store, your shop is open 24/7 which means people can buy from you at any time of the day. Depending on your marketing tactics and how on-demand your products are, you can easily make more than $100 a day.
How Can I Make Money Online for Free?
While you don't have to pay any money upfront for the methods we listed above to make money online, it's not 100% possible to start making money online at no cost.
If you're a freelancer on Upwork you'll have to use your connects to send proposals to clients. Once your connects finish you have to buy new ones. Anyone publishing a book on Kindle will have to spend money on designing a book cover and maybe getting their book edited.
A consultant will have to spend money on acquiring licenses and certifications. This list can go on forever but I think you get the gist. To make money you'll have to spend some money. No matter how insignificant it is, like $1.50 for 10 connects on Upwork.
So rather than think of how you can make money online for free, think of which will cost you the least to get started.
How Can I Earn $1000/month?
To do this you'll need to be involved in more active work like freelancing. The reason why this is the most guaranteed way to make up to $1000 a month is you set your price. If your source for your clients directly through your website, then clients have to pay what you charge.
If you don't have a website and get your clients through freelance websites like Upwork and Freelancer, you can bid for high paying jobs. Most clients aren't interested in your experience or qualifications. They only care about getting their job done well. And if you can prove to them that you can, then making $1000 a month is as easy as pie.
Other methods like blogging, affiliate marketing, Youtube, and Ecommerce can also make you this much money. The only problem is it will take more time. Especially for the first three where your income depends on your number of viewers.
How Can I Make Money Online as a Student?
Making money online as a student is dependent on one thing: your time. Part-time students will find it easier to make money online because they have the spare time to do something else. Unlike full-time students who have to focus the majority of their time on schoolwork.
For students, if you don't want to do more work than what you're already dealing with in school, then you should opt for something you're good at and enjoy. Freelance jobs, blogging, online tutoring, and opening an online store are great options for students.
They're completely flexible meaning they don't interfere with your school life. And you'll enjoy whatever you're doing, so it won't feel like more work. Just a fun past time that brings money.
How Can I Make Money Right Now?
If you want to make money as soon as possible, as in right now, active work is the way to go. Options like affiliate marketing, blogging, and YouTube need you to have a large following to make money from them. And growing your fan base will take time.
Other options like Kindle publishing and eCommerce rely on your marketing skills to make money for you. And good marketing costs money. And if you're looking for how to make money right now, you want to spend as little as possible.
Freelancing, ghostwriting, and copywriting are your best options to make money right now. Simply sign up on a freelance website, bid for jobs, get clients, and get paid. Your first week will admittedly be very hard. But if you master the art of persuasion, which you will, getting clients will become a lot easier.
Remember that they're after who can guarantee will get the job done. And not the person with the highest years of experience or an endless list of qualifications.
Conclusion
Making money online as an easy way to develop a second source of income or even make a living. The pros of doing it certainly outweigh the cons. Today, there are numerous ways of making money online, some easier than others.
We took out the time to list the 13 best ways to make money online and walked you through what each one is about. As well as how you can get started and how much you can earn from doing it.
Whether you're looking for the passive income that affiliate marketing, blogging, and Youtube offer. Or you're into more active work like freelancing, consulting, and online stock trading. Whatever method you choose, we've provided you with all you need to know to get started.
So quit dreaming about making online and start earning your desired income goal per month.