Most people just think of GetResponse as another email marketing software available in the market. But GetResponse is way more than that and it is one of the best email marketing tools you'll ever need.
But what makes it a complete marketing tool for any business?
Today in this GetResponse Review, I am going to talk about all the features which make it stand out from the rest. I'll also be highlighting all the good as well as bad things about GetResponse in this blog post.
Let me tell you right away that it is not some kind of magic tool that can make your business grow overnight.
I'll be honest with you and I always recommend my readers to invest some time and energy in learning email tools and using them for their business. This will give you a long-term return and will help your business to grow exponentially.
So, don't just read this article and go away.
Ignoring email marketing is a huge mistake. Because it gives you the highest return on your investment. For every $1 spent you'll get at least a $42 return.
Even though there is plenty of email marketing software available, but picking the best one is a big task. Every business owner is looking out for the best and most effective email marketing tool or software to manage their email list.
There are many features that I like most about GetResponse. Some of the most popular features are listed below:
It comes with an awesome drag-and-drop editor.
You can easily create high-converting email templates within minutes.
It comes with an easy-to-use email editor.
It is scalable and has the ability to send unlimited emails.
You can also use its email marketing app on your mobile to manage your list and send SMS updates to your subscribers.
You can easily integrate it with your WordPress site.
Its email marketing automation feature is one of the best out there.
Overall, I'd say that it is one of the most user-friendly email marketing tools I have used till now. It has a lot of powerful features.
In this review, we'll take a closer look at GetResponse, OK?
So let's get started.
What is GetResponse?
Getresponse is a web-based email marketing software that is used for sending bulk emails and newsletters to the subscribers of your business. As compared to other email marketing tools, GetResponse is priced much lower when you look at its powerful features, pricing, and scalability.
With over 3,50,000 customers in 18 countries, GetResponse is a complete marketing tool designed for online creators. It lets you send emails, autoresponders, host webinars, create online forms, and much more.
Along with that, it lets you track all the data and help you to analyze to get better results. It can be directly integrated with more than 100+ platforms to capture data and leads. The best thing about the GetResponse email marketing tool is that it lets you send unlimited emails and newsletters to your subscribers.
How Does GetResponse Work?
GetResponse is really easy to use and designed in such a way that even new users can start using it in just a few minutes. You don't need any technical knowledge to use GetResponse and it can be used by anyone out there.
Getresponse is a web-based email tool which means that you don't have to download any software to use it. You can log in using your email id and start using its powerful features right away.
It's super easy to create and send emails to your subscribers. GetResponse lets you create newsletters and autoresponders with a drag and drop editor. You can choose from more than 500+ professional email templates to create your own.
It lets you send welcome emails to newly subscribed visitors, re-engage your existing subscribers with its email marketing automation feature, generate more leads using landing pages, and much more.
All you need to do is to log in to your GetResponse account, create an email list or form for collecting emails, create an email template and send it to your list.
That's all. Pretty cool, right?
Getresponse also lets you integrate with other platforms like HubSpot, WordPress, Magento, Joomla, and many others. It also lets you integrate with Facebook, Instagram, and Twitter to capture more leads.
The main reason to use GetResponse is its affordability and the features it provides under this price range. It is a lot cheaper than the other marketing tool available in the market and has such amazing features.
The best thing is that there is no need to buy 2-3 tools when you are a beginner and don't want to spend too much.
GetResponse has everything you need to start marketing. Also, its pricing is a lot lower as compared to other tools out there.
The best part?
It comes with a Free Trial for 30 days.
Yes, GetResponse offers a full-featured trial which is absolutely free of cost. That means you can use its email marketing tools and features for 30 days right away and cancel it anytime. You don't need a credit card to start.
All you need to do is, create an account and start using its features today.
But, how much does GetResponse cost?
There are four different plans available with GetResponse:
Basic
Plus
Professional
Max
They all have different features along with different pricing of course. If you are just starting out with email marketing then I recommend going for the Basic plan which starts from $15 per month for 1000 subscribers.
The Basic Plan

– Basic Plan starts from $15 (List Size- 1000) and comes with Email Marketing, Auto Responders, Unlimited landing pages and lead funnels, Sales funnel and Facebook Ads, and much more.
The Plus Plan

– Plus Plan and its Most popular plan starts from $49 (Up to 1000 Subscribers). It has all the basic plan features. Add-on features include Webinars, Automation builder up to 5 sales, and webinar funnels.
The Professional Plan

– Professional Plan starts from $99 for 1000 contacts and has all the unlimited features and now you can host paid webinars as well.
All of these plans offer an 18% discount on a yearly subscription, each plan can be customized according to your list size requirement.
The best thing?
You can try Get Response for free for 30 days. Just create an account and try its features. You don't need to give up your credit card details.
The GetResponse Free Forever Plan
If you are just getting started with email marketing and have a small list of subscribers, GetResponse also has a free forever plan.
Even though this plan is limited in terms of features it lets you send unlimited emails per month and can be used by anyone and at any time.
The free plan is perfect for bloggers, marketers, and small business owners who want to keep in touch with their list and subscribers.
The best thing?
You'll be able to try all its premium features for the first 30 days. After that, you can either continue with a paid plan or the free-forever subscription.
So, what are you waiting for? Create an account today!

It was launched as an Email Marketing Software in 2012. But, later the company started to promote it as an all-in-one marketing solution for small to large businesses.
Get Response has all the features you can expect from a powerful email marketing software. It has got some of the amazing features which make it complete like, sales funnels, webinar hosting, landing pages, and much more.
Now, we're going to check each of the GetResponse features closely.
So, let's get started.
GetResponse Autoresponders
Autoresponders are the email newsletter that is automatically sent to your subscribers when they sign up for your list.
You can send this mail immediately once they join your list or after some time according to your promotion strategy.
Suppose when a customer makes a purchase from you or joins your newsletter, they'll receive a welcome message, one weak later in another mail you can send them about the offers and exclusive deals.
Third weak you can send them your free ebook copy.
Once you have created autoresponders and set it, It will automatically send emails to your subscribers who have opted for your emails.
Creating a GetResponse Autoresponder is very easy.
All you need to do to create a list first. Go to your dashboard, click on the lists option which has all the lists created by you.
Now click on create a list, fill out the list name, and click on create.
See how simple is that?
Once you have created a list, you can easily create an Autoresponder for that particular list. You can manage the title of the autoresponder, settings for the autoresponder, subject Line and design the content, everything.
GetResponse comes with hundreds of preinstalled Email templates.
Just select any template and you can easily customize it with its simple drag and drop builder. Each and every template is fully customizable. And, you can also create a template from scratch as well.
AB Testing and Analytics
GetResponse has A/B testing capabilities. It determines which subject line, template or copy works better for your audience.
Analyzing data of a previous email marketing campaign is an important part of marketing strategy. GetResponse Analytics dashboard gives you a better idea to understand how your audience is reacting to your content.
With GetResponse you can exactly see what actions your subscribers are taking on your newsletters. You can easily identify why people are unsubscribing.
How cool is that?
If you want to track conversion for your product, you can add a custom URL with its unique tracking code.
Yes, one of its cool features is AB Testing.
This means it allows you to do a test among the subjects of the Email.
You can check different subject lines at a time for the same recipients and choose the best subject line which performs better for you.
GetResponse automatically sends the emails with a subject line which have a higher response and click rates.
Sales Funnels that Convert
Have you always seen the cone-like structure and wondered what is this and how it works? Yes, that cone-like structure is called the Sales Funnels.
A sales funnel is a set of steps that anyone takes before becoming your customer. It is a complete step-by-step process from creating awareness about your product to making the purchase and becoming your customer. It can be list building funnel, products selling funnel, lead magnet funnel, or webinar funnel.
Let me explain to you a simple example.
Suppose you want to create a sales funnel to promote a webinar.
1st step of this sales funnel is the landing page, where you put information about your webinar, timings, dates, speakers, and discussion topics.
Good News is GetResponse comes with a drag and drop landing page builder. You can easily pick from its predesigned landing pages and these all are fully customizable. Once you created a landing page the step is to create awareness about your webinar.
You can promote this landing page on various social media platforms, Integrate it with your website.
The 2nd step is, Once the visitor comes on your landing page and fills up the signup form. Autoresponders in the funnel send a welcome message with a confirmation of the webinar slot.
In the 3rd Step, we set some webinar reminders with the joining link of the webinars. Up to 2-3 reminders are enough to invite visitors to your webinar
Once the webinar is finished they will automatically come to your Thank you page where you can put offers and discounts about the products and services you are selling. So in this way, a person finally ends up buying the product in a step-by-step process under your webinar funnel.
Sales funnels are the future as it helps you to find a loophole in your sales process and where your potential customers are dropping out.
GetResponse makes it easy for you to create different types of funnels, whether it is a product funnel, webinar funnel, or list-building funnel. Getresponse Sales Funnels will help you to find out which funnel is converting better.
GetResponse Marketing Automation
GetResponse Automation system is another one of its advanced features, where most of the other email marketing tools lack. It allows you to create an automation workflow using its drag and drop builder.
Imagine you have to send an email to all your subscribers who haven't opened your previous emails or have taken any other actions on the website you are promoting. Then you can notify your subscribers who haven't opened your emails and check for their conversion rates or visits to your website.
You just need to pick the condition, what actions you want an email to send automatically after that condition is met. And select the list.
These types of automation are the next level to what autoresponders offer.
You can create a complete journey for a customer. If you send a product offer after they have completed the webinar or bought any products, this sequence will travel with them in their journey.
Getresponse has also introduced Lead Scoring.
So if someone subscribes to your list for the first time you can send them personalized emails according to their behavior and actions.
GetResponse has plenty of video tutorials to make you understand each and every step of the process. Also, GetResponse has predesigned automation workflows, you can just pick any one of them and start building your customer journey.
But, Why Automation is necessary for any business?
Suppose you have sent a newsletter to your subscribers promoting your products or services. Then the interested audiences can click check the mail and get to know more about your products, services, or offers.
But, what about the people who haven't opened your mail?
Now you can set up automation sending another newsletter promoting another product to people who haven't opened your previous email.
You can easily pick the audience and send them an email promoting another product on their behavior and actions.
In this way, you can increase your conversions by targeting the people who didn't open your previous newsletters.
This helps you to increase your conversion rates.
Even if you are new to automation workflows they have predesigned workflows for every type of situation. So, no need to worry about it.
GetResponse Webinars
GetResponse is an Email Marketing Software. But, it feels great with its unique feature of hosting webinars. It's the only available email marketing tool in the market, which lets you host webinars for up to 500 attendees.
It uses the third-party integration of the ClickMeeting webinar, which is one of the best webinar software available in the market.
Webinar sales funnels are also useful to increase your sales and conversion.
Hosting a webinar is a great way to interact with your audiences and educate them about specific skills. These days mostly marketers host a webinar and answer their questions about specific topics. In the end, they introduce their product and explain to them its pros and cons.
Some of the advanced features of GetResponse webinars include:
Web Browser-Based Software
One-click Webinar Recording
Up to 3 presenters at a time
Live Q & A during the webinar
Survey & Polls
Send Webinar Reminders
Screen Sharing and Directly integration with youtube
On the other hand, you can host both paid and non-paid webinars according to your requirement. Well, webinars are one of the best ways to get more leads and sales. So, without any further wait, just go ahead and try GetResponse.
GetResponse Landing Pages
Landing pages play an important role in increasing your conversions and getting leads for your business. You can just double your conversions with an awesome landing page. That is the power of creating landing pages.
Whether you want to grow an email list, showcase your products, or promote your webinars, landing pages are great for everything.
Even if you are a non-tech person, you can create an awesome landing page with GetResponse's drag and drop page builder. You can move, resize, crop, add, cut or reshape any element of your landing page.
You can also use it to create a mobile-friendly landing page.
GetResponse offers hundreds of fully customizable predesigned landing pages. You just need to simply pick one of them, and you'll have a great landing page in under 30 minutes. With GetResponse, you have the power to customize, you can change fonts types, colors, amount of texts and so much more.
A/B testing can be used to see which landing page, based on design and content, performs better than others. You'll be able to keep track of conversions and clicks to learn more about your landing page.
Great Features of GetResponse Landing Page:
Precisely-timed Pop-up forms
Countdown Timers
Webinar Sections
E-commerce Integration
Facebook Ads
Finally, once the landing page is created you can host it on the GetResponse domain or can choose a custom domain.
Good news?
A free SSL is also included in the package.
You can also add an SEO-optimized page title and meta description to boost its search ranking. Google Analytics and Facebook Ads can directly be integrated with the landing page to track every conversion.
GetResponse Forms and Surveys
One of the best ways to collect data from your audiences is to create forms and use GetResponse for surveys. You can make use of it to collect data, understand your customers' needs and wants by surveys.
You may grow your email list by allowing your audience to sign up.
Simply go to the form section and select the list building wizard from the menu. Now you can design any type of form you desire, such as a pop-up form or a simple newsletter sign-up form for your audience.
It comes with pre-installed templates for every size and purpose. Simply select and customize it to meet your requirements. The CAPTCHA functionality can also be turned on to prevent fake registrations.
HTML can also be used to edit these forms. You can just copy-paste the code to host it anywhere on your website once it's been generated.
Creating a survey is as simple as creating a form.
These days, marketers use this survey form to gather information about their customers' requirements and preferences.
As a result, it assists them in developing a strong marketing strategy for their next campaign. GetResponse can also be used in conjunction with WordPress forms to harvest leads directly from your website.
GetResponse Newsletters
Newsletters are a great way to keep your audience updated about what's going on in your business. You can create newsletters to send them useful content about your business. It comes with pre-configured newsletter types, so you can simply select one and customize it according to your needs.
You can use drag and drop, HTML editor, WYSIWYG editor, or text editor to create newsletters. It is easy to create newsletters with GetResponse. Once it has been created, you can send it in HTML or plain text format. You can also add images, links, and even HTML code to your newsletters.
The smart editor will help you in creating a newsletter without any fuss.
The smart editor allows you to create professionally designed newsletters without any coding knowledge. It works with all WYSIWYG editors to ensure that you receive exactly how it looks on your screen.
GetResponse's proven 99% email deliverability means you can be confident that your emails are getting delivered to your subscribers.
With getResponse, creating an email marketing campaign is a breeze. Simply select a template and customize it using a drag-and-drop builder. It comes with over 100 fully customizable images and over 5000 Shutterstock licensed images, all of which are included in the plan for free.
With its powerful Email marketing analytics, you can track statistics and monitor the results of your campaign. You can track the number of clicks, email opens, bounce rate, and conversions, all in one place.
You can use the A/B Split Test to see which subject lines perform the best and have the highest open rate. These findings can be used to improve future campaigns.
GetResponse Support
The GetResponse support staff offers dedicated live chat and email assistance to their customers 24 hours a day, 7 days a week. You can contact them directly at any moment if you have any issues or questions.
They'll provide a satisfying solution via chat, including screenshots and videos that illustrate the problem. When you first start exploring the features of this tool, it can be really useful. They also include a number of video tutorials and other useful tools to help you get the most out of their services.
The easiest option to learn about GetResponse is to sign up for a free 30-day trial and explore its features. Then, when you're ready, you can choose a paid plan that meets all of your requirements.
When you sign up for a free trial, you'll get the first 30 days to try it out.
This feature-rich email marketing automation tool provides you with all the features of an advanced email marketing platform.
User-friendly Interface
GetResponse provides an easy-to-use UI that is suitable for beginners. The dashboard can be tailored to meet your specific needs.
GetResponse is fast and reliable, but because it offers so many functionalities, some individuals may find it difficult to use at first. GetResponse, on the other hand, had made every effort to make it as simple as possible for users.
When you log in to GetResponse, all of the features are immediately accessible in the dashboard bar and can be accessed with one click.
List Option: This is where you can find all of your lists and create a new one with a couple of clicks.

Live Chat:

They have a one-click live chat facility for their customer service.

The Report:

The report section contains all of the system's emails, including newsletters and autoresponders.

Manage Account:

Here you'll find all of your account's settings, plan details, and billing options.

Menu Bar:

This is my favourite area because it has all of the marketing tools that your business will ever need.
Overall, GetResponse offers a clean, intuitive platform to its users. This simple design is what makes it so easy for both beginners and experts to use. You'll have no problem finding your way around.
It comes with a 30-day free trial and there's no contract.
After signing up, you will immediately get access to all of GetResponse's features and a wide range of ready-to-use email marketing templates.
The signup process is a quite straightforward 3-step process that can be completed in just a few minutes. GetResponse also provides a wide range of tutorials to help you get started, including video tutorials.
GetResponse Integrations and API
GetResponse integrates with over a hundred different apps, including Magento, Amazon, ClickBank, Paypal, Zoho, and many others.
It can also be linked directly to your CRM, allowing you to handle all of your marketing operations in one place.
Zapier integration can let you simply automate your tasks.
You can share data directly with a third-party app using the GetResponse API function. Another amazing feature is Callbacks allow you to alert any external system about what happens in your lists.
In the integration tab, you have a list of apps that have been successfully integrated with GetResponse. In addition to this, there's also an app directory that provides you with all of the available apps for integration.
Online Store and Products
GetResponse recently released a feature that allows you to start an online store. You can start selling right away by adding any physical or digital products, such as online books, downloadable files, or services.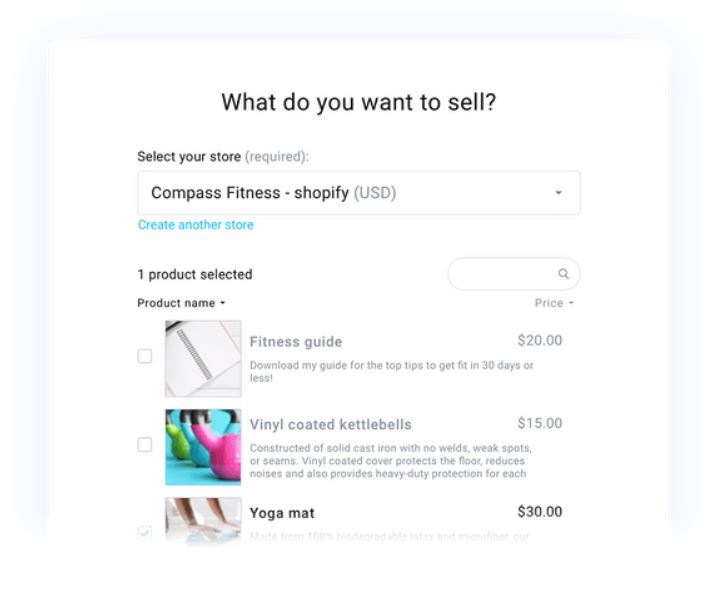 Directly in the dashboard, you can track the status of live orders. You can also add a fully customizable shopping cart and checkout page.
You can also connect your current online store to GetResponse to easily populate your GetResponse account with product inventory. Then you may immediately promote your products on your landing pages and emails.
You may use the native ecommerce plugin to populate your product inventory and see what your consumers want to buy and take action.
GetResponse Mobile App
You can now install a GetResponse mobile application on your phone to view your dashboard. In the application dashboard, you may track campaigns, send emails, and check your statistics.
No other email marketing tool provides an application like this. You can also stay on top of real-time activity, such as clicks and opens.
This is something that many of GetResponse's competitors are missing.
I personally tested and reviewed their mobile application and I can say that it is quite good. It works great and looks nice, but the only problem I had was that it had some trouble verifying my login details.
Overall, the app works well. I find it quite useful for checking my stats when I'm on the go. It only takes a few minutes to see if your emails have been opened and is a good way to gain more insight into your campaigns.
One-click Data Segmentation
One of the most important things that put GetResponse ahead of its competitors Mailchimp and Aweber is data segmentation. It allows you to identify users who did not interact with your newsletter and create different segments.
You can then send them alternative versions of the newsletter to keep them interested. Because GetResponse makes it so easy to create alternative versions of your email, you can contact users who are not engaging with your newsletter by using other kinds of content as you prefer.
Assume you've emailed your readers two separate newsletters.
You'd like to send the third newsletter to individuals who opened your email but did not click on the link. You can achieve so with GetResponse data segment features by simply filtering off in a segment.
GetResponse Email Marketing Course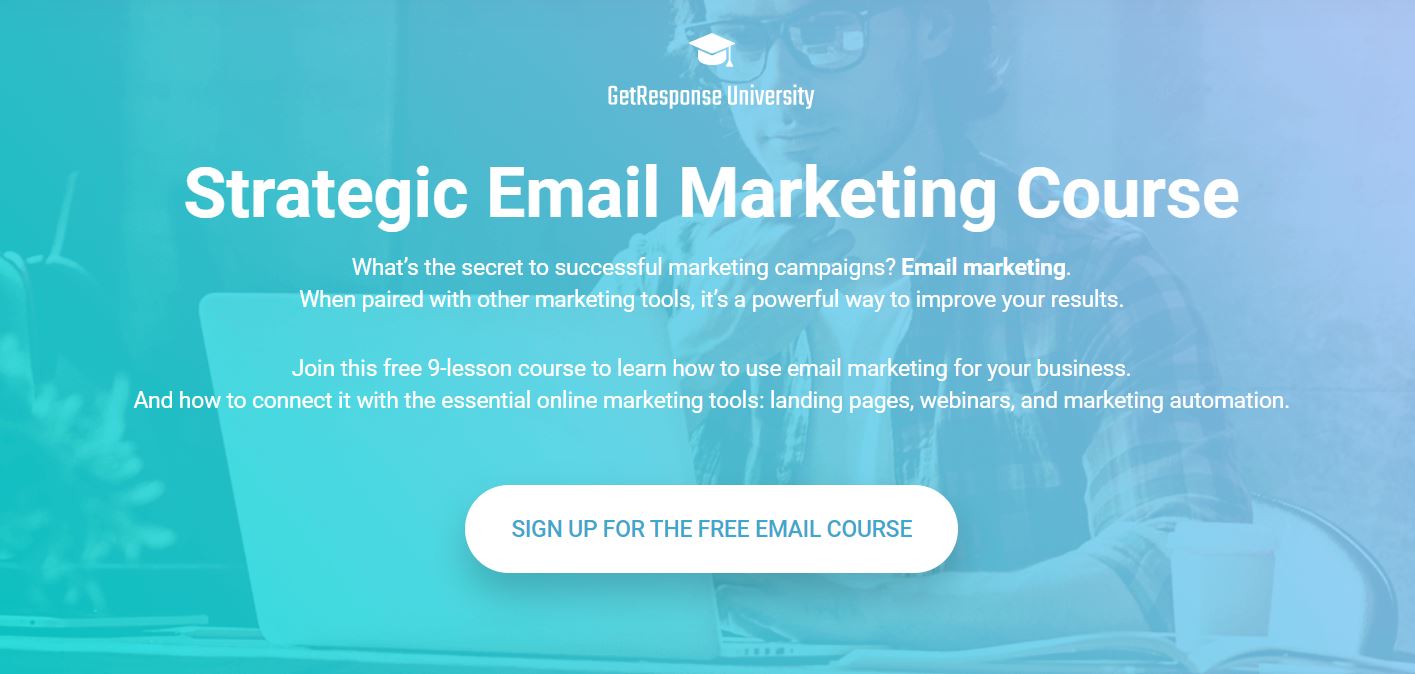 It offers a $199 free course that will teach you all you need to know about email marketing, from beginner to advanced. You'll receive a course completion certificate once you've completed it.
You'll get pre-recorded video lectures and critical PDFs in this course. These lectures will not only help you comprehend the features of GetResponse, but they will also teach you about email marketing in depth.
Be aware that there are no live tutoring sessions in this course.
As a beginner, you can follow the lessons and let Getresponse save you time on trial and error in your email marketing efforts.
The course content is great and you will learn a lot about the email marketing world. If you are just getting started, I highly recommend this tutorial.
Note: You can only access this free course after you buy the paid version.
Perfect Timing Feature
This is my favorite feature of GetResponse since it allows you to maximize the effectiveness of your email marketing.
Allow me to explain how this Perfect Timing Feature works.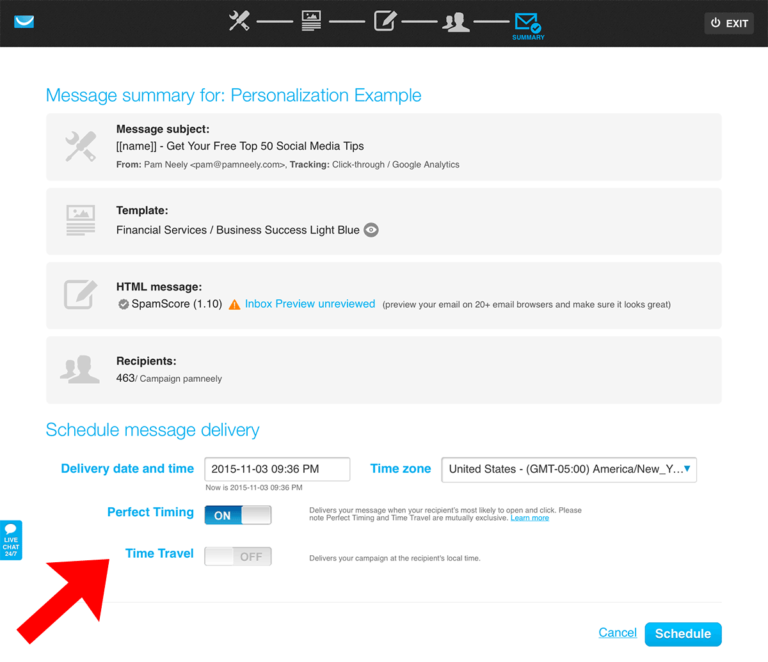 Whenever you select this option during the setup of an email campaign. It sends emails to recipients at times when they are most likely to check their inboxes. Simply said, if someone checks their mail at 10 a.m. every day, GerResponse ensures that the mail gets sent to him at 10 a.m. only.
This feature helps to ensure that you don't send an email to your clients when they are busy or working. However, the feature is not 100% accurate and may not be the best solution if your clients check their email at unusual hours.
Even so, I feel that this feature is excellent for business purposes.

If you don't want your subscribers to miss any of your emails, you should definitely try this amazing feature. It saves your time and helps you manage your campaigns more effectively, even though it's not 100% accurate always.
Overall, perfect timing doesn't only help boost your click-through rate, but you can get the maximum responses from your subscribers.
Top GetResponse Pros
If you are looking for an email marketing solution that is easy to use, works great on mobile, provides you with all basic email marketing features along with the advanced ones, and is also affordable, GetResponse is a great option for you.
The following are the main pros of GetResponse:
Pricing Plans are flexible according to requirements.
24/7 Customer Support via Chat, Email, and Phone (Please note that Phone support is only available in the MAX Plan).
User-Friendly Interface.
Directly Integration with more than hundreds of apps.
File Storage of 2 GB even in Free Trial.
Excellent Analytics System, you can track each activity of your subscribers.
Free Images to use from Shutterstock, Giphy, and GetResponse.
GetResponse Mobile App to simplify your task.
Facebook Ads Integration.
Email Marketing, Autoresponders, Sales Funnel, Webinars, Landing Pages, and Signup forms all at one single platform.
Perfect Timing Feature.
A/B testing in Email Campaigns and Landing pages.
Free 30 Days Trial with no credit card.
Basic Plan starts with as low as $15.
Facebook Pixel & Google Analytics Integration.
The best thing of GetResponse?
You can get started with the Free Trial Plan that includes 1,000 subscribers and unlimited emails per month. If you want to add more contacts to your list, you can always switch to any of the paid plans.
Top GetResponse Cons
Even though GetResponse is a wonderful email marketing tool, it still has some drawbacks. I'm pointing out the most important ones:
In the free trial, You can host a webinar for 10 people only
There is a limit of 500 Attendees
No phone support until you are on a Max plan
If these limitations don't bother you, GetResponse is a great email marketing tool for your business. No matter which plans you choose, I bet you will love it.
GetResponse 30-Day FREE Trial
Most online software services require your credit card information to give you access to their services, even if it's a free trial.
However, this is not the case with GetResponse.
The company allows customers to use its services for free for 30 days. And, you can do that without giving away your credit card details.
This is an excellent feature that enables you to find out how good GetResponse is for your business without spending a single cent on it.
The free GetResponse trial is available to anyone who wants to check the software's features before investing their money in it.
The free trial comes with 1000 contacts and you can check and use all of its features like Email Marketing, Autoresponder, Webinars, Funnels, and much more.
Amazing Right?
GetResponse
Free Forever Plan
Another cool thing about GetResponse is its Forever Free Plan. If your list doesn't have more than 500 subscribers, you can use this plan for free.
It comes with all the basic features you'll need as a newbie.
Top GetResponse Free Forever Plan Features
Build and host 1 website with 5GB bandwidth
Connect your own domain or choose a free one
Use SEO-optimization tools to attract organic traffic
Ensure maximum security with SSL certificates
Build and host 1 landing page
Use signup and contact forms to get new leads
Get space for up to 500 contacts
Send unlimited emails to your contacts
Use drag-and-drop creator to build emails
Explore rich library of predesigned email templates
The Forever Free Plan is perfect for people who want to try out GetResponse's features without having to pay for them. This plan is ideal for people who want to practice email marketing before they actually start getting paid for it.
The only downside of this plan is that you are limited to having just 500 contacts. If you have a bigger list, you will have to switch to a paid plan.
GetResponse Alternatives
GetResponse is a great marketing tool with some advanced features; however, it doesn't mean that you should stick with one software solution only. You can find some alternatives to GetResponse that also guarantee excellent customer support, great features, and affordable pricing plans.
Moosend

– Moosend is a great alternative to GetResponse. it comes with all the email marketing features providing you with an easy way to create professional emails. The best thing? It's a lot cheaper than GetResponse.
MailerLite

– Mailerlite is a good GetResponse Alternative if you are looking for a tool with all the features of GetResponse and some more advanced tools.
ConvertKit

– ConvertKit is a great alternative to GetResponse if you are looking for a tool that offers high deliverability, excellent support, and a lot of features. ConvertKit offers a 30-day money-back guarantee.
AWeber

– AWeber is also a good alternative to GetResponse if you are looking for a tool that has a user-friendly interface and is easy to use.
Constant Contact

– Constant Contact offers a 30-day free trial that includes all the essential features you'll expect from top email marketing tools.
If you are looking for a cheaper alternative to GetResponse with some of the best features available in email marketing tools, along with automation and you want to use it for free up to 1000 contacts, you should check out Moosend.
Sign Up for Moosend – The Cheapest GetResponse Alternative
Final Words – GetResponse Review
It can be difficult to find the best email marketing tool with hundreds of options available in the market these days.
However, GetResponse has a lot to offer in an affordable price plan.
I already have used this software for my business and I didn't face any kind of difficulty. There's a free trial you can check before spending your money, but I rather recommend you to sign up for a paid plan.
The customer support is so good and has quick response times.
I feel this is a tool that will be around for a long time.
The GetResponse pricing plans are also quite affordable. They have 4 different plans, so you can always pick the one that meets your needs and budget.
The basic plan starts at only $15 per month and you can build your email marketing list with up to 1000 subscribers.
No other online software provides you with so many great features at such an affordable price. It's enough to kick start your marketing strategy..
So, if you are looking for one of the best email marketing tools in the market today, I highly recommend that you check out GetResponse.
If you're still wondering whether Getresponse is worth your time and money, let me give you my final words:
I have been using this email marketing tool for years now and I can assure you one thing, Getresponse is definitely a great choice.
The system is easy to use, this tool takes away all the burden of having to create a professional-looking email yourself. You just have to enter your email and the content of the email and the software will do the rest.
Finally, if you have found this review useful, please show your love by sharing this post on your social media accounts. It really helps me. Thanks! 🙂