Do you want to learn how to start a food blog?
Starting a food blog involves the same process as creating and building any other type of blog. The main difference is the content you are going to fill it with.
Starting a blog can be divided into 5 steps:
Choose A Domain
Set Up Hosting
Install WordPress
Design Your Blog
Create Content (Start Blogging)
When it comes to starting a food blog, the major differences are in the last two steps. As a food blogger, you will likely want to post recipes, food pictures, and possibly food reviews.
With WordPress, there are plenty of quality themes that you can choose from.
There are many great WordPress themes made specifically for creating a food blog, some of which are listed later in this guide.
This tutorial will show you how to start a food blog in 5 steps.
Naturally, you probably want to get right to the blogging part.
Don't worry, getting your blog set up doesn't require much time. In many cases, a blog can be set up in less than 20 minutes.
Without further delay, let's get started.
Name Your Food Blog
The first thing you will need to do to start your food blog is to come up with a good name that meets the following criteria.
A good blog name should be:
Easy to remember.
Short and catchy.
Descriptive.
Start by brainstorming ideas and write out a list.
Think about different words that describe your blog, what you will be blogging about, what describes you as a person, and the goal of your blog.
Try different combinations of words to create a list of different names.
Once you have some name ideas for your food blog, you now have to check if they are available as domain names.
I recommend Namecheap to do your domain research.
Buy a Domain Name
Domain names can have different extensions (the part on the end). The one you most commonly see is .com and is what most people aim to get.
Since .com is the most popular, the domain name you are looking for may already be taken. Try different combinations until you find some available names you like.
You can also try other popular extensions like .net or .org, but try to stay away from the less familiar ones.
To check if your domain is available, use a domain checker tool.
Find a domain starting at $0.88
Type in the name of your domain and check its availability. If you find a domain you like that is available, try to get it registered before somebody else gets it.
When you know that your domain is available, you will be able to get it for free when you sign up with HostGator or Bluehost.
New domains are registered each day and there is a chance your domain won't be available forever. Once you find a domain you like, try to claim it fast.
Pick A Good Web Host
To get your food blog up and running, you will need a web host.
A web host makes your blog available on the internet so that people can visit it.
For beginners, shared hosting is the best option as it gives you all the features you need to set up your blog at an affordable price.
Choose a web host that has a one-click WordPress install feature.
Wondering which blog hosting should you use?
HostGator provides reliable hosting with all the features needed to start a food blog.
Their service is affordable, easy to use, comes with 24/7 support, and includes a one-click WordPress install feature that lets you quickly create your blog.
This site is also hosted by HostGator.
Out of all the shared hosting providers, I recommend HostGator. They provide one of the most high-quality and affordable web hosting solutions.
The best part?
You can get it as low as $2.75 monthly using this link and also get a free domain.
HostGator also offers a generous 45-day money-back guarantee, so you can be rest assured knowing that if you want to cancel your plan you are not locked down.
Buy Web Hosting Space
There are many web hosting service providers on the internet. But the one I would suggest for beginners is HostGator which I use for my blogs.
And, don't forget to use the coupon code "DIGITALMILLIONS" to get a special discount I've worked out with HostGator (for a limited time).
There's a piece of good news too.
If you register right now, you'll get a free domain name. But you must sign up for at least 12 months [$3.95 per month only].
And, if you sign up for 36 months, it will be only $2.75 per month.
Pretty amazing, right? 🙂
As previously mentioned, this blog is also hosted on HostGator. So, I know exactly what you need to do to successfully finish the job.
Let's learn about each step one by one.
At first, head over to this page and select your preferred plan.
The hatchling plan is the best for new bloggers who are just starting. I also started my journey with the Hatchling plan.
Later I upgraded to Baby plan as I started building more blogging sites.
Because you can have only one domain hosted with the Hatchling plan. But Baby plans will let you host as many domains as you want.
So select your desired plan and click Buy Now!
On the next page, enter your desired domain that you want to register (if you don't already have one registered on your name).
Please note that you'll get a free domain name if you sign up now for a minimum 12, 24, or 36-month billing cycle.
The longer you sign up for, the better will be your discounts.
| | | |
| --- | --- | --- |
| Billing Cycle | Pricing Per Month | Discounts |
| 1 Month | $10.95 | NA |
| 3 Months | $10.95 | NA |
| 6 Months | $10.95 | NA |
| 12 Months | $3.95 | 55.87% OFF |
| 24 Months | $3.45 | 56.60% OFF |
| 36 Months | $2.75 | 60.50% OFF |
In case you already have a domain that you want to sign up for, click the tab that says "I Already Own This Domain" under the "Choose a domain" section.
Enter your domain name now.
Next, choose your desired plan and select your most preferred billing cycle. I will personally suggest you go for 36 months billing cycle. Because that will give you the highest discount on your purchase.
Choose your username and security PIN.
Please note that you will need your security PIN to validate the ownership of your account while contacting the customer support.
Next, enter your billing information and select your desired way to pay. You can pay either by using your credit card or PayPal at HostGator.
HostGator provides several additional services that you may opt for. Most of these services are not required for beginners.
However if you are interested, you may opt for the one you want.
Some of the services will be selected by default. But you don't need all these services right now. So just unselect them.
It will reduce your overall cost.
I think that the most important service that you'll find here is CodeGuard. It provides an automated backup service for your blog.
It monitors your blog regularly and if any change is detected, it will notify you and also backup the files and databases. With CodeGuard, you can restore your blog to any previously backed-up version.
Although CodeGuard provides a pretty amazing service to backup your blog files and databases, you don't need it, when you are just starting.
Because I have a better solution which is Free. But I'll talk about that later in this guide. Now it's time to sign up for HostGator successfully.
Now, enter the coupon code as shown below:
60% Off Discount Coupon Code for HostGator
You'll be happy to know that I've arranged a special discount coupon code that will provide you a 60% off discount on the regular price.

Coupon Code: DIGITALMILLIONS

Don't forget to enter this coupon code at the checkout page. With this coupon code, you don't only get a discounted price, but also a free domain.

Any questions or issues? Contact me. I'll be happy to help.
So, enter the coupon code: DIGITALMILLIONS
Enter the code and hit Validate. That's it.
As already mentioned, you'll get a special discount at HostGator. Now review your order details, agree to HostGator policies, and make your payment.
Once you successfully make your payment, your account will be instantly activated and you'll receive a confirmation email.
The email will contain information about your new HostGator account, your password (you can change it later), and the nameserver details.
Congratulations! You've successfully bought web hosting.
Full Disclosure: Please note that if you decide to buy hosting using any link on this page, I get compensated, by the hosting company. And this is what motivates me to write this tutorial for you, free of charge.
In fact, if you do click and buy, thank you. I really appreciate it. You should know that I also use HostGator hosting and I will never recommend a product or service that I don't use personally.
Install WordPress CMS
WordPress is the best content management system [CMS] online. You can use WordPress to build beautiful websites from scratch.
And WordPress is free to use.
With over 65 million websites using it worldwide, over 59% of all websites in the world, are built on WordPress CMS [content management system].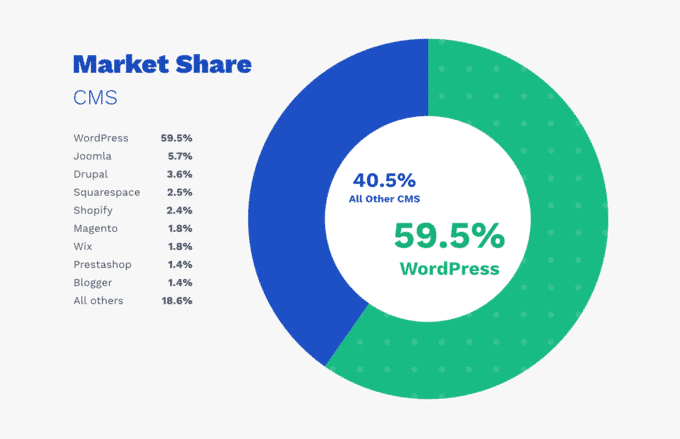 In order to install WordPress on your domain, you will need cPanel access.
Now, log into your cPanel.
Your dashboard will look something like the below image.
In order to install WordPress, select Software on the left-hand sidebar.
Use Quickinstall to visit Site Builders & CMS.
Under Site Builders & CMS you'll get WordPress ready to be installed on your preferred domain. Click WordPress now.
On clicking WordPress, you'll visit the WordPress installation page.
On the WordPress installation page, select your domain name and directory.
Usually, you would like to build your WordPress blog on your primary domain name so that the site can be accessed with the domain name.
But you may sometimes want your blog to be visited with a subdirectory or using a subdomain. Take a look at the table below.
| | | |
| --- | --- | --- |
| Domain | Subdomain | Subdirectory |
| yoursite.com | blog.yoursite.com | yoursite.com/blog/ |
| example.com | blog.example.com | example.com/blog/ |
On the WordPress installation page, choose where you want to install WordPress. If it's a subdirectory, you can write it in the specified section.
If you want your blog to be accessed with your domain name only, leave the directory field blank. Click Next.
Write a title for your blog, admin username, your name and email.
Make sure you create a new database for this installation by choosing the option "Automatically create a new database for this installation".
Agree to the terms of service and click Install.
WordPress will be installed on your domain within a few minutes and your WordPress admin credentials will be displayed on the page.
You will also receive an email with WordPress login credentials. So make sure you write down the correct email address.
Congratulations! You've just installed WordPress on your domain.
Configure Your Blog
The first thing you should do in WordPress is to set the name of your blog and set up your permalinks.
To name your blog: Click on Settings > General. Enter the name of your site and a short description in the "tagline" section.
To set up permalinks, click on Settings > Permalinks.
Choose the Post name option for the best results. This makes it so that the links to your individual posts are readable and not a string of numbers and letters.
Now that you have WordPress set up, you can move on to picking a theme.
Choose a WordPress Theme
With WordPress, changing the design of your blog is easy.
There are a ton of WordPress themes available for you to choose from. There are also many that are designed specifically for food blogs.
Make sure your chosen theme meets the following criteria:
Mobile Responsiveness: This means your theme will adapt and look good on all devices including mobile phones, tablets, and laptops.
Search Engine Friendly: A good theme will be optimized for search engines. When this is taken care of, getting your blog posts to show up in search engines will be easier.
Easy To Use: Make sure your theme is easy to customize and gives you lots of design options.
Support: Having theme support available is very handy if you ever need help with your theme.
Regular Theme Updates: You want a theme that is regularly updated and keeps up with the latest versions of WordPress. Looking at the last time the theme was updated can give you a good indication.
Most paid (premium) WordPress themes come with all of these features included and more. There are free themes for WordPress available also.
However, premium themes are generally a better choice and will help you save time and work down the road.
Choosing a good theme will make designing your blog easier as they take care of much of the work for you. Here are some of the best WordPress themes you can get for creating a food blog.
Install WordPress plugins
At this point, you should consider installing some important WordPress plugins before you go any further with your food blog.
Plugins allow you to add useful features to your blog like social sharing buttons, contact forms, security, and search engine optimization (SEO).
Here are a couple useful plugins:
Askimet: Askimet is a filter comment spam.
Easy Social Share Buttons: This plugin allows you to add simple, attractive social share buttons to your food blog.
WP Rocket: This premium helps with caching of WordPress pages. As a result, your blog pages load super fast for visitors or readers.
WordPress SEO by Yoast: With over 1 million downloads, Yoast is one of the most popular search engine optimization plugins out there.
Yet Another Related Posts Plugin (YARPP): With over 300,000 active installs, this plugin suggests related posts from your blog to your readers.
WP Smush: Uploading images on your blog can quickly take up lots of space. Image compression plugins like WP Smush reduce the size of your pictures without any visible quality loss.
iThemes Security: A good security theme will help harden WordPress and secure your blog.
Start Food Blogging
Now that you have your blog set up, you can now start blogging.
Here are some beginner-friendly tips:
Post regularly: Create regular content for your blog. Fresh content will help you attract traffic, help fuel your social media, and will add to the value of your blog.
Social media: Create social media accounts for your blog to help you attract new audiences.
Create helpful content: Great content naturally attracts more viewers, shares, and links.
Respond to comments: Responding to your comments shows you are involved with your blog and also adds more value to your pages.
My Final Words
Congratulations!
If you have followed the steps above, you have just learned how to start a food blog.
Once more, the process is similar to starting any other type of blog.
The major difference is the design you choose for your blog and the type of content you create for your readers.
Now that your blog is set up, you can actually get to the blogging part.
Keep in mind your goal now as a blogger should be to create great content for your readers. Creating engaging posts and unique content will help you build an audience and help make your food blog a success.