Would you like to start a travel blog and make money from it? If that's the case, let me assist you with this easy step-by-step tutorial on how to start a blog.
Have you wanted to travel for a long time but never had the opportunity? Starting a travel blog might be the catalyst for your next adventure.
If you are a regular traveler, you may simply want to learn how to start a travel blog so that you can share your experiences. You might also be able to make money from your blog to help cover some of your traveling expenses.
Who wouldn't want to be able to travel while also earning money? If you want to start a travel blog, there are numerous advantages.
Mainly, it can add to the excitement of your adventures while also serving as a fun way to document and share your travels with others.
It's relatively easy to start a travel blog. In less than 20 minutes, you can make your own. And, I will show you how to do it all on your own.
What's the best part?
Creating a travel blog doesn't require any previous experience or programming knowledge and can be done easily even by beginners.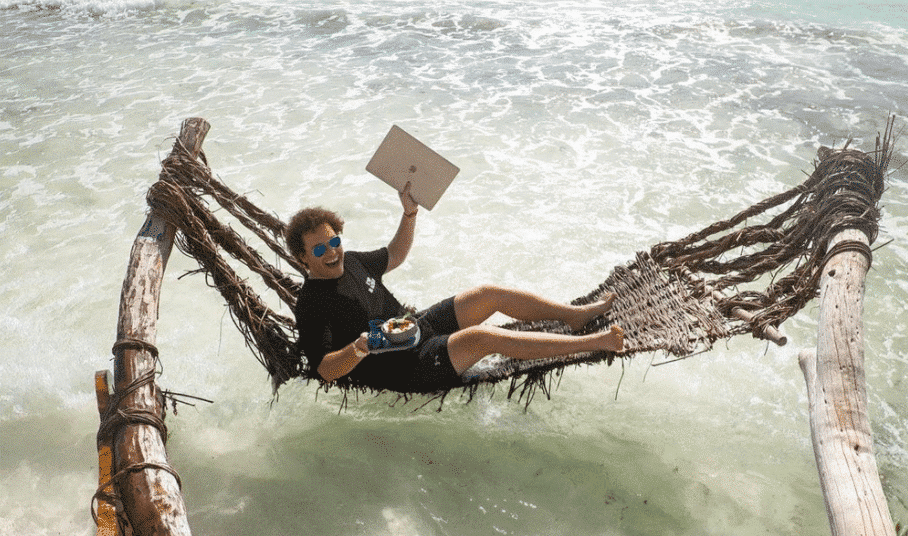 This article will walk you through the process of starting a travel blog in an easy, step-by-step manner that even an amateur will understand.
There are only 7 steps involved to create a travel blog:
Register a domain
Select a good web host
Buy web hosting space
Install WordPress/Get your blog online
Design your travel blog
Install plugins for added functionalities
Start blogging
Honestly, creating a travel blog follows the same steps as creating any other type of blog. This guide, however, will concentrate on travel blogs.
Let's dive right in.
1. Register a Domain
The first step in starting a travel blog is to come up with a domain name.
Try to come up with a name for your blog that people can recognize and remember. Keep your name short, memorable, and descriptive. To come up with a name for your travel blog, consider all of the words that might be associated with your blog.
What's the next step?
Make a list of possible names and mix and match phrases to come up with new ones. The more you have, the more domain options you'll have.
It's possible that some of the names you come up with aren't available as domains.
So, having a few is preferable.
Once you've compiled a list of names, you'll need to see if any of them are available as a domain name. A domain name is a name that starts with "www." and ends with ".com" and is used to access a website.
Finding if your domain is available is easy.
Simply use a domain checking tool like Namecheap to look for your domain. In the search window, type your domain name and press Enter.
Anyone can register a domain at any time, so if you find the domain you want available, act quickly and register it before anyone else does.
When you find some available names, write them down so you can make a final decision. After you make your choice, you can register your domain.
What's next?
The next step is to choose a blog hosting site. There are numerous options. Your job is to choose one of the best blog hosting sites for your travel blog.
A web host will make your blog available on the internet so others can see it.
You can get your domain name separately from Namecheap, however, many web hosting services give you a free domain when you sign up.
For example, if you sign up with HostGator, you can get a free domain.
You can get everything you need to start a blog with a quality web host for as low as $3-5 dollars per month, which is about as much as a coffee.
What is the best web host for starting a travel blog?
There are many web hosting providers out there, but HostGator has one of the most high-quality and well-priced options.
They give you everything needed to start a travel blog and include a one-click WordPress install. They also include a free domain, have 24/7 support, and also a 45-day money-back guarantee so you're not locked down.
You can choose whatever host you like and the process will more or less be the same. Select from one of the best web hosting services out there.
Whichever hosting you choose, make sure they have a one-click WordPress install, otherwise, you'll have to install it yourself.
There are many web hosting service providers on the internet. But the one I would suggest for beginners is HostGator which I use for my websites.
And, don't forget to use the coupon code "DIGITALMILLIONS" to get a special discount I've worked out with HostGator (for a limited time).
There's a piece of good news too.
If you register right now, you'll get a free domain name. But you must sign up for at least 12 months [$3.95 per month only].
And, if you sign up for 36 months, it will be only $2.75 per month.
Pretty amazing, right? 🙂
As previously mentioned, this blog is also hosted on HostGator. So, I know exactly what you need to do to successfully finish the job.
Let's learn about each step one by one.
At first, head over to this page and select your preferred plan.
The hatchling plan is the best for new bloggers who are just starting. I also started my journey with the Hatchling plan.
Later I upgraded to Baby plan as I started building more blogging sites.
Because you can have only one domain hosted with the Hatchling plan. But Baby plans will let you host as many domains as you want.
So select your desired plan and click Buy Now!
On the next page, enter your desired domain that you want to register (if you don't already have one registered on your name).
Please note that you'll get a free domain name if you sign up now for a minimum 12, 24, or 36-month billing cycle.
The longer you sign up for, the better will be your discounts.
| | | |
| --- | --- | --- |
| Billing Cycle | Pricing Per Month | Discounts |
| 1 Month | $10.95 | NA |
| 3 Months | $10.95 | NA |
| 6 Months | $10.95 | NA |
| 12 Months | $3.95 | 55.87% OFF |
| 24 Months | $3.45 | 56.60% OFF |
| 36 Months | $2.75 | 60.50% OFF |
In case you already have a domain that you want to sign up for, click the tab that says "I Already Own This Domain" under the "Choose a domain" section.
Enter your domain name now.
Next, choose your desired plan and select your most preferred billing cycle. I will personally suggest you go for 36 months billing cycle. Because that will give you the highest discount on your purchase.
Choose your username and security PIN.
Please note that you will need your security PIN to validate the ownership of your account while contacting the customer support.
Next, enter your billing information and select your desired way to pay. You can pay either by using your credit card or PayPal at HostGator.
HostGator provides several additional services that you may opt for. Most of these services are not required for beginners.
However if you are interested, you may opt for the one you want.
Some of the services will be selected by default. But you don't need all these services right now. So just unselect them.
It will reduce your overall cost.
I think that the most important service that you'll find here is CodeGuard. It provides an automated backup service for your blog.
It monitors your blog regularly and if any change is detected, it will notify you and also backup the files and databases. With CodeGuard, you can restore your blog to any previously backed-up version.
Although CodeGuard provides a pretty amazing service to backup your blog files and databases, you don't need it, when you are just starting.
Because I have a better solution which is Free. But I'll talk about that later in this guide. Now it's time to sign up for HostGator successfully.
Now, enter the coupon code as shown below:
DIGITALMILLIONS
Enter the code and hit Validate. That's it.
As already mentioned, you'll get a special discount at HostGator. Now review your order details, agree to HostGator policies, and make your payment.
Once you successfully make your payment, your account will be instantly activated and you'll receive a confirmation email.
The email will contain information about your new HostGator account, your password (you can change later), and the nameserver details.
Congratulations! You've successfully bought webhosting.
Full Disclosure: Please note that if you decide to buy hosting using any link on this page, I get compensated, by the hosting company. And this is what motivates me to write this tutorial for you, free of charge. In fact, if you do click and buy, thank you. I really appreciate it. You should know that I also use HostGator hosting and I will never recommend a product or service that I don't use personally.
WordPress is the best content management system [CMS] online. You can use WordPress to build beautiful websites from scratch.
And WordPress is free to use.
With over 65 million websites using it worldwide, over 59% of all websites in the world, are built on WordPress CMS [content management system].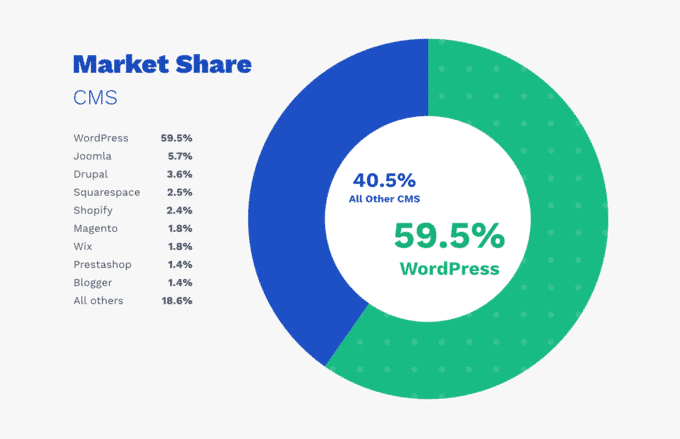 In order to install WordPress on your domain, you will need cPanel access.
Now, log into your cPanel.
Your dashboard will look something like the below image.
In order to install WordPress, select Software on the left hand side bar.
Use Quickinstall to visit Site Builders & CMS.
Under Site Builders & CMS you'll get WordPress ready to be installed on your preferred domain. Click WordPress now.
On clicking WordPress, you'll visit the WordPress installation page.
On WordPress installation page, select your domain name and directory.
Usually, you would like to build your WordPress blog on your primary domain name so that the site can be accessed with the domain name.
But you may sometimes want your blog to be visited with a subdirectory or using a subdomain. Take a look at the table below.
| | | |
| --- | --- | --- |
| Domain | Subdomain | Subdirectory |
| yoursite.com | blog.yoursite.com | yoursite.com/blog/ |
| example.com | blog.example.com | example.com/blog/ |
On the WordPress installation page, choose where you want to install WordPress. If it's a subdirectory, you can write it in the specified section.
If you want your blog to be accessed with your domain name only, leave the directory field blank. Click Next.
Write a title for your blog, admin username, your name and email.
Make sure you create a new database for this installation by choosing the option "Automatically create a new database for this installation".
Agree to the terms of service and click Install.
WordPress will be installed on your domain within a few minutes and your WordPress admin credentials will be displayed on the page.
You will also receive an email with WordPress login credentials. So make sure you write down the correct email address.
Congratulations! You've just installed WordPress on your domain.
Before you start designing your travel blog, there are a few things you should do to set up WordPress.
Name your travel blog:
Go to Settings > General on your WordPress dashboard.
Make sure the name is set to what you want and also add a short description of your site in the section that says "tagline.".
Set up your permalink structure:
Go to Settings > Permalinks on your WordPress dashboard. The "Post name" option is generally the best one you can choose.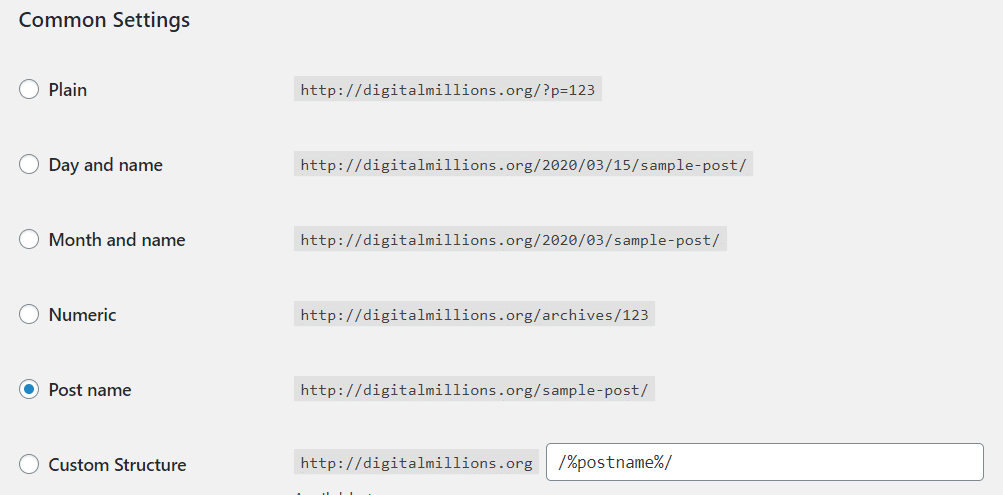 This will make the links to your blog posts readable instead of the default (a collection of numbers, letters, and symbols).
Great, WordPress is now set up and you can move on to choosing a design.
It's time to install a WordPress theme.
WordPress makes it easy to design your site with thousands of website themes (design templates) to choose from.
There are WordPress themes suitable for virtually any topic imaginable.
And, you know what?
There are also WordPress themes just for people who want start a travel blog.
To get the most out of your theme, you should make sure it has most of these important features:
Mobile responsiveness
Search engine optimization (SEO)
Support included
Updates
There are free WordPress themes you can get but premium themes usually are the best designed and come with the most time.
The extra cost will most likely save you time down the line as premium themes take care of a lot of the design work for you.
And of course, it will make it easier to customize your site.
6. Install Necessary Plugins
WordPress plugins are useful for adding additional features to your blog.
Without any coding, plugins can give you add-ons including social share buttons, search engine optimization, and contact forms.
These are some plugins every bloger should consider using:
Akismet is your (slightly robotic) BFF in the online world.
When you use this plugin, your blog is protected from spam comments. In two years, Akismet saved me from over 39000 spam comments. Imagine how much time I would have wasted cleaning up my comment queue if I hadn't activated it.
If Akismet is your BFF, RankMath is your manager. This plugin makes SEO quick and easy and helps potential readers easily find your content on google.
You can use Google Analytics without using the Site Kit plugin. But honestly, it does make your life easier. Except for the more advanced options, you can keep an eye on your visitors and monitor your traffic without leaving your blog.
Quite amazing, right?
I'm not sure if everyone really knows the technical details of this cache plugin, but surely everyone agrees that WP Rocket is an essential plugin for every site.
The non-nerdy theory is that it speeds up your site and prevents it from collapsing if you unexpectedly receive a large amount of unwanted traffic. Who knows, maybe one day you'll be featured on the front page of Forbes.
Some Additional Plugins I Recommend:
Easy Social Share Buttons: Easily adds social share buttons.
Yet Another Related Posts Plugin (YARPP): A plugin that displays related posts.
Imagify Plugin: Reduce the size of your image without visible quality loss to save room and speed up your blog.
iThemes Security: Having good security is important as there are malicious users out there.
7. Start Blogging
Now for the final step you've been waiting for, start blogging.
It is now up to you to create blog posts, promote your blog, and connect with other bloggers. To start writing, click Posts > Add New.
Creating interesting, quality posts will help your blog succeed. Great content gets more shares, more links, and in the end, brings more traffic to your site.
It is beneficial to start social media profiles for your blog to open you up to new audiences. Every time you create an article, post it also to your social media pages.
Making connections with other bloggers can be a valuable way to increase the exposure of your blog. Commenting on other blogs, guest posting, and mentioning influencers on social media are all ways you can increase your traffic.
Is travel blogging worth it?
Yes, travel blogging can be definitely worth it! Not only can you make some great connections and friends while blogging about your travels, but you can also earn some money from it – whether through sponsored posts, advertisements, affiliate marketing, or selling products and services.
And, of course, like anything else in life, there is no guarantee that you will become a successful travel blogger.
It takes hard work, dedication, and a lot of passion to find success in this industry. But if you are willing to put in the effort, travel blogging can be an incredibly rewarding experience – both personally and financially.
So, is travel blogging worth it?
The answer is a resounding YES!
If you're looking for a fun and inspiring way to make money while seeing the world, travel blogging could be the perfect fit for you.
So, what are you waiting for?
Start your travel blog today and see where it takes you!
Final Thoughts
There are many benefits of starting a travel blog, whether it is for fun or for profit.
A travel blog can serve as a way to document your adventure and a way to save memories. If you already do this on social networking platforms like Facebook, you can take it to the next level by starting your own travel blog.
And of course, take full control of your content.
If you've made it this far through the tutorial and got your travel blog up and running, the next move is to start blogging right away.
Also, keep in mind that your blog will not begin to receive traffic on its own. You must constantly promote and market your blog.
Most importantly, one of the most critical aspects of being a blogger is writing engaging and informative blog posts for your readers. By focusing on producing high-quality content, you will help your travel blog succeed.