This beginner-friendly step-by-step tutorial will help you manually install WordPress on HostGator hosting account and start a blog or website in less than 5 minutes. Additionally, all essential screenshots are included for your convenience.
It's super easy to install WordPress on HostGator. And, I'll make it easier for you by showing you the exact steps you need to follow for a successful installation.
Starting a blog or website using WordPress is easy. But I understand that you may still find it hard if you have never done it before.
I have been there.
I still remember those days when I struggled for hours looking for the exact steps I need to take to build my website, of course using WordPress.
No matter whether you want to create your blog or a website, WordPress truly provides the best platform. So first, I want to congratulate you on your decision to use it.
Next, HostGator is an excellent web hosting company that I've been using for years for my sites. That's again a wonderful decision. Using WordPress with HostGator hosting is a perfect combination for beginners who want to build their dream business online without investing a fortune from the start.
A Free Domain + 60.5% OFF Hosting
Not yet purchased a HostGator account?

Or, not sure which web hosting company to choose? If you are getting started, I recommend HostGator that hosts over 2 million sites + this site.

The good news?

I was able to negotiate a special deal for our readers.

At a cost of only $2.75/month, you can start with HostGator and start your website in just 15 minutes. And, you'll also get a free domain name.

Use Coupon: DIGITALMILLIONS

Click Here to Grab Your 60% OFF Discount + a FREE Domain

Features Included: A free domain name, discount price of $2.75/month, 99.9% uptime guarantee, free SSL, 1-click WordPress installs & a lot more.

Any questions or issues? Contact me.
WordPress is mostly used for blogging sites. So I would assume you are interested in building a blog. Want to start a blog that makes money? Read this article.
By the way, it doesn't matter whether you want to build a blog or a website, the process to install WordPress on HostGator is the same. So let's get started.
I promise it will be easy.
Of course, at first you need a HostGator account.
Let's see how to buy one at a 60% discount and after that, I'll show you how to install WordPress and manually configure it for your blog.
Step 1: Sign Up for HostGator
Gettting started with HostGator is easy.
At first, visit HostGator (Use 60% discount code at checkout: DIGITALMILLIONS) sales page. As you click on the link, you'll land on the homepage.
Now click the button that says Get Started.
On the next page, you'll be able to select your preferred hosting plan.
HostGator provdes 3 different shared hosting plans:
Hatchling Plan
Baby Plan
Business Plan
If you are starting out online and trying to build a business, I will suggest you go for the Hatchling plan. This is best for anyone who wants to work on 1 site only.
Hatchling is the cheapest plan and lets you host a single domain.
If you are more experienced or have plans to build more than 1 site, the Baby Plan or the Business Plan will be suitable. Both of these plans let you host unlimited domains. Apart from this, you also get free SSL, free domain, unmetered bandwidth, free WordPress installation, cPanel access, and a lot more.
Choose the plan you want to go with and hit Buy Now.
Next, you'll asked to choose a domain name. If you've already have a domain of your own click I Already Own This Domain and enter your domain name.
But, if you want to register a new domain, just enter the domain name you want for your site. If it's available to be registered, you'll get a green signal to continue.
In case the domain is not available, it will ask you to go for a different domain name. Find an available domain name and you are good to go.
Your domain registration will be free for 1 year with annual hosting plans.
Next, you'll be asked to choose your preferred hosting plan. You also need to create a Username for your HostGator account and a Security PIN.
The security PIN will be used to verify your identity when you contact HostGator support regarding any technical issues or any kind of support.
Now, enter your billing information and choose if you want to pay using a credit card or using PayPal. Give all the required details in the appropriate field.
Next, you'll asked to choose any additional services you may need.
At this stage, I'll suggest you unselect everything. It will only increase the overall cost. You can always purchase these services later.
The additional services you get are as follows:
By default, SiteLock and CodeGuard will be selected. SiteLock provides security for your site. It prevents your site from getting hacked.
CodeGuard provides backup-related services. It takes regular backup of your site so that you can get back to your site if you ever mess up with anything.
And, the best part?
With just a click of a button, you can get your site back as it was before. By the way, there are many other awesome WordPress backup plugins available.
Step 2: Activate Your Special Deal
As you scroll to the next section, you'll be asked if you have a coupon code. Use the following coupon code here to get a 60% discount on the regular price.
60% OFF. USE COUPON. "DIGITALMILLIONS"
As you enter the coupon code and get it validated, it's time to review your order details and make your payment to successfully place an order.
Once you successfully place your order, you'll receive a confirmation email. This email contains crucial information regarding your new HostGator account.
Step 3: Access Your cPanel
Now log into your HostGator customer portal. From, here you can easily access your cPanel. You need cPanel to install WordPress.
Right from your account dashboard, click Launch cPanel.
There are a few different ways to access your cPanel.
You can access your cPanel by adding "/Cpanel" to the end of the domain name. But this method is not available right from the beginning as your domain registration and propagation time has to be over yet (which is around 24-48 hours).
The confirmation email you receive from HostGator will have all the information you need on how to access your cPanel successfully.
Step 4: Install WordPress
As you log into your cPanel, you'll land on your main overview page.
From here you will access all the features, you'll require to seamlessly manage your web hosting account with HostGator.
This is how the cPanel looks like:
With the help of cPanel, you can easily install WordPress on your domain.
Under the Software section, you'll find QuickInstall. You can also use the search bar on the top to search for QuickInstall.
Just click on QuickInstall.
Next, you'll land on the QuickInstall Marketplace page.
From the dashboard, click on WordPress on the top left corner. By clicking on WordPress, you'll reach WordPress installation page.
From here, you can easily install WordPress on your domain.
Now click the big gray button that says Install WordPress.
Check out the image below.
Next, you need to fill up the WordPress Installation form with the relevant information such as administration email, username, blog title, and your name.
Then, hit the green button Install WordPress.
And, wait for the installation to be completed. Once the installation is completed, you'll get a confirmation message with your login credentials.
When the installation is complete, you'll get the following message:
You'll need to click on View Credentials to note down your username and password. You'll also receive an email with the credentials.
So make sure you type your email address correctly when installing WordPress.
Congratulations!
You've now successfully installed WordPress.
Step 5: Access WordPress Admin
After successful installation, you should be able to access your WordPress admin using any of the following URLs:
yoursite.com/login/
yoursite.com/admin/
yoursite.com/wp-login.php
yoursite.com/wp-admin/
If you have used a subdirectory to install WordPress, use the full subdirectory URL to access your WordPress admin. Suppose you have used "/blog/" as your directory. Then, you can access the admin using the following URLs:
yoursite.com/blog/login/
yoursite.com/blog/admin/
yoursite.com/blog/wp-login.php
yoursite.com/blog/wp-admin/
The WordPress login page looks like this: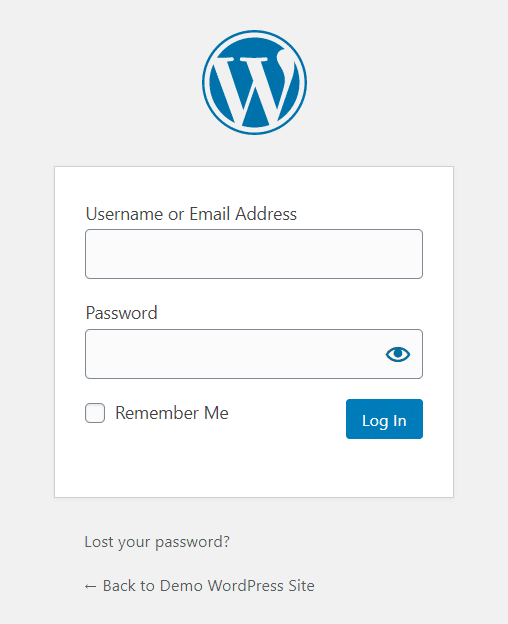 Enter your Username/Email address and Password to access and manage everything on your WordPress site. For step by step instructions on how to manage your WordPress like a pro, read: Exploring WordPress Dashboard.
Please note that if you have registered your domain from a different registrar (not from HostGator), you'll need to update your nameserver to point to HostGator. And you'll need to wait for 24-24 hours of DNS propagation time to be over.
As you successfully installed WordPress, your job is not over.
What Should You Do Next?
As you successfully install WordPress and set up your site, you should focus on giving your website an attractive and professional look.

Wondering how to do it?

The best way to give your site an attractive look is to install a powerful WordPress theme that doesn't only give your site a professional look but also takes care of the most critical SEO factors and user experience.

You should check out StudioPress for world-class WordPress themes.

Their themes are built with the Genesis framework that makes your website faster, more secure, and more SEO-friendly.

Also, click the button below for the best WordPress themes.
You still need to learn how to use WordPress efficiently, how to install plugins, how to activate a theme, and finally build a successful blog.
That is why I strongly advise you to enroll in my free blogging course and learn how to build a good WordPress blog and earn money online.
Did you find this tutorial useful?
Please share it to help others who may need this information and also motivate me to create more awesome tutorials like this, for free.
Full Disclosure: Please note that if you decide to buy hosting using any link on this page, I get compensated, by the hosting company. And this is what motivates me to write this tutorial for you, free of charge. In fact, if you do click and buy, thank you. I really appreciate it. You should know that I also use HostGator hosting.