If you are looking for the best WordPress backup plugins, this article is going to be a real treat for you. I'm going to share with you the 11 best backup plugins of 2022 and compare them. Plus, I will also show you how to choose the best backup plugin and what criteria you should take into account while making a decision.
If there is anything worse than a total crash of your WordPress site, it is losing your site's content, settings, and customization completely. Although WordPress backups are essential for every website, many bloggers ignore them.
Not a wise decision though, right?
WordPress backups are no doubt highly essential for any WordPress website owner who values its safety and security.
Backups are your immediate fallback plan in case of a disaster.
Many WordPress hosting providers provide backup services to websites.
However, these backup services are in most cases limited – you should look to add other options as well. And, that's why you need a suitable WordPress backup plugin for your WordPress website, undoubtedly.
It helps you sleep peacefully at night, knowing your site is safe.
While there are various WordPress backup plugins available on the internet, not all of them will just suit your website right.
So, you need to find the best WordPress backup plugin for your site.
With so many options available, you might find it overwhelming to pick out the best plugin. Well, I have gone through the pain of doing the research and compiled a list of the 11 best WordPress backup plugins that are highly recommended.
You will learn about the main features, pros, and cons of each backup plugin.
Pull your seat closer – let's jump in…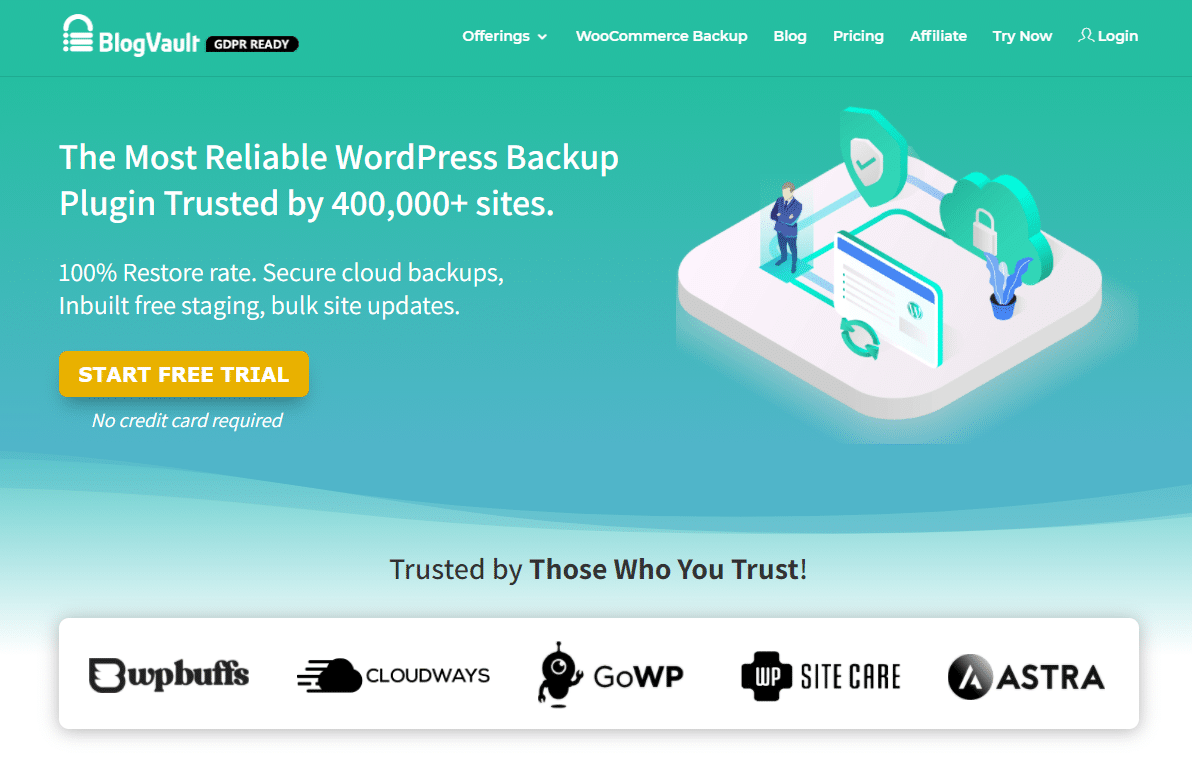 BlogVault is the most reliable WordPress backup plugin that works best for your blog. It is a cloud-based online solution and backups your site at regular intervals. Thus, you can always recover from site crashes or unintended deletions.
BlogVault automatically stores your data in the cloud, which makes it easy for you to retrieve anything lost or deleted by mistake. You can restore your website from an old backup within a few minutes, by just clicking a button.
If you want an easy-to-use backup solution that's trusted, and proven, then look no further than BlogVault – it is more than just a plugin. You get an all-in-one solution for the complete backup and security management of your website.
BlogVault offers a wide range of awesome features ranging from complete backup, security, and malware scans to alerts and backup history.
Plus, everything is backed by 24/7 expert support.
Some of the top features of BlogVault include:
Complete WordPress backup for better security
On-demand website restoration
Free trial available, so you can try before you buy
Incremental backups
Multisite backup support
Free staging site that runs on cloud servers
Fast migration to 5000+ web hosting services
Woocommerce backups
In short, you should use BlogVault if you are looking for a complete WordPress backup solution. It is easy to use even for beginners and performs all the complex actions automatically. So, you get peace of mind.
Check out other essential features of BlogVault here.
Why is BlogVault highly recommended?
BlogVault is an awesome WordPress backup plugin that guarantees complete security and protection for your website. It is a genuinely reliable solution and backed by a team of expert professionals.
It gives you complete peace of mind, knowing that your website is safe and secure no matter what happens to your website. You can always restore your website from a previous backup, within minutes.
---
Read – BlogVault Review – Should You Use It?
---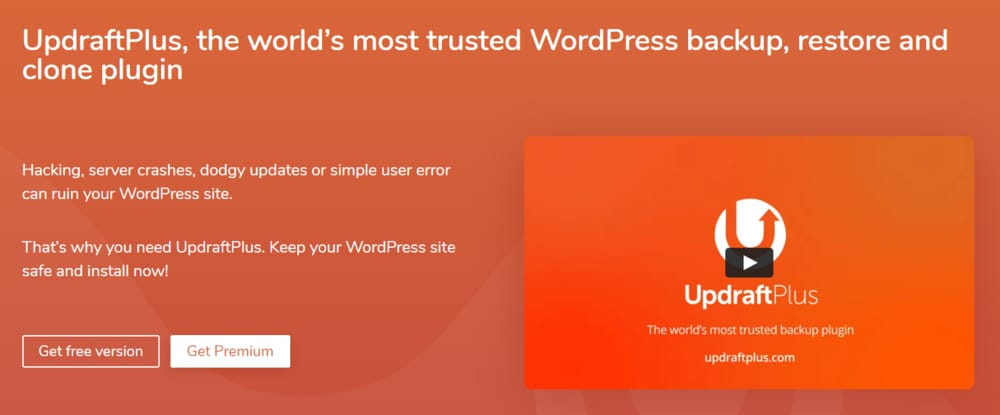 Trusted by millions of WordPress sites, UpdraftPlus is one of the most trusted free WordPress backup plugins available on the market. UpdraftPlus, like BlogVault, is a trustworthy, user-friendly, and comprehensive WordPress backup plugin that offers backup tools and services for WordPress sites.
When you think of a complete backup solution for your WordPress site, UpdraftPlus will surely come to your mind.
It offers both free and premium versions. While both free and premium users get access to similar features, the premium version currently offers the best value with tons of additional features and options.
Some of the most popular UpdraftPlus features include:
Complete WordPress backup solution
Free version available
Incremental backup
The ability to backup sites with 100GB or more
Backs up an unlimited number of non-WordPress files and databases
Automatically backs up before any WordPress updates
Deletes old backups on a regular basis
Keeps only the number of old backups you specify
Multiple remote storage options including Google drive, dropbox, and AWS
Data transport to the cloud is encrypted
Imports and restores from backups made by other backup plugins
Compatible with WordPress Network / Multisite installs
So, no matter what happens to your site, whether it's hacked or the database is deleted, you can always restore everything using UpdraftPlus.
Complete manual and scheduled backups of your WordPress site are available to both free and paid customers. You can restore backups directly from your admin panel and configure schedules (12 hours, daily, weekly, or monthly).
Because of the extra features offered to premium customers, they have a competitive advantage over other users.
For example, premium users only have access to incremental backups. Incremental backups allow users to back up only the changes to their files that have occurred since the previous backup.
Apart from incremental backups, you get more cloud or remote storage options with UpdraftPlus premium than with any other backup plugin.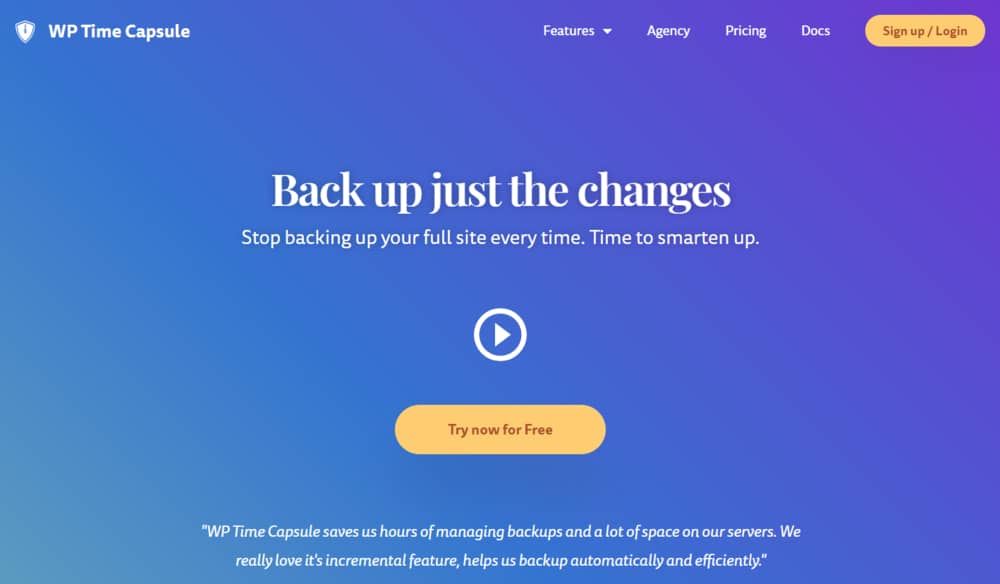 WP Time Capsule is one of the best WordPress backup plugins that deserve a mention. It is a fine piece of software that guarantees peace of mind and security for your website. It is easy to install, use, and manage.
It is a premium plugin that offers great performance, excellent backups, and reliable security for your website.
Have you ever had issues with WordPress upgrades on your site?
WP Time Capsule allows you to back up your website intelligently, ensuring a smooth experience with any WordPress updates. You can choose which data or content to back up, for example.
It identifies changes and backs up only the modified files and database entries to your account, utilizing the cloud apps' native file versioning system, of course. With WP Time Capsule, you can back up your WordPress site in real-time and restore it to its previous state, which could be an hour or two ago.
You can also change the backup interval to something more suitable for your needs, such as every 12 hours. WPTC also backs up your website before each update. It ensures that your website is safe from updates. In case the update creates any unintended issues, you can always revert back.
Here are the top features of the WP Time Capsule plugin:
Traditional full website backups including files and database
Incremental backups – back up only the changes
Incremental restores – restore only the changes
Low server memory usage
Fast restoration of your entire site
Restore any specific file of your choice
Clone your live site with a single click
Test your updates without making them live on the site
Backup before every update
White label the plugin to make it truly yours
WP Time Capsule adds an extra layer of protection with encrypted database backups and GDPR compliance.
WP Time Capsule provides a free version, however, it is only available for a 30-day trial period. To learn more about the various plans offered by WP Time Capsule, go to the WP Time Capsule Pricing page.
The plugin offers a visual calendar that allows you to see all backups as well as all the changes on a single screen. The interface allows you to access different dates for restoration quickly and easily.
In terms of pricing, WPTC's charges may be less expensive than those of other WordPress backup plugins – the most affordable plans start at only $49/year for two websites. I recommend the lifetime license that costs $149.
The best thing about WP Time Capsule?
The plugin is available in a free version. It allows you to try the plugin and backup your site without any restrictions for 30 days.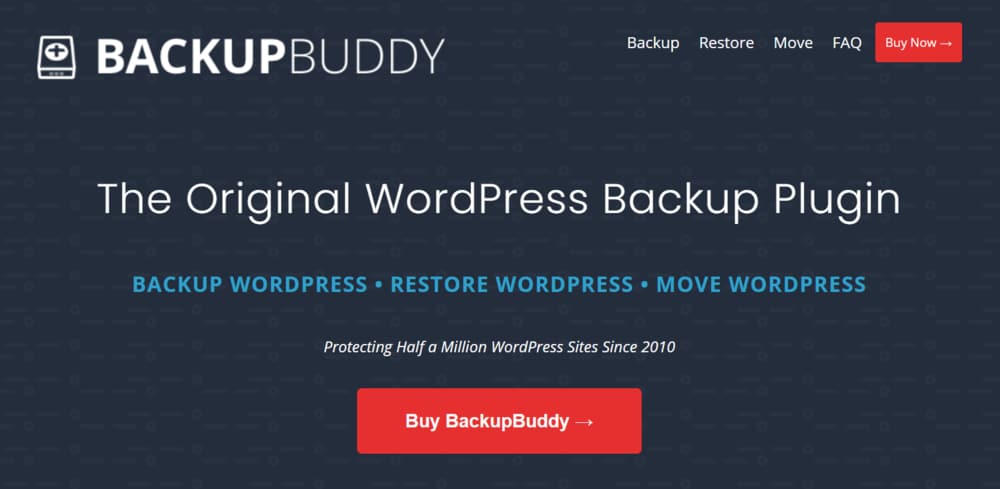 BackupBuddy is one of the best WordPress backup plugins that allows you to back up and store your data in a secure cloud location like Google drive. BackupBuddy is an easy-to-use plugin that can back up your entire site. It has a friendly interface, and the process is very straightforward.
With BackupBuddy, you can create a backup of your entire site, including files and database. You can restore the full backup on another domain, same domain, or on a new WordPress installation easily and comfortably.
It also includes the Stash Live feature, which allows you to create a real-time backup of dynamic content. These changes are then saved in the storage space – when you buy this plugin, you will receive 1 Gb of storage space.
Some of the top BackupBuddy features include:
Back up your entire WordPress website (database + all WP files)
Set up backup schedules to run automatically
Send and store your backup files off-site in a remote location
Restore your website quickly and comfortably
Customize what you want to backup from your site
Downloadable zip files from your backups
Instant email notifications of every action
BackupBuddy stash live for real-time backup
You get 1 GB of stash storage to save your backups
Malware and virus scanning at the file level
Encrypted backups with industry-standard AES-256 encryption
Set up a WordPress staging site
So, the plugin backs up the WordPress database and folders, including plugins, files, themes, scripts, posts, settings, widgets, plugins, and anything else. Additional database tables and directories can also be included or excluded.
It offers an easy-to-use interface that allows you to create live backups and receive real-time reports on the backup process and security scanning.
But, how about getting your WordPress site restored?
It's simple and quick to perform from a backup.
The only significant flaw with BackupBuddy is that, unlike other WordPress backup plugins, it does not provide a free trial. The most affordable option costs $80 per year. And, there is no lifetime license.
Unfortunately, the plugin doesn't come with incremental backups. So if you are looking for a plugin that offers incremental backups, then BackupBuddy may not be for you. It also doesn't offer any white label option or a free version.
However, if you are looking for a plugin that is easy to use and offers a user-friendly experience, BackupBuddy might be for you.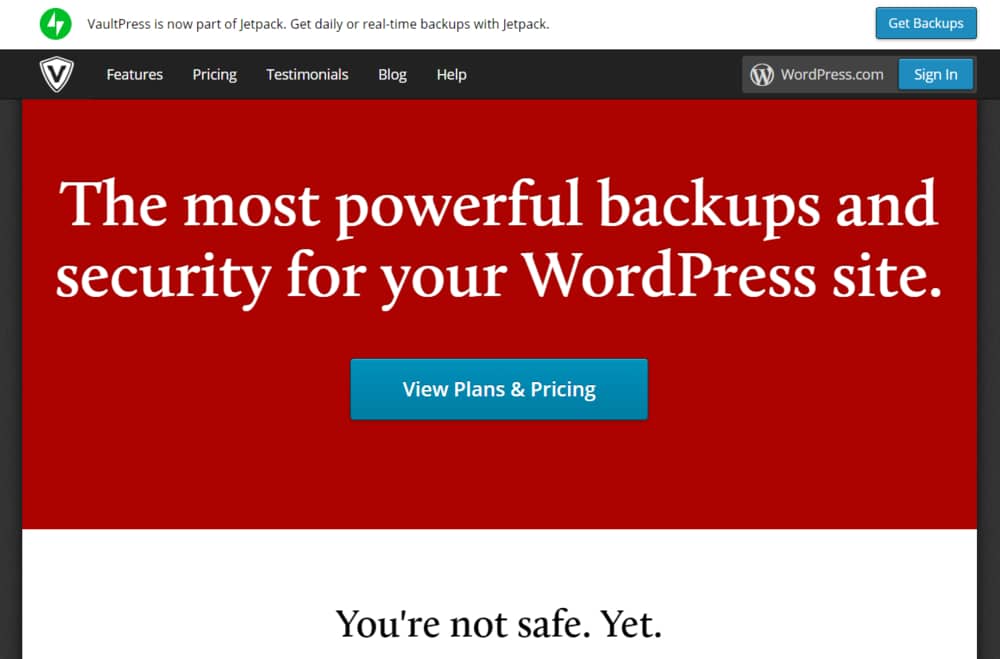 VaultPress, as one of the best WordPress backup plugins, gives your WordPress site a powerful backup and security solution. It safeguards your WordPress site against the most frequent – and dangerous – security risks, including server failure, exploits, viruses, hackers, and human error.
VaultPress is created by Automattic, the company behind the WordPress.com VIP hosting service and Jetpack plugin.
It provides real-time backup, so you don't have to worry about losing any content in case something happens to your site. Moreover, you will get automatic backups, no matter what time of day it is.
VaultPress backup includes all files and data on your WordPress site, including the core files, plugins, themes, content, comments, and more.
Some of the top features of VaultPress include:
Backups of all files including database
Highly Affordable pricing
Backups of all WooCommerce customer and order data
Off-site / cloud backups so there's no load on your server
Global server infrastructure
Full, incremental, and differential backups in real-time
Exclude file types and folders from backup
Complete list of all site changes
Quickly restore from any point
Migrate your WordPress site to any host
You can also use VaultPress to look over suspicious code and repair the most common threats. It automatically fixes your website and alerts you if there are any vulnerabilities. So, you can rest assured that your site is secure.
VaultPress has some affordable backup plans to choose from – check out the VaultPress pricing page to see which one is right for you.
So, how does VaultPress compare to other backup plugins?
Unlike most other WordPress backup plugins, VaultPress includes security checks with its more expensive subscriptions. You can also restore your site with ease, and their WordPress experts are always ready for any support.
However, because their plans are so similar, it might be difficult to distinguish between them. Furthermore, each package is limited to one website.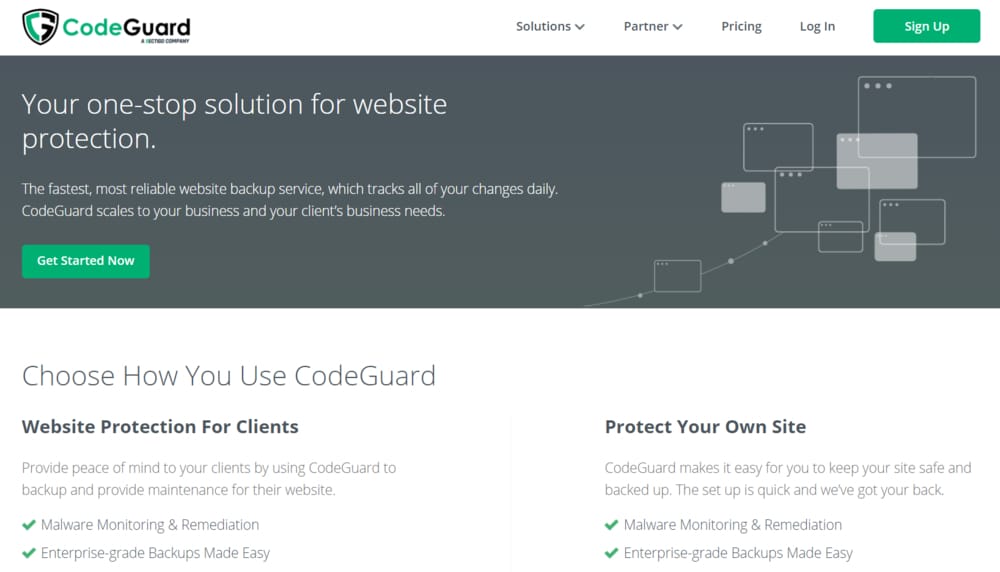 CodeGuard is another reliable WordPress backup solution, which provides complete protection against any data loss, downtime, or hacking.
It is backed up by its advanced firewall filters and security layers.
It offers complete a backup solution, including daily backups with incremental versions, easy migration, and restorations. Plus, you can also find peace of mind when using CodeGuard.
CodeGuard provides a free trial, so you can test the backup service before buying. It also offers a money-back guarantee. So, if you're not satisfied with the service, then you can get your money back.
Top features of CodeGuard include:
Free trial with affordable pricing
Automatic daily backups with 1-click restore
Daily email notifications
Automatic versioning of your files, so you can restore any point in time
Backup your entire site or choose specific files to backup
Restore your website to the last backed-up version, daily version, weekly version, monthly version, or on-demand
Vulnerability scan and malware removal
Off-site backups/backup downloads
CodeGuard is a great solution for those who want an easy-to-use backup plugin. You can quickly back up your files and have peace of mind knowing that you can restore your site in no time. Plus, the backups are automatic as well as reliable. So, you don't have to do anything to get your files backed up daily.
WPvivid Backup is a free WordPress backup plugin that securely backs up your site to Google Drive, Amazon S3, DigitalOcean Spaces, FTP, and SFTP.
Also, with WPvivid backup, you can be confident of smooth site migration. With a simple click, you can move your complete WordPress site to a different domain or a different web hosting provider. Additionally, with a one-click restoration system, you can be ready for the worst-case scenario.
The plugin is free and easy to use. You can download it from WordPress admin or from the WordPress repository for free. With WPvivid Backup, you can automatically schedule weekly backups to be made and daily full backups.
Top features of WPvivid Backup include:
Customize everything to back up
Create staging sites and push staging to live site
Incremental backups
Database backups encryption
Auto backup WordPress core, themes, and plugins
Unused images cleaner
WordPress Multisite backup
Create a staging for a WordPress MU
Create a fresh WP install
Advanced remote storage
Advanced backup schedules
Restore backups from remote storage
Migrate everything via remote storage
Migrate a child site (MU) to a single WordPress install
White label
Overall, this is a great plugin if you want to automatically backup your site. In short, this WordPress backup plugin serves its purpose.
The best part?
This is a free plugin. So, the only thing you need is your time in trying this excellent plugin out. So, if you're looking for a free plugin that offers all the essential backup features, then this WordPress backup plugin is ideal for you.
Unfortunately, the WPvivid backup plugin does not offer free incremental backups, which means the full backup process takes longer. Similarly, Wpvivid's free version does not have a free website-staging environment. As a result, you'll need to upgrade to the Pro version to test website updates.
---
Read – WPvivid Backup Plugin Review
---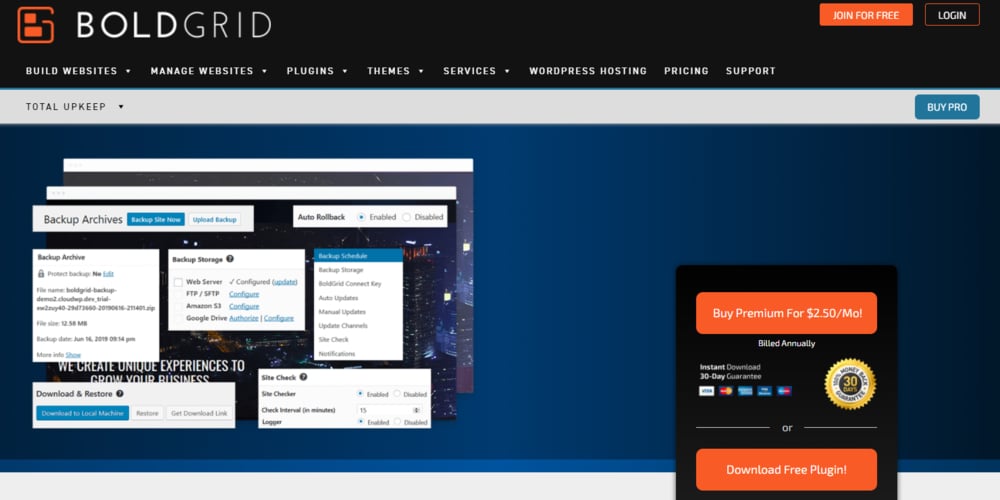 BoldGrid Total Upkeep is one of the best WordPress backup plugins for those who want peace of mind when using WordPress. It was developed by the same team that created the BoldGrid website builder.
It offers automated remote backups and the option to revert unsuccessful upgrades, among other features…
With BoldGrid Total Upkeep, you can be sure that your site will be ready for the toughest attacks or server crashes.
For automated backups, you can easily choose a day and time, or you can do it manually. Backups may be stored safely and automatically using cloud storage solutions like Amazon S3, Google Drive, and FTP/SFTP.
BoldGrid Total Upkeep has a free version as well as a premium version. The free version is ideal for most users. However, you'll have to upgrade it to get more advanced features like File browsers.
Top features of BoldGrid Total Upkeep include:
Daily automatic backups
Manual backups
Remote backups to Amazon S3, Google Drive, or FTP / SFTP
Back up all of your files and databases, or you can also tweak the settings to suit your specific requirements
Clone, duplicate, and/or migrate your website with a few clicks
Site Check monitors your site for issues that could lead to site crashes
Restore your site even if your WordPress installation is unavailable
The auto rollback feature creates a backup before any update
Create staging sites to test new plugins or themes
The best part?
You can use the plugin for free for as long as you want.
However, BoldGrid Total Upkeep will require you to upgrade your premium version before moving on to the more advanced features.
It's worth noting that the BoldGrid Total Upkeep license can be used for an unlimited number of websites. Simply pay $2.50 per month for Total Upkeep Premium and use it on any of your WordPress sites – it's billed annually.
So, if you're looking for an affordable WordPress backup plugin that has all the necessary features, BoldGrid Total Upkeep might be an ideal choice.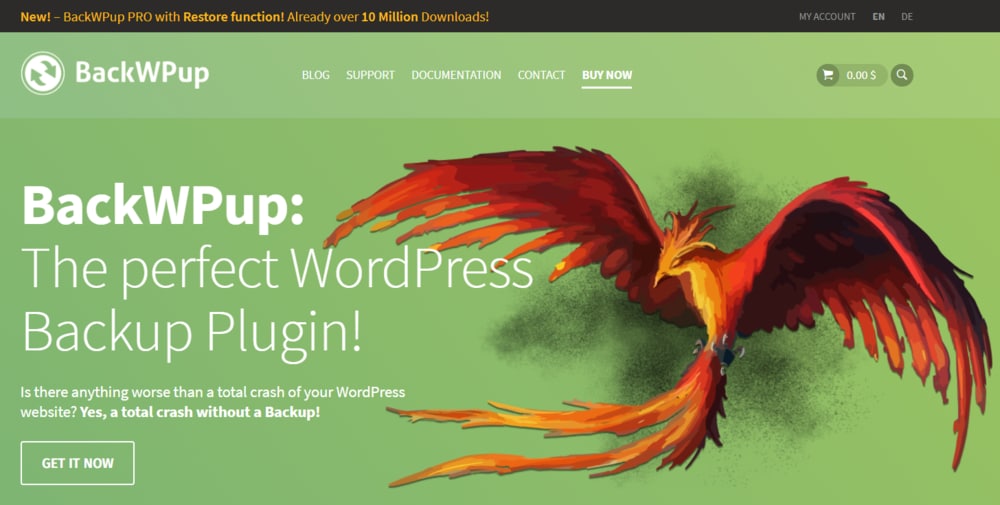 BackWPup Pro is another all-in-one WordPress backup solution with exceptional features. It is one of the most popular WordPress backup plugins, with over 600,000 active users and a 4.5 out of 5-star rating from over 1,000 reviews on WordPress…
The plugin is known for its excellent performance and reliability. It has extensive features, including automatic backups.
This WordPress backup plugin also comes with an easy-to-use interface that even WordPress beginners can get to grips with.
Some of the top BackWPup Pro features include:
Complete Automatic Restore
Standalone App for Emergency Restore
Encrypt Backup Archives
Restore Encrypted Backups
Complete Database Backup
WordPress XML-Export
Migration to a New Domain
Log report via email
Administration of Backup-Archive
Backup to remote locations like Google Drive, Dropbox, or S3
Multisite Support
Detailed documentation
Automatic updates
Database check
Overall, it's a perfect solution for most users. But, if you are looking for features like a staging site, you should definitely consider other options.
BackWPup Pro is a premium WordPress backup plugin with a 30-day money-back guarantee, as well as a lifetime license. The renewal is optional, so you only have to pay for the BackWPup Pro plugin once.
On the negative side, unlike the other WordPress backup plugins I've reviewed, they don't include cloning or migration features.
The best thing?
It offers a standalone app to restore your site even if the WordPress installation is unavailable. So, go ahead and give it a try!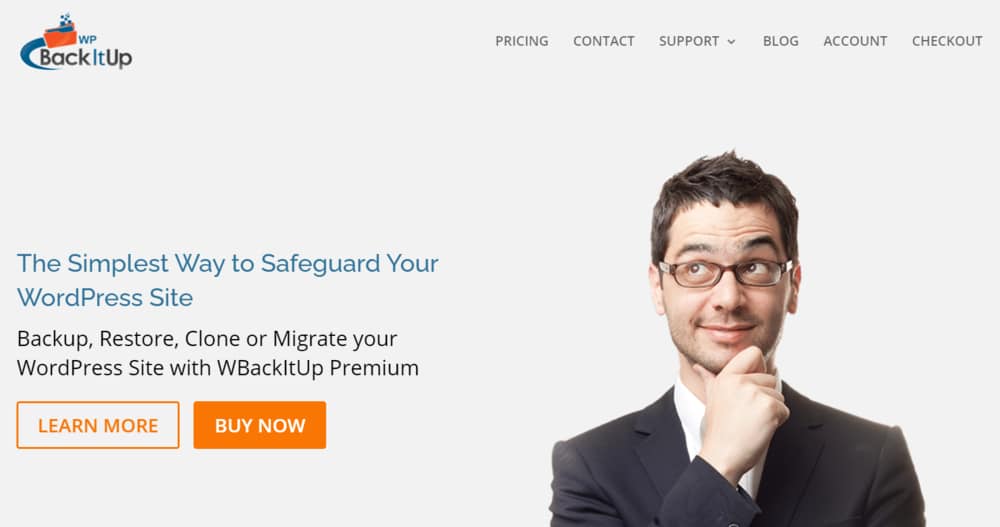 WP BackItUp has been protecting WordPress websites since 2012, and their product and services have left a lasting impression on nearly 20,000 customers. You'll never have to worry about complicated backups again – it's fast, safe, and makes backups simple without compromising any of their core features.
Unlimited backups ensure that you can back up your WordPress site on a monthly, weekly, or daily basis without incurring additional fees. You can also schedule your backups according to your needs and leave the rest to WP BackItUp.
WP BackItUp also lets you download backups and save them to cloud storage services like as OneDrive, Dropbox, and Google Drive.
Are you looking for a simple solution to move your website to a new host?
WP BackItUp allows you to back up and restore your WordPress site from your current host and move it to another host in just a few clicks.
Some of the noteworthy WP BackItUp features include:
Backup and restore plugins, themes, and WordPress itself
Supports all major hosting providers
Backups can be saved to cloud storage services
Restore your website with a single click
Manage your backups via the WP BackItUp Dashboard
Free version available
Easy to use, just one click and your site is backed up
Simple and easy to understand interface
Fast automated backups
Professional Support
Works in low memory and shared hosting environments
Compresses(zip) your backups to save you space
Debug mode that provides full logging of the backup
Supported on all current PHP versions
Overall, WP BackItUp is a solid WordPress backup solution for everyone. While it may lack in some areas, all of its core features are available and performed well in testing. WP BackItUp's simple interface makes it a great choice for both novice and advanced users alike. So, if you are looking for a solid WordPress backup plugin with all the bells and whistles, you should give it a try.
WP BackItUp offers 3 different plans:
a Personal plan for $79 per year (1 website)
a Professional plan for $99 per year (5 websites)
a Premium plan for $199 per year (20 websites)
Check out the WP BackItUp Pricing page for additional information on the various plans available – and to see if it would be suitable for your needs.
So, go ahead and try it out today. It's a perfect solution for most users who are looking to back up their WordPress site with a simple, yet powerful plugin. The premium version extends the features of BackWPup's free plugin.
In fact, the main goal is to provide a fluid and intuitive user experience without breaking functionality or adding complex features.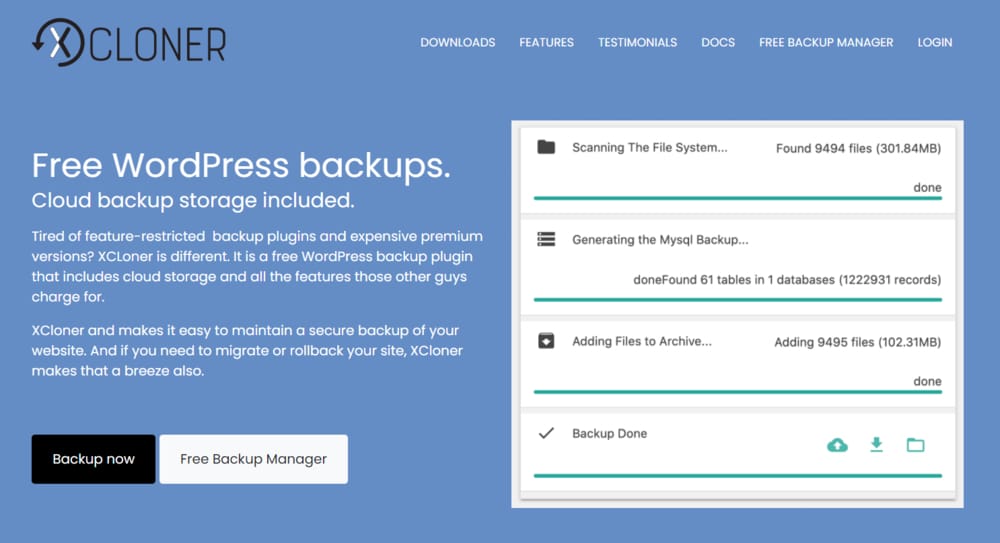 XCloner is a free WordPress backup plugin that lets you back up and restore your WordPress sites in a secure way. Backups can be sent to SFTP, Dropbox, Amazon, Google Drive, Backblaze, and other services. The built-in scheduler in XCloner allows you to create backups manually or automatically.
It also enables you to create customized backups of any WordPress site, which you can then restore to any other place using the automatic restore script you will get with this plugin. Basically, the plugin can clone and migrate WordPress sites with a single click. It's reliable, simple to use for beginners.
Some of the most useful features of XCloner include:
Full Or Differential Backups
Automatic Backups
Military-Grade Encryption
Site Sync, Migration & Rollback
Personalized Data Compression
Cloud Backup Storage Locations Included
The plugin is free. So, you can try it completely free.
Using its lightning-fast CLI, XCloner version 4.2.0 makes it easy for users to do backups from the command line. Using your system's Crontask function, you can schedule your backups with additional freedom.
They also give you a number of customization options for the data compression process. This enables XCloner to backup both small and large websites across a variety of hosting setups and server configurations.
Unlike other backup plugins with limited functionality and expensive premium versions, XCloner is a free plugin with similar features.
Final Thoughts
So, which backup plugin do you want to use?
With so many WordPress backup plugins accessible on the internet, choosing the ideal one to fit your site's needs can be difficult.
But, this is essential to choose one, right? Otherwise, the consequences can be devastating. For instance, you might lose all your site data if you don't back up your website on a regular basis.
Therefore, I've compiled a list of the best WordPress backup plugins available on the market right now. These backup plugins will not only make it easier for you to keep your website safe and secure by backing it up but they will also help you restore your WordPress site in case things go wrong.
However, your choice will depend on how much you're willing to spend and what features you need for your WordPress site.
Some of the above-mentioned plugins are free, others are paid. But, all of them are considered reliable WordPress backup plugins.
So, which one are you using?
Do you know any other WordPress backup plugins that are worth mentioning in this list? If so, what makes them stand out?
Feel free to leave your feedback in the comment section below.
Lastly, please do me a favor by sharing this article.