If there is anything worse than a total crash of your WordPress site, that is having no backup that you can use to get your website up and running again.
WordPress backups are no doubt highly essential for any WordPress website owner who values its safety and security. They are your immediate fallback plan in the event of a disaster or a website attack from intruders.
So, how often do you backup your website?
Many WordPress hosting providers provide backups services to websites.
However, these backup services are in most cases limited – you should look to add other options as well. And, that's why you need a suitable WordPress backup plugin for your WordPress website, undoubtedly.
It helps you sleep peacefully at night, knowing your site is safe.
While there are various WordPress backup plugins available on the internet, not all of them will just suit your website right – we need to understand this.
Looking for the best WordPress backup solution?
Well, I have gone through the pain of doing the research and compiled a list of the 11 best WordPress backup plugins that are highly recommended.
You will learn about the main features, pros, and cons of each backup plugin.
Pull your seat closer – let's jump in…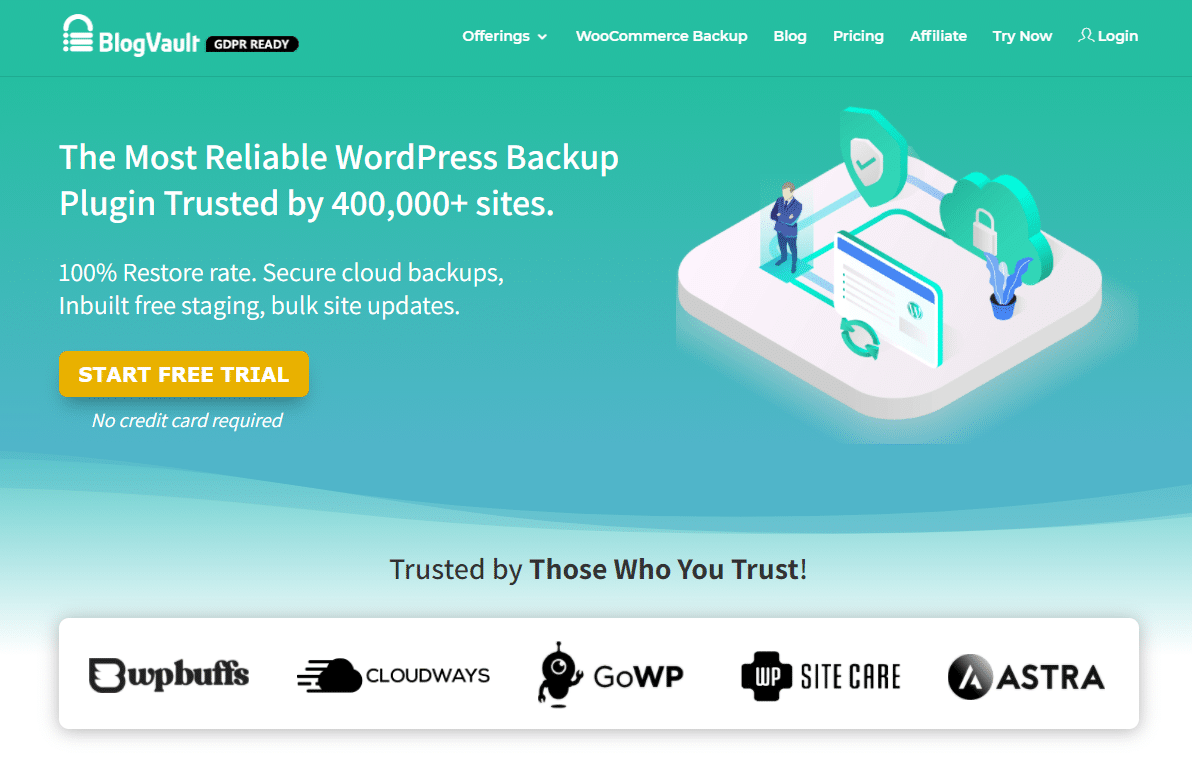 The most reliable WordPress backup plugin has its home in BlogVault. They often refer to themselves as "The Ultimate WordPress Backup Service".
If you want an easy-to-use backup solution that's trusted, and proven, then look no further than BlogVault – it is more than just a plugin. You get an all-in-one solution for the complete backup and security management of your website.
BlogVault offers a wide range of awesome features ranging from secure cloud backups, inbuilt free staging, to a 100% restore rate.
Why is BlogVault highly recommended?
BlogVault provides backups that always work – incremental backups for that case, which never overload your server. Ideally, it's the first plugin that comes with multisite (your primary site and all your subsites) backup support.
With BlogVault you can rest assured of flawless site migrations as well.
Cloning and migration of websites are 80% faster, compatible, and approved with more than 5000 web hosting services. You also get an intelligent automatic rewrite of your entire website URLs.
You can also manage multiple sites with the BlogVault's centralized dashboard and save up to 12 hours a week on your WordPress dashboard.
You may ask, what's in it for WooCommerce sites?
BlogVault is not a WooCommerce backup plugin though it comes with several special features designed for your WooCommerce website.
Your WooCommerce site needs more than just daily backups and that is why BlogVault is there to help. You get to backup all order details.
On the high side, you do not need to install another plugin to access BlogVault's WordPress migration service.
As a constantly evolving backup plugin, BlogVault regularly rolls out new features, updates alike for their backup tools and services.
And, did you know you can back up your WordPress site on your computer?
BlogVault also allows you to have a WordPress external backup – download a copy of your site to your computer.
Besides BlogVault being reliable with amazing features for your sites, it also has various shortcomings associated with it. It only has premium versions – there are no non-paid versions of BlogVault.
Check out BlogVault Pricing for a deeper understanding.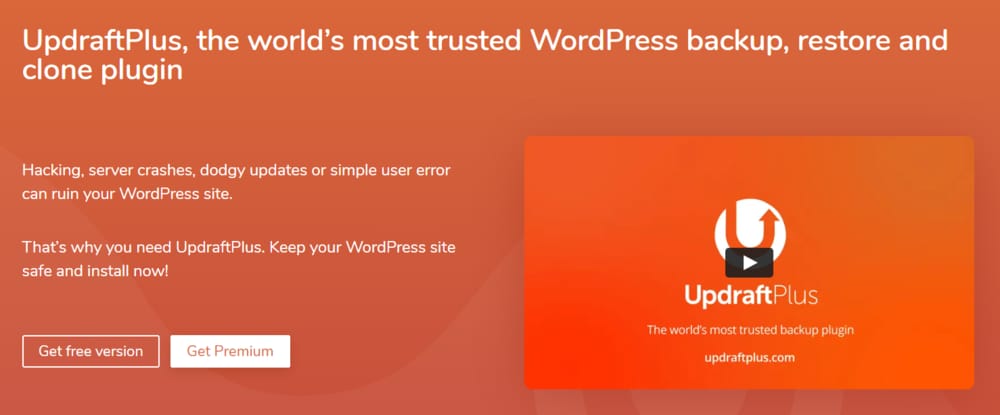 Trusted by over 3 million WordPress sites, UpdraftPlus is the most popular WordPress backup plugin today.
UpdraftPlus, just like BlogVault, is also a trusted, easy-to-use, and comprehensive WordPress backup plugin — that provides backup tools and services to WordPress websites.
When you think of a complete, general-purpose backup, and restore plugin that simplifies backups, then UpdraftPlus must cross your mind. It offers both free and premium versions.
While various features are common for both free and premium users, the premium version has so far the best benefits between the two.
For example, both free and premium users are entitled to complete manual and scheduled backups of their WordPress files. Plus, you can set schedules (12 hours, daily, weekly, or monthly) and restore backups directly from your WordPress control panel.
Premium users have a competitive edge over other users owing to the advanced features available to them. Incremental backups allow users to only backup changes to their files that have been made to their site since the last backup.
What of pre-update backups? These automatically back up your site before any updates to themes, plugins, and cores.
With UpdraftPlus, you get more cloud or remote storage options than any other WordPress backup plugin out there. It also provides wide site coverage and compatibility with automatic scheduled backups.
Updraft is available in both free and premium versions (paid version amounts to $70 per year). However, free users might be forced to go premium to enjoy other advanced features.
Check out UpDraftPlus Pricing on its premium version if you want to get more advanced features than those offered in the free version.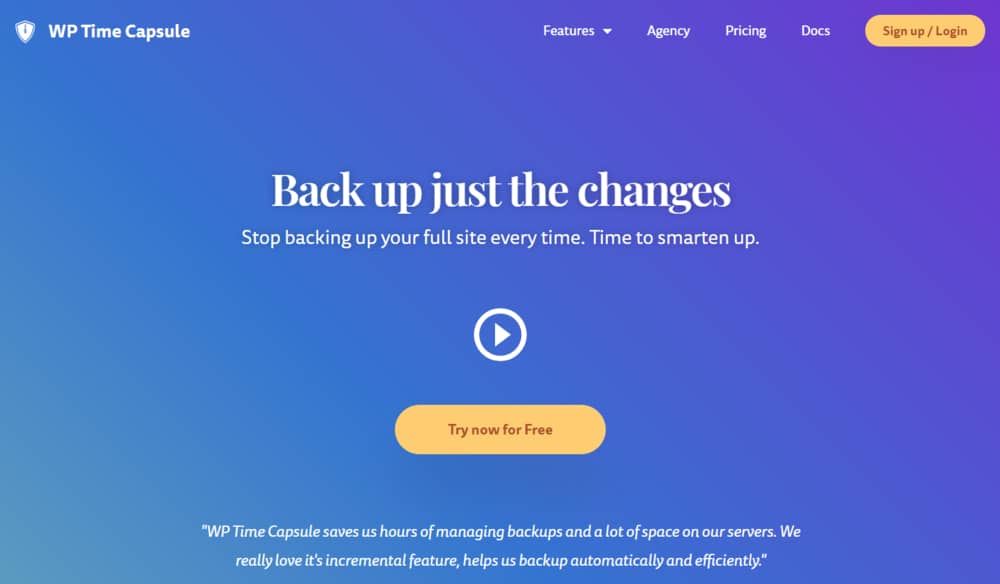 Do you ever experience problems with WordPress updates to your site?
WP Time Capsule ensures you have a smooth experience with any WordPress updates to your website by allowing you to back up smartly. You can, for instance, select which data or content to backup.
It detects changes, backs up just the changed files and database entries to your account – of course using the cloud apps' native file versioning system.
Get to back up your WordPress site in real-time with WP Time Capsule and still manage to revert it to how it was perhaps an hour or a couple of hours before.
You can as well change the backup interval to one that best suits your needs like 12 hours daily. WPTC also automatically backs up before each update in any case an update causes undesired changes to your site.
For an added layer of security, WP Time Capsule provides for encrypted database backups and GDPR compatibility.
Well on the higher side, WP Time Capsule has a free version but it is only available for a 30-day trial period only. Check outWP Time Capsule Pricing to see the various plans they offer.
Besides allowing you to revert the most recent changes to your site, WPTC also gives you screenshot comparisons for backup states.
However, you might find WPTC's rates more expensive than other WordPress backup plugins – the most affordable annual rate goes for $49/year for 2 websites.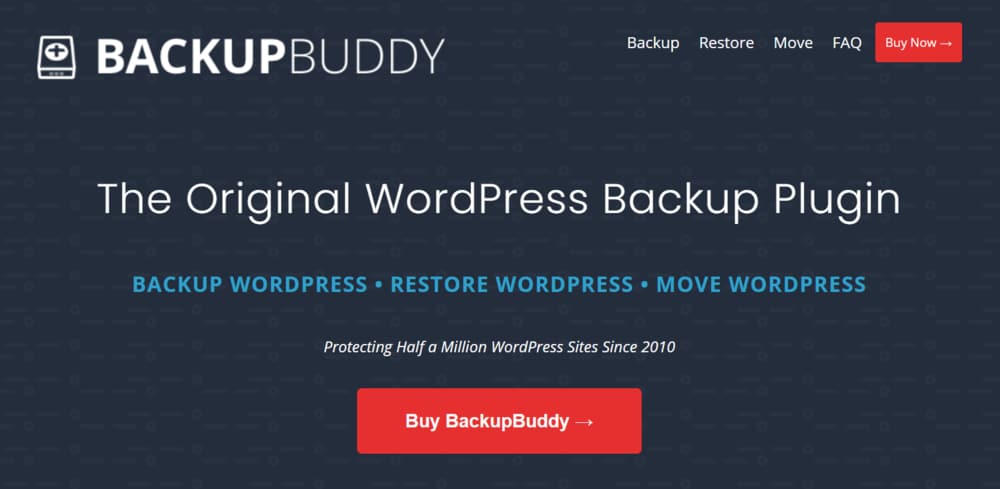 At an affordable price tag, BackupBuddy is so far the best WordPress restore plugin as per the price to features ratio.
BackupBuddy has an intuitive and friendly interface that allows you to get live backups, with live reports on the backup process and security scanning.
A backup solution requires four or more components to prove essential to any site –BackupBuddy covers all the four backup elements in just one single plugin. These elements ensure you have a solid WordPress backup strategy for your site.
You can not only backup your entire WordPress website but also send and store your backup files off-site in a safe, secure location. Set up backup schedules to run automatically as well.
And, how about restoring your WordPress site? – it is quick and easily done from a backup.
The only high stake shortcoming associated with BackupBuddy is that it does not come with a free trial like other WordPress backup plugins. The cheapest plan goes for $52 per year.
BackupBuddy has four paid plans for its products and services – Lifetime ($357 –limited time offer), Gold ($130/year), Freelancer ($83/year), and Blogger ($52/year).
Check out BackupBuddy Pricing to understand the different features that come with the available plans.
BackupBuddy comes with the Stash Live feature that allows you to create a backup of dynamic content in real-time. These changes are then stored in the storage space – you should get 1 GB free space upon purchasing this plugin.
While BackupBuddy performs malware scanning and troubleshooting operations, some of its features are very hard to understand (non-technical bloggers can attest to this).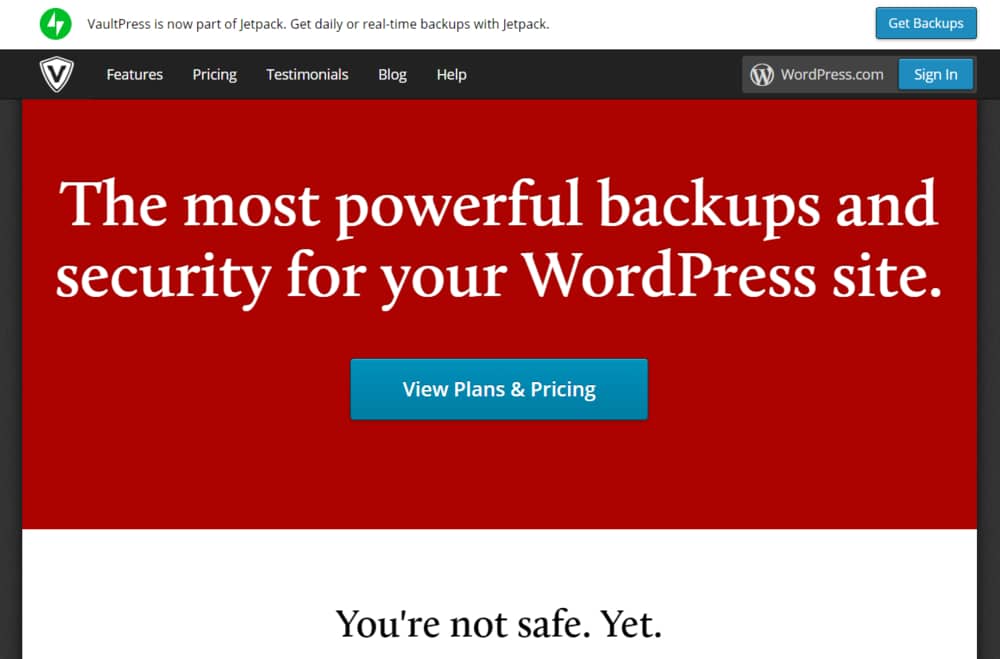 As one of the best WordPress backup plugins, VaultPress provides the most powerful backups and security for your WordPress site.
It protects your WordPress website from the most common – and most serious – security threats such as host failure, exploits, viruses, hackers, and user error.
WithVaultPress, you get to restore backups automatically using an FTP or SSH connection to your current site or an alternate site. Downloading any backups is even easier – you can instantly download your uploads, plugins, database from your entire history.
You can also migrate your site from an expensive or slow host by transferring or duplicating it.
VaultPress also allows you to review suspicious code and fix the most common threats. It automatically fixes your website and notifies you in the case of dangerous threats.
And, of course, least of your worries – they provide WordPress experts for customer support. Be sure to get help in backing up, restoring, and fixing your site.
VaultPress offers affordable plans on their backups and security services – check outVaultPress pricing to find out which plan will best suit your WordPress website's needs.
So, is VaultPress any better than other backup plugins?
VaultPress, unlike most WordPress backup plugins, provides security scans for more expensive plans. Plus, you can easily restore your site's backup and their WordPress experts are always available for customer support.
However, it can be very difficult to spot the difference between their plans – they are somewhat similar. Besides, each plan only caters to one website.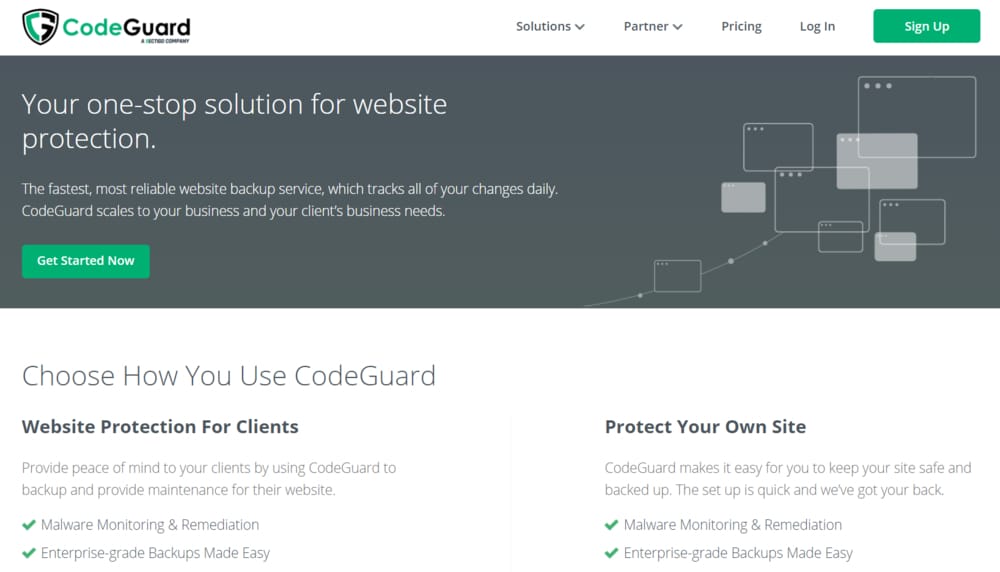 Codeguard, unlike other WordPress backup plugins, works around your site instead of interacting with it directly through WordPress mechanisms.
With Codeguard, you can be sure of an initial backup as the plugin constantly monitors and looks for any changes to your WordPress site. Remote storage options are also available with Amazon S3 as the preferred option for Codeguard.
You also get automatic database and file system backups with real-time updates.
You can as well grab Codeguard for your site at $60/year (for 1 site) and $948/year (for up to 25 sites). Codeguard Pricing will be essential in makingcomparisons between the various plans offered by this WordPress backup plugin.
Luckily for you, Codeguard not only works with WordPress but also other website platforms. Besides, it is a hands-off tool – you can just use it, once it is set up.
Codeguard, on the downside, can get expensive if you want to handle more than a handful of sites.
WPvivid Backup is an all-in-one free WordPress backup plugin that securely backups your WordPress website to remote storage options such as Google Drive, Amazon S3, DigitalOcean Spaces, FTP, and SFTP.
With WPvivid backup, you can rest assured of seamless site migration. You can migrate your entire WordPress site to a new domain with a single click. Get prepared for the worst possible events with a one-click restore from a backup.
Besides, WPvivid also supports multiple migrations – such as transferring from a development environment to a new server.
WPvivid allows you to quickly backup your WordPress site manually or automatically – they call these "easy backups". You also get the privilege to customize your backup content and filter large files.
With comprehensive multi-tasking main features, Wpvivid relieves you the stress of installing separate plugins for completing various tasks – backup, restore, and transfer.
Well, to your WordPress site advantage, WPvivid supports five of the leading cloud drives on the internet free of charge.
Check out how WPvivid Pricing compares the different plans available for its customers.
Unfortunately, unlike other WordPress backup plugins, the WPvivid backup plugin does not provide free incremental backups – the entire backup process tends to take longer to complete.
Likewise, you do not get a free website-staging environment with Wpvivid's free version. Therefore, you have to shift to the Pro version to test updates to your site.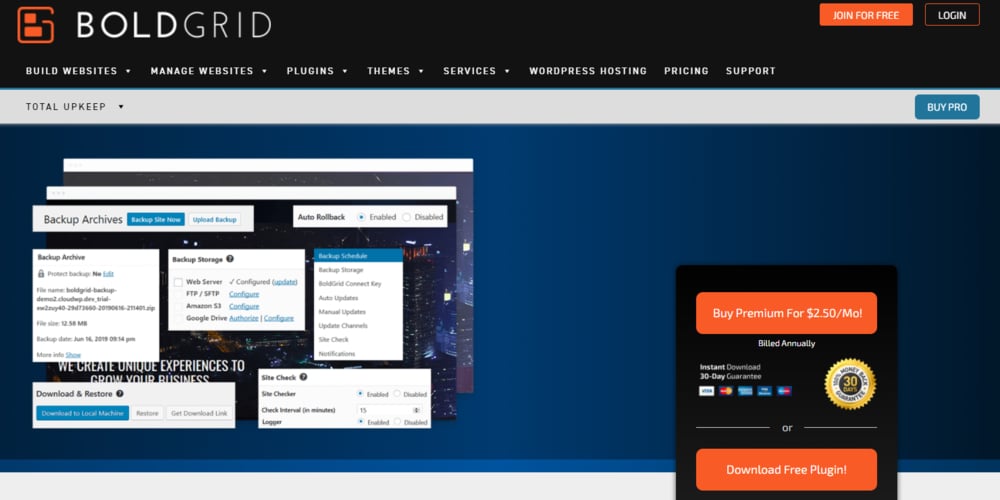 Are you looking for a backup tool that can as well protect your WordPress website?
BoldGrid Total Upkeep provides automated remote backups and the ability to automatically rollback failed updates, and so on…
With BoldGrid Total Upkeep, you are sure to prepare, protect, and prevent your site from the worst attacks or server crashes.
You can easily select a date and time for automated backups or as well do it manually. Cloud storage options such as Amazon S3, Google Drive, and FTP/SFTP help ensure your backups are stored safely and automatically.
Total Upkeep also has the necessary toolset to prevent website crashes from occurring. You can automate any WordPress updates such as themes and plugins.
Site check ensures your site is monitored for any errors that could lead to a crash. Total Upkeep signals you to auto-restore your site to the latest backup, in case an error is detected.
You can restore a single file within the backup browser – Total Upkeep Premium only.
It is worth noting that you can use one BoldGrid Total Upkeep license for unlimited websites. Simply buy Total Upkeep Premium once at $2.50 per month, and use it on any of your WordPress sites – billed annually.
You can also look at BoldGrid Total Upkeep Pricing to understand what each plan entails.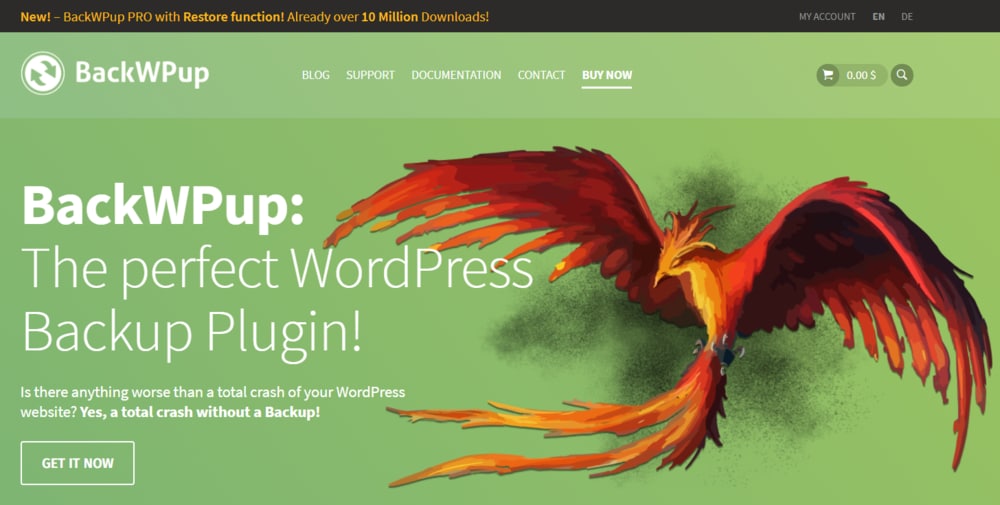 BackWPup Pro is also an all-in-one backup solution for WordPress with excellent support. It has over 600,000 active users and more than 5 million downloads, making it one of the most popular WordPress backup plugins.
If you have used BackWPup before, then you will for sure find more exciting features if you upgrade to BackWPup Pro. Unlock a lot more backup destinations and use the personal premium support of the development team.
BackWPup Pro offers amazing features such as complete database backup and automatic restore. You can back up on your webspace, to Microsoft Azure, DropBox, FTP(S), Amazon Glacier, Google Drive, and S3 services.
Not only does BackWPup offer a stand-alone app for emergency restore, but also allows you to encrypt your backup archives.
BackWPup Pro provides multisite backup management and Google Drive backup. You must also schedule separate database and file backups with their easy-to-use interface. (Quite unfortunate for those who rely on on-demand backup).
On the downside, they do not offer cloning or migration tools like the other WordPress backup plugins we have discussed. BackWPup can also get pricey for multiple domain licenses.
Besides, BackWPup restore is still a stand-alone app as it is yet to be integrated into BackWPup pro.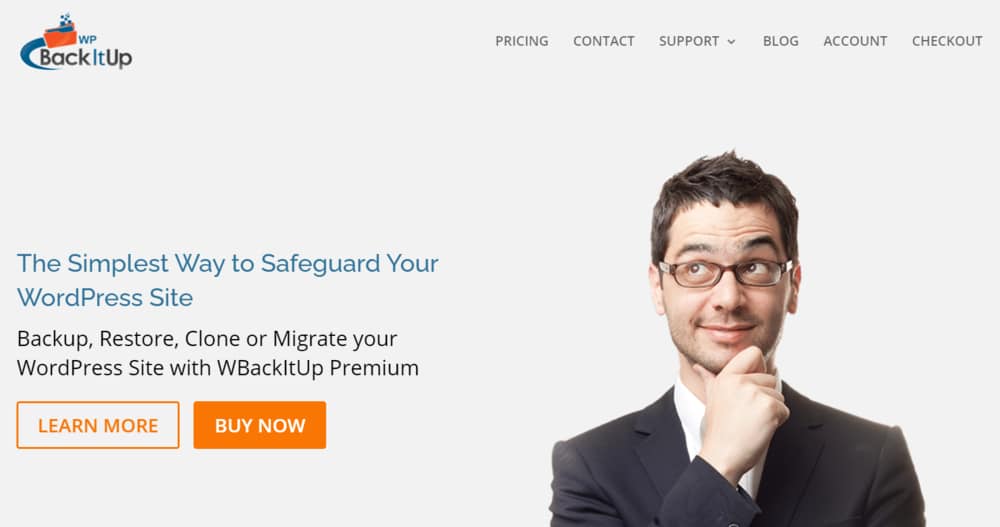 WP BackItUp has been safeguarding WordPress websites since 2012 and sure enough, they have impressed close to 20k customers with their product, services alike.
Never fear complicated backups again with WP BackItUp – it is fast, safe, and makes backups simple without necessarily sacrificing any of their core features.
Unlimited backups ensure you backup your WordPress site monthly, weekly, or daily without charging extra for the number of backups you create.You can aswell schedule your backups as per your needs and let WP BackItUp handle the rest.
WP BackItUp also allows you to download your backups and save them to cloud storage providers – One Drive, Dropbox, and Google Drive.
Do you also need an easy way to migrate your site to another host?
WP BackItUp allows you to back up your WordPress site on your current host and restore it on a new host.
WP BackItUp offers a Personal plan at $79/year (1 website –unlimited backups), a Professional plan at $99/year (5 websites – unlimited backups), and a Premium plan at $199/year (20 websites – unlimited backups).
Have a look at WP BackItUp Pricing to get more insights on the various plans available – and probably if any plan could suit your WordPress site.
You can also choose to try their product or service within 30 days of your purchase. If in any case you are not impressed, you are entitled to a 100% money-back guarantee.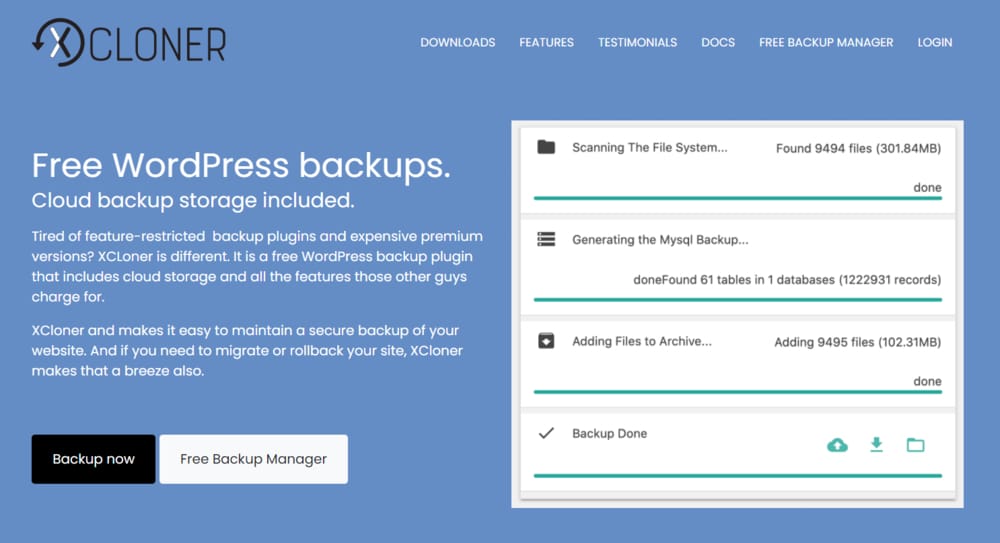 XCloner offers many premium-level functionalities freely including automatic backup scheduling and cloud storage for backups. It as well caters to both small and large WordPress websites.
With XCloner as your backup plugin, you get free cloud backup storage – your website's backups are sent to the remote location of your choices such as Amazon S3, Microsoft OneDrive, and Google Drive.
XCloner also provides automatic backups by scheduling backups and performing backups before automated updates are applied. Full or differential backups are also available to your site.
XCloner completely backups your WordPress site – database, all files, and folders. It gives you the flexibility to independently backup the database and the file system as per your site's needs.
What about site migration?
Use open-source standards such as TAR, MySQL, and CSV formats — for site synch, migration, and rollback. This ensures that your backups can be restored in a plethora of ways. Thus more flexibility and full control.
XCloner version 4.2.0 makes it easier for users to perform backups from the command line using its lightning-fast CLI. You can schedule your backups with more flexibility using your system's Crontask function.
They also provide you with various options to customize the data compression process. This allows XCloner to accommodate backups for both small and large websites on different hosting environments and server configurations.
Unlike other feature-restricted backup plugins and expensive premium versions, XCloner is a free WordPress backup plugin with some amazing features like its rivals in the market.
The Bottom Line
Which WordPress backup plugin do you use for your site? Or, which one best suits your site's needs based on our discussion on the various backup plugins available on the market?
With lots of WordPress backup plugins available on the internet, it can be hectic when it comes to picking the best plugin that can help meet your site's needs.
But, you can rest assured that the information provided here will go a long way in helping you find the right backup solution for your site.
We hope that when you reach this point, you will have an in-depth understanding of the various WordPress backup plugins available for your selection.
Takeaways
Lastly, do you know that WordPress is the most widely used webdevelopment platform and Content Management System (CMS) on the web? On the other side, it is also the most hacked.
Therefore, you are better off using the best WordPress backup plugin for your website – BlogVault will indeed serve a great purpose for your website's needs.