You love writing and have a passion for creating unique and captivating stories.
But, sometimes it can be hard to develop new ideas. And, you find yourself staring at a blank page, the cursor blinking mockingly as if challenging you to come up with something brilliant. It's during these moments that you wish for a wellspring of inspiration, an infinite source of creativity to draw upon.
That's where Novel AI comes in. It's AI that finishes stories!
This AI-powered story generator promises to make writing better, easier, faster, and more fun than ever before.
But is it really the best option out there?
In this comprehensive Novel AI review post, you'll discover whether Novel AI story generator is worth your time and investment and if it can truly help you become a better writer.
You may be thinking, "An AI-generated story, what's the point?"
Well, you're not alone.
Many people are skeptical about the idea of AI writing stories.
But the truth is:
AI has come a long way in recent years, and it's now capable of doing things that once seemed impossible.
In fact, data science advancements in the field of artificial intelligence have led to the development of powerful language models like GPT-3, which are capable of generating high-quality text with minimal human input.
One example of this is the AI Dungeon, a text-based adventure game that uses GPT-3 to generate an interactive story that responds to your every move. The game has become wildly popular, with players around the world enjoying the endless possibilities of AI-generated stories.
And it's not just gaming that's benefiting from the latest AI advancements.
Jasper AI or Scalenut, for example, are AI copywriting tools that are designed specifically for content creation. These AI tools are designed to help you create high-quality content quickly and efficiently, providing suggestions for how to improve your writing and even generating complete paragraphs based on your topic and desired tone.
So, while Novel AI may be a great tool for generating quick story ideas, there are now many other AI-powered options available to help you take your writing to the next level. Whether you're a hobbyist or a professional writer, these tools can help you unleash your creativity and write stories that captivate and inspire your readers.
If you are looking for Novel AI reviews as you want to decide if you should use it or not, read on.
Because in this blog post, you'll learn exactly that. We'll cover:
And, a lot more.
Is Novel AI the best AI story generator out there?
Well, it depends on what you're looking for. If you're a professional writer who wants to write stories the old-fashioned way, then this AI story generator might not be for you. But if you're someone who's just looking for a little inspiration to get your creative juices flowing, then Novel AI might just be the perfect tool for you.
So, no matter who you are, you won't want to miss this comprehensive review of Novel AI. Let's dive in.
What Is Novel AI?
Novel AI is an online story generator software that offers an AI-powered playground for authors and storytellers. The tool is designed to provide freedom and flexibility in writing by using NLP (Natural Language Processing) algorithms trained on actual literature. Anyone can use Novel AI to generate high-quality literature easily.
You must have heard of machine learning and artificial intelligence, but did you know that they are also revolutionizing the way we tell stories? AI storytelling has become a new buzzword in the industry, and Novel AI is at the forefront of this trend. With its powerful AI module, it can help you generate compelling narratives with just a few clicks.
Plus, it has an AI-powered text-to-image generator and a theme editor that allows you to customize the look of your writing space.
And if you have old stories that you want to continue, Novel AI makes it easy to import them from other platforms and give them new life. With virtual companionship, you can even collaborate with AI to generate new ideas. Say goodbye to the constraints of writing and hello to endless possibilities with Novel AI. Unleash your creativity today!
But it doesn't stop there. Novel AI also has an AI art feature that can turn your stories into stunning visuals. Imagine being able to create your own book cover, illustrations, and even a trailer for your story. With Novel AI, the possibilities are truly endless.
What's even more impressive is that Novel AI is constantly improving itself through its machine learning algorithms. It learns from its users' feedback and adapts to their preferences, making it easier to create even better stories. So why not try Novel AI today and experience the future of storytelling for yourself?
---
You may also like: 7 Best AI Copywriting Tools & Software for Content Creators
---
Novel AI Key Features and Benefits
AI-assisted authorship: With AI-assisted authorship, Novel AI uses deep learning algorithms to generate high-quality literature, regardless of your writing abilities. And the best part? You can try it risk-free with their free trial.
Free Trial: Novel AI offers a free trial so you can try it risk-free.
Text-to-image generator: It has an AI-powered text-to-image generator that helps you create unique and original images to bring your stories to life.
Theme editor: It offers a theme editor that allows users to customize the look of their writing space. You can make your writing space reflect your mood.
Accessibility: With Novel AI, you can access your writing from anywhere as every story is stored on encrypted servers.
Memory: The service can keep up to 2048 tokens of memory, allowing the AI to remember more details.
Control: Users can control the AI's output and adjust it to their liking.
Privacy: It's designed with the user's privacy in mind and every story is encrypted with XSalsa20.
Importing stories: It allows users to import stories from other platforms too.
User-friendly experience: User-friendly experience with regard to privacy, transparency, and general goodwill.
Virtual companionship: Novel AI offers virtual companionship, allowing users to collaborate with the AI in generating new ideas.
With all these features and benefits, Novel AI is truly the future of writing. And who knows, with AI-generated art, you might even see your story come to life in a graphic novel! With Novel AI's AI-powered technology, you can have an "AI writer" by your side, generating new ideas and content for your story-writing projects.
Novel AI Storyteller Mode
The AI storyteller mode of Novel AI is truly a game-changer. Anyone who loves writing and storytelling will fall in love with this Novel AI writing mode. The mode offers a unique and innovative way to generate ideas and create new stories. With just a few clicks, you can get a fresh, new, and exciting story that is sure to captivate your audience.
You're looking for a great story idea but writer's block is keeping you from getting started. The Storyteller mode is the solution to your problem. This AI-powered tool is designed to help you generate new story ideas in seconds, and it's easy to use.
With Novel AI's prompts, you can create a unique and captivating story that will keep your readers engaged. Just imagine, with the click of a button, you can have an endless supply of ideas for your next novel or short story. Honestly, Novel AI is probably the perfect research assistant that helps you get started with your writing projects.
Also, it's easy to get started. To get started, all you need to do is open up the blank text editor and start typing. You can provide a few inputs and then click the "Send" button to get a new sentence generated by the AI. If you're not happy with the generated sentence, you can simply press the "Retry" button and get a new one in seconds.
Social media is an excellent place to share your writing projects and ideas. With this mode, you can create engaging and shareable stories that will get you more followers. Frankly, it's perfect for writers who want to keep their audience interested in their work.
I was impressed with the results I got from using Novel AI's Storyteller mode.
I've tried using AI tools in the past to generate blog posts, but they never really delivered anything that was truly unique, original, and factually correct.
Well, that's quite common with AI copywriting tools, I know.
But, honestly, with story and novel generation, the facts don't matter as much.
And, the best part of Novel AI is that it's given the freedom to generate imaginative and creative stories that are both captivating and engaging.
So, if you're feeling stuck, Novel AI's Storyteller mode is sure to help you break through writer's block and get those creative juices flowing.
I would highly recommend the Storyteller mode to writers and storytellers. Whether you're a professional writer, an amateur, or just someone who loves to create, this Novel AI tool is sure to help you generate ideas and stories that are both unique and exciting.
Novel AI Text Adventure Mode
As a user of Novel AI, I was excited to try out the Text Adventure mode.
And I must say, it exceeded my expectations. This mode allows you to generate a classic text adventure game where you first generate the scene and characters. You then give instructions to the character and the AI uses its creativity to play the game for you.
I was particularly pleased that this mode was free, although with a limited number of credits. This made it accessible for everyone to try out this amazing feature.
The fact that there's not really a right or wrong in this mode, made it even more interesting as it allowed the AI to use its creativity to the fullest.
Let's say that you're playing a text adventure as a character named Jack, who's on a quest to find a hidden treasure. You might type the following instructions into the game:
Jack walks into a dark forest
Jack sees a mysterious cave ahead
Jack decides to explore the cave
Based on these instructions, the AI might generate a response like this:
As someone who loves creative writing, I was immediately drawn to Novel AI's text adventure mode. It's fascinating to see how an AI writing tool can create a fictional world that you can explore and play in. The possibilities for storytelling are endless.
With the ability to generate characters and scenes, you can step into a world of your own creation. You're not just a spectator but an active participant in the story. This is a whole new level of immersion that traditional fiction writing cannot provide.
What's even more impressive is the AI's ability to generate responses based on the actions you take in the game. As a fiction writer, you will know how challenging it can be to create a cohesive storyline, but Novel AI's text adventure mode does it with ease.
If you're looking for a unique and exciting way to engage your creativity, I highly recommend giving Novel AI's text adventure mode a try.
Overall, Novel AI is a fantastic platform that combines the best of both worlds – creative writing and AI technology – to create an unforgettable experience.
Novel AI Image Generator
Novel AI image generator offers a powerful AI-powered image generator tool that allows users to generate original and unique images using artificial intelligence. With its advanced algorithms, NovelAI is capable of creating truly unique and original images that can be used to enhance your storytelling experience. The image generator mode of NovelAI is not free, and users must sign up for a paid plan to access these functionalities.
In the image generator mode, you can provide input based on your imagination, and NovelAI will use its algorithms to create a unique image based on your description. You can also tweak the image-generating parameters for further customization.
For example, if you imagine a "person from a different era, such as ancient Egypt or medieval times" or "an image of an imaginary creature that is half-human, half-animal" or "an image of an enchanted forest filled with magical creatures", NovelAI can create an AI-generated original and unique image that is unlike anything you have seen before.
This is thanks to the recent advancements in AI technology, which have enabled AI to create high-quality images that are truly unique.
As a story creator, the images generated by NovelAI can be an excellent addition to your stories. The fact that you don't have to worry about facts and information makes it much easier to use artificial intelligence in your storytelling.
In comparison, generating blog posts with AI can be more challenging, as AI often messes up information. However, in the story generation space, this is not an issue.
In short, the image generator tool by Novel AI is a great tool for anyone looking to enhance their storytelling experience. With its advanced algorithms, the tool offers a unique way to use AI for generating images, even for those who are new to AI technology.
Is Novel AI Free?
No, NovelAI is not entirely free. It is a monthly subscription service for AI-assisted authorship, storytelling, virtual companionship, and a sandbox for creative imagination.
While there is a free trial available at the Paper tier, which grants limited access to Clio, a smaller AI Storyteller, the full range of features requires a paid subscription.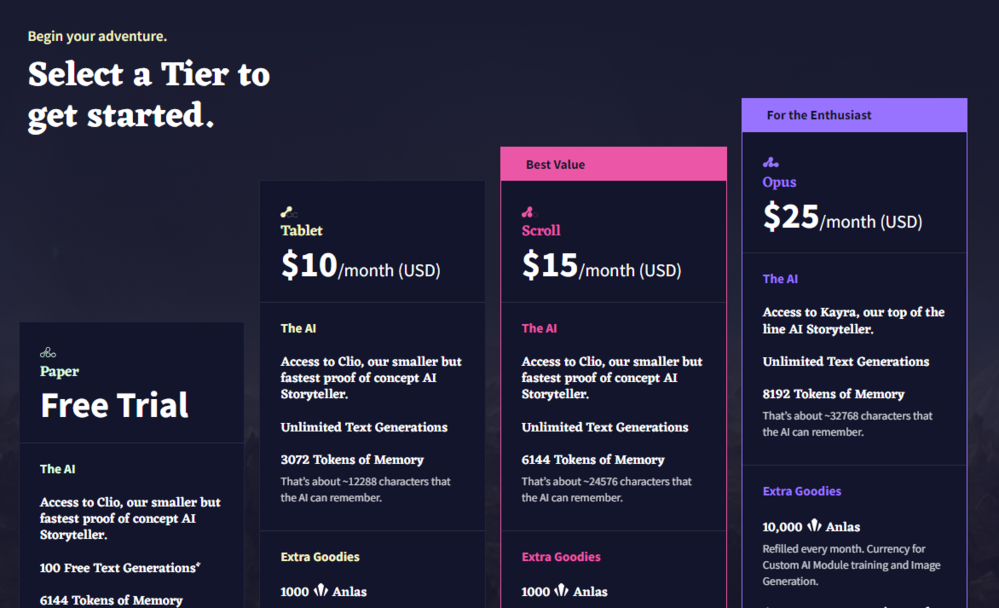 The paid tiers include Tablet ($10/month), Scroll ($15/month), and Opus ($25/month). Each tier offers different benefits, such as unlimited text generations, varying amounts of AI memory tokens, access to advanced AI text-to-speech capabilities, image generation models, and currency for custom AI module training.
Novel AI Pricing Details
The free version offers almost all features except for image generation. It's limited by the number of text generations, while the paid plans offer unlimited text generation with different levels of memory and image generation credits.
The Tablet Plan, priced at $10/month, provides all features with unlimited text generation but with fewer tokens of memory. This means that the AI will remember fewer words of the written story for future use.
The Scroll Plan, priced at $15/month, offers the best value for money with all features unlocked, the highest amount of memory, and a good amount of credits for image generation.
The Opus Plan, priced at $25/month, provides 10 times the amount of image generation credits compared to the other plans. This plan is intended for users who require a large amount of image generation for their stories.
Overall, the pricing is designed to offer different levels of features and services to meet the needs of a variety of users. The best part? You can start for free.
Who Can Use Novel AI?
Novel AI is designed for anyone, regardless of their writing skills or experience. It is a user-friendly novel writing platform that offers the tools and resources needed to generate high-quality literature with the help of AI technology.
Whether you're a seasoned author or just starting out, Novel AI provides a creative sandbox to unleash your imagination and bring your stories to life.
Is Novel AI Good? [My Experience]
I recently had the opportunity to use Novel AI and I have to say, I was thoroughly impressed. As a writer, I was curious about how AI-powered writing could benefit my creative process and I was pleasantly surprised.
First and foremost, the ease of use is phenomenal.
Signing up for the monthly subscription was quick and simple, and the platform itself was intuitive and user-friendly. The theme editor was also a fantastic feature, allowing me to customize my writing space to my exact specifications.
The writing experience with Novel AI was incredible. As someone who often experiences writer's block, the AI-generated ideas were a lifesaver. They were so unique and thought-provoking, they sparked my imagination and I found myself writing for hours on end. The AI was able to learn my writing style and preserve my voice and viewpoint, which was crucial in keeping my work authentic and personal.
Novel AI also includes a text-to-image generator that is powered by Stable Diffusion. This feature was a game-changer for me as a writer. I was able to bring my stories to life with ease and the quality of the images was impressive.
Overall, my experience with Novel AI was nothing short of fantastic. It's a true value for my time and I highly recommend it to writers. Whether you're a seasoned writer or just starting out, Novel AI has something to offer everyone.
What Users May Not Like
In today's fast-paced world, people are always looking for tools and technologies to make their lives easier. One such tool is Novel AI, which is an AI-powered text and image generation platform. Although Novel AI has some great features, it's not without its shortcomings.
Limited Free Trial: One of the major disadvantages of Novel AI is the limited free trial. Although the story-generating features are accessible for free, the image-generating features are behind a paywall. This means that users who are interested in generating images will have to pay to access this feature.
No Full Story Generation Feature: Novel AI doesn't have the option to generate a story from start to finish in one go. It generates stories piece by piece, which can be a problem for users who are looking for a complete story in one go.
No Money-back Guarantee: Novel AI doesn't have a money-back guarantee, which is a feature that most similar software offers.
Best Novel AI Alternative
Scalenut is an excellent Novel AI alternative worth considering. It's an all-in-one AI writing tool that can help writers generate amazing stories and novels in no time. With Scalenut, you can elevate your writing to the next level and create engaging and creative storylines that captivate your audience. The tool uses Natural Language Processing (NLP) algorithms to analyze user input and generate custom content based on specific topics, genres, and characters.
Its AI writing capabilities are impressive, and it's not only a novel writing tool. But, it's perfect for writers looking to demystify the world of content marketing and SEO. The tool can help you identify relevant topics with targeted keywords within seconds, making it easier to write content that will rank higher on search engines. With Scalenut's AI writer tool, you can say goodbye to writer's block and let AI write your first draft in less than 5 minutes.
Overall, Scalenut is one of the best AI story-generator tools for writers. Its solid short and long-form content-generating features, along with its many templates to choose from, make it a top choice for writers looking to create captivating stories and novels. So why wait? Try Scalenut's AI writing tool today and take your writing to the next level!
---
You may also like: Scalenut Review & Pricing: Is It Worth It?
---
Is Novel AI Worth It?
With Novel AI, you can create stories, develop characters, and craft intricate plots easily and efficiently. It's a nearly perfect tool for anyone who's passionate about writing and wants to take their craft to the next level. I have to say, I'm blown away by the sheer quality of this software. It's like having a writing partner who never tires or gets writer's block.
But, let me tell you something.
This software isn't just good, it's exceptional!
I've tried other writing software before, and they always left me feeling unfulfilled. But Novel AI is different. It's intuitive, easy to use, and produces quality content that rivals that of a human writer.
What sets Novel AI apart from other writing software is its ability to adapt to your writing style. It learns from your writing patterns and adjusts its suggestions accordingly. It means that you can create stories that are uniquely yours.
I've read stories created by this AI novel generator software, and I can barely tell the difference between them and those written by human authors. It's that good.
But don't just take my word for it.
Try it out for yourself and see what I mean. Take advantage of the Novel AI free trial offer.
Final Verdict and Thoughts
So, you've made it to the end of this Novel AI Review.
But before you leave, I want to share my final thoughts that will help you make a more informed decision about whether or not to use this AI story generator.
As someone who's spent countless hours trying out new AI tools, I can confidently say that Novel AI has made a lasting impression on me. Starting from the creative Storyteller mode to the thrilling Text Adventure mode, Novel AI offers something for everyone.
Whether you're a professional writer looking for inspiration or just someone who enjoys playing around with words, the results you get from this AI story generator are always fascinating and often surprising. Both the writing modes are equally impressive and offer a unique way to play and interact with AI. This Novel AI is really a perfect example of how AI is making new and innovative ways to have fun with technology.
The user-friendly interface of the platform makes it easy for anyone to get started with the software and see the results of the AI's creativity. And while there's always a sense of unpredictability when dealing with AI, the results generated by Novel AI are always well thought-out and provide a fun and engaging experience.
Overall, Novel AI is a must-try for anyone who's interested in experiencing the potential of AI technology in a creative and unique way.
The range of features and the ease of use make this tool stand out from the crowd and I would highly recommend it to anyone looking for a powerful AI-powered story generation software coupled with an AI image-generating tool.
Of course, no software is perfect, and Novel AI is no exception. While it does a great job of generating story ideas, there are limitations to what it can do. For example, it may struggle with creating complex characters or incorporating themes into a story. As with any tool, it's important to understand its limitations and use it accordingly.
---
I recommend taking some time to experiment with the Novel AI tool and see how it works for you. Play around with different settings to see what kind of stories it can generate. And don't be afraid to tweak the output to make it fit your own vision for the story. Ultimately, whether or not Novel AI is the best AI story generator for you will depend on your unique needs as a writer.
---
Finally, if you liked this review of Novel AI, I want to encourage you to share this article with your fellow writers. By doing so, you'll be helping others make informed decisions about whether or not to use Novel AI. And who knows? Maybe you'll inspire someone to write the next great sci-fi epic with the help of this powerful AI tool.
In conclusion, Novel AI is an impressive tool that has a lot of potential for writers.
While it's not a replacement for human creativity, it can be a valuable asset for generating new ideas and breaking through writer's block. By understanding its limitations and experimenting with this, you can get the most out of this powerful AI story generator. And if you do decide to use it, be sure to share your experiences with others.