Do you want to skip the read and get right to my best choice? The best grammar checker app for most people is Grammarly or ProWritingAid.
Even if you're a skilled writer, it's common to make mistakes, no matter how efficient you are. So, it's not a bad idea to utilize a grammar checker to assist you when you're writing. If you're looking for the best grammar checker apps, look no further as I've handpicked the best grammar checkers that you can use right now.
Frankly, even the most proficient writers make mistakes. In fact, it's easy to make mistakes when you have so much writing to do on a daily basis. It really doesn't hurt to use a grammar checker tool or software, either free or paid.
If you are already a blogger or want to start a new blog, or a freelance content writer, or a serious student, or anyone who wants to write better, you should definitely take advantage of online grammar checker apps.
The good news?
There are plenty of grammar checker tools you can find online.
But, not every tool works the same way.
Some perform better than others.
Truly speaking, not all apps are viable. Some apps may never work the way you want them to. That's the bad news you have to swallow.
But don't worry! There's a piece of good news too.
The good news is most grammar checkers online are free to use. Going for a premium version is completely optional.
So it's easy to pick a winner for yourself.
What is the best spelling and grammar checker?
Grammarly is the most popular and extremely powerful grammar checker. This amazing AI-powered writing assistant performs better than you expect.
It doesn't only help you check spelling, punctuation, and grammatical mistakes, but also provides intelligent suggestions to make your writing more powerful, effective, and interesting for your readers.
The best part?
You can download and use this amazing writing app for free.
But, Grammarly is not the only software out there. There are many other online grammar checkers and correctors available for free.
Below are some of the best Grammar checker apps:
Those are the ones I want you to evaluate and pick a winner for yourself.
There is a wide range of Grammar checker apps available online. The best way to find out what fits your needs is to check them one by one.
For me, it's Grammarly always. It's free and extremely powerful.
The idea of digging through all the available Grammar apps to come up with the best ones has made me write this article. It should help you too.
Let's get started:
1. Grammarly
Grammarly is obviously my #1 recommendation.
And, it's free.
I've been writing online for over 9 years now and still write almost every day. Grammarly has been a great help since the day I started using it to find out grammatical issues in my articles.
Watch the following video to learn more about what Grammarly can do.
In short, it's an excellent tool.
The best thing about Grammarly is that you can use it for free.
Grammarly FREE Features
Check your spelling
Check grammatical errors
Check punctuations
Basic writing suggestions
100% free add-ons
There is a premium version with extra features like readability tests, vocabulary enhancement, plagiarism, and more.
Is Grammarly Premium Really Worth It?
My short answer is Yes.
However, the right answer to this question varies from person to person.
It mostly depends on who you are writing for.
If you are a casual writer and just need in checking basic grammar mistakes, the free version should be more than enough.
But if you are serious about your writing style, your tone, and how it influences the people who read your writing, the premium version is well worth it.
Grammarly Premium Features
Grammar, spelling, and punctuation checker
Consistency in spelling and punctuation
Fluency checker
Clarity-focused sentence rewrites
Correct formatting
Compelling vocabulary
Lively sentence variety
Confident writing tone detection
Politeness checker
Formality level
Inclusive language
Plagiarism detection to stay unique
Browser extensions
MS Word and MS Outlook add-in
Google Docs support
Native apps for Windows and macOS
Keyboard for iOS and Android
Add additional users
What more would you need from a Grammar checker app?
I use Grammarly as a browser add-on.
It's available even with the free version. You can download it here.
It checks grammatical errors and misspelled words as you write within any text editor in the browser. Pretty amazing, right?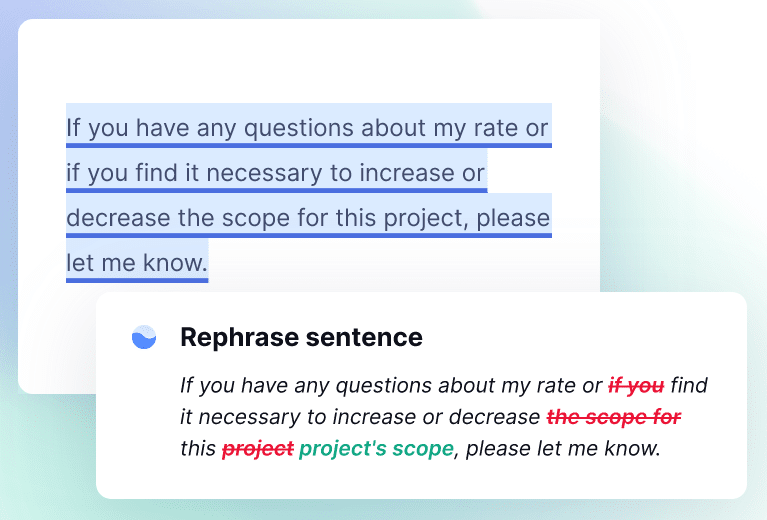 Its grammar checker addon is available for all major browsers. In addition to this, it also offers apps for windows, Microsoft office, phone, and iPad as well.
And, the best part is that it's free to use.
The premium version is mostly used by professional content writers or writers who are serious about effective communication with the readers.
Do you want to take your writing to the next level?
Go for Grammarly premium.
The premium version has additional features that significantly improve your writing style, going beyond just grammatical errors.
Yes, here's the kicker:
It doesn't keep itself within the boundary of only grammar and spelling checks but provides a deeper look into your content.
The free version should work for most people.
But if writing is your profession and you want it to be more clear, engaging, and interesting to read, the premium version is worth considering.
In short, it's a perfect fit to reach the next level of writing.
And, the awesome part?
The premium version starts at only $11.66/month.
Click here to learn about the host of additional features, it offers to elevate your writing style so that you can aim high with brilliant writing.
You know what?
A powerful feature of Grammarly premium, I like, is its inbuilt Plagiarism detector that checks the entire web (as you write) to discover similar copies.
How does it help you ask?
It ensures that the content you write stays unique and original always.
Eliminate Grammar, Spelling & Punctuation Errors Forever with Grammarly
Grammarly is the most recommended grammar checker, trusted by over 5 million students, professionals, and faculty members worldwide.

I have been using Grammarly for years and I must tell you this is one of the best Grammar checkers ever created for writers.

And you know what?

Grammarly doesn't only help you ensure your writing is flawless and effective, it also gives you brilliant suggestions to make your writing more powerful and interesting to read. Pretty cool, right?

And of course, the best part?

It's absolutely free to use. Download yours today!
For some reason if you don't find value in Grammarly, or if you don't like how it works, the ProWritingAid app is an excellent alternative you can use.
Similar to Grammarly, this is free to use as a browser add-on.
It works best for fiction writers. However, it can be used to detect spelling mistakes and grammatical issues for online content as well.
It also offers brilliant suggestions to improve your writing.
Want to improve your readability score?
You won't be disappointed.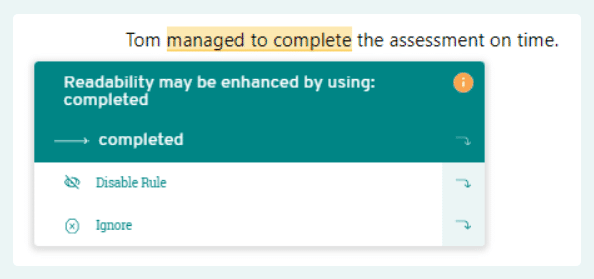 It's not the end.
There are plenty of features that will make you excited to try ProWritingAid right now. I believe that it's the best Grammarly alternatives you should try.
The best part?
It offers a free browser add-on (for all major browsers) that you can download and add to your current browser and check how it performs.
In my case, it's slightly slower than Grammarly. But that doesn't make it a bad Grammar checker at all. It may work for you just fine.
The best way to come up with a confident decision on which app to use is to use all these apps and decide for yourself.
Click here to download it for free.
You will be happy to know that the premium version costs lesser than Grammarly. While Grammarly Premium starts at $11.66/month, ProWritingAid will cost you only $6.58 a month which makes it $79 yearly.
However, ProWritingAid has monthly plans. It costs lesser than what Grammarly charges if you decide to go for the monthly plans of Grammarly.
But Grammarly doesn't offer any monthly payment plan. You'll be required to pay for 12 months upfront.
But honestly, if you want to write confidently and need two pairs of eyes to monitor everything you write, both apps perform almost the same way.
I personally like to use Grammarly. It seems faster with more accurate results.
Well, both of the apps can undoubtedly offer you a helping hand to strengthen your writing. In short, both apps are a perfect fit for beginners and pros.
With a few exceptions, both apps offer similar features.
Looking for a premium Grammar check app?
But it doesn't feel right to spend on Grammarly or ProWritingAid as they are costly according to your budget. Then, WhiteSmoke is worth your attention.
WhiteSmoke writing tool is a more affordable solution than other similar apps. But it certainly doesn't disappoint when it comes to differentiating yourself as an efficient writer. It's another handy writing tool that improves the way you write.
Just like Grammarly, WhiteSmoke ensures everything you write is effective. It detects hundreds of previously undetected errors.
And, it's been around since 2002.
This is one of the cheapest Grammar checker tools I've reviewed. You can get started with WhiteSmoke at a price as low as $5/month only.
It doesn't offer a monthly subscription like ProWritingAid.
So you'll be charged $59.95 as a one-time fee. Your monthly costs can reduce up to $3.47/month if you decide to go for the 3-year plan.
Every plan includes 500 credits that can be used to check plagiarism. Extra credits can be purchased with additional payment.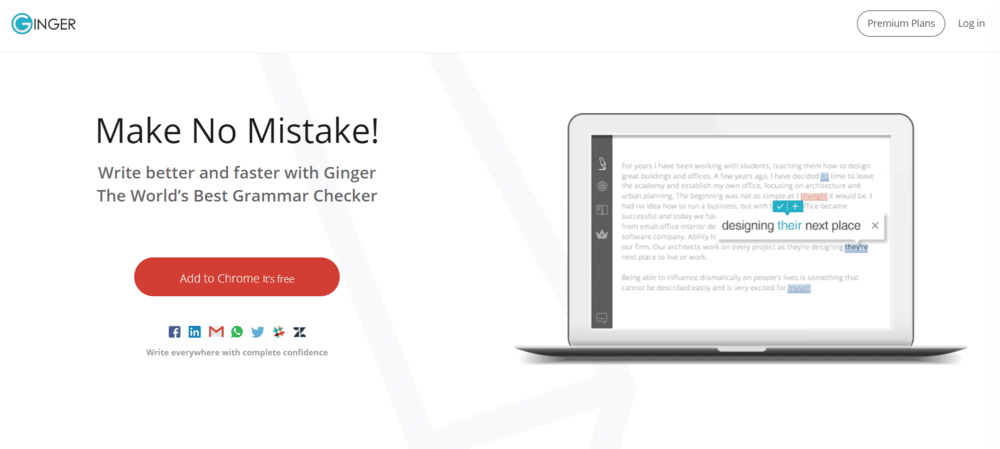 Another powerful Grammar tool that deserves your attention is Ginger.
It's one of the fastest apps that I've checked. It can quickly translate your texts between over sixty languages. There's a free browser add-on available too.
Ginger is free as long as you want it to highlight grammar and punctuation errors as you write and want to use it only for browsers.
Besides, you get a free translator for over 40 languages.
What you miss is the Sentence Rephraser that helps you rephrase sentences to improve clarity and style. In addition to this, you also get a text reader, a detailed analysis of your mistakes, and the ability to translate in over 60 languages.
And of course, you get the confidence to write with the highest caliber.
The premium version starts at $6.66/month for two years. However, the cost quickly increases to $20.97/month if you decide to opt for a monthly subscription.
You'll be happy to know that there is a 7-day money-back guarantee if you are not happy with your purchase, which I don't think will be needed.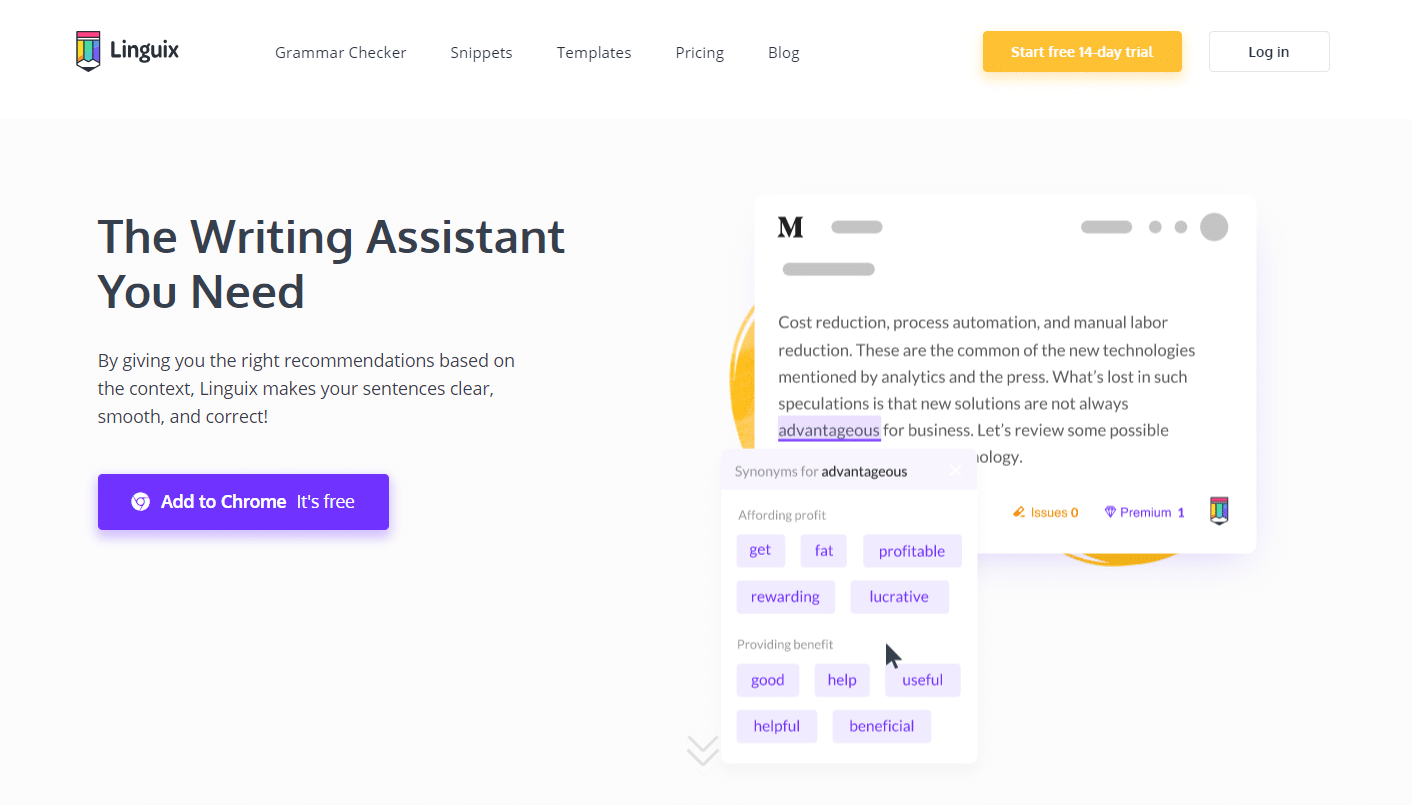 Looking for a Grammar checker that works almost as great as Grammarly, but doesn't cost a whole lot of money?
You should have a look at Linguix.
It's easy to make mistakes when you are busy writing. It's easier for these mistakes to get unnoticed when you don't double-check.
The good news is that you can now use AI-powered writing tools to get the right recommendations based on the context.
For that reason, instead of scratching your head after you complete your writing, it's better to use a writing app that can help you catch errors right when you are writing. Linguix browser extension can do exactly that.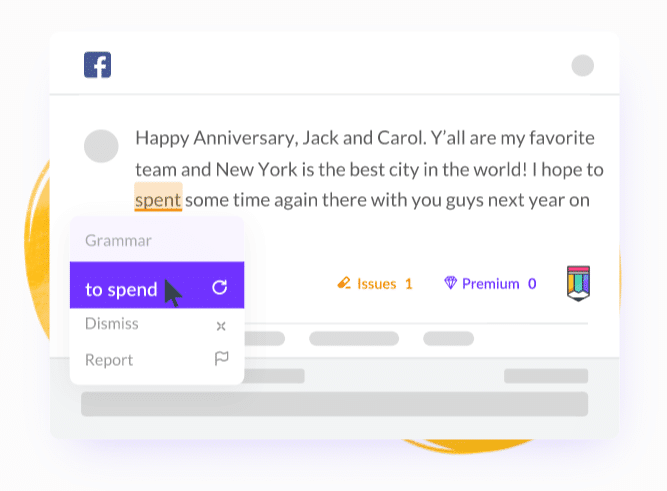 The best part?
This is absolutely free to use. You can download it here.
There is a premium version that offers a lot more starting from basic grammar, spelling, and punctuation checks to vocabulary and style suggestions.
Wondering how much does it cost?
If you are going for an annual plan the premium version will cost you $8/month while it can up to $20/month if you want to opt for monthly plans.
Since Grammarly can cost almost $30 per month on the monthly plan, Linguix can be way cheaper. But first, I will suggest you try the free extension first.
QuillBot is yet another excellent grammar checker tool for correcting your spelling and grammatical errors. This great tool is available for free on the internet.
Because of its elegant interface and wide range of writing modes, you will enjoy using this incredible tool. Aside from being a paraphraser and summarizer, it also functions as a grammar checker that you can use on its website for free.
Please note that the grammar checker is still in beta, as I'm writing this article. But overall, it functions pretty well and should get your job done.
To be honest, this is more of a paraphraser than a grammar checker tool.
The platform rose to prominence as one of the industry's best paraphrasers due to its efficient tools that help make writing painless.
QuillBot, with over 5 million monthly users, is undoubtedly one of the best in the industry.
To be frank, I don't think it's as effective as Grammarly or ProwritingAid. It can, however, be used as a grammar checker. In terms of its paraphrase tool, I strongly advise you to give it a shot. Its performance will continue to amaze you.
Hemingway Editor is another writing app that works quite differently from the other apps I've just mentioned. No worries though! It's quite simple to use.
When you visit the website, you'll have the opportunity to directly paste your writing into the Hemingway Editor available on the homepage.
It instantly highlights any possible improvements that can be made.
The editor looks colorful as the suggestions populate. Different color corresponds to different suggestions. Its purpose is to make your writing bold and clear.
The online version is absolutely free to use.
All you need to do is to copy your work and paste it directly onto the website. It will immediately show you the suggestions Hemingway has for you.
The bad news is that there is no way to save the corrected version. To do that you will need to purchase and download the desktop app.
The downloadable version costs a $19.99 one-time fee with lifetime updates.
Please note that the Hemingway Editor is not as powerful as Grammarly (that I prefer) or ProWritingAid. It lacks many critical features other similar apps offer.
However, it may work just fine as per your requirements.
After the deadline is a powerful cloud-based proofreading tool. It doesn't only check grammar and spelling but also detects your writing style. You can use it to proofread your essays, blog posts, or any other form of writing.
This is a free open-source technology that uses artificial intelligence to detect your writing errors and offer smart suggestions.
You can download it free and use it on web browsers. Just visit the website, click on the download tab, and follow the instructions from there.
The best way to check your writing samples is to use them online.
Visit the website and click the Demonstration tab. You'll find a text editor that can be used to receive instant feedback on your writing.
Copy and paste your texts into the box and hit Check Writing.
That's all you have to do to find out spelling errors, grammatical suggestions (if any), and style suggestions. Every suggestion it offers has an explanation included.
Overall, this is a powerful tool for proofreading.
Language Tool is another proofreading tool that deserves a mention.
Like most other Grammar checker apps, it offers addons for chrome and firefox, Google docs, LibreOffice, Thunderbird, and many more.
When you visit the website, you'll see a text field where you can paste your writing and check it for errors. The app can check your writing in 20+ languages.
You'll need to click on the highlighted texts to get the suggestions if any.
The online version of the editor is completely free to use.
However, there is a premium version of the software with added features. Overall, the app is quite accurate and provides intelligent suggestions.
Frequently Asked Questions
The following are some of the most frequently asked questions that people look for an answer to. I've tried my best to answer them as clearly as possible.
Click on the following links to get to an answer fast.
What are the best grammar checker apps?
There are many different grammar checker apps, tools, and software to choose from. If you want to go with the best, anything between Grammarly and ProWritingAid should be sufficient. Both of these tools are quite popular and should serve you well. Both of these apps include a free trial version you can start using right now.
However, that doesn't mean other Grammar tools aren't useful. The following are some excellent alternatives to consider.
The Best Grammar Checker Apps in the Market:
If you're overwhelmed by the number of options, consider Grammarly or ProWritingAid. Both of these tools are fantastic in their own way and have free versions available. And, please note that Grammarly is slightly more expensive than ProWritingAid if you want to use its premium features. Overall, both tools are great for users.
What is the best free grammar checker?
If you're looking for a free grammar checker app, Grammarly or ProWritingAid are both excellent choices. Both tools are ideal for beginners as well as experts. Both of the tools work on your browsers, as well as MS Word, Outlook, and Google Docs.
What is the best grammar checker for android & iOS?
If you're searching for a grammar checker app for your Android or iOS device, the best option for you is to download the Grammarly keyboard. It works as a grammar assistant that doesn't only help you with grammar but also enables you to write clearly, confidently, and without errors in all of your apps.
Additionally, Advanced features like the synonyms tool help you improve your vocabulary, check spellings, and write better emails and social media posts.
How to Start with the Grammarly Keyboard?
Getting started with the Grammarly Keyboard on your Android or iOS device is a breeze. The steps you should take are as follows:
Get a free Grammarly account here.
Download it from the playstore on android device or appstore for iOS.
Get the app installed on your device.
Open the app now and tap on Get Started.
Log in to your Grammarly account.
Tap on Add Grammaly keyboard.
Toggle the switch next to Grammarly on and press OK.
Open the app again and tap Switch Input Methods.
Choose Grammarly as your default keyboard.
Choose an Appearance type: Light or Dark.
Type in the text field within any app to use the keyboard.
Enjoy its awesome features.
Start loving it now.
Additionally, you can open the app to configure the basic settings and customize the keyboard as per your requirements. It was quite easy, right?
Is there a website that can check my grammar?
If you are looking for a website to check your grammar, the best thing you can do is to sign up for a Grammarly account or ProWritingAid account. Both of the tools offer free browser extensions that you can add to your browser to automatically detect grammatical errors whenever you write on any website.
Additionally, you can log into your Grammarly account and upload your document to have it checked for spelling, punctuation, and grammatical issues, as well as intelligent suggestions to help you improve your writing style.
Here are a few more useful websites you can visit:
How do I know if my sentence is correct?
You'll need a decent grammar checker tool to determine if your sentence is grammatically correct and if there are any spelling or punctuation errors.
You should consider trying Grammarly or ProWritingAid to help you with your writing. Both of these writing tools have a lot of useful features and come with a free version.
Alternatively, you can use any of the following apps:
How grammar checkers like Grammarly work?
If you are wondering how grammar checkers like Grammarly works, the answer lies in complex cutting-edge algorithms, created by some of the world's best computational linguists. Through artificial intelligence or AI, its algorithms understand the rules and underlying patterns of effective writing by analyzing millions of sentences.
When you write with any AI-Powered grammar checker, its AI analyzes each sentence and looks for ways to improve it in every possible way.
Who can use grammar checkers? Or, should you?
Anyone who wishes to detect issues with punctuation, spelling, and grammar while writing, can use grammar checker apps like Grammarly or ProWritingAid. Now, there are advanced AI-powered grammar tools that don't only help you with grammar and spelling errors but also offer brilliant suggestions to enhance your writing style.
Using a grammar checker doesn't necessarily mean you are a bad writer and you doubt you'll be making mistakes. In fact, it's a smart decision to use one.
Even the most efficient writers can make mistakes.
It's always a good idea to use a proofreading tool as a helping hand to be able to detect issues in your writing automatically. Grammar checkers apps are excellent in detecting specific types of typing errors, such as space before a comma, an unintentionally repeated word, or a sentence that lacks end punctuation.
When you have so much writing to do on a regular basis or you're having a stressful day, common writing issues or spelling mistakes can easily get unnoticed. And, that's why it never hurts to use grammar checker apps or software.
Grammarly vs. ProWritingAid: Which one is better?
Which tool works better for you mostly depends on what you want to accomplish. Both of these proofreading apps can help you write better by detecting mistakes with spelling, punctuation, grammar and provide smart suggestions.
Both the apps are great in their own way. Since both the tools have free versions available, the best thing you can do is to try them one by one.
And, now decide which one is better for you.
It doesn't mean you'll like something just because someone else does. You have your own needs and you should love the tool that fulfills your needs. To help you make the right decision easily, I've created a comparison table below. It'll be useful.
Grammarly vs. ProWritingAid
| Grammarly | ProWritingAid |
| --- | --- |
| Grammarly's writing app ensures that everything you type is not only correct grammatically but also bold, clear, mistake-free, and easy to understand. | ProWritinAid's writing app offers world-class grammar and style checking combined with more in-depth reports to help you strengthen your writing. |
| Free version available. | Free version available. |
| It has a Plagiarism checker to check your work against over a billion web-​pages and documents to be sure of its originality and uniqueness. | It also has a Plagiarism checker that can detect plagiarism by analyzing billions of web-​pages, published works, and academic papers. |
| Grammarly has a clean user interface. | The user interface of ProWritingAid is not as clean as Grammarly. |
| This grammar checker has 6.9 million daily active users with more than 10 million active installations. | This writing app is used by over 2 million authors, editors, copywriters, students, and professionals. |
| Grammarly premium monthly plan costs $30 which will reduce to $20 for the quarterly plan and for the annual plan, it'll cost only $12 per month. | ProWritingAid premium monthly plan costs $20 and only $79 if you choose to go with the annual plan. ($6.58 per month with 67% savings) |
| There is no lifetime plan available. You'll need to keep paying monthly, quarterly, or annually based on your plan. | There is a lifetime plan that costs a $399 one-time payment. It includes all updates. No future payment is required. |
| Grammarly offers plenty of features even in the free version. | ProWritingAid comes with a free version but with limited features. |
| Support is available by submitting a ticket or by sending emails. | Support is offered by email with 48 hours maximum response time. |
| Overall, Grammarly is the best choice for anyone who values accurate writing and wants to enhance their writing style. It is a little bit costlier when you compare it to ProWritingAid. | Overall, ProWritingAid is best for anyone looking for a grammar checker, style editor, and writing mentor in one package. It can be a very useful writing assistant for fiction writers. |
My Final Words
I hope you have liked all my suggestions so far. The idea of coming up with a post like this was my desire to always improve this blog in every way possible.
As a blogger, improvement always starts with the content and its words.
But you don't have to be a blogger to use a Grammar Checker. These apps can be used to improve any type of writing material.
And, if you are a writer you should definitely care.
Let me explain why:
Words have power.
You can crush souls and build empires with this powerful tool. So undoubtedly, you want it to have an everlasting effect on your readers' minds.
But what if your writing isn't engaging enough?
What if it's not interesting enough to read?
I know… I know how it feels when you pour your heart and soul into your writing only to find out that no one cares about what you write.
It's discouraging. Isn't it? I understand.
The truth is writing engaging content is a learnable skill.
The good news is you can learn it with enough practice. And, the bad news is that you can still make silly mistakes even if you are an expert.
Clearly, you need a helping hand no matter how efficient you are as a writer.
How does it help you ask? Let me explain:
How does it feel when you write an incredible piece of content that contains a silly grammatical error which makes your readers laugh at you.
You don't want that. Do you?
Making mistakes doesn't necessarily mean you are a bad writer.
But, it happens. We just can't ignore it.
So it doesn't really hurt to invest in a Proofreader that quickly checks everything you write, notifies you about errors, and gives you powerful suggestions.
Most grammar checkers have free versions available. The premium versions may be required only if you are looking to reach the next level.
These grammar apps may not help you become a great writer, but can certainly help you strengthen your writing to have a lasting effect on your readers.
So my final word is this:
Use the tools I just mentioned and pick the one that works best for you.
It can't be simpler than this.
And, my last question to you is this:
Did you find this article useful and helpful?
If yes, please share it with the world. Because if you do, it will not only help others in need of this information but you'll earn my undying love and gratitude.
I sincerely appreciate anything you can do to spread the word.
Thanks!