If you're like most business owners, you're always looking for ways to increase your website's search engine ranking. And if you're not currently following SEO best practices, now is the time to start.
In this SEO checklist, we'll outline 21 SEO tips that will help your website rank higher in search results and attract more visitors in 2022 and beyond.
So whether you're just starting out with SEO or you're looking for new ideas to boost your ranking, keep reading for the latest SEO tips and tricks!
But, why organic traffic is so important?
Organic traffic brings long-term value to your website. It's free! Well, unless you decide to use paid ads, which is another story.
Organic traffic will help you get new backlinks, drive quality visitors, and can also build trust with your audience. That's exactly what Google wants you to do. Because search engines consider these factors when ranking websites. If this click-through rate, organic traffic goes up, so does your website's value!
So, take these SEO best practices seriously!
It's going to help you stay ahead of your competition and get more quality traffic to your websites, blog posts, or e-commerce sites.
Let's get right into it!
21 SEO Best Practices for 2022
Once you've created a website, it's time to optimize it for search engines. This is what we call Search Engine Optimization (SEO). By following the SEO checklist below, your website can automatically start ranking higher in Google and other search engines like Bing and Yahoo.
Let's start with the basics. Every website should follow these criteria before working on other SEO factors. It's important to lay down a strong foundation for your website. And, following the checklist below will get you there!
1. Choose a short domain name
You don't want your domain name to be too long.
Because it might affect your SEO if your domain name is too long and contains special characters. You've probably seen sites with a long domain name that contains numbers and other special characters. Don't do this! It might affect your SEO. And, it won't help you rank higher on Google.
So, get a short domain name that's easy to remember and type!
It will help you a lot!
The shorter your domain name is, the easier it will be to remember. And, people will type it into their browser or use that link to visit your website.
In short, try going for not more than 3 to 4 words.
Shorter is better.
Short domains are easier to remember or type and will be easier to share. So, don't go for the long domain names ever.
2. Pick a good web host
Your web hosting service is very important. If you don't have a reliable web hosting provider, your website might be slow or not available sometimes. It might affect your rankings. So, pick a good hosting company with all the necessary features you need to host your website today and in the future.
You don't want to change web hosts all the time because it can be annoying. You also don't want to have an inferior web host that will make you lose clients or customers because of their service or slow speed.
So, choose a reliable web host with all the necessary features you need for your business website. It will help you in the long run!
3. Use a good SEO tool
Using the best SEO tools will help you save a lot of time. It's very important that you pick the right tool to track your website's progress.
It will help you improve your SEO.
All-in-one SEO tools like SEMrush or Ahrefs are great for beginners.
Each has different features, but the overall functionality is pretty much the same. They are both great tools to have if you're doing SEO for your website. I strongly suggest you sign up for a SEMrush account here.
You can also take advantage of SEMrush Black Friday deals.
Ahrefs doesn't provide a free account. It's a paid tool.
4. Use WordPress as your CMS
WordPress is the most popular content management system out there. It's very user-friendly and has thousands of plugins to make your site better. These plugins are useful for adding additional features to your WordPress site.
If you are using another CMS, switch to WordPress!
WordPress is FREE and open source. And, it will make your life a lot easier when it comes to optimizing your website for SEO.
5. Connect your site to Google Search Console
Google Search Console is a great place to track your website's performance in Google. It's very helpful for SEO and it will help you fix most issues quickly. Google notifies you whenever there is something wrong with your site.
Using Google Search Console is free and you can create an account here.
Once you create your free account, make sure you add your website and verify your ownership so that you can use it effectively.
Here's what you can do with Google Search Console:
Submit website sitemap
Track ranking positions
Check out the keywords you rank for
Get notified about any errors
6. Set up Bing Webmaster tools
Similar to the Google search console, Bing webmaster tools is also a free tool and you can create an account here.
It will allow you to check the performance of your website in Bing. It helps with spotting new errors and you can fix them quickly.
Once your account is ready, make sure you add your website to it. And, don't forget to verify your ownership. What you can do with Bing webmaster tools is pretty similar to what you can do with Google Search Console.
7. Set up Google Analytics
Google Analytics is a great tool for tracking how visitors are using your website. It will show you where they are coming from, which pages are most popular, how much time they are spending on your website, which keywords are bringing them to your site and so much more.
These reports will help you improve your website. And, you can easily find out if your SEO campaign is working or not with these reports.
Google Analytics is free and you can create an account here.
It's quite simple to set up and usually takes just a few minutes. You don't need any special skills to get started with Google Analytics.
8. Create a sitemap
A sitemap is an important factor for your website's SEO.
It will help both visitors and search engines easily navigate through your website. It will also help search engines crawl your website more thoroughly and index all your pages. Here's how a sitemap looks: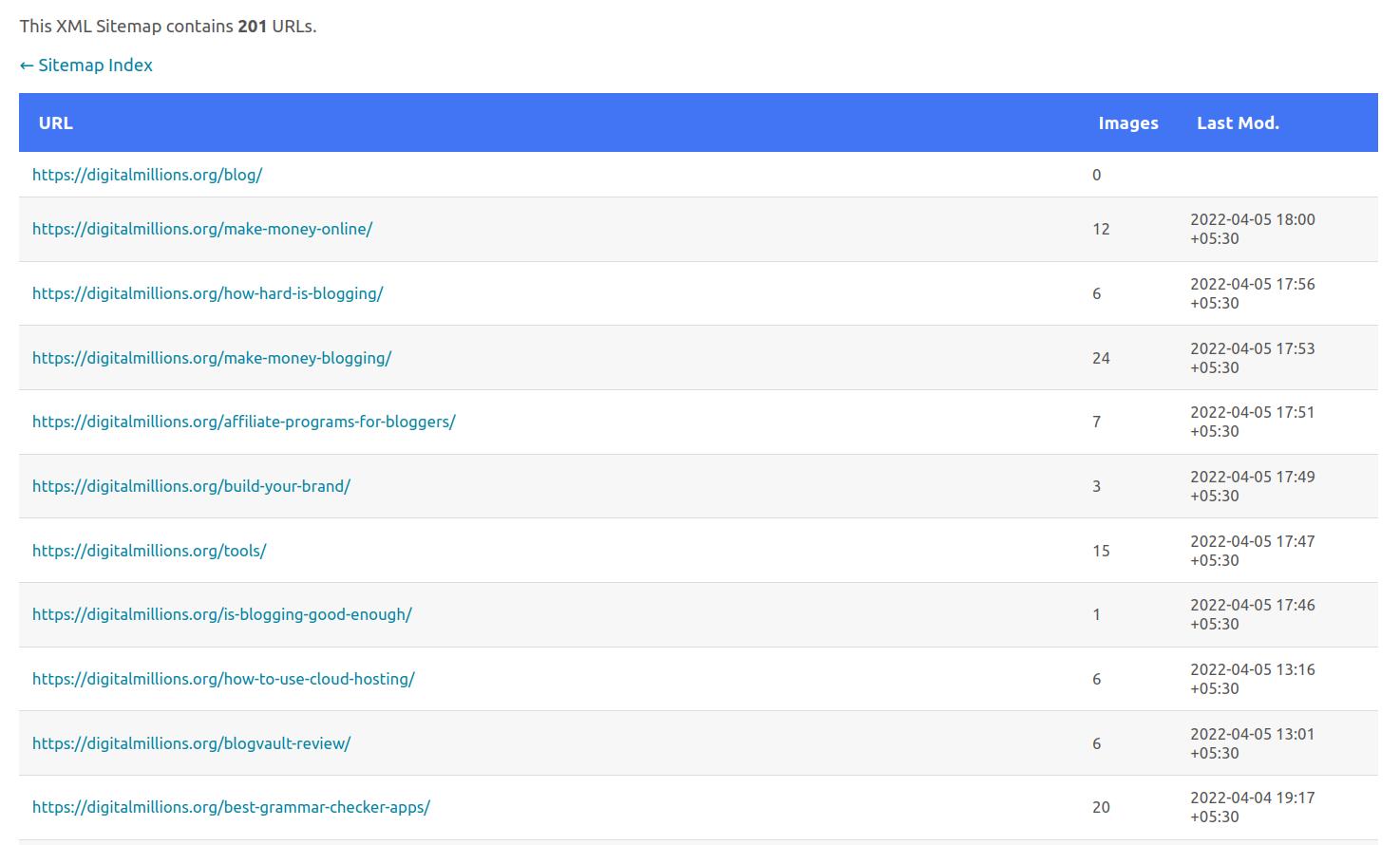 The most popular sitemap format is the XML Sitemap. You can create an XML sitemap using one of the many free tools available online.
Don't forget to submit your sitemap to Google Search Console and Bing Webmaster tools. You can do it manually through these tools.
9. Create a robots.txt file
Creating a robots.txt file isn't mandatory. But it's still good to have one for your website. It's located in the public_html folder of your website.
A robots.txt file helps you control how search engines crawl your website. You can give instructions to search engine bots about which pages should be crawled and which pages should not be crawled.
Don't forget to include your sitemap in the robots.txt file. It will help search engine bots access the sitemap if they want.
10. Set up your Facebook and Twitter account
Social media is a very powerful tool for SEO. If you aren't using social media for your brand, you're missing out.
Setting up your Facebook and Twitter accounts can be useful.
Your Facebook or Twitter account will be linked to your website after you set it up. If you share your website's content on Facebook or Twitter, the links to your website will spread. And, it can help bring more traffic to your site.
It will not only help you get more traffic but also build a strong community. You can share your latest content on these platforms as well. And, you can also encourage your visitors to share it too to increase the reach of your content.
Search engines prefer websites that have a social media presence as compared to those that don't. The more active your social media profiles are, the better it is for your website's SEO. It may not have a direct impact, but it will certainly help. So, don't ignore social media if you want to rank in search engines.
11. Use HTTPS instead of HTTP
If you didn't know already, HTTPS stands for Hypertext Transfer Protocol Secure. It's basically the secure version of HTTP (Hypertext Transfer Protocol).
You should always use HTTPS instead of HTTP if you want your website to rank in search engines. Search engines prefer secure websites. So, if you have an HTTPS version of your site, it will be considered secure.
So, if you aren't using SSL for your website, you should start using it right now. It will help secure your website and also boost its SEO.
Most popular web hosting services now offer free SSL. If you're looking for the easiest way to host your site, try Cloudways for free.
12. Optimize your site speed
Google has already started using website speed as a ranking factor. How fast your website loads can influence your rankings in search engines.
So, it's important that you optimize your site speed to improve its SEO.
Even Google provides a free tool to help you test your site speed. You also test your website's loading speed using GTmetrix or Pingdom.
These days, a fast-loading website is the most preferred option.
Here are a few ways to increase your site's speed:
Use a reliable and fast web hosting service
Use optimized images on your website
Enable compression of your site's CSS and JavaScript
Enable browser caching
Optimize the database of your website for faster performance
Use a cache plugin
Don't overload your website with heavy scripts
13. Create high-quality backlinks
Backlinks are incoming links from other websites that lead to your website's URL. It's simple. They are links pointing to your website.
Backlinks are very important for improving your website's SEO.
If you get more backlinks from relevant authority sites, it will help increase your search engine rankings. It's because search engines look at the number of backlinks to determine your website's overall value.
So, you need a good number of backlinks to make it an authority site.
How to get high-quality backlinks?
It's not very difficult.
If you have a good number of high-quality content on your website, you can easily get backlinks. However, it's important that you avoid low-quality links as they can harm your website's ranking in search engines.
Always write high-quality content that is relevant to your industry. And, share it with other sites in your niche. This can help you generate backlinks.
You can also contact other website owners and ask them to link to your content or use guest posting. But, you should never offer any payment in exchange for a backlink. It's against Google's webmaster guidelines.
14. Get rid of low-quality links
While you need a good number of backlinks, you should not have a large number of low-quality links. It can hurt your website's search engine ranking.
What is a low-quality backlink?
A "low-quality backlink" is any link that is not related to your website's topic. For instance, if you have a blog about sports and you get a backlink from an article about politics, it's considered low-quality.
It's because search engines look at the relevancy of your link's topics to determine whether it's good for your website or not.
So, you need to learn the art of identifying low-quality links.
You can easily find these low-quality links with a backlink checker tool like Ahrefs or SEMrush. Once you identify them and feel confident that they are damaging your website's authority, use Google's Disavow Links Tool.
15. Use anchor text for backlinks to improve SEO
Anchor text is the visible text in a hyperlink.
So, when people click on the anchor text, they are taken to your homepage or another web page that you specify.
You need to use relevant anchor text for backlinks. Because it helps search engines better understand the relevancy of your link.
Anchor text also affects the click-through rate. So, you need to make sure that your anchor text has high relevancy and a good CTR. Take a look at the following two anchor texts. Which one would you like to click?
Become a millionaire
Scared of being poor? Learn how to become a millionaire.
It's clear that the second anchor text has a higher CTR.
And, it's quite relevant too!
Don't overdo it, though.
You should have an ideal ratio of anchor text for your backlinks. Otherwise, you may appear manipulative to search engines.
16. Add Schema Markup
Schema markup is beneficial to your website's SEO. It helps search engines better classify information about your web page.
It tells the search engines what your content is about. So, it can display your content in search results in a more relevant manner.
You can add it to your website's code. It helps search engines provide rich snippets in SERP for the relevant link. Because it communicates to search engines that your website provides a piece of particular information.
For instance, the markup for events will have details like event name, event date, event venue, and other relevant information.
17. Use SEO-friendly URLs
The way you name and structure your URLs is crucial.
You need to name your URLs carefully. Search engines give priority to keywords in the URL. So, if possible, you should use them for SEO.
However, there are no strict rules for naming a URL.
If you are running a website on WordPress (which you should), you can set up the permalink structure as "Post name".
This is the best for SEO.
Because search engines give priority to keywords in the URL. And, it's well-structured and readable too. You should not use "ugly" URLs.
You should try and keep the URL short and simple in length.
18. Use Canonical Tags for better SEO
Canonical tags help search engines understand that two or more web pages have the same content. It also communicates that the duplicate version of a page is a copy and the original is the one to be indexed.
Because duplicate content can harm your website's SEO. So, you need to use canonical tags to specify the original page.
It helps you fight duplicate content issues.
So, if you have the same content on more than one page of your website, you can use canonical tags to tell search engines which URL is the original.
19. Write content for humans
Content is the king.
Because everything starts with content.
You need to write unique, relevant, and high-quality content for your website's visitors and search engines.
Search engines love useful content that's rich in keywords. So, you should put some effort into writing unique and high-quality content for your website.
You can hire a professional copywriter if needed.
But make sure you know the basics of writing SEO-friendly content.
Include keywords in your content.
But don't stuff them in.
Google is smart enough to know when an article is stuffed with keywords. And when it is, they will push it down in search results. So, write content for humans first. And, then use keywords judiciously to get Google's attention.
20. Follow a content strategy
There are many different SEO factors that can directly or indirectly affect how well your content performs on search engines.
These can also be referred to as on-page SEO factors and include:
The quality of your content
How fresh your content is
The length of your content
1. Content quality
The quality of your content is another important blog SEO factor to keep in mind.
Google itself recommends creating high-quality content for your visitors. According to Google, you should aim to create content that fulfills users' needs.
Creating great content will not only be good for search engines but also will be well received by your blog visitors.
Content that is useful and informative naturally attracts readers and is shared more on social media, linked to more, and bookmarked more. Great content can naturally attract links, called editorial links, to your page.
2. Content freshness
Try to also write blog posts often because fresh content is also favored by search engines. This doesn't mean constantly producing small updates to your pages. Fresh content refers to posts that offer new material.
3. Content-length
Content length is another factor you should have in mind when creating your articles. Search engines like content that is thorough. One study by serpIQ of over 20,000 articles found that the average content length of the top 10 search engine results was over 2,000 words.
Striving to write longer content is a good goal to aim for. Longer, more in-depth content also can get more shares and links back to it.
You don't necessarily have to be producing 2,000-word articles. 700-1000 words is a good place to start.
21. Link to your other blog posts
When you create a blog post, link to previous posts you have written.
Not only can this help you get users to different parts of your site, but it can also help spread the ranking power to your other articles.
These types of links are also called internal links.
Moz, one of the top SEO resources, defines internal links as follows:
Internal Links are hyperlinks that point at (target) the same domain as the domain that the link exists on (source). In layman's terms, an internal link is one that points to another page on the same website.
When linking to other posts, include your links naturally within the text.
As with most SEO tech, be sure not to overdo this.
Too many links on a page can look like spam and can run the risk of getting your blog a penalty from search engines. It is useful to note that search engines roughly crawl up to 150 links per page.
Final Thoughts
Understand that SEO is an ongoing process.
You can't expect changes overnight.
It takes time to rank in search engines.
The best way to find success is to make a comprehensive SEO plan. It will help you stay focused on your goals in the long run.
"There is no silver bullet in SEO. You need to be patient, persistent, and always up for learning new tactics."
This is just a checklist by the way.
You can use it to check if your website is following all the best practices. Then, you can work on them to improve search rankings.
If you found this article useful, feel free to share it.
Leave a comment if you have any questions or thoughts that you want to share. I'll get back to you as soon as I can.