Do you want to skip the read and get right to my top picks? The best WordPress cache plugin for most people is WP Rocket or Swift Performance.
If you're looking for the best WordPress cache plugins, you've come to the right place. I took the pain of doing the research for you and identified only the best choices.
But first, answer this:
When was the last time you visited a slow website?
What was your first reaction?
What did you do?
I probably know the answer. You left, right?
These slow sites lag and take ages to load simple web pages or respond slowly to a mere database query – you know that feeling?
It's horrible, right?
Because you keep cursing such websites. You'll leave immediately if you don't have a real need. In fact, everyone will.
No one likes a slow loading website.
A study by Google found out that if your pages take longer than 3 seconds to load, more than 30% of your visitors leave your site immediately.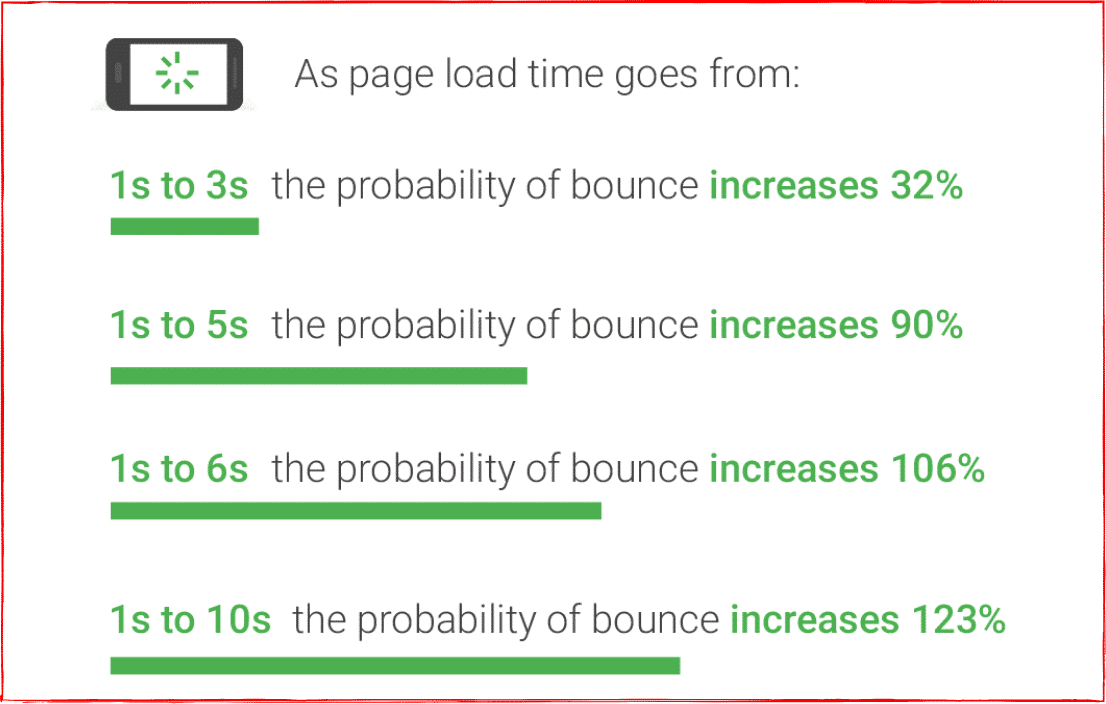 Well, your WordPress site is no different.
It's your job to ensure that your visitors have an awesome experience when they are on your site – they want a site that is fast-loading and reliable.
You want them to keep coming back, right?
A good WordPress cache plugin can help you speed up your WordPress site in a few clicks. And, that's why having a cache plugin is essential.

And, I'm here to help you find out the best option.
I went through the pain of doing the research and found the best WordPress cache plugins that have the capabilities to speed up your site in a few clicks.
There are plenty of WordPress caching plugins on the web.
Below are my top 3 recommendations:
1. WP Rocket
Highly recommended.
Starts at $49/year. Read my review.
2. NitroPack
Free for 5000 pageviews.
Pro plan starts at $21/month for 50,000 pageviews.
3. Swift Performance
Intelligent and modern caching system.
Free version + Premium features available at $39 per year
Every caching plugin claims to offer the best there is in the industry. But of course, not all of them provide the best as usual.
How then do you find the right caching plugin?
In this article, you'll learn about the best WordPress cache plugins on the market with WP Rocket as my number 1 recommendation.
Let's get started…
Undoubtedly, WP Rocket is the most popular and powerful premium WordPress cache plugin. With no coding required, you can use WP Rocket to boost the speed of your WordPress site in just a few clicks.
The best part?
You don't need to be a rocket scientist to set up WP Rocket in the right way as it automatically applies 80% of web performance best practices.
Do you know how to move your mouse?
If so, you are well on your way to configure it with the best WP Rocket settings and it should take no more than 5 minutes to get your site configured.
And, you know what?
It improves the loading time a lot right upon activation.
And, in case you have any technical issues while using the plugin, their friendly support team is always ready to assist you and answer your questions.
The result?
Peace of mind.
On Digital Millions, I am also using WP Rocket to speed up this site. One of my images heaviest pages loads in under 2 seconds. That's just amazing.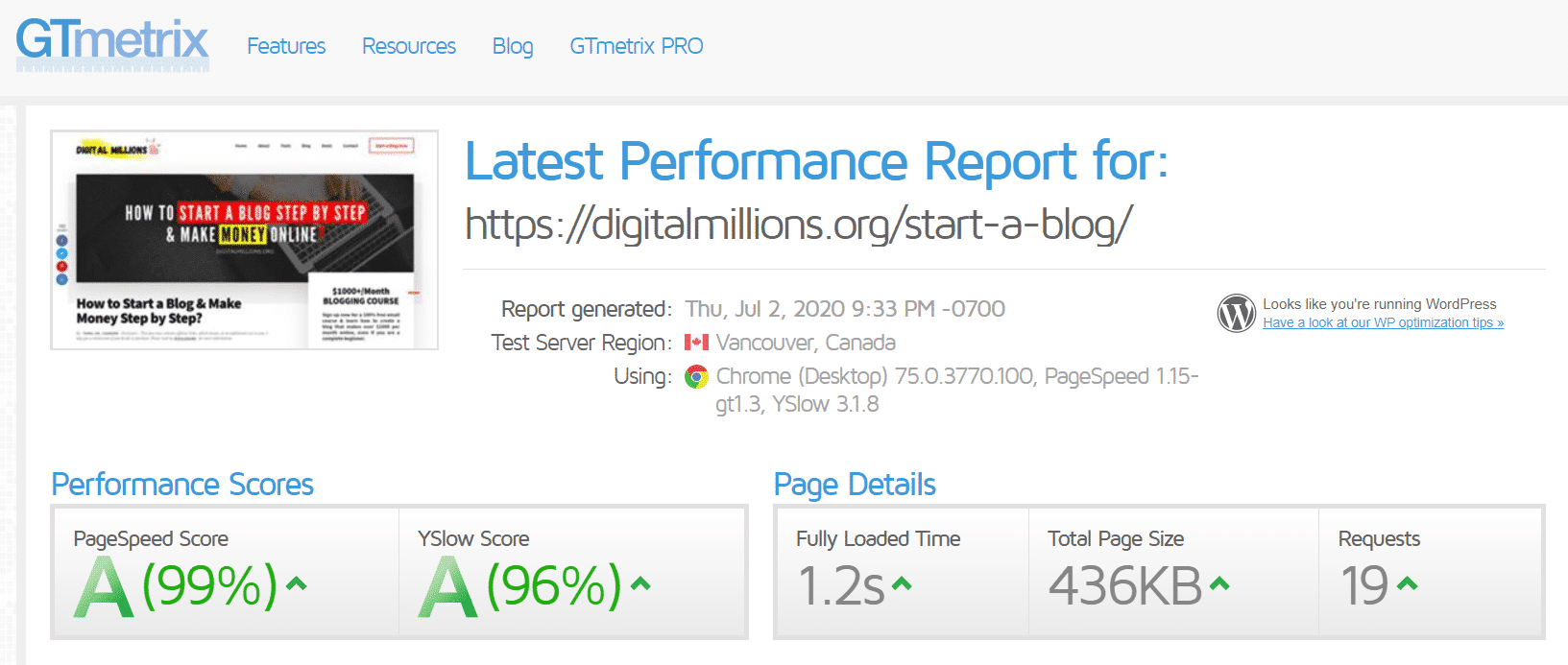 Here's the result without WP Rocket: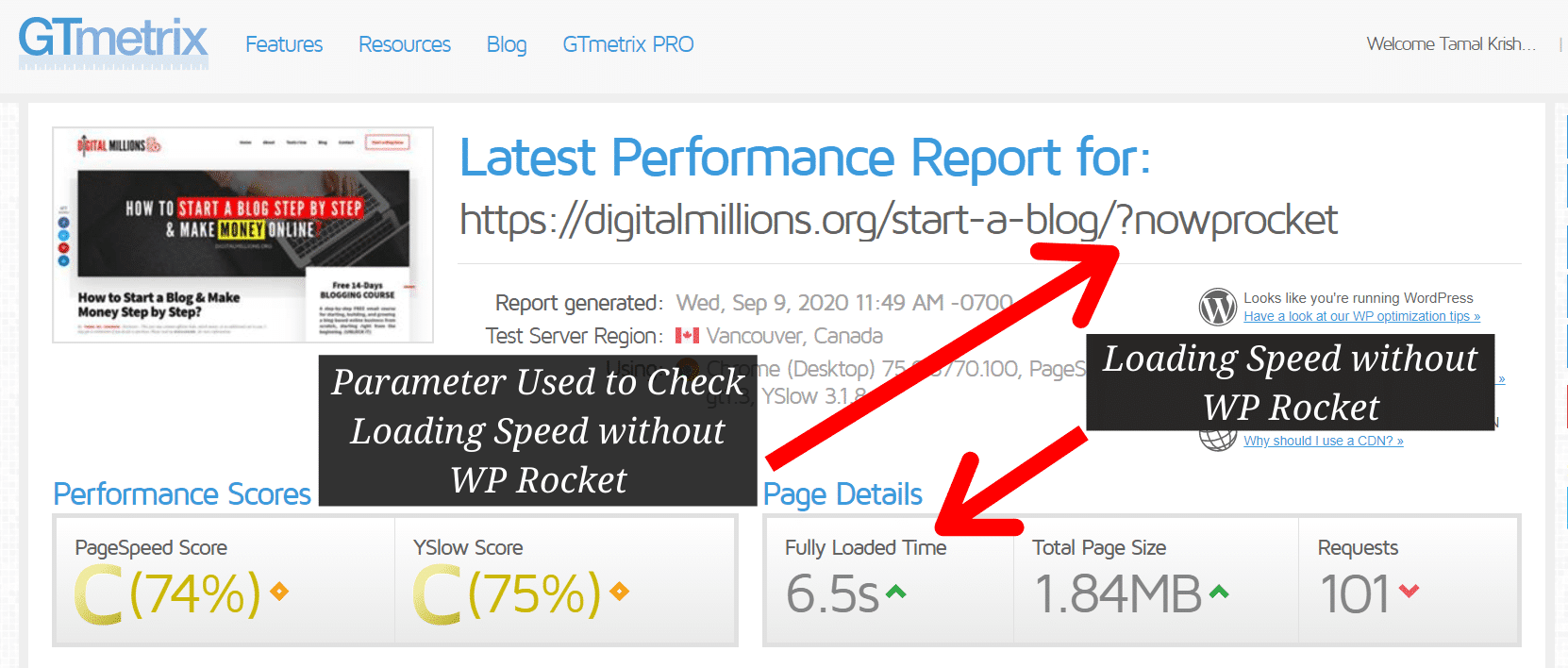 And, that's the kind of performance you should expect.
The end result?
An improved loading speed will boost your website's SEO (speed is now a Google ranking factor) and increase your conversions.

Besides, WP Rocket automatically preloads the cache every time you make some changes on your web pages.
But, that's not all. There's so much more.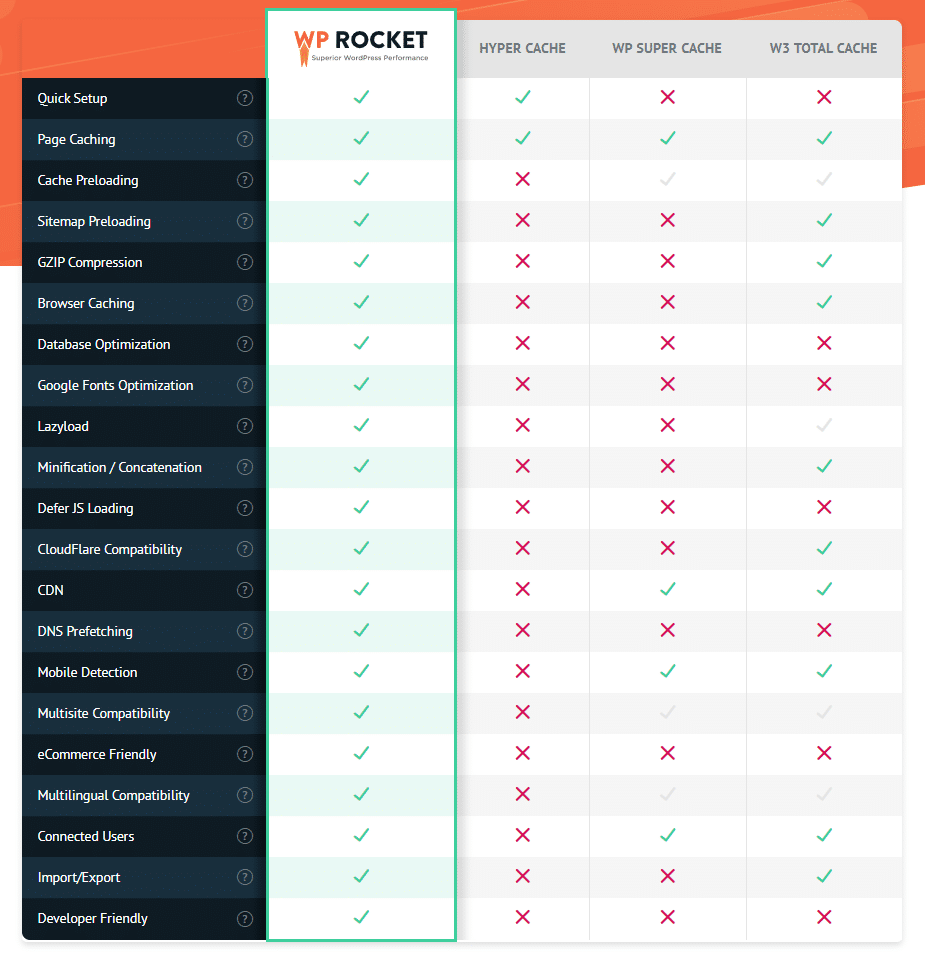 Starting from basic page caching to CDN, WP Rocket does almost everything you need to optimize your web pages to load as fast as possible.
And of course, that's what is expected from a premium cache plugin.
Best WP Rocket Features
Let's take a quick look at all the features WP Rocket offers. It includes:
Quick setup
Page caching
Cache preloading
GZIP compression
Browser caching
Database Optimization
Google Fonts Optimization
Remove Query Strings from Static Resources
Lazyload – load images as your visitors scroll down.
Minification / Concatenation
Defer JS Loading – helps with loading speed.
CloudFlare Compatibility
CDN – content delivery network support
DNS Prefetching
Mobile Detection
Multisite Compatibility
eCommerce Friendly – supports e-commerce sites
Multilingual Compatibility
Import/Export
Developer Friendly
Want to learn more about WP Rocket?
Check out my complete WP Rocket review for more information about how it can help you speed up your WordPress website in a few clicks.
WP Rocket Pricing
If you are looking for a free plugin, you'll be quite disappointed to know that WP Rocket doesn't have a free option and there is no free trial.
This is a premium plugin that cost $49 per year.
The pricing depends on how many websites you want to use it on. The plans start from $49 per year for 1 site and end with $249 for unlimited sites.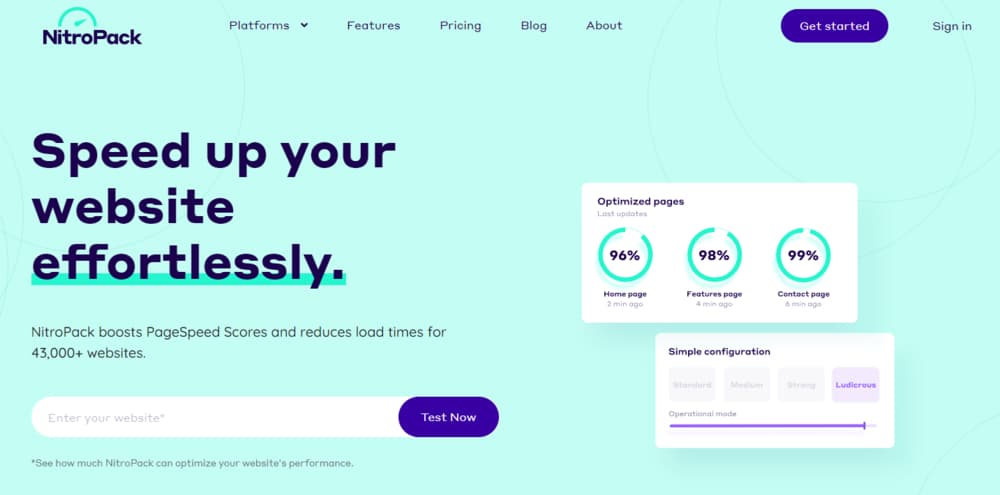 Apart from WP Rocket, you can also speed up your website with NitroPack.
NitroPack is a cloud-based page speed optimization service used by more than 43000 websites to improve page loading speed.
The setup is incredibly simple even for absolute beginners.
Truly speaking, NitroPack is much more than a cache plugin for WordPress.
If you need a lightning-fast website, then NitroPack is the all-in-one performance optimization plugin that will suit you right.

The best thing about NitroPack?
Compared to other standard caching plugins, it performs all optimizations in the cloud. Hence, it's a very light-weight solution with a lower CPU overhead.
Wondering how to get started?
Getting started with NitroPack is a breeze – no technical configuration or long installation processes. (You don't need to be a developer to set it up).
Just download NitroPack plugin and activate it on your WordPress site.
Along with WordPress, it works on other popular platforms.
While most other cache plugins can speed up the loading speed immediately, it takes some time to optimize all of your pages one by one.
And, here's the good news:
Almost every time, you can expect an awesome page loading performance.
If you have a small WordPress site with less than 5000 monthly pageviews, you will be happy to know that you can use their service absolutely free.
With more pageviews, NitroPack can quickly become costly.
Of course, the free plan is good enough for trying it out.
Best NitroPack Features
Let's find out what you can get with NitroPack:
Always serve optimized pages to website visitors while new content is being updated in the background
Automatic cache warmup
Device and cookie-aware caching
The browser and session-aware caching
Lossy and lossless image compression;
Advanced Lazy loading (including background images defined in the CSS);
Preemptive image sizing;
WebP conversion (when supported by the browser).
Adaptive Image Sizing.
Built-in global CDN;
World-class proprietary speed algorithm;
HTML, CSS and JS minification & compression;
Critical CSS, DNS prefetching, preloading, and more.
Expert support for all users
While you can surely pay to have extra functionalities included in your NitroPack plan, there is no need for additional configuration in most cases.
And, you know what?
Unlike other plugins that prepare a single critical CSS file per post type, NitroPack provides critical CSS tailored to each of your unique layouts.
However, NitroPack is incompatible with other WordPress caching plugins such as WP Rocket, WP Fastest Cache, Swift Performance, and so on.
What does it mean?
You should disable all other cache plugins when you use it.
NitroPack Pricing
NitroPack can quickly become costly compared to other popular cache plugins if you want to use it on a website with more than 5000 monthly pageviews.
Running a small website? If so, you'll be happy to know this:
If you have a small site with less than 5000 pageviews per month, it's free.

The pricing starts from $21 per month for 50000 monthly pageviews and ends at $176 per month for large websites with 1 million page views per month.
If you go for yearly plan, the price can be significanly lower.
Please note that if you want to use the free plan, NitroPack will place a badge in the footer of your website. If you want to get rid of it, you need to upgrade.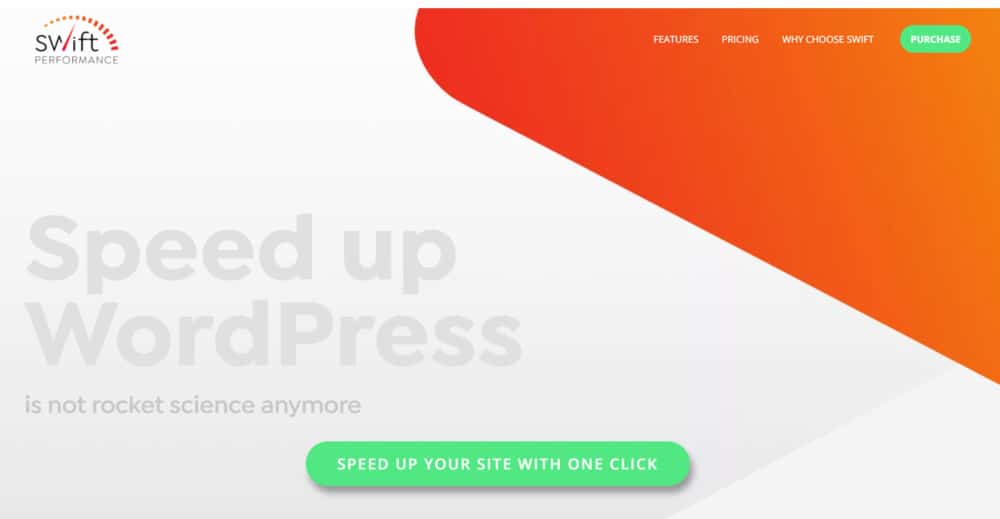 Swift Performance is one of the best WordPress cache plugins. By using it on your website, you should be able to say goodbye to slow speed.
It offers an intelligent and modern caching system.
You can boost your site's performance by caching dynamic pages, AJAX requests, and even add exceptions (URL, page, or content-based rules).
And, here is something you'll love to know:
Swift Performance provides a free plugin that provides quite a lot of options to help you with the slow loading speed of your WordPress website.
You can download the free plugin from the WordPress repository.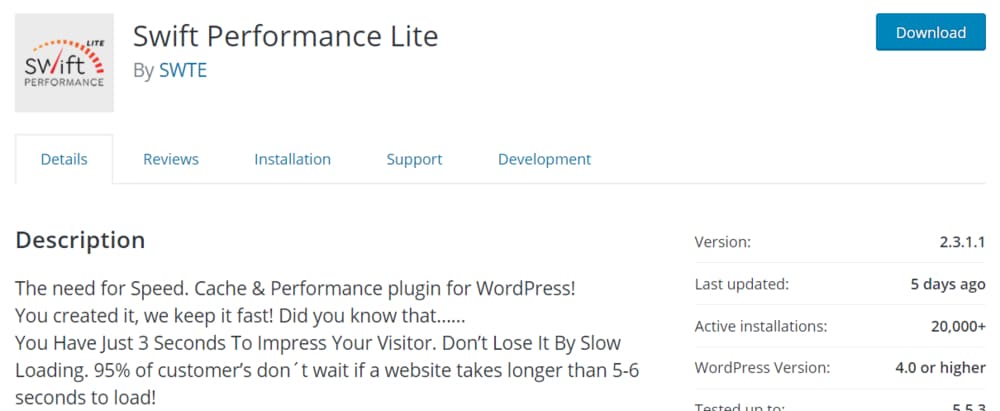 Highly compatible with bbPress, WooCommerce, Cloudflare, and Varnish, Swift Performance ensures page caching is better than ever before.
Want to keep your database clean and optimized?
You can keep your WordPress database clean with the plugin's built-in database optimizer. Below are what it can optimize to clean your database:
Expired transients
Revisions
Trashed posts
Orphan post meta
Orphan attachments
Duplicated post meta
Spam comments
Trashed comments
Orphan comment meta
Duplicated comment meta
Orphan term meta
Orphan user meta
Duplicated user meta
It cleans auto revisions, auto drafts, trashed posts, expired transients, duplicated metadata, trashed comments, spammy comments, and a lot more.
One of the best things I like about the plugin is the setup wizard.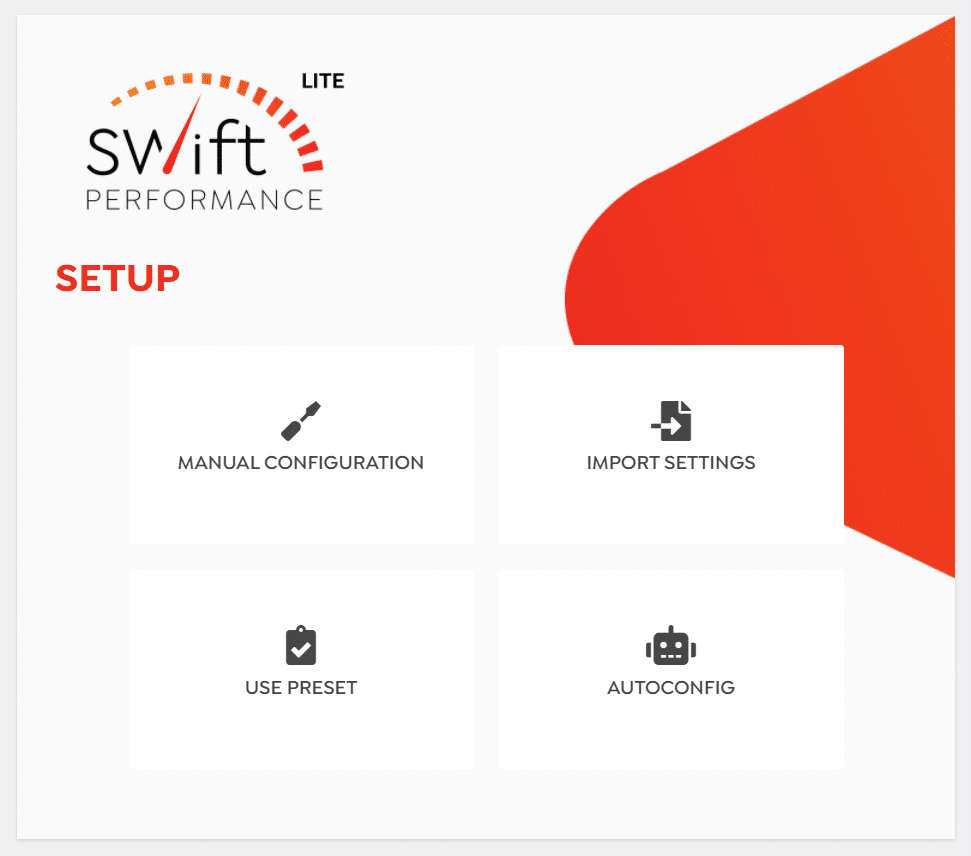 It helps you configure your site with just a single click. As you click on 'Autoconfig', it automatically checks your site for optimization possibilities.
It's the only cache plugin I found with a setup wizard.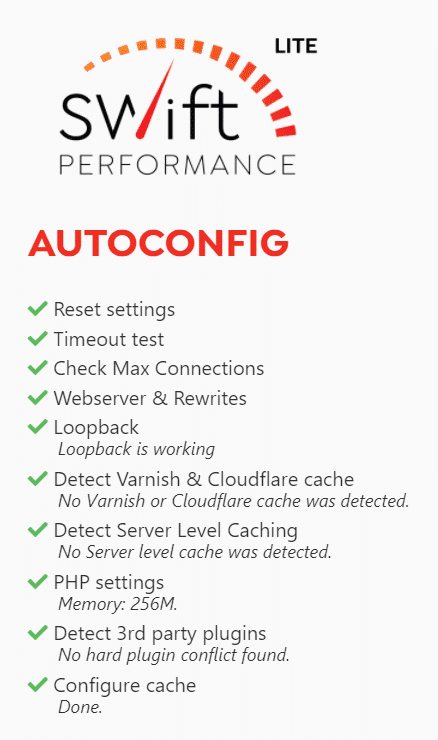 Plugin Organizer is also available to help you disable plugins on certain pages, and let plugins only run when they are required. For the best results, you can set URL match, Admin Pages, AJAX action rules, and exceptions.
Swift Performance not only combines and minifies the CSS files but also generates the Critical CSS for each page automatically.
Additionally, it also combines, minifies, and moves JavaScripts to the footer.
Best Swift Performance Features
Let's take a look at some of the best features:
Cache your pages to help browsers load them quickly
Use GZIP compression to reduce page size
Activate browser caching
Cache any AJAX requests
Cache dynamic pages
Prebuild cache
Lazyload content
Varnish support
Lazyload images
Use Image optimizer
Preload fonts
Woocommerce support
CDN support
Heartbeat control
Database optimizer
Plugin organizer and a lot more.
In short, you can get Swift Performance for your WordPress site and increase the loading speed of your WordPress website.
The result?
This will improve your WordPress website's page loading performance, SEO scores, and in turn, lead to an overall better user experience.
Swift Performance Pricing
If you are looking for a free option, Swift performance won't disappoint you. It offers a free WordPress plugin you can try.
Of course, you can upgrade to Swift Performance Pro to unlock more features and secret ingredients such as Compute API, Unlimited Image Optimizer, Critical Icon Fonts, extended WooCommerce features, and so on.
The pricing starts from $39 for 1 site and ends at $199 for unlimited sites. There is an additional plan to use it on 4 sites and it's going to cost you $99.99.
All prices are renewed every year. If you don't wish to renew, you can still use the plugin, but you won't get any new update.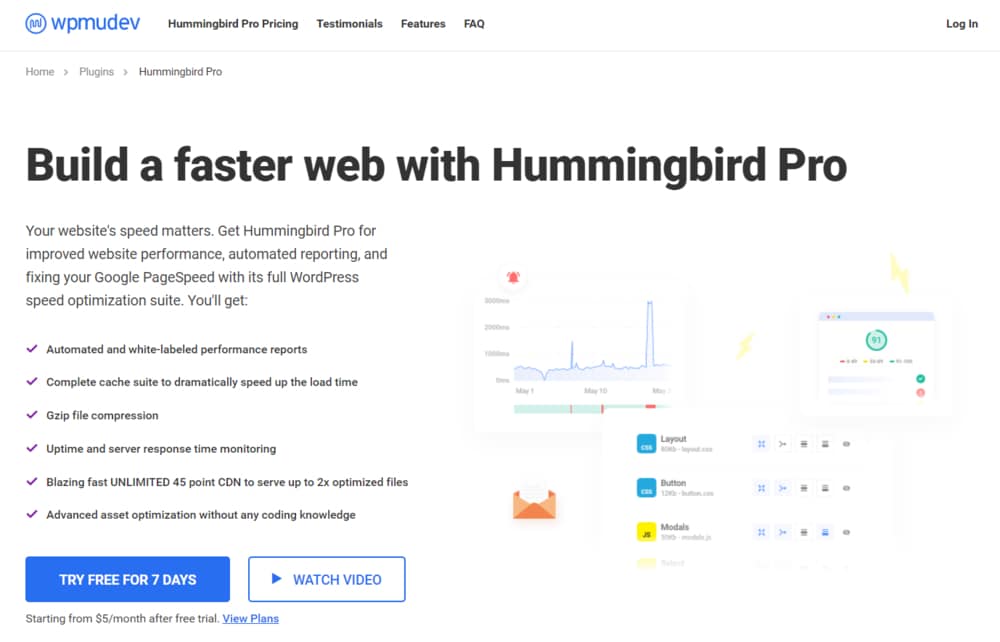 Are you looking for a free cache plugin that can help you run a performance test right from within your WordPress dashboard?
Take a look at the Hummingbird plugin.
It doesn't only help you run a performance test within WordPress, but also gives you brilliant suggestions to improve the page speed score.
If you want to enable cache, optimize speed, minify CSS, and defer critical JS, then Hummingbird is going to be one of the best caching solutions out there.
And, you know what?
The Hummingbird plugin is not only a cache plugin but a complete WordPress speed optimization solution.
It scans your website, finds files that tend to slow down your site, and offers one-click fixes to boost your WordPress site's loading speed.
Pretty amazing, right?
Want to give your visitors a faster and better browsing experience?
The plugin offers a complete set of cache tools including basic page cache, browser cache, gravatar caching, and RSS caching.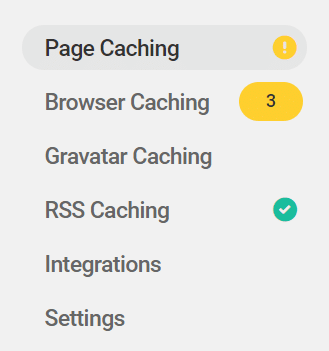 With built-in Cloudflare integration, Hummingbird can also prove to be essential in controlling your Cloudflare browser cache settings.
Finally, we can't miss Asset optimization.
You can use Hummingbird to customize the load position of your JavaScript (defer CSS and JavaScript), CSS, and other files to boost your page speed. Hummingbird's Minification feature also allows you to reorder, compress, and reposition files.
There's much more you can expect with the Hummingbird Pro version.
Let's have a look at the best features.
Best Hummingbird Features
Let's get started with the features.
Enable text compression – Use gzip
Preconnect to required origins
Preload key requests
Avoid enormous network payloads
Use efficient cache
Fix your JavaScript execution time
Minify CSS – Strip unused code from your CSS.
Minify JavaScript – Speed up the time it takes to parse your JS files.
Eliminate render-blocking resources
Defer unused CSS
Lazy Load offscreen images
In most cases, you should be fine with the free version.
However, if you are obsessed with the fastest loading speed and need more control, you may go with the pro version.
And, you'll be excited to know this:
The Hummingbird is plugin is the only cache plugin I've found that offers monthly plans, while you need to pay for the full year in case of most other plugins.
Hummingbird Pricing
As already mentioned, there is a free plugin it offers with almost all the basic features you can expect from the best WordPress cache plugins.
But, if you need more control and more ways to improve your website's loading speed, you can go with the pro version.
It's the only plugin I've found with monthly payment options.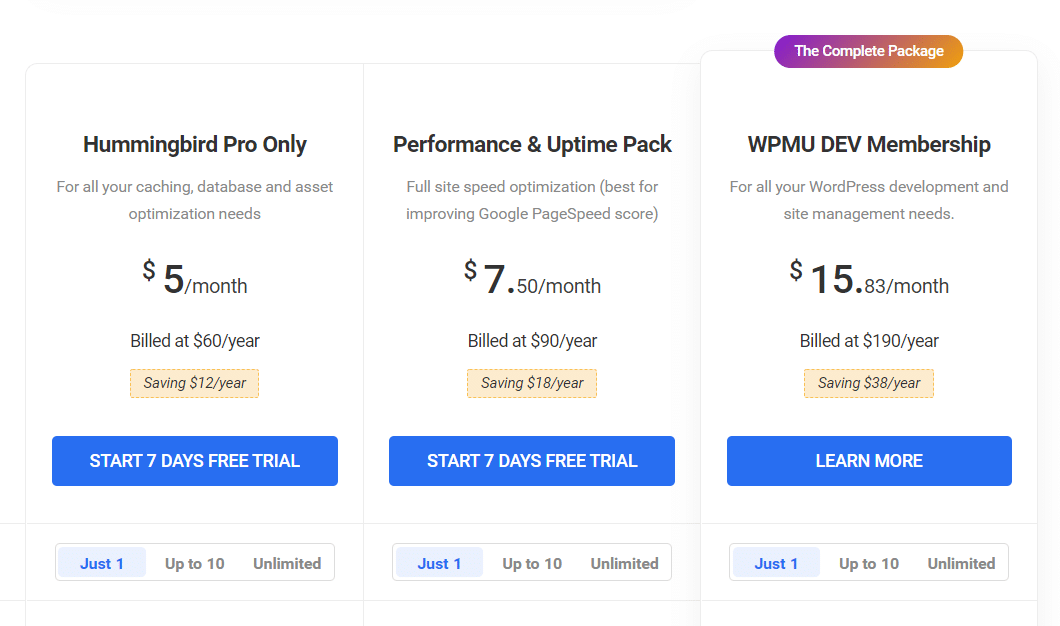 If you want to go with the monthly plan, it's going to cost you $6 per month, while if you go for the annual plan, you can get months free.
That automatically makes the price only $5 per month per site.
The price will increase as you add more sites to your list. Overall, this is a decent WordPress cache plugin you can try and expect quality performance.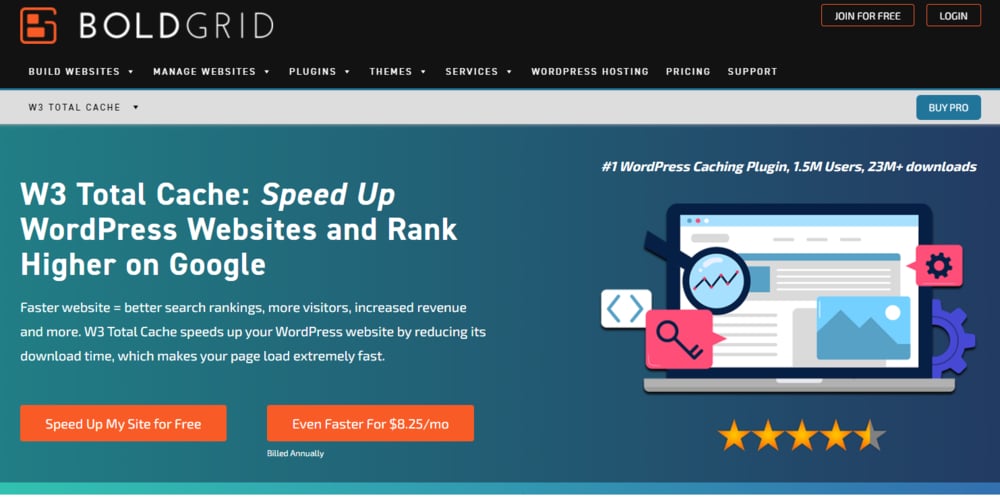 Owned by Boldgrid, W3 Total Cache is one of the oldest names when it's about the best WordPress cache plugins.
This cache plugin has over 1+ million downloads.

Trusted by millions of publishers, web developers, and some of the best web hosts, it offers a total performance solution for optimizing your WordPress site.
Want to boost your site's and overall user experience?
Use W3TC if you want to boost your site's SEO and the overall user experience.
Starting from basic page caching to configuring a CDN for your WordPress site, it offers every possible solution you need to optimize your site for speed.
Best W3TC Features
Compatible with various hosting types
Transparent content delivery network (CDN) management
Respective caching of pages by referrer or groups
Accelerated Mobile Pages (AMP) support
Secure Socket Layer (SSL) support
Caching of (minified and compressed) pages and posts
Caching of (minified and compressed) CSS and JavaScript
Caching of feeds and search pages
Caching of database objects
Caching of objects
Caching of fragments
Minify CSS, JavaScript and HTML
Defer non-critical CSS and Javascript
Defer offscreen images with Lazy Load
Browser caching and so much more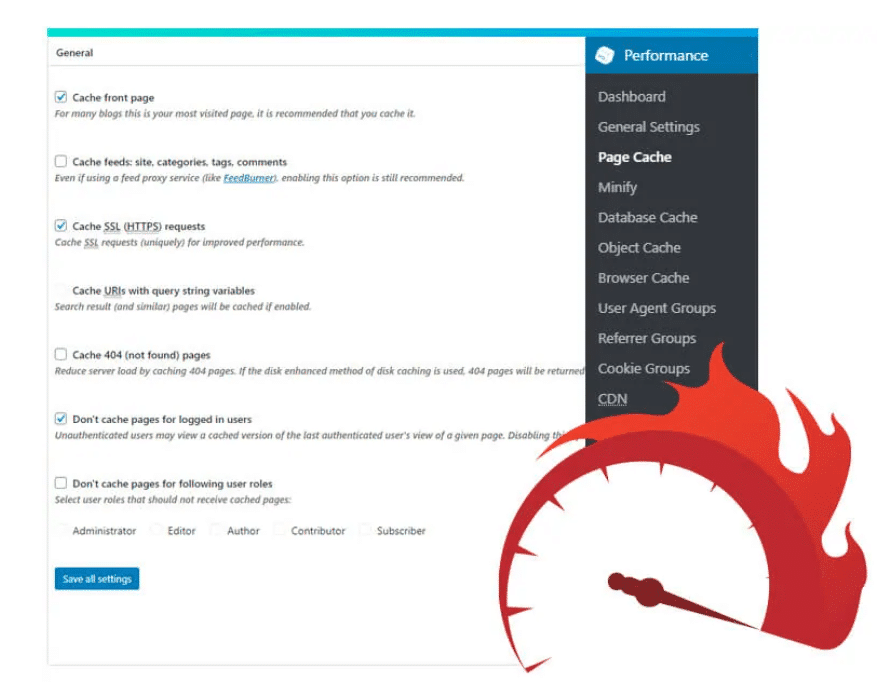 So how do you benefit from using W3 Total Cache?
Of course, improved website server performance comes first for you. It helps to sustain high traffic periods due to improved server performance.
W3 Total Cache Pricing
I have good news for people who love things for free.
W3TC offers a popular free plugin with 1+ million downloads. The popularity easily proves that the free version is more than enough for average users.
But, if you are looking for more speed and advanced controls, you should go for the premium version. Once configured properly the Pro version can deliver up to 10x speed improvement (as indicated by Google PageSpeed Insights).
The annual subscription costs $99 that makes the price $8.25 per month.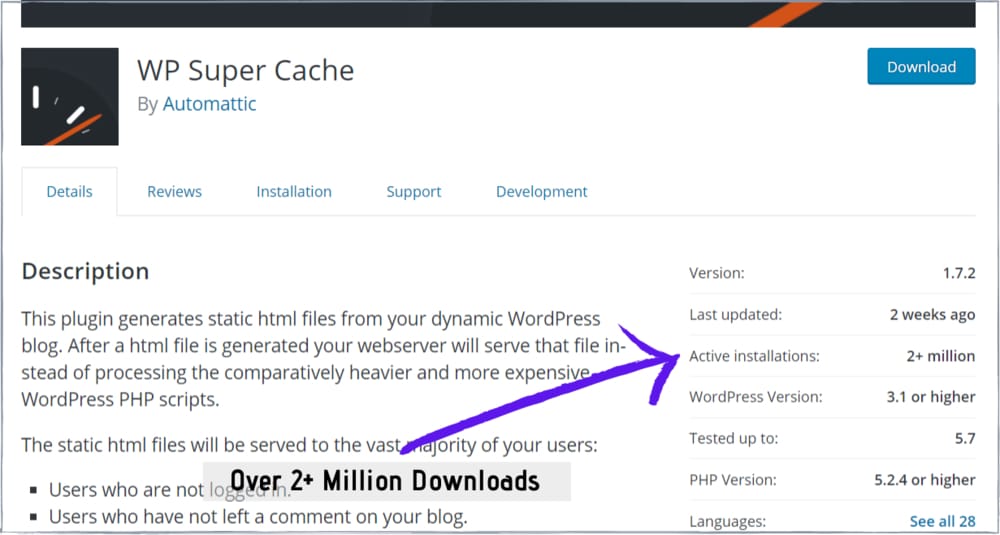 If you're looking for the best WordPress cache plugins, you'll almost certainly come across this fantastic plugin known as WP Super Cache. One of the most enticing things is that it can be downloaded for free from the WordPress repository.
With over 2 million active installations, WP Super Cache is another well-known WordPress caching plugin that will help you speed up your WordPress site.
Instead of processing heavier PHP scripts, it builds static HTML files for your WordPress posts or pages and serves them to your visitors, just like any other cache plugins.
With it's beginner-friendly interface, this is super easy to set up.
WP Super Cache serves cached files in 3 ways:
Expert
Simple
WP-Cache caching
Expert: This is the fastest method. It uses Apache mod-rewrite (or any other similar module supported by your webserver) to serve "super-cached" static HTML files. It completely bypasses PHP and is considerably faster.
Simple: PHP can serve Supercached static files, which is the most preferred method of using the plugin. If a "super-cached" file exists, the plugin will serve it, and it is almost as fast as the mod rewrite method.
WP-Cache caching: This is primarily used to cache pages for known users (users are logged-in users, visitors who leave comments), URLs with parameters, and feeds. This is the most flexible caching method, despite being slightly slower.
Recommended settings include:
Simple caching
Compress pages
Cache rebuild
CDN support
Extra homepage checks
You can also set up a CDN with the help of WP Super cache to serve static files with each page request, resulting in a faster loading time.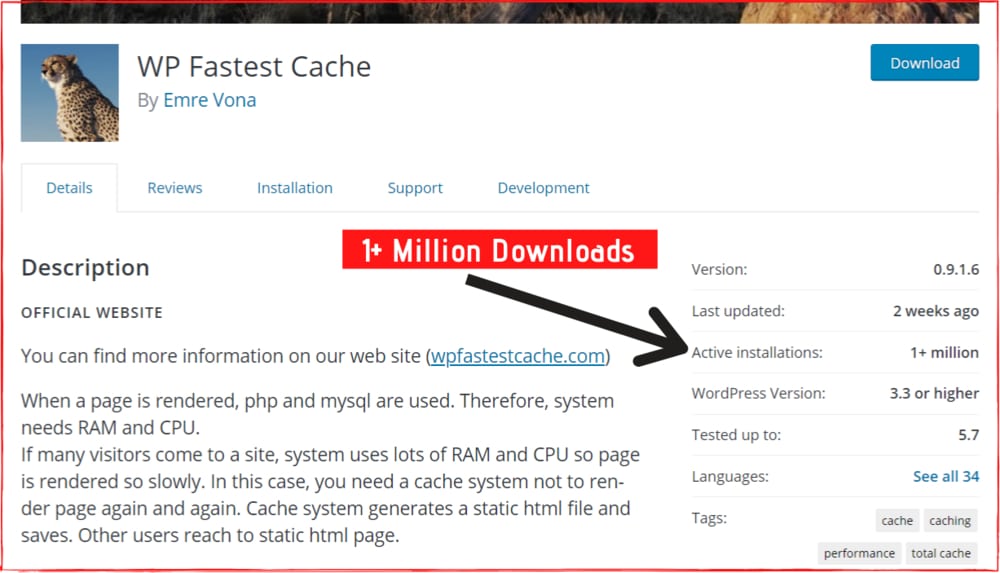 WP Fastest Cache is another cache plugin with some awesome features.
With over 1 million active installations, it's pretty obvious that WordPress users love it right from the moment it is activated on their website.
The reason?
It does its job incredibly well.
It takes advantage of Mod-Rewrite which is the fastest caching method. All cache files are deleted when a post or a page is published.
WP Fastest Cache provides Mod-Rewrite as the fastest caching method where cache files are deleted when a post or a page is published.
Top features include:
This plugin uses Mod Rewrite, which is the fastest cache method. 
From the options, you can remove minified CSS and js files.
You can disable the cache for a specific page or post.
Cache Timeout – At the specified time, all cached files are removed.
Set a cache timeout for specific pages
The choice to enable/disable cache for mobile devices
For logged-in users, enable/disable the cache function
SSL compatibility
Cloudflare support / CDN support
Preload Cache – Automatically build a cache for the entire site
Pages and user-agents should be excluded.
Clearing the cache in WP-CLI
The plugin offers both free and premium versions.
I think the free version should be more than enough for most users. I personally think the features offered in the free version are very limited.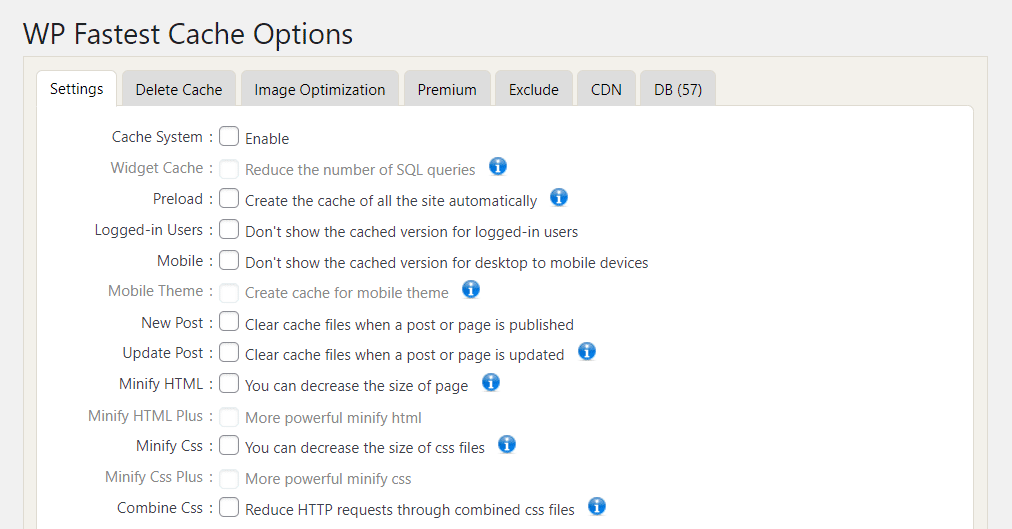 To speed up your WordPress site more you may want to try out the premium version since it comes with more tools and features such as Minify HTML Plus, Minify & Defer JavaScript, and Lazy load for superfast load times.
And, you know what?
Image optimization and database cleanup are also available for premium users.
Moreover, unlike other cache plugins, you must upgrade to a premium version to access advanced features such as image optimization and database optimization.
I personally recommend you to try the free version first.
Hyper Cache is a WordPress cache plugin that was created with the goal of making your WordPress blog or website as fast as possible.
The plugin works on any site without requiring any complicated configurations and deactivating it leaves no stale settings behind.
You'll get a ton of interesting features if you use Hyper Cache, including mobile awareness, Mobile theme switch option, CDN support, bbPress specific integration, and a response header signature to check the working status.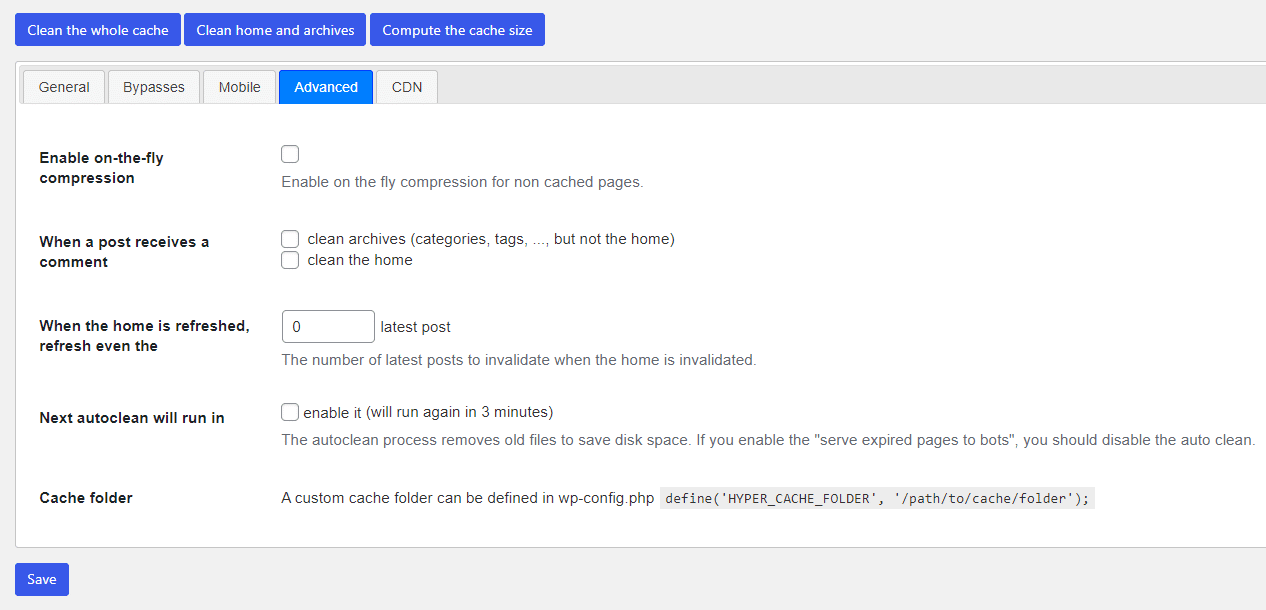 You can handle compression for non-cached pages even on the fly. To keep your cache folder outside from backups, you can move it outside of your blog space.
Top features include:
Mobile-friendly: separate caches for desktop and mobile versions
Supports HTTPS
Option to switch themes on mobile devices
Bots can be served expired pages
For non-cached pages, it manages compression on the fly.
So many configurable bypasses are available. Examples include matching cookies, matching URLs, user agents, and so on.
Comments aware: will serve cached pages to users who have left comments on the site (perfect for a blog with great readers participation)
The cache folder can be transferred outside of your blog's storage space to prevent being backed up. An option not available in most cache plugins.
Cache cleaning on blog events
Supports CDN
Response header signature to check the working status
Integration with bbPress
Please note that Hyper Cache hasn't been tested with WordPress's most recent updates. It may no longer be maintained or supported, and using it with more recent versions of WordPress may cause compatibility issues. You should use it at your own risk.
Why do I still recommend it?
The plugin still performs quite well for average sites. Lastly, remember Hyper Cache is purely PHP and thus works on every blog.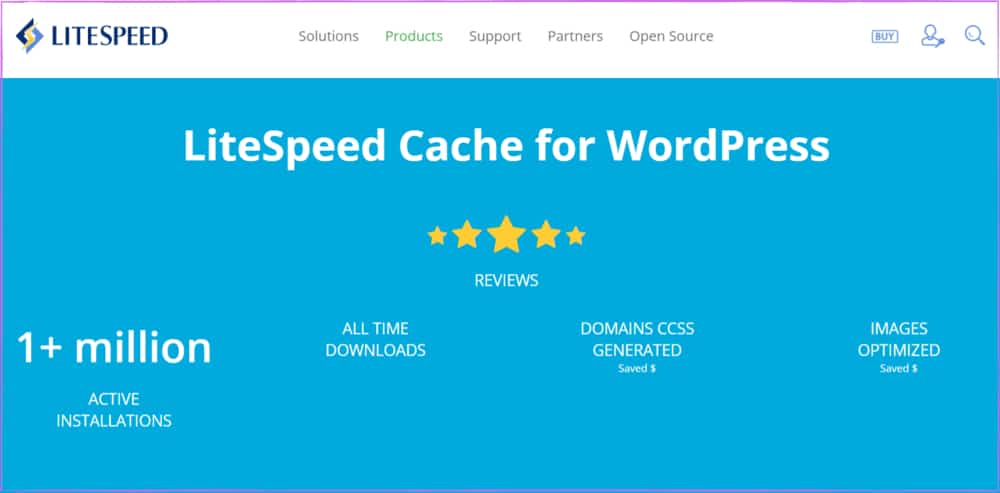 LiteSpeed Cache for WordPress (LSCWP) is an all-in-one acceleration solution that is free and open source. It communicates with your installation of LiteSpeed Web Server and LSWS's built-in page cache to dramatically reduce page load times.
It also features an exclusive server-level cache and a variety of optimization features designed to deliver superior performance to your WordPress site.
LiteSpeed Cache is undeniably more than a cache-management tool.
Even though everyone with any web server (Apache, LiteSpeed, NGINX, etc.) can use LiteSpeed Cache's general features, its exclusive caching features need one of the following server software to work:
LiteSpeed Web Server Enterprise with LSCache Module (v5.0.10+)
OpenLiteSpeed (v1.4.17+)
LiteSpeed WebADC (v2.0+)
LiteSpeed Cache is a powerful caching plugin that does pretty much everything you need to efficiently optimize your website for speed, including caching.
The following are some of its general features:
Object Cache (Memcached/LSMCD/Redis)
Image Optimization
Free QUIC.cloud CDN Cache
CSS, JavaScript, and HTML can all be minimized
Reduce the size of inline CSS and JS
CSS and JS will be combined
Critical CSS is automatically generated
Image/iframe lazyloading
Placeholders for responsive Pictures
CDN support
Asynchronously load CSS/JS
Support for Browser Cache
Cleaner and Optimizer for Databases
Optimization of PageSpeed ratings
Support for OPcode Cache
CSS/JS Drive for HTTP/2 (on web servers that support it)
Prefetching DNS
API for Cloudflare
Support for the WebP image format
Controlling the heartbeat
What's more?
You'll be pleased to know that it's a pleasure to use LiteSpeed Cache because it has an appealing and simple user interface.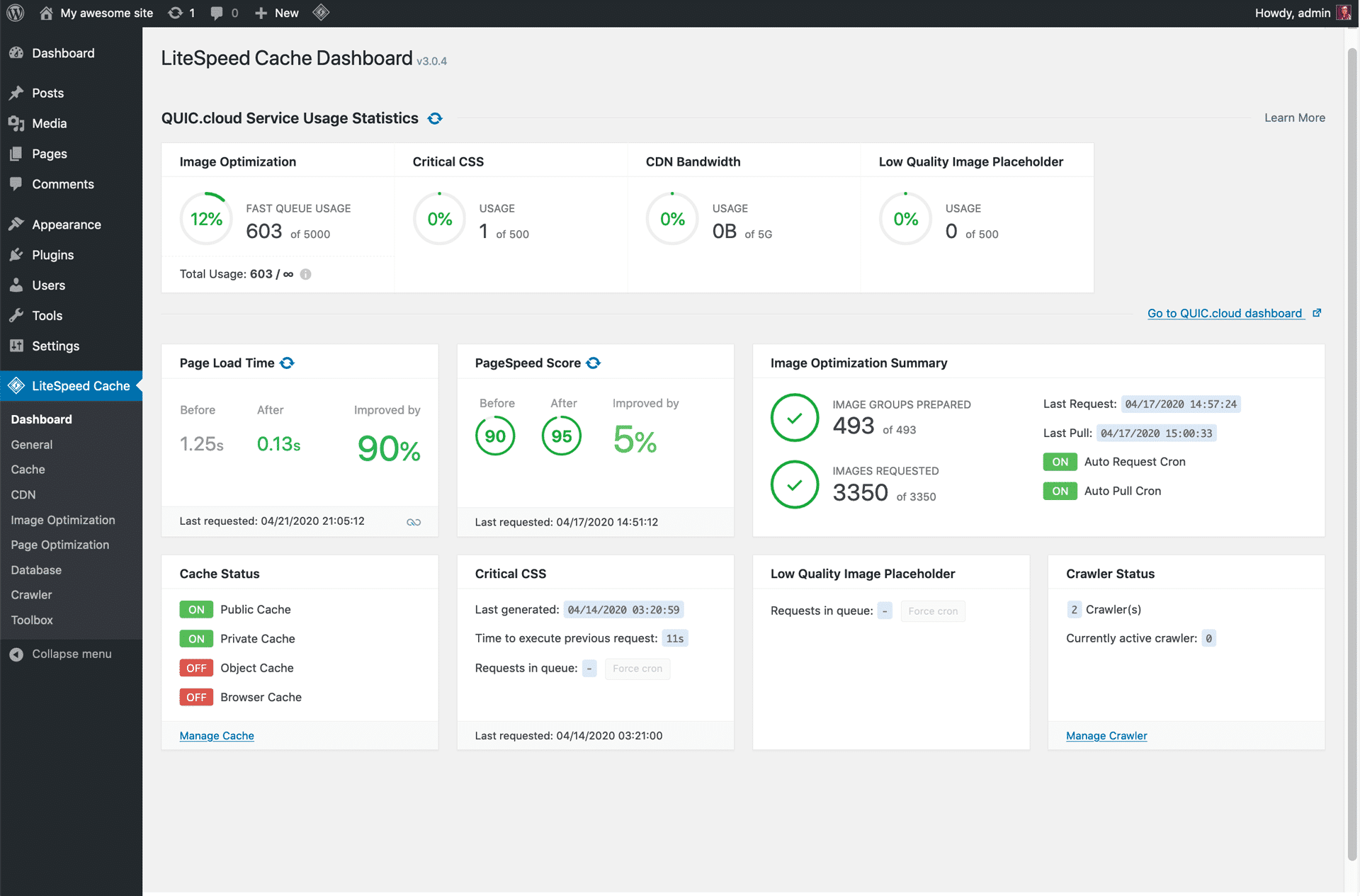 Not only is the plugin compatible with WordPress Multisite, but it also works with the most common plugins, including JetPack, WooCommerce, bbPress, and Yoast SEO.
It also integrates pretty well with ClassicPress, a famous and business-oriented content management system forked from WordPress 4.9.x.
So the question is whether or not you should use it on your website, right?
Here's what I think:
If you're prepared to invest some money in WordPress speed optimization, there are a few plugins that provide all of the required features.
For example:
But, if you want a free alternative, however, LiteSpeed Cache seems to be the only free plugin that has almost all of the essential speed optimization features.
Despite the fact that it is free, it performs as well as, if not better than, any of the premium plugins. However, some features come with a usage limit.
But here's the kicker:
You're unlikely to hit the limit unless you have a large website. So, if you run a small WordPress site, I believe you should give it a shot.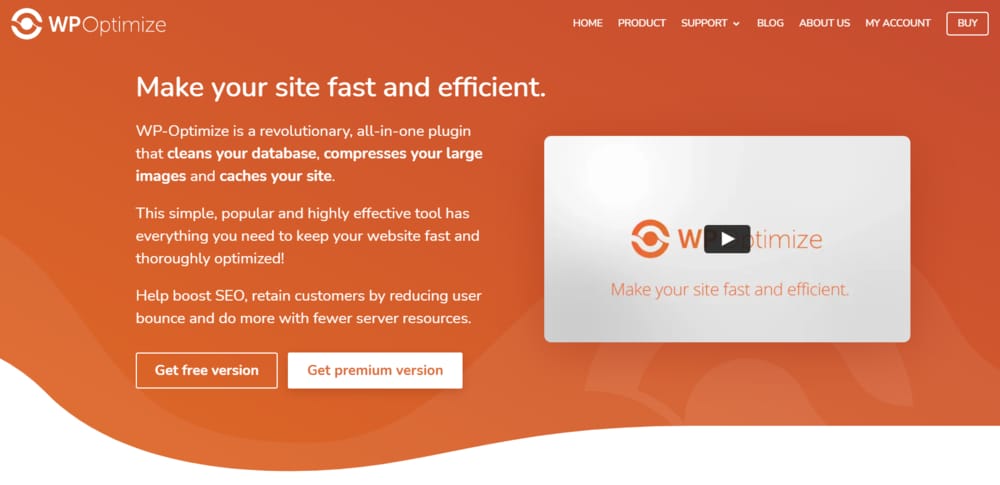 WP-Optimize enables you to clean and optimize your database, cache your pages (for faster loading times), and compress your pictures.
Plus, there's more.
CSS and JavaScript can also be minified or deferred.
When you combine database optimization, image compression features, and cache with the built-in minify feature, your site's loading speed will significantly improve.
It lets you clean up your tables and reclaim space in your WordPress database that has been lost due to data fragmentation. It allows you to free up space on your website and take control of it by keeping it clean, fast, and effective.
With over 1 million downloads, it's surely not a random plugin, on my list.
And, there's this:
WP-Optimize includes an image compression feature that can reduce the size of PNG, GIF, BMP, TIF, and JPG images up to 5MB.
Don't make your visitors leave your website because of the fact that huge images that take a long time to load. That, in turn, offers a bad user experience.
WP-Optimize, on the other hand, allows you to speed up your website without sacrificing image quality. Bulk Compression, EXIF data-keeping, Auto-compress mode, and the 'Restore Originals' function are just a few of the extra features.

What are the advantages of using wp-optimize?
Caching your website with WP-Optimize features like Gzip compression, browser cache, advanced-cache exclusion rules, and the device-specific cache will boost overall performance and the time to "first contentful paint."
The good news is that the plugin is available as a free download.
Even though the free version has a lot of useful features, you can upgrade to the WP-Optimize Paid version for even more.
Multisite support, flexibility and control, a streamlined Graphical User Interface (GUI), sophisticated scheduling, premium support, lazy loading, and WP-CLI support are just a few of the features available with the premium version.
But first, I recommend that you try out the free version.
Breeze, created by the Cloudways team, is one of the best free WordPress cache plugins available. It has a lot of useful features that make using WordPress cache plugins a lot easier. It provides a range of options for optimizing WordPress.
This is not only designed to work in only a few clicks, but it's also highly compatible with WordPress Multisite, WordPress, and WooCommerce.
The built-in support for Varnish is what makes the plugin so cool.
If Varnish is not installed on your servers, it can use its internal cache feature to boost the performance of your WordPress site.
The combination of Breeze cache and the server's preinstalled Varnish cache would dramatically improve page loading times. It also cleans up databases to reduce the size and response time of your databases, making database optimization simpler.
For the plugin to function, PHP 5.3+ is needed, as well as WordPress 4.5+. It also supports PHP 7, which you can update to if you haven't already.
The plugin is available to be downloaded for free in WordPress repository.
In short, you can expect great efficiency, ease, and simplicity with this cache plugin. It can be easily installed and configured from inside WordPress dashboard, and most of the default settings should work fine on your WordPress site.
Cachify speeds up page loading time by caching static content for blog posts, WordPress pages, and custom post types. It uses caching methods such as Database, Hard Drive, APC (Alternative PHP Cache), and Memcached (only on Nginx).
A page or post can be loaded directly from the cache at any time.
Depending on the caching system you use, the number of database queries and PHP requests can drop significantly.
Cachify works well with custom post types and provides settings for Apache and Nginx servers. You also get manual, automatic cache reset and cache management.
It doesn't only support WordPress Multisite, but it also offers HTML markup compression as an alternative. The following are some of its awesome features:
Extendability via filters
White lists for posts and user agents
"Flush Cache" button in the WordPress toolbar.
As I am writing this, the plugin has been installed and activated on over 10000 WordPress sites. It's available to be downloaded for free.
If you're interested, go ahead and check it out.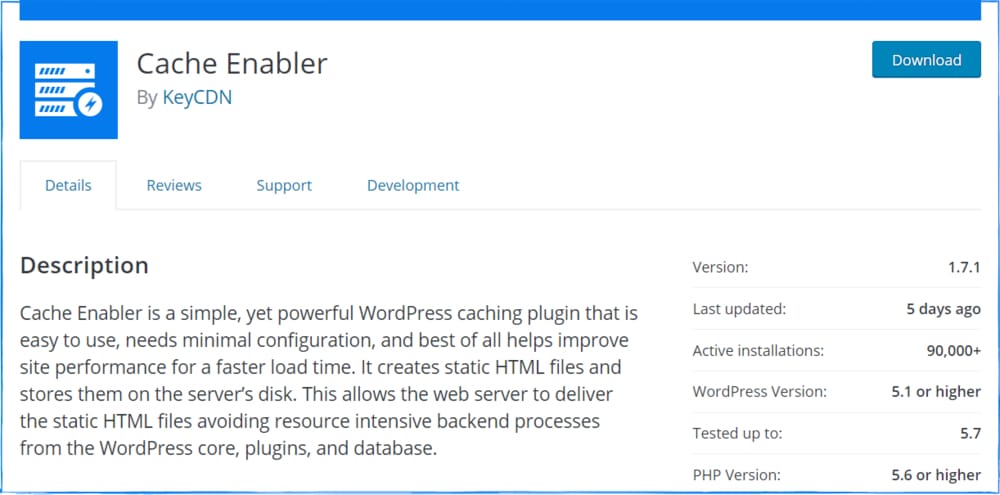 You can use Cache Enabler if you want an easy but efficient WordPress caching plugin that requires minimal configuration (a creation from KeyCDN).
This is a lightweight caching plugin that generates static HTML files to speed up your WordPress website. The files are then saved to the server's hard drive.
The static HTML files can then be served by the webserver, eliminating resource-intensive backend processes from the WordPress core, plugins, and database.
Some of its best features include:
Smart cache clearing is done automatically.
The size of the cache is shown in the WordPress dashboard.
Clearing the cache in WP-CLI
Expiration of the cache
A cache engine that is both quick and effective.
The best part?
The plugin is simple to set up. It has some simple configuration options that enable users to take full advantage of its powerful collection of features.
What's even better?
HTML and JavaScript can also be optimized. Besides, the plugin supports custom post forms and fits well with WordPress multisite. You can also get WebP image support if you use it in conjunction with KeyCDN's Optimus plugin.
With over 100,000 active installations, this is certainly not a caching plugin you can ignore when you are doing the research on the best WordPress cache plugins.
It'll undoubtedly gain more popularity in the coming days.
Final Thoughts
The speed and performance of your WordPress site will make a big difference in its future growth. The slow loading speed can cost you a visitor or a customer.
The reason is simple.
Every website has approximately 3 seconds to impress its visitors; don't let slow loading speed cause you to lose a visitor or customer.
The majority of the WordPress caching plugins listed above are available in both free and paid versions. Although starting with the free version is safe, you can always upgrade or purchase the pro/premium version if you want more advanced features.
So, which WordPress cache plugin would you consider for your website?
If you haven't tried anything yet, l recommend WP Rocket to speed up your WordPress site, improve SEO rankings, and increase conversions.
Trying to figure out why?
At Digital Millions, I use WP Rocket to improve the loading speed. One of my most image-heavy pages takes less than two seconds to load. That is just incredible.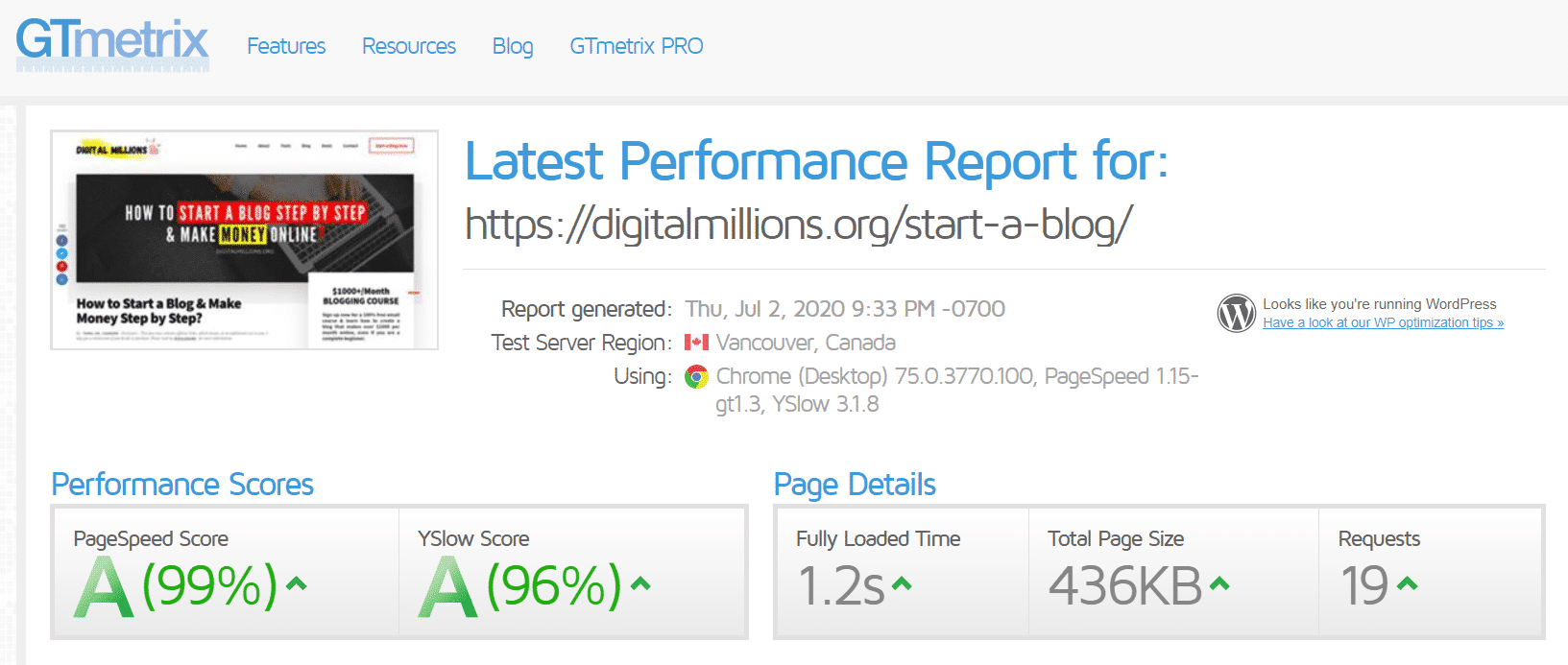 Here's the result without WP Rocket: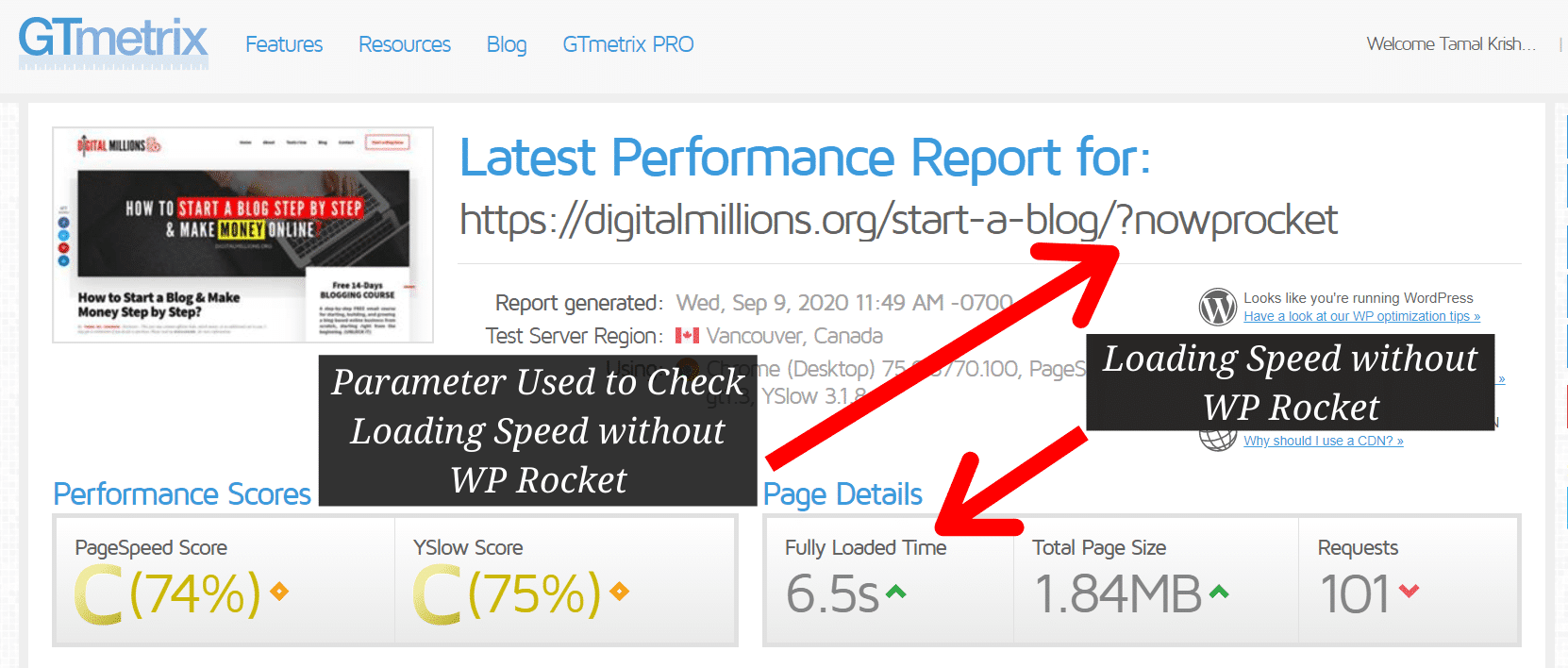 And, that's the kind of performance you should expect.
And, without a doubt, it has served me well since I installed and enabled the plugin on my site. So, I highly encourage you to give it a shot.
If you want to learn more, check out my detailed WP Rocket review.
And it's been quite a journey… All good stuff, however, must come to an end. I hope you enjoyed it as much as I did putting it together.
Also, if you find this tutorial to be helpful and useful, please share it.
It benefits those who might need this knowledge and gives value to the countless hours I spent creating this guide for you at no cost.
Free 5-Day's Course Reveals 5 Easy Steps to Speed Up Your WordPress Site
The course consists of five practical lessons, delivered to you by mail. We'll cover the essentials of site speed and give tips you can implement right away. You can unsubscribe at any time. Join 1700+ WordPress speed lovers now.