If you're serious about growing your blog and turning it into a successful online business, you'll want to use only the best blogging tools and services.
It's critical to choose only the best blogging tools if you are serious about growing your blog and eventually building it into a profitable business online.
During my blogging career, I've become familiar with a variety of blogging tools and services that have the ability to make or break your blog.
That's why this page exists.
On this page, I'll go through some of the most useful tools and services for growing your blog. If you've been blogging for a while or plan to start a blog soon, the tools and services mentioned below will be extremely useful, in your journey.
So without wasting any more time, let's get started.
I started my first blog with a $2.75/month hosting plan from HostGator.
Since then, I've never decided to leave HostGator. They have completely blown me away with their outstanding services at such a reasonable amount.
Of course, there are several web hosting providers from which you choose one for your blog. But, if you ask for my opinion, I would recommend HostGator.
You'll never regret your decision.
This website Digital Millions is hosted with HostGator.
As a result, it's obvious that I know what I'm talking about. And I'll never suggest a service that I haven't used myself. It will be a perfect choice whether you want to start a new blog or want to change your present web host.
At the time I'm writing this article, HostGator's servers are hosting over 8 million websites. It's one of the largest and oldest web hosting companies in the industry, having been founded in 2002 and still going pretty strong.
You can start blogging right now for just $2.75/month (a bargain).
Is HostGator a Good Web Host?
HostGator is one of the most common web hosts in the industry, hosting over 10 million domains. It's a great choice for any website owner, with 1-click WordPress installation, a 99.9% uptime guarantee, and 24/7 support.
They are one of the best web hosting for companies, according to me.
When you are into blogging, you should mostly focus on writing content, optimizing your blog, promoting on social media, getting new subscribers, and so on.
You don't want to spend too much time dealing with web hosting problems. That is why, right from the start, you must use a reputable web host.
The web host is responsible for keeping your blog up online. Let's take a look at how HostGator benefits my blog and why it should be the starting point for yours as well.
1. Reliable Hosting
HostGator provides a 99.99% uptime guarantee.
What exactly is uptime, and how does it affect your business?
Uptime is a parameter that defines how long a server remains operational. A 99.99 percent uptime guarantee ensures that your blog is almost always accessible to your visitors.
What if you want to work on your blog but it isn't up and running? You'll have to wait for the server to get back up and running.
Surely, that isn't the kind of experience you want to have.
With HostGator, your blog will be available 24/7/365 without any downtime.
2. One-Click WordPress Installs
The most commonly used open-source blogging tool is WordPress.
For a beginner, however, downloading it from their official site and then installing it on a domain can be a pain. You're looking for a fast fix.
WordPress can be installed from inside HostGator cPanel with just a single click. It also saves a significant amount of time.
3. Free SSL Certificate
Every HostGator plan includes a free SSL certificate.
An SSL certificate encrypts communications between the server and visitors, ensuring that your domains and subdomains are secure.
It marks your blog as protected by showing a padlock in the address bar of your browser. It also offers data encryption of up to 256 bits.
4. User-Friendly Interface
As you purchase a hosting plan from HostGator, you get immediate access to the control panel from where you can manage every aspect of your hosting account.
It's very user friendly even for complete beginners.
5. World Class Customer Service
While using a hosting account and configuring different settings is relatively simple, it is easy for a beginner to make mistakes. You'll need assistance from someone.
You're in competent hands with HostGator.
Their 24/7 customer service is one of the best, in the industry. In less than a minute, you can communicate with a real person through live chat or phone support.
6. Amazing Server Performance
Your blog's loading speed is largely determined by the speed of your server. Although there are several different factors that affect how quickly your blog pages load, your server plays one of the most prominent roles.
Their servers are among the fastest.
You will see how easily my blog pages load for yourself.
This isn't the end. But there's a lot more to expect from HostGator. If you're still not sure, go to the official website and see what they can do for you.
Final Thoughts
I don't think I need to tell you why HostGator hosting is a great option for your blog. They have everything you need to satisfy your web hosting needs.
And, I have something interesting to share with you, right now.
You can get a free domain name if you buy an annual hosting package. So, what are you waiting for? Get started with your hosting right away.
I've been hosting with them for years and will continue to do so in the future.
Now is the time for you to take action.
Full Disclosure: Please note that if you decide to buy hosting using any link on this page, at NO additional cost to you, I get compensated, by the hosting company. And this is what motivates me and helps me run this blog while creating amazing tutorials for you, free of charge. In fact, if you do click and buy, thank you so much. I really appreciate it. You should know that I also use HostGator hosting and I will never recommend a product or service that I don't use personally.
Looking for a WordPress theme that makes your blog look professional?
You need to visit StudioPress. Their themes don't only make your blog look beautiful, but also help your blog with basic SEO. All StudioPress themes are mobile responsive, lightweight, SEO friendly, and built on the popular Genesis framework that makes your blog faster, more secure, and more SEO-friendly.
Digital Millions is based on a StudioPress theme called "Authority Pro" that you can access here. You may have already noticed that my blog is clean, professional-looking, and easy to read. That's the magic of StudioPress themes.
Their themes are used on over 200,000 sites and are the most widely used themes.
All of their themes are perfect for blogging.
A beautiful and professional-looking blog design is critical to attract readers to your blog and make them stay on your blog for a long time.
If you are serious about your blogging business, you should invest a little money to give your blog a beautiful look, right from the beginning.
StudioPress is a premium theme marketplace.
Their themes are not free. By the way, free themes can never deliver outstanding performance similar to premium themes.
StudioPress is my number 1 choice for obvious reasons. And it should be yours too.
Why I Like StudioPress Themes & Why You Should Too
I've already said a lot of great things about StudioPress. But let's not waste your time anymore and show you exactly what you get with each StudioPress themes.
SEO-friendly WordPress Themes
Beautiful blogging-friendly design
Each theme is built on the world-class Genesis Framework
Lightweight themes for quick performance
Highly responsive for all devices so that your blog looks good on all devices
Theme customizer to tweak the theme's settings, colors, and content
Accessibility Ready
Fast-loading themes
Ecommerce ready to add e-commerce functionalities easily
HTML5 Markup
All genesis plugins that require the genesis framework to run
Latest Gutenberg editor support
Translation ready
All vital pages like the landing page, about page and pricing page, already designed.
1 year of support and updates and more…
I think that should be enough to convince you why StudioPress themes can be a great choice for your WordPress blog. Whether you want to keep running your blog or want to turn it into an e-commerce website in the future, your theme is ready to handle everything.
While there are thousands of free WordPress themes already available, you may ask why I'm asking you to go for a premium theme. That doesn't make sense. Isn't it?
Let me answer your question.
Free themes are good as long as your blog receives just a few hundred visitors per month. As your blog grows and receives thousands of visitors, your free theme may not provide a smooth performance.
Also because of limited functionalities, lack of support, and regular updates, these themes rarely reach the benchmark set by premium themes. Mostly, free themes are created by developers as a tempter to sell their premium offerings.
Free themes usually look outdated and don't perform well. Also, it's easy to mess things up with a free theme and you have no one to go for help.
Moving from free themes to premium themes can be hard when your blog is getting constant visitors. So it's always a smart idea to go for a great theme right from day 1.
By the way, premium themes don't cost a hell lot of money.
StudioPress themes cost anywhere from $59-$129 which is quite affordable for most people. Go, visit StudioPress, and make a choice today.
Please note that if blogging is a hobby for you and you never wish to monetize your blog in the future, you should be fine with a free theme.
But if you treat your blog as a business and want to build it into something great, a little initial investment in a premium theme is a must.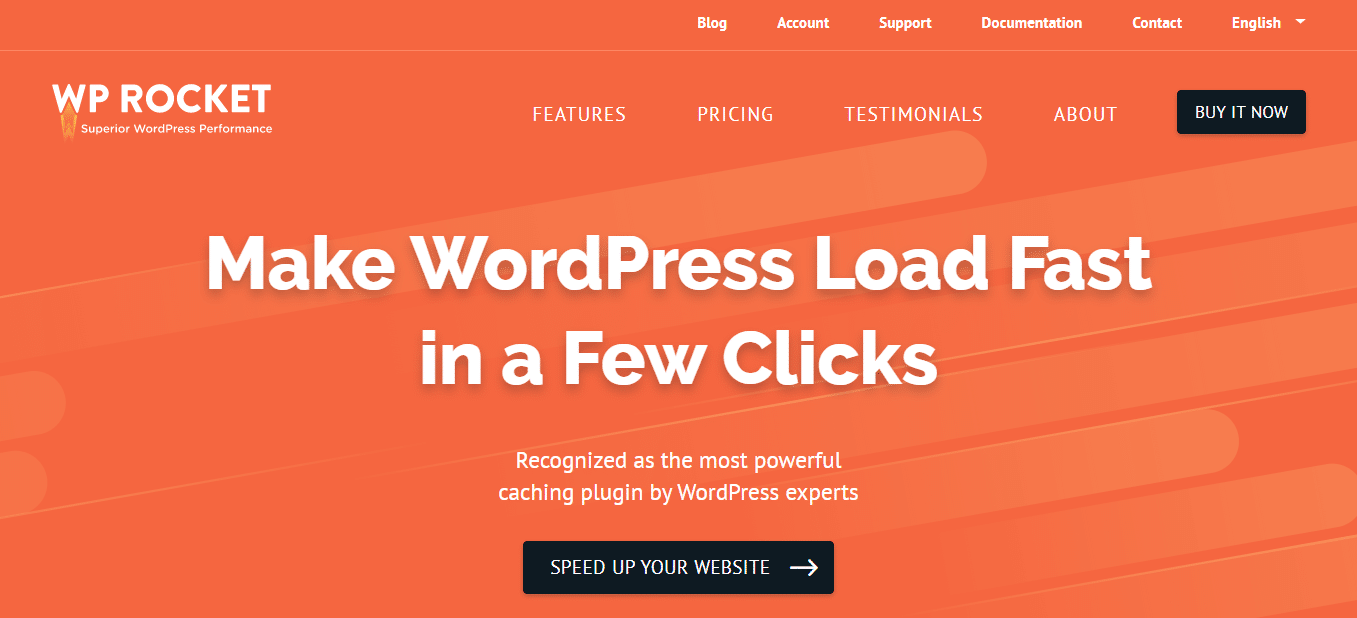 Have you noticed how fast my blog pages load? It's pretty fast? Isn't it? This level of page-loading performance is achieved using a wonderful cache plugin called "WP Rocket".
Truly speaking, there are plenty of free cache plugins already available. But none of them gave me better results than WP Rocket.
I've tried almost all other cache plugins before WP Super Cache, W3 Total Cache, WP Fastest Cache, Swift, and some more.
As I already said, none of them gave me similar results.
Related: WP Rocket Review & Tutorial + Real Client Testimonials
So I decided to invest $49 (which is the price) to purchase WP Rocket to boost the loading speed of my blog. The reason is simple. I want my readers to have a great experience while surfing my blog.
By the way, a great loading speed doesn't only give your visitors a wonderful experience while moving from page to page, it's critical for your SEO too.
Google already announced in the "Speed Update" in July 2018, that the loading speed of a website is an essential ranking factor.
The fact is that more than 50% of visitors will leave your blog if it takes more than 3 seconds to load. In the case of mobile devices, people don't have the patience to wait. They will simply move to a different site.
So it's critical to focus on your page performance as soon as possible.
Many different things like plugins, scripts, database issues or even a low-quality theme can influence how fast or how slow your blog loads.
Cache plugins create a separate cache file for each of your pages so that they can be served whenever a page is requested by a visitor, without directly requesting the server.
As a result, you get a faster loading speed.
Apart from creating cache files, most cache plugins perform many different tasks to achieve the desired results. Most cache plugins will do more than just creating cache files (even the free ones).
In my experience, WP-Rocket has delivered the best results so far. The settings are super easy to configure and you can get it up and running in just a few clicks. Read: How to Set Up WP Rocket for Best Results?
Below are some of its exceptional features WP Rocket offers:
The configuration is pretty simple and fast
Creates cache for ultra-fast load time
Cache preloading
GZIP compression
Browser caching
Database optimization
Google Fonts Optimization
Remove Query Strings from Static Resources
Lazyload – load images as your visitors scroll down.
Minification / Concatenation
Defer JS Loading – helps with loading speed.
Cloudflare Compatibility
CDN – content delivery network support
DNS Prefetching
Mobile Detection
Multisite Compatibility
eCommerce Friendly – supports e-commerce sites
Multilingual Compatibility
Import/Export
Developer Friendly
Although it's primarily branded as a cache plugin, it does so much more. It performs many different smaller optimizations to make your blog load as fast as possible.
If you are serious about your blog performance, check out this plugin. You'll love it.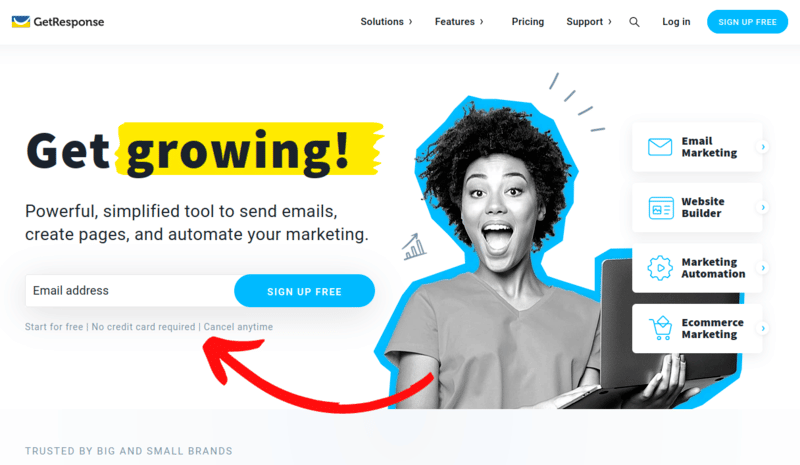 Email marketing provides the most reliable form of communication between you and your subscribers. One of the significant benefits of email marketing is that it usually provides the highest conversion rates than any other marketing technique.
In fact, you can expect an ROI of 4400%. That's $44 return with $1 investment.
As a blogger, you must use email marketing to your advantage.
There are many email marketing services. But my number 1 choice is GetResponse for many different reasons, mainly for its excellent features.
For only $15/month, you can use GetResponse to communicate with 1000 subscribers. Don't forget the fact that you can sign up for free (without any credit card) and use the software for 30 days.
Later, if you decide to continue, a small investment of $15/month will be required.
Including myself, they have over 350,000 customers as I'm writing this. Their service is available in over 183 countries. So hopefully it should be available in your country too.
Although GetResponse is branded mostly as an email marketing platform, it so much more than that. They offer plenty of marketing tools all within the same platform. Below are some of what they offer:
Email marketing tools – email creator, autoresponders, analytics, and list management
Conversion funnel – sales funnel, lead magnet funnel
Landing pages – drag and drop editor, run AB tests
Marketing automation – relevant emails and experiences – automatically
Webinars – Easy set-up, no installation required
Sign up forms – Newsletter sign up, order forms, feedback forms
List building apps – Download box, exit pop-up, scroll form, fixed bar
Social ads creator – eye-catching banners – created in minutes
So you can see what's possible with GetResponse.
But let's not make it overwhelming with too many features. I know you wouldn't need most of these features, as a beginner. All you should be concerned about at this moment is building an email list. That's crucial.
Go, sign up for free and test drive the entire system. Continue only if you like it.
What do you need the most to grow your blog? That's quality traffic. Isn't it?
What if there is a tool that you can use to automatically bring high-quality targeted traffic to your blog? Would you use it?… Of course, you will love to use it.
Let me introduce you to a powerful traffic-building tool called "Tailwind."
Tailwind is actually a social media scheduling tool that helps with scheduling posts on Pinterest and Instagram. With the help of Tailwind, you can schedule months' worth of content within a few minutes.
As a result, you can get a continuous flow of traffic to your blog almost automatically.
This wonderful tool is mostly used to schedule Pinterest pins.
If you are not already aware of what Pinterest is, let me tell you that Pinterest is a visual search engine, almost like Google. Just like Google, people use Pinterest to search for their desired topics.
Google returns tons of relevant articles, as a result of your search. And Pinterest returns relevant images (linking to your blog posts) that match your search.
Each of the images you post on Pinterest can be linked to one of your blog articles. So when someone clicks on an image, they directly land on your blog.
What's more interesting is that you can use texts as a clickbait to grab visitors' attention and make them click. These images are called 'Pins' on Pinterest.
It takes a long time to write a quality article for Google. But in the same amount of time, you can design tons of pin-worthy images for Pinterest and start pinning.
Essentially, every time you post a pin image on Pinterest, you create a new point of entry to your blog. Imagine what will happen if you have thousands of these entry points. Your blog traffic will explode.
But posting these images on Pinterest throughout the day can be a real challenge, for most of us. It can quickly become a full-time job. And that's why you need Tailwind to schedule "Pins" to be posted at the best time.
Also, Tailwind is an official partner with Pinterest. So you can be sure that your account will not be banned for breaking any rules. The point is you can use this tool to post pins at the right time in the right way.
With the help of Tailwind, I've been able to reach over 100,000 monthly views on Pinterest. That's a 3800% increase comparing to the previous month (when I was not using it).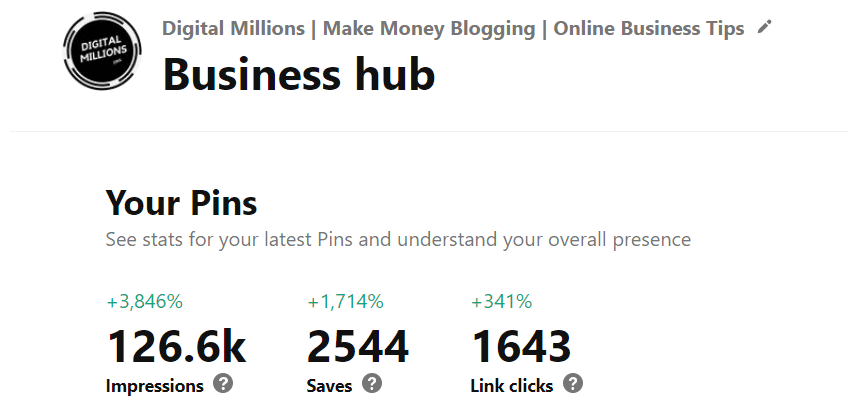 There is no other social media marketing tool that can achieve such outstanding results. That is my result and I want it to be yours too. Getting blog traffic cannot be any easier than this.
All these benefits you get for a small price of $9.99/month if you pay for the whole year at once, or $15/month if you want to pay on a monthly basis. I'm on the annual plan. I'm a serious blogger. So I want to use it for a long time.
The monthly plan is a little bit costly if you calculate.
By the way, you can try it for free for 30 days. Check it out today. I promise you'll love it.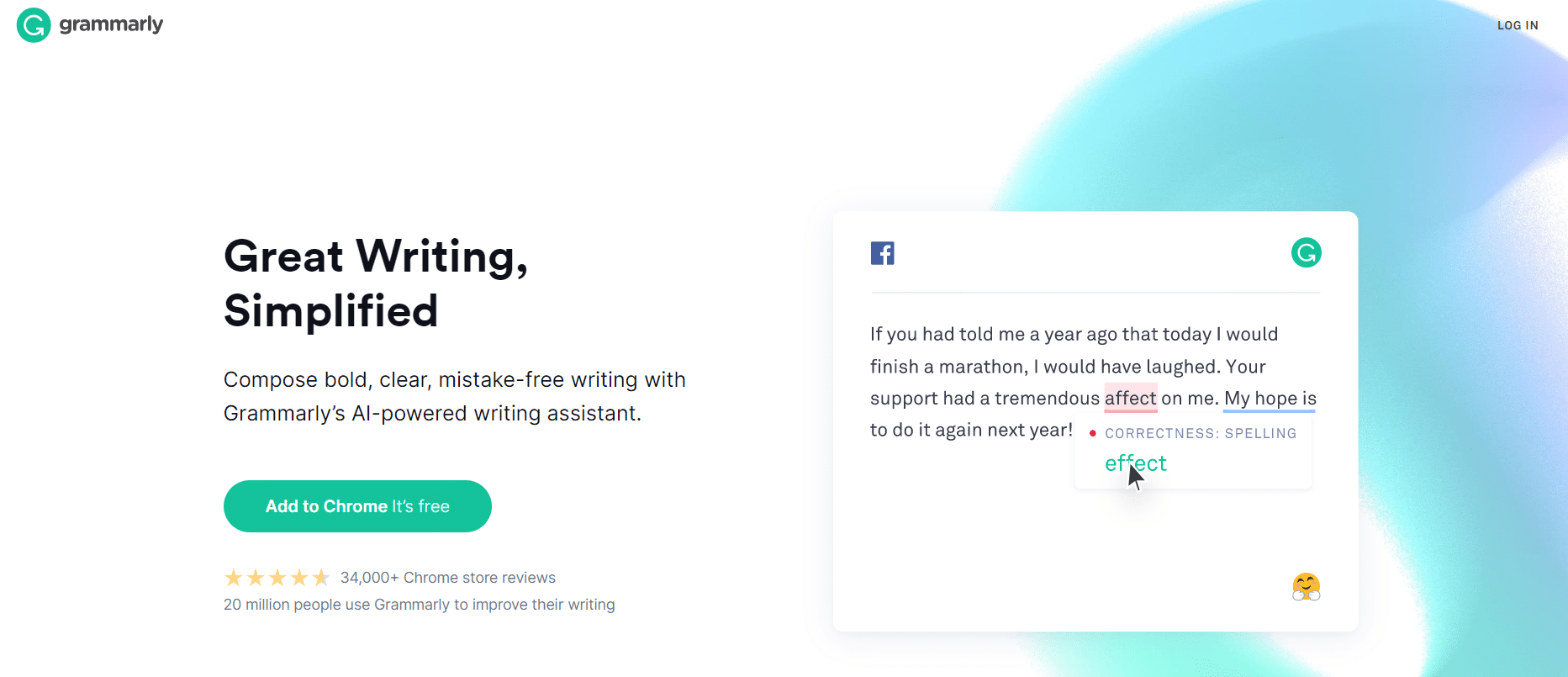 To run a successful blog, you need to write a lot of high-quality content.
That's an asset for your blog.
As a blogger, one of the most important jobs you have is writing. It's easy to make silly grammatical mistakes even as a native English speaker when you write a lot and get bored with it.
What if I tell you that there's a free tool which can improve your writing, suggest better words, make your articles interesting to read, and solve any grammatical issues you might make, would you like it?
Of course! you would like it.
Let me introduce you to this awesome writing tool called Grammarly.
Grammarly can resolve most of the writing issues for free. It is an awesome tool that doesn't only help you proofread your blog posts for grammatical errors but makes them easy and interesting to read.
You can get started with Grammarly for free. You can download its free browser extension which will start working immediately as you write blog posts in the WordPress editor.
The free version should be enough for most bloggers and writers.
But if you need advanced suggestions, want to fix inconsistencies in punctuation, formatting, and spelling, improve readability, rewrite sentences to add variety and flavor, you'll need to go for the premium version.
The premium version costs only $11.66 monthly (for an individual). There is also a business plan primarily to be used by a team of 3-149 members. But you can try it right now, free of charge.
7. Long Tail Pro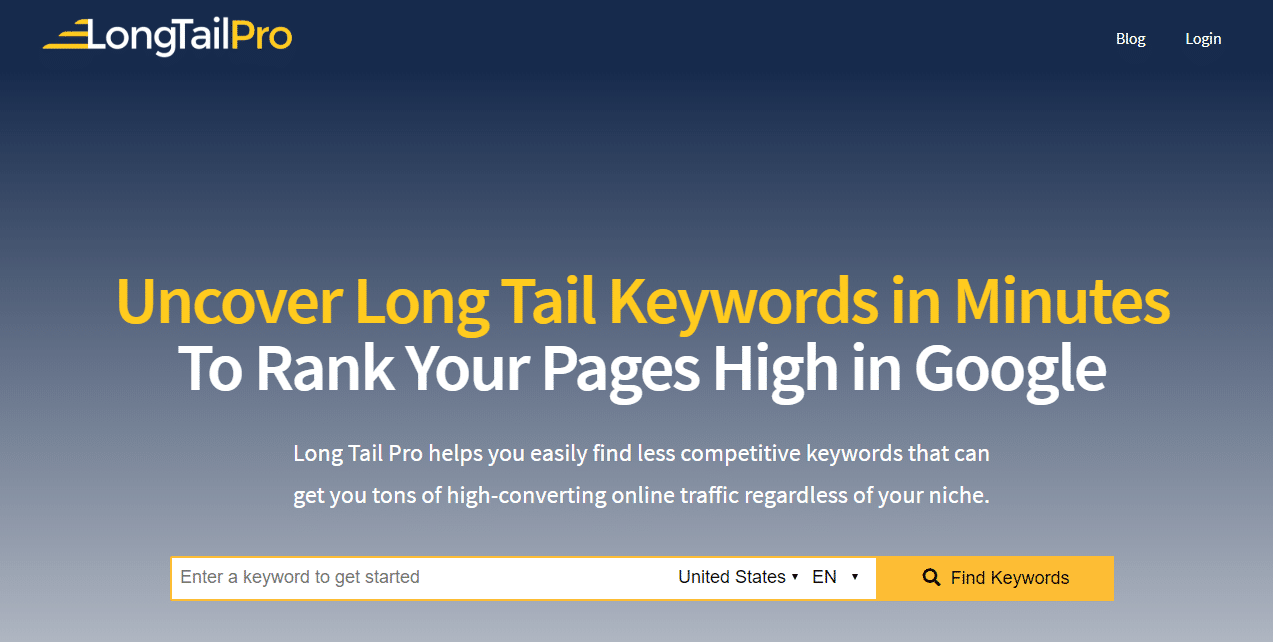 It's fairly easy to create a blog from scratch.
But just starting a blog is not enough to turn it into a successful business online. You need tons of high-quality informative articles and an effective content marketing plan.
It's easy to find stories of bloggers making millions online.
But we can't forget the fact that most bloggers still make less than $100 per month. And, if you've just started, you probably earn nothing.
All these can sound quite demotivating if you have a dream of building a successful blogging business online.
Blogging is usually a long-term game.
You should not expect quick results.
It mostly takes a few months for a blog post to get the best search engine ranking it deserves. It can even take years of consistent effort if your target keywords are highly competitive.
That's why it doesn't make much sense to target highly competitive keywords if you are yet to establish yourself as an authority in your space.
What's better is to write quality articles based on long-tail keywords that have very low competition and are easy to rank on search engines.
This way you have a much better chance to rank your blog posts faster and get quick results.
Generally, long-tail keywords are less competitive and easier to rank for. If you can produce tons of quality articles targeting these long-tail keywords, it will be easy to get consistent traffic from search engines.
But the question is how you would find long-tail keywords with significantly high monthly searches?
What if i tell you that i have found a solution to this problem, would you be interested?
Let me introduce you to a wonderful keyword research tool that makes our job easier and faster.
It's called Long Tail Pro.
With the help of Long Tail Pro, you can easily find plenty of long-tail keyword suggestions with monthly search volume. If you target these keywords while writing your articles, you have a much better chance of getting ranked faster.
As a result, it will be so much easier to get a consistent flow of traffic to your blog.
Now, you can get started with Long Tail Pro, free of charge.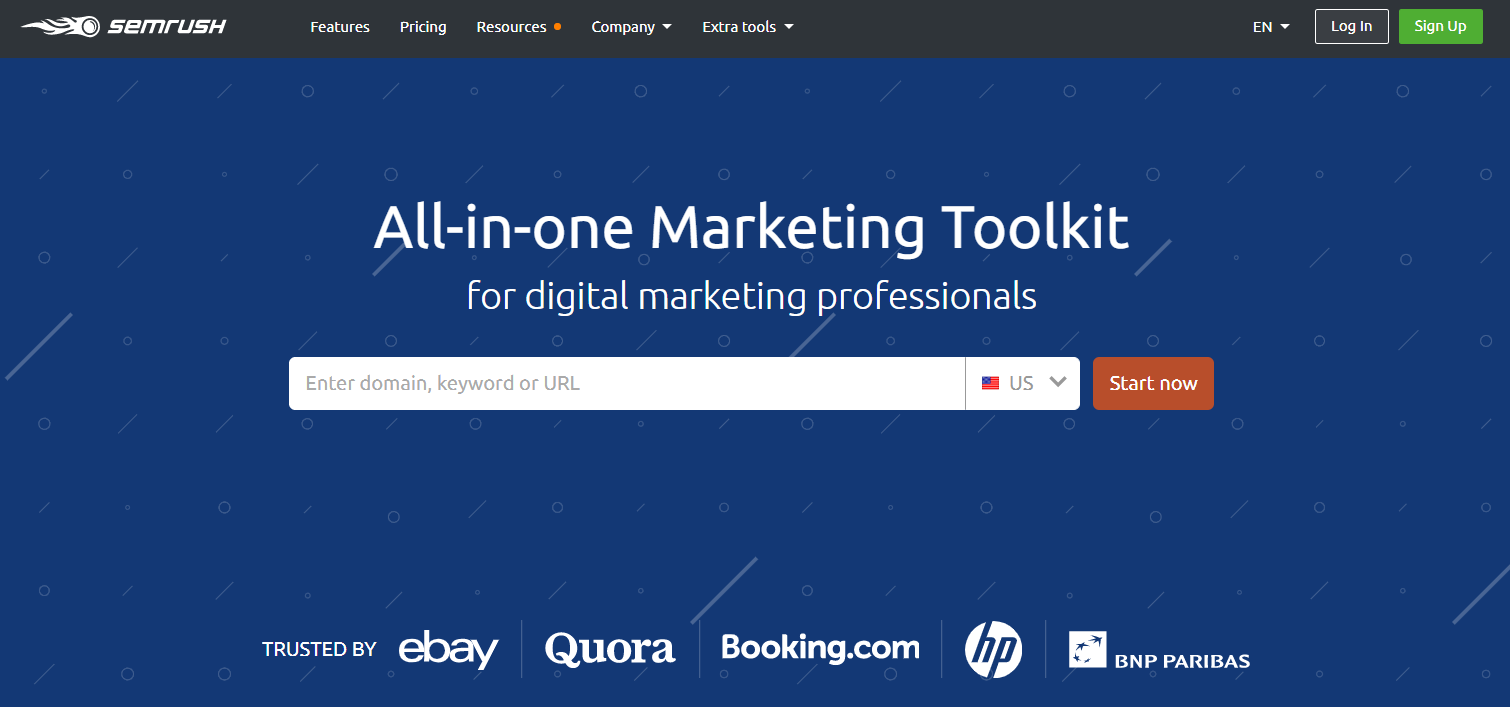 Do you blog as a writer or a business owner?
Is blogging a hobby or a business that you want to grow?
Do you want to make money blogging or it doesn't matter at all?
Answering these questions honestly will help you set up clear goals for your blog.
If you are someone like me who treats blogging as an online business (yes, it is a business for every successful blogger), you can't ignore the importance of search engine marketing.
Only writing quality articles is not always enough, though it's one of the most important factors. Optimizing your blog for search engines, doing competitor analysis, resolving critical SEO errors, and having a proper action plan for building quality external links are equally important.
Instead of just writing articles that your readers love, you should make sure that search engines love your blog too. That's the secret to your success. Let me introduce you to the most powerful SEO tool I like.
It's called SEMrush.
With millions of registered users, SEMrush is one of the most powerful SEO tools out there. Starting from SEO, you can analyze and manage almost every aspect of digital marketing.
Top Benefits of Using SEMrush
Run a technical SEO audit on your site
Track your daily rankings
Analyze your competitors SEO strategies
Analyze any website's backlink profile
Research millions of keyword ideas
Gather ideas for gaining more organic traffic
Monitor your competitors' ad copies and landing pages
Find top keywords for PPC campaigns
Optimize your keyword list
Build the most effective social media strategies
Get powerful content ideas that bring outstanding results
Get a tailored template for creating SEO-friendly content
Analyze your content quality and optimize them for better performance
Track who's talking about your brand
Do market research and so much more…
All these factors make it the number 1 place to go if you are serious about building a blogging business. You can get started with SEMrush for free. So what are you waiting for?
Go, get your first 100-page site audit for FREE in 5 minutes, today.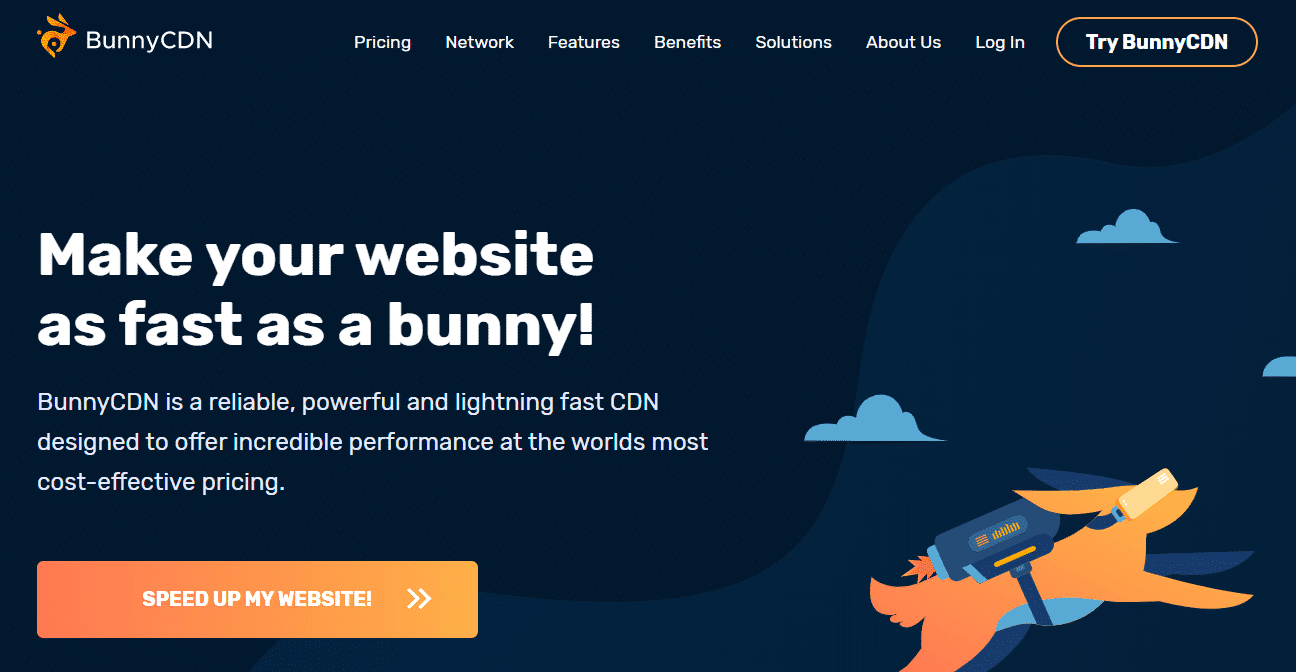 CDN or content delivery networks work by reducing the distance between your site visitors and web hosting servers by hosting your static files (images, JavaScript files, CSS files, videos, Flash files) in many different geographical locations.
This way the content from your blog can be served quickly as it is served from a server nearest to the visitor. It helps you by significantly reducing the load on your web hosting server.
Static files like images, JavaScript, CSS, and videos usually take the longest time to load, slowing down the overall page loading time.
By serving these contents directly from a CDN, you help your blog load noticeably faster. Not only that website loading time is an important SEO metric nowadays.
A fast loading website doesn't only help with SEO, but it helps with user experience too.
Have you ever visited a website and waited long for its pages to load?
Isn't it very frustrating to wait for a page to load?
Studies found that more than 50 percent of visitors will leave if a website takes more than 3 seconds to load. Obviously, you don't want that to happen for your blog. Do you?
While the cost of most popular CDN services ranges from $7/month to as much as $20/month, it may not make sense to invest in CDN services, as a beginner.
And if you're yet to make any profit from your blog, it doesn't make sense at all. But what if you still want to take advantage of CDN?
What if you are obsessed with how well your blog pages perform?
What if you are obsessed with giving your readers the best user experience?
I have a good solution to this problem. Let me introduce you to BunnyCDN, the cheapest CDN provider that performs as good as other expensive CDN services. It's reliable, powerful, and incredibly fast.
Want to know how much it will cost you?
At a price of only 1 dollar per month, you can get started with their CDN. In the USA, it only costs a cent for 1 GB of data transfer. It cannot be better than this.
I use its services for my blog and highly recommend you to try it. In fact, I have written an awesome tutorial on how to properly use BunnyCDN.
You can get a free 14-day trial without using any credit card.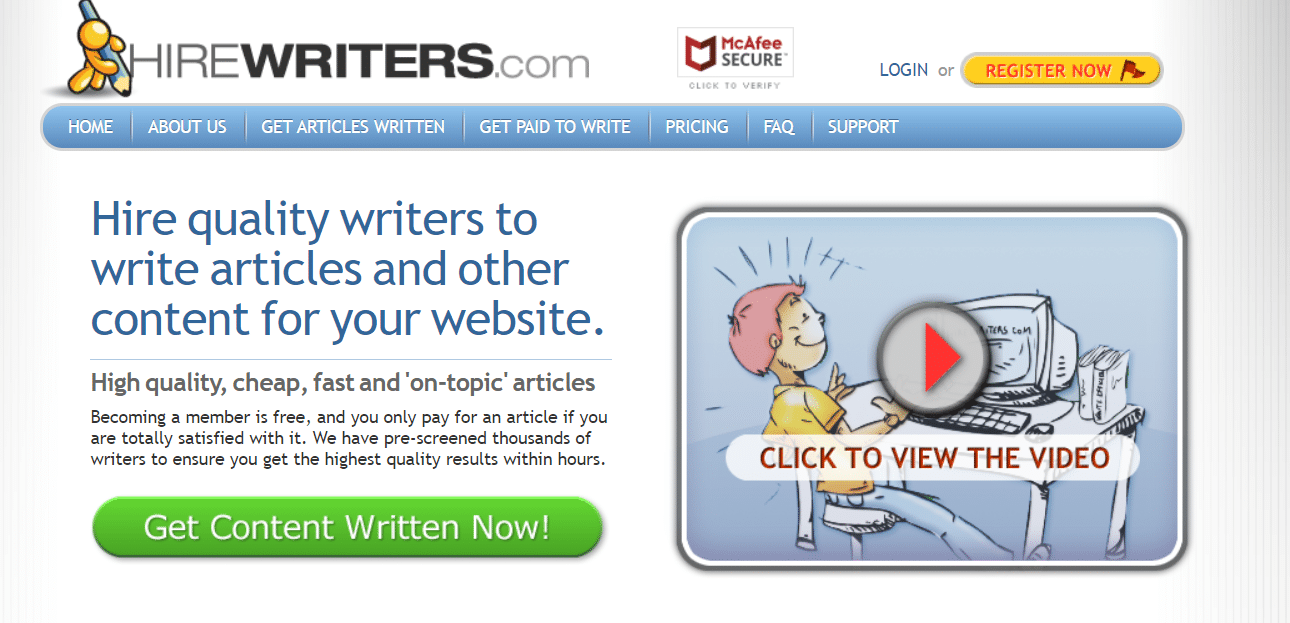 If you think that every blogger writes their own articles, you are sadly mistaken.
It usually takes about 4.5 hours to produce an awesome piece of content. And for longer articles, it may take days of consistent focus and effort. That's a lot of work.
Even though it takes a huge amount of time, you can't ignore the importance of consistently producing great content for your blog. That's an essential part of blogging.
This is absolutely fine if you want to write your own articles and if that's what you like.
But if you want to skyrocket your blog's growth, you can't invest most of your time in creating content only.
You have many other responsibilities too, like content marketing, optimizing your blog for SEO, updating old content, competitors analysis, keyword research, discovering new topic ideas, building social media presence, outreaching to potential link prospects, following up, and so on. The list is endless.
You need a helping hand to take the responsibility of writing articles on their shoulders.
Let me introduce you to HireWriters, the cheapest place to find talented writers.
This is, by far, the best place I have discovered to find talented writers for your blog. With thousands of native English writers, it's the best place to find excellent writers who can write exactly the way you want.
I personally like to write most of my articles.
That's what I do the best. But still, I have many articles written by other writers. It gives me more time to focus on other critical factors.
If money is an issue, there's no need to hire ghostwriters. You can write every article yourself. But if you want to grow your blog and make money as fast as possible, hiring writers is essential. If you are working full time, it's easy to get discouraged when you have so much writing to be done.
And your content quality may also slide down.
This way, it will take much longer to generate revenue from your blog.
The money you spend on content production may seem like a lot of money, at first. But please think of it as an investment as it's going to produce an insane ROI in the long run.
At HireWriters, it only costs about $15 for a 3000 words article. It can't be better than this.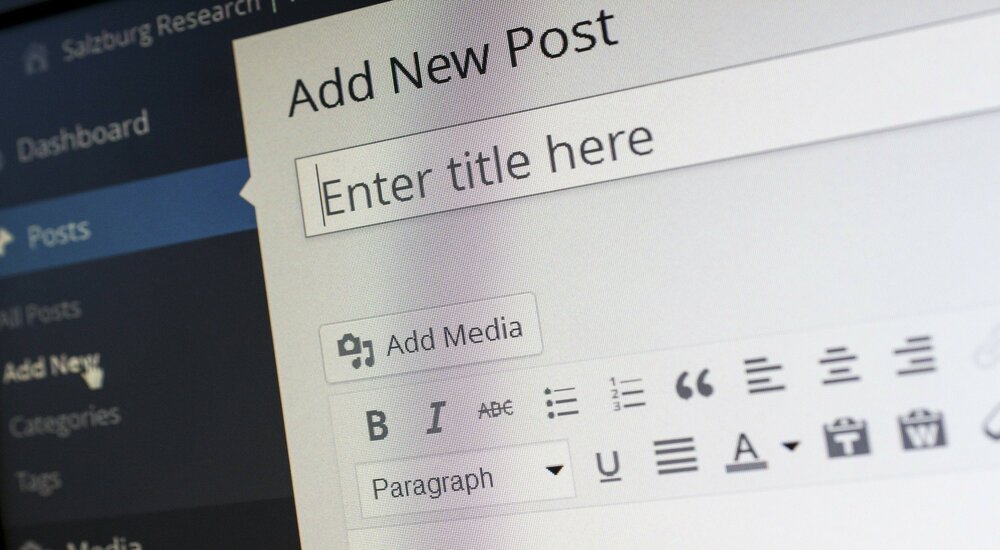 The first step in laying the groundwork for your blog is to select the finest blog platform. Squarespace, Wix, Shopify, WordPress, and Blogger are some of the best options available out there, and you've undoubtedly heard of at least one of them if you've ever tried to set up a blog of your own.
There are many more, but the fact remains that WordPress powers over 35% of all websites on the internet, which is fairly significant.
It is the largest blogging platform on the planet.
Another thing to keep in mind before deciding on WordPress is that there are two different WordPress platforms, which many people are unaware of.
Yes, there's a big difference between WordPress.com and WordPress.org.
WordPress.com is free and is hosted on their servers, whereas WordPress.org is self-hosted. You'll need a domain and hosting to use WordPress.
WordPress is without a doubt the best platform for running a blog.
Although they are both technically free, WordPress.com allows you to host your site for free and even have a free domain name (subdomain).
However, with WordPress.org, you must purchase your own web hosting account, which can cost as little as $2.75 per month if purchased through HostGator, which is what I recommend for beginners and I personally use it too.
The REAL WordPress is WordPress.org, also known as self-hosted WordPress. When people mention WordPress, they are actually referring to wordpress.org rather than wordpress.com, in case you don't realize.
WordPress.org essentially requires you to have your own web hosting plan as well as a domain name. Otherwise, you won't be able to create your blog. Just keep in mind that if you want a self-hosted and profitable blog, you must choose .org over .com.
You no longer need to spend hundreds of dollars on graphic designers. There will be no more days of back-and-forth over design specs!
What exactly is Canva?
Canva is a free web-based tool that lets you easily design images for blog posts, product photos, social media graphics, and more.
Click here to try Canva Pro for free for 30 days.
Canva is one of the most helpful image-editing apps for my job and productivity. Canva is where I design all of my images, and it's amazing how simple it is to make some amazing images. The best thing? You can get a free account and try it.
The following are some of its best features:
Use their stock photos or upload your own
Both free and paid options are available
Text overlays, charts, and icons can all be added
Save your files as pictures or PDFs
Change the sizes of your designs by copying them
And there's more!
The best part is that it's quite simple to use. No Adobe Photoshop expertise is necessary to use Canva and design graphics.
With only a few clicks, you can create incredibly appealing and eye-catching images, banners, Pinterest Pins, Infographics, and much more.
They have a free version as well as a Pro plan with more features.
13. Ubersuggest
Keyword research is difficult and expensive, especially if you are new to blogging. If you want a useful, fully-featured SEO tool, be prepared to invest hundreds of dollars, unless you're using Ubersuggest, of course.
This tool gives you a lot of value for your money. It is relatively inexpensive in comparison to other tools out there.
And, it includes the essential features that all bloggers need.
For beginners with little experience, the tool is simple to explore and use.
Every SEO tool has a distinct difficulty score, therefore it's only useful as a supplement to the data provided by Ubersuggest. This program has almost everything you need. It even provides you with backlinks from your competitors' websites.
Although it's not as good as Ahrefs and SemRush when it comes to backlinks.
However, if you want to spend as little money as possible and get the most bang for your dollars, Ubersuggest appears to be the best option.
It also contains a tool that scans your website for bugs and issues, and if any are found, it rates them according to their severity.
This is very useful for beginner bloggers who lack technical knowledge.
14. Buffer
Buffer is one of the most popular social media marketing tools on the market. It allows users to schedule posts ahead of time, and then publish them automatically. Buffer also offers a variety of other social media marketing tools, such as analytics, reporting, and content promotion.
The free version let's you schedule only 10 posts per channel.
For organizations or businesses that need more than 10 posts scheduled per day, Buffer offers a premium plan that starts from $5.
Buffer is perfect for small businesses who want to keep their social media content consistent and fresh without having to manually post every day. Plus, because it can auto-post your new blog posts, you'll never have to worry about sharing your blog updates on Twitter or other networks.
I only recently got on board with Buffer.
And it's been like a social awakening. It literally takes care of everything for you so that you don't have to waste time on things that could be more productive.
I highly recommend it if your goal is to grow a following for your business and make sure every post reaches its target audience.
Scheduling posts on social media is so important as a blogger and I always forget to do it. Buffer makes it super super easy to set up a schedule of when I want tweets and Facebook posts to go out.
As over half of my social media posts are sharing other blogger's posts, one of my favourite parts of Buffer is the built-in browser extension that allows me to share any web pages really easily.
It also picks up images so it makes the posts looks really nice too.
Now when I find a blog post I want to share to my audience, it's incredibly easy for me to do so with the help of Buffer! This means I'm sharing more valuable content for my followers more regularly.
15. Planoly
Planoly is a social media content planner and social media management tool for businesses that want to simplify social media marketing. You can ideate, schedule, and organize your social content all in one place.
It works with both Pinterest and Instagram. So, you can easily post updates to your page without having to manually do everything.
Planoly also allows you to track how many people have been reached by your posts, as well as who has engaged with them (clicked on a link or shared it). This helps you understand how effectively you're connecting with your target audience. Furthermore, Planoly has a powerful analytics tool that lets you see which posts are performing the best and why. This can help you fine-tune your strategy and improve performance overall.
Overall, I think it's an excellent tool for bloggers who want to manage their Instagram or Pintrest content in one place and track how their content is affecting engagement rates and traffic numbers.
Planoly offers different pricing tiers based on how many posts you would like scheduled per month starting from $11.25 when billed annually. If you want to subscribe monthly, the price goes up to $13 per month. Additionally, they offer a free 7-day trial for new users.
16. Google Docs
Google Docs is a free online document editor that's widely used by bloggers and business owners. It allows you to create, edit, and share documents with others. You can use Google Docs for everything from writing a blog post to creating an Excel spreadsheet.
In addition, it has a lot of features that make it great for content management: you can add hyperlinks or embed videos and images.
Overall, I think Google Docs is an excellent tool for bloggers who want to easily manage their content and collaborate with others in a team. You can also use it to create powerful Excel spreadsheets, which can be a valuable asset for tracking and analyzing your data.
Honestly, this is the hub of all my blog post planning.
From ideas to writing new blog posts to planning my free email course, it all happens on Google Docs. As well as docs, I can also create spreadsheets, presentations and surveys, as already mentioned.
The Investment: It's free, yo!
17. Adobe Illustrator
Adobe Illustrator is a powerful tool that can be used to create graphics and illustrations for websites, brochures, and marketing materials. It can also be used to design logos, icons, and other elements for your website.
Since Illustrator is such a versatile tool, it can be really useful for content management as well. You can use it to create graphical designs for your posts and articles (including graphs), or even create custom post templates for Instagram or Pintrest pins or posts.
Overall, I think Adobe Illustrator is an excellent tool for creating high-quality visuals that can help you communicate your message more effectively. It's also great for creating logos, icons, and other design elements.
This software can be expensive, but it's worth the investment!
Ever since I'd started designing and blogging, I'd been using Adobe Photoshop to create graphics and icons even though I had Illustrator the entire time. Oh, how silly I was. Once I'd learnt that Illustrator is so much better for creating graphics, my mind was blown and I haven't looked back.
I have a template set up in Illustrator that I use to create my blog post graphics. It has my layout, fonts, backgrounds and colours saved so I can whip up a new blog graphic in no time!
Everything is crisper and clearer on my site since I started using Illustrator – it basically looks much more professional.
The Investment: As you may already know, Adobe products are pricey and Illustrator is in the region of around £205 a year.
Alternatively, you can sign up to Adobe's Creative Cloud which is about £45 a month. Creative Cloud is GREAT – you get all of Adobe's creative apps (Photoshop, InDesign, Illustrator, Dreamweaver, and more) with free updates. It's something a blog + biz really can't live without.
Free Option: Canva – I personally have used Canva for a long time. I strongly recommend it for bloggers who don't want to pay for Adobe.
18. Moosend
Moosend is a popular email marketing tool that you can use to manage your mailing lists and send out email campaigns. You can send automated emails to your list of subscribers, or send newletters manually.
Some of the features that Moosend offers include:
A powerful mailing list management system that allows you to track which emails are being opened and clicked, as well as which lists are engaging most with your content.
The ability to design beautiful email newsletters in minutes, without having to hire a Graphic Designer.
Email tracking so you can measure the success of your campaign by seeing how many people have signed up for your mailing list as a result of your email marketing efforts.
It has a really user-friendly interface and it's free to sign up for a trial account before you decide if you want to keep using it or not.
If you're just starting out with email marketing, I would recommend signing up for a free trial of Moosend so that you can get started.
Growing a mailing list is super important for your blog business.
Social media is great to build up and is imperative for building your blog but social media comes and goes – emails are here to stay. And, a great email tools and marketing service provider worth investing in is Moosend.
With Moosend, it's super easy to dish out opt-in freebies.
Better yet, you can tag an email address based on what links they have clicked on or what freebies they have downloaded.
No wading through lists to find out who owns what, you can easily organise your subscribers based on their interests and needs.
For example, if you send out an email with a link to your services page, you can add a tag to whoever clicks on that specific link. This way, you'll know who is at least interested in looking at your services and send them another email down the line. Pretty cool feature, right?
Or, if I write a post about blogging or Instagram and someone clicks on the link, you can add the tag 'Interested in Instagram'. Next time, you write an email with Instagram tips and tricks, you'll know who to target first.
The Investment: Moosend starts with a free 30-day trial so you can test out the service before paying for it. After that, monthly plans start from $7/mo.
The Verdict: I love Moosend! It's one of my favourite email marketing tools out there and it makes organizing email subscribers a breeze. Plus, the free trial is awesome – definitely worth signing up for!
19. Zapier
Zapier is another great tool for automating your blog content marketing. This powerful tool can automate almost anything, from sending out newsletters to creating new tweets when a new blog post is published.
For example, you can use Zapier to:
Add a new story to your Medium account every time you publish a blog post
Send out automated emails about new posts on your blog
Tweet about new posts on your blog
Post updates and tips on Facebook about new posts on your blog
The best part?
You can start with a free plan with decent limits (100 tasks per month, 5 zaps), and then upgrade to a more expensive plan if you need more.
The Investment: Zapier starts at $19.99/month for 750 tasks and 20 zaps. If you wish to increase your task limit, you can upgrade to the professional plan for $49/month for 2,000 tasks and unlimited zaps.
The Verdict: I absolutely love Zapier – it's one of my go-to tools for automating my blog content marketing. It's super easy to use and has a lot of great features, so I definitely recommend giving it a try!
It's essentially saved me so much time and hassle in my content marketing process! It's easy to use and really helps to streamline everything from blog post creation to social media outreach.
Final Words and Thoughts
If you use all the above-mentioned tools for your blog, you'll be way ahead of most bloggers who will probably never take advantage of all these useful blogging tools. But this is not the end. There are lots of other tools you may find useful for your blog. These are the ones I found useful.
Please note that some of the links above are affiliate links.
That means if you click on these links and decide to make a purchase, at NO additional cost to you, I may receive a commission. But that doesn't mean I've recommended them because of the potential commissions I may receive.
I recommend these products because I really find them useful and helpful. Please do not spend your money if you are not confident that it will help you reach your goals.
And, if you decide to intentionally click my affiliate links to make a purchase, Thank you so much. I really appreciate it. It really helps me run this blog, keeps me motivated and of course, gives meaning to the endless hours I spend to make this blog.
Truly speaking, there is an endless number of products and services that you may find useful for your blog. But I don't like to make you confused with hundreds of tools.
That doesn't make sense.
Because we cannot use hundreds of tools at the same time.
It's a much better choice to stick to the ones that suit you the most.
The products and services I've listed on this page should be enough to improve almost every aspect of your blogging journey.
Did you like the information shared on this page?
Please share it. Thank you! 🙂