Looking for the best WordPress cache plugin to speed up your site? Then, unquestionably, WP Rocket is worth considering. Here's what I'd have to say about it.
My first question:
Did you notice how fast the pages are loading on this site?
I'm sure you did.
That's the magic of WP Rocket and BunnyCDN. Pretty amazing. Right?
So if you're looking for the best WordPress cache plugin, look no further. Because in this in-depth WP Rocket review I'll help you make a strong decision.
Pretty bold statement. Right?
But here's the thing:
WP Rocket is, in my opinion, one of the best WordPress caching plugins for boosting the loading speed of your website. And, BunnyCDN is unquestionably the cheapest (around $1/month), yet extremely powerful and reliable CDN.
And, I know, it won't be difficult to prove it with this review.
Here's the fact:
Both of these tools simultaneously help me achieve super-fast loading speed. I've been able to achieve over 95% score on GTmetrix for all my pages, with the help of these powerful tools. However, this review will mostly focus on WP Rocket.
That's okay. Right?
You've probably landed on this page looking for someone to hold your hand and help you figure out if WP Rocket is the right choice or not.
The short answer is YES.
If you are obsessed with the loading speed, you should know how someone like me with no technical knowledge is getting amazing page loading performance.
Take a look at my results below.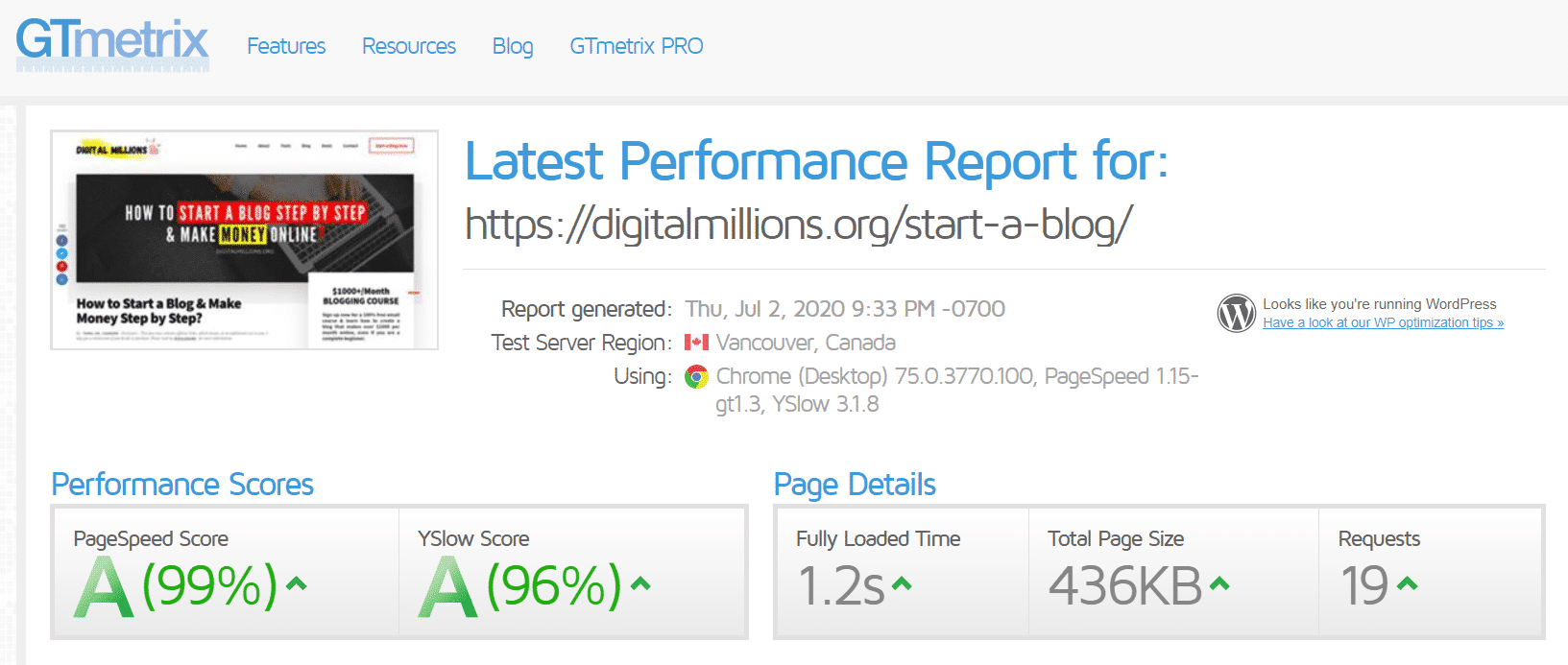 Did you notice?
One of my most image-heavy blog posts loads within just 2 seconds.
I know… I know you are smart. You need more proof. You can't trust my words. Then take a look at my loading time without WP Rocket.
It's the same page with ?nowprocket parameter.
This parameter (?nowprocket) is used to bypass the WP Rocket cache and check your page loading time without using the power of the cache created by WP Rocket.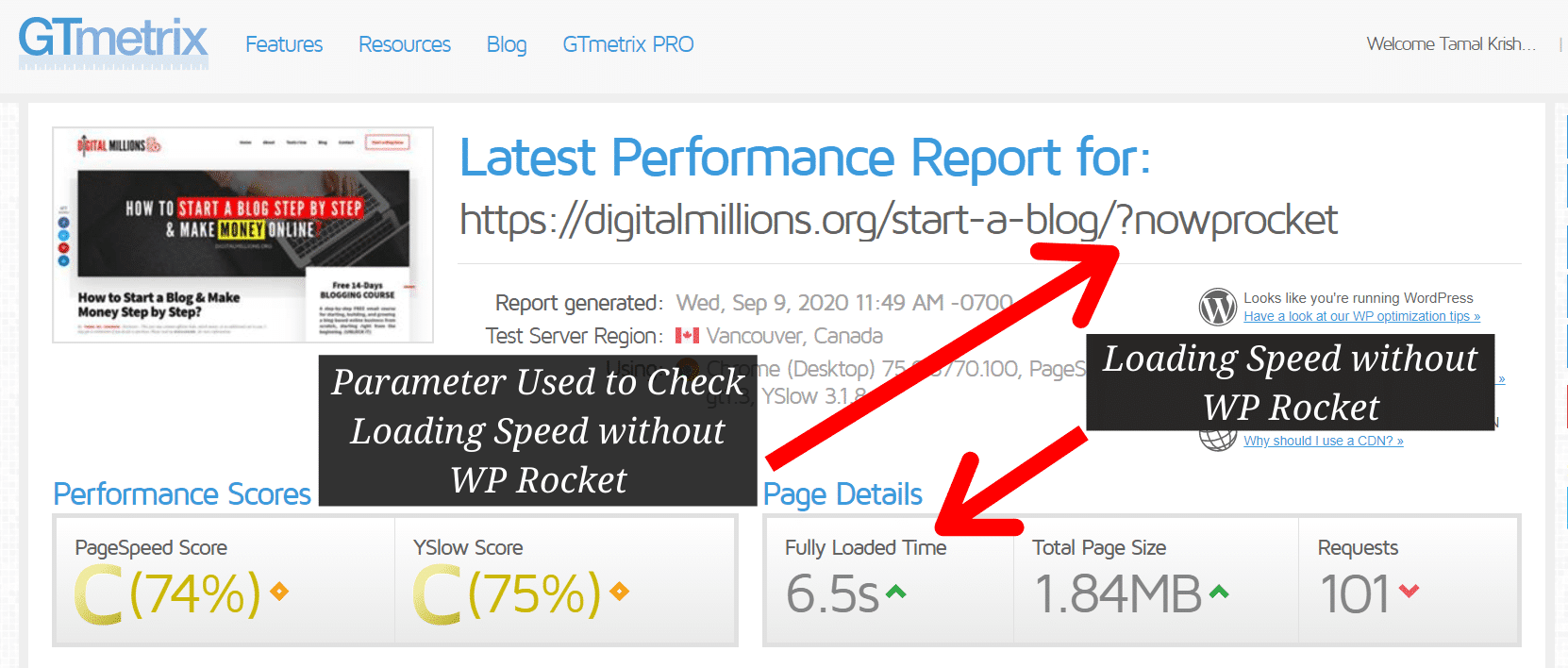 So did you notice the difference?
Surprised, Right? 😯
And that's exactly why I strongly recommend you to buy WP Rocket as it's the highest-rated caching plugin that delivers excellent page loading performance.
A careful look at it's Trustpilot profile reveals the true ratings: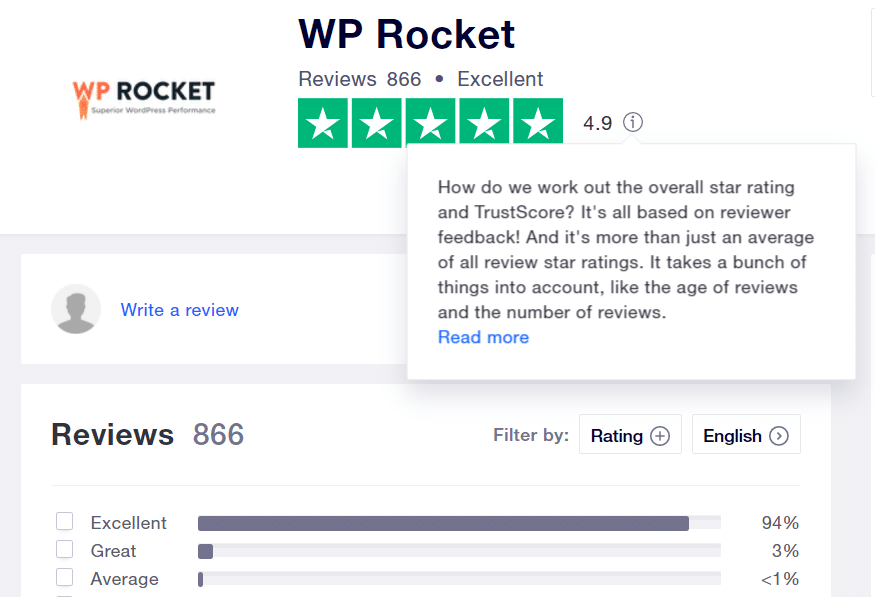 Even though, it's branded as a caching plugin, it's so much more than that.
Truly speaking, I'm not asking you to trust me. But take a look at what people are saying about WP Rocket. See how people reviewed it in their own words: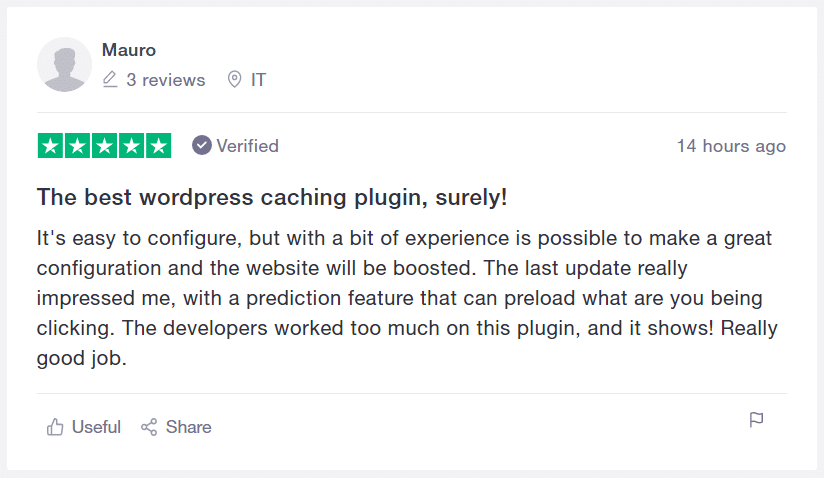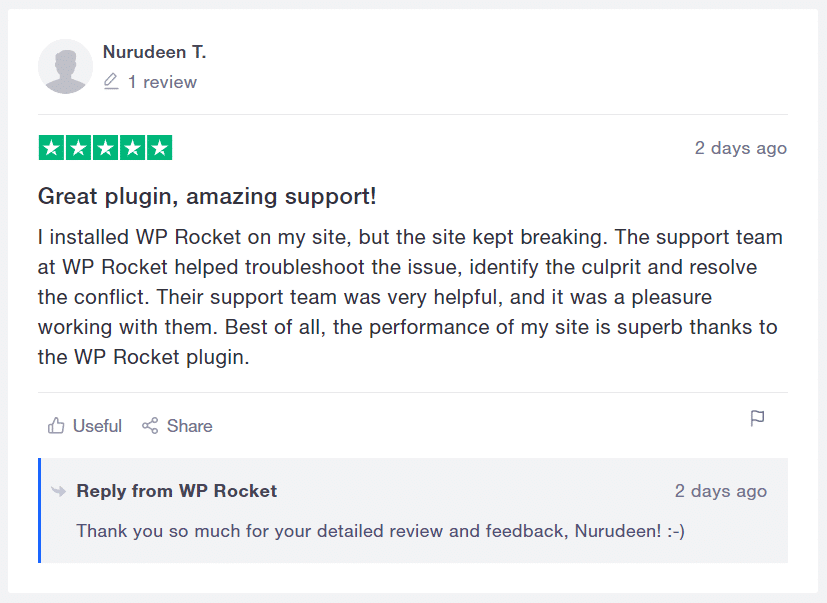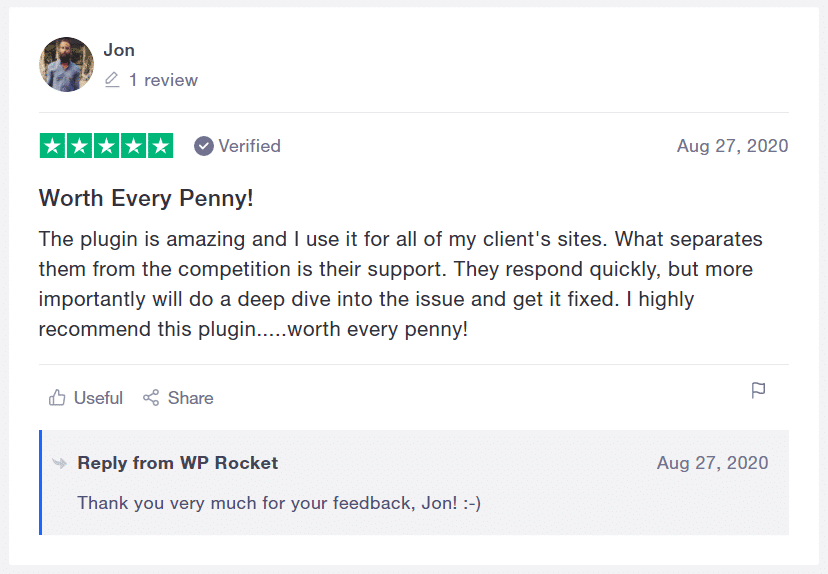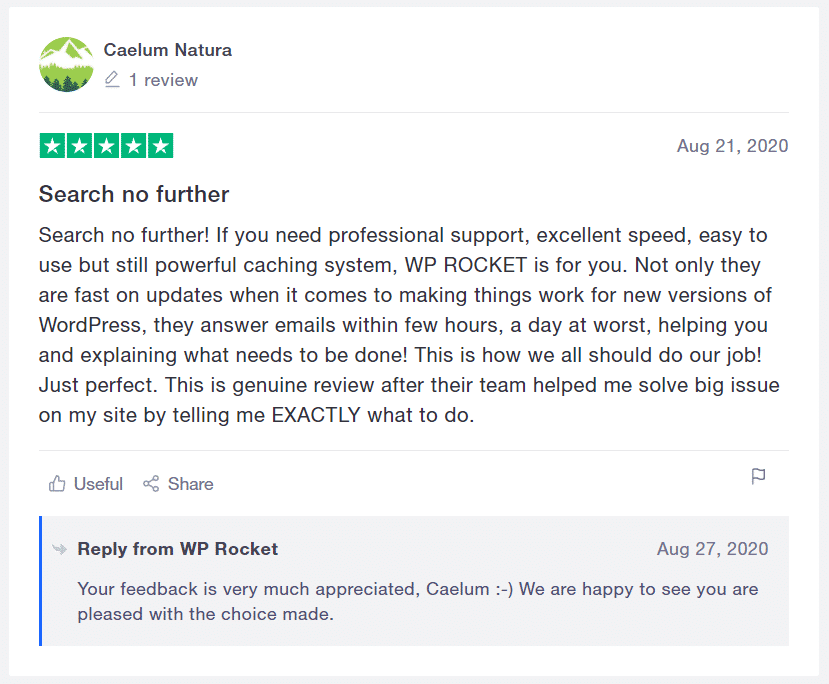 Ok, that's enough. Let's stop it for now. 🙂
No, really that's enough. Right?
Interested to experience it yourself? Click the button below to grab it today. You'll be happy to know that it costs only $49 for 1 year of support and updates.
Any good news?
Of course, you'll get a 14-day money guarantee.
Yes, that's right. I don't think you'll ever need one. But still, if you are not satisfied with how it performs for your site, you can get a full refund within 14 days.
Keep in mind that their support is very responsive. And, they can easily solve any problems you may have with your site.
Really, it can't be better than this.

In this WP Rocket review, I will be going through the best features that WP Rocket has got to offer you. I will also help you decide if it's the right choice in case you have already decided to purchase it, but have some confusion.
Unfortunately, WP Rocket is a premium plugin. So unless you decide to pay for a premium price you can't take advantage of this plugin.
So it's natural to look for reviews online.
Because you want to make a confident decision towards buying it. And, that's what I'm going to help you with through this review.
First, let's see who should use it.
Who Should Use WP Rocket?
In short, if you are having trouble with the loading speed of your WordPress site, you should start using WP Rocket right now.
Because you know what?
It's the best.
That's my opinion, of course. And, I'm pretty sure it will yours as you start using. I don't want to blame you if you have a different opinion.
But in my experience, it has truly surprised me in every possible way.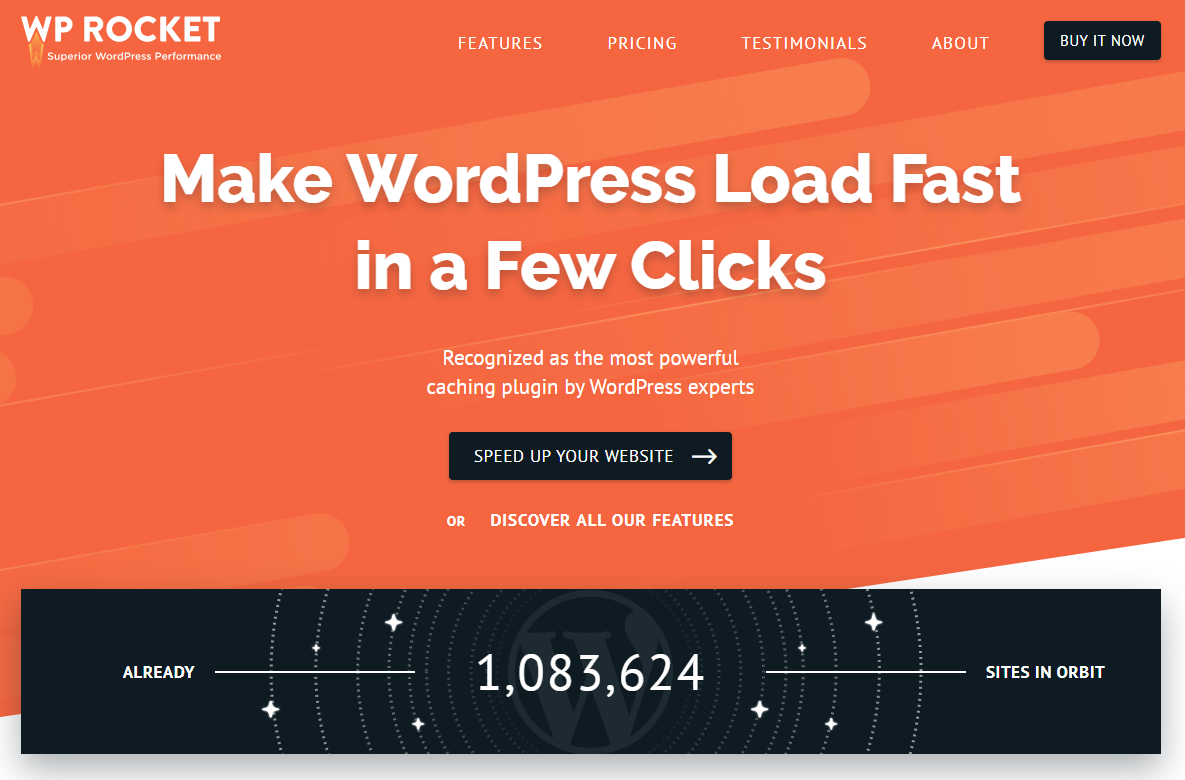 WP Rocket can literally cut your loading time by half or more.
These days when a single millisecond delay in loading time can negatively impact your site, not using a good cache plugin can quickly become a disaster.
Why?
Because loading time really matters.
The truth is, as much as 40% of website visitors will leave your site if it takes more than 3 seconds to load. And, if this is your site, it's a disaster. Right?
A study by Akamai Technologies revealed:
A 100-millisecond delay can hurt conversion rates by 7 percent
A two-second delay increase bounce rates by 103 percent
53 percent of mobile site visitors will decide to leave a website that takes longer than three seconds to load. Quite useful data. Right?
Obviously, it indicates that your website's performance is critical, not only for the customer's attention but also for creating an outstanding user experience.
It naturally helps you increase the revenue.
Let me explain it more accurately.
Suppose you have a website that receives 5000 visitors per month and you are selling a product at $50. Your average conversion rate is 3%.
So your average revenue is $7500 per month.
Now if your website takes more than 3 seconds to load, you can expect at least 40% of the visitors will leave your site. That's a huge reduction.
So clearly, you'll receive only 3000 visitors visiting your site per month.
It translates to only $4500 per month revenue.
Result?
$3000 loss per month. Quite dangerous, right?
Here's the solution: WP Rocket Plugin

WP Rocket plugin doesn't only reduce the loading time of your site, but it offers an all-in-one approach to WordPress performance optimization.
And, that's not all.
While doing that, it remains user friendly, even for absolute beginners. In short, it's perfect for beginners as well as advanced users.
Recently, WP Rocket has enjoyed a facelift; WP Rocket 3.7 is now out. And, this review is including all the newest and most current changes.
Yes! It's finally here. And, the best thing?
The redesigned WP Rocket 3.7 interface is truly awesome; so let's get stuck in and find out if it's really worth it while shelling out for a premium plugin when there are many WordPress cache plugins available free of charge.
Let's dive in.
Best WP Rocket Features
Whenever someone talks about WP Rocket Plugin, the most commonly talked about feature is, undoubtedly, the speed it provides.
As I'm writing this, there are over 700,000 WordPress sites using WP Rocket.
Yes… you heard that right…
And, the reason why it is loved by thousands of people is not only it's powerful cache features, but plenty of additional performance tweaks that it makes.
Now you're probably thinking, "It will be feaking hard to set it up".
Then, here's the good news for you:
It takes just a few clicks without any complicated settings. By default, WP Rocket activates the most important features as you install and activate it.
The result?
Excellent page performance.
It boosts your website's page loading speed mainly by:
Creating basic page cache
Compressing HTML, JavaScript, and CSS files
Loading your images only when the user needs to it
Optimizing your database
But wait… wait… that's not all.
Let's take a quick look at all the features WP Rocket offers. It includes:
Quick setup
Page caching
Cache preloading
GZIP compression
Browser caching
Database Optimization
Google Fonts Optimization
Remove Query Strings from Static Resources
Lazyload – load images as your visitors scrolls down.
Minification / Concatenation
Defer JS Loading – helps with loading speed.
CloudFlare Compatibility
CDN – content delivery network support
DNS Prefetching
Mobile Detection
Multisite Compatibility
eCommerce Friendly – supports ecommerce sites
Multilingual Compatibility
Import/Export
Developer Friendly
Look, let me be totally honest here.
There are tons of free WordPress cache plugins out there.
But you'll have to download and activate at least 4-5 different plugins to achieve the results that WP Rocket can deliver on its own.
Is there anything wrong with downloading lots of plugins?
No, there's nothing wrong. But, it can quickly become a mess. And, managing lots of plugins for a single purpose can quickly become highly complicated.
A single mistake can break your site or get your site down for hours.
For beginners, it will be frightening.
Anything worse?
You have nobody to ask for help. Yes, that's right. 😥
Fortunately, it doesn't happen with WP Rocket. The support team is unimaginably responsive and it quickly responds to your queries.
The best part?
They have the most extensive documentation I've ever found available for a cache plugin. So obviously, there's a reason why thousands of people love WP Rocket.
In short, no other cache plugin can give better results than WP Rocket.
Need to compare it with other popular free plugins?
Here's a quick comparison: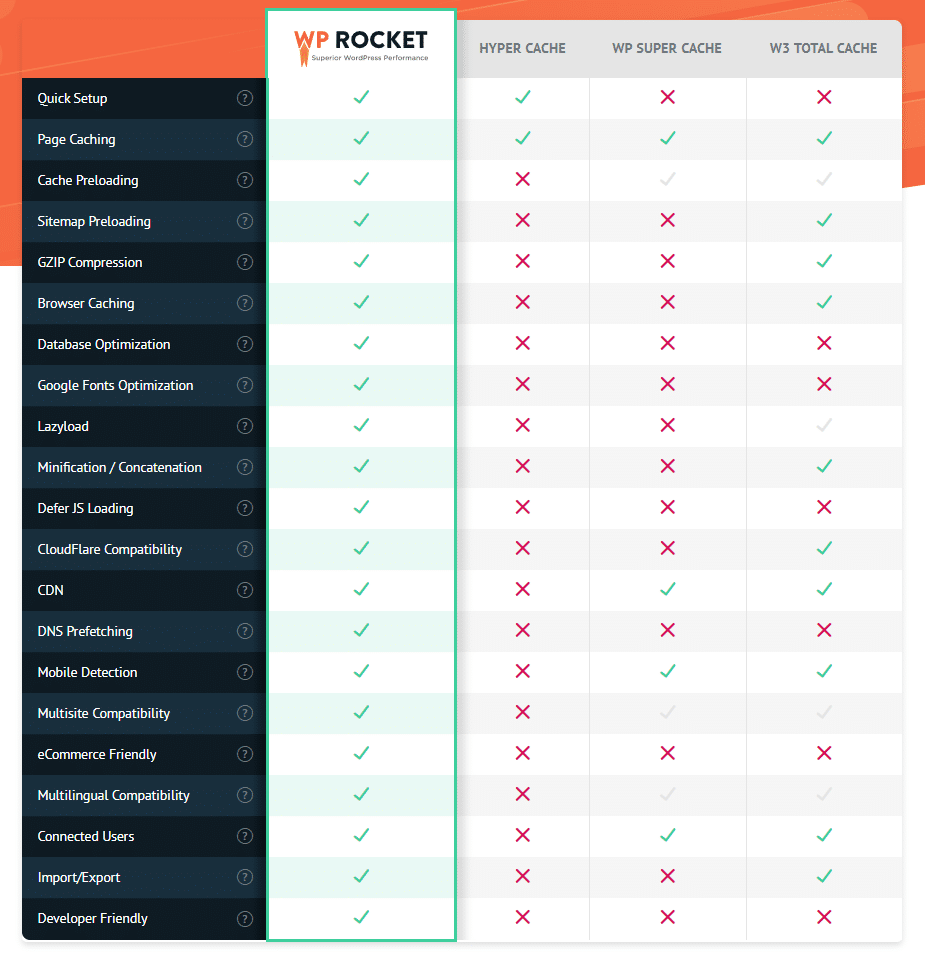 If the above image seems small to you, Click here and hit Features.
WP Rocket is branded as a cache plugin.
But, the reality is that it actually does a lot more than a cache plugin. It also performs a lot of smaller optimizations on your website.
As already mentioned, you'll find many other similar cache plugins. The difference here is that when you choose Rocket, almost no configuration is required.
And, you'll still get the best results. That's why it's ideal for beginners.
Just purchase WP Rocket and activate the plugin. As soon as you activate it, by default it will do the following:
Activate Page caching
Activate Browser caching
Activate GZIP Compression
Support for Web Fonts
Detect your active plugins
Detect your hosting environments
Detect your active theme
Just by installing and activating it, you'll see significant improvement in the loading speed. By default, it activates most essential settings required.
And of course, it does it without breaking your site.
Now, there are many other small optimizations you can perform. WP Rocket doesn't automically activate them because of obvious reasons.
But what reasons?
Please understand that every website is different, using themes and different sets of plugins. So obviously, activating all the options is not suitable for all sites.
And activating all time options doesn't always guarantee fast loading speed.
What's critical is to understand what your site needs. As you activate the plugin, you will be able to control the following settings:
Cache Preloading: This helps you build up your cache before it's required so that the speed of your site becomes faster and more consistent.
CSS & JS File Optimization: This combines and shrink your JS/CSS files
Lazy Loading: This feature delays the loading of images and videos until a user scrolls down the page and actually needs to view them.
Disable embeds/emojis to reduce external HTTP requests.
Disable WordPress embeds.
Defer JS loading
Optimize Google fonts
Optimize your database
Integrate content delivery network (CDN)
Control Heartbeat API's activity
Turn on additional add-ons
But hey!
Don't be confused with plenty of WP Rocket settings.
For your convenience, I've created a separate tutorial to explain everything in detail here: How to Configure WP Rocket the Right Way?
As you can see that WP Rocket comes with many different features that most cache plugins don't come with. That means if you use other cache plugins, you would need to install at least 4-5 extra plugins to get those features.
But with WP Rocket, everything is already built-in.
WP Rocket Interface
The moment you activate the plugin, it will implement the features listed above automatically. This means that as soon as the activation process is complete, your website will start loading faster. This is made clear in the interface.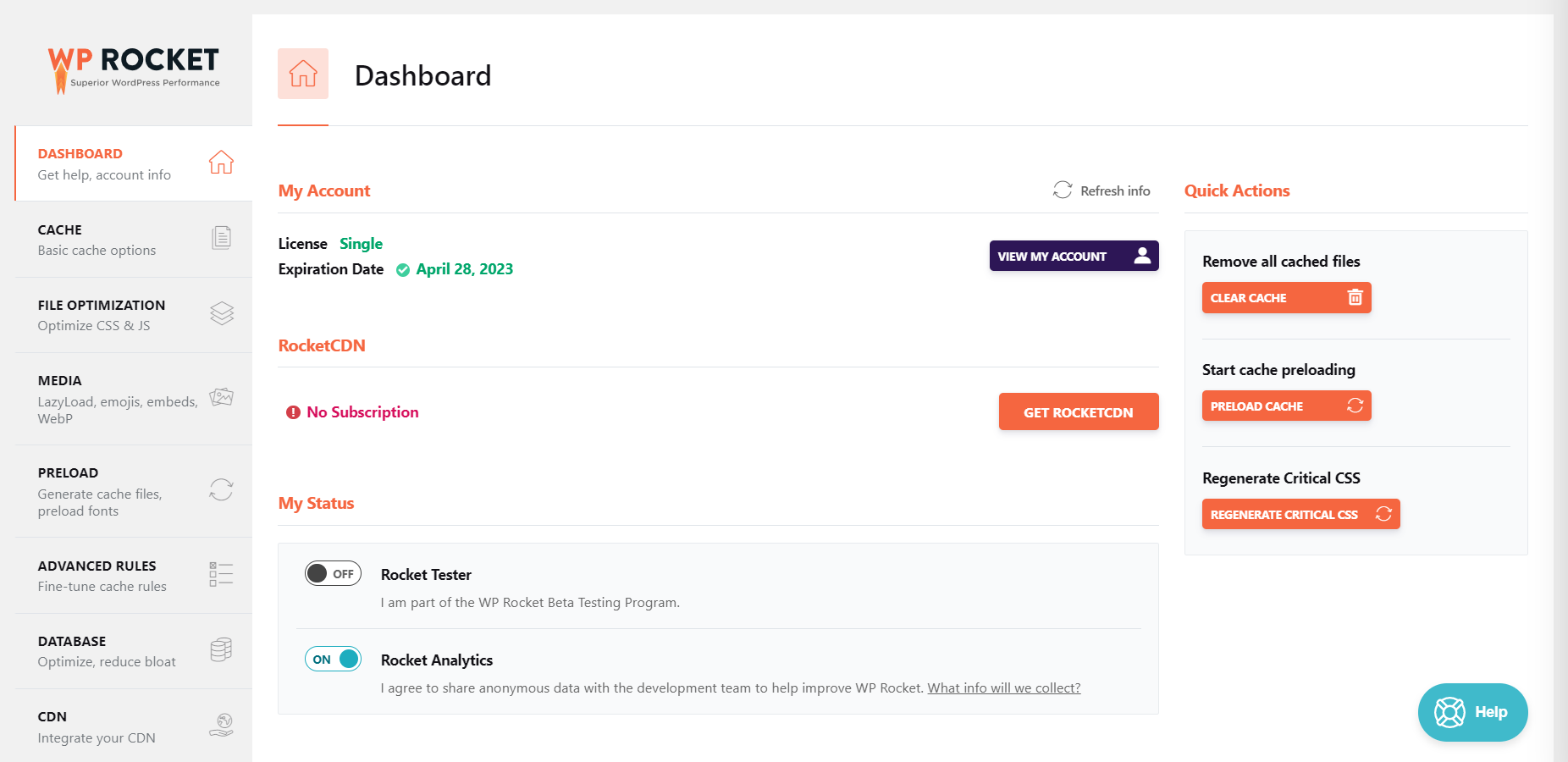 The 3.7 interface is new and has been redesigned, so if you are already running an older version (which you should not), things will look slightly different.
From the main dashboard, it's easy to find essential buttons to:
Remove all cached files
Start cache preloading
Regenerate Critical CSS
You'll however find the all advanced features and settings in the left sidebar perfectly organized under different categories. Quite user-friendly, right?
Let's explore the settings one by one:
WP Rocket Cache
Basic Cache is the first option you'll be able to manage inside WP Rocket settings. From your dashboard, you can control the basic cache functions.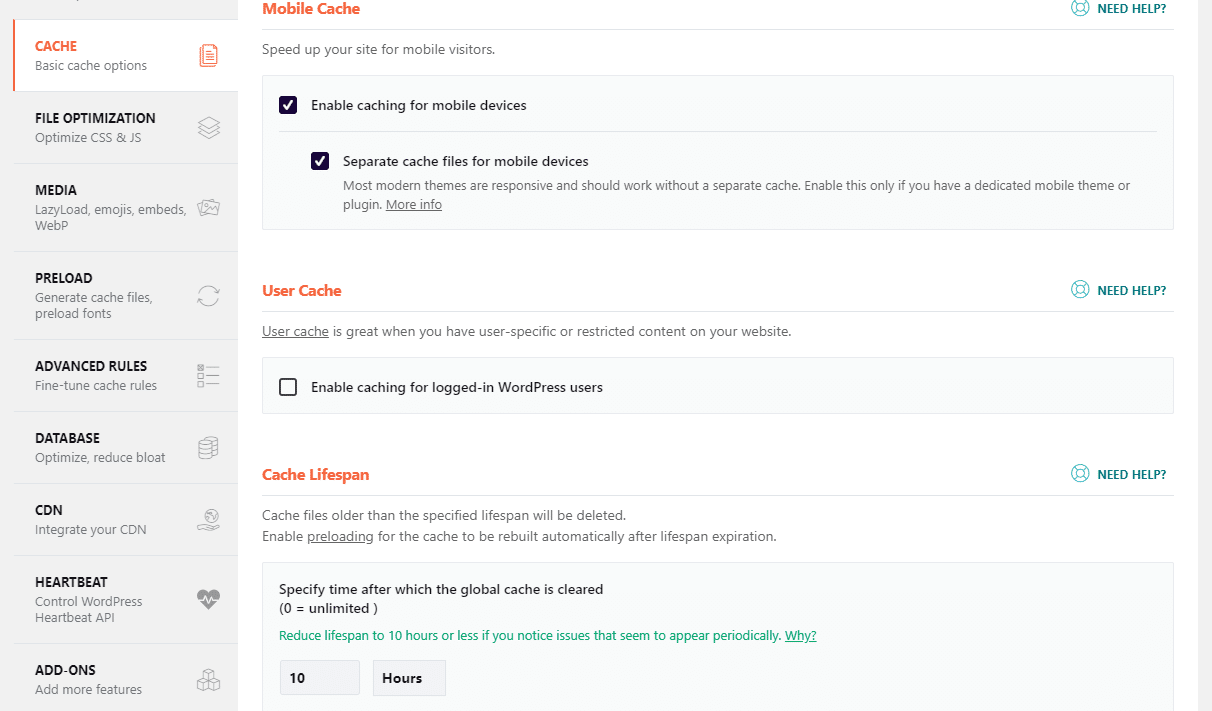 Here's what you'll be able to do:
Enable mobile users from being able to see cached pages
Enable logged-in users from being able to view cached pages
Enable caching for HTTPS pages
Specify time after which the global cache is cleared (default 10 hours)
WP Rocket File Optimization
On the interface, you will find the file optimization tab. From here you will be able to optimize, or more accurately minify CSS and JS files.
Minification is a simple process that is used to reduce the file size by removing unnecessary or redundant data like whitespace and comments.
And here's the best part:
It doesn't influence how the resource is used by the browser. So the result is same. But the file size is reduced. Pretty cool, isn't it?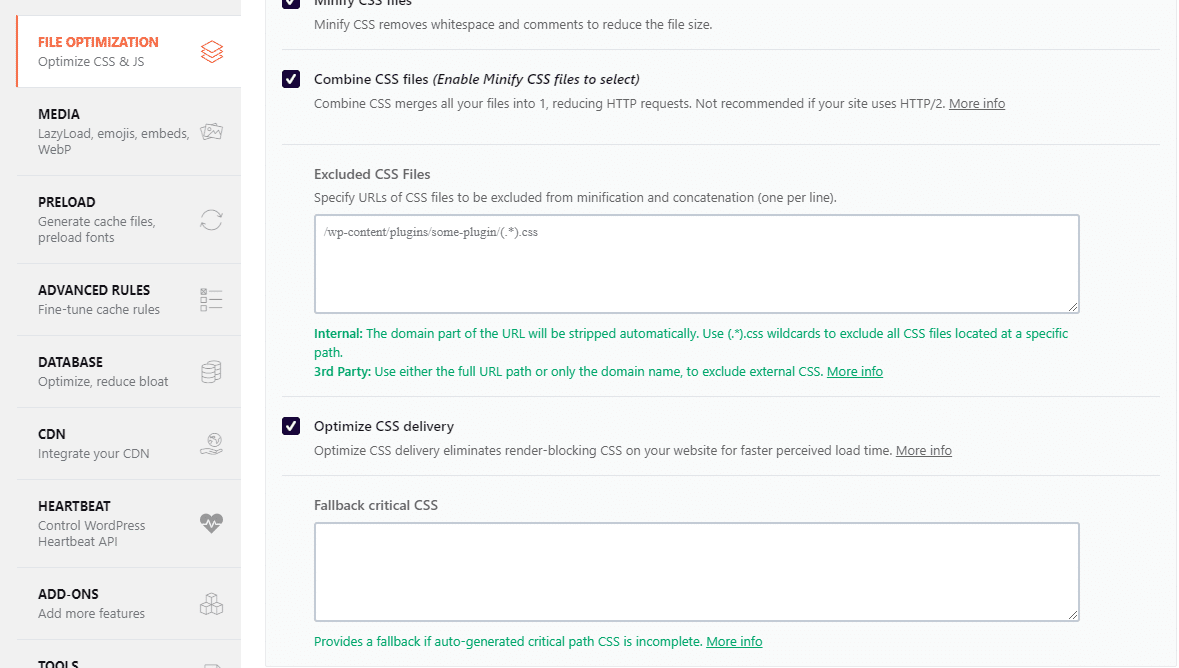 From the file optimization tab, here's what you can do with CSS files:
You can minify CSS files
Combine CSS files to merge all your files into 1
Exclude specific CSS files to be optimized if required
Optimize CSS delivery to eliminate render-blocking CSS
Provide a fallback if auto-generated critical path CSS is incomplete
See there's a setting available for almost any kind of scenario.
But hey,
You'll also be able to manage and control how your Javascript files are optimized. Let me quickly introduce you with the Javascript settings.
Here's what you'll able to do:
Remove jQuery migrate
Minify JavaScript files to reduce file sizes
Combine Javascript files like site's internal, 3rd party and inline JS
Specify patterns of inline JavaScript to be excluded
Specify URLs of JavaScript files to be excluded
Load JavaScript deferred that eliminates render-blocking JS
Enable Safe mode for jQuery for deferred JS
Delay the loading of JavaScript files (an excellent feature of 3.7 update)
Specify keywords to identify inline or JavaScript files to be delayed
It's recommended to use as many of these settings as you possibly can. Some of them may however cause issues for your sites such as those for CSS or JS.
But understand this:
This is definitely not a downside of installing WP Rocket.
What makes WP Rocket stand out from other cache plugins is the clear instructions you get right in the interface, when you activate the settings.
This simply means that there is far less risk of issues.
If you are already overwhelmed the numbe of settings, don'e be.
Because there's more.
WP Rocket Media
WP Rocket's Media section will help you manage and control how the media properties are used on your site.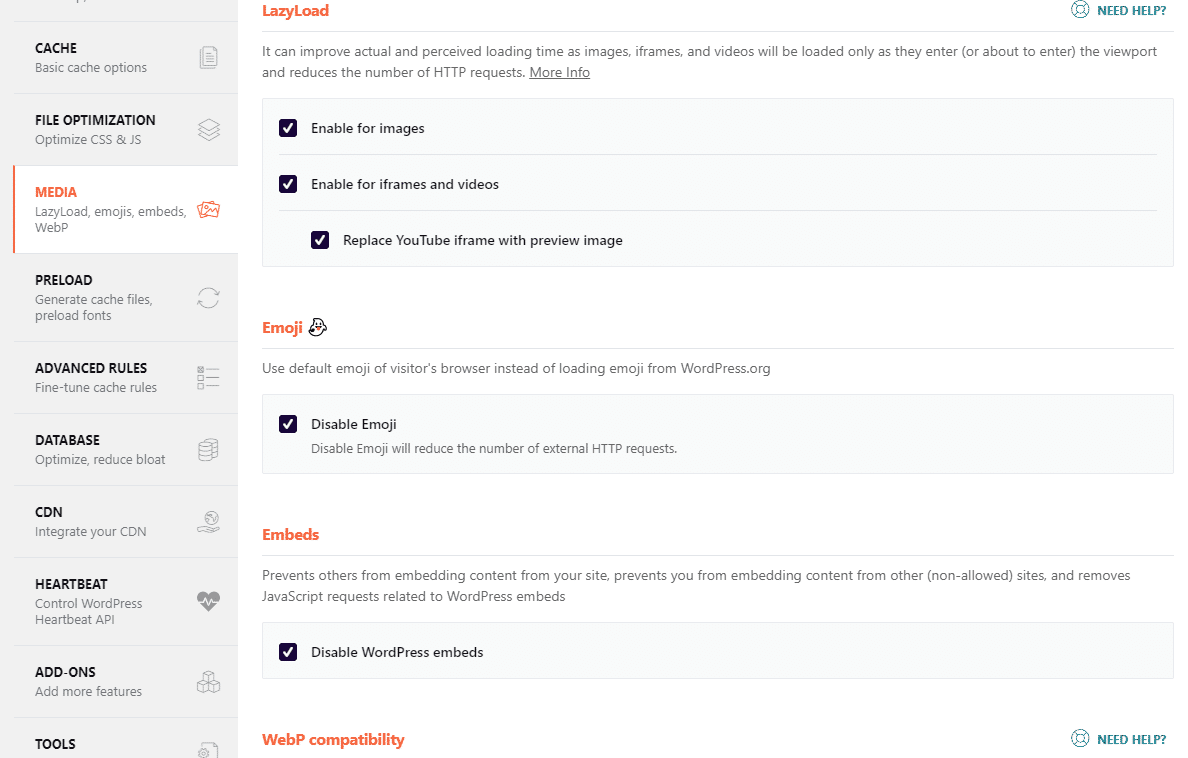 Undoubtedly, images are videos are essential for your site. It doesn't only make it interesting to consume content on your site, it also affects conversions.
Unfortunately, images and videos usually take long time to load.
The solution?
Lazyload.
It's a simple technique to delay the loading of images and videos until they are required by the users. That means every image under the viewable portion of the screen will not be loaded until the user scrolls down.
It immediately improves the loading speed. Pretty cool. Right?
With the help of WP Rocket, you can easily enable lazy loading for images and videos. Besides, you'll also be able to disable emojis.
Here's what you'll be able to do:
Enable LazyLoad for images
Enable LazyLoad for videos
Replace YouTube iframe with a preview image
Disable emojis
Disable WordPress embeds
Enable Webp caching
In short, the media tab will allow you to do all sorts of things you'll ever require to optimize your website's media content for faster loading speed.
But here's the thing:
It's not always enough to lazyload images only. A smart choice would be to reduce the file sizes of your images. More accurately, compress your images.
To do that, use Imagify, developed by WP Rocket.
Imagify is an advanced tool to reduce your image sizes without losing quality. That's what I like and use. It seamlessly integrates itself with WP Rocket.
WP Rocket Preload
First, I'll start with what Preloading really is.
But before that, please understand this:
Your site only builds the cache for a page after someone has actually visited it; this is unless you have preloading activated on your site.
That simply means that after the cache lifespan expires, the first visitor won't see the cached version as it still won't have been built.
The solution?
Preload.
Preloading is what ensures that each and every one of your visitors will see the fast-loading cached page. It preloads the cache before someone visits the site.
In short, Preload doesn't wait for someone to visit your site.
When you choose the WP Rocket cache plugin, you will have two different ways to choose from for preloading your cache. The two methods are as follows:
Sitemap Preloading
Preload Bot
Sitemap Preloading preloads your cache, based on all pages in your sitemap-XML file. It won't cache newly edited posts or newly published content.
Preload bot works by automatically crawling URLs, directly after you edit or publish a post. This ensures that all new content is preloaded.
It can be resource-intensive sometimes.
If your site is on a weak server, you should use Sitemap Preloading. However, you can opt for neither, one, or indeed both of the methods.
Here's what you'll be able to do:
Preload cache
Activate sitemap-based cache preloading
Enable link preloading when a user hovers over a link
Prefetch DNS requests to make external files load faster
Preload fonts used on your site. (fonts must be hosted on your domain)
WP Rocket Advanced Rules
As a beginner, this section may not be relevant to you.
However, you should take note of the Advanced Rules area. It gives you more control over the functioning of cache for specific cookies, user-agents, and URLs.
Here's what you'll be able to do:
Specify URLs of pages or posts that should never be cached
Specify certain user-agents and cookies to be excluded from caching
Specify URLs to always be purged from the cache when updated
Force caching for specific GET parameters
These features are more relevant for advanced users who are comfortable with investigating all the settings and features of WP Rocket.
However, you can do it too if you understand what you are doing.
WP Rocket Database
As your site ages, it will get clogged up. It's a bit like us, or indeed any machine or instrument we use for extended periods of time.
The problem?
A database with lots of unwanted data will make your site load slowly.
And in terms of websites, what I'm talking about here is the junk in the form of transients, trashed comments, and revisions.
So it's essential to clean up your database to ensure quicker access.
WP Rocket database section allows you to clean out all the junk that is unnecessarily clogging up your database with just one click.
Pretty user-friendly, right?
Here's what you'll be able to do using WP Rocket:
Post revisions and drafts
Spam and trashed comments
Expired transients
Reduces overhead of database tables
Schedule automatic cleanup
This feature is something that you'll find on many cache plugins. Database optimization is one of the most important features of these plugins.
It's definitely worth a mention.
WP Rocket CDN
If you currently use a CDN in order to speed up global delivery of your website's static contents, WP Rocket can help you do the following:
Enable CDN (content delivery network) for your site
Rewrite all of your URLS that you will use with your CDN
Exclude specific files from your CDN
I personally like to use BunnyCDN. It's the cheapest, yet extremely powerful CDN. You can get started with this with only $10 per year.
Yes! that's right. It takes only $10 to get started with BunnyCDN.
You might want to check an awesome article, I've written to use BunnyCDN with WP Rocket here: How to Use BunnyCDN with WP Rocket (3 Easy Steps)?
But, here's what you should know:
WP Rocket has its own high-performance Content Delivery Network (CDN) with unlimited bandwidth. It's called RocketCDN.
Best reasons to choose RocketCDN:
Best Automatic Configuration
No need to struggle with complicated options
Easy Integration with WP Rocket
Powered by StackPath
Unlimited bandwidth
All CDN files automatically served over HTTPS
SSL Traffic included
All Global PoPs included
Simple pricing plan – $7.99/month per domain
Now, here's what I want you to know:
BunnyCDN, as already suggested, can do all these things at a much cheaper price. I was truly be surprised with the price when I first discovered them.
Here's how much BunnyCDN will cost you:
$0.01/GB – Europe & North America
$0.03/GB – Asia & Oceania
$0.045/GB – South America
$0.06/GB – Africa
Clearly, you pay what you use. There is no monthly subscription fee. That means you can use it on small sites with less traffic without paying for highly expensive CDN services and still getting all the benefits CDN offers.
It can't be better than this. And, here's the best part:
You can try it free for 14 days.
The result?
Faster loading speed of your website's static files like images and videos.
Truly speaking, I find WP Rocket's RocketCDN is a little expensive for beginners. But, keep in mind, when it comes to cache plugin, WP Rocket is the best.
But that's not all about CDN.
Specifically for Cloudflare users, you'll also find that WP Rocket includes an add-on that is dedicated to Cloudflare users. It will allow you to get set up with and control aspects of your Cloudflare service easily from the interface.
In addition to this, you'll be able to control the heartbeat activity of you site.
And, of course, there's more.
So here's the question:
How much is all that worth?
Fortunately, WP Rocket doesn't cost a whole lot of money that you can't afford. It's priced reasonably. And, that's what I'm going to discuss now.
WP Rocket Pricing
This is a premium plugin.
So obviously, you'll need to pay to experience the benefits it offers.
WP Rocket has 3 different buying options based on the number of sites you'll be using it for and how long you'll be able to get the support and updates.
| | | |
| --- | --- | --- |
| $49 | 1 website | 1 year of support & updates |
| $99 | 3 websites | 1 year of support & updates |
| $249 | Unlimited sites | 1 year of support & updates |
Clearly, WP Rocket doesn't cost a whole lot of money.
In fact, it's affordable for most people. Anyone looking for speed and performance should be able to shell out what WP Rocket is asking for.
And, there's the best part that makes your purchase risk free:
You get a 14-day money-back guarantee (I don't think it'll be needed)
You'll be getting a 30% automatic discount on all your renewals
WP Rocket always offers better discounts for existing clients
It's like the ultimate shortcut for a fast-loading website at a very affordable price. So do you want that or you want to continue struggling for loading speed?
The decision is yours.
Is WP Rocket Worth Paying For?
It was a long review, right?
So now, it's time to answer the most-awaited question:
Is WP Rocket worth it?
My short answer:
Yes! Of course.
But right now, I'm probably not the right person to answer this question (But you are). Because you know what? I've already answered it many times.
How?
Yes, that's right. And, not only did I answer it with my words, but also with my actions. Want me to be more accurate? Then listen:
I Use WP Rocket on This Site.
This small sentence should clear out all of your confusions.
Having said this, if you buy WP Rocket, you wouldn't need heaps of experience to really benefit from it. Its basic features are all activated by default.
Just use it and experience it yourself.
And, you know what? It's enough to make you jump out of your chair just by looking at the improvement in your loading speed. 😆
No really, that's what I mean.
But at the same time, here's something you should be aware of:
You could indeed combine a few different free cache plugins such as Autoptimize and Cache Enabler and get similar results, free of charge.
Here are some 2 more free plugins worth your consideration:
W3 Total Cache
WP Super Cache
But here's the problem?
Lots of plugins used for the same purpose usually create problems. It's usually an invitation to various problems. They only clog up your database and hurt your site more than helping you, in most of the cases.
And do you know what's more frightening?
You have nobody of ask for help if you mess up with something.
So, it really all depends on if you have the money to spend, and if you have the time to manually configure and combine all the different plugins properly.
WP Rocket certainly does have some great features and offers high-quality technical support that you wouldn't find with free plugins.
And, it starts at only $49 for 1 site.
So I really think that it is well worth the money spent. It simplifies your life, and it will certainly reduce the loading time of your website's page.
I hope that's what you want, right?
My Final Words
This premium plugin is branded as a WordPress caching plugin. But truly speaking it does so much more than what most cache plugins do.
It performs many different small optimizations to speed up your site as much as possible. Why not? That's the purpose of this plugin.
Please note that there are free plugins available to get the desired results. But none of them come close to what WP Rocket can do for your site. And, you'll need to download more than one plugin while WP Rocket performs all the optimizations on its own. You can get up and running within just a few minutes.
What do I mean by all these? It's a good decision to go for it.
Let's check out what people are saying about this plugin on TrustPilot. It has received a whopping 4.9 rating based on 800+ reviews, as I'm writing this.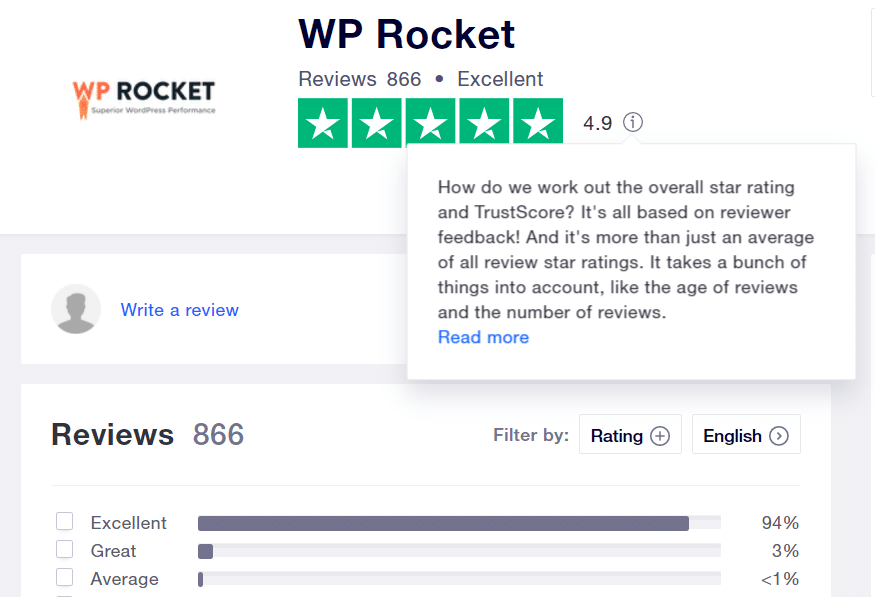 As you can see in the screenshot above, it has got excellent 4.9 rating.
The purpose of writing this article is to help you take advantage of this excellent plugin. I can see the benefit myself. It's your time.
While cache plugins do a great job to improve page loading time, a great CDN can additionally boost the loading speed by over 50%.
CDN or a content delivery network stores the static files of your blog (or website), like images, CSS, Javascript in multiple geographical locations. It helps to minimize the distance between the visitors and your website's server. As a result, it takes less time to deliver your site content when requested by a user.
By storing your image files, CSS, or other static files in a CDN, you can deliver these files to your visitors quicker. I use BunnyCDN. It's super cheap when compared to most other CDN providers, starting at only $0.010/GB.
You also get a 14-days free trial. No credit card is required.
Get Free 14-Days Trial at BunnyCDN
With the help of WP Rocket and BunnyCDN, I've been able to achieve excellent page loading performance on this site.
That's why I strongly recommend you take advantage of both of these tools. And, I promise you'll never face loading issues again.
So here's my last question:
Did you like the information I shared on this page?
If yes, please share this article to help me spread the word? By doing this, you don't only help people who may need this information, but also give meaning to the endless hours I spend to create these useful articles for you.
After all, that's how we grow, by helping each other, right?
Free 5-Day's Course Reveals 5 Easy Steps to Speed Up Your WordPress Site
The course consists of five practical lessons, delivered to you by mail. We'll cover the essentials of site speed and give tips you can implement right away. You can unsubscribe at any time. Join 1700+ WordPress speed lovers now.