Looking for the best SEO tool to improve your website's ranking?
Well, you're not alone!
As a blogger, I understand how important it is to have a reliable and effective SEO tool. After extensive research and personal experience, I've found two top contenders in the market: SE Ranking and Semrush.
In this blog post, I'll provide an in-depth comparison of these tools.
By the end, you'll be able to make an informed decision on which one suits your needs best.
Here are some key insights you can expect to gain:
An in-depth overview of both SE Ranking and Semrush as an all-in-one SEO platform.
A comprehensive feature comparison including keyword research, competitor analysis, backlink analysis, rank tracking, site auditing, on-page SEO checker, reporting tools, and customer support.
User reviews and ratings and customer support options of each tool.
A transparent pricing comparison of both platforms to make an informed decision based on your budget.
The unique tools and features offered by each platform set them apart from each other.
Pros and cons of choosing SE Ranking vs SEMrush as your SEO toolset.
Finally, my personal conclusion on SE Ranking vs Semrush: which one should you opt for?
So, if you are ready to take your SEO game to the next level, keep reading…
SE Ranking vs Semrush: Key Takeaways
SE Ranking and Semrush are two popular SEO tools with thousands of daily active users.
Semrush has a larger keyword database compared to SE Ranking.
Semrush provides more extensive competitor analysis data, including traffic sources, ranking keywords, backlink profiles, and advertising activities, when compared to SE Ranking.
Both SE Ranking and Semrush offer great backlink analysis tools, but SE Ranking is better suited for beginners while SEMrush's advanced features are ideal for experienced users.
Why Do I Prefer Semrush?
I have found Semrush to be more comprehensive and robust than SE Ranking.
Semrush comes with the Keyword Magic tool that offers an extensive database of billions of keywords. It outclasses the keyword suggestion tool of SE Ranking, providing me with a competitive edge in keyword research.
The sheer volume of data points that Semrush offers is also higher compared to SE Ranking, which proves crucial when I'm doing deep analysis for my client's websites. Also, the rank-tracking feature of Semrush stands out because it provides real-time position updates, eliminating the need to log into multiple platforms for tracking.
While both Semrush and SE Ranking offers quality services and similar features, SemRush's advanced functionalities significantly enhance my workflow efficiency, making it my preferred choice.
SE Ranking vs Semrush: Quick Overview
In this section, let me provide you with a quick overview of each tool and discuss the key functionalities, so you can make an informed decision about which one is right for your needs.
SE Ranking Overview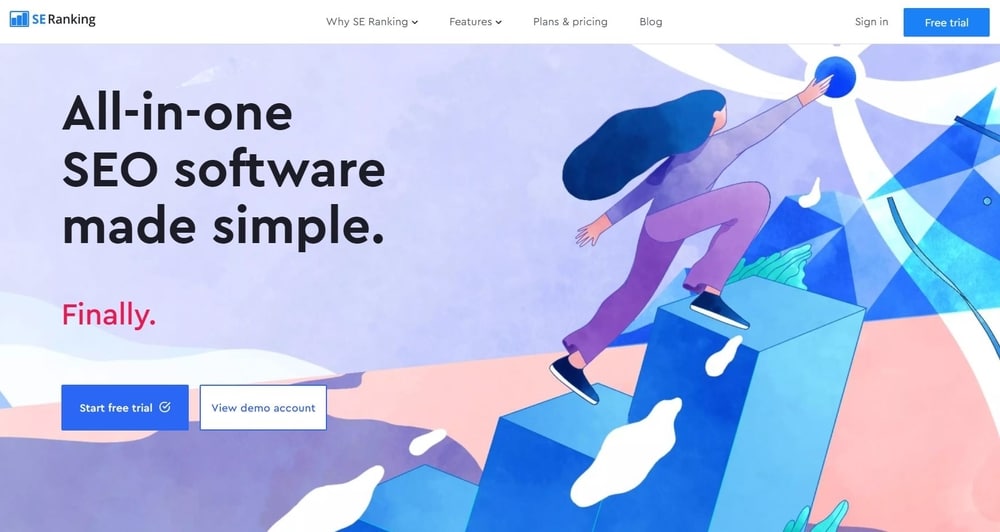 SE Ranking is a comprehensive and feature-rich SEO software that caters to the diverse needs of digital marketing professionals, regardless of their level of expertise. With its user-friendly interface and powerful capabilities, it has garnered immense popularity, especially among small and midsize businesses.
The platform's ease of use makes it accessible to everyone, while its cost-effectiveness ensures that businesses of all sizes can benefit from its valuable SEO-based functionalities.
Whether you are a seasoned marketer or just starting in the digital landscape, SE Ranking offers a suite of tools and resources to help you boost your online presence, optimize your website, and stay ahead.
The tool gives you access to a suite of features like keyword research, competitor analysis, backlink monitoring, website auditing, on-page SEO checker, reporting tools, and 24/7 rank tracking.
With a vast database of over 7 billion keywords worldwide, this SEO platform offers an extensive array of resources to cater to all your content strategy needs and competition analysis requirements. This comprehensive database empowers you to explore and uncover valuable insights, enabling you to optimize your content for maximum visibility, engage with your target audience more effectively, and boost your online presence.
One highlight that sets SE ranking apart from many competitors is its flexibility in pricing. Not only does SE Ranking offer various plans suitable for different types of users – ranging from startups to large corporations – but also allows you to pay based on the number of websites you monitor as well as the frequency at which your ranks are checked.
Starting at only $55 per month or $44 per month with annual billing, it's a cheaper option than Semrush. You can also test out the entire platform with a free trial to experience how it works before making a payment.
Semrush Overview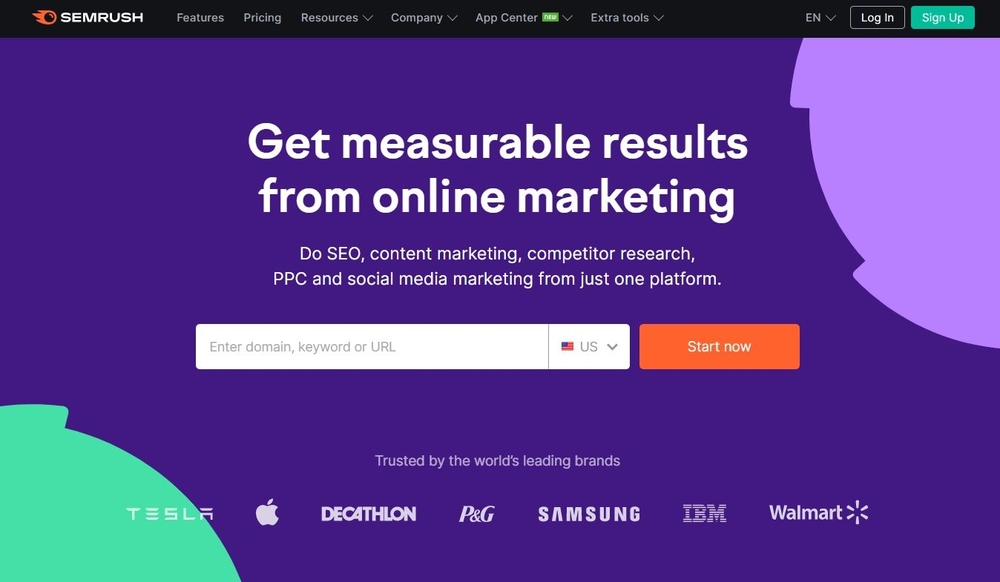 Semrush has earned a well-deserved reputation for its comprehensive suite of SEO tools, specifically designed to help users with the in-depth understanding and expertise needed to thrive in the competitive online market. With access to an extensive database of over 25 billion keywords, Semrush is one of the most comprehensive keyword research tools out there, helping you conduct deep keyword research and find profitable keywords for almost any niche.
Its toolbox also includes various other functionalities, like competitor analysis, backlink audits, website auditing, and rank tracking. These features enable you to gain valuable insights into your competitor's SEO strategies, identify link-building opportunities, monitor your website's health, and track your search engine rankings over time.
It's a complete all-in-one SEO solution not only for beginners but also for advanced users. With over 600,000 active users, it's a trusted and widely used tool in the SEO industry.
Notably, what sets Semrush apart from many other SEO solutions is its impressive rank-tracking feature that regularly updates positions. This keeps users updated on their website's ranking performance accurately.
From conducting in-depth site audits to utilizing the powerful on-page SEO checker and leveraging the comprehensive reporting tools, Semrush leaves no stone unturned when it comes to providing a holistic SEO toolkit.
It's true that Semrush comes with a steeper price tag compared to some competitors like SE Ranking.
However, this investment is well worth it, as it delivers data-driven results that are optimized for exponential growth and increased profitability. Think of it as a smart investment that delivers outstanding results.
Overall, Semrush stands tall as a one-stop solution for all your SEO needs. You can also try it with a free account that doesn't cost a penny and there is no time limit of how long you can use it.
SE Ranking vs Semrush: Key Features
When comparing SE Ranking vs Semrush, it's important to look at their features side by side.
So, let's dive into the key differences between these two powerful SEO tools.
Keyword Research
SE Ranking and SEMrush both offer exceptional keyword research tools to help you find the most relevant and valuable keywords for your SEO and content marketing strategies.
SE Ranking provides access to a vast keyword database, consisting of over 7 billion keywords. It allows you to analyze keyword difficulty, explore keyword suggestions, and track search volume and CPC data. The tool also helps you identify SERP features and provides global and local search data, aiding in targeting specific regions.
On the other hand, SEMrush boasts an even more extensive keyword database, with over 25 billion keywords. It offers similar keyword research features, including keyword difficulty analysis, suggestions for related and long-tail keywords, and historical data insights. Additionally, SEMrush goes beyond just keyword research, providing backlink analysis, content ideas, and competitor research within its comprehensive suite.
Here are some of the key differences you would love to know while comparing SE Ranking vs Semrush:
| Feature | SE Ranking | Semrush |
| --- | --- | --- |
| Keyword Database | 7 billion keywords | Over 25 billion keywords |
| Keyword Difficulty | Yes | Yes |
| Competitor Analysis | Yes | Yes |
| Keyword Suggestions | Yes | Yes |
| Search Volume Data | Yes | Yes |
| CPC Data | Yes | Yes |
| SERP Features Tracking | Yes | Yes |
| Global and Local Search | Yes | Yes |
| Historical Data | Limited historical data | Extensive historical data |
| Related Keywords | Yes | Yes |
| Long-Tail Keyword Ideas | Yes | Yes |
| User-Friendly Interface | Yes | Yes |
| Cost | Affordable pricing plans starting at $55 per month with a 20% discount on annual billing | Higher pricing plans starting at $129 per month with a 17% discount on annual billing |
| Free Trial | Yes – Click to try for 14 Days FREE | Yes – Click to try for 7 Days FREE |
SE Ranking vs Semrush: Keyword Research
Overall, both tools provide extensive keyword suggestions and metrics to help your SEO efforts. However, with its expansive keyword database, SEMrush takes the edge in this comparison. SEMrush's keyword intent feature is particularly impressive, providing a deeper understanding of the possible intention behind a user's keyword search.
Winner: Semrush
Competitor Analysis
Competitor analysis is one of the most important features when it comes to SEO tools. Both SE Ranking and SEMrush offer different approaches to help you gain a competitive edge in your industry.
SE Ranking – SE Ranking provides insights into your competitors' strategies in display advertising, organic and paid search, and link building. The tool allows users to see the competitor's best-performing keywords, ads, and content, which can be used to improve their own strategy.
Semrush – Semrush gives more extensive data about your competition, including their traffic sources, ranking keywords, and backlink profiles. It also provides data about the competitor's advertising activities, social media performance, and content strategy too. With Semrush's larger database of more than 25 billion keywords, it provides more reliable insights than SE Ranking. Overall, Semrush is a better option than SE Ranking.
In terms of depth of information and data points for analysis, Semrush takes the lead, providing a wider range of competitor insights. However, SE Ranking is not far behind; with its detailed reports, it can still supply sufficient data to craft a competitive strategy. Even though I tried, I couldn't be a huge fan of SE Ranking when using the tool.
Backlink Analysis
SEMrush has a massive backlink database that covers a wide range of domains and is frequently updated. It boasts one of the largest backlink databases among SEO tools, which allows for in-depth analysis of backlink profiles.
SE Ranking also maintains a substantial backlink database, but it might not be as extensive as SEMrush's.
Both tools attempt to evaluate the quality of backlinks and provide metrics to identify authoritative and relevant sources. SEMrush, with its extensive database, tends to offer more accurate assessments.
Both SE Ranking and Semrush let you monitor backlink profiles, and receive alerts about new or lost backlinks.
SEMrush is well-known for its robust competitor analysis feature, including backlink analysis. Users can compare their backlink profiles with those of their competitors, gaining insights into their link-building strategies.
SE Ranking also provides competitor analysis features, but the level of detail might not be as extensive as SEMrush's.
SEMrush also provides a feature called the "Toxic Score," which assesses the potential harm of a website's backlinks and helps identify potentially harmful links.
Keyword Rank Tracking
When it comes to rank tracking, both SE Ranking and Semrush offer powerful capabilities. However, there are some key differences to consider when comparing SE Ranking vs Semrush.
Both of the tools offer similar features for keyword rank tracking, making them popular choices among SEO professionals and website owners. However, they have unique strengths that might sway your decision one way or the other.
With the free Semrush plan, you can monitor up to 10 keywords, giving you a taste of what Semrush has to offer. For more extensive tracking, upgrade to the Semrush Pro plan at just $129 per month, allowing you to keep tabs on a generous 500 keywords. However, if you are looking for a better price, consider the SE Ranking Essential plan. Priced at only $55 per month, this plan helps you track an impressive 750 keywords while receiving daily ranking updates.
So, as you can see, both SE Ranking and Semrush have their advantages, depending on your budget and the number of keywords you need to track. If you're just starting or have a limited budget, SE Ranking's Essential plan might be a more attractive option, offering a significant number of keywords to track at a lower cost.
Website Audit Tool
Website auditing is an essential feature offered by both SE Ranking and Semrush.
It can help you analyze your website performance, identify any technical issues or errors that may be affecting its visibility, and improve overall SEO strategies. SE Ranking offers a comprehensive site audit tool that thoroughly scans websites for issues such as broken links, duplicate content, missing meta tags, and slow page load speeds. With this information at hand, users can make necessary optimizations to enhance their website's search engine rankings.
On the other hand, Semrush also provides a powerful website audit tool that checks for various on-page factors like crawlability, indexability, and mobile-friendliness. As you can already guess, this tool can help you uncover critical SEO issues that could hinder your website's performance in search engines. Both SE Ranking and Semrush offer detailed audit reports with actionable recommendations on how to fix these issues efficiently.
Overall, site auditing is a crucial aspect of optimizing your website for better search engine visibility.
Whether you choose SE Ranking or Semrush, you can rest assured that you'll have a robust website audit tool at your disposal. Both tools offer reliable site auditing features to help boost your SEO efforts.
On-page SEO Checker
When it comes to on-page SEO analysis, both SE Ranking and Semrush offer powerful tools to help with on-page SEO optimization. SE Ranking's on-page SEO checker provides a comprehensive analysis of your web pages, highlighting areas for improvement such as meta tags, headings, keyword usage, and content optimization. It also checks for broken links and duplicates content to ensure a better user experience and higher search engine rankings.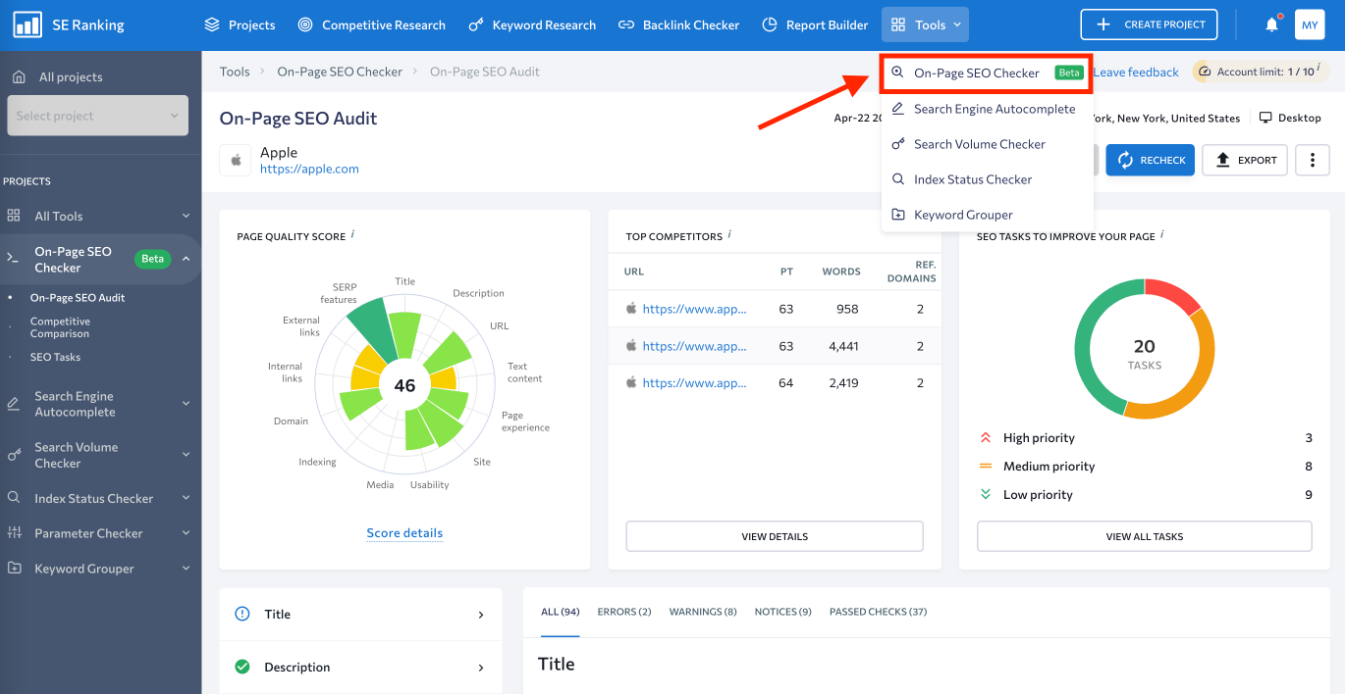 On the other hand, Semrush's on-page SEO checker goes even further by analyzing factors like readability score, mobile-friendliness, and page loading speed. With its extensive range of recommendations and actionable insights, Semrush's tool can help you fine-tune every aspect of your on-page optimization strategy.
Overall, I liked the tool provided by Semrush. The tool gathers data from various sources, including Semrush's extensive database and Google, to provide valuable insights and recommendations.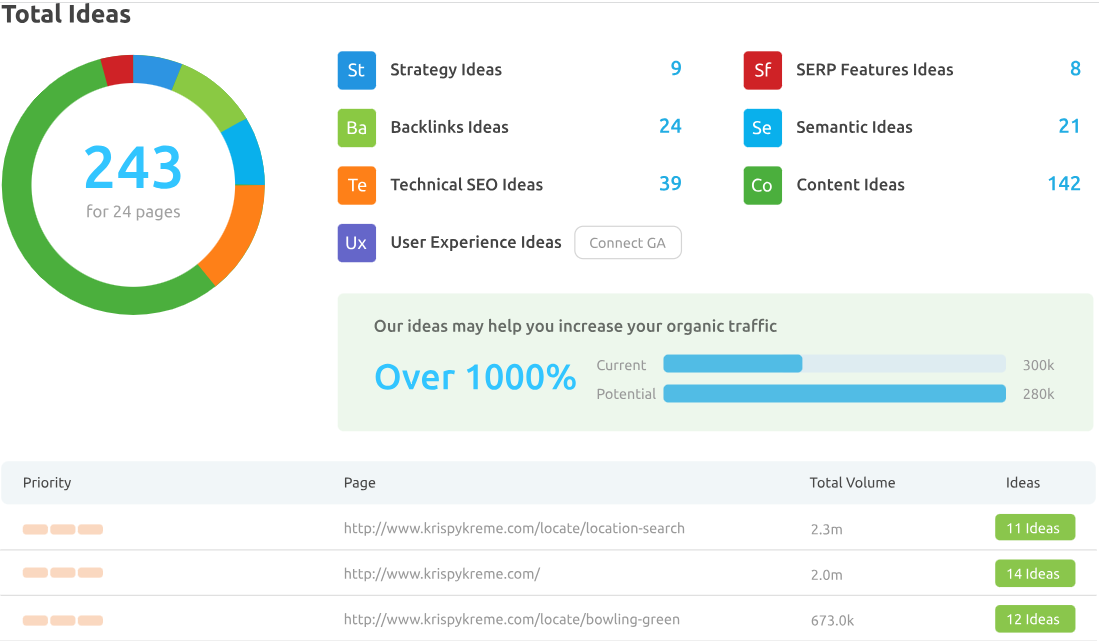 You just need to enter the landing page URLs of your website and the target keywords you want to rank for into the tool. It will then analyze the content and structure of the pages and examine various on-page SEO elements such as meta tags, headings, content, and keyword usage. To ensure a comprehensive analysis, the On-Page SEO Checker integrates data from different tools like Google Analytics, Google Search Console, and Semrush's Site Audit. This integration provides a broader view of the website's performance and identifies potential issues.
Based on the data collected and analyzed, the tool generates a personalized list of actionable recommendations. These recommendations are tailored to the specific website and its target keywords.
Overall, the On-Page SEO Checker by Semrush simplifies the process of on-page SEO optimization.
By following these recommendations, you can take the necessary steps to improve your search engine rankings, attract more organic traffic, and enhance the overall performance of your website.
Reporting Tools
In terms of reporting tools, both SE Ranking and Semrush help users track and analyze their SEO progress.
SE Ranking provides a comprehensive report builder that allows you to customize your reports with your preferred design and structure, making it easy to present the data in a visually appealing way.
On the other hand, Semrush offers an intuitive reporting tool that lets you generate detailed reports on various aspects of your website's performance, including keyword rankings, backlinks, and site audits. Also, both of the tools make it easy to share these reports with clients or team members for collaboration purposes.
User Reviews and Ratings
To compare SE Ranking vs Semrush based on user reviews, I've used Trustpilot.
At the time of writing this post, Semrush has gained 397 reviews with an average TrustScore of 3.9 out of 5, and an average rating of 3.8. On the other hand, SE Ranking has accumulated 494 reviews, indicating its popularity, with a higher average TrustScore of 4 out of 5, and a slightly better average rating of 4.0.
These metrics suggest that SE Ranking might have a better overall reputation compared to Semrush.
However, I recommend that you try both tools. While user reviews and ratings can provide valuable insights, understand that different businesses and individuals may have varying experiences and priorities.
SE Ranking vs Semrush: Pricing
Curious to know how SE Ranking and Semrush compare in terms of pricing? Let's dive in.
SE Ranking Pricing
SE Ranking offers 3 pricing plans for new users: Essential, Pro, and Business.
The Essential plan starts at $55.00 per month and is designed for freelancers and newbies. The Pro plan, which is the most popular, costs $109.00 per month and is ideal for small agencies and teams. The Business plan is priced at $239.00 per month and caters to mid-size agencies and businesses.
By choosing the annual billing option, you can save 20% on any plan you choose.
Additionally, SE Ranking provides a 14-day free trial to test out the platform. For those who need a custom plan tailored to their specific needs, they can contact SE Ranking directly to discuss their requirements.
Semrush Pricing
Semrush offers 3 pricing plans for new users: Pro, Guru, and Business.
The Pro plan is designed for beginners and small teams and is priced at $129.95 per month. It includes 5 projects, the ability to track 500 keywords, and access to 10,000 results per report. Users on this plan gain access to a variety of SEO, social media, and PPC tools, such as competitor analysis, keyword research, website audits, and advertising tools.
The Guru plan, priced at $249.95 per month, is targeted towards agencies and mid-sized businesses. It expands on the Pro features by offering 15 projects, the ability to track 1,500 keywords, and access to 30,000 results per report. Additionally, Guru plan users benefit from the Content Marketing Toolkit, historical data, Looker Studio integration, and more.
For larger agencies and enterprises, Semrush offers the Business plan at a cost of $499.95 per month, with an option to customize your plan. The Business plan provides 40 projects, the ability to track up to 5,000 keywords, and access to 50,000 results per report. Alongside the Guru plan features, users on the Business plan also gain access to Share of Voice metrics, extended limits, API access, PLA analytics, free migration from third-party tools, and more.
You can also take advantage of Semrush free trial and test the platform without paying a penny.
While Semrush may be more expensive compared to SE Ranking, it offers a wide range of advanced features that justify its cost. Overall, Semrush is well worth the investment.
Reliability and Customer Support
In terms of reliability and customer support, both SE Ranking and Semrush have their strengths.
If you're new to Semrush and need help, they've got you covered with different support options. You can contact their friendly customer support team through the website's "Contact Support" or use Live Chat if you have a subscription.
You can also share your thoughts and ideas directly with their developers using the "Send Feedback" feature. If you prefer to find solutions on your own, Semrush has a Knowledge Base with helpful articles and FAQs.
You can also connect with Semrush on social media for updates and interactions.
On the other hand, SE Ranking offers several support options to help new users in getting started and make the most out of their platform. For any questions or concerns, they can simply use the SE Ranking help page.
For those who are new to the platform, SE Ranking provides a comprehensive "Getting Started" guide, ensuring a smooth take-off by offering everything needed to understand the tools and features. Additionally, their "Knowledge Base" serves as a centralized hub for all information related to the platform.
To address common inquiries efficiently, SE Ranking offers a dedicated "FAQ" section.
With these varied support options, SE Ranking aims to offer accessible and comprehensive assistance to new users, enabling them to navigate the platform effectively and achieve their goals seamlessly.
Pros and Cons of SE Ranking
Pros of SE Ranking
The comprehensive range of SEO-related features and functionalities
SE Ranking offers a 14-day free trial for new users
Inexpensive pricing plans when compared to Semrush
User-friendly interface and intuitive design for easy navigation
Integrates seamlessly with a range of other tools and platforms
Efficient and responsive customer service for any issues
Cons of SE Ranking
Data is not as extensive as more expensive competitors like Semrush
Interface performance can be slow at times
Pros and Cons of Semrush
Pros of Semrush
Semrush offers a wide range of features and tools for keyword research, competitor analysis, and backlink analysis.
The tool provides comprehensive data on keyword rankings, search volume, and trends.
Semrush helps users optimize their website content for better search engine visibility.
Semrush's position-tracking tool is highly accurate.
The website audit tool helps identify technical SEO issues and provides recommendations for improvement.
Semrush has a user-friendly interface that makes it easy for beginners to navigate and use the tool.
Semrush offers excellent customer support, with live chat assistance available 24/7 for any questions.
Cons of Semrush
One downside of SEMrush is its pricing structure. While the tool offers different pricing plans to suit different needs, the cost can be relatively high compared to other SEO tools on the market.
Some users find the interface overwhelming due to the extensive amount of data provided by the tool. It may take some time for new users to fully grasp all the features and functionalities available in SEMrush.
Conclusion on SE Ranking vs Semrush
In conclusion, both SE Ranking and Semrush are powerful SEO tools with their own unique features. While SE Ranking excels in some areas, Semrush offers a more complete dashboard and industry-leading data accuracy.
It ultimately depends on your specific needs and budget as to which tool is the best fit for you.
However, I personally prefer Semrush and recommend that you give it a try. Its comprehensive suite of tools has consistently provided me with valuable insights and helped me improve my website's performance.
Why Consider SE Ranking?
SE Ranking has a higher overall rating (4.8/5 stars) based on user reviews on Trustpilot.
SE Ranking is more beginner-friendly and easier to use.
SE Ranking provides comprehensive site auditing tools to improve website performance.
SE Ranking offers a range of SEO tools including keyword research, competitor analysis, and rank tracking.
SE Ranking's pricing plans are more affordable compared to SEMrush.
SE Ranking has reliable customer support with quick response times.
Why Consider Semrush?
Semrush has a solid position-tracking feature, with positions being updated daily.
Semrush has a larger database of over 25 billion keywords, making it more reliable than SE Ranking.
Semrush provides more data points to help users with keyword research and analysis.
Semrush's Keyword Magic tool is considered better than SE Ranking's keyword suggestion tool.
Semrush offers a wider range of tools and features compared to SE Ranking.
Overall, SE Ranking is primarily focused on providing comprehensive SEO tools, including keyword research, rank tracking, and website auditing. On the other hand, Semrush offers a wider range of digital marketing features like advertising analysis, social media management, and content creation tools.
Both tools offer robust competitor analysis features. However, Semrush has a more extensive database and provides in-depth insights into competitors' backlinks, paid ad strategies, organic search rankings, and more.
The best part is that both tools offer a free trial that lets you try Semrush or SE ranking without paying a penny.