Looking for a detailed guide for beginners on how to make money blogging, along with the advantages, disadvantages, tips, and the profit you can generate through each method? You've just got it. 🙂
2021 is going to be a competitive era for blogging because of Covid 19.
People will prefer more online jobs than in previous years.
And what can be more satisfying than earning through your blog instead of being a 9 to 5 employee who doesn't love the job?
Who doesn't love to live on their terms and without a boss?
Yes!
That's the biggest advantage of blogging.
But wait… there's more.
You can earn with your comfort zone.
No job pressure and complete flexibility.
Also, you might have heard a lot of success stories about how bloggers make their living through blogging, how they upgrade their lifestyles, and earn Millions.
That's all true!
But when you get into the real picture, you'll realize that it isn't a piece of cake to earn money online with a blog.
You have to give your best to make it possible.
And you have to be patient to reap the rewards.
Years back, I also got into the frenzy of making money online.
From Google AdSense to Affiliate marketing to selling an eBook, I tried almost everything to make money through blogging.
And here's the thing:
After years of Hard Work and Smart Work, I successfully explored all money-making strategies that you can implement on your blog.
Feeling excited?
Great.
Now, create your blog and explore the hidden benefits of blogging.
The best of which is Making Money Online.
The only difficult part is to reach your first $100. Once you reach that stage, you can multiply your income in the next months.
You only have to be serious about it.
So, if you own a blog and are desperate to make money online, I'll be glad to share everything you should know about setting up a blog and making money.
But from you, I need 3 things:
Your time
Attention
Commitment
Is that fine? Great!
Stay with me till the end of this guide.
And if you do, I promise you'll know the best ways to make money blogging, the pros and cons, and how to implement the methods.
In short, you'll learn how to make money from a blog.
Before I start, let me first tell in brief how to set up a blog.
Start with a Niche
The first step of starting a blog is to choose the niche you want to write about.
Honestly, it can be anything…
Your life experiences, information sharing, tips and tricks, lessons you learned or food, movies, or book reviews. Yes, it can be anything you want.
You only have to be passionate about that subject because if you start something on your friend's recommendation but later get tired, you won't reach your mission to earn online. That's because blogging is a continuous journey.
In the initial years of blogging, you should write without expecting the rewards.
I know… I know it's hard.
But unfortunately, that's how it is.
Also, you shouldn't care about the competition in the initial days.
Why?
Because if you choose a blog topic based on the revenue status and competition, you won't be able to continue blogging for long.
So, always go with a topic you are interested to write or learn about.
And, it's a good idea to go with a topic based on income potential only when you are absolutely sure that you can keep producing good content regularly.
Otherwise, you'll probably fail.
Set Up Your Blog
Now, that you've chosen a niche and are confident about it, it's time to set up your blog. Take help from my guide on how to set up a blog step by step.
It will take you to every step in detail.
One thing that's important here is to invest in your blog.
Yes! that's right.
If you start with free blogging platforms such as Medium, Tumbler, or BlogSpot, it won't guarantee you control and flexibility for monetization.
So what should you do?
It's recommended to use self-hosted WordPress to set up your blog. Choosing a free blogging platform is good as long as blogging is a hobby. But, if you want to build a business and make money with your blog, WordPress is a must. 34.5% of all websites in the world are built on WordPress, and a large part of them are blogs.
But, when you are in business, it's not recommended at all.
Choose a Web Hosting plan
Web hosting services provide your blog a home to live in.
Also, a good hosting service can provide you with an email, free domain name, and responsive customer services as well.
There are many hosting service providers:
HostGator
Bluehost
SiteGround
DreamHost
Want to know where I host this website (or blog)?
It's Bluehost.
Then next step is to…
Pick Your Blog Name
When you're launching your blog, I'd recommend you to take your time in coming with a unique and simple name.
Take some examples from these names:
Copyblogger
Smartblogger
Problogger
Blogging Wizard
Digital Millions
Do you notice how simple are these?
In fact, they are also conveying the messages through their names.
And, that's how your blog name should be.
It shouldn't be difficult.
Start Writing
You have now got your blog and it's time to publish your first post.
Then second post…
Third post…
And so on…
Set up your target for a week depending upon the time you have. In this phase, don't think about money, only write, write, and write.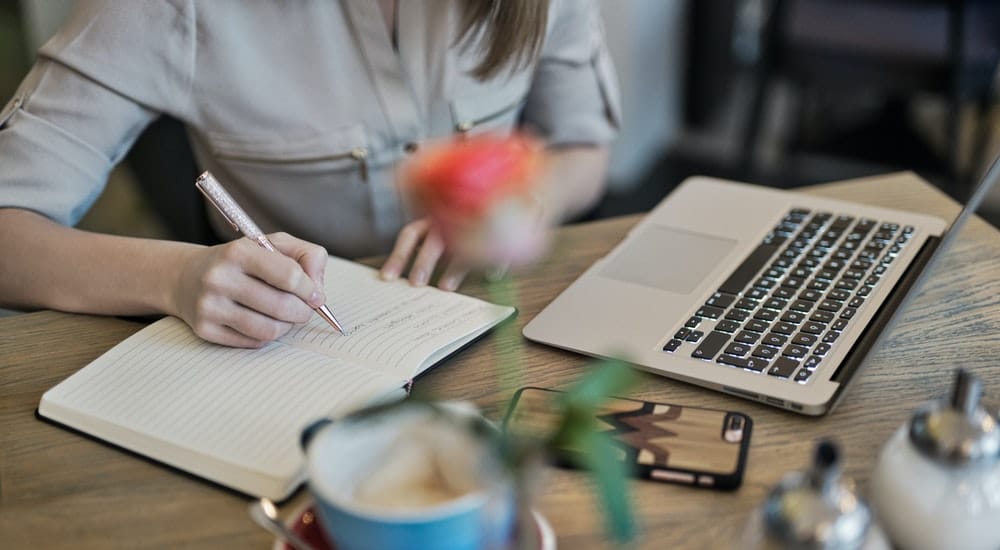 Keep it to writing for 3-6 months.
And, when you realize that you've got your audience and they are responding to your blog posts, it's the right time to jump on the second phase:
Make Money Blogging.
Well, I'll show you the best ways to make money blogging.
But to be honest, you'll only get successful if you don't rush for the results.
Like any other business, blogging also needs time to be profitable. It can take 1 year or two or more. So you shouldn't give up at any stage.
Now, you must be thinking when should you monetize your blog?
When you have around 10-50 quality posts and get decent traffic, you can start with the first and the easiest method which is Google Adsense.
1. Google AdSense
Want to make money blogging as a beginner?
Go with Google AdSense.
It's one of the best money making methods for beginners.
You don't need to do anything to sell.
All you need is to apply for an AdSense account, and when Google approves it, you'll start earning your dollars.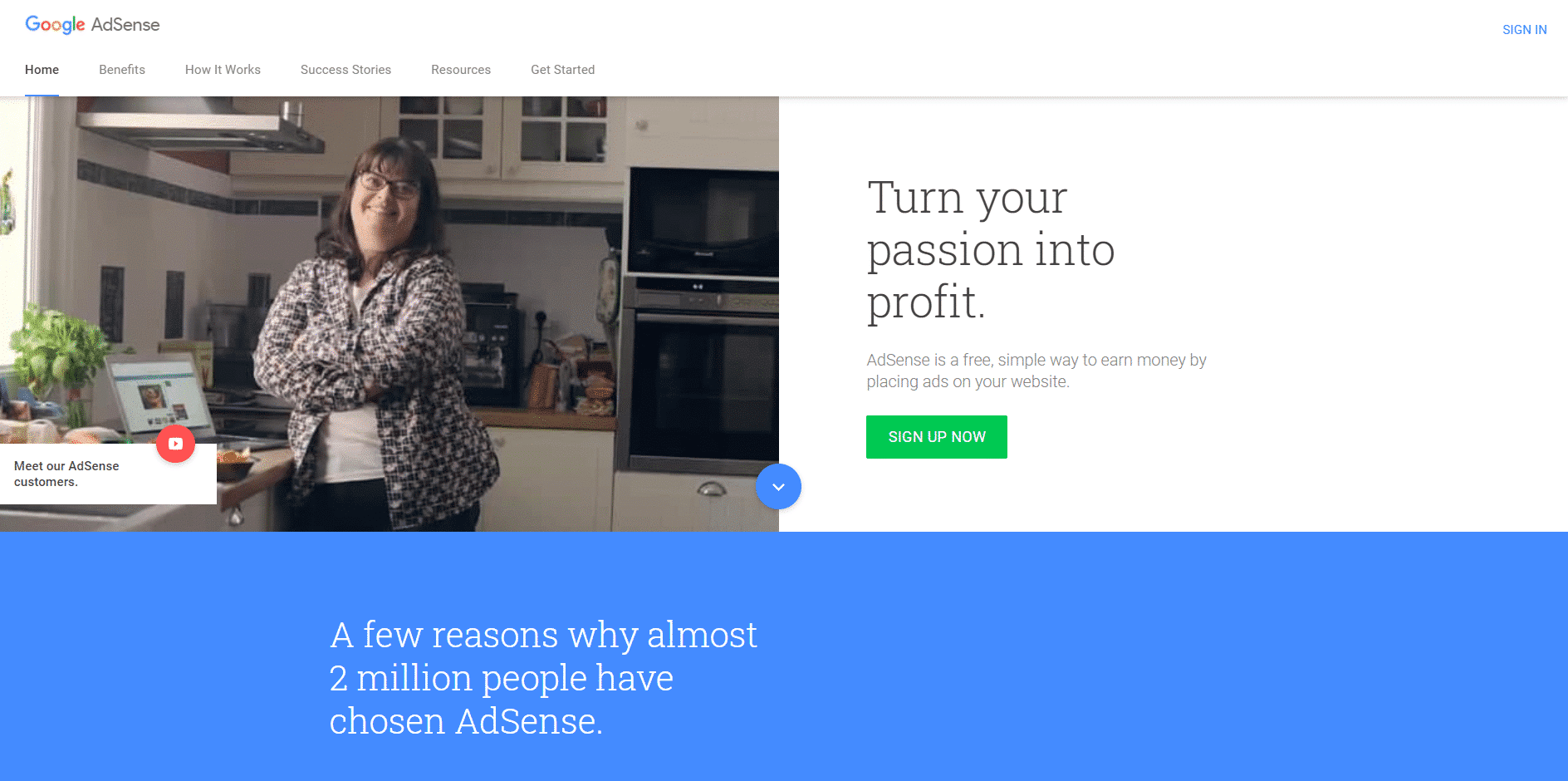 How much money can you earn through AdSense?
I can't tell you the exact figure.
In fact, nobody can.
The income depends on the following three factors:
Amount of traffic on your blog
Ads placement
Quality of advertisers for your niche
When your blog has the AdSense ads and the visitors coming to your blog click on the ads, you make money. It adds to your AdSense income.
And, that's how it works.
The more traffic, the better the income.
Apart from Google, you can also partner with other advertisers to show ads but if you're a beginner I'd recommend you AdSense at first.
Besides, you can try Affiliate marketing (I'll talk later).
Pros
Let's talk about the pros of Google AdSense.
Firstly, it's easy to implement, as a complete beginner.
If you're the kind of person who doesn't want to get into the technical side, AdSense is the go-to method for your blog or website.
You only need your Gmail account and a blog to apply for Google AdSense. Of course, there are some basic AdSense requirements you'll need to fulfill.
Once it's approved you can set it and forget.
Only focus on creating quality content for your blog and promoting your blog.
The ads will generate the revenue themselves.
The best tip: Don't expect the revenue in the first six months, only concentrate on writing and promoting your blog posts.
The second benefit?
It doesn't require any minimum traffic to get approved. Do you know you can start with AdSense after just six months of launching your blog?
That's true!
Make your site's pages ready for AdSense before you sign up.
There's no traffic limit on your blog to get approved, you can start it right away, even when you have a hundred visitors on your blog.
But of course, low traffic significantly limits your earning potential.
The Cons?
With the pros, comes the cons too.
And I don't want to keep anything secret about it.
It doesn't give a professional look to your blog. The ads popping up in between the blog posts interrupts the reading experience of the readers.
I don't use AdSense.
If you are the one who wants your blog to look professional and engage valuable readers then Google AdSense isn't the best approach.
It will give you short-term exposure and revenue but in the longer term, it might hurt your blog's credibility.
But since you're a beginner, you can go with it and later turn to the following methods I'm going to show you to make money blogging.
The next question you may ask:
How much can I earn through AdSense?
Starting from $10-$10,000+/month possible depending on the traffic.
It's an easy to make money if your blog has traffic.
So, once you set up your blog and configure it with AdSense, you won't need to do anything about it. The income will keep on adding to your account.
Here's how you can setup your AdSense account step by step.
In addition to Google AdSense, you can also partner with different ad networks to display ads on your blog such as:
Media.net
AdThrive
Revenue Hits
If you don't want to display ads on your site but still want to make money blogging, my next method is for you, which is called affiliate marketing.
2. Affiliate Marketing
If you're into blogging you must have dreamed about travelling the world while your revenue keeps generating for you in the background.
And that's possible if you choose to become an affiliate for other advertisers.
It's the best and most profitable way to make money blogging, I believe. Like AdSense, it doesn't even overwhelm your site with ads.
It's a neat and clean way.
According to Statista, affiliate marketing will hit up to $8.2 billion in business by 2022. But let's keep it on a beginner's level and start from scratch.
So what is affiliate marketing?
Affiliate marketing is simple. It's the process of earning a commission by selling someone else's products or services through blogging.
Depending on the products you sell and how you promote, you can make as much as $100,000 per month or more. Following are a few examples:
Ryan Robinson
Adam Enfroy
Pat Flynn
Michelle
Ron
And you can too earn the same way if you stick with the process and keep providing high-quality content through your blog.
There are 4 parties involved in affiliate marketing:
Affiliates
Product creators
Networks
Consumers
Let's learn about them more:
Affiliates: The promoters of the product which means 'YOU.'
Product creators: The creators of the product or services, meaning the one to whom the product belongs, or the people who made it.
Networks: The intermediary between the affiliates and the merchants who are also the third party and responsible for managing the affiliate networks.
Some popular affiliate networks are:
ClickBank
ShareASale
Amazon Associates
Consumers: The fourth one is the Consumers which means your readers, the one who you'll be recommending the product or services.
Promote the products or services you personally trust. Promoting low-quality products only for a few dollars may ruin your reputation as a blogger.
And you don't want that. Do you?
Now, that you have a clear idea of who affiliates are, let's head toward how it works.
Important Tip: If you're expecting money immediately then you're going to be disappointed because the first step to becoming a good affiliate is to win your audience's trust in you. Then, you can start promoting.
As already suggested before, you also need to be very honest about the products you choose to promote to your readers.
Why?
Because if you promote a fake one, you won't be able to maximize your profit. Of course, you might earn a few dollars here and there.
But honestly, you'll never be able to make a difference.
And that's disappointing. 🙁
Step 1: Choose the Right Product
You know your blogging niche and your expertise on the topic. Now, your job is to choose the product or services that align with your niche.
For example, if your niche is SEO, google "best affiliate programs for SEO".
And here I got my results:
Now, I have all the results of my affiliate search.
The next step is to filter those products which you have used and you're pretty confident that your audience will love it too.
And become an affiliate of that program.
Of course, remember this:
If you're not satisfied with the product, you won't do a Good Job in promoting it. The next step that you should focus on is creating content.
Step 2: Create Content
It's the most important step in affiliate marketing because all your sales depend on the content. Your content needs to be quality.
And, the content should be able to solve your audiences' problems.
For example, if your audience wants to know about the best SEO tool which will boost the search engine ranking, go ahead with the introduction of the problem and create a complete guide with effective solutions like…
What's this tool about?
How it will benefit a website or blog?
Why should someone invest in it?
What are the pros and cons?
And, everything in between.
And all other things that your audience needs to know.
Check out this "Best Blogging Tools" page.
If you analyze the page, there are three tips to learn from here:
First, I clearly mention that I may earn through the links in the content. I also mention that my commission won't add any extra cost to the product's price.
In fact, if they buy, they will get discounts, in most cases.
Secondly, it's a Detailed Guide explaining each and everything about the tools. If the audience reads it, they will be clear about almost everything.
And hopefully, they will end up buying the product, trusting me.
That's what your affiliate content should look like.
And did you notice the third thing?
Conversational Tone.
When you read it, you'll feel like the writer is talking to you. He's sharing his experiences and telling you what you should do or not.
In other words, he's recommending the best options for you.
That's how you win the readers' trust in you.
…by being CRYSTAL CLEAR about everything.
And that's also, how affiliate marketing works. The clearer your audience is, the better will be the results and your sales commission.
Step 3: Promote Your Blog
Done with the affiliate content but not getting the traffic?
It's because you haven't promoted it well.
Below, I'll share how to promote your blog when you're a beginner. There are many ways to promote a blog. Below are 2 of the most effective ones:
SEO
The most credible way to get organic traffic to your site is through SEO. I've seen the results of SEO optimized articles and I'd recommend it to you as well.
SEO is the best for beginners as well as pros.
Do you know 3.5 billion searches are performed on Google every single day?
So if you miss SEO, you're going to miss a huge chunk of traffic.
Search for the keywords which have higher searches using free tools like UberSuggest, Google Keyword Planner, and Google Autosuggest keywords.
You can also use SEMrush. It's a paid tool with much better features.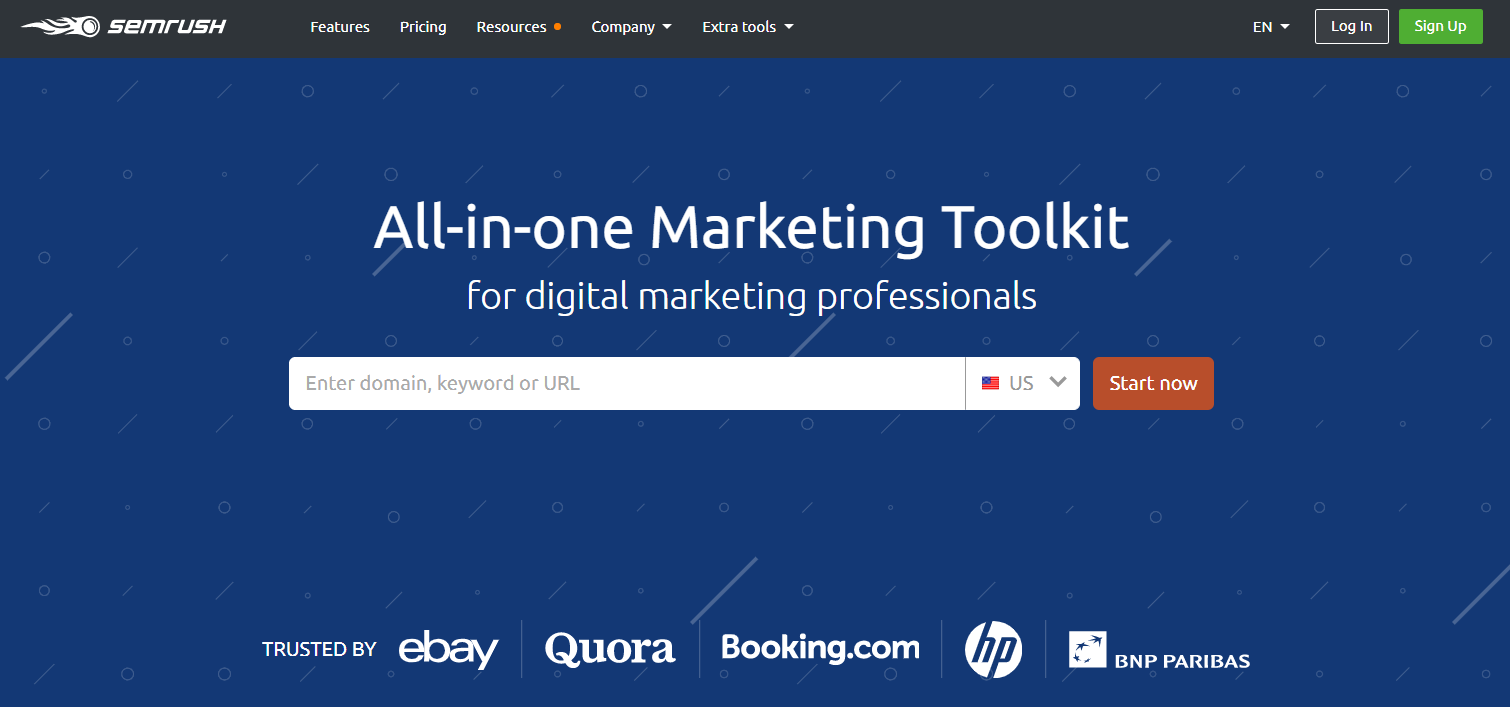 You can get a free trial for SEMrush, if you want.
Do your research and find good keywords. Use them in your blog content. But make sure you don't overuse the keywords.
Why?
It will make the content annoying for readers and directly hurt SEO.
When you include the question keywords, readers are mostly searching for, your blog has higher chances of ranking on the search engines.
Social Media
I know you won't be having a big audience on your blog since you're a beginner but you can start with the hopes of getting the traffic.
And you never know who might retweet or share your blog posts.
So, create your social accounts on Instagram, Twitter, Facebook, or LinkedIn and keep sharing your blog posts whenever you publish new ones.
Quite easy, right?
Stay consistent on your social media.
Because the more you share, the better it would be the results.
Apart from these two promotion tactics, you can also pitch the influencers in your niche to share your blog posts.
A lot of them might reject your request.
But some of them would be kind enough to share it.
And that can work really well.
Like other income methods, there are also some pros and cons.
Pros
A steady method of making money while you sleep.
No investment required.
You don't need to be an expert to start affiliate marketing.
You can control the affiliate products. The selection of products is totally on you. And that means you have the flexibility as well.
With pros, comes the cons too.
Let me take you to that as well.
Cons
Due to high competition, income generation can take a long time.
The sales depend on the traffic your blog has, no traffic means no sale.
No guarantee of success in affiliate marketing.
You can't grow your customer base because once the buyer buys it from your affiliate link, they might not come back to your blog.
To grow your customer base, you should use email marketing which increases the monthly costs to run your blog, as a result.
But, it's okay…
You don't need to be disappointed as I've promised to show you every possible way to make money blogging. If affiliate marketing doesn't work for you, you can check my next method which is one of the best options for beginners.
Wondering what it is?
Selling eBooks.
If you're a book worm and love writing eBooks then how about selling it to your readers and making money through it?
Yes, that's possible!
I'll tell you HOW?
3. Sell eBooks
Let me ask you a question:
How hard do you think it is to write a book and get in contact with the publishing houses to get your book published?
First, you have to complete your book and take up the struggles to publish it via credible publishers and then you've to spend your money promoting it.
Isn't the process tedious?
Well, with the eBook you don't have to go through all the hassle.
You can write it in a week or days and publish it on Amazon Kindle, share it on your blog, and then sell it through your blog.
The best part?
You don't have to write a 500-1000 pages book, you can write a small guide, story, or even your opinion in 25-100 pages and sell it on your blog.
You can even compile your blogs to make an eBook and start selling it.
Take an example of Harsh Agarwal of ShoutMeLoud who publishes his eBooks on his platform and market it via his blog.
Do you have something worth sharing with your audience?
Create an eBook and self-publish it on your blog.
Or you can also publish on Amazon Kindle and later talk about it in your blog to generate passive income.
The drawback of publishing on Amazon is that it takes 30% of your book price. But at the same time, your book will get an audience because of Amazon.
Amazon is the most recommended website for publishing books.
The benefit of selling your through your blog is that you don't have to share your income with anyone. It will be all yours.
Any more good news?
Yes!
You don't need to dive deep into tutorials to write an eBook.
And me share a super amazing designer tool.
It's Canva.
You can create beautiful eBook cover using Canva in minutes.
Open Canva.com
In the search box, write "eBook" and you'll get all the designs just like this.
Select the template you want.
Keep on adding pages until you're done.
You can even design your book in 10-15 minutes.
Once you're done with your eBook, publish it on your blog.
And start blogging about it.
Write, why this eBook is important?
How will it help your audience?
What's your book about?
It really works. And, you know what?
Selling eBooks is one of the most common ways to make money blogging.
By keeping everything transparent about your eBook, your audience is more likely to buy it. Let's see how you can promote your eBook.
Guest Blogging
Find blogging sites that accept guest post and write for them.
Just by searching on Google, you'll get many relevant websites where you can post your articles and get a new audience for your blog and eBooks as well.
For example, if your blog is about fashion, home improvement, lifestyle, or anything else, you can search like this in the screenshot below:
Use your niche name along with relevant phrases like:
Your niche + "guest post"
Your niche + "guest blogger"
Your niche + "write for us"
Your niche + "blog for us"
Your niche + "write for our site"
Your niche + "writers needed"
Your niche + "guest blogging"
Your niche + "writing opportunities"
You'll get all the relevant sites where you can publish your guest posts.
Send them the request to write for them.
By writing for others you'll have a different audience who'd be reading your articles. And, you'll also have the opportunity to link your eBook or the blog.
What does it all mean?
You're going to get a lot of traffic to your blog and also your eBook.
Isn't that great?
Post in Facebook Communities
There are many groups on Facebook which are only for readers and writers.
You can join those groups and post about your book if the group allows.
Here, the group guidelines are important because if you go contrary to the guidelines, your post might get rejected at first.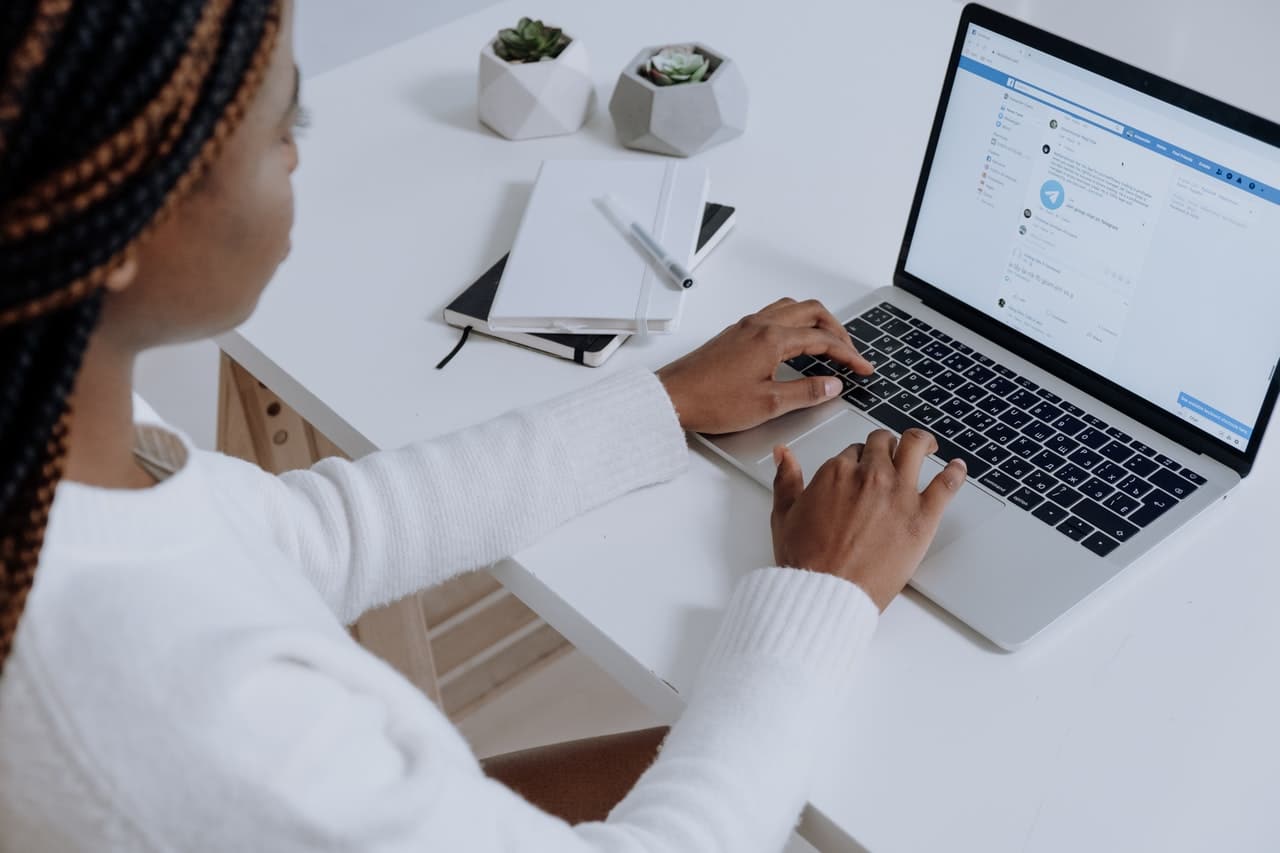 I'd suggest you join groups, show your engagement in those groups for about three to four weeks, and then post your blog posts in the groups.
This would earn authentic engagement to your blog.
The result?
It will increase your online presence.
And the good thing about selling an eBook on your blog is that….
There aren't any cons about it.
Only pros and passive income.
The only problem I can think of is the time that you spend creating your eBook. It's time-consuming. But really, that shouldn't disappoint you.
Let me talk about the pros of selling ebooks on your blog.
Pros
All your income will remain with you.
It will be excellent for your portfolio.
It gives more content to your audience. When you publish an eBook, you'll write blogs about it, promote it, and write more and that's how you'll generate more content on your blog. It naturally helps you get more sales.
I'm assuming you like this idea to make money blogging by selling an eBook.
How about if I tell you another method just like the above?
I'm sure, you'd like that too and will also be curious to learn about it.
Isn't that?
Lets' move further.
The next method is about Selling Online courses.
4. Sell Online Courses
Do you think you've better ideas to create an online course?
Do you think you have the information your readers would love to know?
Can you create a short online monthly or weekly course?
If the answer to these questions is YES, then this method is for you.
But wait here!
You should choose this way only if you think, you're capable of creating a course which would be beneficial for your audience.
Otherwise, you won't get the results.
This applies after you've understood your audience in-depth and you're ready to give them something of value which would help them grow.
Start with creating an online course.
It can be a…
Short video course
A self-improvement guide
Slideshare presentation
Or any other format you prefer going with.
For example, check some courses on Udemy and Coursera and see how they build the course content. You can also take some ideas from YouTube.
The best part of creating online courses is that you have the flexibility to control the price, sales page, and everything else.
Once you have the course created, you can promote it by blogging.
Some popular course building platforms:
Teachable
Thinkific
Coursera
Learnworlds
Learndash
And, that's how you make money blogging.
A good online course can take your blog to the next level. See this Reliable Soft blogs who create and sell their own courses.
You can do it too.
Once you've created your courses, the next job is to promote it.
One of the best ways to promote your course is through email marketing. Emails are great. Email marketing is known to provide the highest ROI.
Email Marketing
Now, you must be thinking why haven't I discussed this method before, isn't it?
It's because for email marketing you need a list of email subscribers which you can't get when you have just started blogging.
It takes time to build the list.
But once you have it, you can sell your courses via email by letting your audience know about it. This method can be highly profitable if done right.
Here's what you need to remember:
Your emails should be personalized, like this one from Copyblogger.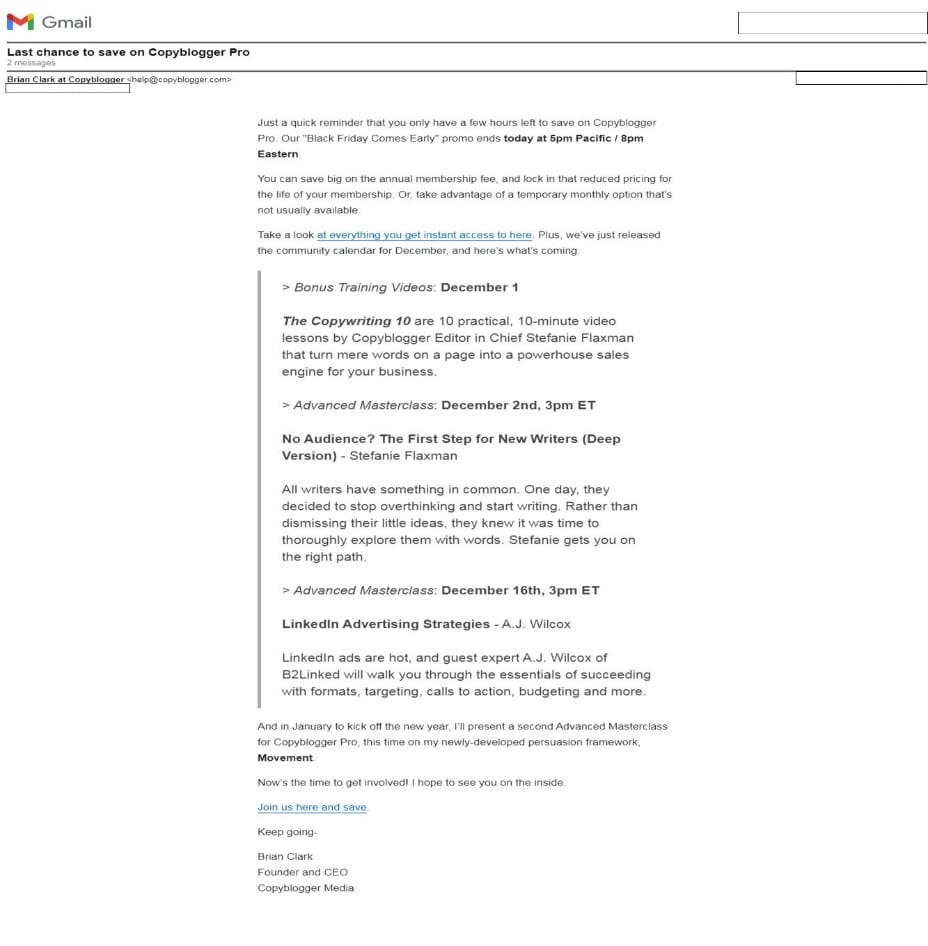 Emails detailing the product and ending with a call-to-action button are going to earn more conversions than the routine one.
Now, let's find about the advantages and disadvantages of this method.
Here are the pros I can think of:
A great way to boost your blogging income and become a Six-Figure Blogger
Gives you, your own product or service to market.
It's not without cons.
It takes time to reach this level. To teach someone you need to be an expert in that niche. You need to market it a lot because there's high competition. In addition to this, there's a lot of free resources on the Internet.
How Much Money Can You Earn?
Honestly speaking, the earning potential is unlimited. It's very much possible for you to earn six-figure or even seven-figure with proper marketing.
It also depends on the time your courses take to start getting noticed.
Once it grabs the audience's attention, there's a good opportunity to scale your online presence and also the income potential.
Tips for beginners
Since you'll be doing it for the first time, so create a course that's very useful for your audience and provide highly valuable information.
Otherwise, it will have a negative impact on your audience.
Secondly, before you publish courses, take a test on your blog by launching it for free. If a vast number of people show interest, lock it with the prices later.
When your courses get successful, you might become the new Neil Patel.
I hope you like this credible method to make money blogging.
If you're the one who doesn't want to work hard but also wants to generate easy money through a blog, then my next heading is for you.
You don't need to invest your time in the method, just a small collaboration with companies and they'll pay you to write for them.
Or to make it more simple, they can give you the content to publish on your blog and also pay for it. Wondering, what's this method is about?
It's called Sponsored posts.
5. Sponsored Posts
Are you looking for ways to grow your blog reach?
Do you love to build relationships with other brands in your niche?
Do you want to maximize your blogging income?
If you've said YES to these questions, then this is for you.
Sponsored posts are the ones that you're paid to write for other brands. Meet Michelle of Making Sense of Cents who earns around $100,000/month from blogging and around $5,000-$10,000 from sponsored posts.
And you can too…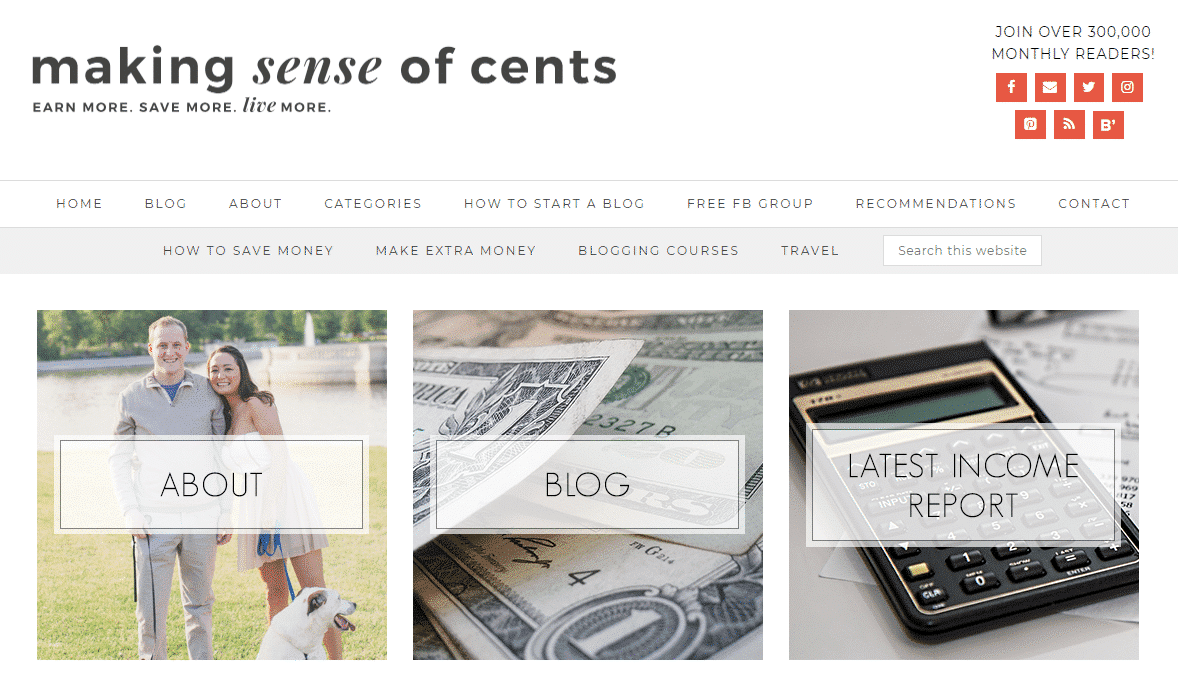 You only need to approach the companies in the right way.
Find the products you love and the ones that are relevant to your niche. Pitch the companies and show interest in writing for their brands
And of course, show them how it will grow their product reach.
You can charge up to $100-$1000 per post.
How much you can charge for each sponsored post mainly depends on your blog's traffic level and the domain authority of your blog.
Since you'd be writing the post from the scratch, giving your time, and marketing it to your social followers, you shouldn't charge them less than $100 per post
However, if the brand is a startup, you can consider revising your rates.
Go for the brands that will align with your audience's interest. Otherwise, you would end up making money only but won't get the reach for the post.
If your website's domain authority is respectable, at least, above 40, brands can also pitch you to publish a post for them. And if you get an opportunity that is also relevant to your blog, don't turn it down instead make the most of it.
Just like the other methods, there are some pros and cons too.
Pros
A good opportunity to scale your blogging income.
An opportunity to build professional relationships with other brands.
An excellent method for beginners as well as pros.
Cons
It can be a time-consuming task to find the right product and convince the advertisers to write for them. Many would reject you.
Publishing sponsored posts frequently can turn off your readership.
Here's what you should remember:
One important tip to note about sponsored posts is that you should always disclose that it's a paid partnership. Otherwise, it might hurt your blog's authority and also the search engine ranking, in many cases.
In some countries, it's also a law to disclose the paid partnership.
Secondly, you should dedicate a page on your website which shows that you're open to partnership. The page should have a clear description of your blog and the traffic you generate monthly including your social media audience.
Congratulations!
You've completed halfway to the guide.
Hopefully, you've learned about some of the best ways to make money blogging.
But there are some others too.
My next choice is premium content.
Well, this method works for those who have reached the mid of the blogosphere and are ready to convert their readers into buyers.
And do you know, your buyers won't take time to think before investing in you.
They are happy with your content and want to learn more about it. So, my next method to make money blogging is through premium Content.
Now, you must be thinking, what's this about?
Don't worry!
Just like the other methods explained above, I'll do this too.
Keep Reading!
6. Premium Content
If you read articles on Medium, you must know that there's a monthly limit to read articles and once you reach that limit, you've to pay to read more.
Why?
Because the locked articles are written by experienced writers, have detailed information, and also have life-changing tips and secrets.
This is called Premium Content.
To define it more precisely, when you want your readers to have in-depth information about the topic, you offer them Premium Content.
It can be anything such as:
Long Articles
Guide
Videos
Podcasts
eBooks
Whitepapers
Case Studies
Spec Sheets
Infographics
Webinar
Research Papers
etc.
Take an idea from the example below: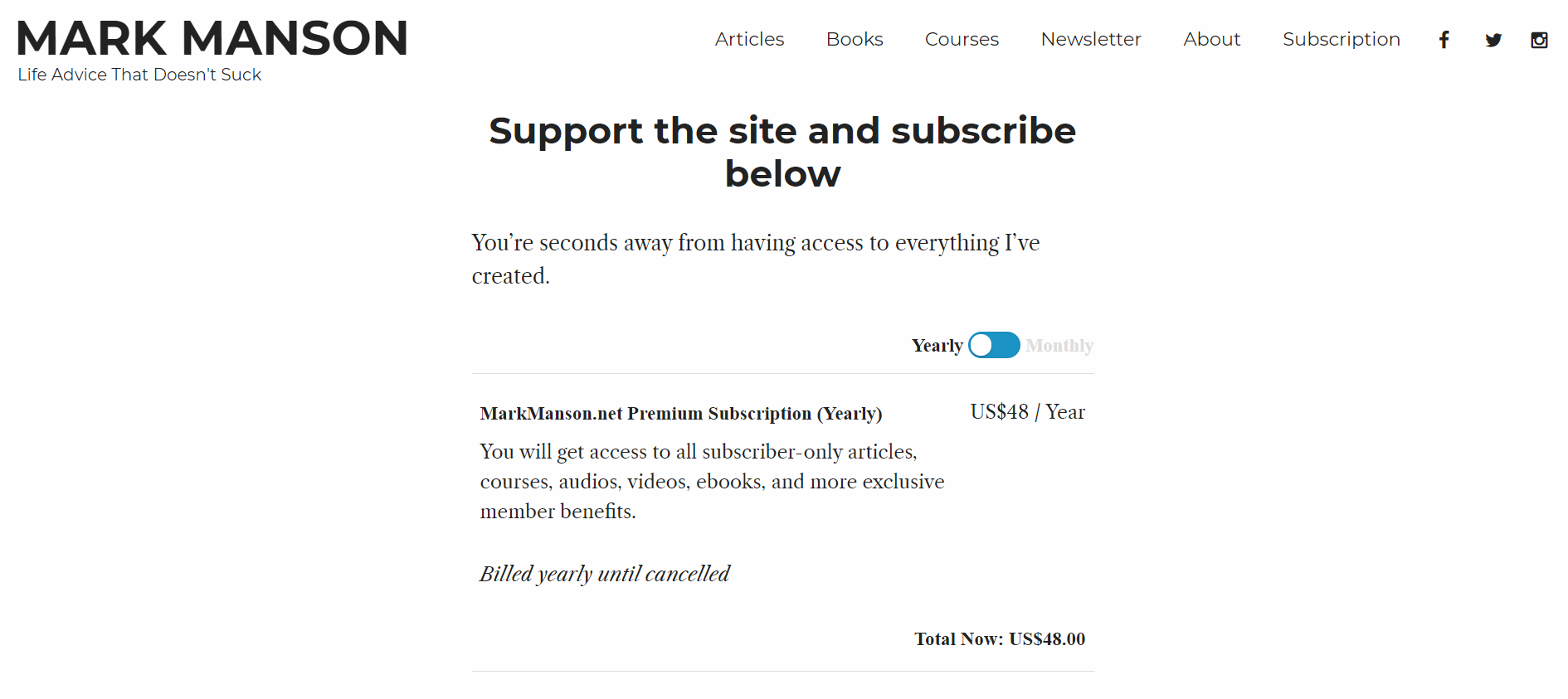 You can use any WordPress membership plugin to lock the premium content on your blog and also receive payments using various payment methods.
Some popular membership plugins:
MemberPress
LearnDash
Restrict Content Pro
S2Member
But as a beginner, when should you explore this phase?
Do it only when you have content worth sharing with your audience.
There are 3 stages of creating Premium Content:
Awareness
Consideration
Decision
In the awareness stage, you help the readers understand the scope of the problem and how your content will shed light on the solutions.
In the consideration stage, you discuss the various solutions to the problem to make people believe in the answer you have for the problem.
While in the last decision-making stage, you share a case study of your brand where you have successfully solved the problem.
Result?
It gives the confidence to your readers to invest on you.
That's why it's important to offer High Value in your content so more readers can sign up for a membership plan on your blog.
It's not necessary that you start a blog for your premium content, you can also create videos, podcasts, tutorials, guides, and any other thing which you can do the best. The point is to get it done and publish on your blog.
And of course, attract readers to invest in your premium content.
You can keep a yearly fee of your content or you can also do it per post.
That's your choice, of course.
Like the NewYorker magazine offer their different subscriptions plan.
How much can you earn with Premium Content?
Unlimited.
With the premium content on your blog, it's possible to make a hundred thousand dollars easily per year. The more subscribers the higher the revenue.
And the good part?
There are no drawbacks about this method, only Pros such as:
Making your platform a more professional and authentic source of content.
Allowing you to make money by creating high-quality valuable content.
The best way to reach your money-making goals through blogging.
Isn't that amazing?
I'm sure, you would love this method to make money blogging and would be curious to explore this method more on your blog.
Well, if you've something worth sharing, go for the premium content.
Trust me, you won't regret the decision.
But if you don't want to avail this opportunity, I've something more interesting for you. This method is a 100% Success and will also add to your Good Fame.
And additionally, it will make you a blogging expert in your niche.
Want to know?
So, this method is consultation.
7. Online Consultation
Are you a blogging expert and love to fix the problem for others?
Are you an expert on anything that can help people?
Do you want others to grow using your knowledge?
How about offering an online consultation to people?
If you browse on the Internet, people face a lot of problems when they are going to start a blog, launch their online businesses, or to market their campaigns.
If you look for questions on forums like Quora, you'll find:
They are looking for the right person to guide them.
You can become that right person if you have all the knowledge about the topic. And, the best part you can offer the consultation through your blog.
Sounds great, isn't that?
A lot of bloggers offer consultation through their blogs. Some popular blogs are even solely focused on consultation. See how Neil Patel promotes his services: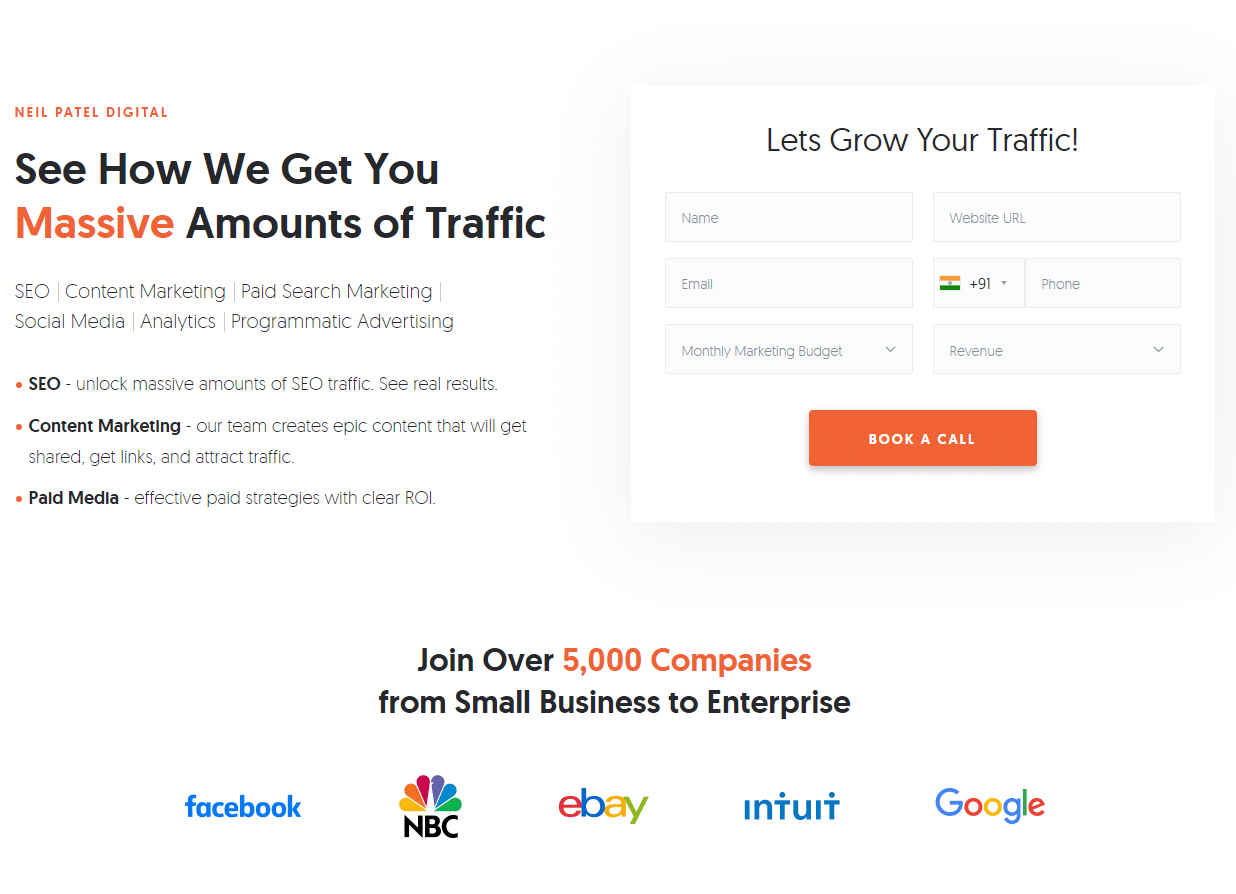 These bloggers only help people through their blog.
And, that's how they make money blogging.
You can offer consultation on anything you want, provided if you have knowledge on that subject. It should also match your blogging niche as well.
Start from creating quality content that offers staggering value to your readers. Don't paraphrase the already written articles to rank on the search engines. Because if it isn't helpful or useful, it wouldn't be of any benefit.
Honestly speaking, your content should be so good that it convinces people to invest in your consultation service and learn more from you.
So how much you can earn from consultancy?
Well. It depends.
Consultants usually charge on an hourly basis starting from $25-$100/hour.
It also depends on the experience of the consultants, the scope of the problem, and the solutions. So, different consultants have different rates.
Neil Patel has successfully built a million-dollar business through his SEO consultation. Ramit Sethi of I'll teach you to be rich also offers online consultation via his blog and earn a fortune from it.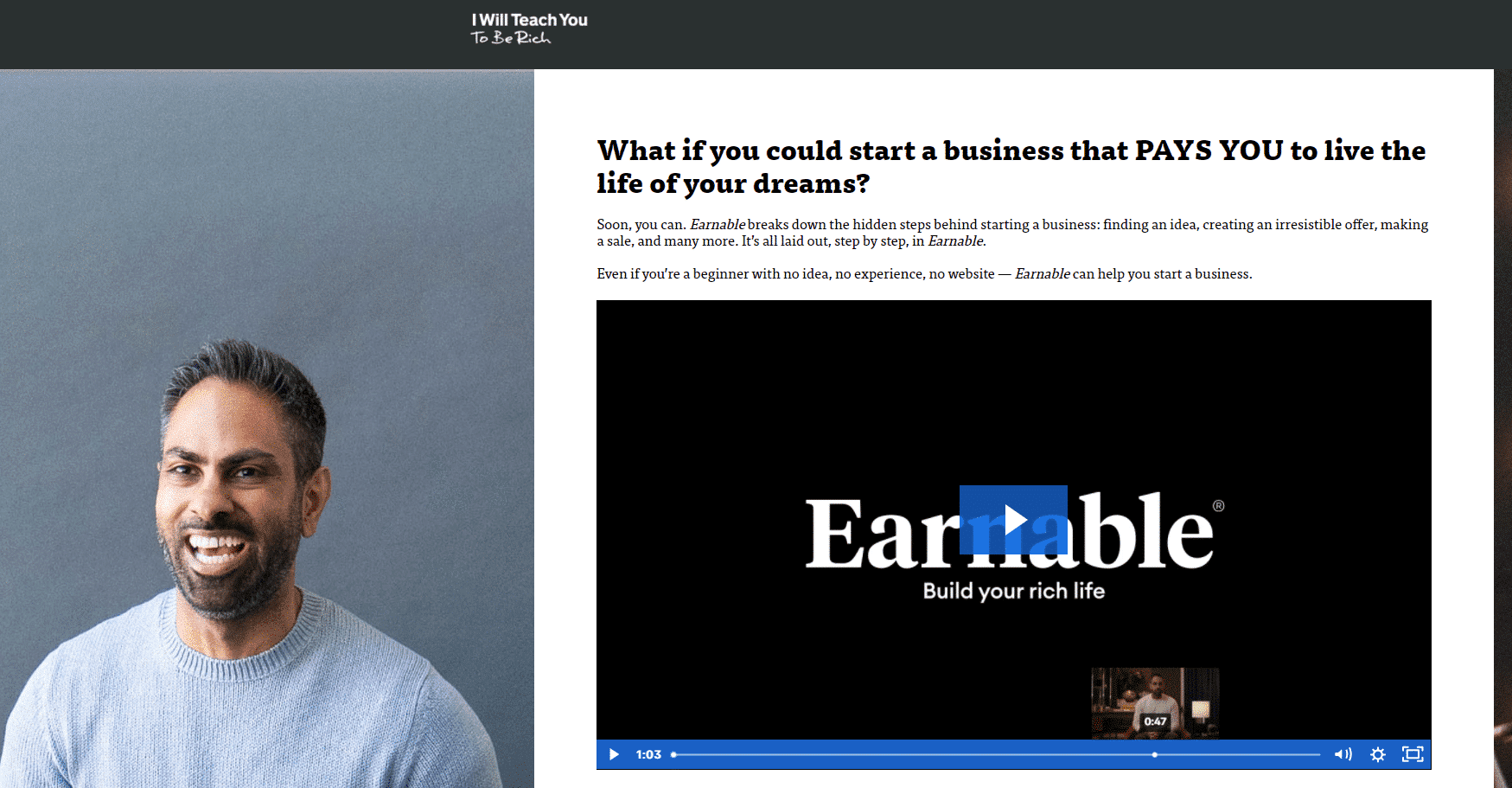 You can start with publishing content around your consultation services on your blog and then promoting it through guest posting.
But don't write for small, low authority websites.
Since you're offering consultation so you're on an expert level.
If you write for low-authority websites, it will be quite hard to get the desired audience who can opt for your consultation services.
If your article is published on high-authority, quality sites such as Search Engine Journal, Forbes, Search Engine Watch, Entrepreneur, Fast Company, and more like these, you're going to receive a ton of traffic to your blog.
And people will believe your experience as well.
As everybody can't write for these high authority websites.
Only the Potential ones make their way to it.
Once your consultation services are known well, you can enjoy helping people while making millions. Below are some notable benefits:
It gives you an opportunity to collaborate with others.
It gives you the opportunity to build new relationships.
It's a profitable way to make money blogging.
Now, let's head to the last method of this guide.
It's donations.
8. Donations
It's for the ones who don't want to chase any of the above-mentioned methods but still want to make money blogging.
Now, you must be thinking…
Is that even possible?
Well, in some cases it's really possible.
Yes, you can still make money blogging by cutting all the above methods. And that's through asking for Donations on your blog.
I know a few bloggers who accept donations on their blogs.
And there's no harm in asking for donations.
See this for example:
If you analyze this website, you'd notice that there are no ads, sponsored posts, or any other ways of making money from the site.
Only Donations which they have also asked in a decent way.
So, if you think you're giving your arm and leg to build regular content on your blog and don't want to chase money through advertisements, go for donations.
But make sure that you don't irritate your audience by asking for donations frequently or showing a pop-up to donate on your website.
This can hurt your readership.
And audience might also leave your site.
So, you should keep your donation process clean. So make your content so impactful that the readers start donating with an open heart.
Or, if you have a blog that works for public services, people might not even judge before giving you the funds. That can be a bonus for you.
When do donations generate best results?
Well, if you have just started blogging and also asking people to donate then you're going to get disappointed. Because you won't get a penny out of it.
Sorry for that…
To make donations work in your favor, you need to build your readership; a large and loyal readership that will only come with providing High-Value content.
Secondly, when people will notice that your blog doesn't have any other way of generating revenue, they might not hesitate to give you funds.
So, don't go with this method if you're a new blogger. At the same time, accepting donations on your blog comes with its pros and cons.
Pros
A chance of getting an Unexpected (6-Digits) to your account. You never know someone might become the secret admirer of your content.
Pretty cool, right? 🙂
Cons
People might judge you for asking for donations.
If it doesn't align with your blogging niche, it won't benefit you at all. For example, if your target audience is students, you can't expect to get money from them as they aren't in a position to support someone.
That's all about this Easy Breezy method of asking for Donations on your blog.
Apart from all the methods I mentioned above, one of the most incredible ways to make money blogging is to write product reviews on your blog.
And if done right, you can make up to $500-1000+/post.
It's a bit different from writing a sponsored post as you review the product by being transparent about it. But again, you need to choose the product or company which aligns with your blogging niche and target audience.
9. Create a Job Board
With so many people unemployed at the moment, the need for employment boards has never been higher. If your blog has a relevant audience, you could create your own job board and earn money from it.
For inspiration, you can have a look at the Problogger job board. It is a great example of how to monetize your blog with a job board.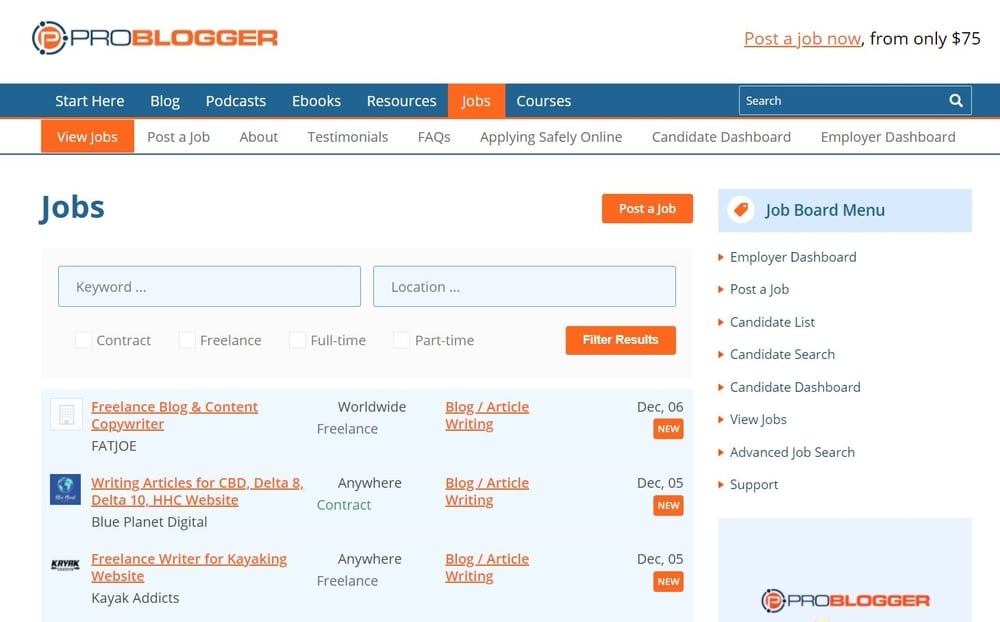 How to make money creating a job board?
The first thing that you need to do is choose a topic that you want your job board to focus on. You should ensure that you include all the relevant job categories in your list. If you are not sure of the different job categories that exist, simply type 'job category' into Google and take a look at what comes up.
Next, you need to find a good job board script. There are many free and paid scripts that you can choose from. However, it is important to ensure that the script you choose is easy to use and has all the features that you need.
Once you have chosen a script, just follow the instructions to install it onto your blog. Job boards are easy and quick to set up and you won't need much technical knowledge to get started.
Once your job board is set up, you need to start advertising it.
You can do this by creating a banner and adding it to your blog. You should also consider advertising the job board on other websites and forums.
Both job seekers and potential employers can pay a specific amount of money or a percentage of the total amount to be able to access the services.
Creating a job board can be a great way to make some additional income. However, it is important to ensure that your blog has a relevant audience otherwise you won't get any visitors to the job board.
My Final Words
Bravo!
You've reached the end of this guide.
Hopefully, I've been successful to show you some of the best ways to make money blogging in 2021 and beyond. Choose the method you like and work on it.
And of course, make money blogging. 🙂
But I might have left you with some questions in your mind. Please feel free to leave it in the comments below so I can answer it.
Finally, did you find this article useful?
If so, please share it.
It helps people who might need this information and also gives meaning to the countless hours I've spent to create this tutorial for you, free of charge.
Blogging from ZERO is the solution to all your blogging woes. It's a step-by-step guide with all you need to know to create a life-changing blog and make an extra $1,000 to $5,000 or more.