Do you want to skip the read and get right to the best platform? The best free blogging platform for most people is WordPress with HostGator hosting.
If you are looking for free blogging platforms, keep reading as I'll quickly reveal all the best free blogging platforms to launch your blog.
Are you looking to start a blog and make money?
Well, I'm going to talk about the 9 best free blogging platforms for beginners.
If you're a beginner who has no idea where to start, this article will help you in finding the most suitable blogging platform out there.
Moreover, these are all free to use.
So what are the best free blogging platforms nowadays?
Well, it solely depends on your requirements. But, in most cases, the best free blogging platform for beginners as well as pros is WordPress self-hosted.
Additionally, the amount of effort that you're willing to invest is the most important aspect of starting a blog. No matter where you stand, this guide will incorporate every aspect of these blogging sites. As a result, you'll be confident to choose one.
To be honest, blogging could be a very vigorous thing, and you should be aware that there are many different factors to consider as a beginner.
As you prepare to begin your blogging career, there are a variety of blog platforms you can choose for your blog. Some of these blog platforms are free, while others need financial investment; these are self-hosted platforms like WordPress.
And, here's what you need to know:
While WordPress is free, you need a hosting provider and a domain name to make a blog. In most cases, any additional investment is to ensure that your blog is well-designed and that your visitors have a great time when they come to visit.
But overall, setting up a blog in this day and age is quite easy.
Yes, getting a blog up and running is relatively easy nowadays. You don't have to learn to code or mess with any complex software.
So, if your focus is on writing and not visuals, this list will minimize the fluff, and guide you into choosing the top blogging platform. With all that in mind, in this article, I am going to talk about the 9 best blogging platforms that are available today.
And you know what?
These platforms are ideal for anyone out there. I am also going to list the pros, cons, and unique aspects of each of these services.
Here's a list of the best free blogging platforms:
WordPress self-hosted – Highly recommended
WordPress.com
Wix
Weebly
Squarespace
Medium
Tumblr
Blogger
Gator by HostGator
There are a few more, but I'd want to focus on the platforms listed above.
I just feel these 9 platforms are the best for beginners.
So, now you know what are my top 9 blogging platforms where you can create a blog for free. But before I start, I would like to ask you a question.
And, here's my question:
Would you like to start a blog as a hobby or a business?
Or more accurately, do you want to set up a blog as you want to write about things you like or you want to build a solid business online?
If you treat blogging as a hobby, any of these free platforms will be just fine.
But if it's a business, think again.
Why?
Setting up your blog these days doesn't cost a lot of money. In fact, you can start a blog with only $2.75 per month on HostGator.
What is the benefit, you ask?
Simple. You own your blog. You don't depend on a free platform.
That's a lot better, right?
Well, without wasting any time, let's get started with the top free blogging platforms.
Follow me as I pick them one by one so that you can understand their functions, their advantages, and their disadvantages. This is because for every blogging platform you decide to use, there are potential advantages as well as disadvantages.
Let's dive right in.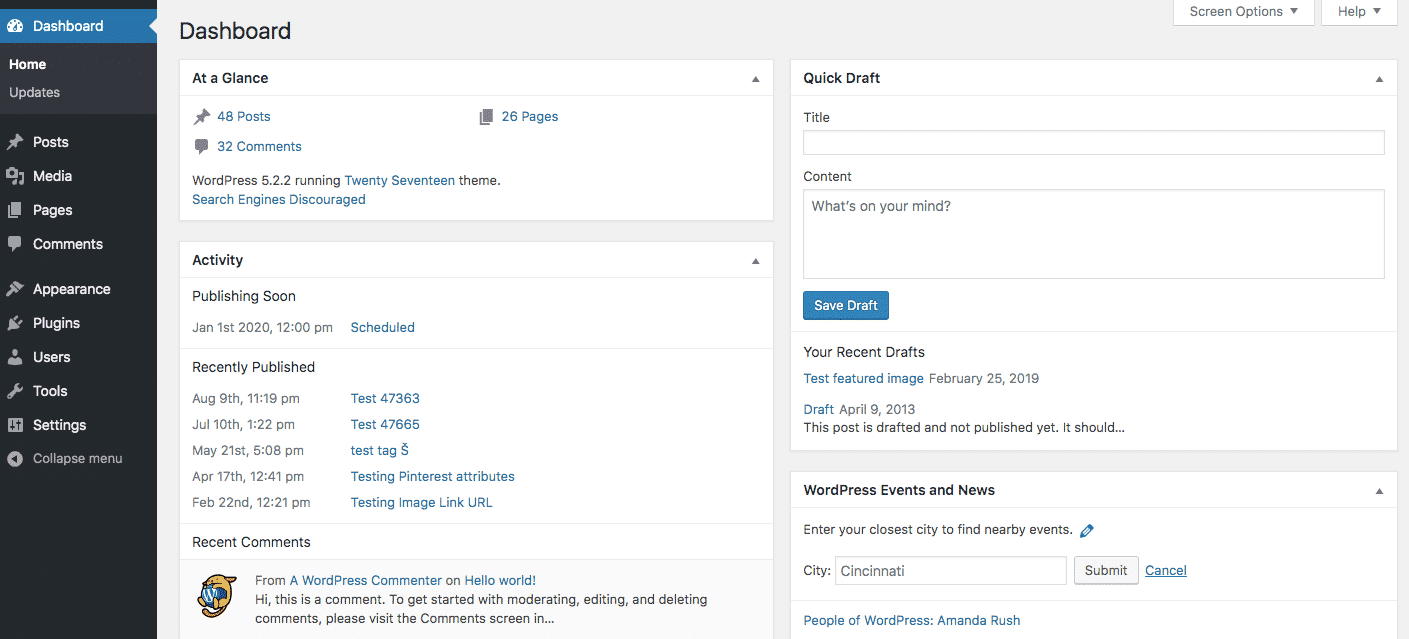 Undoubtedly, my first choice is WordPress self-hosted.
When I created my first blog back in 2010, I used a free Blogger.com account. But later, I realized that its features are highly limited.
You can't really build a business on this platform.
So, I moved to WordPress.
Since then, my experience has been amazing and I never looked back.
To clarify, WordPress is separated into two variants:
WordPress.org
WordPress.com
When it comes to starting a blogging career, beginners are often confused as to which option to choose. You may have also found yourself in this group, scouring the internet to determine the differences between the two and which is the best option for you.
Why don't we try it this way?
Let's go over each of them separately one by one. If you look at my list, you'll find that wordpress.org comes in #1, followed by wordpress.com.
But, for now, it's good to know some basic differences.
WordPress.org vs WordPress.com
| WordPress.org | WordPress.com |
| --- | --- |
| The real WordPress used by one-third of the World. It's what you've heard all the great things about. | A hosting service created by Automattic, the company led by WordPress co-founder, Matt Mullenweg. |
| 100% Free and open source | Free plan + premium plans |
| Complete control over your site: you can change every aspect of your site. | Limited control: it depends on the pricing plan you choose. |
You may have already realized I'm talking about WordPress.org right now.
This is referred to as the real WordPress and it is the particular one you are likely to have heard so much about.
It is referred to as self-hosted WordPress because it supports self-hosting, meaning you can have complete control over your website.
Have you ever experienced the feeling of owning something and being able to choose what goes where? This is why WordPress.org is the best option for you.
There are no limits to what you can accomplish with it.
WordPress is the best free blogging platform as one-third of the world uses it. The main reason for its popularity is obvious. WordPress was launched in 2003, and ever since that time, developers knew that it has the potential to grow.
Moreover, this is open-source, and that's the main reason why a lot of companies and individuals prefer it over any other free blogging platform out there.
WordPress.org is a completely free content management system (CMS).
But, you'll have to pay for web hosting and domain name.
When we talk about WordPress, it's limitless. And honestly, the more effort you put into building a website, the better results you would get.
The best thing about WordPress is its flexibility. While there are several free hosting plans out there, you can host it on your server too!
Therefore, as you're using it as a self-hosted blogging platform, you can customize every inch of it. It's also search-engine-friendly and you can easily create SEO tagging and URLs for your blog posts. Pretty amazing, right?
Anything more?
Yes.
With the use of Plugins, you can enhance your site's functionalities too. Let's talk about why most people prefer to use WordPress to build a blog and why WordPress is amongst the best free blog platforms out there.
Top Benefits of WordPress
According to this article by Whoishosting, 35% of the Internet is powered by WordPress. In this section of the post, we are going to talk about why WordPress is so popular, and the benefits you'll get by choosing it.
1. WordPress is Incredibly Easy to Use
While a lot of people disagree on this point, here's the truth:
WordPress is really easy to set up.
However, the learning curve can be a little time taking for some people. But that's true with most blogging platforms out there.
Once you get the hang of it, creating pages, posts, starting a blog, changing and customizing the theme regularly is not a problem. Hence, in this advanced era of technology, humans don't have to work that much.
But if you still want to code and take things to a whole other level, you have complete control over your site. Isn't that great?
What makes WordPress the best is indeed its flexibility.
2. No Coding Experience Required
As I've already mentioned above, WordPress can be used without any relevant experience. Of course, the learning curve can take some time. But, in most cases, anyone with basic computer skills can use WordPress efficiently to create a blog.
However, most people can learn it easily in a matter of days.
And that's why it's best for beginners.
The best thing about WordPress is that it allows all the magic to happen without you having to code. WordPress is a self-contained blogging platform. Therefore, you can easily make changes without coding it yourself.
3. It is Customizable to The Next Level
When we talk about customizability, WordPress takes care of being the most flexible CMS out there. Whether you want to make changes in the design or the way everything is aligned, you won't have to wait for ages for the web developer.
And don't forget that you can enhance it with plugins.
In short, plugins are awesome.
There are thousands of plugins that can be used with your WordPress site. You can find plugins for almost any kind of imaginable functionality.
There are thousands of free WordPress themes as well as premium themes that make it easy to make your site look exactly the way you want.
4. Getting Help is Easy
The best part?
It's easy to get help if you face any issues. Most of the common issues can be easily solved with a Google search. Also, there are literally thousands of freelancers who are specialized in WordPress. Due to high competition, they can't overprice their services.
Frankly, contacting a freelancer for help is a rare scenario.
In my years of experience using WordPress, I never felt the need to pay a freelancer to help me get something done on WordPress.
Want Full Control on Your WordPress Blog?
HostGator gives you a free domain name + web hosting and also lets you create your WordPress blog with a beginner-friendly user interface.

You'll also get a free SSL certificate, 99.9% uptime, and plenty of other great features with complete control over your website.

And, the best part?

You can get started with HostGator at only $2.75 per month for 3 complete years if you use this link to sign up.
Related: Top 8 Reasons to Choose WordPress for Your Blog.
WordPress Cons or Disadvantages
Even the best free blogging platform has its cons. In this section, I'm going to discuss some of the drawbacks that you get from using WordPress.
To be honest, none of these I'm going to discuss are huge problems.
It's easy to find a solution to these issues.
1. The Need for Plugins
Even though WordPress itself is quite powerful and it comes with tons of features, you'll need additional plugins to add new features to your website.
And of course, that's necessary.
Not everyone requires all the features, right?
You may want to add e-commerce features to your blog, sell products and accept payments. But, someone else may only want to write blog posts.
Plugins are great for making several enhancements to your blogging site. It feels awesome to have thousands of free plugins to add to your site for new features.
However, with a lot of plugins, your website can slow down.
If you want to add additional features, you'll have to either download or sometimes buy new plugins. This can promote poor management and sometimes slowing down a website. And, people don't like slow-loading websites.
Hence, you should be extra careful about which plugin you use.
Solution: Always use plugins that you absolutely need and remove the others. Read customer reviews of plugins before getting them installed.
2. Security Risk
As long as WordPress security best practices are followed, WordPress is very safe and secure. But when you install all sorts of plugins and themes, security is at risk.
All the themes and plugins are developed by different developers. Hence, no one can monitor the code that is written in it.
So there is always a security risk that you cannot ignore.
Since WordPress is used by hundreds of millions of websites, in fact, on most websites, hackers always try to find ways to hack into sites with insecure setups.
The good news?
WordPress is open source and there is a specialized team devoted to identifying and fixing any security issues as soon as they are discovered.
But as with any other platform, security risks are always there.
Solution: Use a security plugin, preferably iThemes security, and always keep your themes, plugins, and WordPress version up-to-date.
And, do not use plugins or themes from unauthorized sources.
That should be more than enough.
3. It Requires Frequent Updates
Installing WordPress once will not relieve you of the stress of having to update it on a regular basis. To keep your site safe and secure, you should always update your plugins, themes, and WordPress versions whenever a new update is released.
Although it's not a big issue, some people may find it irritating.
Many hosting services offer automated WordPress updates. Now, it's also possible to update most of the plugins automatically.
I personally prefer to update everything manually. Because the more plugins you use, the greater the chances of getting compatibility issues. Having them manually updated gives me peace of mind of immediately catching any compatibility issues.
How to Get Started with Self-hosted WordPress?
It's quite simple to get started with WordPress and start your own blog. Anyone with a little brain and basic computer skills can do it easily.
Steps to follow to create a WordPress blog:
Buy a web hosting account and domain name.
Connect domain to your hosting.
Install WordPress CMS.
Set up and configure the basic settings.
Write your first blog post.
To learn about everything in detail, you can check out my ultimate guide on how to start a blog here: How to Set Up Your Blog Step by Step?
Who is Self-hosted WordPress for?
Whether you are a complete beginner trying to start a personal blog or an expert who wants to run a six-figure online business, you can use WordPress. And that's why self-hosted WordPress is always recommended as my number 1 choice for beginners.
In short, WordPress is a perfect choice for everyone.
WordPress is completely free to use and compatible with almost every web hosting company. Most significantly, a WordPress-powered blog can evolve and grow with you as your style, branding, and content evolves and grow.
WordPress is literally the best blogging software out there. Most web hosting companies have dedicated hosting plans for WordPress users.
You can use WordPress to build any kind of website, not only blogs.
No matter who you are or how much experience you have, WordPress is undoubtedly the best blogging platform that you can select for your blog.
And, you know what?
The blog you are reading right now is also built on WordPress.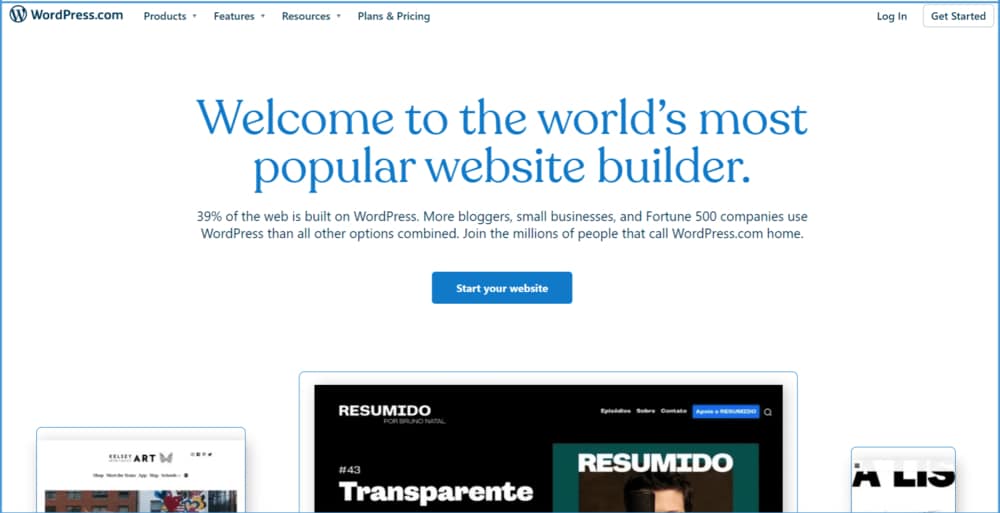 WordPress.com is what people usually confuse with WordPress.org.
If you are a newbie in the blogging world who is just looking to set up your blog, you are likely not to be aware that they are different. WordPress.com is considered to be a hosting service and it is free to be used by anyone across the globe.
However, if you want to enjoy its full features, you might want to upgrade to some of its premium features to use the blogging platform better.
WordPress.com and WordPress.org are the different sides of the same coin. While WordPress.org is a self-hosted site, this one is more of an easy and official way to set up a blog. Even without a domain name, you can quickly get started.
This particular platform is excellent for those that do not want to self-host their websites with some other additional features.
However, there are quite a lot of limitations. For instance, if you want to monetize your free blog, WordPress.com does not encourage that.
WordPress.com has a lot of limitations that set it apart from WordPress.org.
Even when it comes to customization, WordPress.com comes nowhere close to self-hosted WordPress. You won't be able to customize the site the way you want. Unless you upgrade from the free plan, you won't be able to add plugins or themes.
Furthermore, until you upgrade to the business or eCommerce plan, you will be unable to use a lot of other features it offers. Additionally, WordPress.com places advertisements on every free website it hosts, with no benefit to the owner. If you want the ads to stop being displayed, you'll have to upgrade to a premium plan.
So, bloggers who want to write about a hobby or their family may find WordPress.com to be particularly useful. If you just want to start a personal blog with limited features, you have the choice to choose WordPress.com.
How Much Does WordPress.com Cost?
The Personal plan is available for $4 per month. It is free of any advertisements and allows you to connect a domain name to your website.
The Premium plan that costs $8 per month adds a few marketing tools. Custom plugins and premium themes are available for $25 per month with the Business plan. For $45 a month, you can create an online store with the eCommerce plan.
Top Benefits of WordPress.com
This version of WordPress is another great free blogging platform out there. There are some things it does better than any other blogging platform.
1. Free to Use Unlike WordPress.org
Everyone loves "FREE" in this era. Therefore, you get a free plan with a free subdomain and hosting. They also provide up to 3GB of data which is quite good considering that you're paying nothing.
2. You Don't Have to Maintain the Site
As you're using a WordPress-hosted platform, you won't spend hours setting up or maintaining the site. WordPress.com automatically does everything for you.
3. Easy Setup
Setup is a breeze on WordPress.com. You just choose the style of site you want, select your free domain, and you're ready to go.
WordPress.com Cons
WordPress.com takes a huge shot when it comes to customization. Here are some reasons why WordPress.com is not an ideal free blogging platform.
1. No Ad Support in The Free Plan
The free WordPress.com sites have their ads displayed on them. Hence, you won't be making any money off of them.
2. No Custom Domain With the Free Plan
If you're going to keep the free plan, just know that you can't add your domain name. This wasn't the case with WordPress.com. However, you do get a free subdomain from WordPress.com.
3. Very Limited Customization And No Plugin Support
Unlike WordPress.org, you don't have a lot of customization options either.
On the flip side, you get a free subdomain. However, with no plugin support, you can't use it for obvious reasons.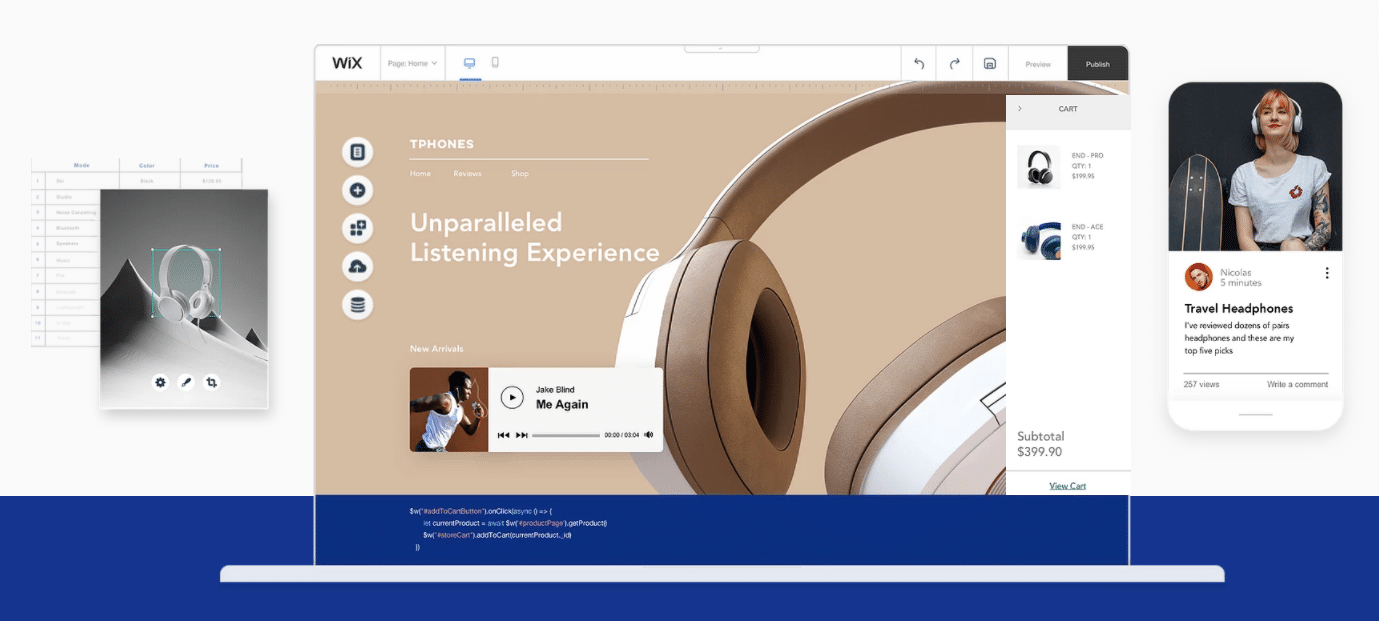 Wix is the easiest free blogging platform to start a blog. The best part about Wix is that it can be easily managed from the front-end.
Everything (and yes, I mean, everything) can be changed with easy-to-use, drag and drop style. You won't have to worry about the back-end.
The Design of Wix is exquisite and modern.
It can be used by any person who's looking to launch a blog. What Wix does better than WordPress is that they have officially added a free plan.
Therefore, if you plan to learn Wix, you can do it officially. You can easily arrange and make changes to the layout. Just pick the template, and that's all.
It has also a huge collection of premium and free themes.
The templates are available for blogging as well.
To create a blog, you can easily make an account and let the Wix AI do the job for you. No need to spend hours developing and setting up the environment.
Sweet. Isn't it?
Are you a non-technical person?
No problem. Wix is one of the best free blogging platforms when it comes to non-technical people. But of course, it's after WordPress.
Wix Pros
Where Wix excels is in its simplicity. You can be the most non-technical person and still learn it within a couple of days. Therefore, let's talk about what makes Wix one of the best free blogging sites to start a blog.
1. Easy and Intuitive Interface
Wix has an awesome interface.
Everything is available right where you need it to be. From the most basic to advanced tools, the user experience, in general, is a breeze. Moreover, you do get basic tips and guidelines for enhancing the normal working of your blog.
2. Phenomenal Security with No Speed Loss
The ecosystem is tight and secured. Right off the bat, you won't have to install different cache plugins to achieve the required speed. Moreover, Wix makes sure that there are no quality and performance compromises as well.
3. Great Customer Support
Going through some problems?
No issues.
All you need to do is to consult customer support. Since Wix is very user-friendly, you don't have to waste hours on the web for a solution.
The best part?
The support desk can be contacted through any medium of your choice.
Wix Cons
Just like any other platform, it also has its disadvantages.
1. Ads in the Startar Pack
Even after you invest the 5$ a month plan, you won't be able to remove Wix ads from your website. Therefore, if you want to have complete control, a special plan is there for you (which is expensive.)
2. SEO Problems
One of the main drawbacks, and why people don't use Wix that much is due to the SEO. While you get the SEO wizard, it limits your goals in many ways.
The best it can provide you is keyword ranking and grouping. Compared to something like Yoast Plugin in WordPress, it's bland.
3. No Unlimited Plans Available
Yes. There are no unlimited plans available.
Even if you get the commercial plan, you are still stuck with limited storage and bandwidth. So you should keep it in mind in case you want to do some storage-intensive tasks on your blog. Quite disappointing, right?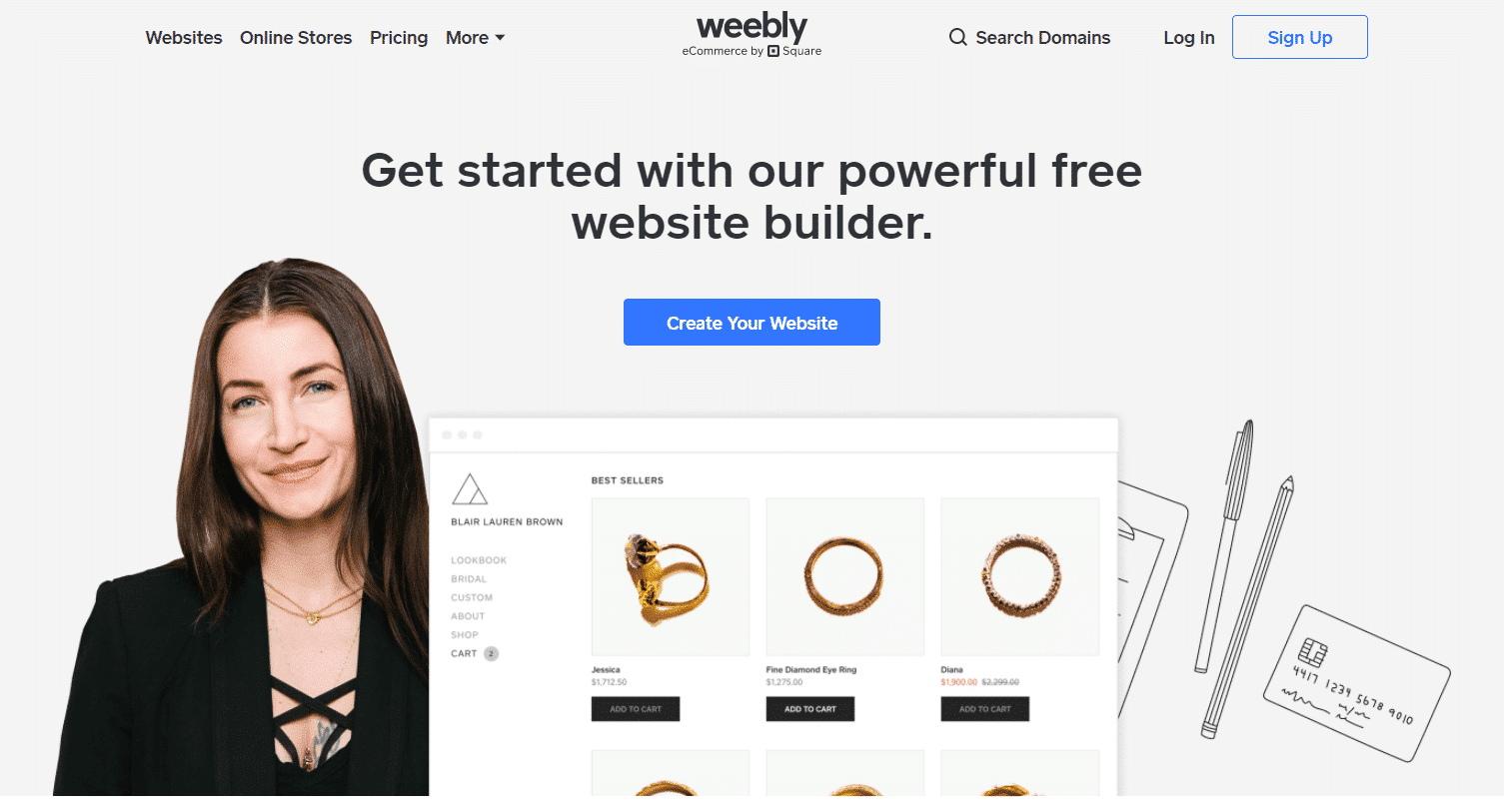 Weebly is amongst free blogging platforms that helps not just in terms of blogging, but it's ideal when it comes to selling products.
Weebly is similar to Wix in many ways. However, there are some things it does better than Wix, and some worse.
Most people use it for either selling or building a portfolio.
As it provides drag and drops functionality, content creation and management are a breeze. Hence, if you want to drop an image on the site, just drag and drop.
When it comes to Weebly, it provides everything from forms, galleries, sidebars, newsletter forms, social media integration, and a lot of other exciting stuff. Weebly also provides powerful analytical tools, and there's custom domain support too.
The best thing about Weebly is that it offers a free plan.
The free plan incorporates 5 custom pages, ads integration, a free Weebly subdomain, and 500MB storage. The free plan is the best for a beginner.
Weebly Pros
What makes Weebly one of the most suitable platforms for a newbie?
That's what you are going to find right now.
Let's talk about the pros.
While the main highlight is that Weebly is great for starting an online store, there are many other reasons to choose this over others.
1. Great Site Speeds
When it comes to speed, Weebly gets a solid A.
The response rate and general speed are enough to give you a great user experience. They allow you to choose the most appropriate server according to your location. Therefore, you should be careful while choosing.
2. Flexible Design
Years ago, Weebly had a lot of themes. It's good to see that as one of the best free blogging platforms, they are keeping their standards high.
You get a plethora of choices when it comes to the themes. Moreover, you can upload your theme to adjust it according to your liking.
3. You Can Transfer Your Site to Another Platform
One of the best things I've liked about Weebly is that they don't make you feel stuck, unlike Wix. In Wix, you can't transfer your site. However, Weebly allows you to move from their platform to any other in the market.
Weebly Cons
While Weebly has its pros, some problems might be a dealbreaker for many.
Hence, let's discuss some of these cons.
1. The Free Plan Only Supports the Weebly Subdomain
If you're serious about making a blog on Weebly, you should know that the free plan only supports the Weebly subdomain.
What is wrong with this, you ask?
It discourages good SEO on your site. And it also hurts the user-experience.
2. Paid Customer Service
Sure, customer service costs money.
However, Weebly takes it to a whole other level.
The support system depends on the plan you're using. You can only access the live chat if you're on the premium plan.
3. Only Basic Blogging Tools Available
When you compare it to WordPress, you have to make some compromises.
WordPress mainly focuses more on content and supports a lot of additional functionalities. There's a reason why WordPress is the best. On the other hand, Weebly's blogging is more of a block system that is often frustrating.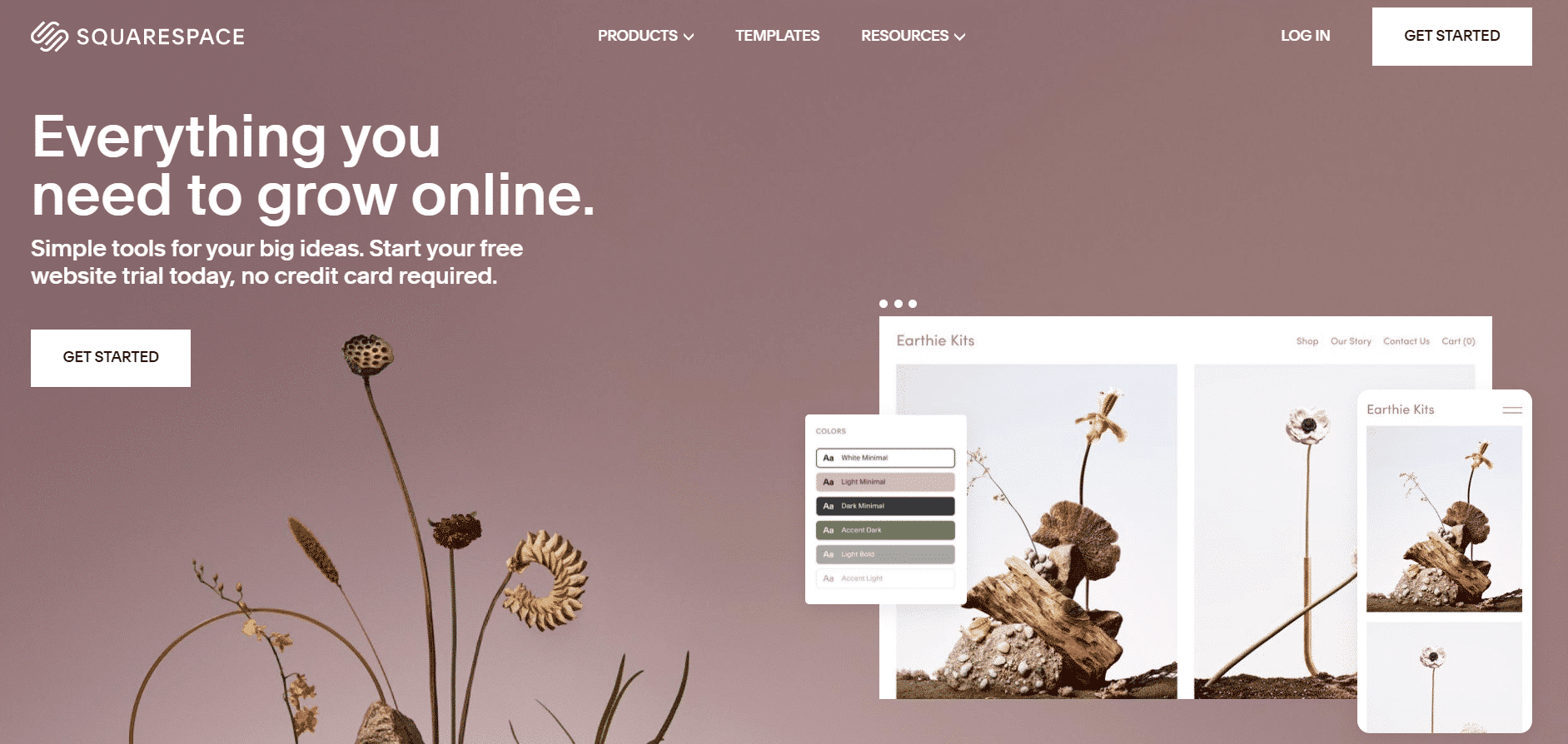 A lot of YouTubers love Squarespace.
Just look at the homepage, it's loaded with some cool stuff.
Amongst every other free blogging platform, this one does a lot of things right. The interface looks clean, beautiful, and visually appealing to look at.
Due to their awesome marketing, they have already gained a lot of users.
Their focus was to create the most visually appealing blogging platform that anyone can use according to their needs. Quite awesome, right?
Even though they don't give a free plan, you can still try the trial to make sure that you set your mind before investing the money. However, unlike Wix or Weebly, there are some plus points to Squarespace.
For instance, they provide unlimited bandwidth and storage on all the plans.
Moreover, their SEO features are stronger compared to both. But that isn't to say that they provide a phenomenal marketing tool.
You're lacking a lot of advanced stuff.
Squarespace Pros
Keeping everything in mind, here's the reason why Squarespace is one of the best free blogging platforms to start a blog.
1. Huge Selection of Templates
You get a lot of templates. Their primary focus is to make you pick from some of the predesigned templates. However, if you want to upload your theme, there's an option for that too.
2. The Backend is Simple And Easy to Use
If you have got prior experience in WordPress, Blogger, or other platforms, then you can easily use Squarespace. The design is user-friendly, and it allows you to get familiar with it easily. Therefore, might be one of the most reliable and free blogging platforms for you.
3. Phenomenal Customer Support
Live chat boxes and 24/7 support through email are given to every user. Their customer support is awesome. It's better than Weebly too.
Squarespace Cons
With great pros come some cons too. Hence, let's talk about what Squarespace does worse than its competitors.
1. It Comes with a Hefty Cost
Being one of the best in business, they come with a heavy price tag. For newbies, there's no 0$ plan included. Moreover, if you're going for the month-to-month pricing, you have to pay 26$ which is quite a lot when compared to WordPress.
2. No Plugin Support
With no plugin support, it is difficult to make the site work your way. Any feature that comes out is by the folks at Squarespace. Therefore, you have a lot less control over the site.
3. Lack of Phone Support
Some issues are better addressed on the phone. However, when it comes to Squarespace, we don't get to see a phone call support. You either have to choose email or live texting as your method of troubleshooting.
Medium is one of the most diverse free blogging platforms today.
Anyone can make an account (it's free,) and anyone can start writing there. Unlike most other blogging platforms, the best thing about Medium is exposure.
You write an article, it will be shown to a larger audience. Moreover, more than 60 million people use Medium to get their information. It's also fairly easy to use. However, Medium is only used to publish articles and not build up a brand.
While the number of users is increasing every day, Medium is only recommended if you want to post a couple of articles.
You want your information to be displayed on the search engines? No need to pay hundreds of dollars into creating a site. You can choose Medium.
Medium Pros
1. It's Free!
Medium is free. As it is not owned by any of the writers, the whole point was to make people start writing without them having to worry about hosting. Therefore, they did it in a rather interesting manner. Being a free blogging platform, you can gain a decent amount of attention.
2. It Has a Huge Reputation
Medium has been in business since 2012. Even since that time, the audience has continued to grow. Hence, Medium's reputation is great, and a lot of people take part in contributing to gain maximum benefits.
3. You Won't Have to Set the Site
If you know SEO, writing good content promotes the ranking of the articles. If there's no site to manage, you can just get started right away. You don't need to spend hours going deep into the platform.
Medium Cons
Medium has some cons that are worth mentioning. Let's talk about them.
1. Medium's Audience is Not Your Audience
No matter what you look at, it's Medium who's getting the benefit from you. That is if you want to only educate people. You won't be able to build a brand using Medium.
2. Competition
Being such a diverse blogging platform, you will encounter a handful of people who will be competing with you. Hence, providing unique content won't help here.
3. You're Not Building Your Website
You're only giving Medium all the benefits. If it's not your website, then the whole point of blogging dies.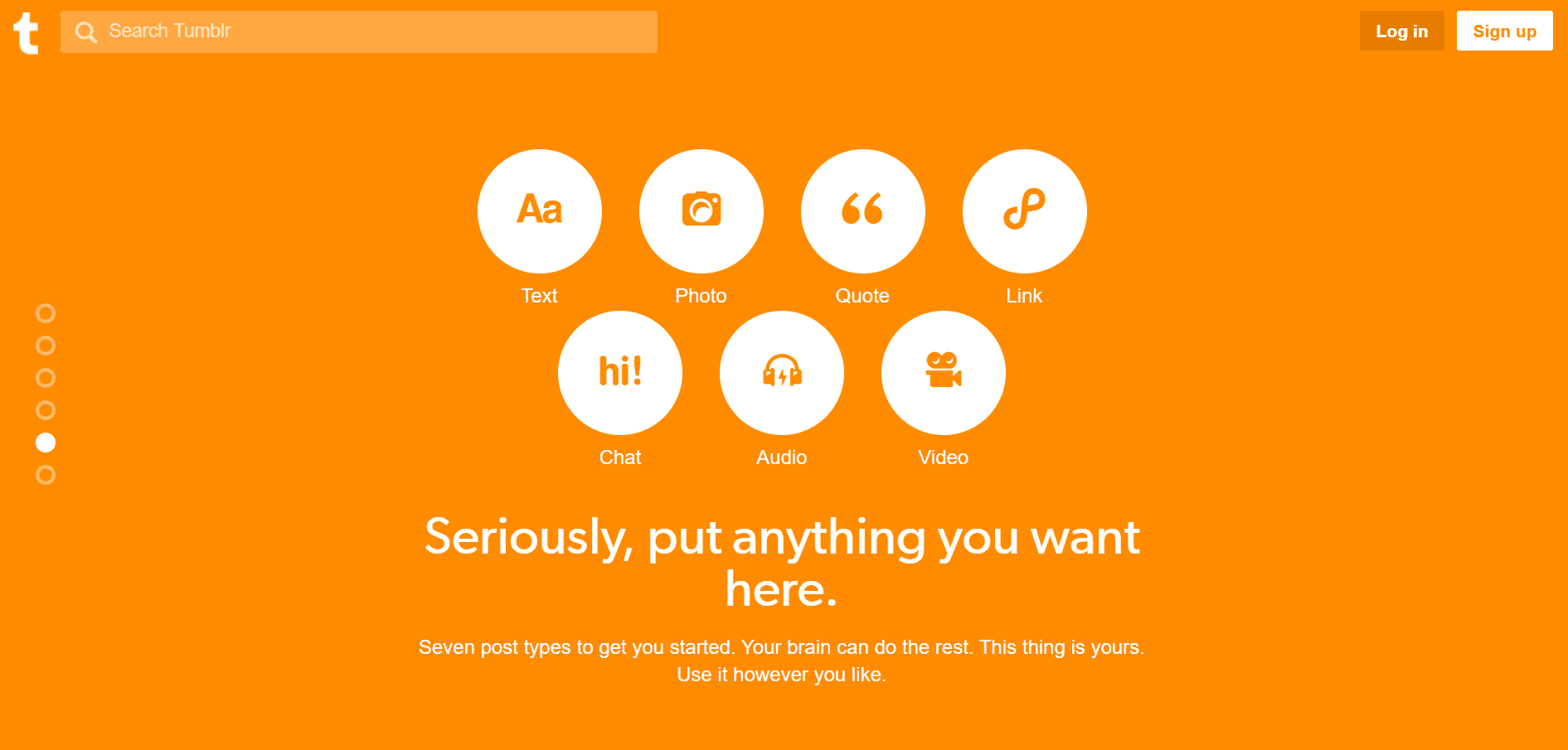 One of the earliest and OG free blogging platforms on our list is Tumblr.
However, it lacks the basic reputation unlike other brands in this day and age. Unlike most other blogging platforms, Tumblr is more towards providing the blogging experience in a social media platform.
It can also be called the mix of both. When we talk about Tumblr's interface, you do get a user-friendly experience. All you need to do is sign up just like any other social media, and you're good to go.
Moreover, like all other blogging platforms, Tumblr provides a diversity of formats for publishing blog posts. So here's the deal. Tumblr is ideal for a standalone blog. If you're using it as a personal blog, it's set. However, for a business-oriented solution, it's not an ideal blogging platform.
Even though Tumblr is not ideal for business solutions, it still lets you integrate ads and affiliate links. Moreover, Google Analytics is also supported so that's pretty impressive.
Tumblr Pros
1. Tumblr is Diverse
Tumblr is a free blogging platform for everyone. It has a lot of topics with a wider range of audiences. Everything from your favorite TV show to something like Artificial Intelligence, if you wish to open a personal blog, Tumblr is great.
2. Multiple Blog Support
When you first sign up on Tumblr, you can only add one blog. However, if you want to open up multiple blogs, Tumblr can offer more than just that. In addition to starting another blog, you don't have to pay anything for hosting.
3. Ads Integration
Who says you can't earn money from Tumblr? Well, we get to see ads support, and you can earn from it as well. In addition to ads, you can also integrate Google Analytics which means you get all those awesome results.
Tumblr Cons
1. Spams and Hate Comments
Just like YouTube, we get to see a lot of hate on Tumblr. A lot of times, whatever you post, you will get hate comments and anyone can see it. These mean comments might encourage a bad user experience.
2. The Mobile App is Bad
I thought that I could include this one as a feature. However, the mobile app is pretty bad. It has a bad user experience, and we occasionally get stuck with the overwhelming stuff that's going on.
One of the oldest and free blogging platforms in the world is Blogger.com. It was very popular back in the day. However, with the appearance of WordPress and other competitors in the market, the worth of Blogger has decreased.
However, if you want to come into the world of blogging, Blogger can be an ideal choice. It has one of the simplest and traditional styles of blogging that a lot of people love. You don't have to spend hours setting it up either.
Blogger's interface might be a bit outdated, but you can surely add custom themes or buy them to integrate into your blog.
Blogger Pros
Blogger is free! However, it offers a lot on the plate for us. Here are some of the advantages that you get by choosing this blogging platform.
1. Starting a Blog is a Breeze
Blogger is probably the simplest free blogging platform on our list. If you want to just experience how blogging works, you can choose Blogger and not worry about anything.
2. The Exposure is Phenomenal
I know a lot of people who are using Bloggers even in 2020 to earn a huge sum amount. It is great if you want to create an educational blog. However, if it's a business website blog, you might want to consider other options on the list.
3. It's FREE.
You get a free .blogspot.com subdomain that can be used to kickstart your blog. Moreover, being a free blogging platform, you don't have to invest money to start.
Blogger Cons
Even though it is made by a big company like Google, Blogger has a lot of bad aspects too.
1. No Customer Support
As with all the Google services, we don't get to see dedicated customer support. However, we have a forum where a lot of people discuss stuff.
2. Blogger is a Bit Outdated
When we compare Blogger to other competitors in the market, you have a lot to lose. From no drag and drop support to plugins, you can't expect much functionality from it.
First of all, Gator is not free.
Before you shout that you are looking for only free platforms, let me inform you that Gator costs less than $5/month to get started.
Why did I include it in my list?
Simple.
I want you to be aware of this amazing platform. Almost anyone can afford it. It doesn't only help you build amazing websites or blogs, it offers a lot more.
Here's what you mainly get with Gator:
Intelligent site builder
Free domain
Free SSL certificate
3 email campaigns per month
Online store
If there's one thing HostGator is popular for, it's affordability.
It is one of the world-famous hosting platforms out there. However, when it comes to blogging, they have something interesting on the table for us.
Gator focuses on a simple website builder for people who are looking to start a blog without any complexity. It offers an exquisite drag-and-drop editor with a ton of templates. All you need is a vision, Gator will fulfill that.
Moreover, it has a plethora of features for a new blogger. You can set up personal sites like blogs, portfolios, and even a basic site if you want to.
Gator Pros
There is a lot to talk about Gator. Hence, let's talk about the advantages that make it one of the best free blogging platforms to start a blog.
1. Awesome Social Media Integration
If you're trying to take maximum benefits of social media, then this might be your cup of tea. Gator has awesome social media integration. It lets you share your post in the simplest way possible.
2. Cheap and Reliable
When it comes to reliability, Gator is awesome! It has a great reputation, and a lot of people use it for basic blogging purposes. However, you can't expect a lot of customization when it comes to the actual site.
3. Easy to use
On our list, Gator is one of the easiest free blogging platforms to use. It features a simple design with basic features to kickstart a blog.
Gator Cons
Moving on to the cons, there are some issues worth mentioning when it comes to Gator.
1. Help Center Limitations
Like a lot of other blogging platforms, the customer support here is weak.
2. Basic Site Builder
If you want to make a bigger site with loads of features, you should probably go with WordPress rather than Gator. WordPress is better, stronger, and full of features that are ideal for building a full-fledged site. However, Gator is for basic site purposes.
3. Email Marketing Not Supported
If you want to start a blog, Email marketing is one of the most important ways of gaining customers. However, with Gator, you don't get this kind of luxury.
My Final Words
Are you now ready to start your blogging journey?
At this point, you should have an idea of which is the most suitable blogging platform for you to start your blogging business online.
So which one did you like the most?
If you ask me which platform I use for my blog, here's my answer.
WordPress – Self Hosted
WordPress is undoubtedly the best blogging platform out there. It provides the best foundation for blogging. In fact, it's best for any kind of website.
By the way, every platform has its benefits.
If you've used any of the above-mentioned sites in the past, I would love to know your experience. Do let me know in the comments below.
And, I'll try to add my experiences to the list too.
So did you like what you just read?
If so please share this article. It doesn't only help more people find this post, it also motivates me to produce more useful content for my readers.