If you're looking to create and sell online courses, you need to choose the right platform. With plenty of options available, it can be quite hard to know where to start your journey. Don't worry! I've done the research for you. In this post, I will share my top 7 picks for the best online course platforms.
How people learn these days has evolved a lot.
In the past, people would go to college, sit in a classroom, and listen to a lecture. Then they would read textbooks to learn anything.
Yes, people still do these things.
But there are many other options now to learn what you want.
Nowadays, people can learn online. You can read blogs, watch videos, take online courses, or even listen to podcasts. You can take courses from the comfort of your home and learn at their own pace.
This is made possible by online course platforms.
As the demand for online courses grows, so does the number of online course platforms. If you are an expert at something and want to share your knowledge, you can create an online course.
Apart from helping others learn from your knowledge, you can also make money by selling courses on the internet.
Creating and selling an online course can be very profitable.
The best part?
You don't need to be a tech genius to create and sell courses online. There are platforms that allow you to create and sell courses with ease. You don't need to worry about the technical stuff. All you need to do is to focus on how to create great content for your course and help others.
In this guide, I will share the 7 best online course platforms. So, without further delay, let's get started with the first option…
Udemy is one of the largest online course platforms. Anyone can create and sell courses on Udemy. It's very popular among online course creators. Because it's easy to use and has a pretty large audience. With thousands of instructors and millions of students, Udemy is a great place to sell your courses.
Creating a course on Udemy is very simple and straightforward.
You don't need any technical skills to create a course for Udemy. Just record your video lectures, add slides, and you're good to go.
Udemy also takes care of all the marketing and promotions for you. When you create a course on Udemy, it is automatically promoted to their huge audience. They also run regular promotions and deals.
As a result, you can get more sales and more income online.
To create a course on Udemy, you first need to sign up as an instructor. Once your application is accepted, you'll see a set of simple instructions for building your first course. Remember to include minimum five lectures and at least 30 minutes of video in your course content planning. Quizzes, assignments, various challenges, and discussions are all welcome additions.
Udemy Pricing
Udemy is free if you sell your course using their platform. If you use instructor coupons, they take a 3% revenue share fee. For all other course sales, the fee is 63%. There are processing costs from PayPal or Payoneer too.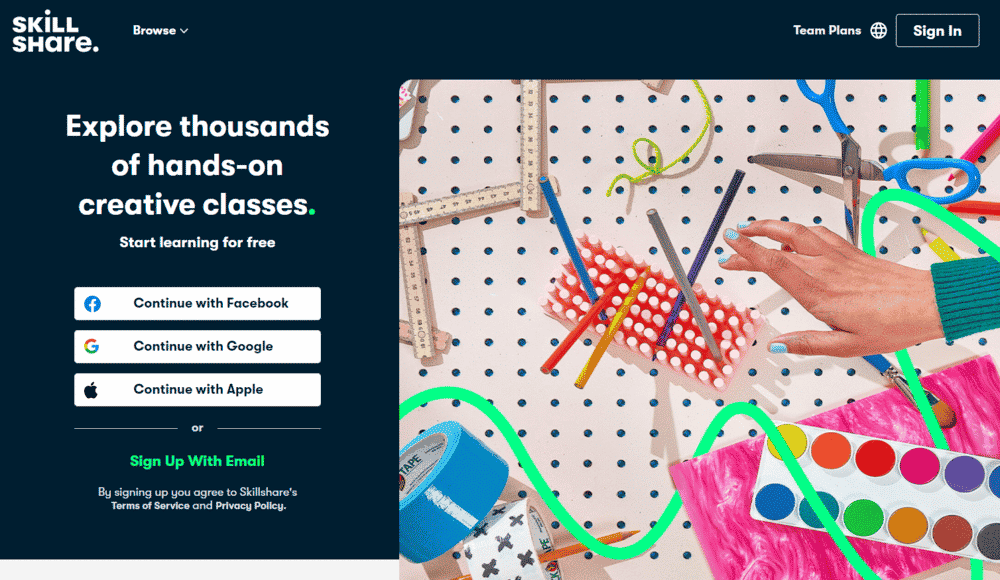 Skillshare is an online learning community for creators. It's a great platform for selling courses because it's very creative and has a lot of flexibility. You can sell courses on pretty much any topic, and there are no upfront costs.
Skillshare also provides great resources for creators, including templates, audio and video editing tools, and a community of other creators to connect with.
Michael Karnjanaprakorn and Malcolm Ong, two seasoned professionals of the digital industry, created Skillshare in New York in 2010. It is one of the most well-known online learning platforms and focuses on classes for creative professionals and entrepreneurs. It has more than 40,000+ courses (or as they say, classes) and 8 million members.
If you are an expert at something and would like to share your knowledge in a creative way, Skillshare could be the perfect platform for you.
Also, you don't need to be a professional instructor or have any teaching experience to create a class on Skillshare. Anyone can be an instructor on Skillshare as long as they have what it takes to create a great course.
Skillshare Pricing
Skillshare offers a Premium Membership, which gives you access to all the courses on the platform. The Premium membership costs $168 per year (billed annually) or $13.99 per month on average. You can also sign up for a monthly Skillshare Premium package, which costs $32 per month.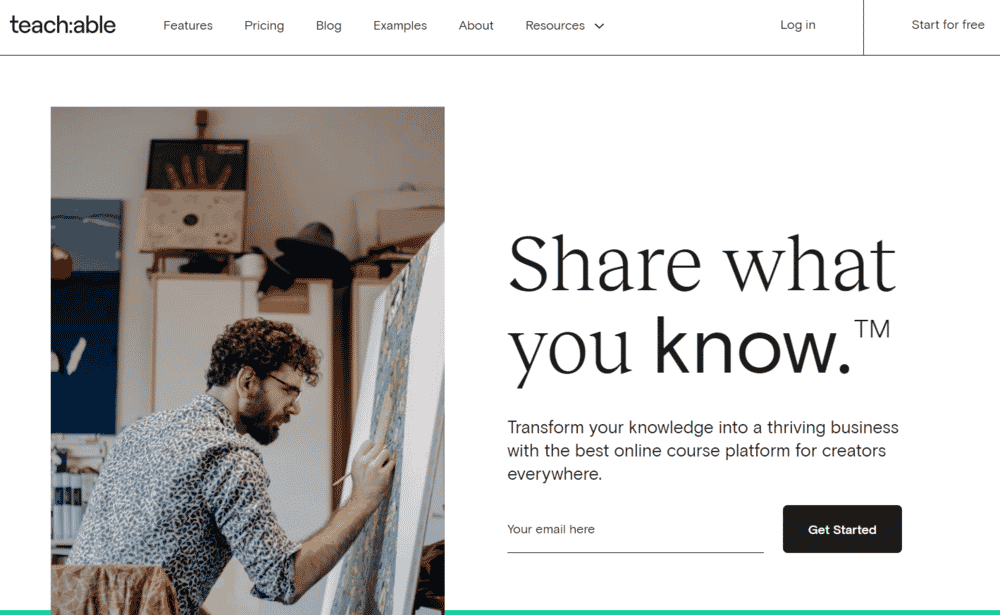 Teachable is one of the most popular online course platforms, and for good reason. It's easy to use while still being feature-rich, and it's affordable. Teachable has everything you need to create, market, and sell your courses. You can create an unlimited number of courses and sell them.
Teachable has built-in course creation tools that make it easy to upload your course content, create lectures and quizzes, and more.
Additionally, you can use their drag-and-drop interface to create beautiful course landing pages easily. And, their built-in marketing tools will help you promote your courses and drive sales.
Plus, their payment processing is seamless and they offer a number of ways for you to get paid (including PayPal and teachable payments).
Overall, Teachable is an excellent choice if you're looking for an easy-to-use platform that has everything you need to create and sell your courses.
Teachable Pricing
Teachable has a Free Plan, Basic Plan ($29/month), Pro Plan ($99/month), and Business Plan ($249/month). You can also pay annually for a discount. The best value is the Business Plan, which gives you everything you need to succeed with online courses and there's 0% transaction fees on sales.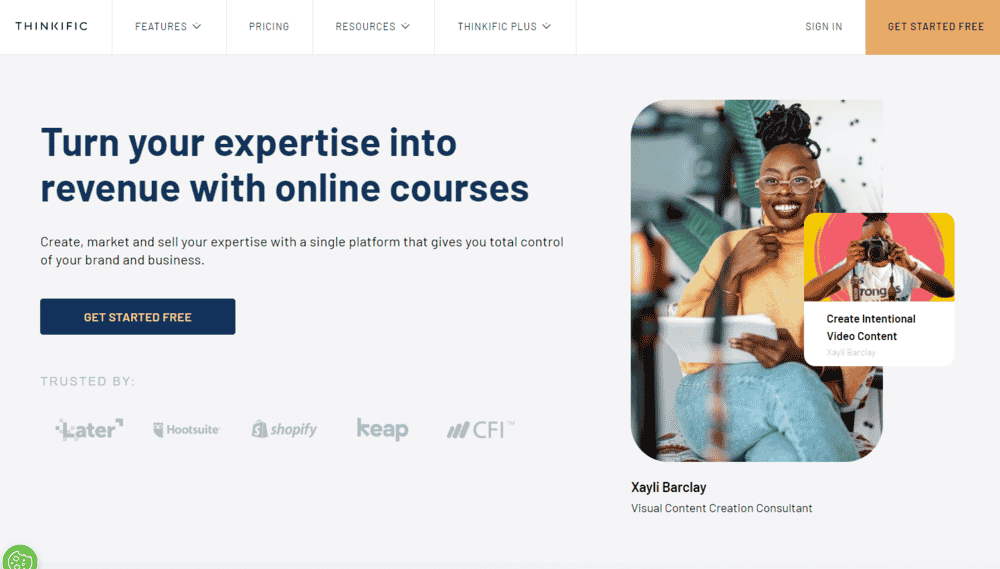 Thinkific is another popular online course platform that's easy to use and packed with features. With Thinkific, you can create and sell courses, deliver your content in multiple formats (including text, audio, video, and PDF). It's one of the best course building platforms out there.
The platform offers a number of ways to generate revenue, including one-time payments, subscription plans, and course bundles. And if you want to give your courses away for free, Thinkific makes that easy, too.
With plenty of customization options, you can make your courses look and feel like they're a part of your brand. You can also add quizzes, surveys, and other interactive elements to your courses to keep students engaged. Need any help along the way? Thinkific has excellent customer support.
In case, you need to edit HTML or CSS, you will not be disappointed. The customization features are straightforward for non-technical users, which is great. No matter what your needs are, Thinkific can probably accommodate them. You should definitely give it a shot.
The company was established in 2012 and more than 100 people work for Thinkific. It's used by over 36,000 course creators and powers millions of students around the world. So, it's a great option if you're looking for an online course creation platform that can scale with your business.
Thinkific Pricing
Starting at $49/month for the Basic plan, which allows you to sell an unlimited number of courses and includes most of the features you'll need. The Pro plan, which starts at $99/month, adds a few more features, such as multiple admin account, private or hidden courses, and priority support. There's also a Premier plan for advanced customers, which is priced $499/month. You'll get a 20% off when you are billed annually.
LearnDash is a popular WordPress LMS plugin that helps anyone create, manage, and sell courses online. This WordPress plugin is suitable for both single course creators or large institutions, with plenty of features to help you deliver an engaging and effective learning experience online.
You can create an unlimited number of courses and lessons, quizzes and assignments, as well as manage student progress and course access with ease. With powerful features like drag and drop course builder, course certificate builder, third party integrations, free add-ons and more, you can also collect one-time or recurring payments for courses.
Whether you're looking to create an online course to sell or just want to deliver some training, LearnDash is a great option to consider.
You simply install the LearnDash plugin on your WordPress site and then add your courses, lessons, and quizzes through the easy-to-use interface. Students can then register for your courses and start learning right away.
What's great about LearnDash is that it offers plenty of features and options to help you create a truly unique and effective learning experience. For example, you can control when students have access to specific course content with the content dripping feature.
And if you want to create a more hands-on learning experience, you can even assign homework and manage student progress with ease.
Overall, LearnDash is a great option for anyone looking to create and sell courses online. It's easy to use and comes with plenty of powerful features to help you deliver a great learning experience.
LearnDash Pricing
LearnDash WordPress plugin costs is priced at only $119 per year for a single site license. It costs $239.4 per year for a 10 site licenses, $749.4 per year for unlimited licenses. The discounted price is only for the first term. The renewal price will be the regular purchase price.
You can also use LearnDash cloud, which starts at $29 per month for a full website ready with LearnDash templates and tools.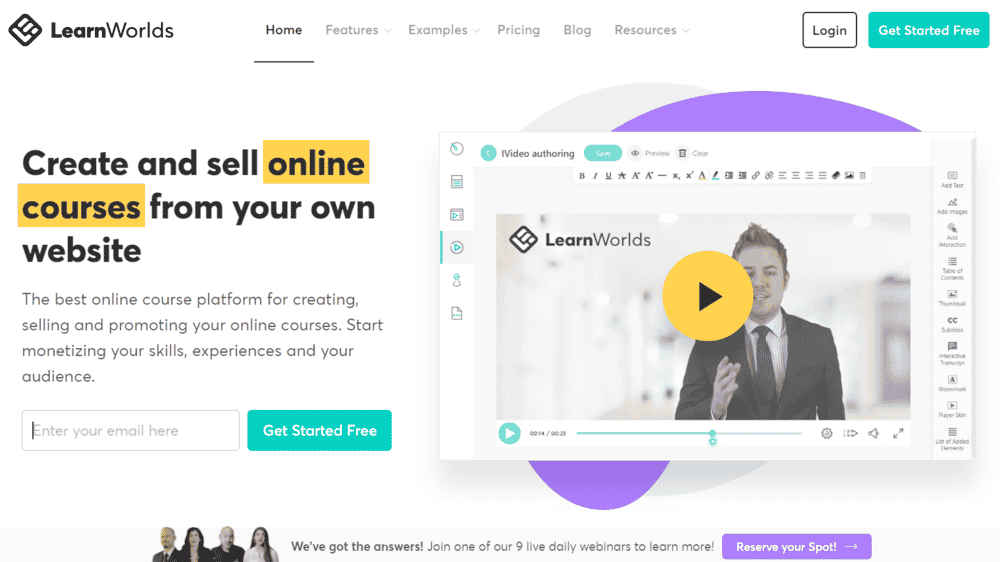 If you're looking for an easy-to-use yet feature-rich platform, LearnWorlds might be the one for you. It comes with all the necessary features to create and sell courses online. Building an online school, creating and selling courses, and branding your website are all made easier with LearnWorlds.
One of the best part about this platform is its focus on user experience. Everything has been designed to be as user-friendly as possible, from the course creation process to the sales and marketing tools.
LearnWorlds also offers a great variety of features to choose from. You can create courses with video, audio, text, and PDF content.
Also, you'll fall in love with their customer service.
The support team is always willing to help, whether you need assistance with something technical or just have a question. The way they handle customer service is impressive. They actually visit your school to get better understanding of how you're using their product and take screenshots to show you exactly how to complete anything you've requested.
Overall, LearnWorlds is an great course creation platform if you want to create and sell online courses. It's easy to set up and offers a wide range of features and customization options. Also, the customer service is outstanding.
LearnWorlds Pricing
LearnWorlds offers a 30-day free trial. After that, plans start at $24/month (billed annually) for the Starter plan, which includes all basic features. The Pro trainer plan costs $79/month (billed annually) and includes unlimited courses. The learning center plan starts at $249/month (billed annually) and it offers everthing you need to build a fully-fledged online school business.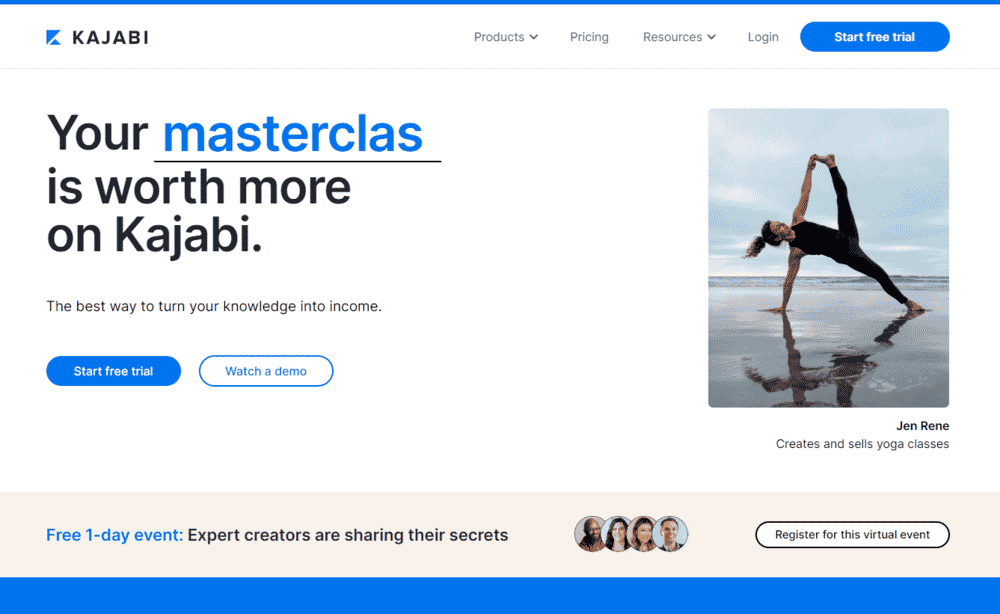 Kajabi is another one-stop-shop for creating and selling courses online. With this platform, you can create customised courses without having to use any additional tools. Website creation is also a breeze with Kajabi.
The company started its journey in 2010 with just two people on board – Kenny Rueter and Travis Rosser. Today, Kajabi has a team of over 60 people supporting its 25,000 course creators.
If you're looking for an online course platform that will help you sell courses without any hassle, Kajabi could be the right choice for you.
Even if you are afraid of technical challenges, Kajabi could work for you as it is known for its ease of use. Reviewers say that the platform is incredibly simple to use and does not need any technical expertise to set up.
Kajabi also offers a wide range of features, including membership sites, landing pages, email marketing, and course analytics. You can also use the platform to create digital products other than courses, such as ebooks. You can also create a video or audio series for your ebooks.
Kajabi Pricing
The cheapest plan starts at $149 per month for 3 products, 3 funnels and unlimited marketing emails and landing pages with 10000 contacts. There is also a growth plan that costs $199 per month which allows you to have 15 products, 15 funnels and 25000 contacts. The most expensive one costs $399 per month for 100 products and funnels.
Final Words about Course Platforms
There you have it – the 7 best online course platforms.
You can now create and sell your courses with ease, using any of the platforms listed above. If you're just starting out, I recommend that you try out one of the platforms that offer a free trial. It'll give you a chance to explore the features and see if the platform is a good fit for you.
I personally recommend using Udemy or Teachable, as they are both easy to use and offer a wide range of features. With both of the platforms, you can create professional-looking courses without any hassle.