If you are interested to create a WordPress blog from scratch but don't know how to do it, this easy-to-follow step-by-step tutorial will help you get started right away. Honestly speaking, it can't be any easier than this.
So, you want to set up a WordPress blog, right?
Before you start you should know that setting up a blog primarily requires a web hosting provider and a domain. A domain name is what you type in your browser to visit a site and a web host is your website's home.
I understand as a beginner, you may be scared, just like everyone else. You are afraid of making mistakes and getting things messed up.
Of course, there are tons of online tutorials that can help you get your blog up and running in no time, it's still easy to get confused.
No, it's NOT your mistake.
We are all the same. So, don't be worried.
The first step is always the hardest even though it's the easiest for others. I have been there and I remember the first time, I created a blog.
That experience was memorable.
All I wanted on that day was someone to tell me the exact step by step process without explaining all those extra knowledge that I probably needed. Similarly, you screamed "I don't need all these knowledge, just tell me how to do it". And, you know what? I listened and did something crazy?
I have broken down the entire process of creating a blog into 97 smallest steps and then divided them into 7 small steps to help beginners get started with a WordPress site in the easiest possible way.
The result is incredible.
| Total Cost | Time Required |
| --- | --- |
| $50 to $100 per year | Less than 30 minutes |
So, do you know how to move a mouse? That's enough to create a blog now with this free WordPress tutorial. Yes, you can do it!
Excited? So, let's get started…
---
Quick note: This tutorial focuses on Namecheap for domain and HostGator for hosting, which I personally use and recommend. Well, you can use any domain registrar or hosting provider to set up a WordPress site.
---
Let's begin your journey…
Step 1: Select a Blog Name
Start by brainstorming ideas for a good blog name
Consider different words that define your blog
Consider what you'll be blogging about
Think how you want your blog to be called
Now select a name that's short, catchy, and easy to remember
Once you have a good domain name in mind, it's time to register it.
Step 2: Register Your Domain Name
Choose a domain that you want to register.
Click on Add to Cart beside your preferred domain.
Follow the on-screen instructions.
Confirm your order.
Namecheap will now ask you to sign up for an account.
Once you sign up, you can pay for the domain.
After payment is confirmed, the domain will be yours.
Now, log into the Namecheap account you just created.
You can now manage your domain from the Namecheap dashboard.
As you purchase the domain, you need to buy web hosting. A web hosting company is what makes your blog accessible through the internet.
Don't worry! It's easy and simple.
Step 3: Buy Web Hosting
First, visit HostGator, my number 1 choice for beginner-friendly hosting.
On the homepage, click on Get Started.
On the next page, you can select your preferred plan.
Choose the cheapest Hatchling plan that allows you to host 1 domain.
Click Buy Now!
On the next page, enter your desired domain name in the given field.
Please note if you buy annual plans, you'll get a free domain.
The longer you sign up, the better will be your discounts. Not only HostGator, it's the same for almost all popular web hosting services.
| | | |
| --- | --- | --- |
| Billing Cycle | Pricing Per Month | Discounts |
| 1 Month | $10.95 | NA |
| 3 Months | $10.95 | NA |
| 6 Months | $10.95 | NA |
| 12 Months | $3.95 | 55.87% OFF |
| 24 Months | $3.45 | 56.60% OFF |
| 36 Months | $2.75 | 60.50% OFF |
Next, choose your desired plan and select your preferred billing cycle.
I personally suggest you to go for 36-month plan for the highest discounts.
Start by entering your email address and password
Choose a security pin. It's used to authenticate you when you contact the support team. Without this, you can't get support if you need it.
Enter your billing information.
HostGator by default adds some additional services that you wouldn't need as a beginner. And also, there are many free alternatives available.
Remove the extra services added by HostGator by default.
Now, enter the coupon code DIGITALMILLIONS
And click Validate to validate the coupon code.
Review your order details.
Accept the terms of service and other policies.
Make your payment and complete the checkout process.
Congratulations!
You have now successfully purchased web hosting for your blog.
Step 4: Point Your Domain to Your Web Host
Log into your email address
Find the email sent by HostGator with your nameserver details.
It might take up to 15 minutes. So, patience is the key here.
Open the email you received from HostGator.
Note down the nameserver details.
Now, log into your Namecheap account.
Select Domain List from the left-hand side bar.
Click the Manage button to the right side of your domain.
Next, scroll down to reach the nameserver section.
Namecheap BasicDNS will be selected by default. Choose Custom DNS.
Enter your nameserver details as you noted from HostGator's email.
The nameserver details look something like this.
Click the checkmark in the edited section to save your changes.
Now wait for 24-48 hours for your domain to connect to your hosting.
---
NOTE: Once you have made changes to your nameservers (DNS) at the registrar (Namecheap), there will be 24-48 hours of DNS propagation time during which your website and email may not be available.
---
Step 5: Install WordPress
Now, visit HostGator.
Click Sign in.
Choose Customer portal.
Enter your email address and password.
Once you log in, you reach your customer portal dashboard.
Click Launch cPanel.
cPanel is also called a control panel. A control panel is what you will use to simplify website and server management. cPanel will enable you to manage and control almost every aspect of your web hosting account.
Almost every reputed web hosting providers offer cPanel.
HostGator is no different.
The dashboard of your HostGator cPanel will look something like the image below. The look and feel may sometimes look different. However, the basic functionalities will always remain the same.
Hit the search bar on the top.
Type QuickInstall.
Click on the search result to visit the QuickInstall page.
On the QuickInstall dashboard, click WordPress on the top left corner.
Now click the big gray button that says Install WordPress.
Next, you need to fill up the WordPress Installation form.
Choose the domain where you want to install WordPress.
Enter administration email, username, blog title and your name.
Next, hit the green button Install WordPress.
Wait for the installation to be completed.
When the installation is complete, you'll get the following message.
Click on View Credentials.
Note down your username and password.
These credentials will also be sent to the email address that you provided while installing WordPress on your domain name.
Step 6: Log into WordPress Dashboard
Copy the Admin area URL and visit it in your browser.
You'll find the WordPress login page.
Please note that if the domain propagation time is not over, you may not be able to reach your WordPress login page. Because your domain is not yet connected to your hosting account.
But, there's nothing to be concerned about.
Just give it some time.
So, after visiting your WordPress admin login URL, if you can't see the login page, your job is to wait for at least 24 to 48 hours.
Additionally, you can check if you put the correct nameserver details in your Namecheap account. If the details are wrong, you'll never be able to reach the login page. Well, that's a rare case, right?
There are several ways to access your WordPress admin.
The most popular way to access your WordPress admin area is by adding /login/ or /admin/ to the end of your site URL.
For example:
yoursite.com/login/
yoursite.com/admin/
The WordPress admin login page looks like this.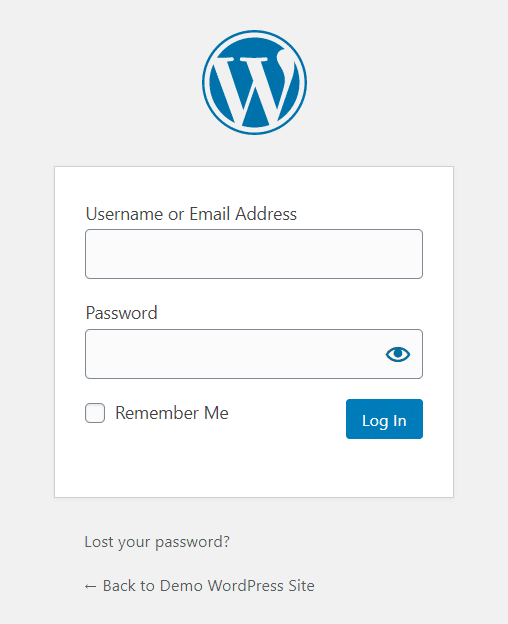 Enter your username and password.
Hit Log in.
Now, you are on your WordPress dashboard that looks like this: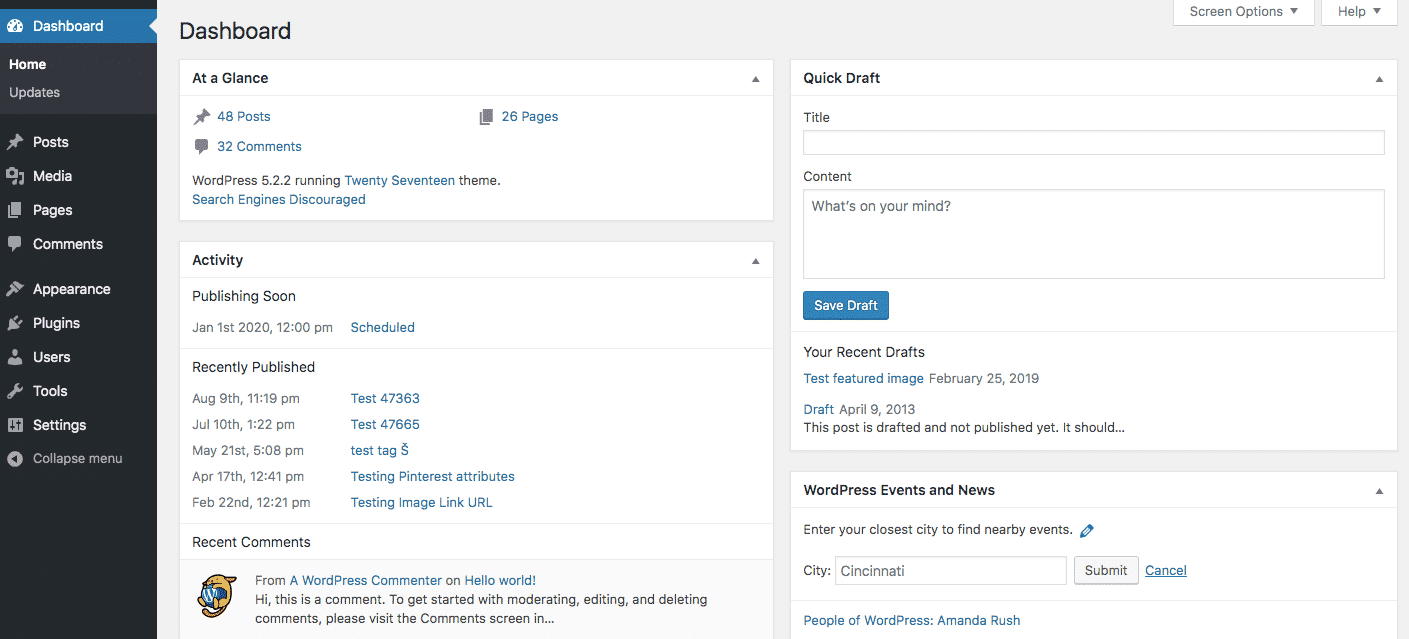 Congratulations!
Now you have successfully installed WordPress. And, you can now control every aspect of your blog from this WordPress dashboard.
---
Related: How to Install WordPress on HostGator?
---
Step 7: Configure WordPress
Here are some of the things you should do after installing WordPress.
Click on Settings and then Permalinks.
Uncheck Plain and select Post name as your permalink structure.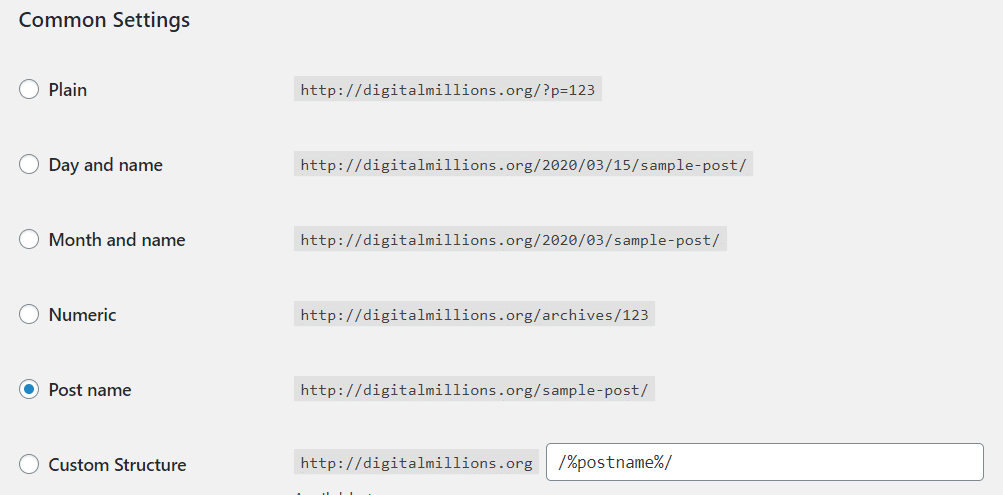 Click Save Changes to save your changes
Configuring the right permalink structure is critical. It gives your blog post URLs a beautiful look, rather than the ugly default permalink structure.
It's also very useful for SEO.
The reason, you should do it now is that it can be pretty challenging to change it later when you have hundreds of blog posts already on your site.
The right time to set up your permalink is when you did not write a post.
Now, go to Settings > Reading.
Make sure the checkbox that discourages search engines to crawl your blog, index your blog posts and make them visible online is unchecked.
Now you should give your website a stunning look.
Now click here to visit Creative Themes.
From the homepage, you can download a free, yet very powerful theme Blocksy.
So, click on free download and get the zip file downloaded.
Next, go to Appearance > Themes.
Click Add New on the top left corner.
Then, click the Upload theme button. (top-left side)
Browse the downloaded file from your computer and hit Install Now.
When installed, click Activate.
Congratulations!
You've now successfully activated a theme on your website.
The Blocksy is theme is so powerful that you can change almost every aspect of your website and make it look exactly the way you want it.
And, all of these can be done for free.
There is a pro version for additional advanced features. But, as a beginner, you probably wouldn't need all those extra features.
Just install and activate the theme.
And, you'll be well on your way to start blogging.
Next, you should set up a backup for your blog to make sure your work is not wasted. You should always have a fallback plan in case disasters happen.
To set up backup for your blog, you need a free plugin called UpdraftPlus.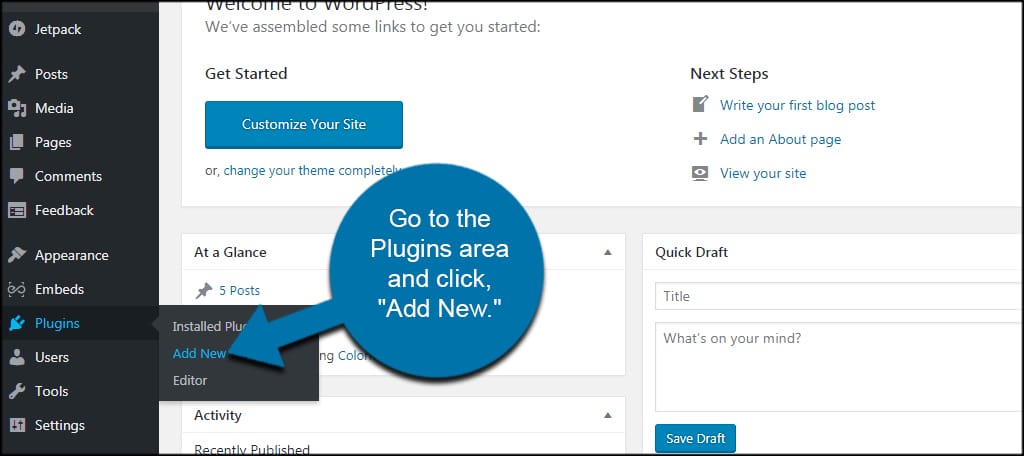 On the next page, search with the keyword UpdraftPlus.
From the search results, click Install Now.
Hit Activate to activate the plugin.

In my case, the plugin is already active on my site. In your case, you'll see an Install Now button. Click on that to install and then, hit activate.
Visit the UpdraftPlus settings page.
Set up a remote storage location, such as Google Drive, Dropbox or Amazon S3.
Select how many times you want the backup to take place.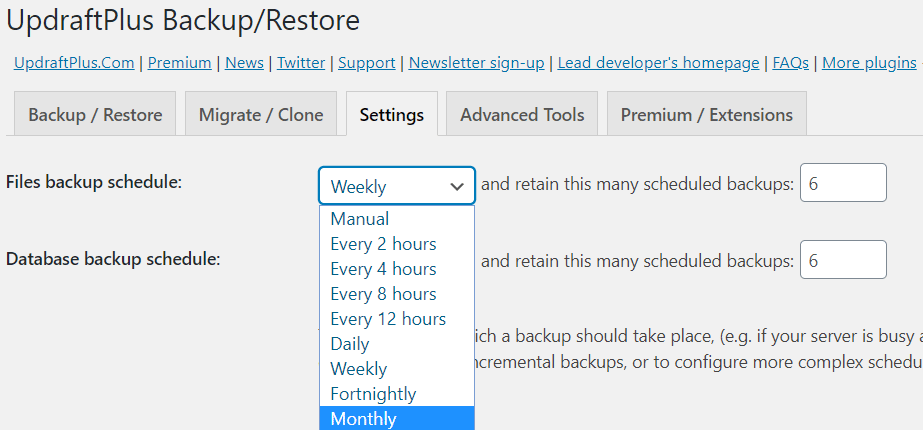 When it comes to backups, no matter how many backups we keep, we are never satisfied. I personally like to save a backup for 30 days. You can have more. It's mostly about what you are comfortable with and how much storage space you can use for your blog's backup.
---
Useful: 11 Best WordPress Backup Plugins
---
If you make a serious mistake and screw up your website, having a backup allows you to go back in time and restore it to how it was on a previous date.
Pretty cool, right?
Now, you should download a security plugin.
In the same way, described above, install the iThemes security.
Hit activate to activate the plugin.
When activated, go to the settings page of iThemes security.
Click Secure Site.
Just by doing this, all the security best practices will be automatically applied to your blog. As a result, your blog will be more secure.
The best thing?
You can do all these without paying a dime. Pretty cool, right?
Of course, you can configure other settings.
But in most cases, you don't need that.
The basic settings are more than enough for beginners and by activating these settings you are way ahead of others who don't do it.
Finally, you are now ready to write your first blog post.
You've now reached the Gutenberg Editor in WordPress. In the top row, type the title of your post, and then start writing in the lower box.
Now it's easier than ever before to write a blog post using Gutenberg. Even if you are a complete beginner, it shouldn't take long to get familiar with the editor. Below are some of the most common blocks.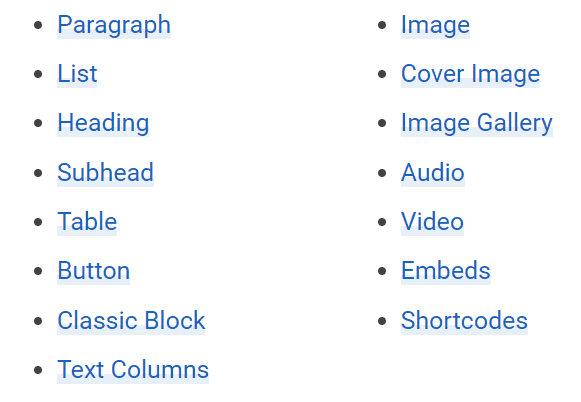 Just click on the plus icon on the top left corner, search for the block you need, and use it in your blog post. It can't be easier than this.
Now, get ready and write your first blog post.
Once finished, hit the publish button.
So, that's how you create a WordPress blog from scratch.
Final Thoughts
Finally we've come to an end.
So what should be my final words?
DO IT NOW.
Take action today.
All that's left now is to be proactive and get your WordPress blog set up within the next hour and of course, start blogging.
I've shared pretty much everything you need to successfully start a blog.
And please share this tutorial if you've found it helpful.
It helps people who might need this information and also gives meaning to the countless hours I've spent to create this tutorial for you.
You May Also Like…