If you work with numerous PDF files, you know how difficult it is to combine them into one PDF document. You will have to open each file, copy the text, and paste it into the new document manually. Then, you can merge them into one. It's definitely a very time-consuming task.
Obviously, you do not want to be swamped by several unclassified PDFs. Is there any ultimate solution for this overwhelming issue?
Don't worry! There is a great solution.
Rather than copying content from several PDFs into a word document and producing a new PDF file, an online PDF merger tool can help you combine them into a single PDF file easily and effectively.
On the contrary, if you do not leverage a trustworthy merge PDF online tool, combining many PDF files together might be difficult.
Hundreds of PDF combiners are available on the internet. But how can you know which PDF merging tool is the best?
Don't worry!
I have done the hard work of doing the research. The following are some of the most popular PDF merger tools and software.
So, without further delay, let's get started!
---
---
1. pdfFiller – Most Recommended
pdfFiller is a powerful online document management system that makes it easier to edit, convert, and store PDFs. With pdfFiller's online editor, you can type and delete text anywhere on a PDF, add sticky notes, watermarks, and logos, highlight, blackout, draw shapes, and much more. Plus, it offers a 30-day free trial.
With pdfFiller's PDF merger, you can easily merge documents in just a few clicks. Their cloud-based platform offers an intuitive and secure document management system that makes it easy to upload, edit, manage, and share files online.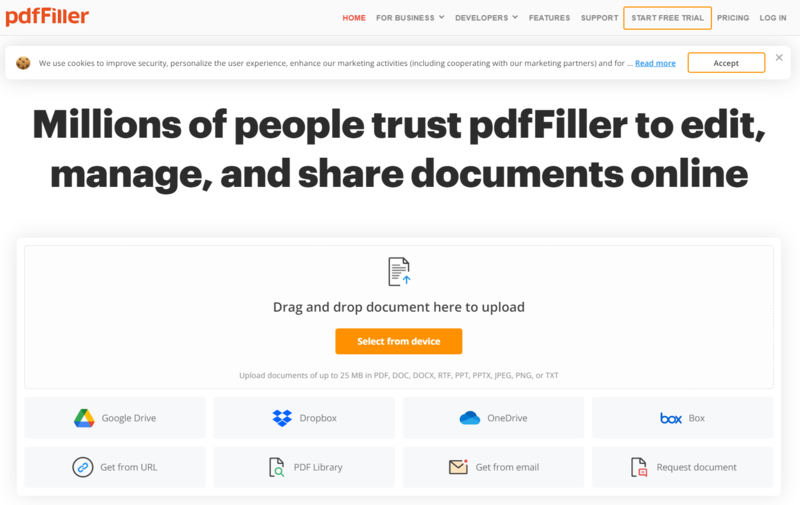 Plus – the powerful PDF combiner allows you to rearrange pages inside the documents that you're merging so your records are organized and consistent.
As a hustling professional, I know the importance of staying on track and productive. That's why pdfFiller is my go-to cloud platform – it's an editor and creator tool that assists me in managing documents quickly and easily.
With the help of pdfFiller, I can easily edit, create fillable PDFs, securely collaborate on documents with teammates, get contracts signed 24x faster with signNow's eSignature workflows and convert my PDF into any format in a few clicks!
The best part?
It offers an easy way to combine multiple PDF files into one document without having to install any software – perfect for getting projects done seamlessly!
Key Features and Benefits of pdfFiller
Edit, create, and fill out PDFs.
Upload documents to the cloud for secure online storage.
Automatically convert files into any format in a few clicks.
Collaborate on documents with teammates in real-time.
Merge multiple PDFs into one document without having to install software.
Rearrange pages inside the documents that you're merging.
Add, delete, or rearrange pages; merge or split files; organize them using smart tags from any browser of your choice or mobile device.
Get contracts signed 24x faster with signNow's eSignature workflows.
Enjoy a 30-day free trial to test out the features.
There's no reason why you should be stuck managing your PDFs the old-fashioned way. pdfFiller is here to help you get it done quickly and easily.
Overall, pdfFiller is the best pdf merge software and document management solution for those looking to quickly and easily merge PDF files into one. Its powerful features make it a wonderful choice for creating, editing, and storing documents online. Plus, its intuitive user interface makes it easy to use. You should try out pdfFiller's free trial today!
---

MergePDF is a free web-based PDF combiner that is simple to use. Using this merge PDF online tool, you can merge numerous PDF files into a single file with only a few clicks. The best part is that it is completely free to use. There are no limits, fees, or registration required to use the tool.
The most astonishing point of benefitting from this web-based tool is that it can compile a limitless number of files at once.
In order to combine multiple PDF files, simply drag and drop the documents you need to merge into the specified area of this PDF merger. Hit the 'Merge Now" option. Then, download your files when done.
Key Features
No restrictions and 100% free
User-friendly simple interface
No registration is needed
File security is guaranteed
Supports all operating systems
Completely browser-based
Simple drag and drop option
Uploaded files are deleted automatically
Dropbox and Google Drive support
Quick upload and download speeds
No risk of malware or any other virus
In short, this powerful utility is perfect for those who need to combine many files quickly and easily. Please note that you cannot edit the files using this tool, but you can change their order while merging.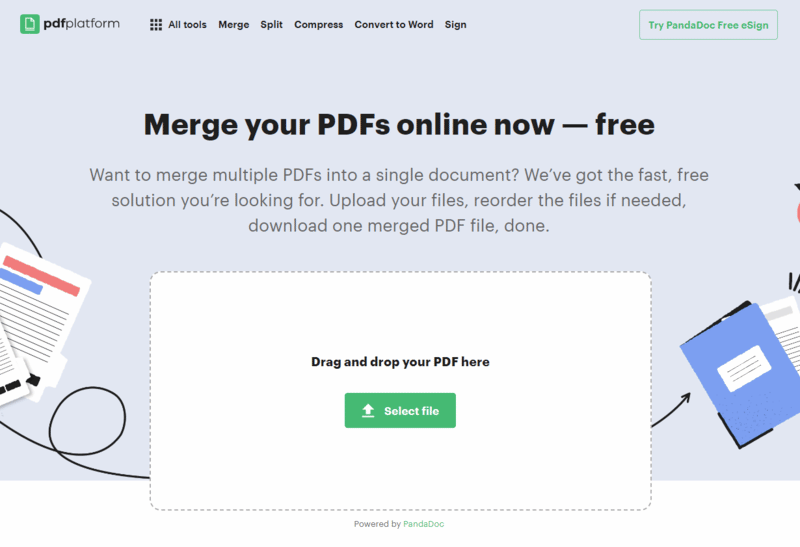 PDF Platform is a full-featured PDF management solution. It can merge PDF files in addition to splitting, converting, editing, and compressing your PDFs. You can also create your signature and sign your PDF files with PDF Platform. It can be accessed online and on Mac and Windows PCs.
This free web-based software is quite powerful with plenty of features. And, when it comes to combining several PDF files into one document, you can find a quick, no-cost solution here. Simply upload the necessary files, rearrange them as necessary, then download the resulting PDF file.
While the free version is sufficient for most people, if you need a little more power, the paid version offers additional features and support.
By paying for the premium version at only $19/month, you'll get a document editor, templates, recipient analytics and of course, peace of mind. The best part is that you can try it free for 14 days without paying.
Key Features
Merge, Split, Convert and Compress PDF files
Sign and encrypt your documents with a digital signature
Works on Mac and Windows PCs
Send your document as a link
Powerful document editor
Deep analytics to track your recipients
Get notified for each new open, download or share
Free trial available to test drive the tool
Bottom Line: PDF Platform is a full-featured solution for managing and editing PDF files. It offers quick, no-cost solution for combining several PDFs into one file, while the paid version has additional features.
So, overall, if you need a powerful and efficient way to manage your PDF files, PDF Platform is definitely worth considering.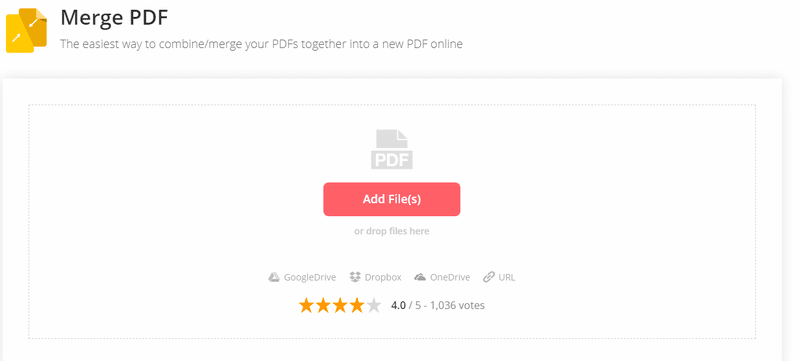 With EasePDF, you do not have to register yourself to use this tool. Instead, you can simply upload and proceed with whatever files you need to work with. It's always ready to help you combine or merge multiple PDF files.
Just visit the official website and choose the "Merge PDF" tool to get started. Now select the PDF files you want to merge and click "Merge."
The page mode of EasePDF is quite useful since it allows you to preview each PDF page and remove or reorganize them.
Key Features
Simple and easy to use user-interface
Drag and drop functionality
Google Drive, Dropbox, and OneDrive supported
There are no advertisements, viruses, or malware bundles

Soda PDF is an online tool that allows you to merge PDF files from anywhere. It can be used on the web, on Windows, and on Mac.
Simply drag and drop documents from your computer or a cloud storage provider like Google Drive or Dropbox.
Also, you can change the order of your PDF documents once they have been uploaded to the system. You can use it free online.
Key Features
It is simple and free
User-friendly interface
Multiple PDF files can be imported at once
Dropbox and Google Drive are both integrated
Smallpdf, like other top-quality PDF mergers, has an appealing interface that swiftly guides you to your desired functions. When you want to combine PDF files without reorganizing them, simply click to upload them from your computer, Google Drive, or Dropbox, and then merge them.
You can preview the combined files on expanded pages before downloading them to make sure they operate.
As it is a browser-based tool; hence, it is compatible with all operating systems, including Windows, Mac OS X, and Linux.
All files you upload on its server will be permanently erased in one hour.
Key Features
An easy-to-use UI
Drag and drop functionality
In one hour, all uploaded or created files are deleted
It's compatible with Windows, Mac OS X, and Linux
Files from your PC, Google Drive, and Dropbox can be uploaded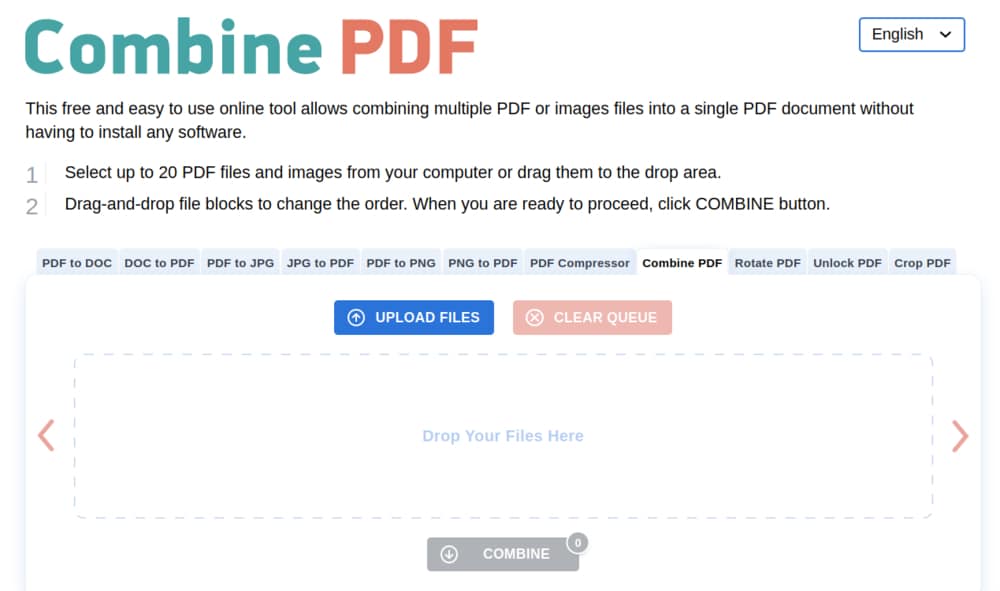 Combine PDF has a simple interface that can help you manage PDFs effectively. It does not only allow you to combine up to 20 PDF files at once, but it also allows you to merge photos. It offers 10+ free online tools.
Furthermore, you can reorganize the files by dragging and dropping file chunks before clicking "Combine."
You should know that all combined files will be erased from the server after an hour. So, make sure you download them at the right time.
Key Features
No restriction
Does not charge a single penny
Supports drag and drop option
Allows you to upload 20 PDFs
Automatically deletes the combined documents after an hour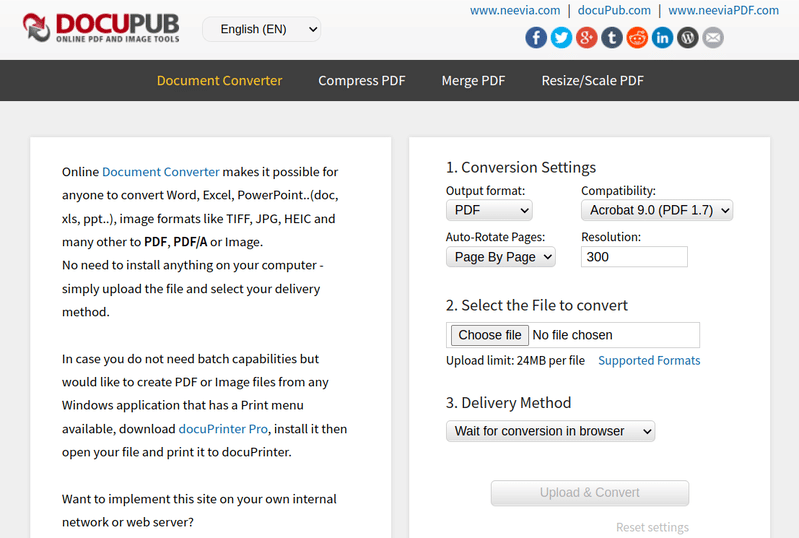 DocuPub is a new tool that lets you merge various documents into a unified PDF document. This tool is completely free to use. There is no need to create an account, and you would not have to waste time looking for the right option.
Key Features
Productive tool
Simple functionality and an intuitive UI
It is quite simple to use
Bulk upload of PDF files
Each file's page range can be customized
Dropbox, Google Drive, and OneDrive are all integrated
It is another popular PDF merger software option. Icecream PDF Merge provides you with the innovative feature of merging PDF files.
It allows you to merge several PDFs and make a new comprehensive document. Also, this tool automatically identifies the font size and style and applies these to the new content. This simple-to-use tool can be downloaded for free.
Key Features
An easy-to-use UI
Merges numerous PDF files at once
Mergeable with a variety of file types
Free PDF splitter
Supports Windows and Mac OS
iLovePDF is another popular online PDF merging tool with a desktop version. It allows you to quickly and effectively combine multiple PDF files and have the outcome available to download in seconds.
However, before you can export the combined PDF files, you can rotate them and rearrange them alphabetically, even in reverse, or just drag and drop PDFs to create a custom arrangement.
The Google Drive and Dropbox cloud services are also connected to make PDF file import and saving more straightforward.
With encrypted connections, you can achieve great productivity levels while keeping your PDF documents safe from unauthorized access.
Key features
Quick and easy to use
Your files are kept safe and secure
Google Drive and Dropbox are supported
Rotate PDFs before combining
Complete freedom to organize the PDFs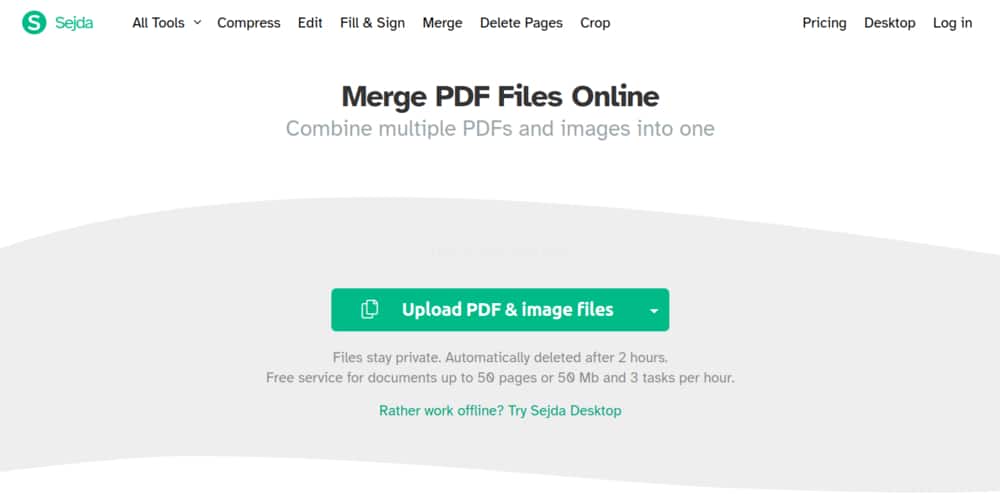 Sejda is an excellent tool for merging PDFs and pictures simultaneously. It includes thorough step-by-step instructions below the item for Merge PDF Files Online if you overlook some useful features.
First and foremost, it has a streamlined UI. Both PDF and picture files can be uploaded from your PC, Google Drive, OneDrive, and Dropbox.
Pages mode allows you to precisely rearrange, remove, rotate, and see larger pages before merging them. It also allows you to make all pages the same size without losing any particular element.
Key features
Quick uploading speed
Nice user-friendly interface
Simple upload and drag and drop option
Automatically erased data after a couple of hours
Supports merging PDF and picture files at the same time
Supports "pages view" for deletions, rearrangements, and other operations
PDF24 is a completely free online PDF compiler that quickly combines PDF files. Plus, you can also drag and drop PDF pages from different sources. Before merging the pages, you can rotate, remove, and relocate them.
Key Features
It's simple and free
Allows you to upload bulk PDF files
It is possible to change the file order
Dropbox and Google Drive are both integrated
Quickly remove combined files from the server
Benefits of Merging PDF Documents
The following are some of the top benefits of combining PDF documents:
It allows you to share data efficiently
Ease in managing large project documents
Aces the printing procedure
Speeds up the scanning process
1. Allows you to share data efficiently
Problems might occur when you try to upload or attach numerous documents. While most email and social media sites allow users to attach various files, others still restrict a one-file limit.
What will you do if you want to email your resume, portfolio, application letter, identity card, academic documents, and certain certifications, but you can only attach one file at a time?
What will be your plan for dealing with several file uploads?
One of the simplest methods is to combine your files into a single PDF document. You do not have to mail each document separately; instead, you can combine them into a single document and upload it to any network you need.
2. Ease in managing large project documents
Large projects often need many teams and a bulk of papers, such as business reports, plans, job letters, modification requests, and progress reports.
Routine reports on tasks, goals, and statistics are frequently expected of individuals, teams, and departments.
How can you keep track of those reports without wasting time searching for relevant papers?
To present all of the findings and conclusions, it could be a good idea to merge all of the reports into one large file accessible to everyone.
Combining individual reports into large PDF documents organized by elements such as data and department reduces the number of files required and speeds up the search process.
Plus, you would not have to deal with many files for presentations or emails. Instead, leveraging a single PDF document with all relevant information saves time.
3. Aces the printing procedure
There are two scenarios in which you might need to print many documents. First, you open your files and submit each one to print separately. Secondly, you can combine your files into one and print them off in minutes.
Option one is actually only good for practicing patience. Print once and devote your valuable time to more vital duties rather than spending time clicking away and losing track of what has been printed and what is remaining.
4. Speeds up the scanning process
If you are scanning multiple files, such as an 80-page assignment or 50-page business contract, having it all in one file is ideal. However, mistakes or technical challenges might cause the scanning process to be interrupted.
What should you do if your scanning is interrupted?
Simply save the pages you have previously scanned before continuing to scan. Then, combine all of your files into one PDF after you are done.
Final Words and Thoughts
There you have it!
So, say goodbye to sluggish, complex, and overpriced tools and benefit from these PDF combiners. These are the best PDF mergers to combine many PDF files into a single comprehensive PDF document.
You have access to a complete selection of the top PDF merging tools. All of the tools on this list have been carefully reviewed and analyzed. All these tools should provide you great experience when merging PDF files.
Depending on the task, you can combine whole PDFs or specific pages. In a market where finding the best PDF merging tool can be tricky, this guide takes care of everything; simply pick your chosen PDF merger and relax.
Finally, if you have found this article useful and helpful, please share.
Sharing doesn't only help others who need this information, but also give a meaning to the endless hours I have spent on researching.
You May Also Like…