As a creator, choosing the right platform to sell your digital products can be a daunting task.
With so many options available, it can be hard to know which one is the best fit for your needs. Two popular platforms that often come up in the conversation are Payhip and Gumroad. Both of these platforms offer similar services, but there are some key differences that make one better suited for certain creators over the other.
Payhip is an e-commerce platform that offers a variety of features for creators to sell their digital products. It boasts over 130,000 sellers worldwide and is known for its simple and transparent pricing structure.
On the other hand, Gumroad focuses on helping creators sell their work directly to their audience. It offers more customization options for creators, including a "post" functionality that functions like a social media feed on your storefront. While both platforms have their pros and cons, it's important to know which one is the best fit.
If you've been struggling to decide between Payhip and Gumroad, then you're in the right place.
As someone who has faced this dilemma myself, I understand the importance of finding the best option. After conducting extensive research and comparing their top features, pricing structures, and customer support options, I'm here to provide you with a comprehensive breakdown of Payhip vs Gumroad.
By the end of this article, you'll have all the information you need to make an informed decision.
Payhip vs Gumroad: Quick Summary
Payhip and Gumroad are two popular e-commerce platforms for creators to sell digital products.
Payhip is known for its simple and transparent pricing structure, while Gumroad offers more customization options.
Payhip offers affordability, customization options, and comprehensive marketing tools.
Gumroad stands out with its unique "post" functionality and email automation capabilities.
Both platforms provide user-friendly experiences in managing your digital store.
Choosing the right platform ultimately depends on your specific needs as a creator. So, it's important to do your research and choose the platform that best fits your requirements.
Well, I personally prefer to use Payhip as it's more affordable when compared to Gumroad.
Both Payhip and Gumroad power creators with tools to sell digital products online. However, the two platforms deal with product selling, payment processing, marketing tools, and customer management differently.
Let's take a deeper dive into the specifics and compare Payhip vs Gumroad.
Payhip vs Gumroad: Overview
Payhip and Gumroad are two popular platforms that help people sell their digital products online.
Overall, Payhip is a popular option because of its affordability and customization options, while Gumroad offers a user-friendly interface and a strong emphasis on artist-fan relationships. Both platforms provide creators with tools to set up their online stores, upload and showcase their digital creations, and manage transactions seamlessly.
What Is Payhip and How Does It Work?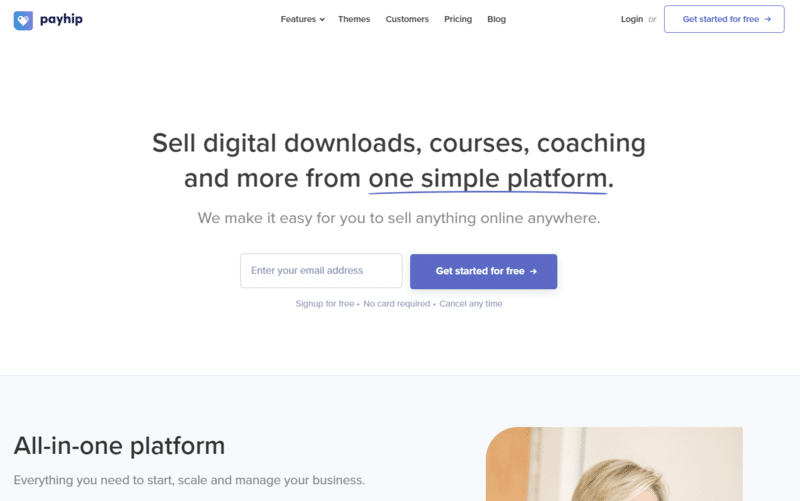 Payhip is a super convenient platform for selling stuff online. You can easily sell digital downloads, courses, coaching, and more, all from this one simple place. Imagine having everything you need to start, grow, and manage your business all in one handy platform. It's like your own little business hub!
It was founded in 2011 and is based in London, UK. They offer a variety of features such as customizable storefronts, discount codes, affiliate programs, and integration with popular payment gateways like PayPal and Stripe.
You can create cool online courses with videos, quizzes, and assignments. You can even offer 1-on-1 coaching sessions to share your expertise. And, setting up meetings with clients is a breeze using tools like Zoom and Calendly.
You can also sell memberships and get paid by your customers regularly.
Payhip automatically handles the tricky stuff like taxes, especially with digital EU+UK VAT.
The strength of Payhip lies in customization, allowing sellers to style their storefronts to match their personal brand. This flexibility is a significant plus, especially for small businesses that need to stand out and create a unique shopping experience. Payhip takes the spotlight as an affordable and user-friendly platform for selling digital products.
In terms of features offered, it surpasses many Payhip alternatives. Used by over 130000 creators worldwide, Payhip is pretty reliable and it supports multiple payment options making transactions easier for customers worldwide. The platform truly shines with its abundant marketing tools – from social media integration to affiliate management; these resources help drive sales and grow your business, no matter where you are on your entrepreneurial journey.
So, whether you're a seasoned seller or just starting out, Payhip's all-in-one approach simplifies the selling process and empowers you to connect with customers on a global scale.
What Is Gumroad and How Does It Work?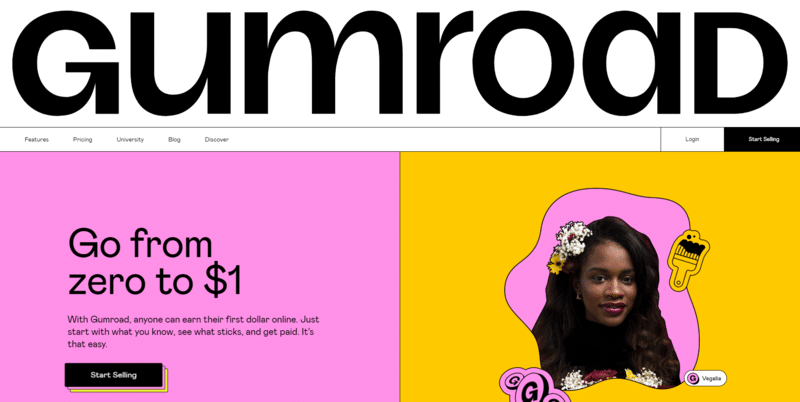 Gumroad is a super-friendly platform that helps you turn your ideas into cold hard cash. You can sell all sorts of digital goodies like books, courses, and memberships. Plus, you get to jazz up your shop however you like. Getting paid is a breeze, and you can connect with your fans along the way.
It was founded in 2011 and is based in San Francisco, California. Gumroad offers features such as customizable storefronts, discount codes, and integration with popular payment gateways like PayPal and Stripe.
So, it's a platform that helps you go from having no online income to making your very first dollar. You can totally make money online with Gumroad, just like Payhip, even if you're just starting out.
You can make your very own online store or fit it right into your personal website. With a tool called Zapier, you can even connect Gumroad to other apps you use.
They charge a transaction fee of 10% on every sale made through the platform. Gumroad goes beyond being just a marketplace by also providing post functionalities that allow users to share updates with their audience – a feature not offered on Payhip. The accommodation of these unique features makes Gumroad highly favored among individuals who rely heavily on email marketing and those who don't make excessive income from sales.
Overall, both Payhip and Gumroad offer similar features and are popular choices for creators who want to sell digital products. The key difference between the two platforms is the transaction fee.
Payhip vs Gumroad: Features Comparison
Now let's compare the features of Payhip and Gumroad to see which platform is best for you.
Payhip vs Gumroad: Selling Products
Selling products on both Payhip and Gumroad is a breeze. Each platform supports the sale of various kinds of digital and physical merchandise, including memberships and subscriptions, giving sellers great flexibility.
However, when it comes to customization options for product listings in the online shop, I have found Payhip does a better job. It's also worth noting that, unlike Gumroad, Payhip offers more affordable options which can be really helpful if you're running your business on a tight budget.
Yet, one unique feature that sets Gumroad apart is its 'post' functionality – something you won't find in Payhip.
Winner: Tie
Payhip vs Gumroad: Payment Processing
Both Payhip and Gumroad provide payment processing services to make it convenient for sellers to receive payments from customers. Payhip uses Stripe and PayPal as its primary payment processors.
With these options, sellers can easily set up their accounts and start accepting payments in various currencies. On the other hand, Gumroad offers bank transfers and PayPal as its preferred payout methods for sellers.
Payhip provides multiple currency choices for customer payments, while Gumroad solely handles customer charges in USD. These unique payment methods cater to different seller needs and preferences.
Update: Gumroad now supports multiple currencies.
Winner: Tie
Payhip vs Gumroad: Marketing Tools
Payhip and Gumroad both offer a range of marketing tools to help you promote and sell your digital products.
When comparing Payhip vs Gumroad, it's important to note that Payhip has a wider range of built-in marketing tools compared to Gumroad. This gives Payhip an advantage when it comes to promoting your products and reaching a larger audience online. The tools are designed to enhance sales, conversions, and customer engagement.
Let's break down the top Payhip marketing tools:
Coupons: You can create coupons with various settings, such as limiting their use, applying them to specific products, setting expiration dates, and more. So, it becomes easy to attract and convert new customers.
Affiliates: With the affiliates feature, you can tap into the power of word-of-mouth marketing. You can recruit friends, colleagues, or other affiliates to promote your products. When these affiliates make a sale, you can reward them for their efforts, creating a network of supporters who help drive sales for your business.
Cross-Selling and Upsells: This feature encourages customers who have already made a purchase to consider adding more items to their cart, boosting your overall sales. It's a great way to make extra sales.
Referrals: This feature incentivizes your customers to share your products with their friends and contacts. If a customer convinces someone else to make a purchase from your store, both the referrer and the new customer can receive special pricing. This creates a win-win situation and can lead to increased sales through referrals.
Customer Reviews: Customer reviews play a crucial role in building trust and credibility for your products. Payhip allows your customers to leave reviews, which can help increase engagement, build loyalty, and drive more sales. Also, you have control over reviews with an approval system and verified badges.
Similarly, Gumroad Similarly, Gumroad offers a variety of marketing tools. While Gumroad may not have as extensive a range of built-in tools as Payhip, it still provides effective options for promoting your digital products.
Gumroad enables you to collect email addresses from your customers, which you can then use to build a mailing list. This list becomes a valuable asset for sending out newsletters, updates, and promotions.
You also get access to your data and analytics to understand your sales trends, customer behavior, and other key metrics. This information can help you make informed decisions about your marketing strategies and product offerings.
With these marketing tools at your disposal, you can effectively market and sell your digital products on Payhip or Gumroad without the need for additional third-party tools or services.
Winner: Payhip
Payhip vs Gumroad: Customer Management
Both Payhip and Gumroad provide excellent tools for customer management. With powerful features and user-friendly interfaces, these platforms make it easy to organize and keep track of your customers.
Gumroad takes it a step further by allowing creators to share updates and content directly with their customers, enhancing the overall customer management experience. Payhip's integration with Stripe as its payment processor ensures reliable and secure payment transactions, adding another layer of convenience to managing your customer base. Overall, whether you choose Payhip or Gumroad, both platforms offer robust solutions for effective customer management.
Winner: Tie
Payhip vs Gumroad: Ease of Use
Both Payhip and Gumroad prioritize simplicity and ease of use, making them accessible platforms for beginners.
With intuitive interfaces and user-friendly dashboards, these platforms ensure that sellers can easily navigate through the process of setting up their online store and managing their products.
Whether you're a digital creator or an entrepreneur starting a small business, both Payhip and Gumroad offer straightforward features that allow you to upload your products, set prices, and customize your storefront effortlessly.
Additionally, these platforms provide step-by-step guides and tutorials to help users get started quickly. So whether you're new to selling digital products or have some experience under your belt, both Payhip and Gumroad make it easy for anyone to get their online storefront up and running in no time.
Winner: Tie
Payhip vs Gumroad: Pricing Structure
Now let's take a closer look at the pricing structure of Payhip and Gumroad.
Payhip Pricing Details
Here's a quick breakdown of the Payhip pricing structure:
| Plan | Cost | Key Features |
| --- | --- | --- |
| Free Forever | $0/month | Unlimited products, unlimited revenue, and a 5% transaction fee on all sales |
| Plus Plan | $29/month | All features from the Free Plan, plus a lower transaction fee of 2% on all sales |
| Pro Plan | $99/month | All features from the Plus Plan, with no transaction fees |
Payhip Pricing
It's evident that Payhip offers a straightforward pricing structure, with unlimited revenue potential for its creators. This allows users to make as much money as they generate on the platform, without any limits.
Gumroad Pricing
Here's a quick breakdown of the cost of using Gumroad:
| Pricing Model | Gumroad Fee Structure |
| --- | --- |
| Monthly Fee | None |
| Transaction Fee | 10% of each sale through Gumroad |
| Example | Sale Amount: $100, Gumroad Fee (10%): $10, You Earn: $90 |
Gumroad Pricing
So, Gumroad charges a flat fee of 10% on every sale you make through its platform. This means that for each transaction, Gumroad will deduct 10% of the total amount as their fee. They do not have any monthly charges or subscription fees. So, the cost of using Gumroad is 10% of your sales amount for each transaction.
Payhip Pros and Cons
Pros of Payhip
Payhip offers a seamless and user-friendly selling experience for digital products. Here are some of its advantages:
Easy to set up and use. No payment is required to get started.
Allows you to sell various types of digital products, including ebooks, music, videos, and more.
Provides customizable storefronts that can be personalized to match your brand.
Offers automatic delivery of digital files to customers after purchase.
Supports multiple payment methods, including PayPal and Stripe.
Provides integration with popular email marketing services.
Offers built-in affiliate management tools for easy promotion and tracking of sales.
Provides detailed analytics and reports to track sales performance.
Offers a free forever trial period for users to test out the platform.
Cons of Payhip
Payhip has a few drawbacks to consider:
Payhip charges a 5% transaction fee on a free account, which can eat into your profits.
Payhip does not offer email automation capabilities like Gumroad does, making it more difficult to engage with customers and create personalized marketing campaigns.
Gumroad Pros and Cons
Pros of Gumroad
There are many advantages to using Gumroad for selling digital products:
Easy setup and user-friendly interface. No payment is required to get started.
Wide range of product options, including digital and physical products, memberships, and courses.
Email automation for effective marketing and customer communication.
Seamless integration with other websites or platforms.
Popular platform with a large user base, increasing the potential for reaching a wider audience.
Provides valuable analytics and reporting tools to track sales performance.
Extensive customer support resources, including a help center and email support.
Cons of Gumroad
There's one drawback worth considering when comparing Gumroad vs Payhip:
Gumroad has a higher transaction fee than Payhip, charging sellers a 10% fee on all sales.
Payhip vs Gumroad: Customer Support
Both Payhip and Gumroad provide excellent customer support to their users. If you have any questions or issues, you can easily reach out to the support teams of both platforms for assistance.
They are always there to help and address any inquiries or problems that may arise. Both Payhip and Gumroad prioritize customer satisfaction and aim to provide prompt and helpful support whenever it is needed.
Their accessible support teams make it easy for users to get the help they need.
Final Words and Thoughts
In my opinion, the final verdict is clear: Payhip is the winner in the battle of Payhip vs Gumroad.
While both platforms offer great features for selling digital products, Payhip stands out with its lower transaction fee of 5% compared to Gumroad's 10%. Additionally, Payhip processes payments instantaneously, providing a faster and more efficient experience for sellers. You can get paid faster as a seller on Payhip than on Gumroad.
Furthermore, I found that Payhip offers a user-friendly interface and intuitive navigation, making it easier for users to set up their online store and start selling right away. The pricing options available on both of these platforms are reasonable. But, I personally believe that Payhip provides better value overall.
Lastly, based on my research and review of both platforms, I have seen positive feedback from users who have used Payhip. This further reinforces my preference for Payhip as the superior platform in this comparison.
Overall, if you're looking for a reliable platform to sell your digital products with competitive fees and excellent customer support, I highly recommend choosing Payhip over Gumroad.
In the end, if you're looking for other Payhip alternatives that offer similar features, Podia is an option worth considering. It offers a user-friendly experience with excellent customer support. Whether you're a content creator or an entrepreneur, this platform offers the tools you need to successfully sell your digital products online.