Why is SEMrush so expensive?
Or is it really?
If you have the same question in mind, let me give you an answer.
The not-so-surprising answer is…
It's NOT expensive.
The price tag of SEMrush is really low when compared with the awesome features it offers. So, let me clear this up by taking you through an in-depth analysis.
Before you move further, here's a preview of the article:
"For me, SEMrush is hands down the best SEO tool on the market nowadays. This is so accurate and such a time saver that I would not want to do SEO without it. I used to rely on other SEO tools and would still manually audit my sites, but now I use SEMrush and it takes less than a minute, in most cases"
This may seem somewhat direct to you, or maybe even confusing.
So…
Let's discuss and find out why it is worth every penny you spend on it. I'll help you find out everything you need to know as a new user about Semrush to validate the answer whether it's an expensive tool or not.
We'll first take a look at the features it offers and then we'll move on to an in-depth analysis. In the end, you'll know why it's NOT EXPENSIVE.
But, first of all, who am I to speak to you?
I've spent over 5 years dedicating my life to learn digital marketing techniques, SEO, and how to grow a successful online business from scratch.
During the course, I've used SEMrush and some of the best SEO tools in the market, so I know the ins and outs of almost everything.
Today, in this article, I'll give you an honest breakdown as to why Semrush is not expensive; instead, it's a complete a-to-z digital marketing tool for all professionals and individuals who want to build a successful online business.
Let's do this!
Before we start, I'd like to make it clear that the article may seem like a review of SEMrush. However, no one should rely solely on a review before joining any service. The sole reason for this is that you might end up not taking full advantage of the tool (or worse, you wrongly think it is useless).
The only way to know how good the tool is, is to experience it firsthand.
The good news?
You can take a free trial of SEMrush for 7 days. So, that's exactly what I'd recommend you to do before taking any decisive action.
So, let's take a closer look at SEMrush.
What is SEMrush and How it Works?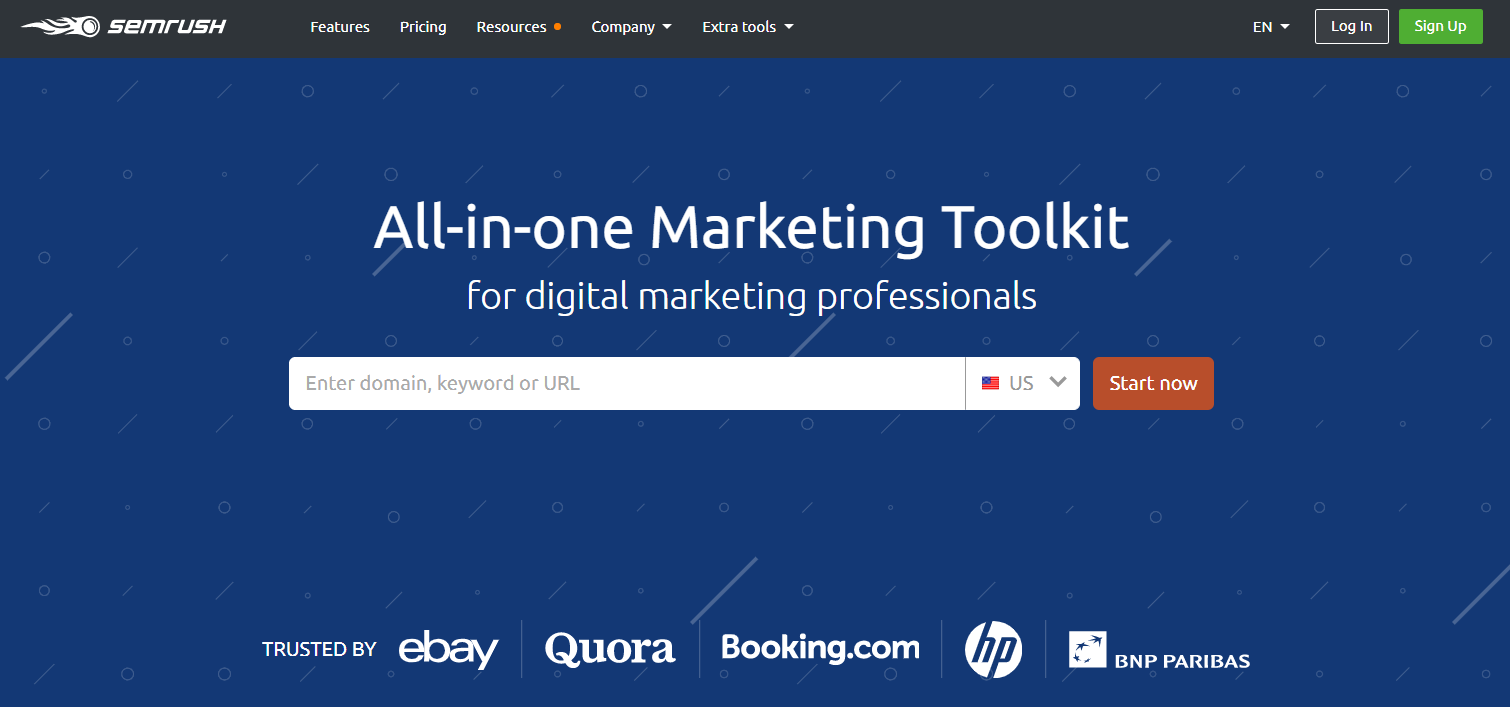 SEMrush is one of the best SEO tools in the market with an online database of over 4.3 billion keywords and phrases, along with organic traffic data that helps you know the right keywords to target.
Here's how it works:
You can use this remarkable tool for any SEO purposes like small, medium, and large-sized companies to help them gain a competitive advantage in the online marketing world. It includes a host of powerful features that allow you to accomplish your SEO and digital marketing tasks faster and with ease.
Currently, it has 25+ integrated tools that are designed to help you accomplish all your SEO and digital marketing needs.
Introduced way back in 2007, Semrush is one of the most powerful SEO tools that lets you spy on your competitors' best-performing keywords, backlinks, social metrics, and more, to ensure you stay ahead of the SEO game.
Semrush is trusted by some of the world's top giants (HP, eBay, Quora, etc.) and recognized as a top-notch search engine marketing tool.
It helps almost everyone, including small bloggers to multi-national companies, gain instant access to a ton of data that helps you improve your site's search engine rankings, drive qualified traffic from search engines, and get actionable SEO insights that will lead to greater ROI.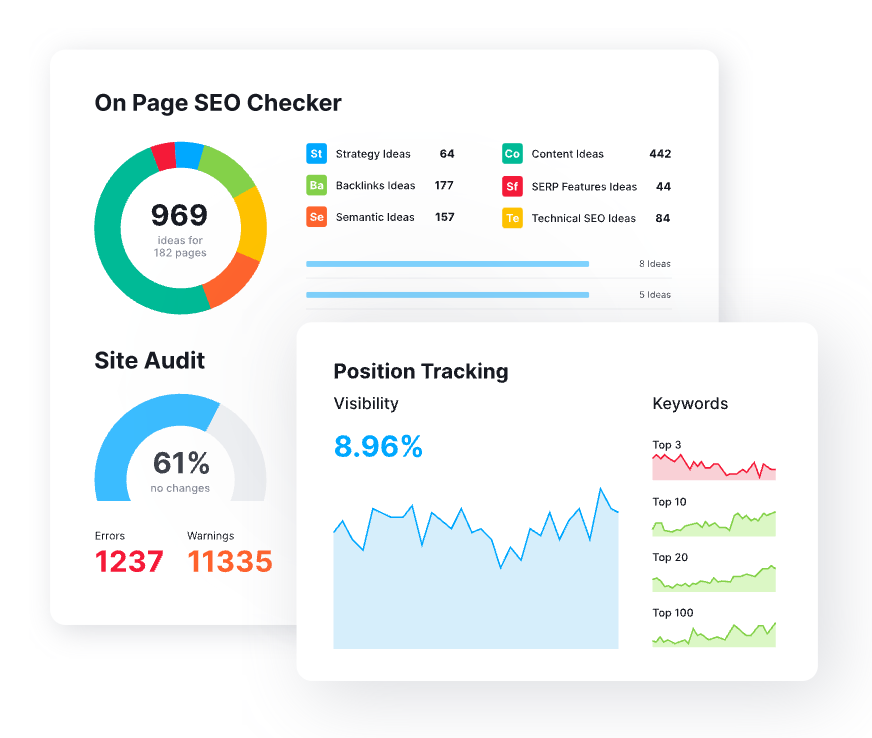 As a professional blogger, I rely on and believe entirely in Semrush to analyze my rankings and keyword positions. It's undoubtedly one of the best SEO tools liked and recommended by various experts and SEO professionals.
It is one of the most comprehensive tools in the market, with tons of features that are not offered by any other tool, except Ahrefs, that I know.
Now that I've shared some information about SEMrush, let's quickly check out why it's not just a popular tool, but an essential one too.
Top SEMrush Features You'll Love
Not one,
Not two,
But, there are plenty of reasons capable of delivering maximum results, which makes Semrush a great platform for SEO and digital marketers.
It's like a one-stop solution for all your SEO and online marketing needs, including keyword research, backlink analysis, rank tracking, organic traffic research, etc., that helps to accomplish all your digital marketing goals.
Let's take a look at some of the top SEMrush features and benefits…
1. SEMrush Keyword Magic Tool
Semrush Keyword Magic Tool is a powerful resource for keyword research with billions of keywords in its database that can help you build your most profitable SEO or PPC campaign, or write blog posts that rank.
It comes with no surprise that keyword research is the fundamental part of any SEO task and arguably the most important one. Choosing the right keywords can help you get high quality traffic from search engines.
Moreover, keywords are critical and essential to help your business in the long run. They're not just used to rank blog articles on Google; they get implemented almost everywhere on the internet.
Choose poor keywords, and you'll start seeing the success graph downward.
Keyword Magic tool uses various search volumes, ranking difficulty, and other parameters to determine their competitiveness. I can assure you that using this tool can help you achieve all your SEO and PPC goals.
If you run an agency or a local in-house SEO, then SEO and Google Ad campaigns are critical aspects of your business. Semrush gives you a ton of in-depth data on SEO and PPC at your fingertips, which can be super helpful.
Overall this tool is mind-blowing, and it's really worth every penny.
2. SEMrush Backlink Audit Tool
SEMrush's Backlink Audit is absolutely essential for SEO, and it's a powerful tool that helps you to accomplish your online marketing goals.
It can help you track and view all the backlinks pointing to your domain, which is priceless data you need to keep your site safe.
Backlinks are like the backbone of your site, and you need to protect them at any cost. The majority of SEO tasks are incomplete without a thorough backlink analysis. SEMrush also helps with the disavow tool, which allows you to report spammy or low-quality links that can affect your website ranking negatively.
There's absolutely no doubt about its ability to give you the best backlink audit and analysis reports. Plus, it's extremely easy to use!
In addition, you can also track backlinks from your competitor's sites to see where they get the strength from.
Semrush gives you accurate results and frequently updated data to see who is linking to your favorite blog or competitor's website. It gives you the titles of backlinks, the page score, URLs of sources, and additional details like Anchor text, Internal links, and External Links to the URL you enter.
3. SEMrush Technical SEO Site Audit
Semrush has one of the best full-site audit features.
If you want to find out all the loopholes of your site to improve overall visibility and search traffic, then Semrush is the go-get-it tool.
Moreover, you get an overall health score of how SEO-friendly your site is when it comes to technical SEO. It
Moreover, some additional benefits you get are:
Broken Links
HTTP status code errors
Crawl errors
And many more to count.
The website SEO audit tool gives you complete information about how your site looks in search engines, and you can identify any issues that you need to fix.
You can check for duplicate content issues, indexation of website pages, errors in structure, accessibility problems, mobile usability issues, etc., so it gives you a thorough overall analysis of your site's SEO status.
With this report, you get an idea of how a search engine or a user sees your website. You get a clear idea about the issues that aren't good for your site, and also it helps you fix them so that your site can have an all-around SEO boost.
4. Topic Research/Content Explorer
Content is one of the most important elements to consider when it comes to improving website visibility. And good content is something that every user loves to find on a site, which makes them trust your business.
So it's great if you have quality content written for real users, but what about the competition? Content Explorer tool helps you with this.
As it crawls through search engines and internet sources, it finds the most relevant content related to your niche.
So with this tool, you can get an idea of what kind of content is popular in your industry, which can help you create better content that people love to read. The more quality content you have on your site, the stronger will be your website's visibility in popular search engines like Google or Bing.
5. Rank Tracker Tool
One of the most crucial tools for SEO is Rank Tracker. SEMrush's Rank Tracker helps with keyword rank tracking that enables users to track organic positions, keywords, and URLs for any website or blog.
Let's say that you have launched a new product or service on your website, but you want to track how it affects your site's ranking.
Rank Tracker will help you do that!
It also delivers detailed reports to check where your site stands in the SERPs and who's dominating the competition. It also alerts you about ranking changes so that you can take immediate action and compete with your competitors' strong points.
In addition, it comes with thorough search engine filters that give you more accurate reports about your specific niche or location to see where you stand.
A Quick Look at The Best Features of SEMrush:
Keyword Research
One-page SEO
Competitor Analysis
Content Marketing
Local SEO
Rank Tracking
Social Media Management
Link Building
Content Creation and Distribution
Content Optimization
Content Marketing Analytics
Market Analysis
Paid Advertising Tools
Competitor PR Monitoring
PPC Keyword Research
Website Monetization
Click Here to Explore All SEMrush Features
Overall, this tool is an absolute must-have for all SEO marketers.
In the end,
Semrush beats out every other SEO tool, as it updates more often and has some robust features that ultimately help people like you and me improve our online visibility and create successful online businesses.
Overall, SEMrush offers excellent features that are sure to boost your website's performance. And if you think it's too expensive, you should know that it is one of the most valuable tools in this industry,
And, it has a 7-day free trial for you to take a test drive!
So, what are you waiting for?
Go get SEMrush today and do something about your website's SEO because it's your shot at success. And, if you don't take action right now, you're going to end up with a website that nobody is going to visit. I'm sorry!
Now, let's talk about the main thing: SEMrush pricing.
How Much Does SEMrush Cost?
SEMrush presently offers 3 membership options. The cost of SEMrush starts at $119.95 per month with the Pro plan, $229.95 per month with the Guru plan, and $449.95 per month with the Business plan. You can also save up to 17% by paying annually. Additionally, you can try SEMrush with a free account.
To be honest, I was surprised when I first saw the price tag myself.
First, it really seemed like a lot.
But, after taking a closer look at all the features it offered (and that I didn't know about), actually made me realize it was worth every penny.

Yes, it may seem expensive to new users, but trust me; it's not when you look at all the awesome features SEMrush has to offer.
New users might not understand what it is that they're buying.
But after they start using SEMrush, they'll realize it.
It's actually one of the most versatile and beneficial SEO tools in the industry, which makes it worth every penny.
The price starts from $119.95 per month for Pro accounts.
It goes up to $449.95 per month for the business plan (which is ideal for large businesses that need to take full advantage of this SEO tool).
Pro Plan: $119.95/month
Guru Plan: $229.95/month
Business Plan: $449.95/month
Additionally, you can save up to 17% with an annual plan.
And, if you're not sure whether SEMrush is right for you, try out its free trial!
You have nothing to lose, with a free trial.
So what I can say is that if you want to compete with others in your industry, this is an absolute must-have. It's simply one of the best SEO tools, I've found to help me with my blogging business and improve my SEO.
So, what are you waiting for?
Go and Grab your 7-day free trial of SEMrush today! It will change how you do your SEO and online marketing, forever. Good luck!
Is SEMrush Expensive? Like, Really?
Yes, SEMrush is expensive!
But it's worth every penny. And if you want to be successful online, it's the ultimate SEO tool that you can't live without.
And what I love most about this SEO tool is that they offer a free trial. That means you can test out all its features for 7 days (without paying a single cent).
So, if you don't like it, you can request your money back. But I doubt that will happen because once you start using this tool, there's no turning back.
So, what are you waiting for?
Go and get SEMrush today and see why this tool is considered the best.
And if you're one of those people who still think this is too expensive, here's a little advice: get over it! You'll never find an SEO tool that offers so many features, at such an affordable price!
SEMrush offers all the necessary tools you need to improve your website's SEO. And if you want to succeed online, it's definitely worth every penny!
Sorry! I might sound a little rude, but I just don't want to see you struggling online any longer. So, if you still think it's too expensive, go ahead and give it a try out for 7 days! It has an awesome free trial period with all the features active. And trust me; once you start using this tool, you won't ever want to stop!
The Free Version of SEMrush
Yes, there's a free version of SEMrush that lets you try it.
Although you won't be able to access every feature that SEMrush offers and its full advantage, it will give you an insight into how this tool can help you boost your SEO. So, if you don't have the budget right now or just want to try it out before you buy it, then set up a free account at SEMrush today.
And keep in mind that all its features come with some limitations.
But, you'll be able to use it freely and set up your account free of charge, thanks to their awesome free trial offer.
So, what are you waiting for?
Go and get a SEMrush account today and see how it works.
There are tons of reasons why SEMrush is considered one of the best SEO tools around. And what I love most about this tool is that it's constantly improving itself, so you can be sure you'll always have access to all the latest features, whenever you log in. That's quite amazing, right?
Final Thoughts
We just went over a deep analysis of why SEMrush is so expensive and why it's worth every penny. If you don't have the budget, I suggest you create a free account and take a test drive of this popular SEO tool.
Well, I have talked about all the cool features that SEMrush offers and recommended going for the Pro version several times.
But, it's time to talk about something different.
I don't recommend this tool if:
You are a complete beginner to blogging
You have a tight budget
You are just getting started with online marketing
The reason?
SEMrush is expensive. And, if you don't know how to use this tool, you are wasting your money. So, if you are a beginner blogger, I suggest you start with other free or cheaper SEO tools before investing in SEMrush.
You are good to go even if you never invest in this tool.
The free version should be more than enough for absolute beginners. And, I recommend that you take baby steps.
But, of course, if you have the budget, SEMrush can be one of the best investments in your SEO journey. So if you are serious and want to take your online marketing to the next level, go for it without hesitation.
It's a great investment if you have some experience in SEO.
Bottom line: I love SEMrush and highly recommend it to anyone who wants to take their blogging to the next level. But, I also recommend using other SEO tools too, so you can have a clear idea of how things work.
Hope that helps! Good luck 🙂
In the end, if you liked this article and found it useful, please support it by sharing it on social media using the sharing buttons below. Thanks!
You May Also Like…