If you are planning to start a blog on GreenGeeks web hosting, you have come to the right place. This easy-to-follow step-by-step tutorial will help you start your blog in less than 15 minutes using GreenGeeks.
Want to be more excited?
If you register right now using this link, you'll be eligible for a free domain name and up to 70% discount on hosting plans, available for Digital Millions readers.
Pretty cool, right?
GreenGeeks is one of the best web hosting providers for beginners who are looking for a reliable web host and don't have a high budget to spend on hosting. What I like most about GreenGeeks is their beginner-friendly pricing.
You can get started at only $2.49/month with this link.
To be honest, it can't be better than this.
Additionally, GreenGeeks is an eco-friendly web hosting provider that really cares about the environment. You're making a difference by hosting your site on the platform. It's fairly easy to start a blog on GreenGeeks.
Full Disclosure: Please note that if you decide to buy hosting using any link on this page, at NO additional cost to you (none whatsoever!), I may get compensated, by the hosting company. Will this be a problem? In fact, if you click and buy, thank you. It really motivates me to create more quality content, free of charge.
So, without wasting any more time, let's get started.
Step 1: Sign Up for GreenGeeks
Undoubtedly, if you are planning to start your blog on GreenGeeks, the first step is going to be signing up for a web hosting account.
The hosting plans begin at $10.95/month. But, you can get a huge discount and pay less than $3 per month if you use this link to sign up. Along with this, you'll also get a free domain name as long as you opt for a 36-months plan.
Quite amazing, right?
First, click here to take your first step and visit the pricing page.
Greengeeks, like other web hosting companies, provides three different pricing plans. You are free to choose the package that best fits your needs.
Useful: 25 Best Web Hosting Companies Out There.
The cheapest lite plan allows you to host one domain name and gives you 50 GB of webspace. This is appropriate for the majority of beginners who want to begin their blogging journey. As a beginner, you should go with the lite plan.
In the future, if you intend to host additional domain names or start a new blog, you will be able to upgrade as required.
Both the pro and premium plans allow you to host an unlimited number of domains. The main difference between these two plans is that the premium plan includes a free dedicated IP address. Everything else will remain the same.
As a beginner, I wouldn't suggest you stress so much on dedicated IP.
You wouldn't need it in most cases.
If you are starting from scratch, I recommend going with the Lite plan. Make sure you choose the 36-month option as well. That's how you'll get the highest discount. Our readers will receive a special discount if you use this link.
If you use the above link to register, you'll pay less than $3 per month.
The cost is currently $2.49 per month. Since the price can soon rise, it's best to sign up now and lock in the current price.
So visit GreenGeeks and click on the Get Started Now button, on the homepage.
The next page, as you would expect, is the pricing page, which displays all of the pricing choices. There will be three pricing options:
The Lite Plan
The Pro Plan
The Premium Plan
Click on the Get Started button to reach the domain setup page.
On the domain setup page, you'll be able to choose a domain name that you want to use with your web hosting account.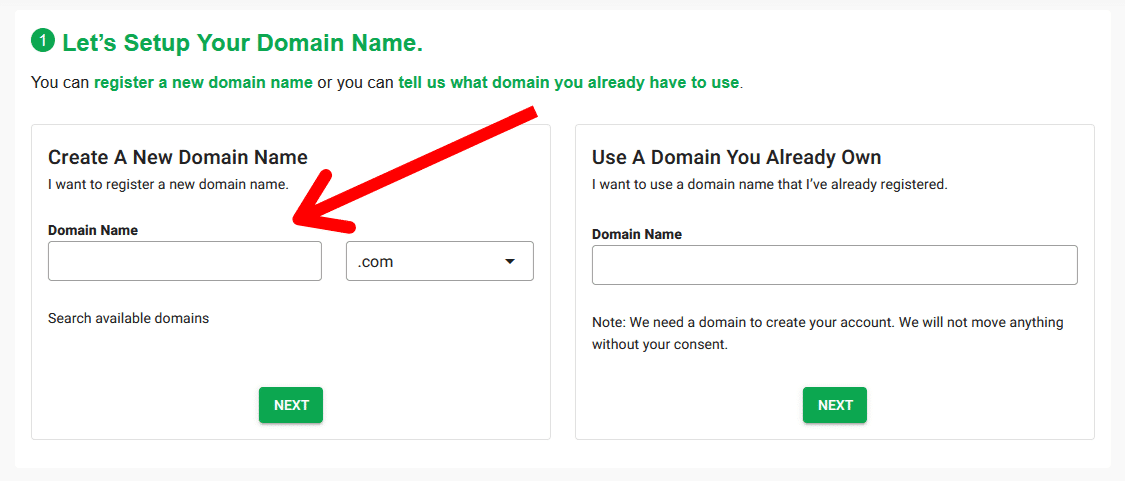 The process is pretty straightforward.
Simply type the domain name you wish to register and hit the Next button. If the domain name is available to be registered, you'll be able to go to the next page. Otherwise, you'll be prompted to enter a new domain name.
The domain name you enter here will be registered on your name for free.
Please note that it will be free only for the first 12 months. After that, you'll need to pay the regular renewal price to keep using the domain.
A domain renewal cost can range between $9 to $15 per year, depending on which domain registrar you want to use. I personally use and recommend Namecheap. It's the best place to register domain names at the cheapest prices.
But, buying is domain when you are just starting is not recommended. Because you'll get a free domain from GreekGeeks with your new hosting account.
Just enter your desired domain name in the given box and it'll be registered. In case you already own a domain, type it in the other box and hit Next.
The next page is your order form.
First, as you would expect, you'll be asked to enter all the required information about yourself, such as your email ID, your name, address, and phone number.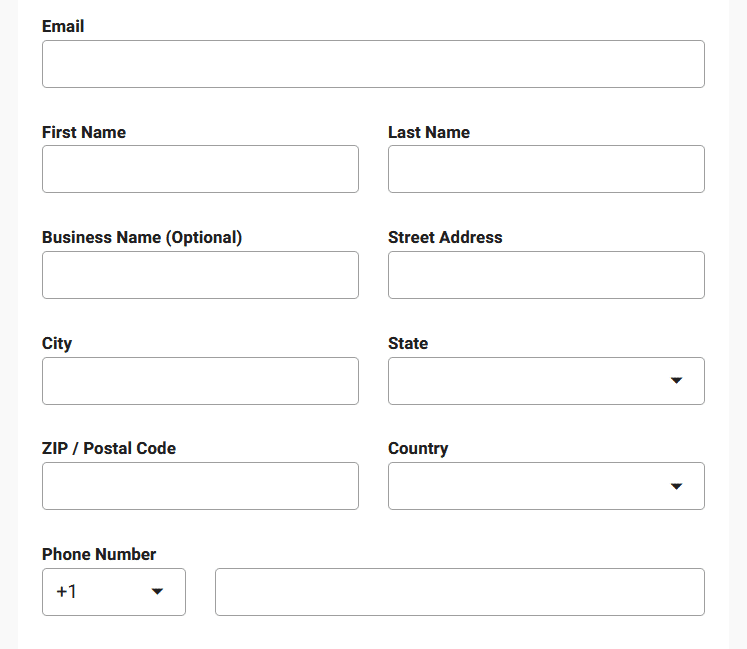 Next, you'll be able to choose your billing duration.
There are 4 options:
Monthly – $10.95/month
Annually – $4.95/month
Every 2 years – $3.95/month
Every 3 years – $2.49/month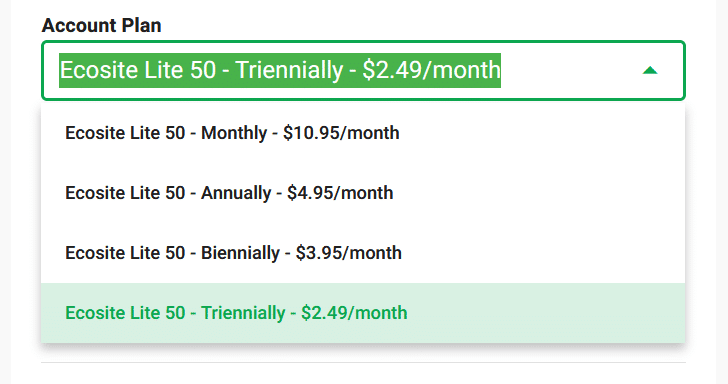 As you can see that you can get the highest discount and lowest price when you choose to pay for 3 years or 36 months upfront. And, that's what I recommend too. Of course, your blog is a business and you want to continue with it for years.
Also, by paying for 3 years upfront, you'll save $328.46 USD.
3 years hosting cost if you pay monthly
$394.20
3 years hosting cost if you pay at once
$89.64 –

$394.20

Domain registration cost – $13.95/year
You pay $0 with the 3-year plan
WHOIS privacy protection – $9.95/year
You pay $0 with the 3-year plan
Your Total Savings
$328.46
Additionally, you can choose where you want to host your website.
And, they have 3 different server locations:
United States
Canada
Europe
So, what I recommend is that you choose a location that is nearest to the majority of your visitors. I suggest choosing the United States if you want your site to be global. However, if it's somewhere near Europe or Canada, choose the location accordingly.
After choosing your billing term, you'll be able to make your payment. As usual, enter your credit card information and follow the on-screen instructions.
And of course, complete your payment successfully.

Congratulations!
You've just completed the first step of purchasing a web hosting account where you can host your blog. And of course, you have made a difference by hosting your website on the leading eco-friendly web hosting provider.
Now, let's go to the next step to install WordPress on your domain.
Step 2. Log Into GreenGeeks
Once you successfully make your payment, you'll receive a confirmation email from GreenGeeks with your login credentials.
The email looks something like this: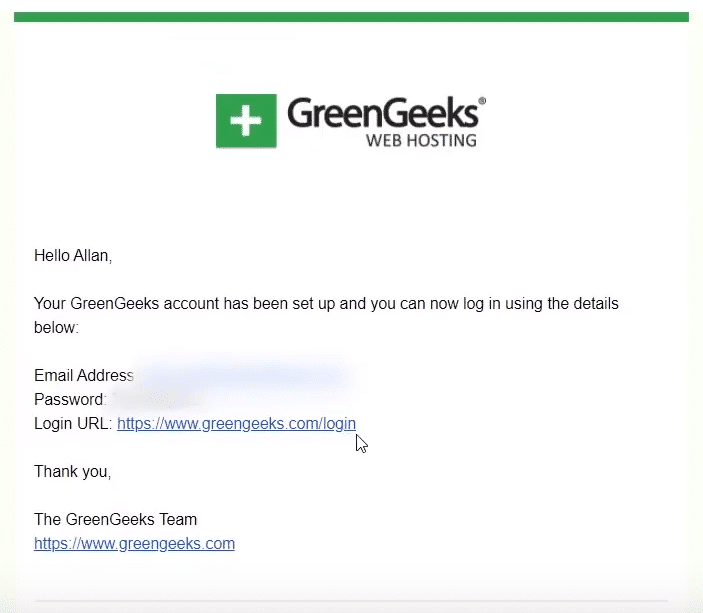 Please note that they verify all orders. So you may sometimes receive calls or emails asking for additional verifications.
If you don't receive an email, make sure you check your junk/spam folder.
In most cases, it should land in your inbox.
So, open the email sent by GreenGeeks, click on the Login URL and use your credentials to reach your dashboard. For first-time users, you may need to verify yourself by additionally entering a code that will be sent to your email or mobile as a text message.
As you verify the code, you'll be logged in to the GreenGeeks dashboard. From here, you can manage all aspects of your web hosting account.
In the next step, we'll learn how to install WordPress from inside GreenGeeks.
Please note if you have registered your domain name from somewhere else like Namecheap and not from GreekGeeks while buying hosting, you should link your domain name to GreenGeeks hosting.
You'll find step-by-step instructions here.
But, if you bought it from GreenGeeks, you can skip this step.
Step 3. Install WordPress
In this step, you'll learn how to install WordPress using GreenGeeks.
Once you are logged into your dashboard, click Hosting on the left-sidebar. This is from where you'll be able to manage your hosting account.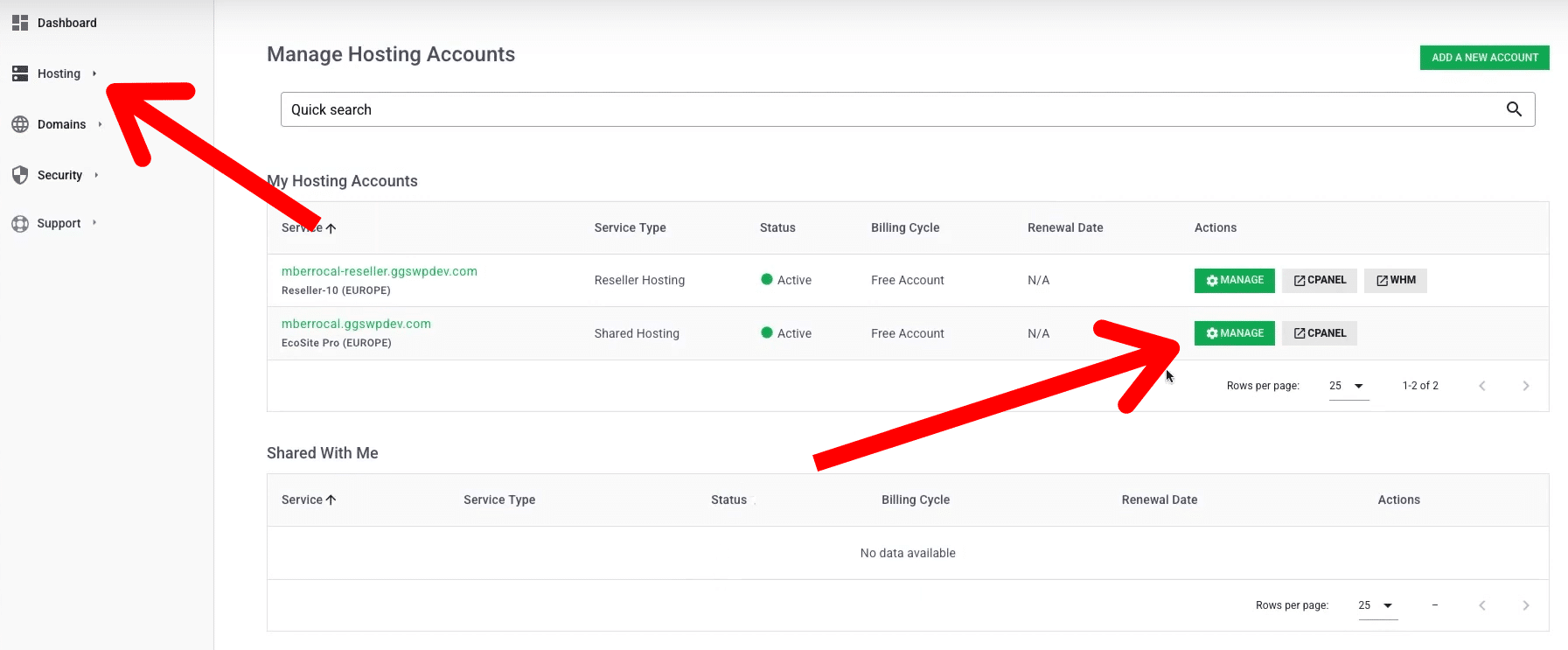 To install WordPress on your domain, you can use the Manage button as shown in the image above. Additionally, you can use the cPanel.
1. Install WordPress Using Quick Launch Wizard
Click the Manage button.
The next page will look something like this: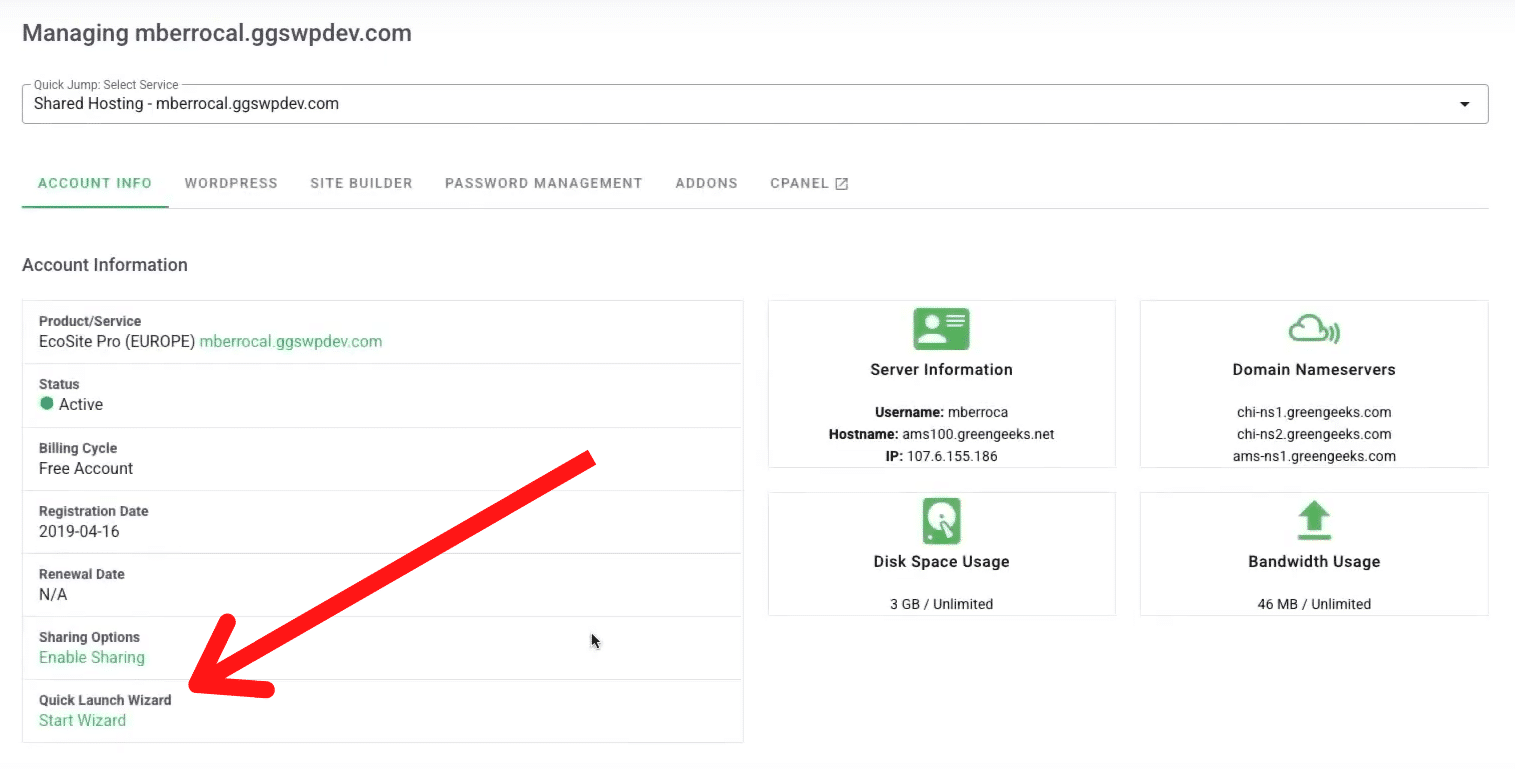 As shown in the image above, hit Quick Launch Wizard.
Please note that new customers may sometimes be directly sent to the Quick Launch Wizard page. If you don't get redirected, you can follow the steps mentioned here to open the wizard. On the Quick Launch Wizard page, you'll have 4 options:
Start new website
Migrate website
Starter site
Skip this – if you want to take care of the setup process.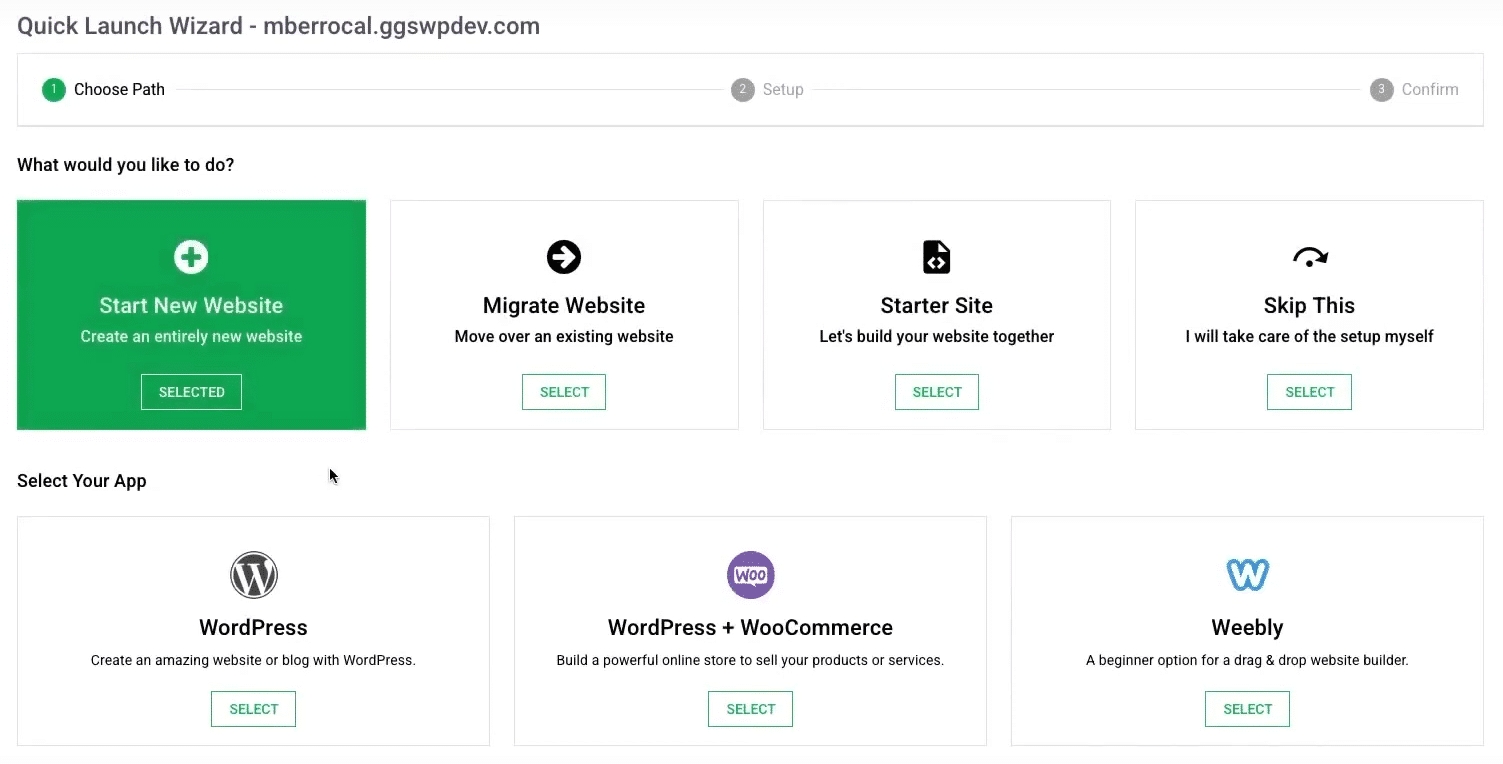 Choose Start New Website and select WordPress.
On the next page, you'll be able to configure your site information and SSL along with selecting website themes and recommended plugins.
Please note that all themes or you are suggested to install at this stage are completely free. So, you wouldn't need to pay anything.
GreenGeeks recommends some of the best free WordPress themes available out there, such as Astra, Kadence, OceanWP, and GeneratePress.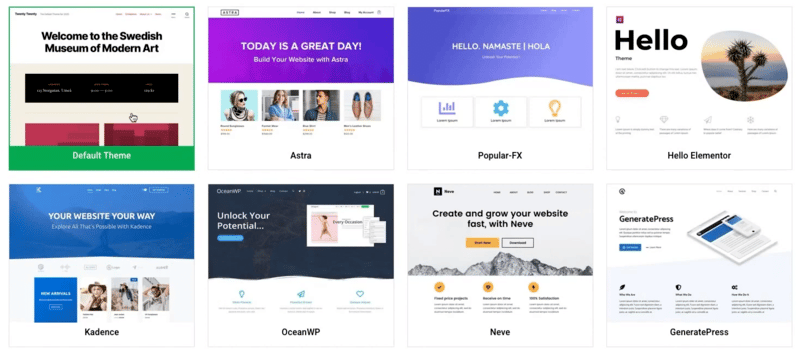 I'm really surprised why Blocksy theme is not included here.
Plugin installation is optional. You may deselect everything. However, the LiteSpeed Cache website acceleration plugin is installed by default.
LiteSpeed Cache is primarily a website acceleration plugin. Basically, it's going to do all the behind-the-scene stuff without getting too technical and make your website load faster. It's not only great for a better user experience, but it also helps with SEO.
Next, click on Create My Website button below to install WordPress. You should get a success message within a few moments.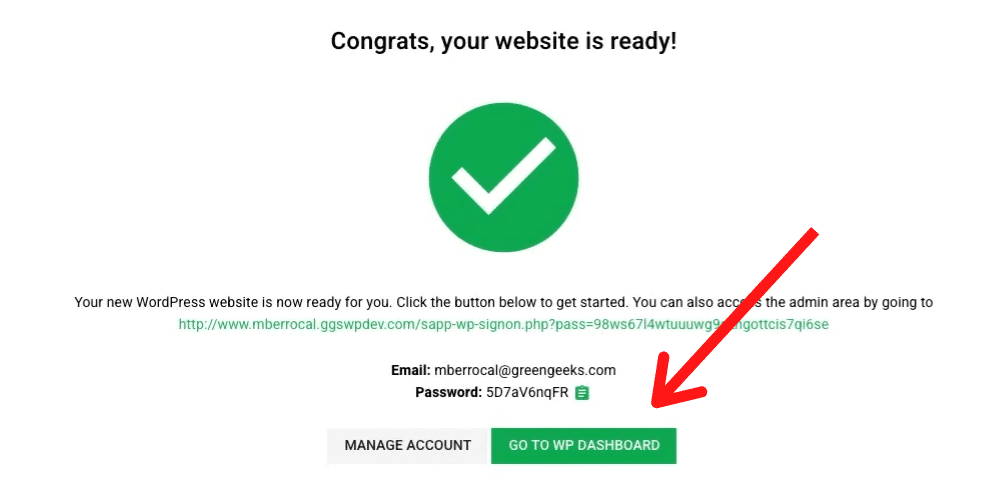 Congratulations!
You've just finished all the steps you need to follow to successfully install WordPress on your domain. Click on Go to WP Dashboard to login into your WordPress site or blog. Apart from that, you can use any of the following URLs:
Make you replace yoursite(.)com with your domain name.
So far, you have learned how to install WordPress using GreenGeeks Quick Launch Wizard. You can also install WordPress using cPanel.
Let's see how to install WordPress using cPanel.
2. Install WordPress Using cPanel
Don't worry! The installation process is pretty straightforward.
Once you are logged into your GreenGeeks dashboard, click Hosting on the left sidebar and then click cPanel, not the Manage button.
Take a look at the image below: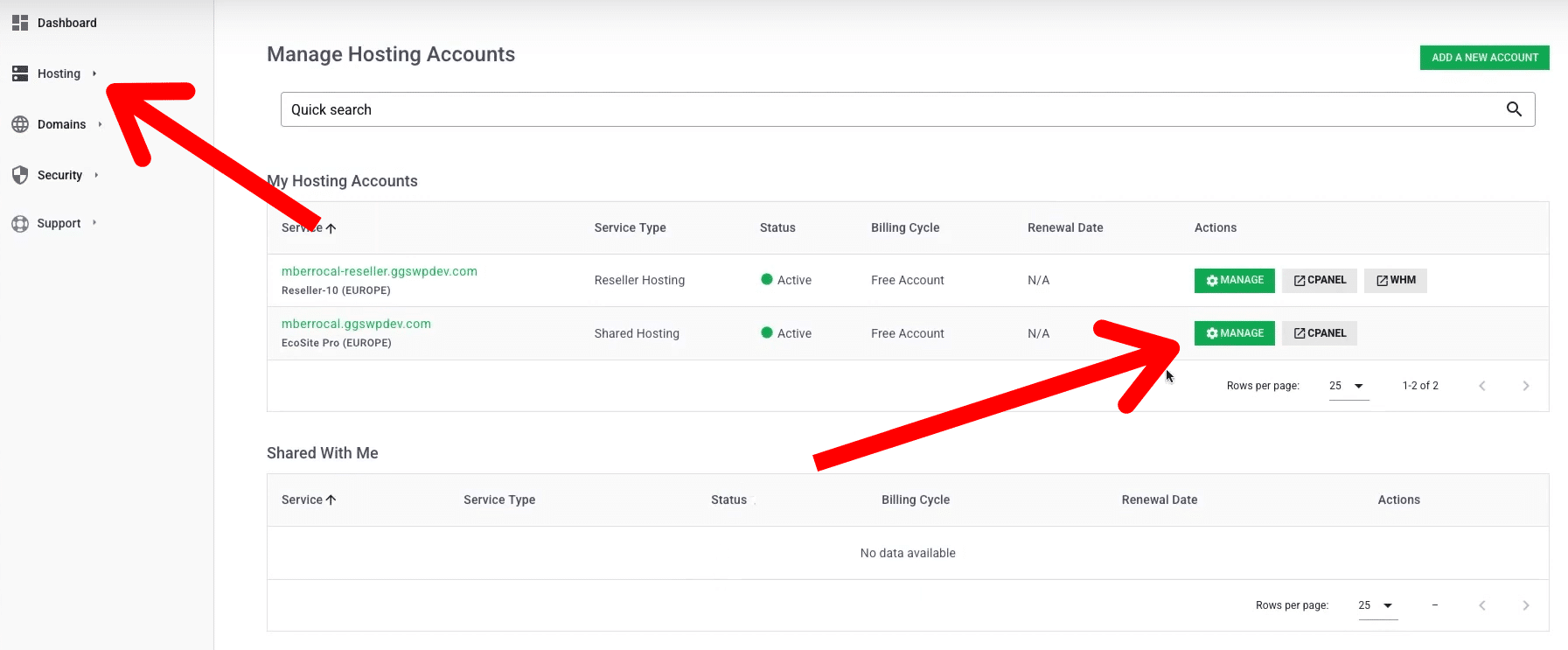 Clicking on the cPanel will take you to your cPanel dashboard.
cPanel is also known as the Control panel. You will need a control panel to make it easier to manage and control your website and server.
The majority of popular web hosting providers offer cPanel.
The dashboard of your cPanel will look something like the picture below. The look and feel may sometimes change as hosting companies may choose a different look. However, the basic functionalities will always remain the same.
Hit the search bar on the top.
Type QuickInstall.
Click on the search result to visit the QuickInstall page.
On the QuickInstall dashboard, click WordPress on the top left corner.
Now click the big gray button that says Install WordPress.
Next, you need to fill up the WordPress Installation form.
Choose the domain where you want to install WordPress.
Enter administration email, username, blog title and your name.
Next, hit the green button Install WordPress.
Wait for the installation to be completed.
When the installation is complete, you'll get the following message.
Click on View Credentials.
Note down your username and password.
These credentials will also be sent to the email address that you provided while installing WordPress on your domain name.
Copy the Admin area URL and visit it in your browser.
You'll find the WordPress login page.
Please note that if the domain propagation time is not over, you may not be able to reach your WordPress login page. Because your domain is not yet connected to your hosting. But, there's nothing to be concerned about. Just give it some time.
So, after visiting your WordPress admin login URL, if you can't see the login page, your job is to wait for at least 24 to 72 hours.
But, usually, it doesn't take that long.
Step 4. Set Up WordPress
When you set up a WordPress blog for the first time, you have to make multiple decisions at the same time. Starting a blog doesn't have to be difficult, but there are a few things to consider if you want your blog to look professional right from the very beginning and avoid the awkward blogging mistakes in the beginner phase.
You have to select a theme, create a design that turns your blog visitors into followers, choose colors and fonts, and consider what type of blogger you want to be.
And of course, you have to build your personal brand.
In short, just installing WordPress on your domain name is not enough. You'll still need to set up WordPress correctly so that you can start your blog on the right foundation.
There are some configurations that you should take care of, right in the beginning.
In this section, you'll learn:
How to log into WordPress
How to set up the right permalink structure
How to make sure your blog gets indexed by search engines
How to install the plugins to add additional functionalities
How to activate a theme to give your blog a professional look and feel
How to Log Into WordPress?
After successful WordPress installation, all you need to do is to visit the WordPress login page URL and enter your login credentials.
Here are the URLs you can use to visit the login page:
Make sure that you replace the URL with your own domain name. Once you visit the login page, enter your credentials and click the Log in button.
The login page looks like this: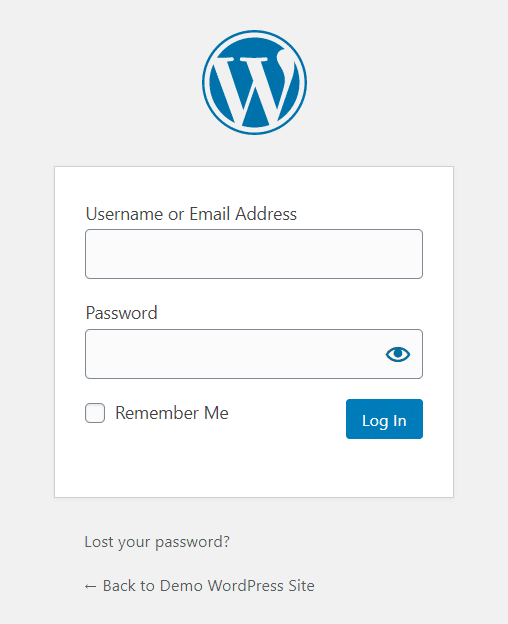 Once you enter your login credentials and hit the Log In button, you'll land on your WordPress dashboard. The dashboard gives an overview of your site. Mainly, it's a set of tools and widgets that include information about your blog's current status.
Here's how the dashboard looks like: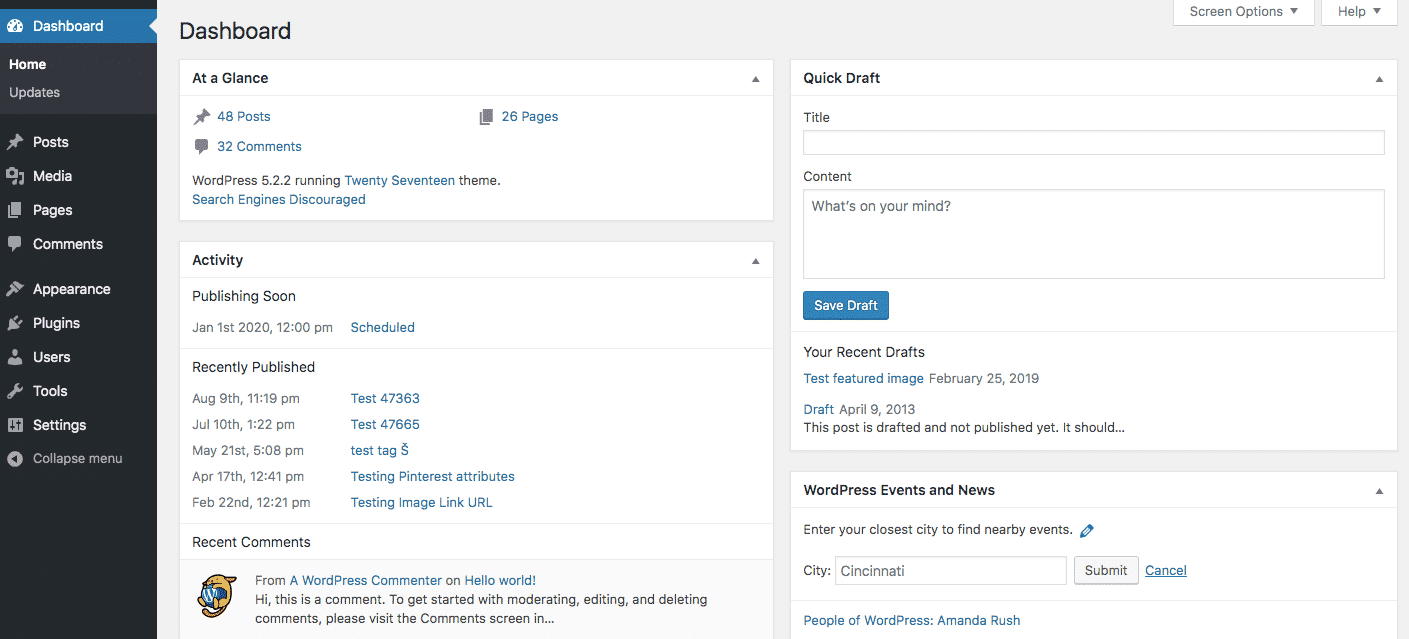 Honestly, it's not hard to familiarize yourself with your dashboard. Spend some time to explore it and you'll become an expert in no time.
The dashboard is known as, WP admin, WordPress admin, and WP admin panel.
Once you log into your dashboard, the first thing you should do is to change your permalink structure. Let's see how to change it and why.
Set Up the Right Permalink Structure
In short, the permalink is the complete URL for every article, website, or other piece of content found online, either on your site or other sites.
URL is not something that you can change every now and then.
For example, here's the permalink for this blog post:
https://digitalmillions.org/start-a-blog-using-greengeeks/
As you can see the link itself can give an indication of what the page is about. It's a permanent link. To make sure your blog post URLs are user-friendly as well as optimized for search engines, you should choose the right structure.
It must be done right after you log into WordPress for the first time. The process is pretty simple. Just click on Settings and then Permalinks.
Here's what you'll see:

Select Post name as your permalink structure instead of Plain. It will help in creating unique permalinks for each piece of blog post or page on your site.
Consider the picture below as a reference: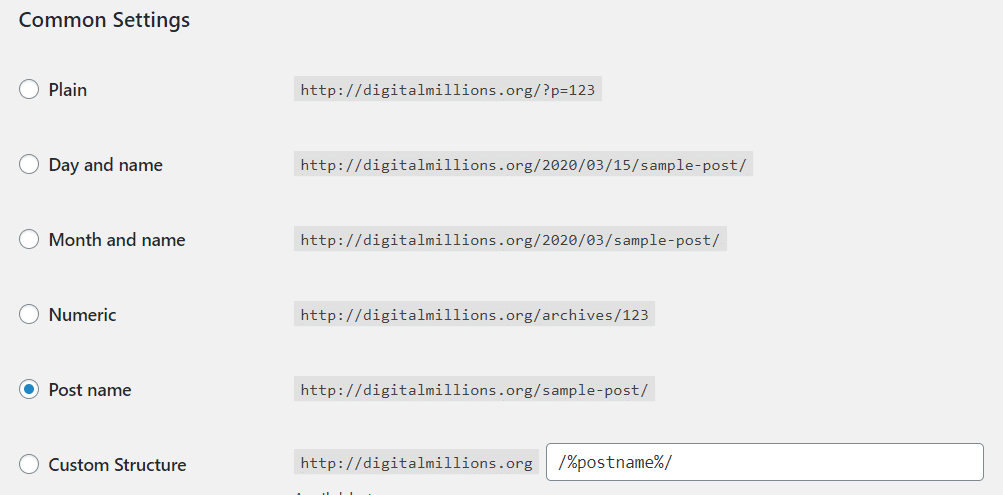 Hit Save Changes to save the changes. That's pretty much what there is to it when it comes to permalinks.
Make Sure Your Blog Gets Indexed
Did you know that WordPress makes it pretty simple to tell search engines that you don't want any visitors to your blog, at least if you want that?
It can be quite dangerous if it is set up incorrectly.
While there may be valid reasons to block search engines, in most cases, you'll want to get more traffic or visitors from Google or other search engines. By setting up this option incorrectly, you are basically asking search engines not to send any visitors.
But, you know what?
Setting it up correctly is pretty simple.
In order to ensure that you are not discouraging Google or search engines from doing its thing, Go to Settings > Reading.
You need to unmark the box next to Search Engine Visibility to make sure search engines can index you. As a result, your blog can be found on google.
It's quite easy, right?
Install WordPress Plugins
Frankly, creating a blog is not all fonts and colors, is it? You're probably already familiar with WordPress plugins if you run a WordPress blog.
But if you are not, let me tell you that WordPress plugins are those life-saving WordPress add-ons that you can install with a few clicks to add extra features to your site.
Pretty cool, right?
So, a plugin is mainly used to add new features to your WordPress site. While WordPress itself is quite powerful, there are certain extra features you'll need as a blogger. These extra features don't come with WordPress by default and would require a plugin.
There are thousands of WordPress plugins available. Some of them are strange, some of them are really awesome, and some of them can destroy your blog, the bad ones.
But honestly, you'll find plugins to add almost any kind of features.
The process of installing a plugin is quite easy.
Simply click Plugins > Add New.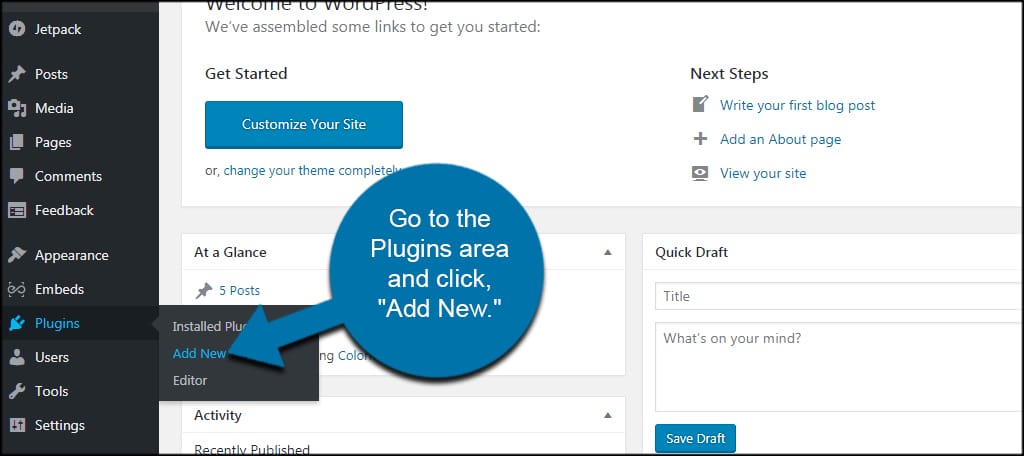 On the plugin installation page, use the search box to look for your desired plugin or features you want to add to your site.
Choose a plugin, hit Install Now button and then activate it.

Using a plugin is completely optional.
But, it's a smart choice to use some specific plugins, right from the beginning. Below are some of the plugins I strongly advise you to install and activate.
When you install WordPress using Quick Launch Wizard, GreenGeeks installs a plugin called LiteSpeed Cache that helps to speed up your WordPress site.
So, an additional cache plugin won't be required. In the case of other web hosts that don't install a cache plugin by default, I always recommend going for the WP Rocket cache plugin. It's awesome. You should check it out.
Install a Theme
A theme, as you may already know, is what determines how your website looks and feels to its visitors. In today's competitive world, your website theme must stand out.
A good theme should have the following features:
User-friendly
Optimized for SEO
Easy to customize
Looks great on different devices
Always up-to-date
Value for money
To install the new WordPress theme, select Appearance, then Themes.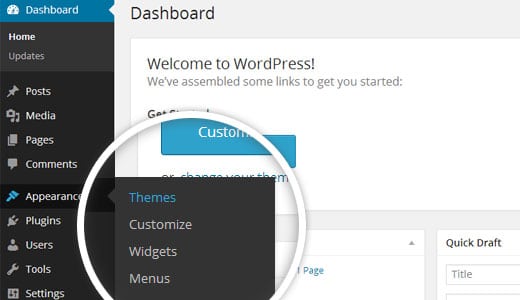 The following page lists all of the themes that are currently installed.
Now, on the top left, click Add New button.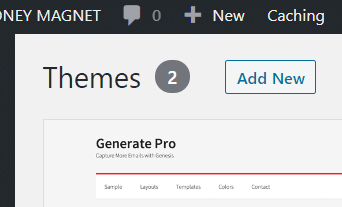 Now, you'll be redirected to the theme installation page. There you'll find thousands of free WordPress themes that you can use on your site.
There are thousands of free WordPress themes out there. But, not all of the themes will perform as expected. Usually, premium WordPress themes perform better than free themes. But, that doesn't mean free themes can be completely ignored.
Here are some of the free themes I recommend:
USEFUL: 21 Best WordPress Themes for Blogging And Ecommerce.
GreenGeeks also recommends some of the best WordPress themes out there when you install WordPress using the Quick Launch Wizard.
So just review all the suggested themes, choose one, and activate it.
As you activate a theme on your website and of course, complete all the above-mentioned steps, you are ready to start writing your first blog post.
Let's see how to write a blog post.
Step 5. Write A Blog Post
Writing your first blog post is not rocket science.
Simply click Posts > Add New.

Now, you've arrived at the Gutenberg Editor inside WordPress. In the top row, type the title of your blog post, and then start writing in the lower box.
Pretty simple, right?
You can add an image to your blog post by clicking on the Plus [ + ] icon on the left side. It'll show you all the blocks that are available to be used.
In case you don't know, blocks are the various pieces of content that you can use in your blog post. You can easily search for a block you need and use it.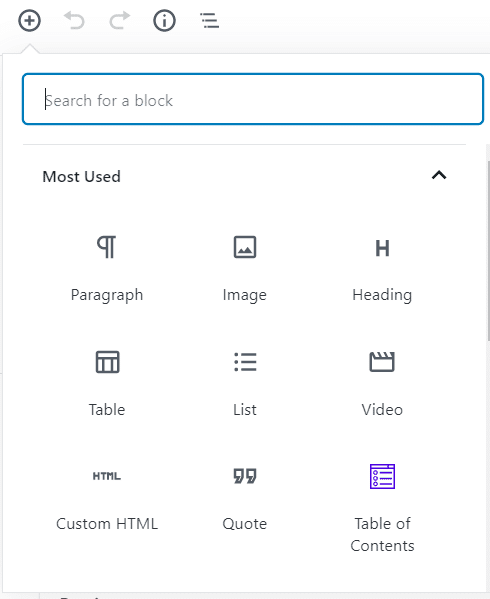 There are blocks for almost all kinds of requirements.
Below are some of the most common blocks used by content writers.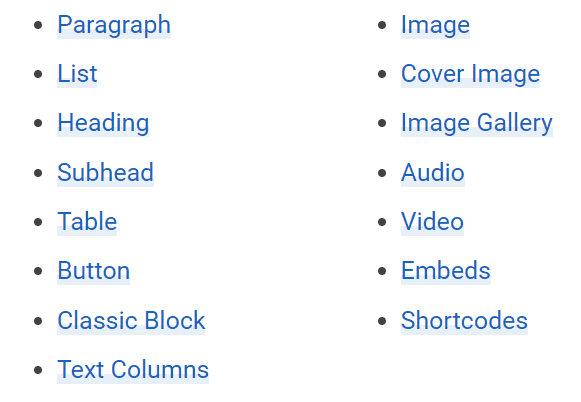 It's fairly easy to use Gutenberg Editor. Just spend some time exploring different blocks. And you should be okay with it.
So now you can go ahead and write your very first blog post.
Congratulations!
You made it. Finally, you have completed all the steps and learned exactly how to create a blog using GreenGeeks hosting.
Hopefully, it was an easy ride.
Final Thoughts
Honestly speaking, it's quite easy to create a blog from scratch. It doesn't matter which web hosting providers you want to use. Almost all web hosting providers strive to make it as simple as possible for their customers to set up a website.
GreenGeeks is no different.
But, here are some features that make GreenGeeks exceptional:
The most environmentally-friendly
Budget-friendly hosting plans
Unlimited SSD webspace
Scalable Computing Resources
Free domain
Free CDN
Free SSL certificate
Free nightly backup
No hidden fees
And so much more
Additionally, the 30-Day Money-Back Guarantee makes your purchase completely risk-free. So undoubtedly, GreenGeeks is a smart choice for your first blog.
Also, don't forget the fact that the live-chat support is just a few clicks away.
Whenever you have a question, face an issue with your account, or need some technical help, it's easy to get connected with the support staff.
And when all these cost less than $3 a month, it's hard to believe.
But, that's a fact.
So go ahead and start your blog on GreenGeeks. And of course, if you found this blog post useful, please don't hesitate to share it. It really helps me.
Create a Money Making Blog
Creating a blog and succeeding in the blogging business is hard if you don't know the right process to follow.
Blogging from ZERO is the solution to all your blogging woes. This is a step-by-step guide with everything you need to know to create a life-changing blog and make an extra $1,000 to $5,000 or more part-time income.