Are you interested to make money online by sharing links?
But, you have no idea where to begin? – don't worry.
As a beginner, I understand that it can be overwhelming to navigate through various options
After all, you would like to determine the best approach. I've been there, trust me. Let me guide you through the process and provide valuable insights to help you share links and earn money.
It's important to understand that there are numerous ways to make money online.
And, you won't have any trouble finding opportunities to get paid to share. However, to maximize your earnings, you need to focus on high-earning links and avoid other links.
Thankfully, there are many websites, such as Ysense, which I like. It offers simple ways to earn money by sharing referral links or doing simple tasks like taking surveys or playing games.
You should really try it once.
In this blog post, we'll explore 10 of the best methods to make money sharing links in detail, including affiliate marketing, referral programs, building a successful blog or e-commerce store, and more.
I'll also highlight some of the best websites and tools for earning extra cash online.
Whether you have a large email list, social media following, or website traffic, there's an opportunity out there for you to share links and earn money. In fact, you can even start with nothing.
So, if you're ready to start earning extra cash, let's dive in without further delay.
---
---
1. Share Affiliate Links Online
Affiliate marketing is the process of earning a commission by recommending products or services created by another individual or company. This magical method involves sharing links to products and services online and earning a commission every time someone makes a purchase through your unique affiliate link.
Affiliate marketers are like virtual salespeople for a company.
The more you promote, the more money you make. And the best part? You don't have to worry about creating the product or dealing with customer service.
This is, in fact, the most profitable and powerful method to earn online.
A good example of affiliate marketing would be the Amazon associates program which you may have already heard of. Once you sign up, you are eligible to share amazon product-specific affiliate links to earn from every sale.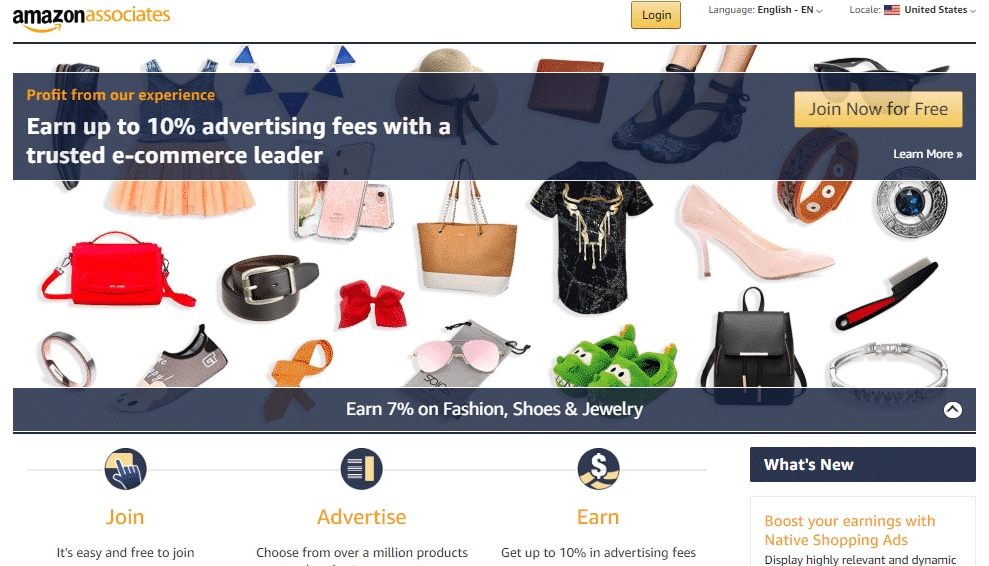 You can share these affiliate links anywhere online. And, you'll get paid whenever someone clicks on these links and makes a purchase on Amazon.
And, that's how affiliate marketing on Amazon works.
But is this the only affiliate program out there?
No, there are plenty of affiliate programs online. Many of them are much more profitable than Amazon. I've used the name Amazon, just for an example.
Why do top online businesses run affiliate programs?
Because this is entirely performance-based. You, as an affiliate who shares affiliate links, don't get paid until you make sales.
As a result, companies have nothing to lose.
Most online businesses run affiliate programs. Because it helps them broaden their audience in a cost-effective way. And it can quickly improve sales.
That's why it's not difficult to find affiliate programs to promote online.
How to get started with affiliate marketing?
Here's a simple overview of the process:
Step 1: Choose a niche. What interests you?
Step 2: Find affiliate programs that match your niche.
Step 3: Sign up for the program and start promoting your affiliate link on your website, blog, social media platforms, email list, and other platforms.
Step 4: Watch the money roll in!
There are countless success stories of people making a full-time income from only affiliate income. Most of the top-earning blogs in the personal finance, travel, and lifestyle niches earn a significant portion of their revenue through affiliate marketing.
But the beauty of affiliate marketing is that anyone can do it, regardless of their niche or the following size. With the right strategies, you too can do it too.
Where to share affiliate links?
The possibilities are endless!
You can share your affiliate link on social media platforms like Facebook, Instagram, Twitter, and Pinterest. You can also write blog posts and include your affiliate links within the content. And don't forget about email marketing – include your links in your email newsletters. The more places you share your link, the more potential customers you'll reach.
What is the best way to find affiliate programs?
There are many different ways. But, the best way to find out affiliate programs that you can promote online is to sign up for an affiliate network.
Wondering what an affiliate network is?
An affiliate network acts as an intermediary between affiliate marketers and affiliate programs. It also handles affiliate payments.
Below are some of the most popular ones:
ClickBank
ShareASale
CJ Affiliate
Impact Radius
PartnerStack
---
Read – 11 Best Affiliate Networks for Affiliate Marketers
---
In order to earn well by sharing affiliate links, you don't need to join lots of affiliate networks. In fact, it makes you confused about which products to choose.
One of the most popular ones I would love to mention is ClickBank.
There are over 3,000 digital products in the ClickBank marketplace. They pay 25% to 75% commissions on every sale. The average commission is around $30.
It mainly focuses on digital products.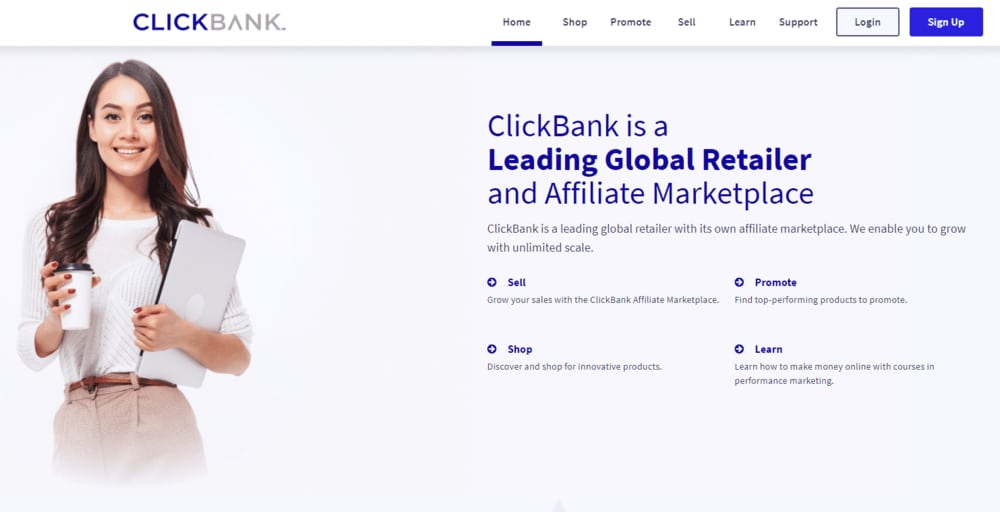 This is completely free to sign up for ClickBank.
Once you sign up, you will be able to choose a product from over 20 different categories in their marketplace. Generate an affiliate link that you can share online and get a commission every time someone makes a purchase through your affiliate link.
I personally like to share Clickbank product links as it offers extremely high commissions compared to any other affiliate networks.
That's why it makes it highly profitable to share ClickBank links online.
Tips for success in affiliate marketing:
Choose the right affiliate program for your niche.
Only promote products or services that you believe in.
Be honest and transparent about your affiliate relationships.
Give your audience a reason to purchase from your links.
Provide valuable content that attracts followers and builds trust.
Use a link shortener to make your links look cleaner.
Monitor your affiliate sales and adjust your strategies.
In conclusion, affiliate marketing is a great way to earn extra money online by sharing links to products and services you believe in. Pretty simple concept!
Is affiliate marketing worth it?
Affiliate marketing is well worth it this year and beyond. This is a growing industry. As Statista reported, Affiliate marketing is expected to reach as much as the $8-billion mark or more by the end of this year. So it's definitely worth it.
What is the best place to learn affiliate marketing?
The best place to learn affiliate marketing is Wealthy Affiliate.
Wealthy Affiliate is an online training platform and community that teaches people how to build successful affiliate marketing businesses. The program provides step-by-step training on topics such as niche selection, website creation, search engine optimization (SEO), content creation, social media marketing, and more.
They also offer a suite of tools and services to help members build and manage their online businesses, including web hosting, keyword research tools, and a website builder.
In addition to the training and tools, it also has a supportive community of like-minded entrepreneurs who are there to provide guidance and support to one another. Members can participate in forums, live chat, and private messaging to connect with others and get help with any questions or challenges they may encounter.
Wealthy Affiliate offers a free starter membership you can take advantage of. It includes access to some of the training and tools, as well as the community.
How much money do affiliates make online?
There's no limit to how much money you can make from affiliate marketing.
There are countless examples of people becoming millionaires starting from zero. But of course, there are always people who don't earn any money.
And, here's the truth:
As with any business, your success entirely depends on your individual capacity, level of desire, expertise, and business experience.
So, your results may always vary.
---
Affiliate marketing is one of the easiest business models to start online. Anyone with little to no experience can get started in minutes.
---
All you need is to sign up for an affiliate program, get your unique affiliate link, and share it online. That's how you can get into the game.
Quite easy for beginners, right?
Of course, sharing an affiliate link online doesn't guarantee sales. For generating affiliate sales, you'll need a proven system that works.
But as far as money is concerned, earning potential is limitless.
Obviously, there can't be a limit.
What is the best way to do affiliate marketing?
There are countless ways to promote affiliate links or offers online. But the best way to promote affiliate links is by starting a blog or website.
A blog is the most profitable and sustainable way to do affiliate marketing.
Any good news?
It costs less than $100/year to set up a blog on a decent web hosting company. You can check out Bluehost for a free domain name and blog hosting at only $2.75/mo.
Simply, you can start a blogging website, design it to look beautiful, create helpful articles for your readers, and include affiliate links within its content.
When readers read your blog posts, they might click on these links and buy. And, you get paid for sharing these affiliate links with your readers. If you can do it the right way and invest your time in learning the process, the rewards will be worth it in the long term.
Apart from this, you can also use advertising to promote affiliate offers. Of course, it will cost you money. But, you may start making money faster.
How long does it take to make money?
How long affiliate marketing takes to make money entirely depends on the methods you choose to promote affiliate offers. Based on how you promote, it might take a day, a few months, or maybe years to earn your first $1000 online.
Blogging is one of the most profitable ways to share affiliate links online. But in most cases, blogging takes at least 12 months to get any positive results.
However, there are countless examples of affiliate marketers who made millions within a few years using the power of advertising. Advertising is risky and requires money to be invested. But if you can do it right, it's possible to generate income within hours or days.
Please note that affiliate marketing is not a get-rich-quick scheme.
So don't expect to become rich quickly, even though it's possible.
Can you share affiliate links on Facebook?
Yes, of course, you can share affiliate links on Facebook or other social media sites and get paid if someone makes a purchase using your unique affiliate link. But you should follow a proper strategy to share affiliate links with the right people. You can't just share any random affiliate links and expect people to buy. That really doesn't make sense.
For best results, join some Facebook groups or create your own business page. Follow a particular niche and build an audience before sharing affiliate links.
How do affiliates get paid?
Affiliates get paid by the affiliate programs they sign up for. Their account gets credited when they make a sale. Usually, the payment is processed by Affiliate networks. They can get paid by PayPal, direct deposit, wire transfer, and so on.
Different affiliate networks have different ways to pay their affiliates. But, you'll get paid for your efforts. So, don't worry about getting scammed.
How much does it cost to start affiliate marketing?
Affiliate Marketing can cost you anywhere from $100 per year to $1000+ per month based on how you want to promote affiliate offers and make sales. While starting an affiliate blog will cost you less than $100 per year, using advertising to promote affiliate offers can cost as much as $1000 to $10000 or more every month.
Starting an affiliate blog is one of the most cost-effective solutions.
Depending on your blogging goals and the type of blog you want to create, it will cost you around $35 to $65 per year to set up your blog.
---
Read – How Much Does It Really Cost to Start a Blog?
---
So go ahead and start your affiliate blog today.
And, that's how you can share affiliate links online and get paid.
By joining an affiliate program, promoting your unique referral link, and providing valuable content, you can earn a passive income and potentially turn it into a full-time business. Also, join Wealthy Affiliate Community to learn how top affiliates are doing it.
Let's move on to the next method to share links and earn money.
2. Use URL Shorteners that Pay
URL shortening is a great way to monetize your shared links.
Simply put, URL shortening is the process of taking a long website link and creating a shorter, condensed version of it. This condensed version, also known as a "short link," redirects to the original website when clicked.
How does URL shortening help you make money?
By using URL shortening services that pay, like Zagl, Adf.ly, or Shorte.st, you can earn a small amount of money for each click on your shared link. When someone clicks on your shortened link, they will be redirected to an ad before being directed to the original website. You earn a commission for each click on your link that leads to an ad view.
To start making money with URL shortening, you need to create an account with a URL shortening service of your choice. You don't need to pay to join. After that, you can start shortening links to any website that you want to share.
You can share the shortened links on your social media platforms, blogs, websites, email lists, or any other online platform where you have an audience. When someone clicks on your shared link, you earn a commission for the ad view.
Click on this link for a good example of how it works.
The above link has been created by using the Za.gl link shortener which pays users to share links shortened by their link shortener.
I've already published an article on how to earn money with Zagl the right way.
If you've clicked on my suggested link above, you should notice that you will be forced to view ads; before you can reach the desired destination.
Link shorteners like Za.gl earn by showing ads.
Advertisers pay them and they will pay you a part of the revenue for sharing their links online. They pay up to $160 for 10,000 clicks on these links.
Their publisher rates are pretty decent, compared to all other similar services. If you know you can generate thousands of clicks, Zagl could be a wonderful choice.
And, you can share these short links on Facebook and get paid for clicks.
How to maximize your earnings?
To maximize your earnings, you can use URL shortening in combination with other online monetization strategies like affiliate marketing. By adding affiliate links to your shared links, you can earn a commission on any sales generated through your shared link.
Another way to increase your earnings is by using the best URL shortener to make money. Some URL shortening services offer higher commissions than others, so it's worth exploring different options to find the best fit for your niche and audience.
In short, URL shortening is a simple and effective way to earn money online. By sharing shortened links that include ads, you can generate an income stream without investing any money from your pocket. So, start shortening your links today!
3. Utilize Referral Programs
Referral programs are essentially a type of affiliate marketing.
When you share a referral link for a product or service, you earn a commission or reward for any sales made through that link. It's a win-win situation – the company gets new customers, and you get some extra cash or rewards in your pocket.
Don't confuse referral programs with affiliate marketing. While they are quite similar there are a few key differences you need to know.
Referral program vs affiliate program
A referral program is a marketing strategy in which companies offer incentives to existing customers to refer their friends or family members to become new customers.
In a referral program, the existing customer typically receives a reward, such as a discount or free product, for each new customer they refer.
An affiliate program, on the other hand, is a marketing strategy where companies partner with individuals or other businesses (affiliates) who promote the company's products or services in exchange for a commission on any sales made through their links.
Unlike referral programs, affiliates are not necessarily existing customers.
They may be bloggers, social media influencers, or other types of marketers who have a following and can reach a larger audience easily.
How to make money with referral programs?
First things first, find a referral program that aligns with your interests and niche.
If you have a blog with traffic or a social media presence with loyal followers, you can start by sharing your unique referral link with your followers. It's important to create quality content that promotes the product or service you're referring to.
Using a link shortener can help make your referral link look more appealing and less spammy. You can also track clicks and see which links are performing the best using Google Analytics or link-tracking software tools. By monitoring your clicks, you can see what's working and what's not. And, this way you'll be able to optimize your strategy.
Another way to promote your referral link is to build an email list.
By offering a freebie in exchange for signing up for your email list, you can reach a wider audience and get more people to use your referral link. You can also offer rewards for those who use your link, such as a discount or bonus content.
Almost every business offers some kind of referral program to expand their businesses. So, it shouldn't be hard to find a program that you can promote online.
Examples of referral programs
Dropbox: Dropbox offers a referral program where you can earn up to 16GB of extra storage space when someone you refer signs up for a Dropbox account.
Rakuten: Rakuten offers a referral program where you can earn $30 for every friend you refer who signs up and makes a qualifying purchase.
Swagbucks: Swagbucks offers a referral program where you can earn 10% of your referrals' lifetime earnings, with no maximum limit on your income.
Overall, referral programs are a fantastic way to make some extra money online by simply sharing a link. With the right content and promotion, you can easily make some extra bucks for yourself. So get out there, and share your unique referral link.
4. Make Money Blogging
Blogging is a popular way to make money online. Essentially, it involves publishing articles on the web via a blog – a website dedicated to posting blog articles. It's a simple concept, but one that has limitless potential for earning. Whether you're interested in affiliate marketing or selling digital products, there are numerous ways to monetize your blog.
This very article you're reading now is, in fact, a blog post, complete with a variety of links scattered throughout. These links provide readers with useful resources, tools, and additional blog posts, all designed to enhance their experience. Some of these links are also affiliate links or referral links to various web services or platforms.
In the same way, you can create your blog and share links online. You can share links to affiliate products that pay you a commission for every sale. Or, you can share referral links to get paid a special reward or share links to your own digital products to sell.
How to get started with blogging?
If you're interested in starting your own blog, fear not – it's easier than you might think.
All you need to start a blog is a domain name and web hosting, both of which can be obtained through a company like Bluehost. They offer affordable hosting plans for beginners, starting at just $2.75 per month, and include a free domain name.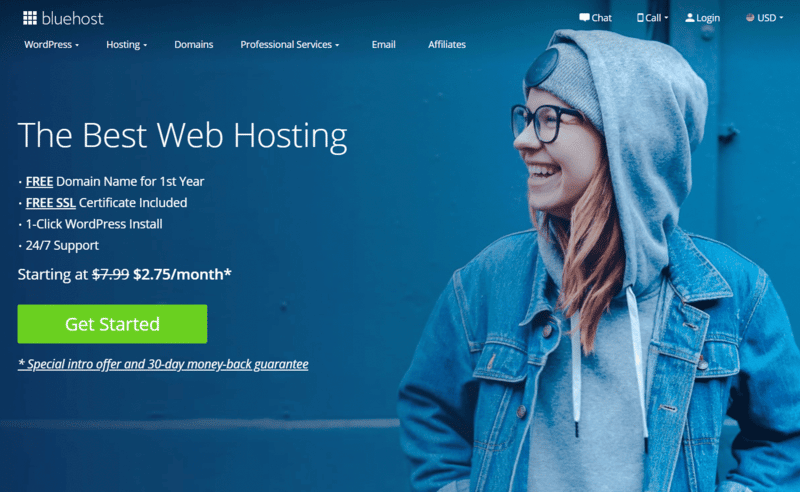 Once you've purchased your plan, Bluehost will automatically install WordPress, the most popular blogging software, making the setup process quick and painless.
With your blog up and running, it's time to start sharing links and earning money.
Simply choose a profitable niche that offers a lot of products you can promote online, and start publishing content related to that niche. When appropriate, include affiliate links within your posts. Just be sure to provide real value and avoid appearing spammy.
---
With the right approach, you can make money by sharing links to products and services that your readers will love.
---
Your content is the key to your success as a blogger. You need to create content that is engaging, informative, and valuable to your readers. By doing so, you will build a loyal following and earn their trust. Make sure to incorporate your affiliate links in your content seamlessly and naturally. No one likes a sales pitch, so make sure to keep it authentic.
Social media is a powerful tool for bloggers to promote their blog posts and share affiliate links. Share your blog posts and affiliate links on your social media platforms to increase your visibility and drive more traffic to your blog.
Finally, it's essential to track your results and analyze your performance. Use tools like Google Analytics to monitor your website traffic, affiliate sales, and engagement.
Of course, there are many ways to make money through blogging, and we've only scratched the surface here. However, by following these simple blogging tips, you'll be well on your way to creating a successful blog and earning an income.
Please understand that making money by sharing links is not a get-rich-quick scheme. It requires patience, dedication, and hard work just like any other business.
Are you tired of the 9-5 grind and want to start earning money online? This step-by-step beginner's guide will take you through all the steps to start a successful blog and turn it into a profitable online business. From choosing a niche to driving traffic and monetizing your blog, it has got you covered. This is time to join the millions of bloggers making money online!
5. Sell courses
You can create an online course about anything you're passionate about and sell it to people all over the world. All you need is a topic, great content, and a platform to sell it on.
To start, you can create your course content using any medium you prefer – video, audio, or written content. Once you have your content ready, you can use a course platform like Udemy, Teachable, or Skillshare to host and sell your course.
The best part about selling online courses is that you can earn passive income.
How to create and sell courses online?
First things first, you need to figure out your niche. What are you passionate about? What do you have extensive knowledge of? Choose a topic that excites you, something that you're knowledgeable about and can teach others. Remember, you'll be creating content around this topic for a while, so make sure it's something that you won't get bored of.
Now that you have your niche, it's time to start creating content. This can be in the form of videos, blog posts, webinars, or a combination of all three.
You want to provide value to your audience, so make sure your content is informative and engaging. Don't be afraid to let your personality shine through – after all, people are signing up for your course to learn from you specifically.
Next, you need to decide on a platform to host your course.
There are many options out there, from Udemy and Teachable to Kajabi and Thinkific. Each has its pros and cons, so do your research to find the one that best fits your needs.
Once you've created your course, you can continue to sell it for years to come, and every time someone purchases it, you'll earn money. Make sure you share links to your courses so that more people can find them and buy them if they feel the need.
How to maximize your sales?
To increase your course sales, you can also promote your course through affiliate marketing. By joining an affiliate network, you can have other people promote your course for you by sharing their unique referral links with their followers.
And every time someone purchases your course through their link, they earn a commission, and you make a sale. It's a win-win situation!
But how do you get people to sign up for your course in the first place?
Well, social media can be your best friend.
You can promote your course on your social media platforms, and encourage your followers to share your referral link with their friends and family.
You can also create a blog post about your course and use SEO to rank it higher on search engines like Google. You can use PPC advertising to target people who might be interested in your course, and you can even use an email marketing software.
6. Share Links to Sell eBooks
Selling eBooks is not only is it a great way to make money online, but you can do it by simply sharing links online!
How to share links to ebooks and earn money?
First, sign up for an Amazon Associate account.
Then, find eBooks that you think would interest your followers or subscribers.
Copy the affiliate link or referral link provided and share it on your social media platform or blog post as an affiliate marketer. When someone clicks on the link and purchases the eBook, you earn an affiliate commission!
The best part?
You don't have to create your own content or your own ebook.
Just find eBooks that are relevant to your niche and share the affiliate link. It's easy, and you don't need to have any special skills to start earning.
But don't stop at just sharing links.
Get creative with it!
Write a blog post reviewing the eBook, create an eye-catching graphic, or share a success story about how the eBook has helped you. The more you engage your followers, the more likely they are to click on your link and make a purchase.
But how do you get people to click on your links in the first place?
Build a following!
Whether it's through your blog, social media, or email list, the more followers you have, the more potential buyers you have. And remember quality over quantity. It's better to have a smaller following that's engaged with your content than a large following that doesn't care.
Overall, it's easy, doesn't require any special skills, and you can do it from the comfort of your own home. Just find eBooks that interest you, and share the affiliate link.
7. Use Email Marketing
Email marketing is a powerful method of promoting products and services to potential customers. By sharing links to affiliate offers through emails, you can earn money through affiliate marketing. It's another popular way to make money online.
It's a way to earn commission by promoting other people's products.
By joining an affiliate program and obtaining an affiliate link or referral link, you can include them in your emails to your subscribers. And if they purchase a product using your link, you'll earn a commission. It's like getting paid to share links with your email list!
By sharing exclusive promotions or discounts with your email subscribers, you can encourage them to click on your affiliate links and make a purchase.
How to get started with email marketing?
Start by building an email list, creating valuable content, and joining affiliate networks. Once you have a following, you can start promoting affiliate offers.
You'll also need email marketing software.
Email marketing software is a type of software that helps you create and manage email marketing campaigns. It typically includes features such as email templates, subscriber management tools, campaign tracking and analytics, and automation tools.
With email marketing software, you can create and send email newsletters, promotional emails, and other types of marketing emails to your subscribers.
There are many different email marketing software options available:
I recommend GetResponse as it's free to get started and you can manage up to 500 contacts for free. So, there's no reason why shouldn't give it a try.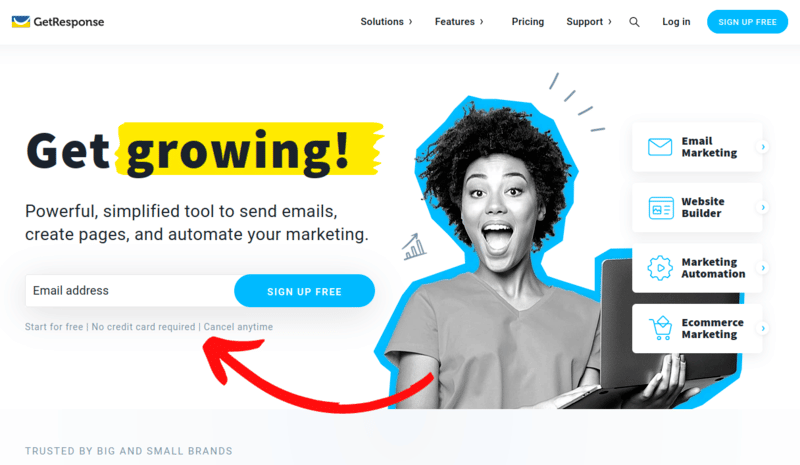 Finally, keep in mind that email marketing can be a great way to earn a solid income, but it takes time and effort to build a profitable email list. So, keep at it, and who knows? You might just become the next success story in email marketing!
8. Create an Online Store
An online store is a website that allows you to sell products to people all over the world. And the best part is, you can make money by sharing links to your store on social media platforms like Facebook, Twitter, and Instagram and increasing your chances of making sales. Well, you can also use Google Adsense and PPC advertising to drive more traffic.
But how do you create your own online store?
It's actually quite simple. First, choose a niche for your store. This could be anything from fashion to home decor to pet supplies.
Then, find products to sell within your niche.
Once you have your products, it's time to create your website.
You can use website builders like Weebly, Shopify, or Squarespace to create a professional-looking website without any coding skills.
Next, promote your store by sharing your store link on social media sites or email lists. You can also use a link shortener to make it easier to share your link.
As your website traffic grows, so will your sales.
---
Read – How to Start an Online Store in 7 Simple Steps?
---
9. CPA Marketing
CPA, or cost per action, marketing is another way to make money online by sharing links. Here's how it works: You get paid when someone clicks on your unique referral link and completes a specific action, such as signing up for a service or making a purchase. It's like being an affiliate marketer, but even easier.
Maxbounty and PeerFly are two of the most popular CPA affiliate networks. You can join and get your unique links to share online.
There are tons of other affiliate networks and programs out there, each offering different products, offers, and commission rates. With so many options out there, it's important to find the right niche for you and your audience.
So, how do you get started?
First, you need to create content that will drive traffic to your shared links. This can be anything from blog posts to YouTube videos to social media posts. The key is to create engaging content that people will want to click on.
The best part about CPA marketing is that it's a win-win for both you and the companies you're promoting. They get new customers, and you get paid for your efforts. And with the right strategy and a little bit of luck, you can make up to $1000 a day.
10. Share Sponsored Posts
What are sponsored posts, you ask? Well, it's simple. Companies will pay you to share links to their products or services on your social media accounts or blog.
But how do you get started with sponsored posts?
Well, the first step is to create content that people want to read or watch. It can be anything from a blog post to a YouTube video. The key is to choose a profitable niche or topic that you're passionate about and create content that your followers will love.
You need to build a strong following on your blog or social media platform. It can be done by consistently producing high-quality content that resonates with your audience.
Once you have an audience, look for brands that are relevant to your niche and that you believe in. Connect with brands that are looking for influencers to promote their products or services. And, let them know how you can help them grow online.
When you are popular enough, brands may also contact you.
Before you start accepting sponsored posts, you need to set your rates. Your rates will depend on your following, engagement rate, and the amount of work that goes into creating the post. You can research industry rates to get an idea of what other influencers charge.
When creating sponsored posts, share high-quality content that aligns with the brand's message. Your content should be authentic and resonate with your audience.
It is important to disclose sponsored posts to your audience. This helps build trust with your followers and ensures that you are following FTC guidelines.
Final Words and Thoughts
Congratulations, you've made it to the end of this blog post.
By now, you've hopefully gained some valuable insights into the world of online link sharing and how you can leverage it to generate income.
As you've seen, the opportunities are endless.
But the key to success is knowing where to focus your efforts and how to make the most of each strategy I've discussed above.
Of course, sharing links online isn't just about making money – it's also about connecting with others and building your brand. Whether you're a blogger, an affiliate marketer, or simply someone who enjoys sharing interesting content, there's a community out there that's waiting to discover what you have to offer.
But don't take my word for it – try out some of the strategies discussed here. Experiment with different ideas and track your results to fine-tune your approach. With persistence and a little creativity, you can turn your online sharing habits into a profitable venture.
Of course, the benefits of sharing links online go beyond personal gain.
By sharing useful resources and valuable information, you can help others in your network to grow and succeed. Whether you're sharing tips on how to start a business or links to products that you believe in, every share has the potential to make a difference in someone's life.
So, why not share this article with your friends and followers today?
By doing so, you'll be spreading the word about the best ways to share links online and helping others to discover the benefits of this powerful marketing tool. Plus, you never know who might benefit from the insights and strategies I've shared here.
You May Also Like…