If you want to boost your income from PTC or GPT sites, or any other online program or scheme, getting referrals is critical.
This comprehensive step-by-step guide will show you how to get direct referrals in a number of different ways.
Let's face it:
You need direct referrals for a number of reasons.
Referrals are, in most cases, the lifeblood of your online business.
You cannot ignore the importance of referrals for your PTC sites, GPT sites such as Neobux, ySense, PaidVerts, Inboxdollars, or any other online programs.
You won't be able to make enough money if you don't know how to get more direct referrals. It may seem challenging to know where to begin.
Don't worry!
This article will help you figure out how to get referrals in the most efficient way possible. You'll also discover how to properly utilize them.
One of the most popular PTC sites is Neobux.
And, if you are already working on Neobux and want to make more money with Neobux, this article is going to help you reach your target.
It's not easy to make big money with Neobux, but it's possible.
What are PTC sites?
PTC sites are websites where you can get paid to view ads. Of course, these PTC sites aren't going to make you a lot of money.
But, if you know how to get direct referrals, you can surely make it quite easy for yourself to earn a considerable amount of money.
So, what can you do to get more direct referrals?
There are literally hundreds of ways to receive direct referrals. I've tried to put together a list of the most effective ways to get direct referrals.
So, let's get started with the first method…
1. Create a Blogging Site
WordPress is one of the best website-building platforms.
There are many advantages of using WordPress to build a website or blog. But mainly, it's fairly easy to create a website with WordPress.
Basically, I'd like you to build a blogging or content site.
It's similar to the one you're on now.
The reason is simple.
You can easily promote Neobux or any other PTC/GPT sites by using a content site or blog. What you are reading right now is a blogging site.
Basically, you'll be starting a blog to get referrals.
Starting a blog has many other benefits…
---
Read – Is Starting a Blog Worth It?
---
So how do you get referrals from a blog?
If you look around the page, you'll notice that I've promoted Neobux in a number of places. People who read my blog posts sometimes decide to sign up using my Neobux referral links.
The result?
I get new direct referrals for Neobux, without doing anything extra.
Well, I have to blog, of course.
Of course, everyone who reads doesn't sign up.
And, that's how it is.
It shouldn't be a problem.
But those who sign up become my direct referrals.
Since I've included my referral links, they sign up to Neobux under my referral link. As a result, I get a referral.
So you can see that the process is simple.
And, also it doesn't hurt them in any way. But only helps me get a direct referral. That's how powerful starting a blog can be for you.
Do you want to start a blog of your own?
I have some exciting news for you that will make you jump out of your chair.
You can now get your blog set up absolutely free using my free WordPress blog setup service and get started with blogging right now.
Blogging is probably the most powerful method to get referrals.
And, that's why I've given it the number 1 rank.
What's next?
Make sure you promote your blog aggressively.
It'll help you increase traffic to your blog and slowly grow your search engine visibility. Build a few contextual backlinks from high-authority websites. It will help you improve your search engine visibility too and get traffic.
Once your blog visitors start coming organically from Google searches, you can expect them to be interested in this PTC subject.
It won't be difficult to get a decent number of referrals if you have a well-designed blog that explains the benefits of joining the PTC sites you recommend. Your blog will become your primary source of direct referrals if it attracts organic visitors from search engines.
You can trust me on this!
Yes, of course! You'll have to put in some effort at first. However, the results you might expect from your blog would be spectacular.
The very first step?
Register a domain name for your blog.
You'll also need a web hosting account to host your blog.
Click on this special link to go with Bluehost and get a free domain name as well as web-hosting at a special discounted rate of only $2.75/month.
Now, get your blog ready.
A complete step-by-step guide can be found here.
Then, discuss the benefits of joining PTC sites and how simple it is to make money with your readers when you build your blog.
Give your blog's readers some useful knowledge.
Assist them in making an informed choice.
Write in your own words and don't use PTC ads to take up your whole blog. If you do so, you might get some referrals.
But, it's unclear how long they'll be active.
To stay active, they need to understand the importance of being active. And you have the responsibility to make them understand it.
It doesn't require a lot of effort to maintain a blog. But it will continuously bring you more direct referrals for you.
Trust me! After a certain time, you'll keep getting referrals even if you don't work on your blog. But it'll keep working for you constantly.
There are many advantages to creating a blog.
It's not just about only getting referrals. In fact, if you can have a professionally designed blog, you can use them to attract more clients. Web design services like Milwaukee Web Design or similar services can help you with this.
Well, first of all, having a blog will show that you are up to date with the latest trends in your industry. This is always a good thing because it will show that you are keeping up with the latest trends and that you are always looking for ways to improve your business online.
Frankly, it has the potential to be a lucrative online business.
But that's another topic.
My point is "it really doesn't hurt" to build a content site or a blog.
Build a Blogging Business
Are you looking for an easy-to-follow step-by-step guide for creating a life-changing blog and making an extra $1,000 or more per month?
Check out Blogging from ZERO.
It's the most comprehensive blogging guide.
You'll be able to learn:
The right blogging mindset
How to set up your blog
How to choose a topic for your blog
How to make a huge profit
How to create products that sell
$1000+ per month formula
How to write blog posts that rank
6 figure blogging roadmap
Setting up your internet cashmachine
And, so much more…
You'll be able to learn everything you need to know to successfully launch a blogging business, starting right from the beginning.
2. Use Secret Referral Blueprint
Let's be honest:
The majority of people who sign up for these PTC/GPT sites have no idea how to get referrals. They actually do not understand and do not even attempt to understand, why other people make a lot of money when they make pennies.
The people who have discovered these secret ways to get referrals can now enjoy their life with great income sources from their direct referrals only.
However, things are about to change drastically.
Because you're about to learn the best methods you can use to get over 100 direct referrals for Neobux and other similar PTC or GPT sites every day.
Unfortunately, not everybody is capable of following or implementing some of the most effective ways to get direct referrals.
If you want to know how to get more active direct referrals to increase your income on Neobux or similar sites, it's highly recommended to get this exclusive guide.
It is generally believed that getting referrals is difficult. But the fact is that it is not that complicated if you follow the right method in the right way.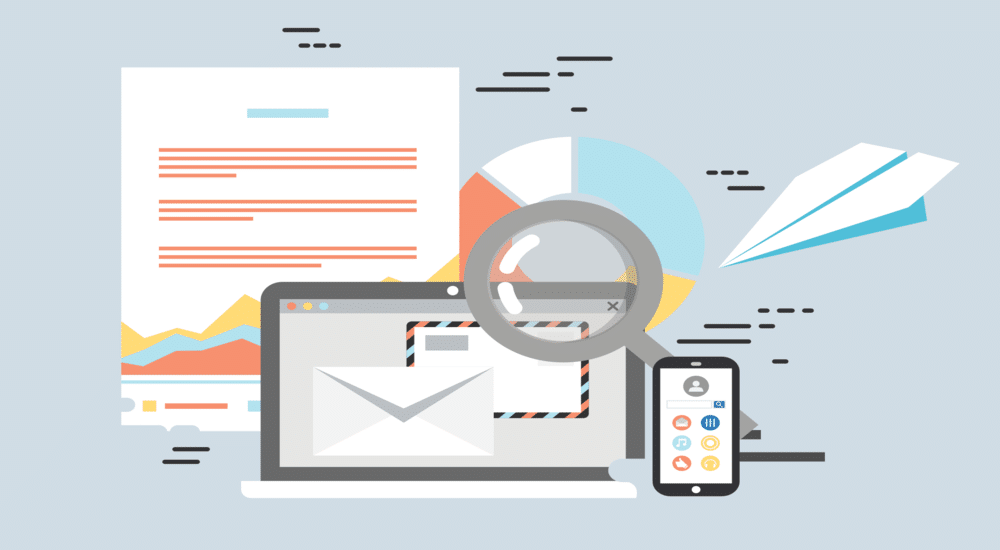 This is my favorite.
You can advertise your referral links in various different platforms.
Most beginners are hesitant about spending money online. However, this is the most effective way to market online. To get new customers and leads, the majority of online businesses use advertisements. It's something you can do as well.
Please keep in mind that testing is the only way to go.
It's possible that you'll lose money at first. However, the ROI (return on investment) will inevitably be much greater than any other method.
You'll never be hungry for traffic (visitors) again if you master the art and techniques of online advertisement. On the internet, there are many ad networks to choose from. Most networks can cost you much more than a beginner would expect to pay.
I'd suggest you some of the ad networks, you can try.
Unique Traffic is a great place to go if you want to get high-quality traffic that converts. I've had a lot of success with their traffic in terms of generating referrals and affiliate sales.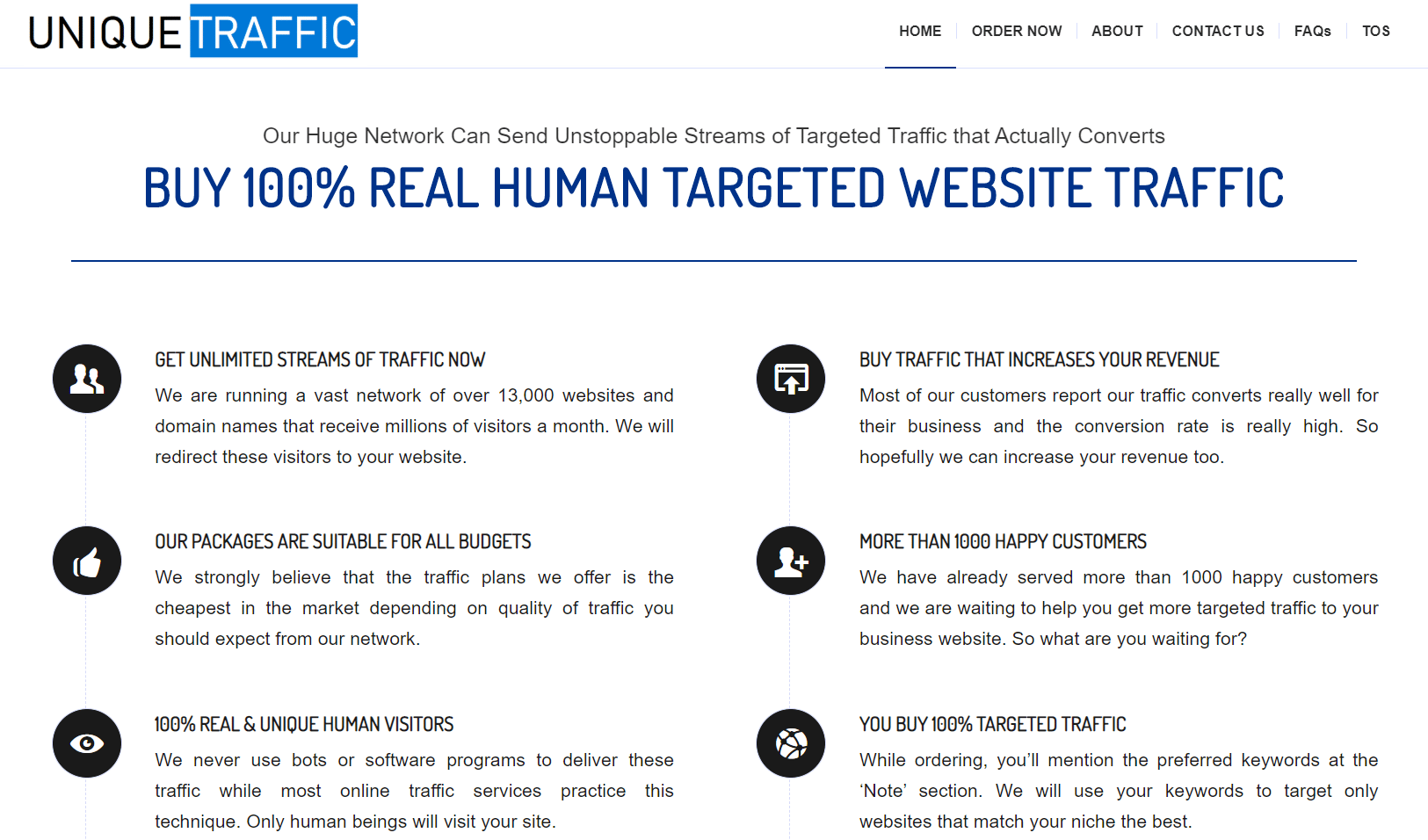 But truly one of the best ways to get highly active referrals is joining other PTC sites where you are not already a member. Most PTC sites would let you advertise using your own earnings. And that's what you actually need here.
Since PTC users already know how these sites work and how to make money on these sites, it is ten times better to advertise on PTCs.
However, advertising on PTC platforms can much more expensive, and beginners to this field may not be able to afford it.
The return on investment (ROI) for low-cost online advertising options is usually very high. PTC sites are free to access and they do not need payment. As a result, the majority of people who want to make money would like to join.
You should have success with most of your campaigns; most of the time.
I highly recommend that you join Neobux if you are not already a member. This is a highly legitimate PTC site paying since 2008.
I must say that advertising on Neobux works like a charm. You should try it too. Most of the users are highly active and very willing to work.
As an advertising platform, this is a wonderful choice. You may also use it like any other PTC site just to increase your income by viewing ads.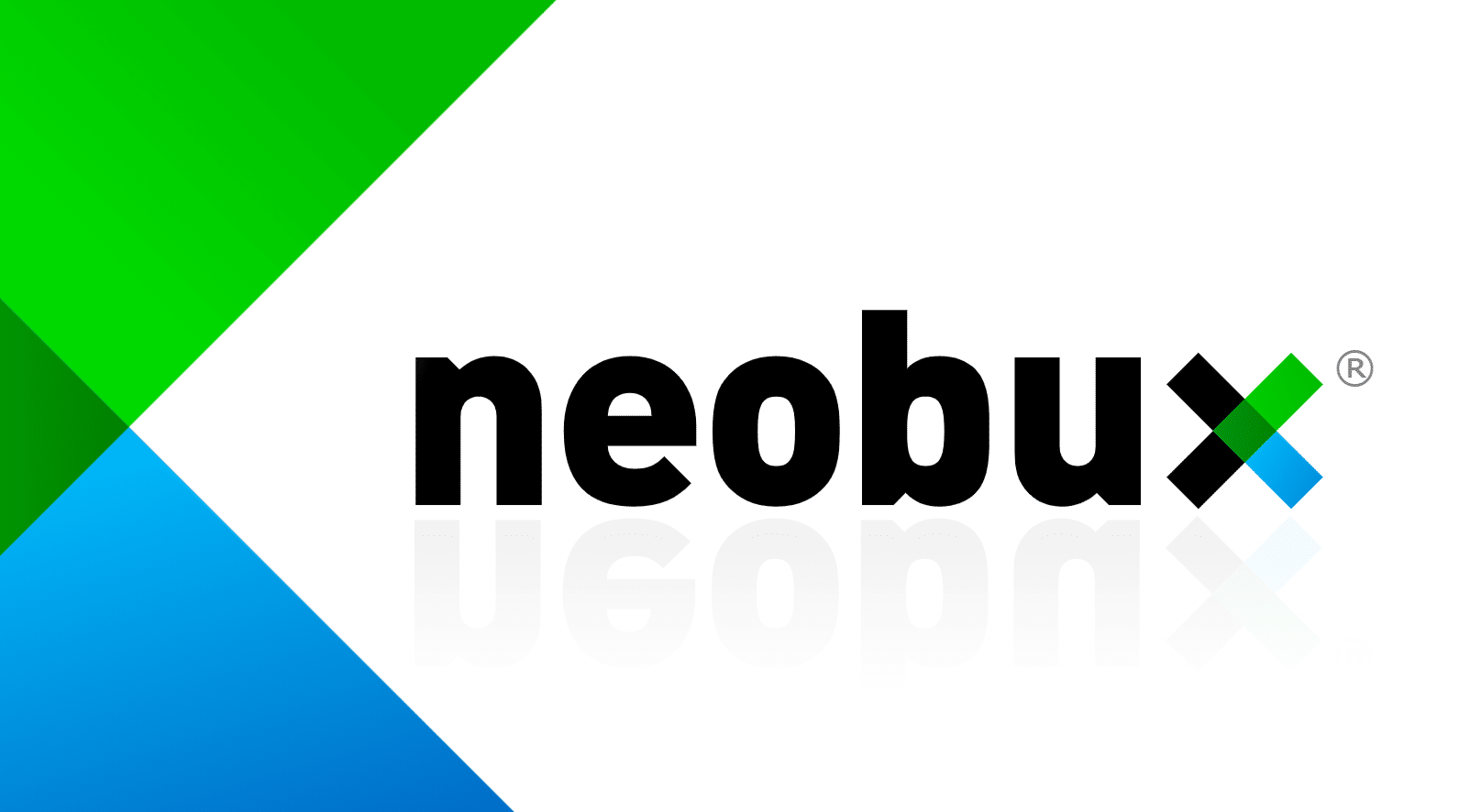 Don't forget to make an account if you don't already have one. It's totally free and just takes two minutes of your time to sign up.
Don't forget to activate your account by viewing all the available ads. You just need $5 in your earnings to use their advertising system.
However, the minimum amount required might change in the future.
Please keep in mind that not all PTC sites run in the same way, and not all users are the same. So, you should focus exclusively on the best choices available to you.
I'd like to share my Neobux results. Hope it inspires you!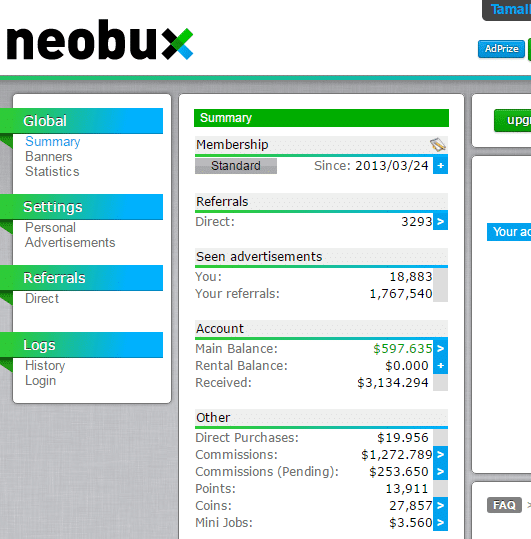 Secondly, I would suggest you join BidVertiser and Adhitz to advertise your referral links. These two networks are the best for getting PTC referrals.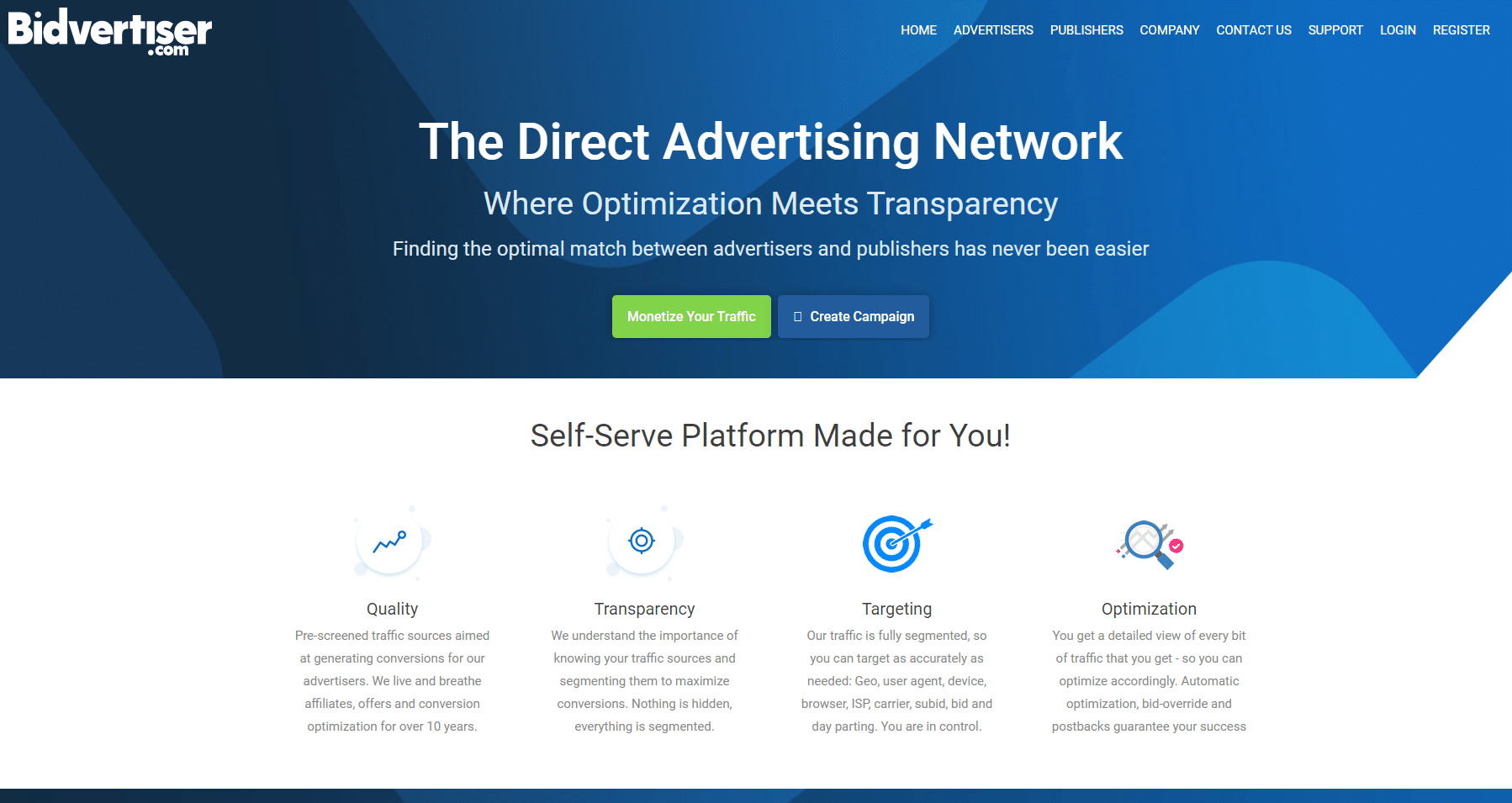 Their cost is pretty lower than what Google AdWords or any other online advertising company would charge.
But the ROI is pretty impressive.
These sites work really well. Because it entirely depends on user clicks. You have to pay only when someone clicks on your banner or ad. When someone clicks on your referral banner or ad, they are highly targeted referrals.
You may also use Infolinks. It's also very popular and affordable. Though it's not always a good choice for PTC sites, you can definitely try it.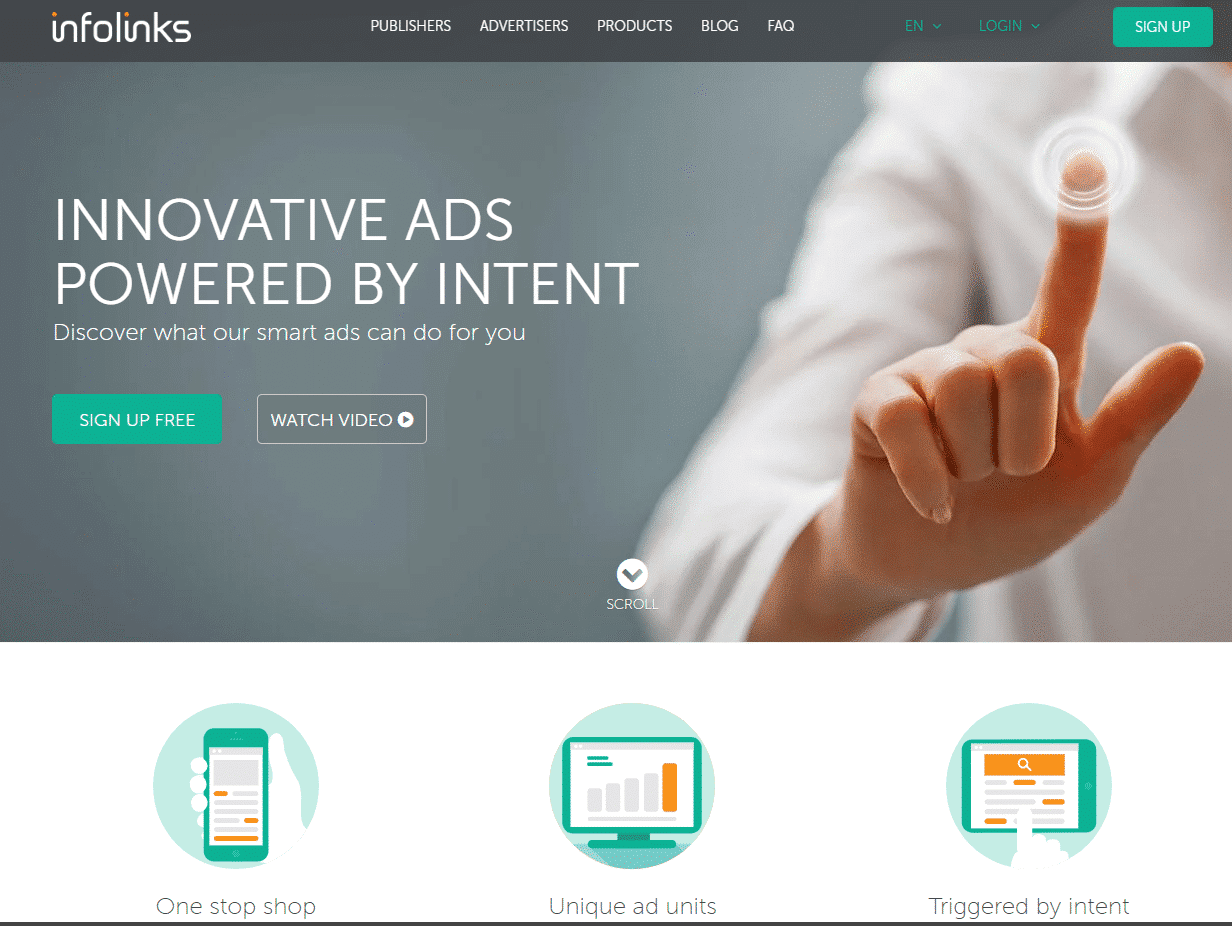 Remember CPC or Cost Per Click ads are always best. Because more than 80% of people who click on ads or banners eventually join. Since they are interested, you can expect them to be active for a long time.
If you are interested to get long-term active referrals for Neobux or any other PTC sites, I urge you to try all these ad networks.
You won't regret it. I promise.
The strategies described here are already being used by thousands of people to get direct referrals on Neobux or other PTC sites.
Now it's your time to take action and don't waste your time.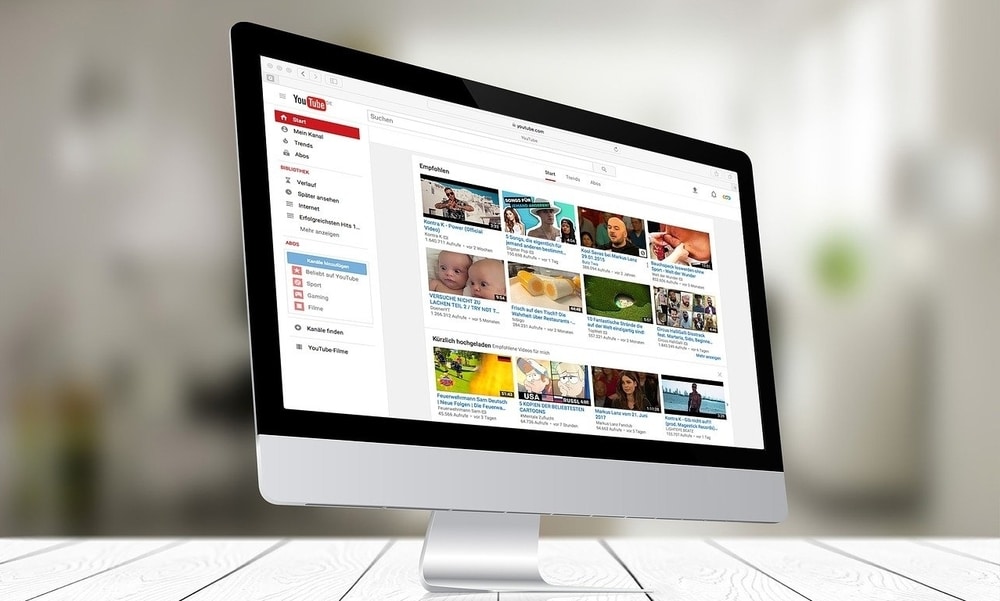 Nowadays, making a short video to promote the advantages of joining PTC sites is relatively simple. You can do a decent job with a lot of free video editing tools that are available online. Flexclip is a great option for beginners.
If you don't want to show your face online, that's fine.
You can just use images. Record your voice to make the video. A small 3 to 5 minutes video should do the job pretty well.
Youtube is the most famous video uploading site now online.
It is also quite easy to rank a Youtube video compared to how hard it is to rank web pages on Google. But with more and more videos coming every day, it's slowly getting harder and harder to rank.
The solution? You should take action right now.
What you need is to create an interesting video and upload it to Youtube. Google tends to give a good ranking for Youtube videos.
Ask your friends and family to watch it. Share your video to online forums or other video-sharing sites and ask people to make comments on your videos.
If they like your video, they would like to share what they think about it. As a result, they will start making comments on your videos.
When your videos will start getting comments and more views, Google will see its activity. If your video is making people interact with your video and forcing them their thoughts as comments, Google would think your video is interesting.
As a result, you will get a good ranking in Google search.
When your video will start showing up in Google search results, you will automatically get more direct referrals.
Don't forget to include your referral links in video descriptions.
You can also make money with YouTube in other ways.
YouTube is not the only video hosting service out there. It's just the most popular one with 1.8 billion logged-in users per month.
There are a lot of other websites that are similar to YouTube.
As a result, there are no limitations on what you can do.
Here's a list of some of the most widely used video hosting services. It may seem to be a tremendous amount of effort. Maybe, you are right. But looking at the results you can expect by creating videos, it's truly worth it.
Let me suggest a fantastic service that will make things considerably easier.
With FlexClip, it shouldn't take long to create a video. Some promotions will do wonders. People are getting lots of referrals every day just doing this.
So what are you waiting for? Take action now.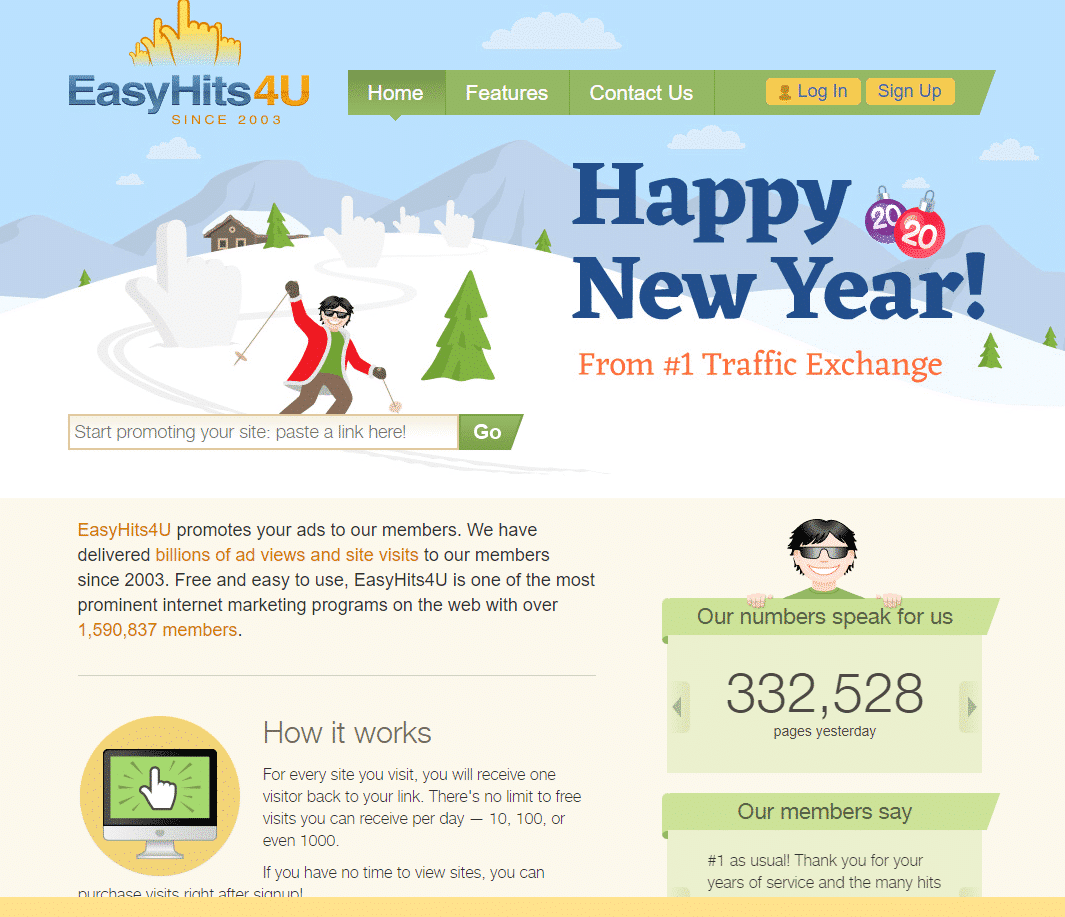 You can also use traffic exchange sites to get direct referrals. Traffic exchange sites basically give you an opportunity to get traffic to a new site.
The basic concept is very simple. You need to surf the sites of other members and make points. As a result, they will surf yours.
Traffic exchange sites work great if you use them in the right way.
This system allows you to get FREE traffic to your Referral Links or Blogs. Join some of the best traffic exchange sites and use them on a regular basis.
A simple Google search will bring a list of top traffic exchange sites. But my personal favorite and the only one I use is EasyHits4U.
The most interesting part is that it pays its members for just surfing sites. How cool! You are getting traffic, referrals as well as money. But you have to surf at least 100 sites to be eligible and it's absolutely free to start.
Click Here to Visit EasyHits4U
So if you spend some time everyday surfing site there, you get some money as well as visitors to your referral links.
They have a 1:1 exchange rate, manual surfing, and a five-tier referral scheme. EasyHits4U is a great way to get direct referrals and earn some residual income as well.
So go ahead and join EasyHits4U today. It's free. And don't forget to surf at least 100 sites to be eligible to get paid for surfing.
Surf as much as you can. Every time you visit one site, your referral link is visited by someone else. How interesting? Isn't it?
6. Make Comments on Blogs
You heard it right. You can literally get high number of referrals by making blog comments. But the point is you can't just make comments on any blogs.
You'll need to choose blogs that are high quality and creates a conversation like feeling in their comments section.
Take a look at the below screenshot. There are over 751 comments right now. It'll increase day by day.
What I am trying to mean is that you'll need to find blogs where people are actively commenting.
Leave quality comments making people visit your link.
So now you may ask me how you would find such blogs in your field. It's quite easy using Google alerts.
Google Alerts is a content change detection and notification service, offered by Google. They'll send you emails whenver new contents come up on the web related to your niche.
You can choose a particular keyword to focus on. The following keywords may relate nicely to Neobux or any other PTC sites.
Make money online
Make money from neobux
How to earn money with neobux
Make big money with neobux
How to make money online
I've just tried to give you an idea. There can be tons of other related keywords you can find using "Google Keyword Planner".
Use these keywords as you trigger keywords on Google alerts.
Visit Google alerts and type your desired keywords at the "Create an Alert Section" to create an alert for you.
Now every time there is a new web content related to your keywords, you'll receive an email notification. How interesting?
Visit the sites you get notified about. Look for commenting opportunities and leave a comment with your link.
This idea is very powerful. It doesn't only help you get more referrals to PTC sites but also helps you get more traffic to a website.
In case you have a website or blog where you talk about these subjects, link to your site (not neobux). That's a smarter decision.
If you don't have a site, just link to your referral link.
7. Make YouTube Comments
YouTube videos can help you grow your referrals very easily. If you cannot create a video as mentioned already before, you may comment.
There are hundreds if not thousands of YouTube videos related to Neobux or PTC sites. Your job is to find a suitable video and make comments on them.
Look at the screenshot below. That's how I added my referral link. This link redirects to my neobux referral link.
This is a powerful way to spread your referral links on the web.
If the video is popular enough and getting Google search traffic, you'll get hits to your referral links as well.
So whenever someone signs up under your link, they will become your referral. I've tried this strategy before. It works like a charm.
But I've now found better ways to get referrals for me. So I don't work on YouTube much now. But you can surely try it as a beginner.
It just works. Take action today.
8. Join Facebook Groups
There are tons of Facebook groups related to "money making niche". Use them to your advantage.
Join as many groups as you can.
Most of these Facebook groups have thousands of members. You wouldn't belive it. But you'll find lots of people still don't know about Neobux.
They don't have any idea how PTC sites work.
This is a million dollar opportunity for you. If there are thousands of members and get only a small percentage of sign ups, tha's amazing.
Take a look at the screenshot below. Here are some of Facebook groups I am a member of. These groups have thousands of active members.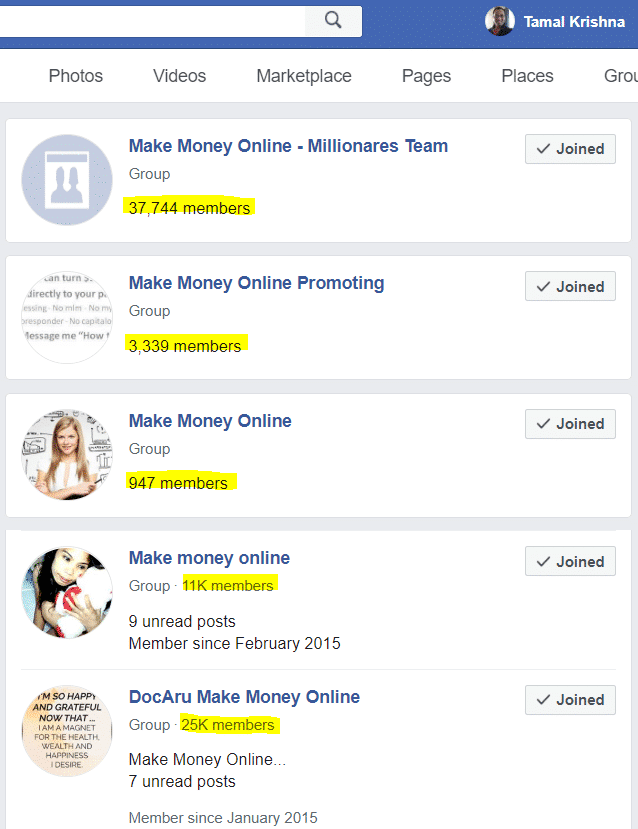 So you can see the power of joining Facebook groups. You can literally use them to promote anything under the sun.
Just make sure you don't spam. Otherwise, the group moderators will ban your account and you won't be able to post again.
Make good posts regarding the benefits of joining PTC sites. Suggest taking a look at your chosen PTC sites. That should be enough.
With thousands of members, if only a small percentage of people join, it will make a very positive change to your referral numbers.
9. Make Comments on FB Pages
It works in a similar way like commenting on YouTube. The only difference is that you're now making comments on Facebook pages.
Just like Facebook groups, there are hundreds of Facebook pages related to the "money-making niche". Your job is to find these pages and make comments on them. Use Facebook search to find these pages.
Once you make comments on some of these pages, Facebook will automatically suggest related pages to you.
This way you don't have to look for new related pages.
Facebook pages are also indexed in search engines like Google. So there are lots of traffic coming from search engines.
You have a great opportunity to advertise your referral links.
While making comments, leave your referral link. Don't spam. Make sure that you make comments on related pages.
Making comments on unrelated pages won't do the job well.
10. Start a Free WordPress Blog
I can understand.
You may not be able to own a self-hosted WordPress blog. Because it costs a few dollars every month for web hosting charges.
But you can start a free blog on WordPress.com and write about PTC sites. It can be a wonderful source of getting referrals.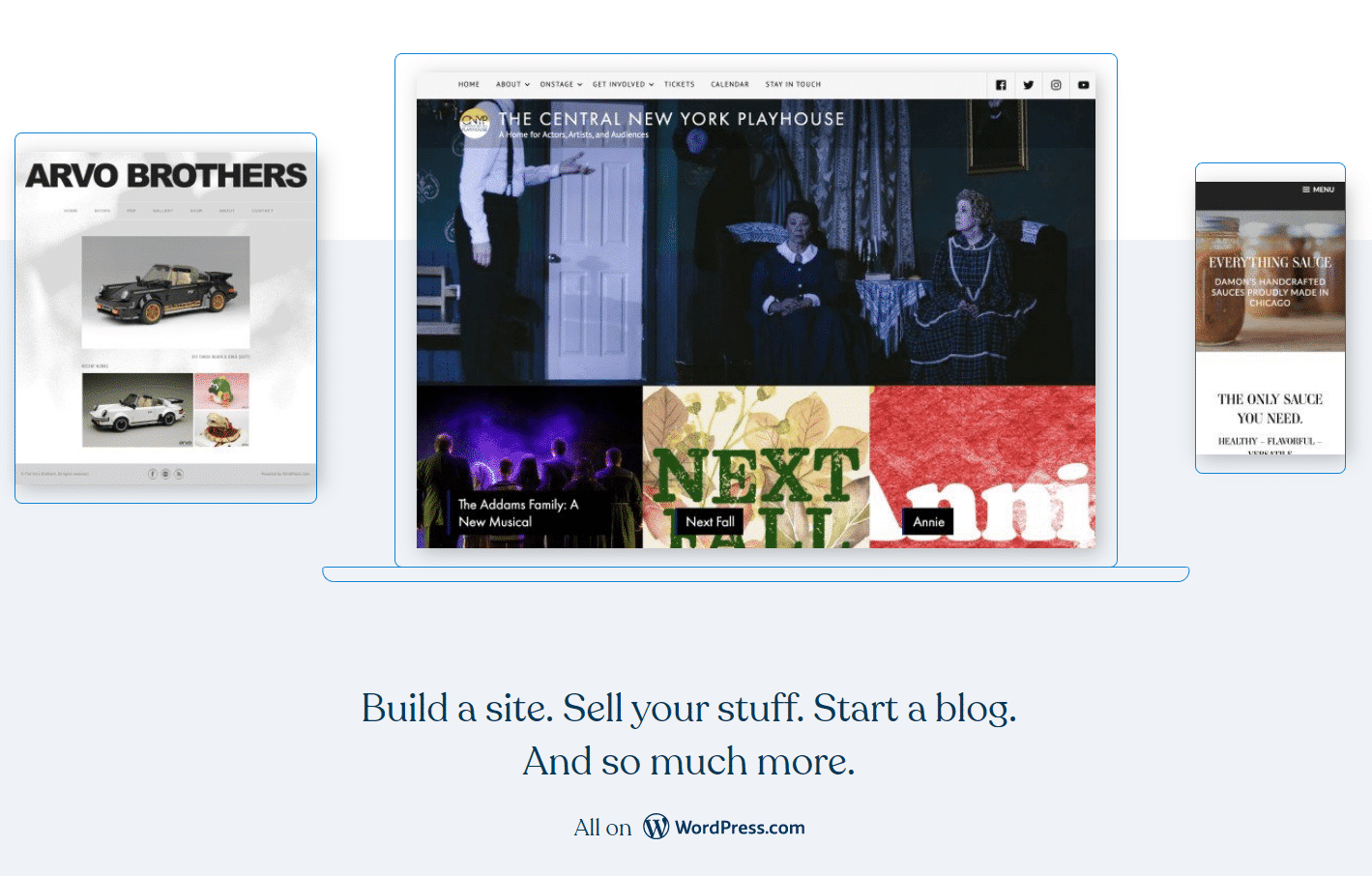 WordPress blogs are free. So there's nothing to lose.
It's safe to build a site or blog with WordPress. Over 35% of the web is built on WordPress. So you can see how powerful it is.
What I'll suggest is to register a domain name for yourself. It will cost you only around $10 for a year. I believe you can afford it.
Connect your domain name to your WordPress.com blog. Now you can start your free blog. However, your blog will now point to your domain.
Let me tell you why this is important.
Having your own domain name has many benefits:
On the Internet, your domain name is your unique identity.
Any individual, business or organization planning to have an Internet presence should invest in a domain name.
Having your own domain name, website and email addresses will give you and your business a more professional look. Having your own domain name also helps you protect from copyrights and trademarks.
It will help you in online promotions & increase your brand awareness and search engine positioning.
In short, it's always better to have your own domain name.
So register a domain of your own today. Connect it to your free WordPress blog. Start blogging about PTC sites and how they work.
Make sure you actively promote your blog online.
If you continuously work on your blog and market it online, it won't be long that you'll continue getting new referrals everyday.
Don't waste your time. Start taking action today!
11. Set Up a Free Blogger Blog
Setting up a free blogger blog also works the same way as a free WordPress blog. As already mentioned, you can have these blogs for free.
Blogger.com is owned by Google.
So you can safely start a blog at Blogger.com and take your first step on getting referrals. I'll suggest you to buy your own domain name and use it for your blogger blog. I've already discussed the benefits before.
The basic difference between these two blogging services is that they add different extensions to your blog. Look below…
| | |
| --- | --- |
| WordPress.com | Blogger.com |
| yourdomain.wordpress.com | yourdomain.blogspot.com |
Whatever extensions you use, it just doesn't look professional. That's why I highly recommend you to register a domain name.
Although top-level domains names cost around $10, you can find many new domain extensions at cheaper prices.
Visit Namecheap.com for buying your desired domain.
Once you have your free blog set up and connected to your domain, you are ready to get referrals. Start blogging and keep promoting.
You'll soon see positive results.
12. Bookmark Your Referral Links
You can bookmark your referral links. There are many bookmarking sites online. Some of the most popular ones are:
Reddit
Scoop.it
Mix
We Heart It
Digg
Fark
Slashdot
Social bookmarking sites websites where people make accounts to manage their favorite website links online.
It's a way for people to store, organize, search, and manage "bookmarks" of web pages. Users save links to web pages that they like or want to share, using a social bookmarking site to store these links.
Your job is to create a free account on these sites and save some of your favorite website links as well as your referral links.
Bookmarking sites usually have high domain authority. Many of these links also get visitors from Google searches. So your links may also be visited.
It'll take just a few minutes to make a free account and save some links.
If you don't have time to do this or want someone else to do it for you, you can visit Fiverr or Seoclerks. You'll find many sellers will bookmark your referral links on their own profile for a fee.
13. Write Medium Articles
Medium is an article-based site where you can create an account as a writer. Please note that you don't have to be an awesome writer.
You can sign up for Medium for free and start writing articles about PTC sites. Promote your referral links within your articles.
It's that simple.
Medium has very high domain authority and receives thousands of visitors from Google. Some of the users may even join the PTC site after reading your article. So I believe it's an awesome way to try your luck.
It's free to sign up. So you have nothing to lose.
Basically, the point is that you have to promote your referral links by writing articles. It works because you can now make your readers understand the value of joining. It's like preselling your readers to make a sale.
Medium is my favorite. But Medium is not the only article writing site out there. You can try a lot of others too.
Just do a Google search for popular article writing sites. If you are good at writing articles, this strategy can do wonders for you.
Make sure you promote your articles online for greater visibility.
14. Use Online Forums
You can promote referral links online through forums. There are many active forums online where people are looking to earn.
Your job is to join some of these forums and become an active member. Whenever possible, make sure you promote your referral links.
But please don't overdo it. Or else the moderators might find it spammy. You surely don't want your account to be banned.
Here you'll find a list of all online forums.
Find the ones suitable for you. Some of these forums charge users to become a member. You don't have to join these communities.
More than 90% of forums are free to join. These communities are usually very active with hundreds of threads on a daily basis.
So you shouldn't find it difficult to promote your referral links.
Have a link in your forum signature. Most traffic comes from signatures by clicking on these signature links. I always use a signature in forums.
Here are few points to remember while posting on forums:
Always be active.
Add a link in your signature.
Start new threads sometimes.
Reply to other members' comments.
Follow all forum rules.
Create an informative profile.
Be helpful and useful.
And don't be spammy.
If you follow these points, you'll soon become a valuable member of the community. And that's what you need to get your referrals.
15. Use Quora and Yahoo Answers
Both of these websites are super popular question-and-answer site where people any questions that other users can answer.
You'll find questions about almost all types of topics under the sun. There are literally hundreds of questions regarding PTC sites.
Look at the image below. See how many questions I get when I search for ptc sites in my Quora profile.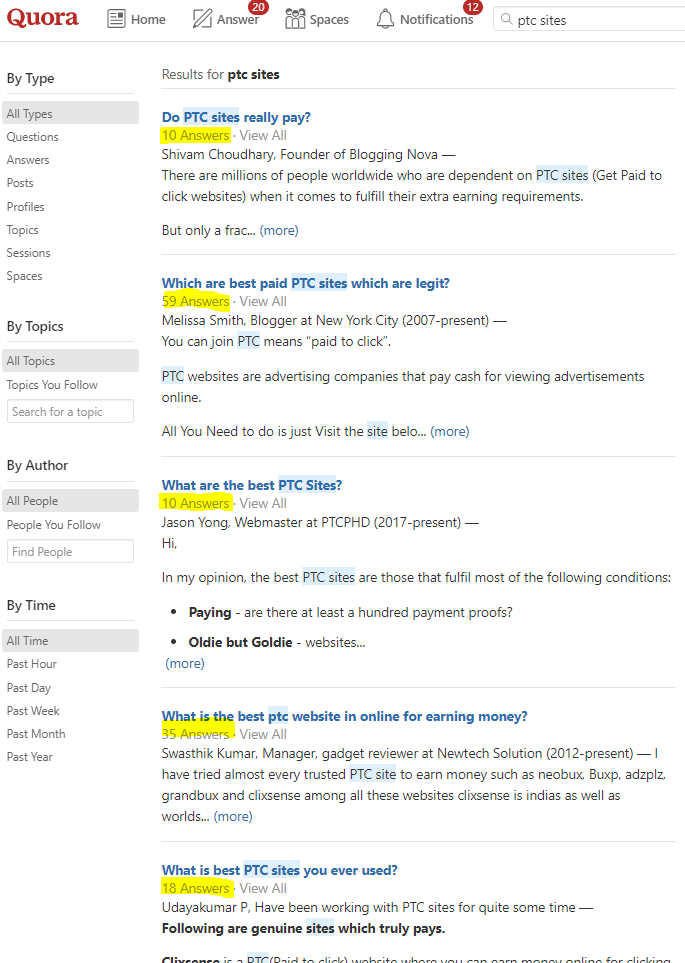 Did you see how many answers each question have?
You can also create a free profile and give your answers. Include your referrals links within the contents naturally. Don't look spammy.
That's how you get referrals for your PTC sites.
Yahoo answers work almost the same way. The difference is that you won't find these many questions like Quora.
But still it's a good place to promote your referral links. If you own a website & want to get targeted traffic, both the sites will work.
Listen to me. Take action today. It's free to sign up.
16. Use Free Classified Ad Sites
There are lots of free classified ad sites where you can post your ads for free. Use these websites to promote your PTC referral links.
One of the top ones that I like would be The Ad Free Ad Forum.
The website looks a little bit spammy to me. I can't say why. But if you carefully look at their ad categories, you'll see that there are thousands of ads in each categories. You can imagine how much visitors they receive.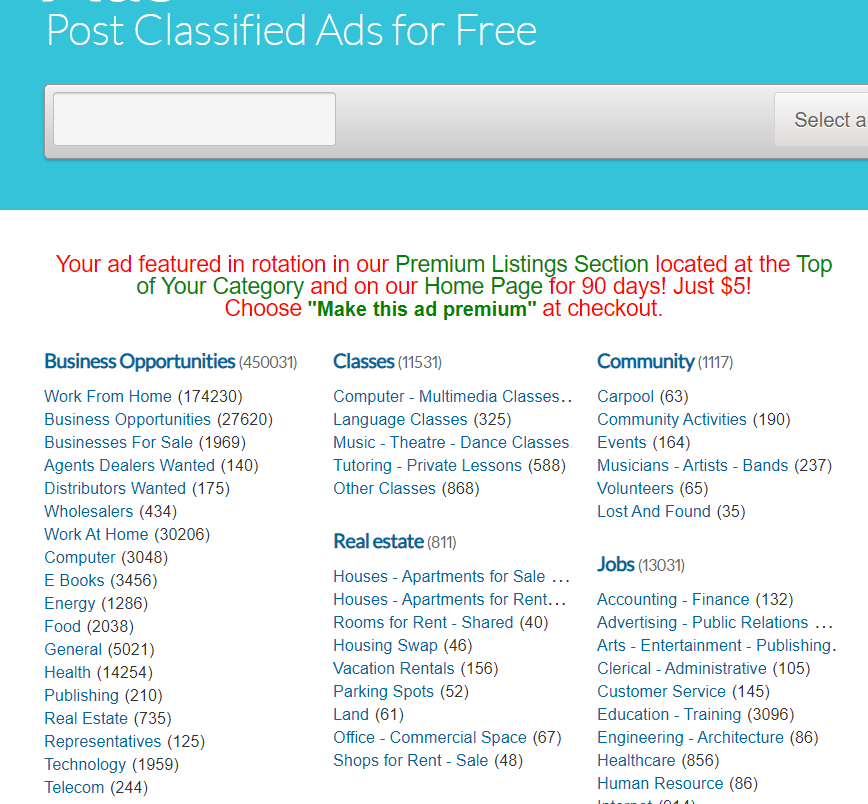 Look at their topmost categories under Business opportunities. There are thousands of free ads people are posting.
You can just create a free account and post an ad. It's that simple.
There are 400,000+ classified ads under "Business Opportunities" and that's why it's a great place for you to post your ad also.
While thousands of others are posting, it simply means it's working for them. Of course, not every one of them is posting for PTC sites. Most ads here are usually affiliate marketing. But you can post your ad too.
In your ad description, put your referral links and suggest people to join under your referral link. It's that simple.
This is not the only Classified ad site out there.
Visit Digital Web Services for a big list of free classified ad sites. Choose the ones that work for you. I'll suggest you post everywhere you can.
17. Use Slideshare
If you have never heard of Slideshare before, let me tell you that Slideshare is a presentation-sharing platform owned by Linkedin.
It receives millions of visitors every single month.
You can compare it to YouTube for presentations. You can create presentations about almost anything under the sun.
It's free to create an account there.
If you are good at creating good presentations, you can get an immense amount of traffic from Slideshare only.
It's fairly easy to create a good presentation. Use the information about PTC sites and share the benefits of signing up using your referral links.
It's simple and effective. Just try it.
18. Alternative Strategies
Other than the ways I have already described, here are some alternative methods you can follow. Of course, you should try every possible way to get direct referrals. Because it's very important to increase your overall income.
You can advertise your Neobux referral link on other PTC sites. Most users of other PTC sites are usually members of Neobux already.
Because Neobux is so much popular. So whenever someone wants to try PTC sites, they definitely join Neobux. But still, there are people who have never heard of it. You should target these people in your ads.
I talked about traffic exchange sites before getting referrals. Most traffic exchange sites are free to use. But if you don't have enough time to spend on them, try upgrading your account. It will give you a lot of free credits every month. You can use these credits to advertise your referral link.
Join some money-making forums or GPT forums. These are sites where people gather in search of money. So if you can attract other users to your site, you can get lots of referrals easily. Talk to people looking to earn money and don't forget to add your referral link in your signature.
You can even find chat rooms and groups aimed at money-making ideas. These are excellent places to promote your referral link. Tell others how you use Neobux and how they can use it. Help them to start with Neobux.
Write an eBook on Neobux and how to make money here. It should not take more than 4 to 5 hours of your time to write a small eBook. Turn it into Pdf file and share it on PDF sharing sites for FREE.
Help people who want to earn some money and looking for ideas on Yahoo Answers or Ask.com. These are huge sites where thousands of people gather to talk about different topics. You have to find people who are looking to earn money and recommend them to join Neobux.
Build a Facebook page on Neobux and create a community around it. Advertise the page on Facebook and get likes from people who need money. Regularly update your page to get more people to know about your page.
You can talk about Neobux with your friends and family. Anyone who wants to join, ask to join using your referral link. Let them know it takes just a few minutes of their time every day and that's enough.
Believe me; it really works. So be serious right now.
Don't forget to share this article on Twitter or Facebook if you enjoyed the time and effort I put into writing this lengthy guide.
I know… I know…
It's difficult to concentrate on all of the strategies I've listed at once. It is much better to focus on a single strategy and devote all of your attention to it.
If you want me to make a recommendation, I would advise you to start a blog. It not only enables you in gaining more referrals for your PTC or GPT sites, but it also helps you in establishing a solid online business.
And, check out my Secret Referral Blueprint and get new referrals.
If you carefully follow the strategies outlined in the book, you can get as many as 100 referrals a day. Yes, that's right. You can trust me.