Looking for the best ways to make your first $100 online? If so, look nowhere else as you'll soon discover it right on this page.
Want to make money online but have no idea where to start? Let me share with you the 9 best ways to make your first $100 online.
But first, a confession.
The truth is that there isn't one BEST way to make money online. The only way to be successful is to find the method that works best for YOU.
Don't be one of those guys who start a blog or Shopify store after watching a YouTube ad and think they'll make thousands while lying around on a couch…
… Only to give up two weeks later without earning a cent.
If you don't love what you're doing, you'll never make a dollar online. Passion is the only thing that will sustain you when you feel discouraged and dejected.
So, as you read the 9 methods that I've written about below, be brutally honest with yourself about where your passions and talents lie when you choose what to pursue. And soon, you'll be ahead of 99% of the other guys.
Let's get started.
1. Affiliate Marketing
Affiliate marketing is when you receive a commission (a percentage of a sale) for selling someone else's product or service.
Affiliate commissions vary with the type of product you sell.
Confused?
Here's an example:
Say you own a website that reviews books.
One day you create a post that reviews the best books of 2020, and at the end of each review, you include the link to the books on Amazon.
Someone clicks on the link and buys a book…
And you get 4% of the sale amount.
You don't need a blog to sell affiliate products, but you do need a platform where you have an engaged audience that trusts you.
For example, Instagram influencers often make most of their money by posting ads promoting affiliate products that pay for every sale.
Without a platform with a following, however, it's very hard to make any money. So, before you try to make a dollar with affiliate marketing, focus on building an audience and bringing value to them.
Starting a blog of your own is one of the most powerful ways to build an online audience. Interested? Read this: How to Start a New Blog Step by Step?
Once you've done this, the easiest way to start affiliate marketing is to use an affiliate program like Amazon's. Though commission rates are low, you can receive a commission on almost every product on their site.
All you have to do is visit Amazon Affiliate's Official Site and sign up. Submit your website (or social media account) for approval.
And wait for a response!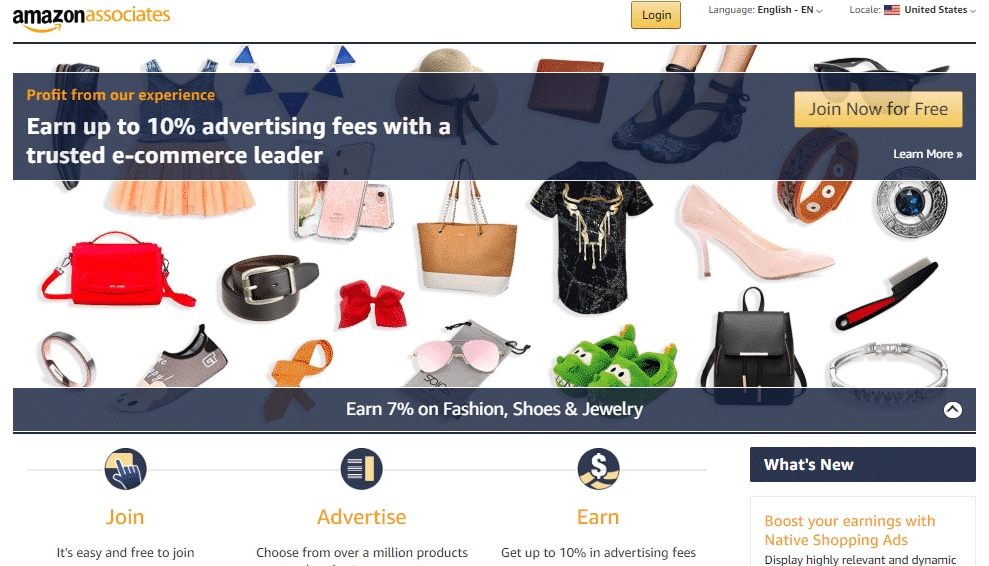 Another great affiliate network and one of my favorites is Clickbank.
They have much higher commissions, anyone can join (unlike Amazon), and there is a large selection of digital products that you can promote.
What's more interesting is that they pay up to 75% commissions.
Pretty amazing, right?
Fortunately, ClickBank is not the only option. There are tons of other affiliate networks to find affiliate products that you can promote.
But here's the thing:
If you don't have an audience, it can be pretty hard to make money with affiliate marketing. And, if you have an audience, it's the easiest one.
One of the best ways to do affiliate marketing is by creating a blog and making money by promoting affiliate links within blog posts.
Of course, there are tons of other ways to make money blogging.
So let's get to know what blogging is.
2. Blogging
Blogging is the act of publishing articles, called "blogs", to one's own website, with the ultimate goal of providing some sort of value to your readers.
In fact, you want to deliver so much value to your readers that you convince them to give you money. Yes, that's how it is.
You do this by writing stellar reviews of products or services that convince them to click on the links you provided and buy something (affiliate marketing).
Or by making your blog highly trafficked so advertisers want to place ads on it… Or by creating your own valuable product and selling it to your audience.
The people who make REALLY good money do all three of these simultaneously.
But in reality, the VAST majority of bloggers never make a single dime.
Why?
Because they don't know what they're writing about!
The ONLY way to make money as a blogger is to be super knowledgeable and passionate about your field.
So instead of creating a blog and writing about the best workouts for men… You write about the best workouts for men in their 50's who want to build muscle!
Why?
Because you ARE a man in your 50's who's successfully built muscle! This is called niching down and it's the secret to making money blogging.
It's fairly easy to start a blog.
Anyone with some basic computer skills can do it. All you need to start your own blog is to buy web hosting and a good domain name.
I understand. You need an easy-to-follow step-by-step guide to getting started. You can read this post: How to Start a Blog Step by Step as a Beginner?
Start writing, establish an audience, and begin promoting affiliate products, as this is the fastest way to monetize your blog (unless you already have created a product).
Wondering how much money you could possibly make from your blog?
The earning potential is truly unlimited. 😯
Feeling motivated?
Start today.
Do you know there are over 600 million blogs from an estimated 1.7 billion websites worldwide? The more you wait, the more you'll be left behind.
3. YouTube
After affiliate marketing and blogging, I think, YouTube should get the next place. It's probably the most straightforward platform on this list.
You post videos on the platform…
People watch them…
And you get paid!
How?
Well, YouTube is an advertising platform – companies pay to place their ads on the videos. So obviously, the more people that watch your videos, the more views ads get, and the more you get paid.
It's really that simple.
Ok, maybe not that simple.
If it were, everyone would be doing it.
To even be considered for channel monetization, you need to have 1,000 subscribers and 4,000 watch hours in the last year. That's why channels that niche down, like blogs, have a better chance at succeeding.
You must post consistently (at least three times a week) and prioritize making longer videos (10+ minutes) to increase your chances of being noticed.
Seems quite difficult, right?
Despite the difficulties, if you have a good personality for the camera and prefer editing videos to write, starting a YouTube channel is a great idea.
Once you create a following, your opportunities to earn increase.
Like bloggers, many successful Youtubers promote affiliate products in their videos and sell their own merchandise and products.
Don't have the expertise required to create videos?
No problem!
You can earn money from YouTube without creating your own videos. And, the good news is that you don't need any experience to get started.
---
Useful: How to Make Money from YouTube without Creating Videos?
---
4. Selling eBooks
Becoming a published author has never been easier than in today's world. There are four basic steps to creating an eBook:
Finding a niche for your book
Writing your book
Convert your eBook into a PDF
Start selling
1st Step: Finding a niche for your book
What do you know better than anyone else? What are you passionate and enthusiastic about? Knowing this will make the writing process much easier.
2nd Step: Writing your book
There are hundreds of free eBook templates online, and a simple program like Microsoft Word is all you need to start. If you're not a great writer, no problem! Go to a site like Upwork and find a ghostwriter.
3rd Step: Convert your eBook into a PDF
Once you write a book, it's time to turn it into a PDF. You can use Microsoft word's PDF plugin or services like Sqribble to create eBooks on demand.
4th Step: Start selling
You can sell your eBook in a variety of different ways. Promoting it on your blog and creating an affiliate program are two great options.
Don't have a blog or place to sell it on your own?
Don't worry!
The hardest part of the eBook process is the marketing side of things. Luckily, there are dozens of sites that take care of it for you.
The best-known and easiest site to use is Amazon.
It only takes 5 minutes to publish your eBook and have it in front of millions of potential readers who can buy it.
Selling eBooks through Amazon Kindle can generate passive cashflow.
Need a step-by-step guidance to get started?
5. Copywriting
Copywriting is crafting words in a way that convinces readers to take a certain action. And because EVERY business needs an online presence in today's world, the demand for good copywriters is insatiable.
Some of the things you can write include:
Blog posts
Newsletters
Website content
eBooks
Ads
Blog posts
Long-form blog posts (<1,000 words) are critical for any business that wants to rank in search engines and attract customers organically.
2. Newsletters
Many companies send out a monthly and/or weekly newsletter to their employees and customers to keep them informed on how the company is doing.
3. Website content
Home pages, testimonials, about pages, product descriptions – all the things that every company's website needs to be written.
4. eBooks
Lots of people have an idea for a book but lack the time or ability to write it themselves. Ghostwriters can get paid to write books for people like these, though the credit doesn't go to them.
It all sounds good," you're saying…
… but I've never written a piece of copy in my life!
Don't worry!
All you need is a passion for writing and to follow these 3 steps:
Learn the basics of copywriting
Practice
Start pitching clients
Learning the basics of copywriting should take you about a week of reading. Just type "learn copywriting," into Google and read 2-4 articles daily.
Identify your niche and type of copy you want to write and write 2-3 mock pieces/day. Some lucrative niches are finance, self-help, and traveling.
Go ahead and sign up for Upwork.
Start pitching clients.
Finding your first client can be pretty hard. But don't be disappointed. Make sure that you target jobs that are in the niche you know best.
Sending sample work (or creating sample pieces if you don't have any work) is also a good idea if you are just starting out.
High quality samples can attract more clients than you can imagine.
6. Reselling on eBay
Reselling items is one of the easiest and fastest ways to make your first dollar online. Making money reselling on eBay is deadly simple.
You take a picture of your item and post it.
Someone buys it.
And you ship it to them!
In fact, I guarantee eBay can make you your first dollar online in less than a week. All you need to do is find something laying around your house and sell it.
Boom! The first dollar made!
Don't have anything to sell?
Start going to yard sales!
You'll find people unloading their dusty old possessions for $15 or less that you can quickly turn around and sell for double or triple the price.
The best thing about this is that anyone can do it.
Before you begin going out to buy things to resell, download the eBay app.
Then, when you find an item, click "filter" and then "sold items." Instantly the app will show you the last time the item was sold and the price it sold for.
If you go to yard sales every Saturday and Sunday, you'll find so much stuff that soon you can make money whenever you please.
So, if you have the ability to take a picture…
Can package something in a box…
And love finding deals…
Then eBay is for you.
7. Online Surveys
Surveys won't make you rich quick, but they're an easy way to add $100-300 to your income by spending about an hour a day answering questions.
Wondering why companies post surveys?
Because they need market information to make more informed decisions, so the more data you add to your profile, the more opportunities you'll have.
There are dozens of sites that you can use:
ySense
Swagbucks
Grabpoints
Prizerebel
InboxDollars
If you don't mind sharing lots of your personal data and want to make a quick buck, online surveys are the best choice for you.
8. Start an Etsy store
If you've always loved making crafts and creating things with your hands, starting an Etsy shop is a perfect choice for you.
But what is etsy?
Etsy is an e-commerce website that allows you to sell your handmade, custom items directly to people through their platform.
There's a 20 cents listing fee along with other costs, but it's a small fee for the access you gain to millions of potential customers.
And, here's the interesting part:
People spend billions of dollars on the website every year.
Having a basic knowledge of advertising, SEO, copywriting, and blogging can greatly help your business, but Etsy also has marketing tools that can help you.
Some popular items on Etsy include:
Jewelry
Clothing
Crafts
Masks (a COVID 19 special)
Stickers
9. Sell Stock Photos
Stock photos are images of commonplaces, situations, people, and nature.
They usually have a distinct look.
Many stock photos are licensed for commercial use, which means websites can use them for free without worrying about getting sued.
Stock photos are always in high demand.
Because most people don't have the time or means to take their own photos. But every website requires photos to use in their content.
Admittedly, taking a stock photo isn't easy.
But here's the thing:
If you have a good camera and a passion for photography you can learn it.
Additionally, nearly all the stock photography sites that you sell to know exactly what photos they need for their databases.
It saves you the time of having to decide what to shoot.
The best sites to sell stock photos to are:
There are several legal issues you must contend with (like model releases) but upon making an account with one of these sites you'll quickly learn the requirements.
Final Words
You've read the list and chosen the best way for YOU to make money–now it's time to start! Pour 100% of your effort into it and hold yourself accountable.
When you've made your first $100, come share your success with me. 😊
Now here's the question I have for you:
Did you like what you just read?
If so, please share it. It gives meaning to the hours I spent creating this article and also motivates me to create more useful tutorials for my readers.